In addition to being a travel writer and blogger, I also help others with their optimizing Pinterest traffic to their website.
Pinterest is not a social media platform, it's a search engine. Pinterest can be incredibly frustrating if you do not understand SEO, keywords and how search engines work. And it's a long game, not a short overnight sensation for instant web traffic to your site. Results typically take 3-6 months and it's important that you keep building on the groundwork that's been laid.
If you don't have time to master it yourself and keep your skills up, bring in a pro.
Pinterest is my second largest traffic driver after web searches. Traffic from Pinterest trumps all of my social media channels combined.
Custom Pin Design

• 20 pins can be from the same post if you have enough visuals
• Templates can be created for you to maintain
I generally recommend a minimum of 4 original pins per post.
CURRENTLY ACCEPTING CLIENTS ON A CASE BY CASE AND DEADLINE DRIVEN BASIS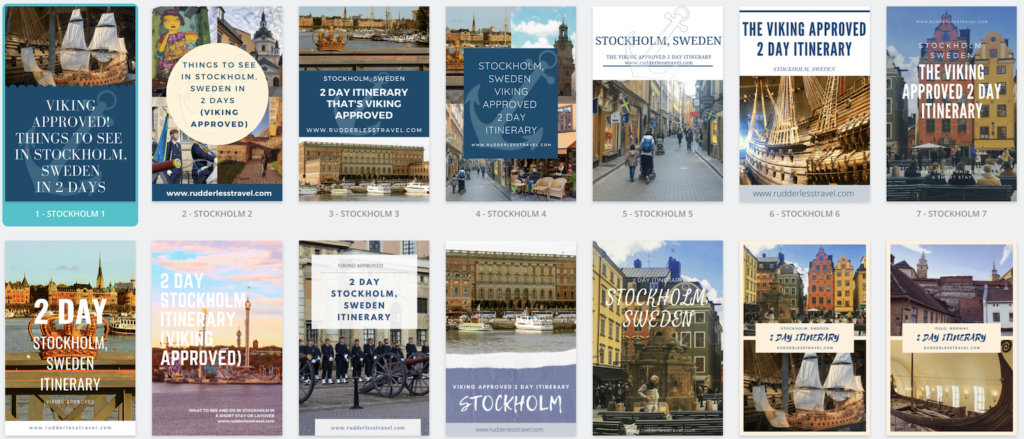 Monthly Pinterest Account Management
$300 + hst /month
• Pinning all new blog posts and products from your website
• Writing keyword-rich descriptions for new original pins
• Set up & manage automation (scheduling pins) with Tailwind (*client subscription required)
• Management of Tailwind Tribes
• A monthly Analytics progress Report highlighting the growth of your account (your Pinterest account will need to be a business account in order for this feature to be utilized)
*3-month minimum required
**Custom pin design can be added onto the package for an additional price
I highly recommend this package is coupled with PINTEREST ACCOUNT MAKEOVER to set you up for success!
CURRENTLY ACCEPTING 2 MORE CLIENTS STARTING FEBRUARY 2020
Pinterest Account Makeovers
$350 + hst
• Optimization of your profile, boards, and pins (SEO, brand and design-friendly)
• Inspection of existing boards and each pin and creating a mix of 20+ boards specific to your niche
• Follow 50+ influential pinners or boards in your niche
• Validate Rich Pins, if needed (your Pinterest account needs to be a business account for this feature. It's not necessary to have a business account for this service though)
• Join relevant Group Boards to gain more followers
CURRENTLY ACCEPTING CLIENTS ON A CASE BY CASE AND DEADLINE DRIVEN BASIS. PRIORITY GIVEN TO THOSE SUBSCRIBING TO MONTHLY MANAGEMENT.
To get set up, send a message to kathryn . dickson . 79@gmail.com (no spaces) or message me direct on Facebook.