Put On The Damn Bathing Suit and Quit It With Excuses
Here's the scene; Sandbank's Provincial Park in Ontario, Dunes Day use area off West Lake. Hundreds of families on the dunes, in the water, splashing, laughing, swimming, having a great time. The beach is just gorgeous, like I remember in my childhood, the dunes a discovery of immense flora, memories of geology and geography classes in high school spent here, the water clear and warm and welcoming.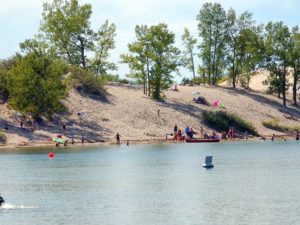 Mothers are with their children in the water. They're wearing bathing suits of all different sorts – the women are. Moms. With mommy bellies, with cellulite, with saggy boobs, with all the imperfections we deem unworthy or shameful to ourselves.
Except in this scene, no one gives a damn. These moms put on the damn bathing suit. Bikinis even. Mid-drifts showing here and over there. Strings tied on the hips, around the back of their necks. These women with post-partum bellies are wearing bikinis. The horror!
Or is it?
Laughter. Memories being made. Kids jumping up and down in the water, gleefully holding Mom's hand. Mom smiling with their children. Buckets of water being dumped on each other. Sand castles being built.
No hang ups here.
So where are these insecurities we keep pushing to the front? Do they only exist here, in this interweb space? Is this the space where we continue to make it a thing? I saw lots of women in the water and lounging on the beach where it wasn't a thing. If they cared what they looked like, it didn't show in their demeanour.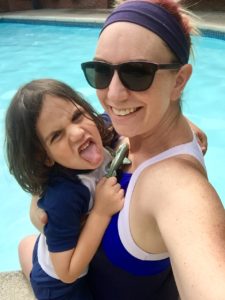 And here's me watching over my two kids and another friend of theirs. Bathing suit covered with a sham, partly for sun protection, partially so no one sees my roll. Sitting on a chair in the shade, toes swirling circles in the sand… "What a waste of time, I should be playing with them. Screw it, I'm going to play with them, I don't care if someone is looking at me or not, I'm hot as hell, Mom bod and all" I tell myself.
Out I go.
Moms, put on the damn bathing suit and quit it with excuses. Go make memories with your kids, they're counting on you. Set an example for your daughter, let her see you smile, be confident, roll in the sand. Show your son how beautiful Mom is with her enjoyment.
Just go do it.