Did you know you can fly over Iceland, BUT IN LAS VEGAS?! And the Canadian Rockies and over the Wonders of the American West? All from the comfort of your seat. 4 storeys in the air. But you have to go to Las Vegas to find this majestic expedition! It's called FlyOver Las Vegas.
If you haven't seen it or heard of it, there's an attraction called FlyOver and you literally get to do just that. You fly over. FlyOver Las Vegas.
At FlyOver Las Vegas, there are opportunities to experience three distinct locations from above. They are Iceland, Windborne: The Canadian Rockies and the Wonders of The American West. So, what's so special about FlyOver and Las Vegas and why should you want to take in this attraction? 
I'm a Vegas newbie and I only thought that Las Vegas consisted of the strip with flashy hotels and casinos and is surrounded by nothing but desert. When I arrived, I saw a whole lot more than that! Las Vegas is technically in the desert in Nevada, so that's not a misconception. 
As I discovered, there is more to Sin City than pure "sin"!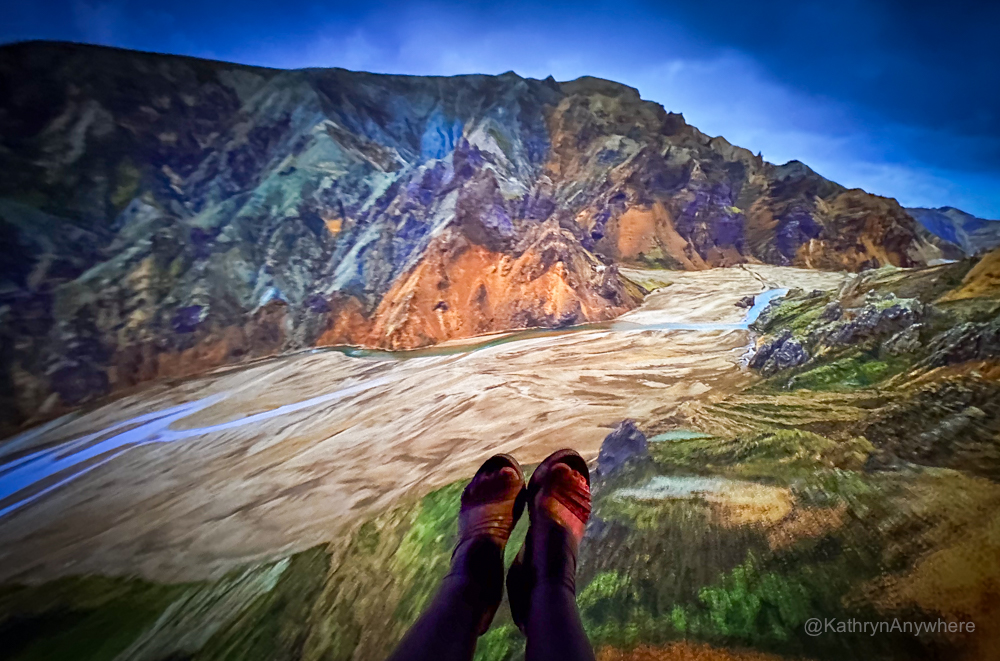 What Is FlyOver Las Vegas?
If you've ever been to Epcot in Walt Disney World Resort in Florida and have taken in the ride, Soarin' Around the World, then you will understand FlyOver. Soarin' takes you on a breezy, airborne adventure as you hang glide above the breathtaking wonders of the world. FlyOver was developed by the same Imagineer from Walt Disney World, but it's much more advanced in technology.
The FlyOver experience brings you to sit on an extended hang glider-type contraction. Your feet dangle when the ride starts and you're in front of a massive, wraparound screen. The "hang-glider" moves – turns, dips, and swoops in reaction to what you are seeing on the screen, making you feel like the images in front of you are really happening.
As if the motion wasn't enough, it gets more immersive. While your hang-glider moves, you also feel the wind in your hair through the mountains, over valleys and mist when over water and waterfalls. Not soak your clothes mist, but a small, cool spray on your face and make you feel alive mist.
I would be remiss if I didn't mention the scents! Yep! Flying over a lavender field? Guess what you smell? This is a true delight for the senses – and really brings the immersiveness of the attraction into reality.
There are 3 different FlyOver experiences at the location in Las Vegas to take in. They are Iceland, Wonders Of The American West and Windborne: The Canadian Rockies and you are taken exactly where the name suggests.
If you know me, I seek out adventures and experiences that make me weak in the knees. FlyOver is a sky-high adventure that will have you gripping that handlebar as you really feel like you are flying over those mountains, lakes and valleys.
What Will We See On a FlyOver Trip?
Never one to spoil it for everyone, I'll give you just a preview. When you enter the doors of FlyOver Las Vegas from the hustle and bustle of the Las Vegas strip, you're transported into calm and a transitional hallway toward the Lost Cactus Bar where patrons can relax and chat before their chosen ride. Although I will recommend, saving the alcohol for after the ride, not before.
You can take in a film and then try the themed drink that accompanies it!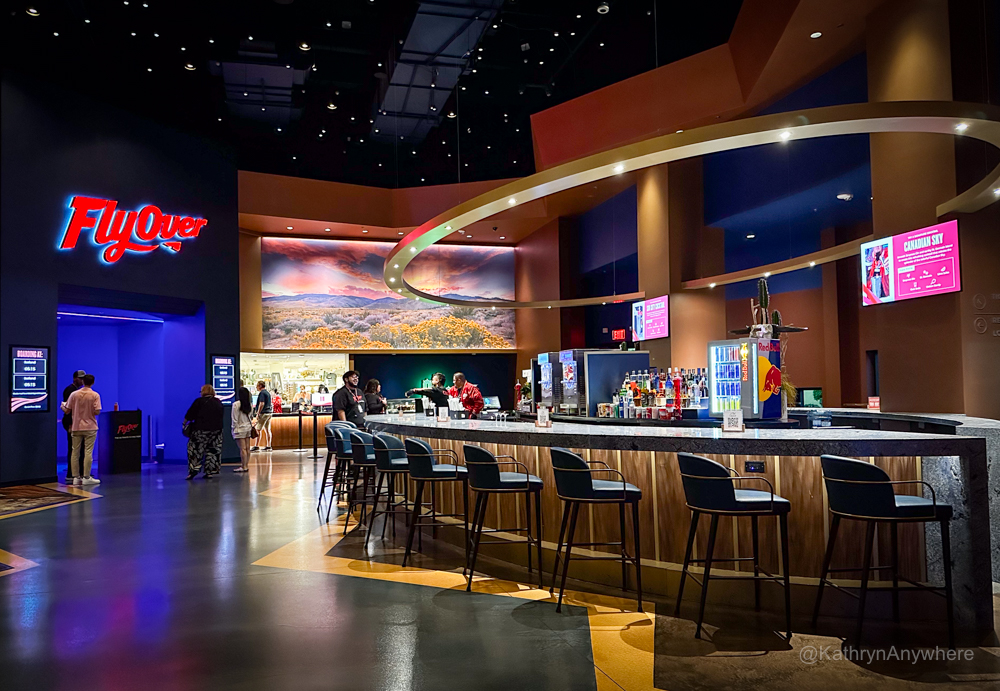 Each ride has a film introduction that brings you into the space of what you are going to experience. This introduction film lasts only a couple of minutes and then you head into your hang glider seats.
Iceland flies over the capital of Reykjavik on its journey as well as many iconic waterfalls, mountains, coastlines and Gjáin. Gjáin is a small valley with small waterfalls, ponds, and volcanic structures situated in Þjórsárdalur in the south of Iceland. It's just stunning.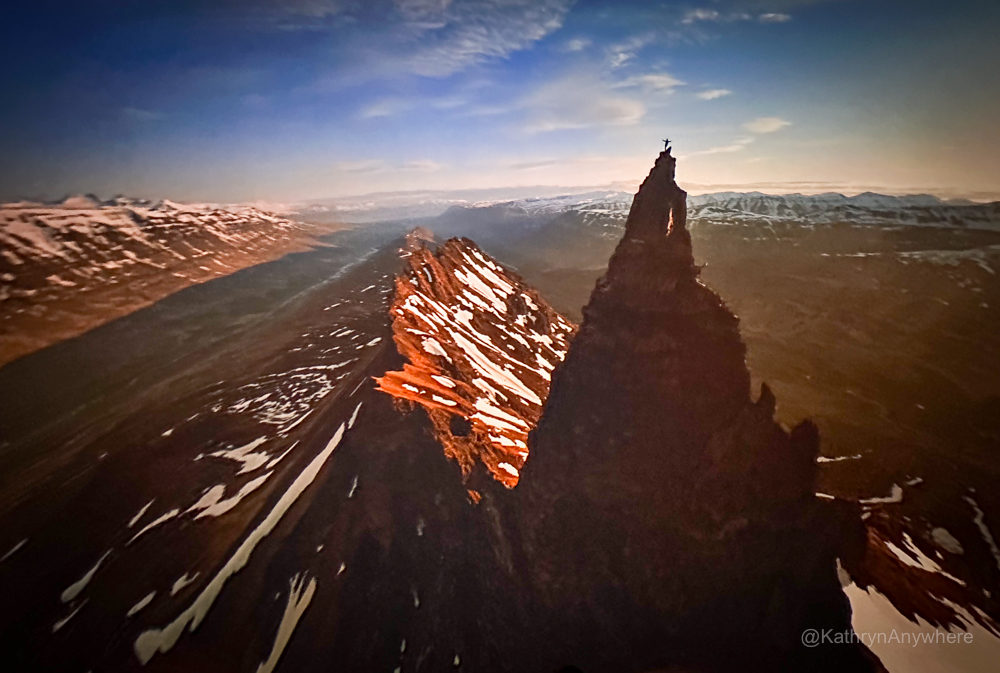 Wonders Of The American West takes you over Moab, Las Vegas itself, salt flats, San Francisco and Montana and many more!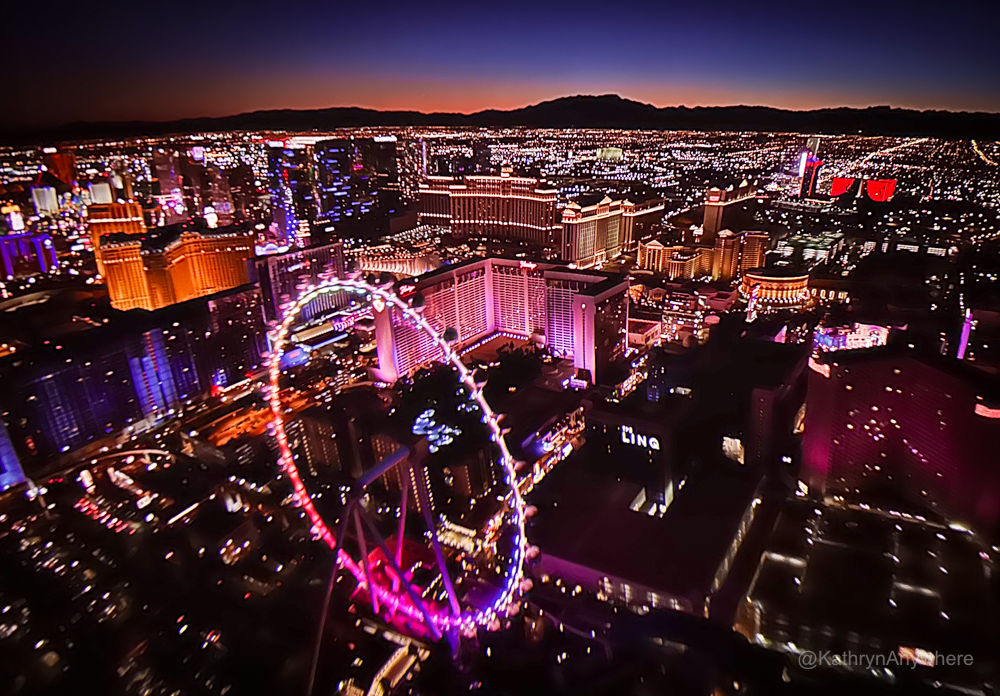 Windborne: The Canadian Rockies takes the guests over many areas of Alberta and British Columbia, most notably, the Icefields Parkway, Prince of Wales Hotel in Waterton Lakes National Park and glaciers.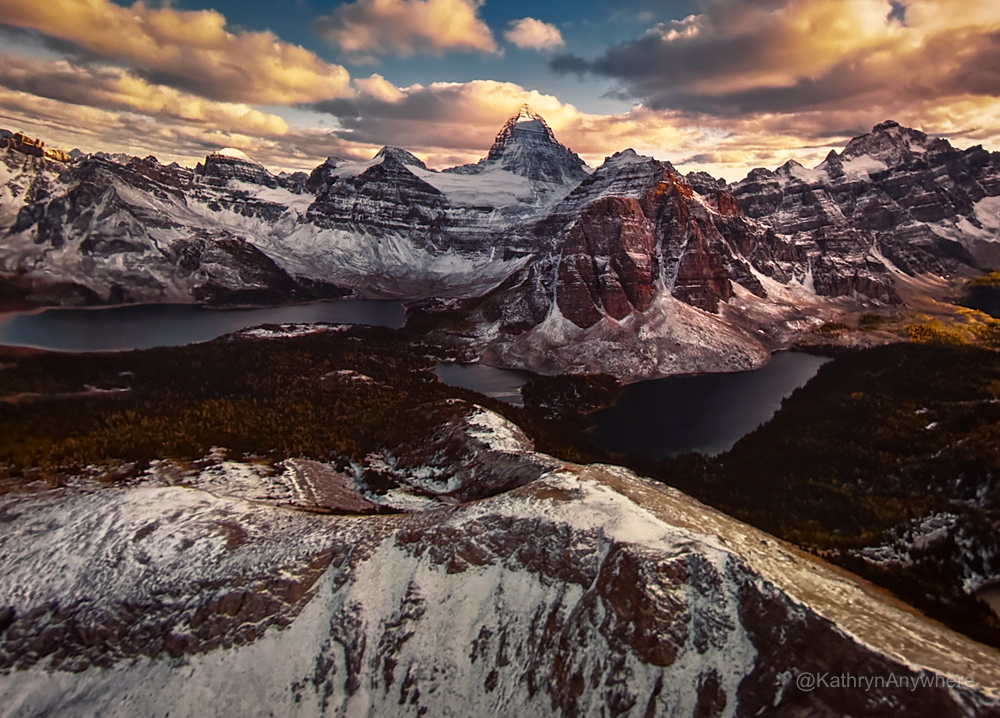 To be clear, it's incredibly hard to make a photographic capture of this attraction! I can describe it, but you really have to take it in on your own. Expect to spend an hour from the time you enter the building to the time you leave for one ride.
Where is FlyOver Las Vegas?
As the name suggests, this FlyOver location is in Las Vegas. FlyOver is almost directly across from the New York New York Hotel.
The Las Vegas strip is very walkable so I would suggest that if you have parked along the way or are staying at a nearby hotel, you walk, not drive.
My time in Las Vegas showed me that there is a lot of construction in the area. It looked hard for my Uber driver to navigate driving around the main strip, so definitely walk.
That said, in a couple of months or even since my visit, the driving conditions may be better.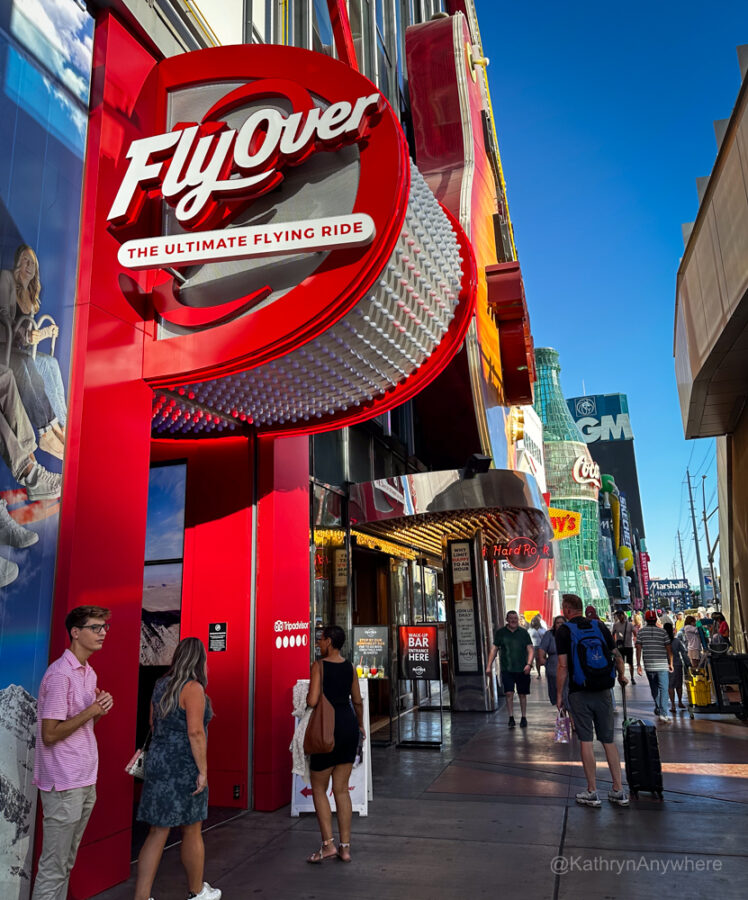 How Much Does FlyOver Las Vegas Cost?
FlyOver Las Vegas is an attraction best booked ahead of time online. For a single ride, it's $35 per adult and $25 per child. That's choosing either Iceland or Windborne: Canadian Rockies or Wonders of The American West. 
The value though my friends is in booking a double ride. That's right, you can book two of the three rides if you don't want to choose. For a double ride, booking in advance on the website costs $49 per adult and $35 per child.
While it is possible to ride all three like I did, it's not recommended to do it all in one day. For full transparency, we rode Iceland first. Then, we rode Wonders Of The American West. The next day we returned for Windborne: The Canadian Rockies.
Can Children Participate in FlyOver Las Vegas?
Children who are over 40″ tall can ride on FlyOver Las Vegas.
Big kids and those young at heart are always welcome. It's a gentle ride, so even the elderly can glide as well.
Where Should I Stay In Las Vegas?
I was lucky enough to stay at Planet Hollywood in Las Vegas for this adventure. My room was comfortable and spacious and I felt safe even though I was there alone. You can access outside and a Starbucks in the lobby without even going into the casino.
Planet Hollywood is centrally located on the Las Vegas "Strip". I recommend staying here if you want to be easily accessible to the glitz and the glamour of the casinos, dining experiences, shopping and attractions. Uber is available to transport to the airport and back as well as to other sections of Las Vegas. There is also a monorail, yes a monorail to whisk you around!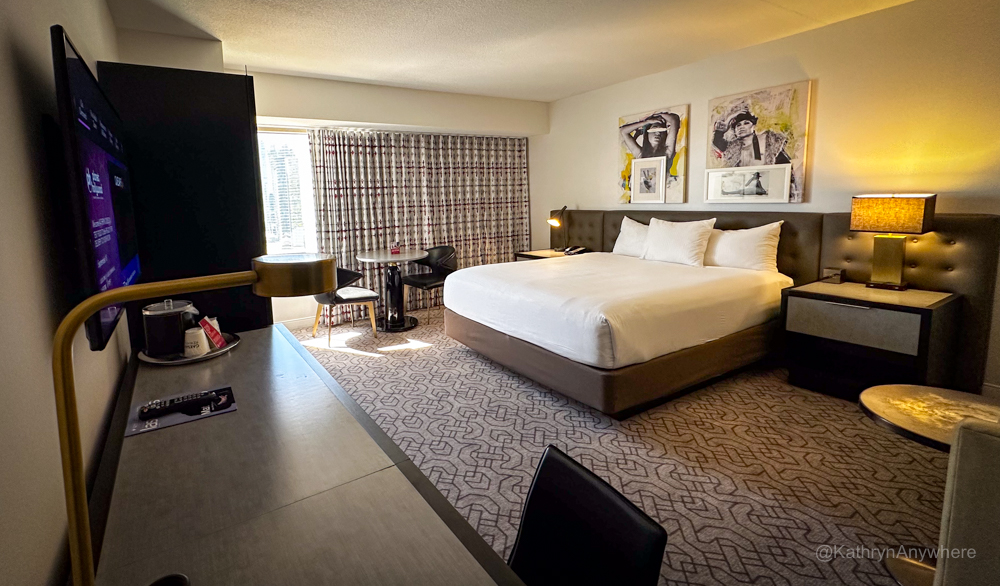 What Else Should We Do in Las Vegas?
Las Vegas is truly a destination for everyone and I don't think I felt that was BEFORE I went. In my whirlwind trip to Las Vegas, I was thrilled to have toured the Mob Museum and the Neon Museum, ate at a couple of AMAZING restaurants and drank some super tasty cocktails in very cool places. I got some sun, hung out at the hotel pool and decided this was a cool place to be. I'll even go back and this time I'll want to take in some off-roading/ATV adventures as well.
Oh and I didn't gamble a cent away. My whole Las Vegas experience was spent outside of the casino floor.
I was hosted by Pursuit Collection to experience the off-the-beaten path in Las Vegas and to fall in love with the FlyOver Las Vegas experience. 
My thoughts and reviews are always mine.