Did you know that some of the Ontario Provincial Parks have extended their camping season into the fall? That's right! Many of the Ontario Parks campgrounds are now staying open past Labour Day! One of them – Silver Lake Provincial Park in Eastern Ontario is an excellent spot to take the family, your friends or your lover for an adventure. Let's talk about how you can have an awesome autumn camping experience and fall for Silver Lake Provincial Park!
Why You Should Consider Camping In The Fall
I'm going to explain why fall is one of the best camping seasons and why you should think about taking advantage of camping in fall. With Ontario Parks locations such as Silver Lake Provincial Park extending their autumn availabilities, it's the perfect time to go.
An opinion that I hold, is that camping season is any time. I have and will go camping in every season and I have reasons for each and every time of year why I like it. While summer is great for camping, it's not my favourite time to go. 
Why is summer not the best time to go camping? Summertime is the busiest time at the campgrounds. That means there are more people in the area and more amenities in use. It's much more competitive to get a "nice site". Winter can be unpredictable with weather and not everyone has the right equipment. But fall camping? Fall camping is the sweet spot.
After Labour Day, the campgrounds become a little bit quieter. They go from full to a little less and you can pretty much have your pick of the nice sites when booking online.
One of the best reasons to consider camping in the fall is the temperature. Have you ever considered camping once the seasons change from hot, humid days to cooler nights? Crawling into your sleeping bags not drenched in sweat from the humidity is amazing.
The ultimate best reason to camp in autumn? You can witness the leaves change colour before your eyes!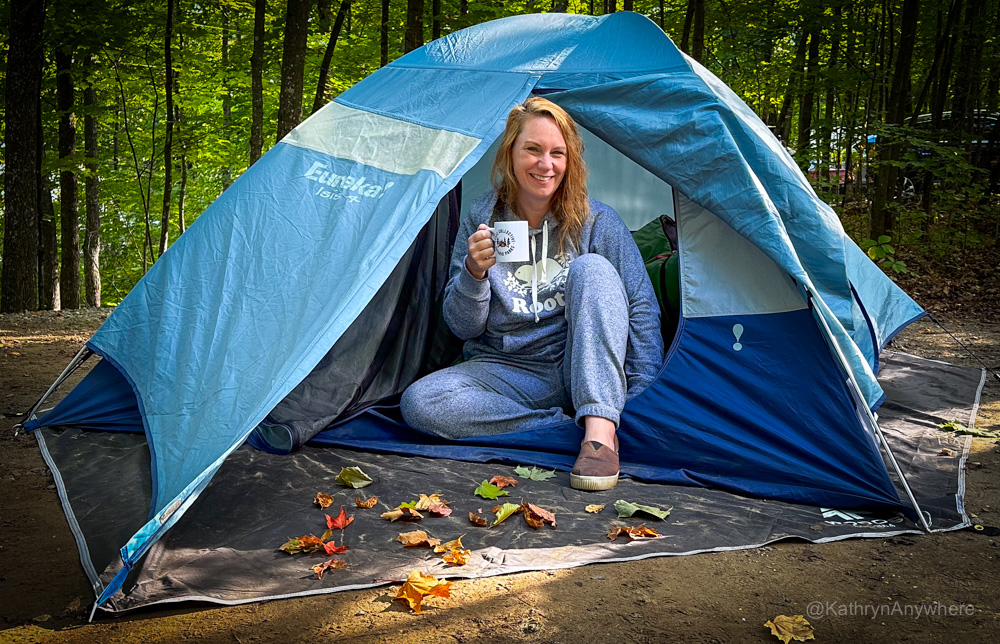 Which Ontario Parks Locations Have Autumn Availabilities?
This year, in 2023, there are 6 parks with extended camping seasons. They are Fairbank Provincial Park, Windy Lake Provincial Park, Silver Lake Provincial Park, Neys Provincial Park, Rabbit Blanket Campground in Lake Superior Provincial Park and Killbear Provincial Park.
Fairbank Provincial Park and Windy Lake Provincial Park stayed open until September 17 this year. Silver Lake Provincial Park and Neys Provincial Park are open until October 10 this year. If you are looking to camp for Thanksgiving, this is the year! Otherwise, there are a couple more weeks to get that autumn camping in there.
Rabbit Blanket Campground will be open until October 29 this year. Killbear Provincial Park will welcome camping guests until November 6, 2023. If you want to know more about any of these locations, please see this Ontario Parks Blog Post – 6 Parks With Extended Fall Season.
I camped at Silver Lake Provincial Park from September 15-17, 2023. We camped in a tent. Fair to say, it was mostly pop-up trailers and RVs there. The leaves were just starting to turn colours so that means the BEST IS YET TO COME for the leaf peepers!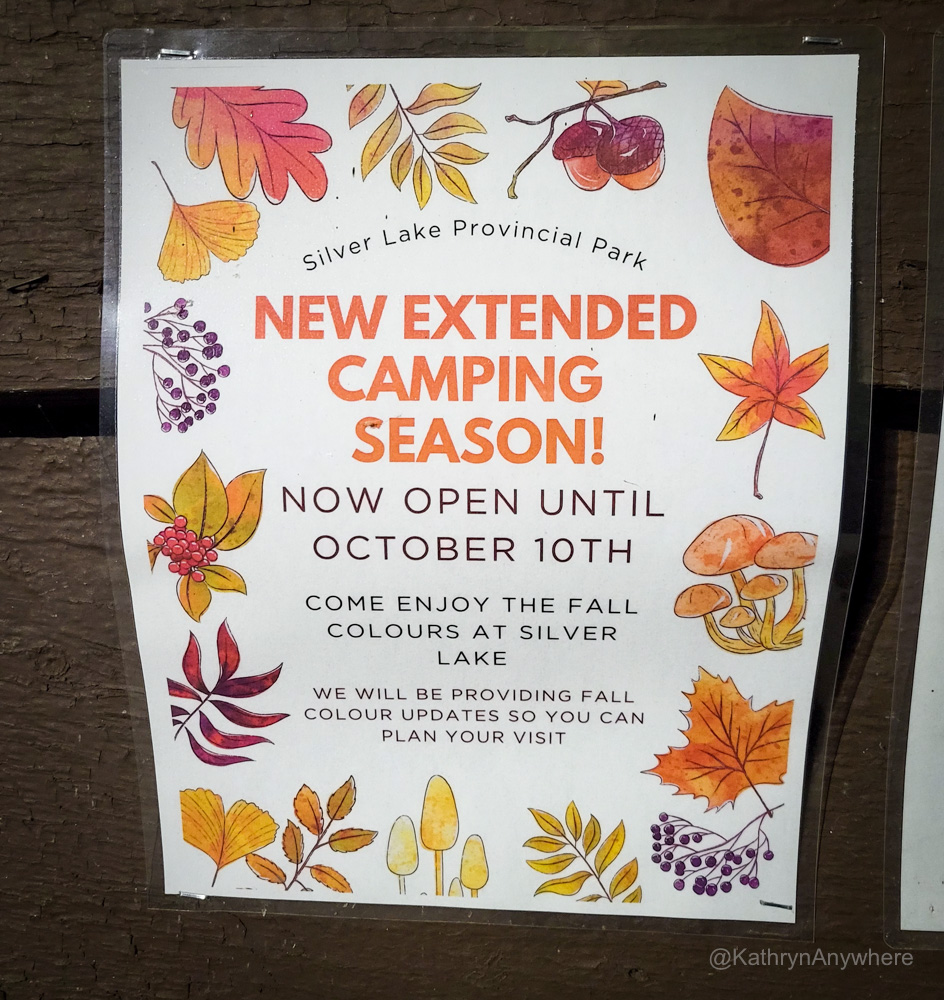 Where is Silver Lake Provincial Park?
Silver Lake Provincial Park is in Eastern Ontario. You'll find this provincial park right at the border of Lanark County, Ontario. Lanark County is the maple syrup capital of Canada.
Most importantly, Silver Lake Provincial Park Campground is only one hour and fifteen minutes to Ottawa, just over an hour to Kingston, Ontario, one and a half hours to Belleville, Ontario and just three hours to the city of Toronto.
It's in the perfect location for a fall camping experience! From here, campers can explore areas such as Algonquin East Gate and the Barron Canyon, Bonnechere Caves or even the 1000 Islands!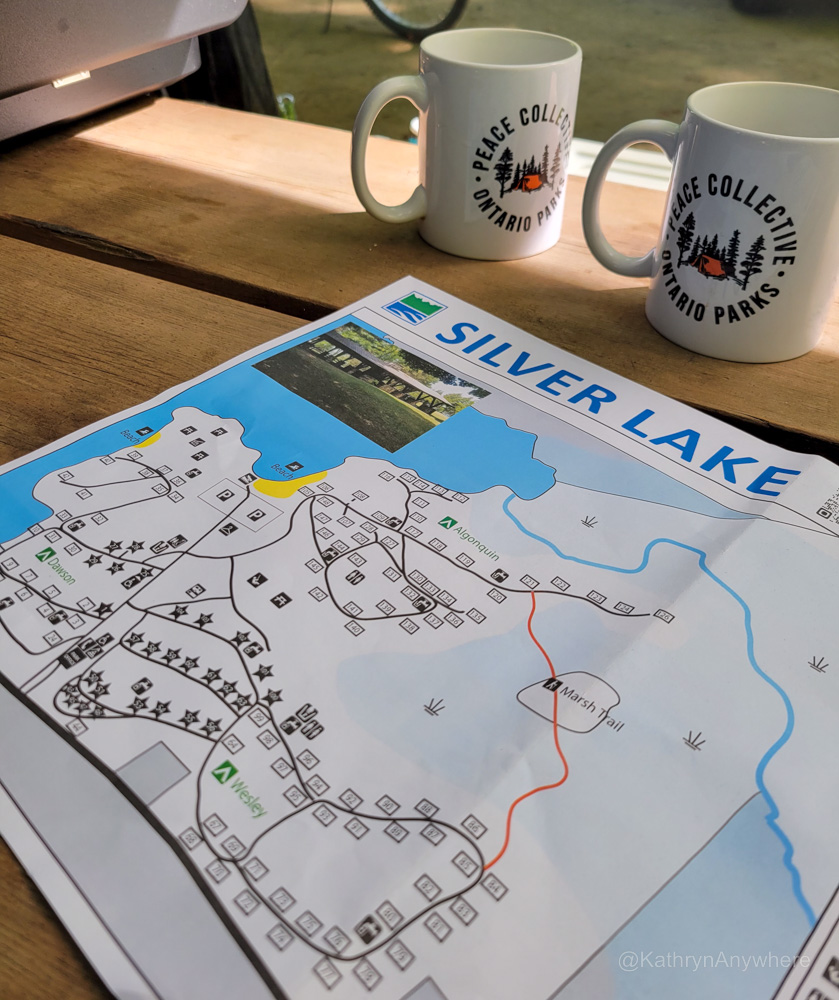 Fall Camping at Silver Lake Provincial Park
Prior to this September camping experience, I had not been to Silver Lake Provincial Park before. My impressions? It's small and quaint. There are more than 100 campsites. There are campsites that offer electricity in the Dawson and Wesley sections. While it's right off of the TransCanada highway, it doesn't feel like you're in a high-traffic area.
There are sites with lots of seclusion at the end of the road. Taking a tour through Silver Lake Provincial Park on my bike, I found waterfront sites that were available. How cool would camping on a waterfront site be? If your dates are flexible and you don't require an electric site, there are more secluded sites to be had as well, giving you ultimate privacy.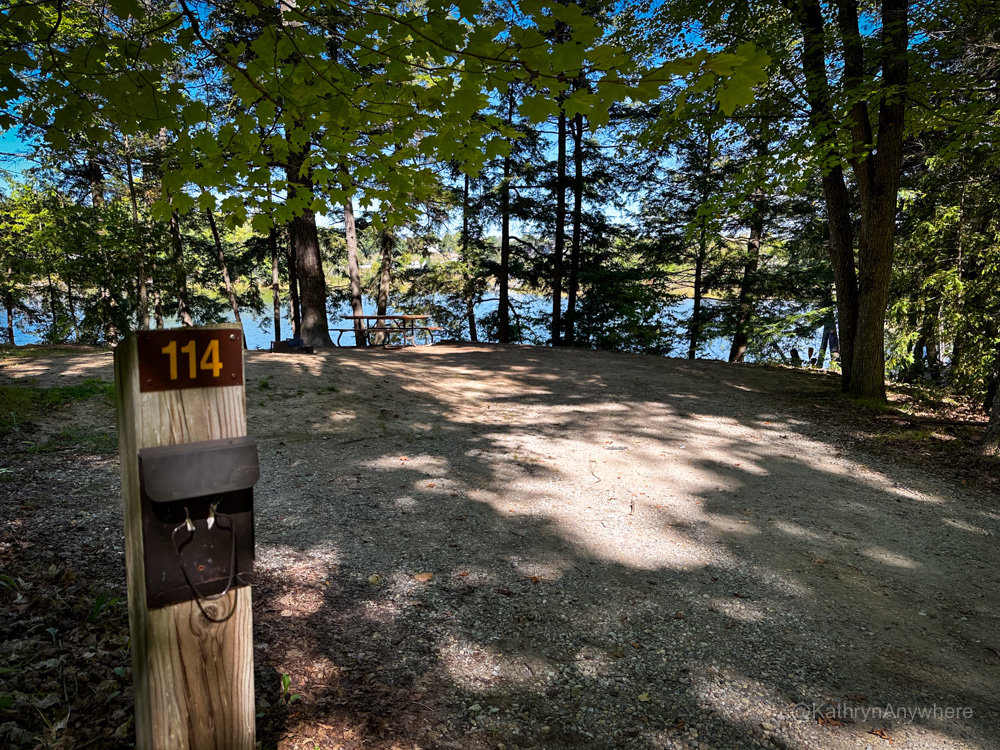 There are sites with a more communal feel if you like to camp as a group. If you planned a trip with friends, you could book a row of small campsites in the same vicinity and easily hop, skip and jump to each other.
The beach at Silver Lake Provincial Park is quite large. Even in September, the beach was popular. There were lots of people there swimming, and families enjoying the sand. The water is very clear for a distance from the shore. 
There is a very sizable day-use picnic area for families to gather for meals and to use the facilities at the water. 
Sunsets on the beach are spectacular at Silver Lake Campground.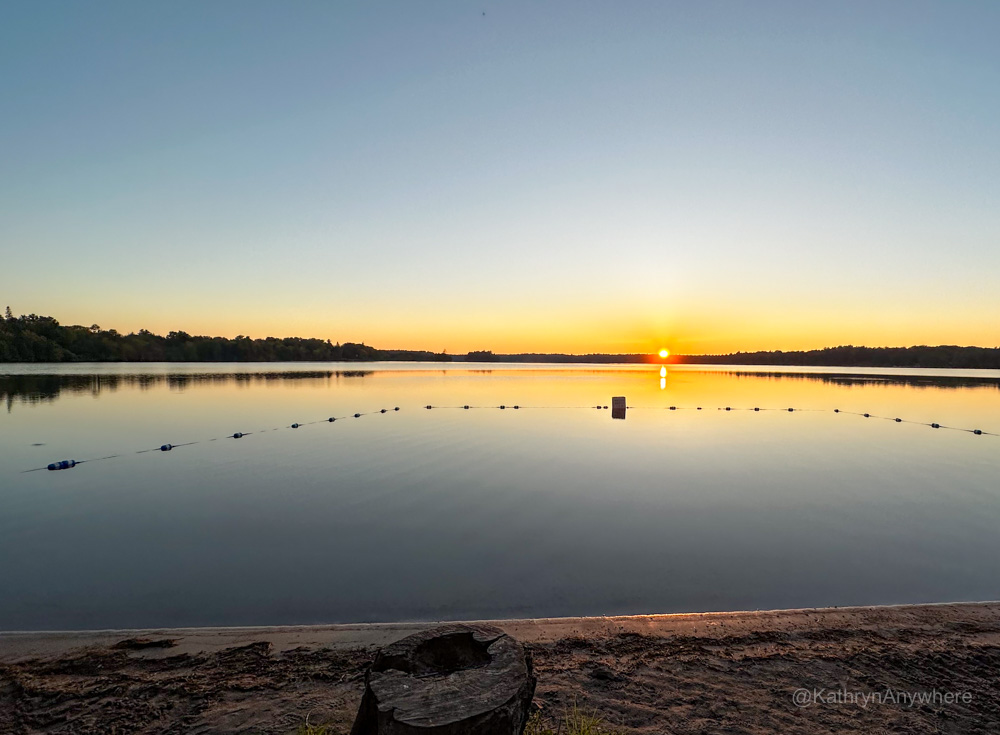 What Facilities are at Silver Lake PP?
Silver Lake PP offers great canoeing, kayaking, stand-up paddle boarding, swimming, boating and fishing opportunities. Canoes, kayaks and stand-up paddle boards are all available to rent for a fee. The lake itself is smaller with cottages on shores. We saw fishing boats with very small motors and the wake that was created was never large. We did in fact canoe, kayak and stand-up paddle board during our camping trip at Silver Lake Provincial Park. The water wasn't cold, which was a warm, early autumn surprise.
As mentioned, the water is quite clear and for a distance, it is fairly shallow. It's rocky, not sandy. I would not say this is a lake you can walk out a fair distance.
By the way, fishing tackle and rods are also available to borrow. Children are given a Junior Angler card, it's a cute souvenir!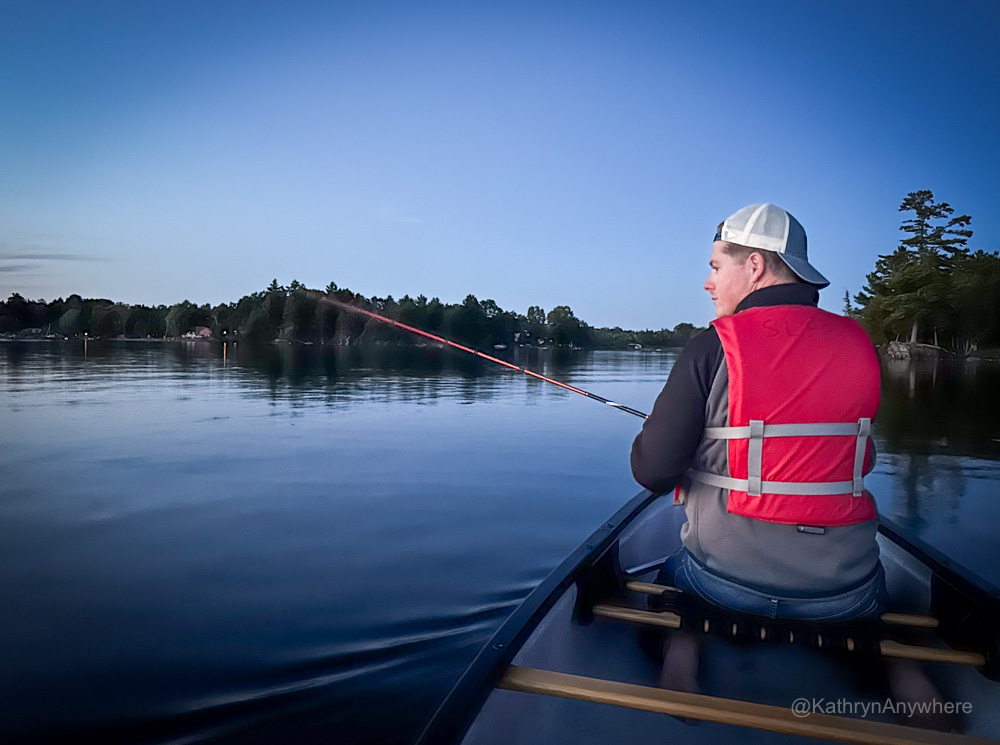 I cannot stress this luxury item enough: hot, running water at the comfort station. The comfort station has hot running water in the showers and hot water in the sinks where you wash your hands. For those who have camped when it is cold know this is an incredible perk!
The comfort station is cleaned very regularly. It's in the centre of the park, but do not fear if you're farther away from it, there are vault toilets to relieve yourself at. And running water in the campsites you can take back to your site to boil.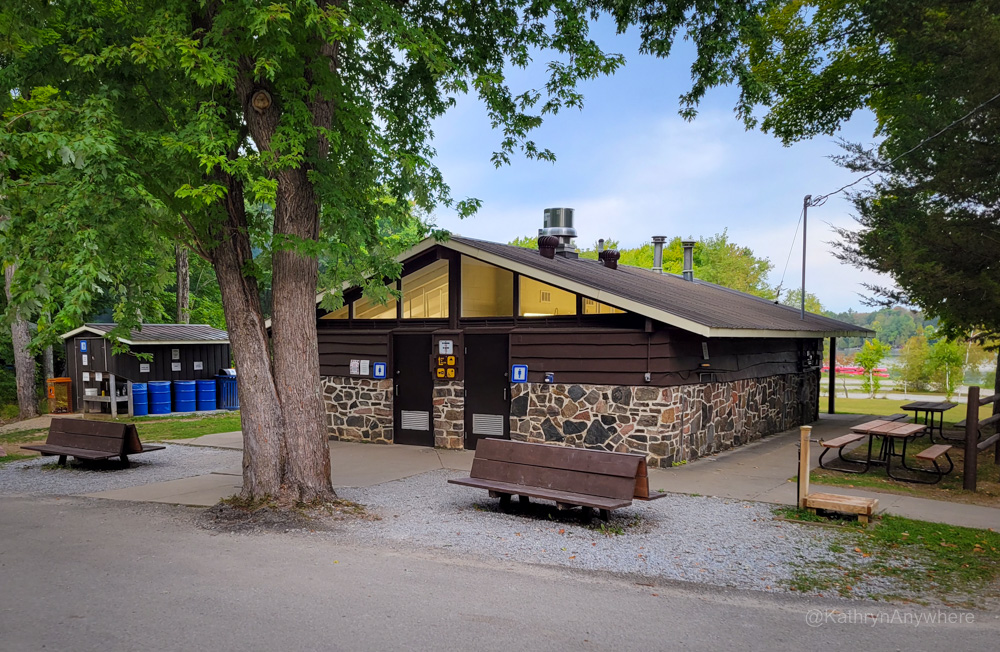 Lastly, there is a large, spacious and well-kept playground at Silver Lake Provincial Park. Hours of running around for kids await. For the parents, bring a chair or a blanket to sit on while you are there, as there aren't benches.
Can we Hike at Silver Lake Campground?
Silver Lake Provincial Park has a short hiking trail. The hiking trail is called the Marsh Trail. It's not very long, about 500 metres roundtrip, and it is mainly flat and easy. We walked through part of the Wesley Campground from our site to reach the trailhead, which is located between sites #84 and #86. The trail has a short boardwalk that crosses a marsh at the eastern edge of Silver Lake. The path then weaves through the forest and passes picnic tables along the way. The trail leads to the Algonquin Campground across from site #121. The hiking trail is accessible for strollers and for those with mobility issues.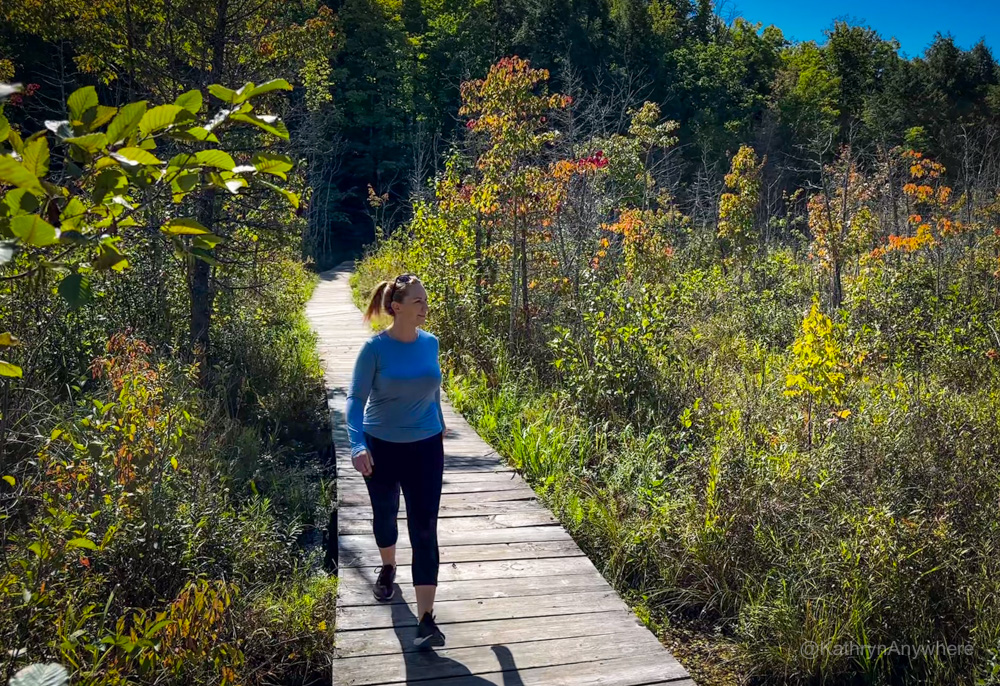 Are there bugs At Silver Lake Provincial Park in the Fall?
I can't say with complete certainty that you won't encounter a mosquito while camping in the fall at Silver Lake Provincial Park. I can say the odds are less that you'll leave a camping trip with pesky bites all over your ankles. There are some bugs out there, but a lot less. I counted, on one hand, the number of mosquitos I saw on my weekend in Silver Lake Provincial Park. Bear in mind this is seasonally dependent and the number of mosquitos encountered on any other camping trip there is not my guarantee.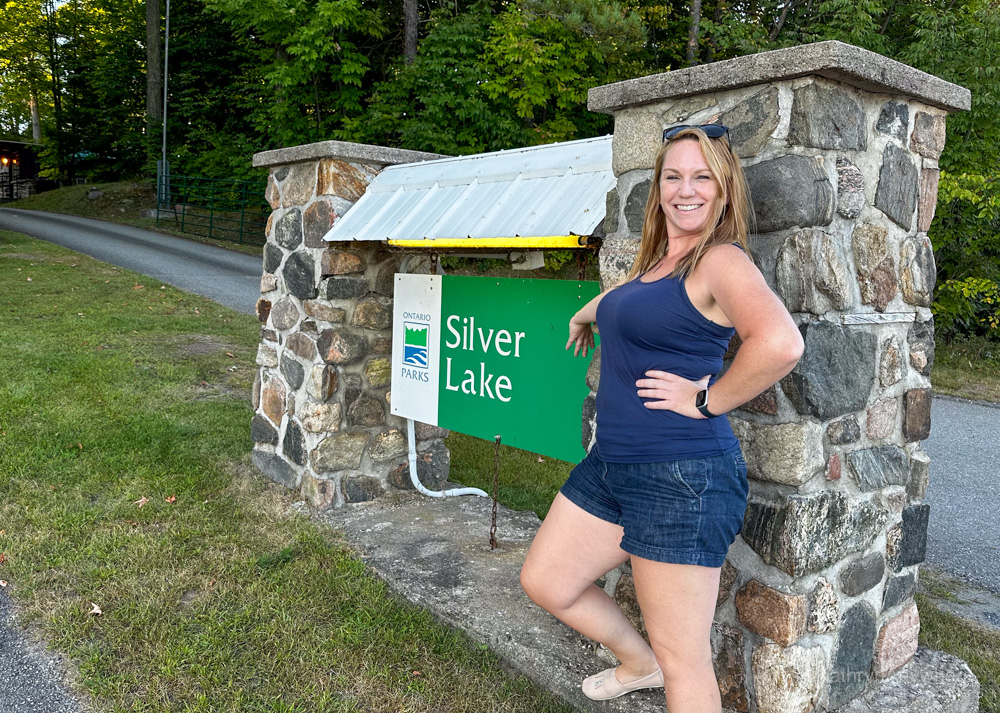 Ready To Camp This Fall At Silver Lake Provincial Park?
Are you ready to go to the Ontario Parks website now and book a camping trip to Silver Lake? I know I'd return. We lucked out with absolutely perfect weather of shorts and t-shirt weather during the day. Hoodies and sweatpants were sufficient in the evenings.
Heading into the last bit of September and the beginning of October will be the prime season for the autumn hues and fall foliage. The canopies at Silver Lake in the campground are going to be lovely. And really, an autumn sunset on a beach is the best!
Oh and before I forget, here is our campsite! It's site 102 in the Wesley section. Yes, I am aware that the dining tent is humongous!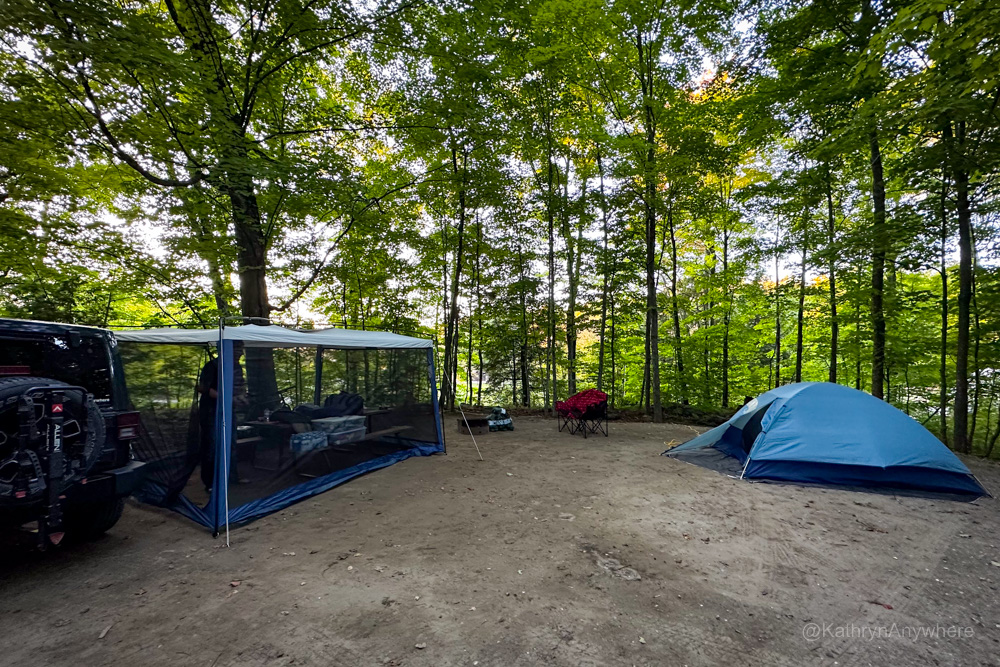 Happy camping and let me know what you think of Silver Lake Provincial Park!
I am being compensated for this article by Ontario Parks.
I wouldn't have taken this assignment to Silver Lake Provincial Park if I wasn't a passionate camper and genuinely thought fall is the best time to camp.
Money never sways my opinions.
Many thanks to Paul McGrath for taking stellar photos of me and coming along for the adventure.
I'm no stranger to experiences in Ontario Parks. You can read up on my other camping and glamping trips here:
Winter Camping at MacGregor Point Provincial Park
Epic Hikes With Kids – Barron Canyon Trail, Algonquin Provincial Park
Yurt Winter Camping in Algonquin? Yes Please!
Glamping in Bonnechere Provincial Park
20 Photos That Will Inspire You To Snowshoe at MacGregor Point Provincial Park With Your Kids
Serpentine Loop in Kawartha Highlands Provincial Park – 20 Photos to Inspire You To Canoe That Route
Canoe Portage With Friends: How To Have A Successful Back Country Camping Trip