Hogg's Falls, outside of Flesheron, is one of the many waterfalls of Grey County, Ontario. While some might call it a secret of the area, those of us in the know, call it a treasure to enjoy. 
The falls are in a secluded area on the Bruce Trail in the forest preserve area of Beaver Valley. Hogg's Falls are fed by the Boyne River that you can hike alongside. The waterfall itself is 7 metres tall and flows year-round unless it gets cold enough for it to freeze.
The falls are named after William Hogg, who built a sawmill upstream of Little Falls – the original name of Hogg's Falls in the 1870's. That mill burned down in 1888. Hogg relocated further north in the Beaver Valley to Eugenia Falls. There is a legend that these falls are actually named after a world-class cricketer, William Hogg. However, I have yet to find the connection between the two of them.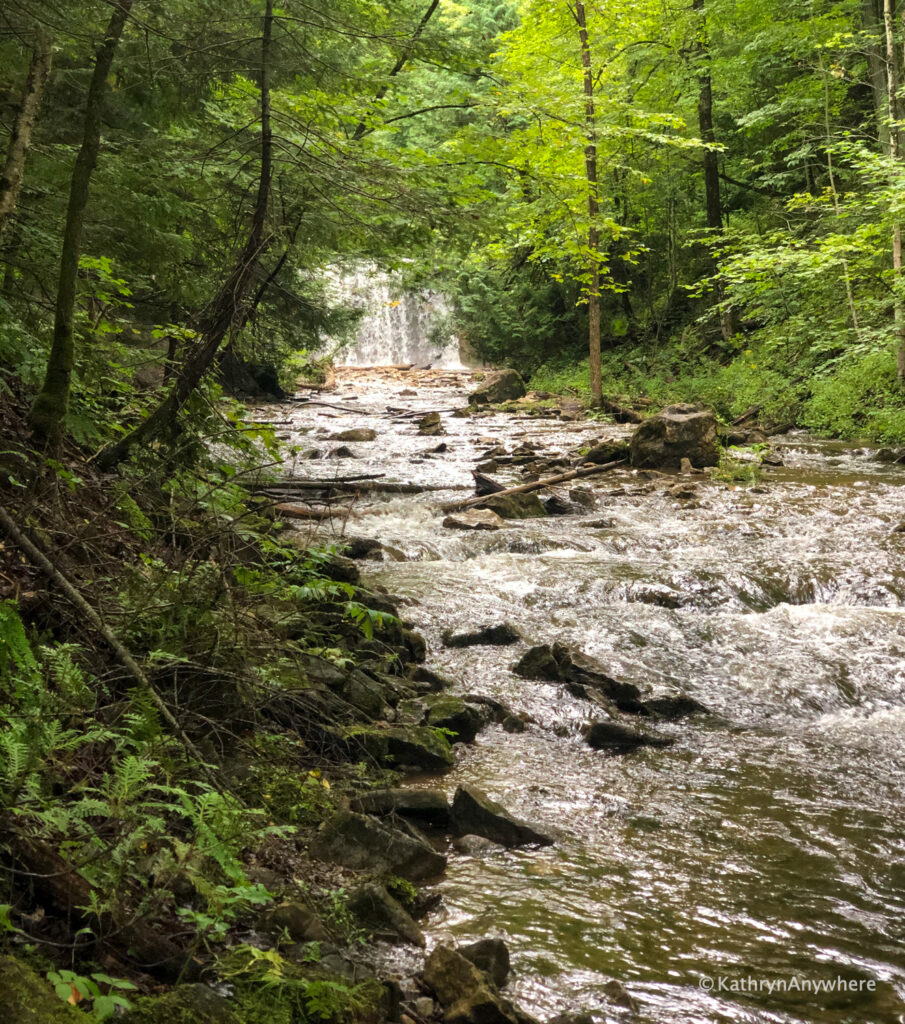 How To Get To Hogg's Falls
The address of the parking lot for Hogg's Falls is 170566 Lower Valley Road in Grey Highlands. If you are driving from the  Toronto area, the simple directions are to take highway 10 north to where it ends at Champ Burger and Super Burger. At those stoplights, head west through the town of Shelburne. When you reach Owen Sound Road, head north to Flescherton. You'll see the signs to head northwest on Collingwood Street and then you can follow signs to Hogg's Falls from there, but your GPS on your mobile device is the best bet from coming from anywhere else in the province of Ontario.
Parking has been free in the past to visit, hopefully, it stays that way.
Hiking to Hoggs Falls
From the parking lot, it's a short, half kilometre and gorgeous hike on the Bruce Trail alongside the Boyne River to the waterfall. It will not take you more than 5 minutes.
At the top of the falls, there is no viewing platform or fence. Please hold onto your children and exercise caution when viewing from the rockface overlook. You CAN however get to the bottom of the falls two ways. I have made the trek to Hogg's Falls a couple of times and have done the viewing both ways.
There is a side trail that takes you down to the river. You can if you're okay with risking getting wet, hike alongside the side trail. I always recommend bringing a second pair of shoes and socks in your vehicle when you hike. This way if you get wet, you have dry socks and shoes as back up.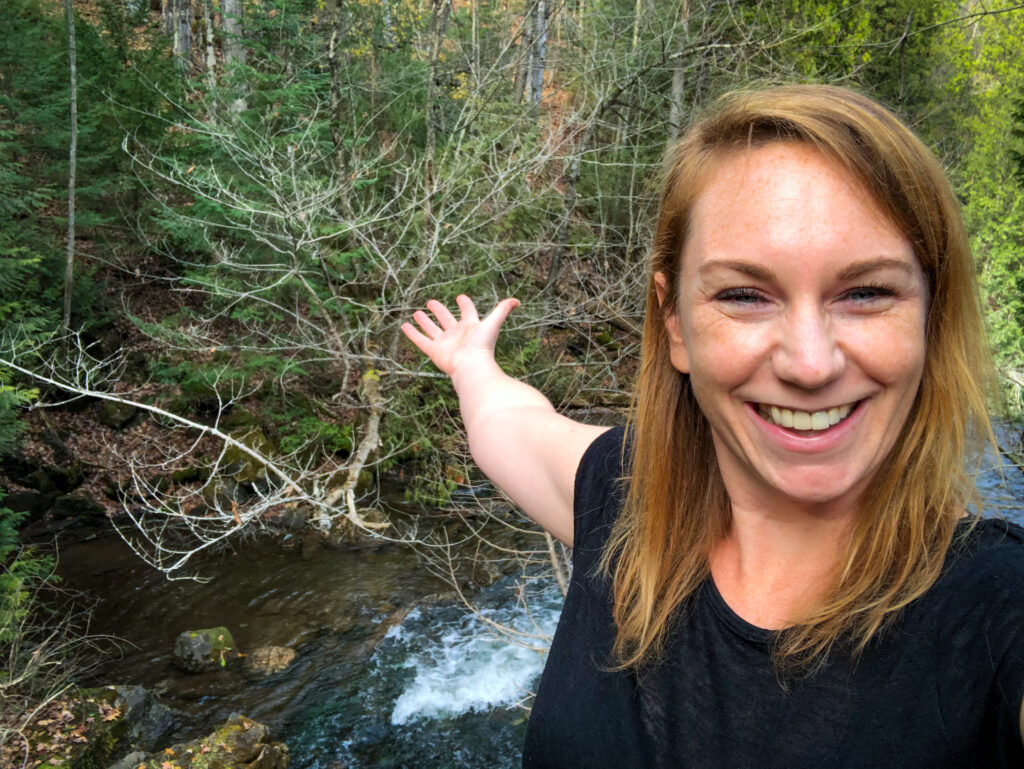 The other way to get eye level with Hogg's Falls is to climb down a rope that has been replaced quite a few times and is quite muddy. I have personally done the rope climb up and down a couple of times and while I do not find it to be difficult, it does require caution. Your hands will get dirty doing this. The rocks are always wet and that makes it slippery. I cannot vouch for the safety of the rope and definitely use it at your own risk. The drop is not far, but you are on wet rocks. There is always a risk of slipping and injury.
Here is a video of me climbing up the rock face at Hogg's Falls so you see what it is:
The trail from Hoggs Falls continues through Lower Valley Road and there is a great 5.3-kilometre loop.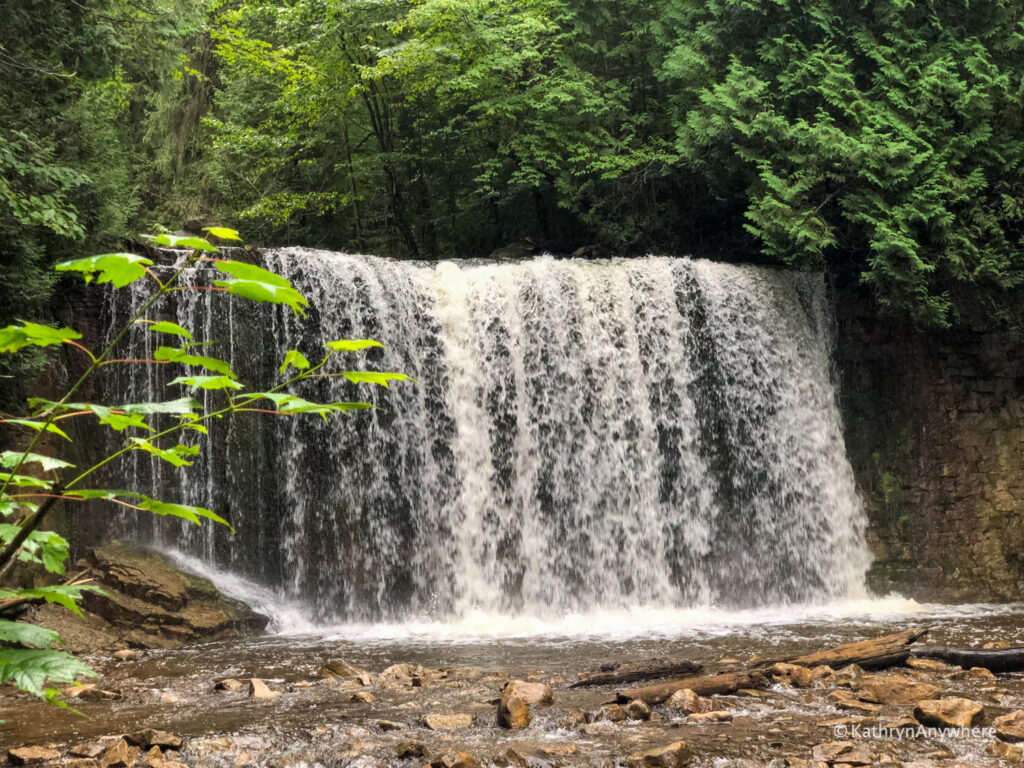 About Hogg's Falls
Hogg's Falls is on what is known as Crown Land. Crown land is the term used to describe land owned by the federal or provincial governments.  
The falls are classified as a plunge waterfall. A plunge waterfall means they are waterfalls that drop vertically without touching the underlying rockface. Another great example of a plunge waterfall in Southern Ontario is Decew Falls, close to St. Catharines.
A burning question a lot of people have – where is the washroom? There is a porta-potty at the parking lot. I've seen many people park and look for a place to get changed so they can take Instagram worthy pictures of themselves in flowing dresses. There is no changeroom here for that.
This is not the place to dump the garbage from your vehicle either, so please plan to take out with you what you bring in.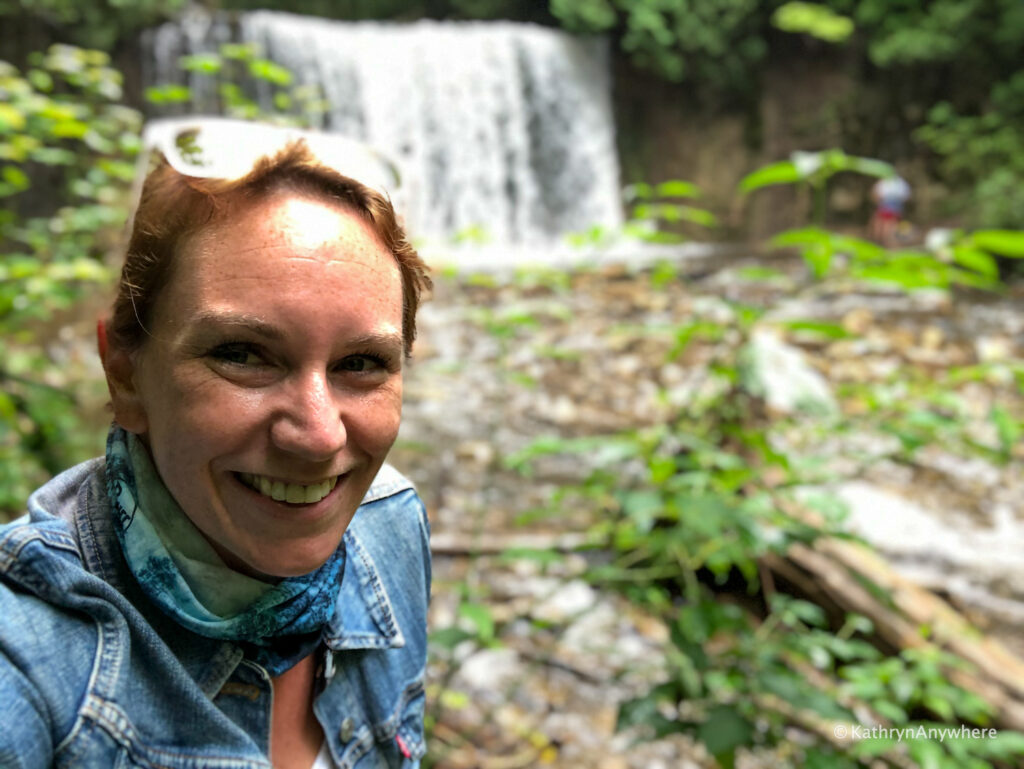 Winter In Hoggs Falls
It is definitely possible to visit Hoggs Falls in the winter months. While summer is always a good time to view waterfalls, the cold weather brings a certain calm and tranquillity. And fewer crowds! The trail is perfect for snowshoeing except for the stairs. Pop your equipment off there to go up and down. 
Hogg's Falls are seriously picturesque in the winter. While I would not recommend getting in the water for any photos, you can definitely view them and enjoy them.
 

View this post on Instagram

 
Proximity and Hike to Eugenia Falls
Eugenia Falls is known to be the show stopper between the two waterfalls. Between Eugenia Falls and Hogg's Falls, you're more likely to find crowds at Eugenia Falls.
In the area around Hogg's Falls, you'll find many trails. Hogg's Falls can be accessed from the Bruce Trail, which is one of the longest marked hiking trails in all of Canada.  The loop trail between Hoggs Falls and Eugenia Falls is 12.6 kilometres.
If you're not in the mood to hike the trail or are physically unable to do so, you can drive between the two waterfalls in under 10 minutes.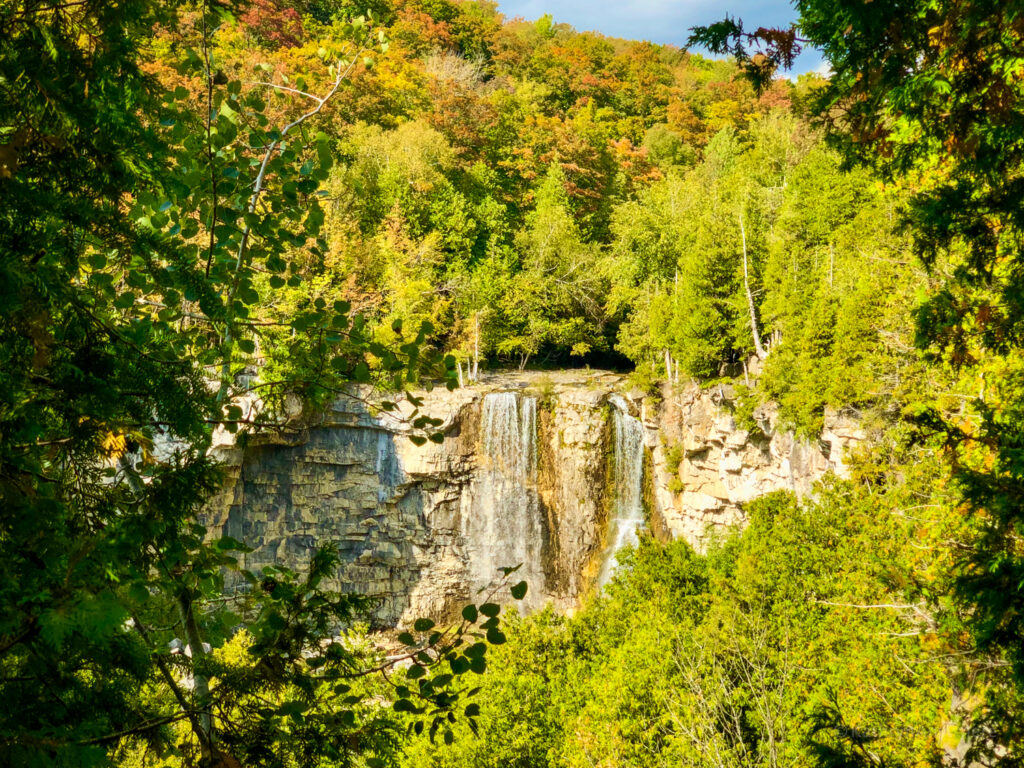 Other Things To Do In The Area
Trust me when I say that a drive to Hogg's Falls is only part of a day or afternoon trip. In Grey County, there are a lot of craft breweries, wineries, cideries, world-class hiking and attractions that are all worth seeing and experiencing. Hogg's Falls is approximately a 45-minute drive from Scenic Caves and the village of Blue Mountain. You can also make it to Collingwood or to Owen Sound in an hour.