On any normal weekend or summer day, it's not uncommon for tourists to wander the streets of downtown Toronto. Out of towners can be seen armed with their maps application open on their phones and wide-eyed kids looking around. Many families from around rural Ontario and in non-pandemic times, New York State flock to Toronto on weekends or holidays. They crowd many of the top attractions like the aquarium or the museum not knowing how many gems that the locals know about. And of course, we know how to entertain ourselves for free all year long! I'm not talking about a one-weekend festival or street party. These are places that exist all year long. From the interesting to the strange, unusual and seemingly normal, here are some of my favourite free things to see in Toronto, Ontario with kids in all seasons.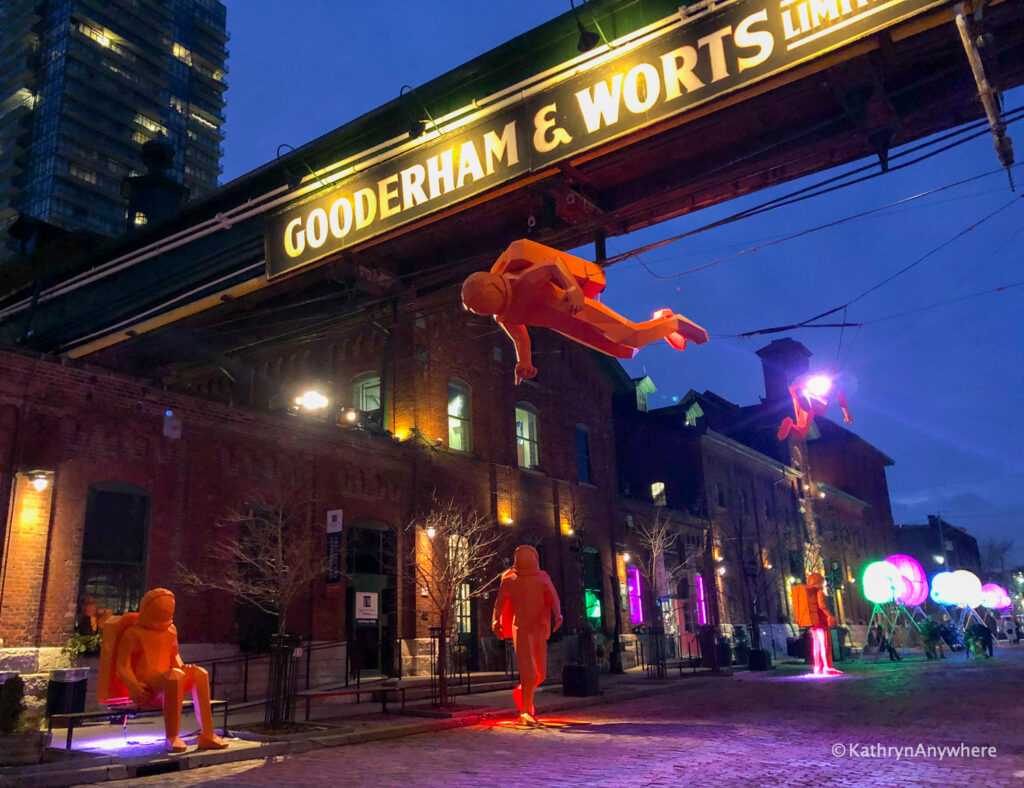 Free Things To See In Toronto With Your Kids
You're clearly here because you want to know some of the best spots to see interesting and free things in the city of Toronto and entertain your kids. Skip all the lines and admission costs and knock a bunch of cool and offbeat places on this list off. Again, there is no cost to enter and observe anything listed here. Local Toronto family secrets revealed!
For those who are going to ask – I actually live, work and play in the city of Toronto. I raise my children in downtown. They attend a downtown school. They are thriving artists and athletes. We do not live in a box in the sky. We actually treasure and utilize our local library. What to know more about our urban lifestyle? You can check out What It's Like Living In Toronto With Kids here.
Leslieville's Crazy Doll House – The Tchotchke House, 37 Bertmount Ave
If you want to feel like you've just arrived on the set of a Tim Burton movie, well, you've found it. Almost everyone in the east end Leslieville neighbourhood knows about the dollhouse on Bertmount Ave. Unlike the neighbouring tidy lawns filled with flowers and simple decor, the doll house's front yard is full. It's filled with everyone from Barbie to Homer Simpson, John Cena, and an unreal number of classic Disney characters.
Sounds cute, right? It actually looks a little creepy. There's something weird about all the dolls tied to the fence and sticks in the lawn.
Next time you're on the 501 Queen Streetcar, jump off at Caroline Avenue. Take a wander north on Bertmount Avenue for this fairly uncommon and certainly unsettling lawn decor.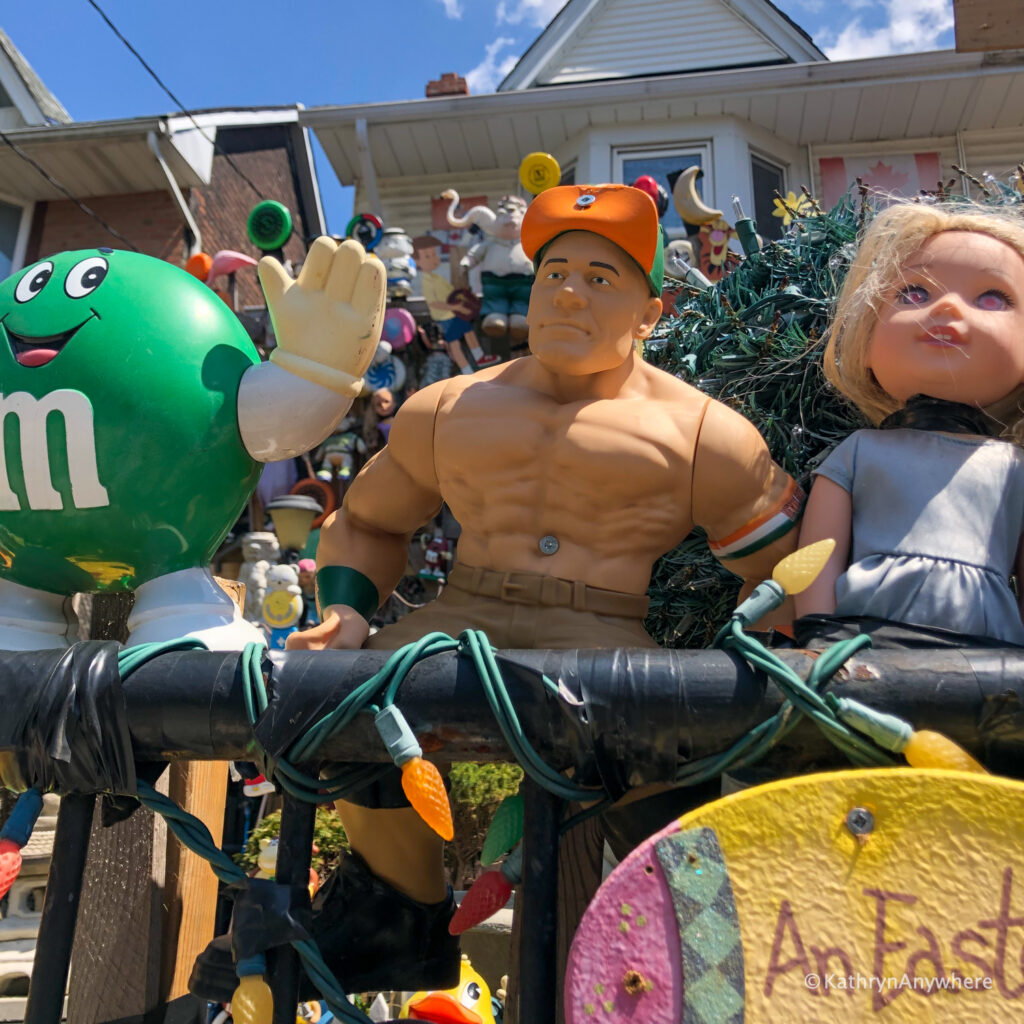 St. Mary's Cholera Cemetery – 130 Bathurst Street
Wait, what kind of a parent takes their kids to the St. Mary's cholera cemetery? Uh, me!
At the beginning of the pandemic, I wanted my kids to learn what happens to people while illnesses don't get eradicated. I'm not comparing COVID-19 to cholera. Secondly, we can walk there from our front door, so we did.
This cemetery was built as an emergency burial ground. Many graves unmarked during the epidemics that hit York (later known as Toronto) in 1832 and 1834. At that time, Bathurst Street (as we know it today in the west end of downtown) was far away from the emerging city and the important Fort York. Therefore the location was thought to be a safe place to dump the dead. The remains of those in this cemetery are thought to be British and Irish immigrants who contracted cholera on their transatlantic voyage to Canada.
These graves were forgotten for many years. Human remains in unmarked graves on the lawn of St. Mary's church were discovered a few years ago during work to the foundation of the church. A little bit of historical digging proved who and what was there. While this is a slightly macabre stop, it's a great history lesson on the founders of the city. This is what our ancestors went through in order to settle here and build the city of Toronto.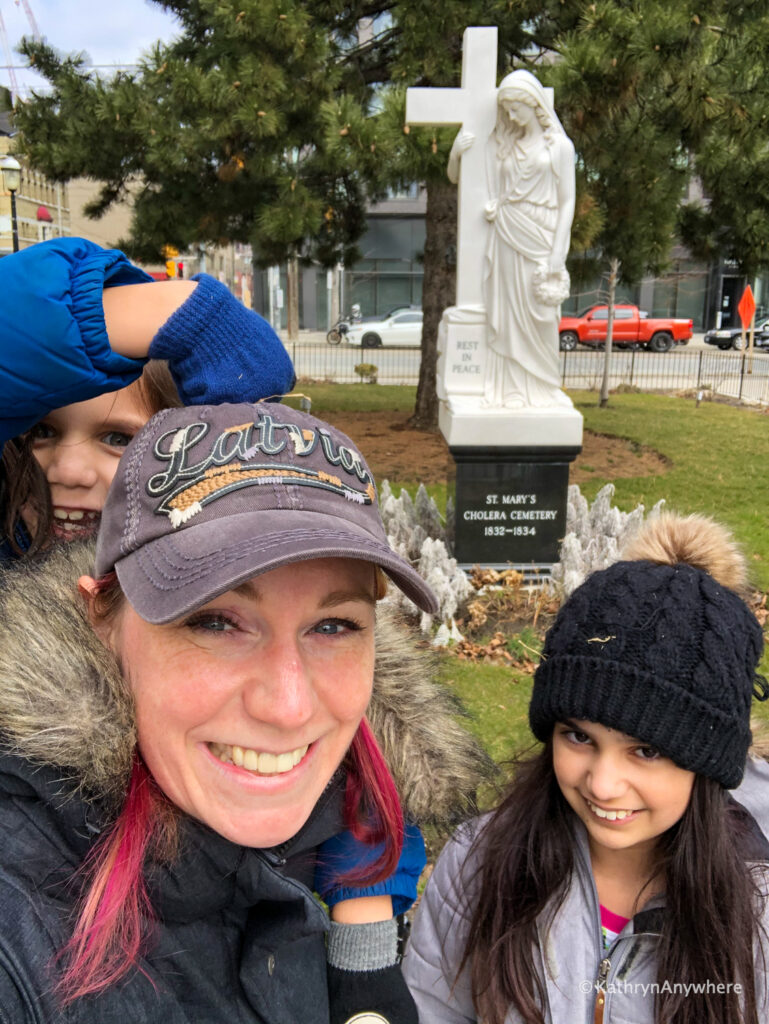 Necropolis Cemetery – 200 Winchester Street
Another cemetery? What on earth are we doing at the Necropolis in Cabbagetown, at the east end of downtown? Well, the Toronto Necropolis is one of the city's oldest and most historic cemeteries. History buffs will be cool with this information – this cemetery is where you will find the graves of  William Lyon Mackenzie; journalist George Brown (of which a college is named after); John Ross Robertson, founder of the Toronto Telegram; former NDP leader Jack Layton; Anderson Ruffin Abbot, the first Canadian-born black surgeon; and world-champion oarsman Ned Hanlan (think Hanlan's Point).
It's one of the most photographed places in the city due to the Victorian buildings, gothic architecture, stained glass windows and historical significance. There is also a monument here for Samuel Lount and Peter Matthews. The duo was hanged in 1838 for their roles in the Mackenzie Rebellion. What was the MacKenzie Rebellion? Oh, you can read about that insurrection here.
Now, if your kids tolerated this geek fest of an excursion, there is a great ice cream shop kitty-corner to the entrance gates. Grab a cone and head to the next destination, which is right across the street.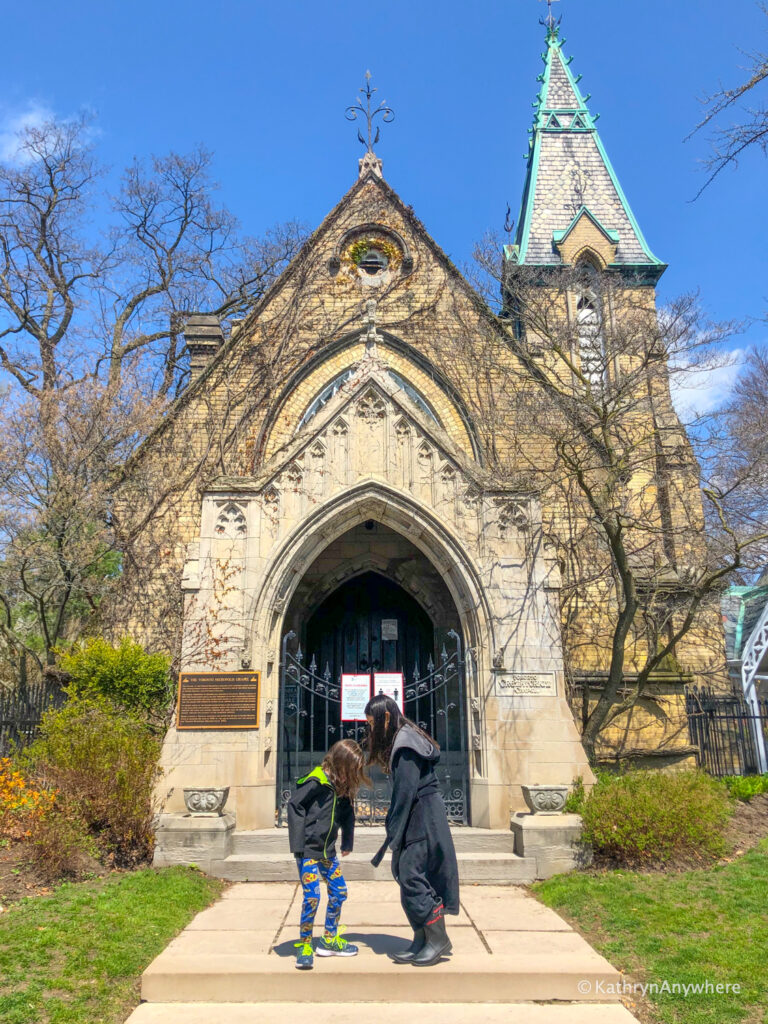 Riverdale Farm
Across the street from the Necropolis, it makes sense that there is an urban, working farm, right? Riverdale Farm is a 7.5-acre property that will give kids and parents a first-hand taste of real farm life. Everything happens here from raising and breeding livestock (cows, horses, donkey, sheep, goats, pigs, chickens, turkeys, ducks, geese, rabbits, and farm cats) to the year-round craft programs in The Meeting House.
The farm also features flower, vegetable and herb gardens. There are wooded areas and ponds connected to the city's rich ravine system to walk through as well. I used to come here when my kids were toddlers in the spring when the baby animals were out. It was pretty magical.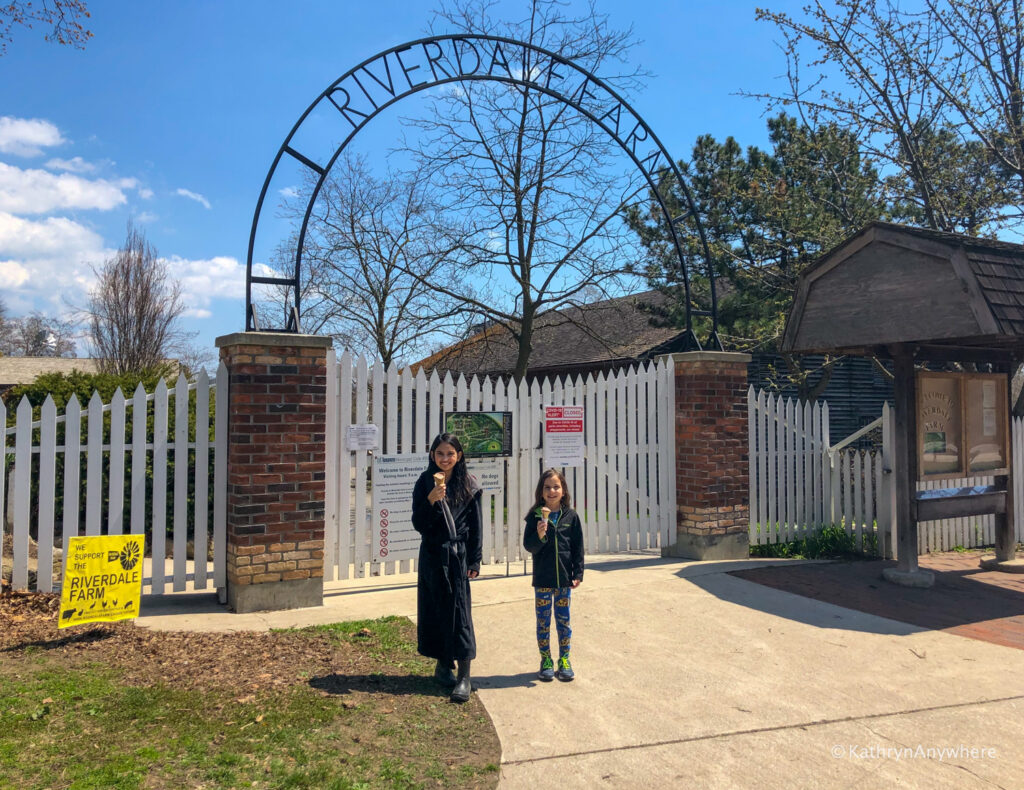 High Park Zoo
Kid you not, I walked up and down this little zoo hundreds of times with my kids in strollers. First was my daughter, then came my son. High Park was a favourite of mine to get my walks in while on maternity leave. And I was never alone! With over one million visitors annually, High Park is the absolute best in Toronto's park system.
First opened in 1893, The High Park Zoo has eleven paddocks hosting a variety of animals including bison, llamas, peacocks, reindeer, highland cattle, emus and sheep. Let's not forget the notorious tropical rodents known as capybaras that busted out of the High Park Zoo and frolicked in the neighbourhood like star crossed lovers for weeks back in May 2016.
Listen, the poop smells here, but the kids don't seem to mind. Once you have strolled the zoo, be sure to hit the cafe for the breakfast or lunch special. Best priced and value breakfast in the city – in my honest opinion.
View this post on Instagram
Hike the Glen Stewart Ravine
I'm all about hiking trails. And this one feels like a picturesque secret. The Beaches neighbourhood in the east end of the city has a much more laid back and into nature vibe than a lot of other places in the city and I am here for it.
You can find the Glen Stewart Ravine just south of Kingston Road, or just north of Queen Street East depending on how you want to describe it. In the summer, the canopy of green is just breathtaking, in the fall, the autumn hues are stunning. This 15-minute walk in the east end neighbourhood is a gem of a find in the bustle of the city. You'll find wildlife and places to explore. This is where your imagination can run wild.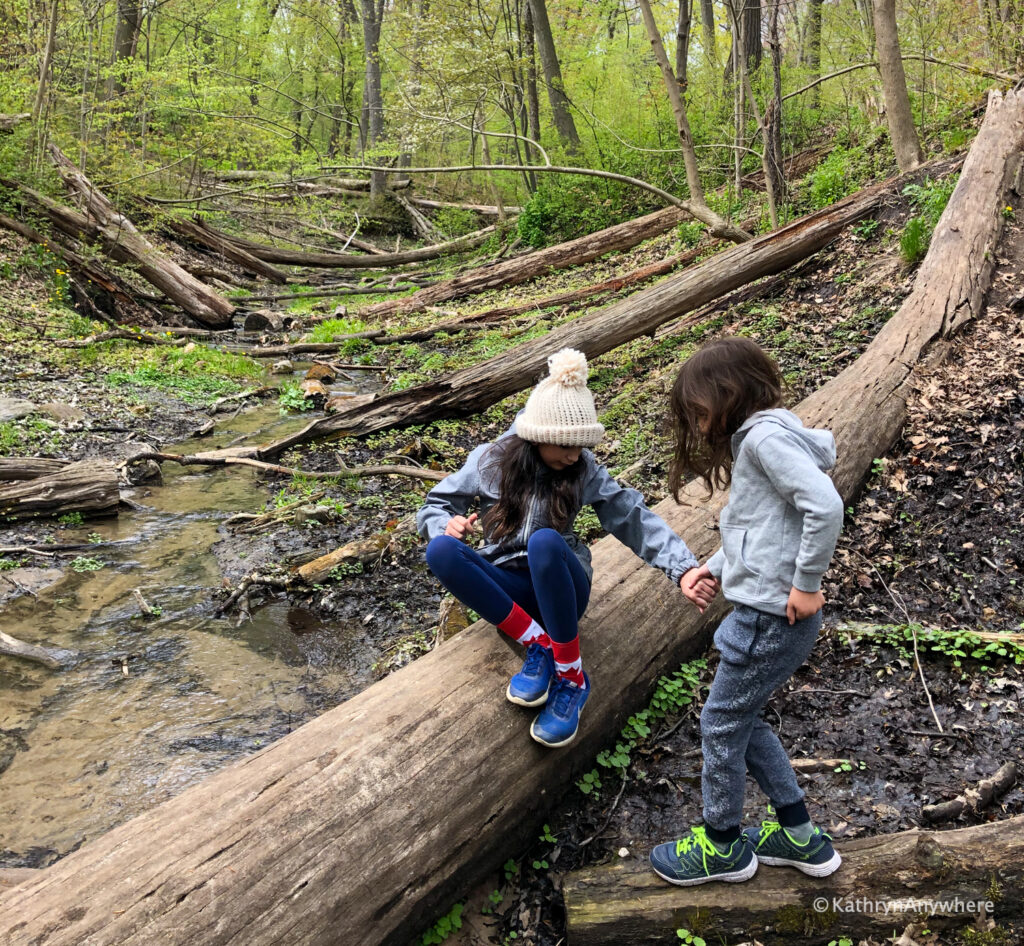 Distillery District Art Installations
The Distillery District in Toronto is hands down one of my favourite places to take the kids at any time of the year, for any occasion. To visit this area takes you back to the time of horse-drawn carts and industrial Victorian architecture. Mix with new design, modern cafes, tasty restaurants and you have a recipe of an area we are fortunate to be able to visit again and again for free.
What's truly phenomenal about the area is that there is a constant flow of art installations. Yes, there are defined festivals and exhibits to see, but at any given time you are there, it's a visual feast to the eyes and a playground for the children. The Distillery District truly is one of Canada's best places to visit.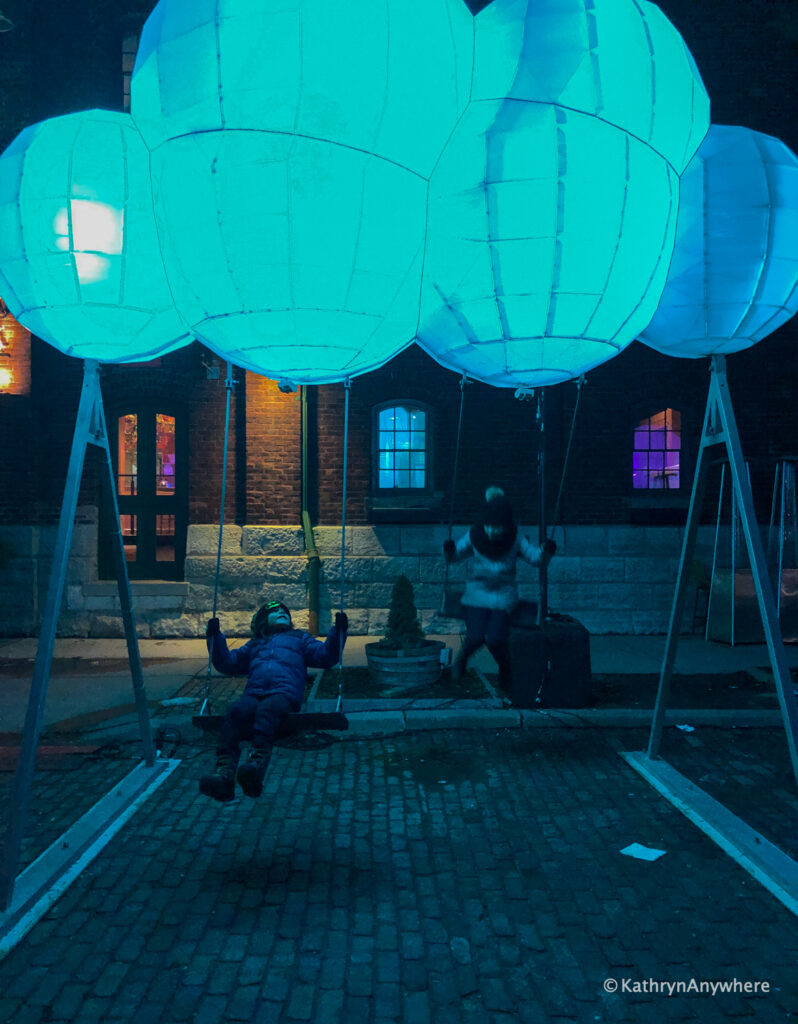 Admire the tropical plants at Allan Gardens Conservatory

Originally opened in 1860 by the then Prince of Wales, the original Horticultural Gardens has been home to the Toronto Horticultural Society since 1834. This greenhouse located on Gerard avenue is open all year long and does not charge admission fees. The greenhouse here is filled with tropical plants and flowers that pique the interest of those from aged 1-99 years of age! It's a really cool spot to come and hand for a while and just take in the smell and scenery around you.
Take Pictures in Graffiti Alley
On any day, at any time, you might see an artist creating a masterpiece in Rush Lane. Rush Lane is the other name for Graffiti Alley in the Queen Street West neighbourhood of Toronto. A half-block south of the southwest corner of Queen Street West and Spadina Avenue is where you find the signpost to Rush Lane. No walk through here will ever look the same as the artists come and go and constantly are painting over old art and cover every nook and empty cinder block.
For kids who are budding artists, this is a mecca of inspiration. Graffiti, once shunned a spam art or undesirable spray paint tags is front and centre here as murals across an entire building and completely cool street art. This is a canvas for unlimited talent.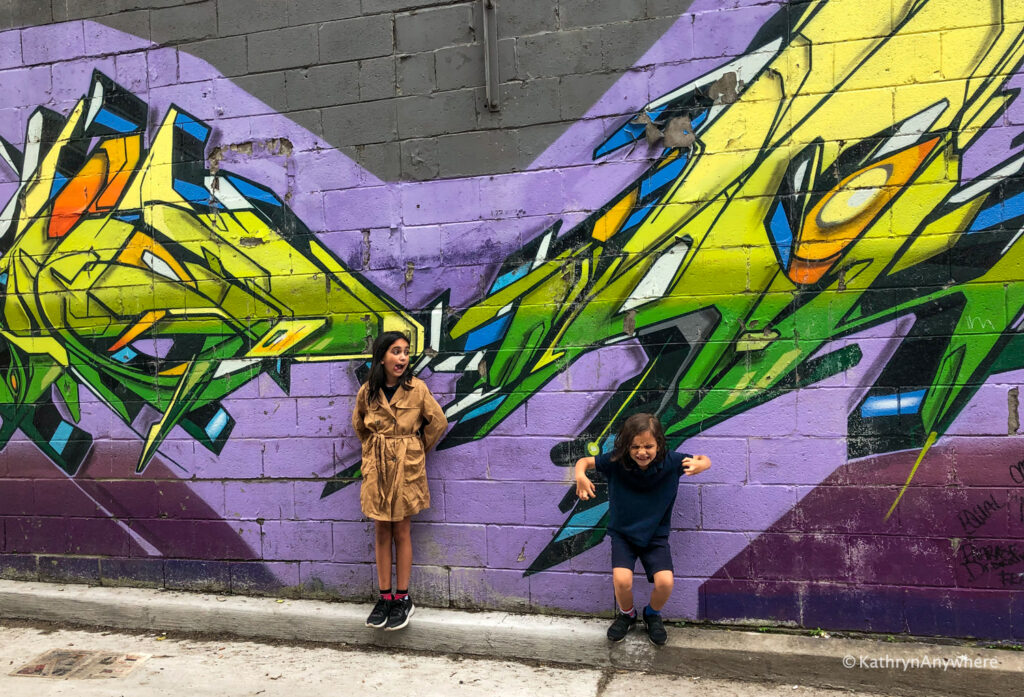 Ireland Park
Part of my heritage is Irish, as my kids share my genes, they share that ancestory too. I think it's extremely important that you understand history and knowing where you have come from.
This park, located at the foot of Bathurst Street, pays homage to the tens of thousands of Irish immigrants who fleed to Toronto during the potatoes famine in Ireland looking for a better life. For many years, the Irish need not apply – meaning not only did those who survived starvation and crossing the Atlantic ocean face perils that most couldn't handle, they arrived where they weren't wanted.
It's not a stretch to say that there are many prominent Toronto residents from past and present who have Irish heritage tracing back to that time.
View this post on Instagram
HTO Park
HTO Park is an urban beach in Toronto. while you can't walk out in the sand into the water here, it faces the inner harbour where you can see the Toronto Islands across the water. Grab a seat on one of the Muskoka chairs under the bright yellow umbrellas and watch the boats whiz by while your kids attempt to make sandcastles.
The sand isn't deep enough here to be buried, but there is enough to get your toes into it.
View this post on Instagram
Plane Spotting across from Billy Bishop Airport
Plane spotting is probably one of the nerdiest ways to pass the time with kids in Toronto. And truth be told, the kids might not want to stay in one place long enough. However, if they try it and like it, it becomes a great pastime for any time of day, during any month or season. while Porter Airlines planes are mostly grounded during the pandemic, there is still a lot of private aircraft going in and out of Billy Bishop airport that you can watch from the William David Trail in Trillium Park.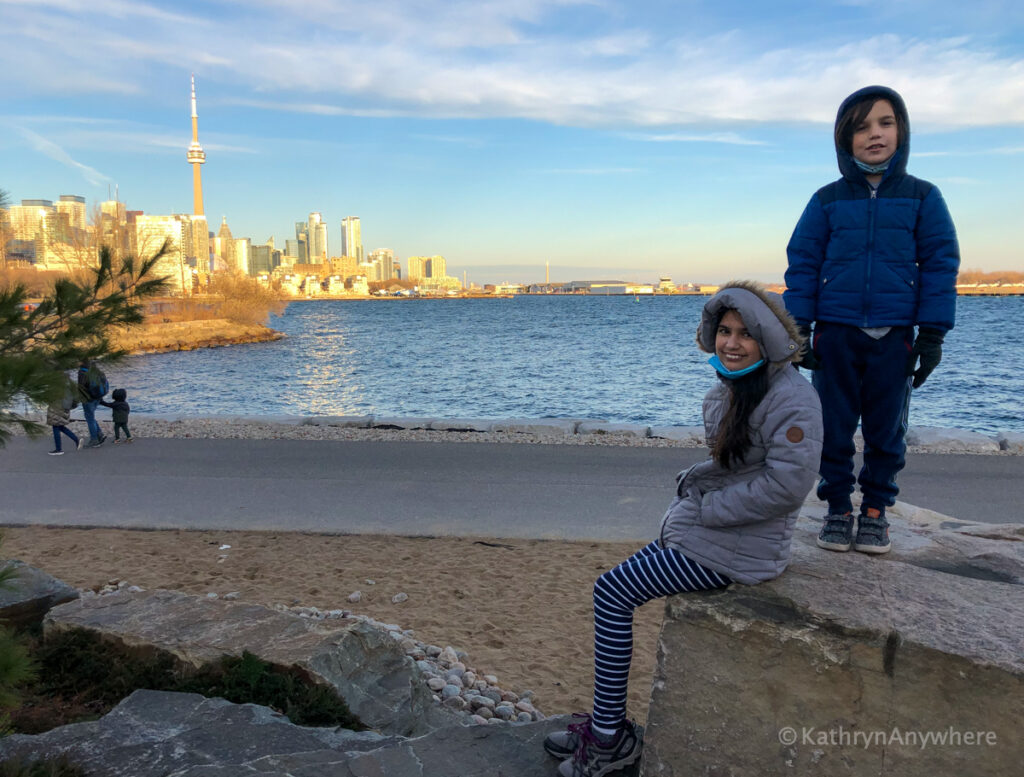 Where can you find all these places? I've plotted them on a google map for you and will update it as I discover new and interesting places!
PIN ME FOR LATER