One of the pillars of my life is that I don't really have a bucket list. I try to live everyday to its fullest and "just do it". I do have a list of things I want to do, but it's not a bucket list per se, that's a thought for another day. As a person of the sandwich generation, I walk that line of worrying about my parents and my children at the same time. So when Fuego Box sent me a couple boxes of hot sauce to test out, I didn't wait for the holidays to give them out as gifts, I jumped in the car and drove to visit my folks and had a hot sauce tasting party with my dad, my sister and one of her friends to celebrate having taste buds, because why not?!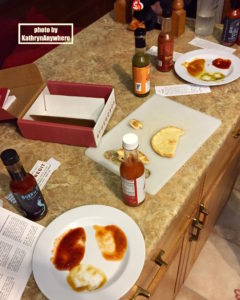 After we sent all the kids to bed, the beers came out and the pitas went on the oven!
Fuego Box is a subscription service that will deliver hot sauce to your front door. What I think it really cool about Fuego Box is that they are sending you things you've never heard of. These are not your typical bottles that you can buy on the shelf in the grocery store! These have been specially sourced and tested and are of high quality and flavour – so if you're thinking about an original Christmas gift for the "hard to buy for" person on your list, this is it.
I received two boxes from Fuego Box to try and each box had three bottles of hot sauce in it:
1. Fuego Box – 3-bottle box – welcome edition (everyone's first box)
Includes: 5 oz. Frankie V's Spooky White, 5 oz. Born to Hula Ghost of Ancho, 5 oz. Zana Sauce, 1 Fuego Box Hot Sauce Tasting Booklet, 1 card describing the three 5 oz. sauces
2. Fuego Box – 3-bottle box – current monthly box (November's Box)
Includes: 5 oz. Hoff Southern Stinger (Fuego Box Exclusive, Extra Hot), Butterfly Bakery of Vermont Squash (Fuego Box Exclusive), Born to Hula Harvest (seasonal Thanksgiving sauce)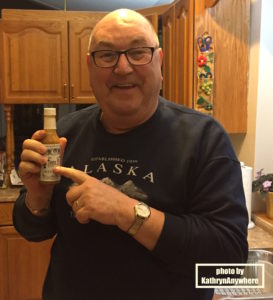 After putting some of the sauce on plates, dipping warms pitas in and tasting, oh and chasing with water and beer and plain pitas… And more water and beer and watching us all eventually get the sweats and laugh hysterically at each other… Between my dad, my sister, her friend and myself, we all came back with a different result as to which one tickled our fancy the most and which one we wanted to keep for ourselves. You see, the flavours were so unique and the sauce wasn't about just being hot, it was delicious.
So… without further fanfare… Here are the results of our tasting test:
My Dad loved Frankie V's Spooky White sauce. It's a handmade sauce packed with a lot of heat and is made with white and orange habaneros, mustard, ginger, garlic, onions and infused habanero vinegar. Dad says he wanted to keep this one for his scrambled eggs in the morning. The pedigree says it's great with guacamole, burritos, quesadillas, hot wings, nachos, hot dogs, in soups, hummus, egg dishes and you can dash a bit into cocktails. Caesars anyone?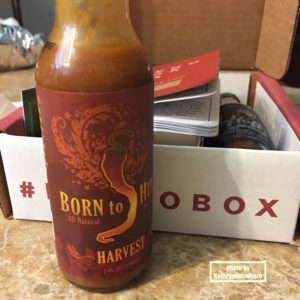 My sister really enjoyed Born to Hula Harvest. This is a seasonal thanksgiving, one time release sauce. It's like a spicy little pumpkin pie in a bottle and highlights the Caribbean Red pepper that was harvested in North Carolina this year. It's recommended to try this sauce on Brownies, chili, ice cream, sweet potatoes, in coffee, on left over turkey sandwiches and really, any Thanksgiving meal. I can see this one coming out at Christmas again.
My sister's friend really liked Butterfly Bakery of Vermont Honey Squash sauce, it was the mildest of all that we tasted and it's maybe worth noting that he was also the first out of the four of us to break into sweats! This one would be absolutely perfect on thick soups and with cheeses and roasted vegetables. Maybe even on a grilled cheese sandwich? Worth noting – this is an exclusive to Fuego Box and made it such small batches, there is a written number on the side of the bottle.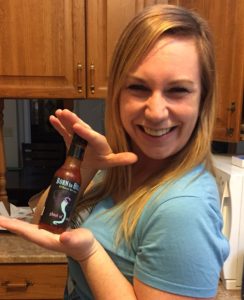 And for me… drum roll…. I went nuts for Born to Hula, Ghost of Ancho! It's a sweet and smokey heat that is not for the weak! The heat creeps up on you, but not in a bad way and there's no burn going down, it's all in the mouth. This sauce would pair well with a steak, brisket, ribs, burgers, grilled chicken, pulled pork, jambalaya, chili, wings or really any food out there that could benefit from a bit of smokey heat.
And while we were given these boxes of hot sauces to test out by Fuego Box, opinions are ours.
UPDATE!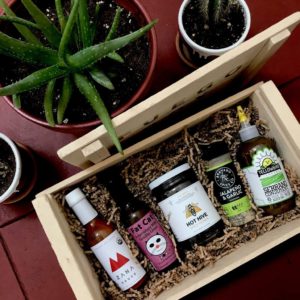 The guys over at Fuego Box have put together the perfect spicy Father's Day gift that also happens to support the fight against cancer. Each Chile Cause Crate includes 3 incredible hot sauces along with a jar of spicy honey and a tasty jalapeño & garlic seasoning, all in a fire-branded wooden crate. The best part? Fuego Box makes a $5 donation to Prostate Cancer Research for every box sold; so you can give yourself a pat on the back just for buying one.
Get this awesome gift delivered right to your front door or send it as a gift to your Dad if you won't see them in person!
–
–