My Day at Disney's Castaway Cay
Despite a spot of rain in the afternoon, the day we spent in late December at Disney's Castaway Cay was absolutely amazing! Castaway Cay is Disney's own private island and you can only reach it via Disney Cruise Line vacations (so if you're staying at Disney's Beach Club Resort in Walt Disney World, you're not exactly going to be able to squeeze a day trip in here!). If you're a Disney fan and haven't done a Disney cruise yet, I HIGHLY recommend this as an option.
As a side note, we did this cruise as part of a big family vacation (4 staterooms) and I found this to be the easiest way to keep track and co-ordinate 11 people with 11 very different interests.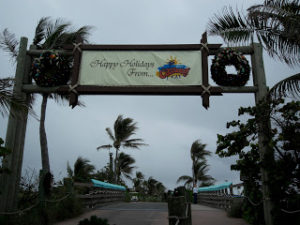 Disney's Castaway Cay in December
Seeing everything decked out for Christmas was a total gas! I loved seeing the wreaths and holly in the middle of the tropics!!!
This was also an excursion free day for us – we didn't book a thing. The whole family enjoyed the sand and water (a touch cold, but hey – it's December). It was my daughter's first time in the ocean. Her reaction was priceless!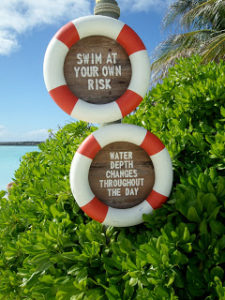 l would do this stop the same way over and over again! One highlight I did love – we were in a "port" and we weren't hassled because people knew we were tourists – everyone was a tourist and approximately 8-10 cast members actually live on the island to maintain it. Talk about tropical and magical!
Castaway Cay visitors find an island completely outfitted for premium family leisure. Ample amenities include open-air BBQ dining locations, 2 shops featuring Castaway Cay gifts and souvenirs, and convenient tram transportation (now with additional paths) around the island. Also enjoy the walking path 😉
Swimming, kayaking, water sports and more at the various teens-only, adults-only and all-ages areas

Open-air massages with an ocean view, a yoga class and a bar at the secluded, adults-only beach, Serenity Bay 

Port Adventures for everyone in the family, including stingray interactions, glass-bottom boat tours, parasailing and fishing

Free childcare at Scuttle's Cove, an expansive child's area supervised by Disney counselors

Disney Character Greetings, including a Dance Party with Lilo and Stitch
Has is been awhile since you've been to Castaway Cay? No sweat – there's a bunch of cool, new things to tell you about…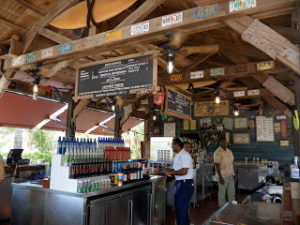 20 premium 325-square-foot private, furnished cabanas in 2 locations: Castaway Family Beach (for families) and Serenity Bay Beach (for adults)

An extension of more than 700 feet to the all-ages Castaway Family Beach

2 Water Play Areas: Pelican Plunge and Spring-a-Leak

3 additional private, ocean-view massage cabanas at the adults-only Serenity Bay Beach

The Hide Out, a teens-only activity area on the beach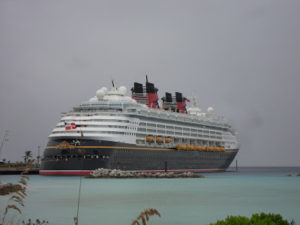 ***I booked my vacation through Fairytale Dreams and Destinations. This post is not endorsed by them or by Disney, this is my own opinion.***