Our stay at Disney's Coronado Springs Resort was in December 2011 and I wrote this post a few weeks later.
I have updated this post in December 2020.
When we travelled to Walt Disney World and took a Disney Cruise in December 2011, we hit the ground running directly into Christmas. My family was incredibly lucky to stay at Disney's Coronado Springs Resort for two nights (December 8-10, 2011) before our 7-Night Western Caribbean Cruise on the Disney Magic.
We had 3 rooms at Disney's Coronado Springs Resort and 1 room over at Disney's All-Star Movies Resort. My in-laws who had checked in earlier in the week were in Cababas 8B (8202), my parents and I were in Casitas 4 (4357, third floor and 4450, fourth floor).
At the time we visited, Coronado Springs Resort is a convention resort, Disney's first attempt at a moderate level convention resort (Beach Club and Yacht Club are convention Resorts in the Deluxe category). So you will see guests walking around in business suits and ties around El Centro, but most of the time they have on polo shirts with their company logos and/or name tags. The Convention Centre is separate from El Centro so you are definitely not impeding anyone's business affairs.  Free wifi for Guests at that time was being tested there – HUZZAH – we used it on our iPhones.
This is a really BIG resort square footage-wise – one thing I had forgotten as it had been a couple of years since my last visit here and I definitely wasn't with a toddler and two sets of senior citizens. If walking is not for you, then this is NOT a good resort choice for your vacation. I think if I was to stay here for a week-long vacation and I was relying on Disney transport (to empathize, with my toddler and with our folks, not just my husband and I or with our daughter when she is older), I would book a Preferred Room location. My dear old Dad actually rented an ECV, mainly for our day at Downtown Disney, but also because he's a heart patient who can't walk that distance to El Centro and back to Castitas 4 more than once or twice a day. I'm a huge fan of renting a car or driving your own vehicle down to Walt Disney World, so that being the case, it really wouldn't matter to me where I stayed. To clarify, the resort does have an internal bus system, so you're not stuck walking any great distance. I'm just a snob and when I'm on vacation I'm all about relaxing, no lamenting the fact that my daughter wants to take and count every single step from the Pepper Market to our room and if it takes her 35 minutes to do so, that's what we're going to do.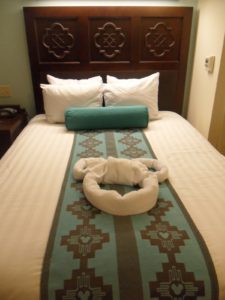 The rooms at Disney's Coronado Springs have been refurbished over the 2009 and 2010 time period, the instead of two double beds in each room like what all moderate level resorts came standard with, they are now queen size beds. That's a welcome addition. It didn't feel like a queen sized bed with all 3 of us in it though! The rooms are very nice and I also really like the divider that you can close to the sink outside the bathroom… I can be brushing my teeth, blow drying my hair without really disturbing toddler's sleep. Worth noting – our room was a corner room.
We were blessed with amazing weather for December! I've been to Walt Disney World in the past in December and have been wearing sweaters, the jeans I got off the plane with and swimming was out of the questions as it was way to cold. This time was different! It was glorious and we spent a large chunk of the Friday afternoon at the Dig Site! Granted, there was a quiet pool just outside our Castita, but we didn't want to interrupt the folks swimming laps. And my daughter shrieks with delight in the water, so best not to disturb those in the "quiet" pool 😉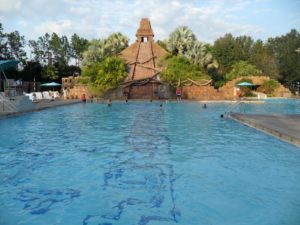 The water was heated, so it was very similar to the air temperature. It did get fairly busy, but there was still plenty of space for everyone. In case you get hungry, burgers and pizza are served at Siestas along with fun cocktails that cost a pretty penny or two or three! Unfortunately, we did not get to try out the water slide.
Coronado Springs Resort has a distinctive Mexican-Spanish architecture. Coronado Springs was named after Francisco Vázquez de Coronado, the Spanish explorer who traveled western Mexico and the American Southwest in the 16th century. Inspired by the explorer who searched for the fabled Seven Cities of Gold, Disney's Coronado Springs Resort celebrates the character and traditions of the American Southwest and northern Mexico.To see this Resort at night time, you'd definitely understand why it's one of the most photographed Disney Resort out there. The fountains are lit up and it's quite peaceful. Not the type of place you'll see loud teenagers.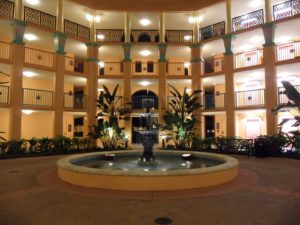 We ate breakfast both mornings at the Pepper Market. You choose your meals in a Mexican market-style set-up while walking from station to station and talking with the chefs. You are seated by a host/hostess and receive a ticket. The host/hostess will take your drink order. You then can stroll around the food areas, choose what you want to eat and just like buffet style, it's on your plate and you can come back for your favourites again and again! It's only recently being tested as a buffet, before they worked on a stamp like system that each Guest got, but now it's a flat rate for the buffet. Open breakfast lunch and dinner.
I bought a refillable mug the moment I arrived (which are now included in the 2012 dining plan – a good addition!) and used it at the beverage station in Rix and it was also used to be refilled at breakfast in Pepper Lounge.
I will for sure stay here again and I highly recommend this Resort for couples and families with children who are no longer toddlers. I do not recommend this resort for mobility impaired folks.