Tourism 1000 Islands hosted me to vacation with my kids in the
1000 Islands during our Stage 3 of the COVID-19 pandemic. 
Our opinions are always our own and as always we aren't coerced into having a good time.
I was incredibly fortunate to have grown up in Belleville, Ontario. Looking back now, the close distance proximity to the Thousand Islands was something my parents took great advantage of. And I'm all richer for it. We had a motorboat, a Regal. Not a large one, but we used to tow it behind our Oldsmobile named Gertrude and subsequently behind a station wagon I think my dad named Bessie and we took "Bypass" the boat to the Thousand Islands and dropped her in at the Ivy Lea boat launch summer after summer while we camped in the area. These are some of my favourite childhood memories.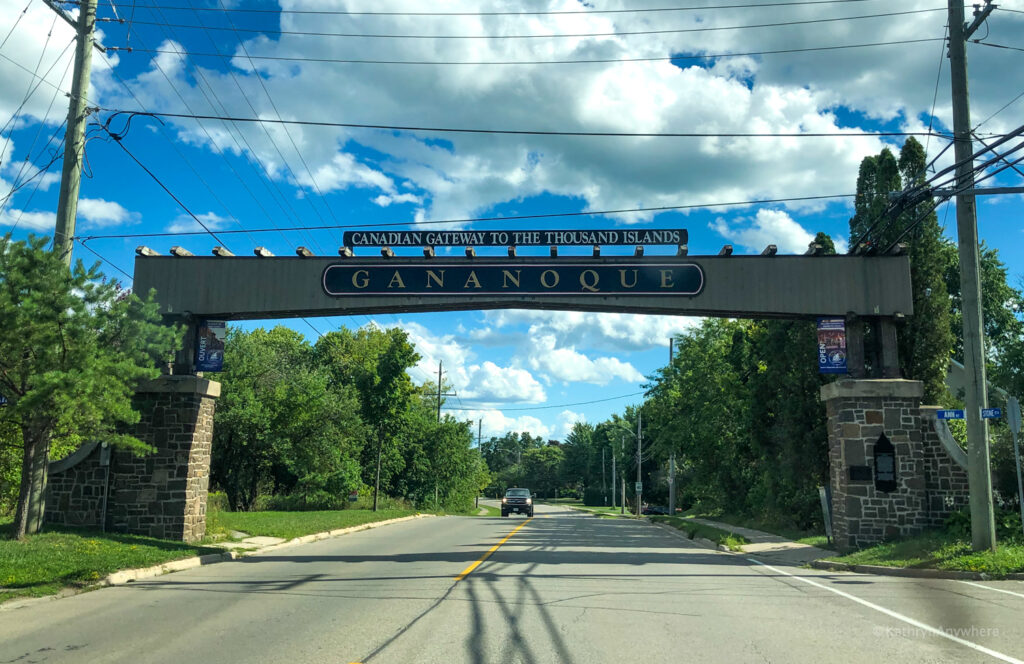 The Canadian Gateway to the Thousand Islands is Gananoque in Southeastern Ontario.  Fortune was mine when I had the opportunity to take my own children to Gananoque for an end of summer adventure. I get to have the chance to show my kids around and reminisce about the camping, hiking and boat tour spots of my youth AND take them to a couple of new places I had yet to be.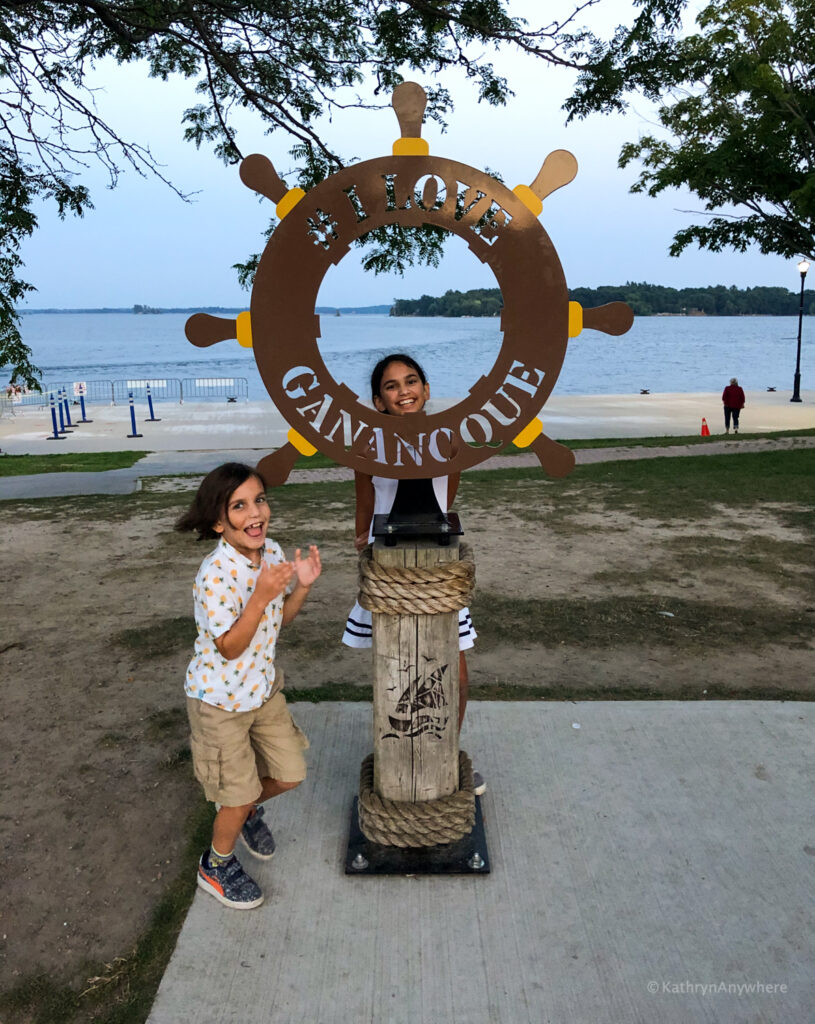 How To Vacation With Kids in the 1000 Islands
We stayed and based ourselves in Gananoque during our stay. Nothing in Gananoque is far away from each other. An easy 5-10 minute drive really anywhere. Or you can walk really. The one surprising aspect of this town of slightly more than 5,000 people was the location of Tim Hortons. It was on the far east side, not central. However, that means that locally owned businesses in the downtown, high pedestrian trafficked area have a chance to flourish. And they are worth it!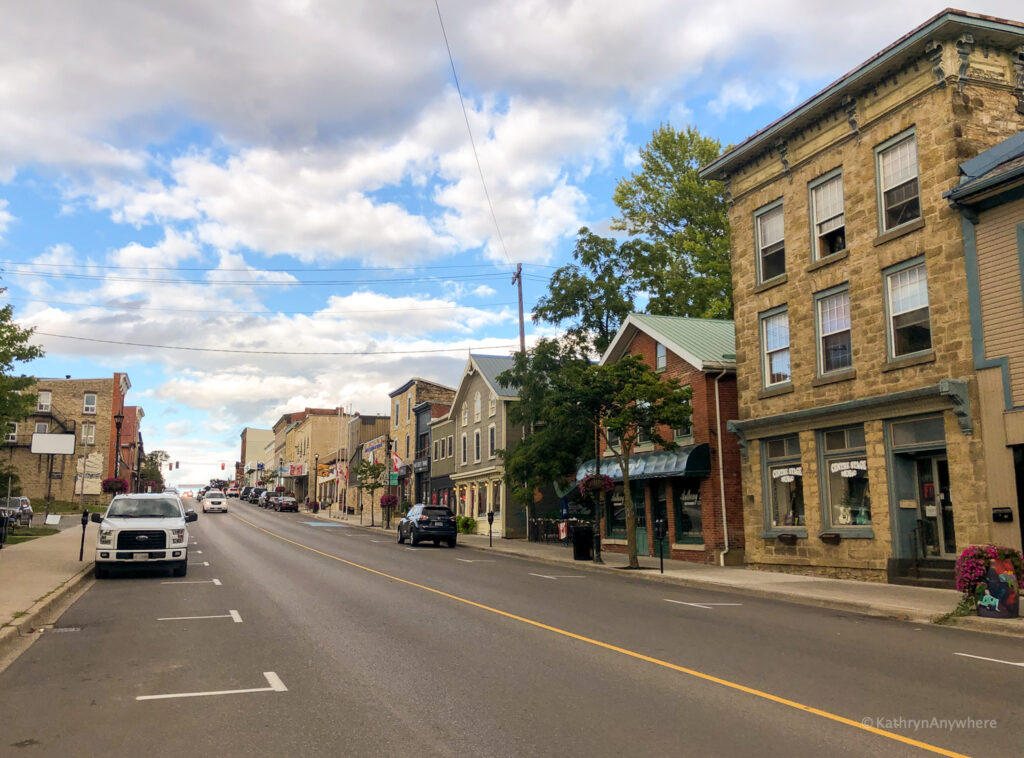 Miss M, Little Man and I got a pretty cool itinerary set up that includes a helicopter ride, a hike, kayaking and a scenic boat ride. That means we get to explore the islands from land, from the sea and from above.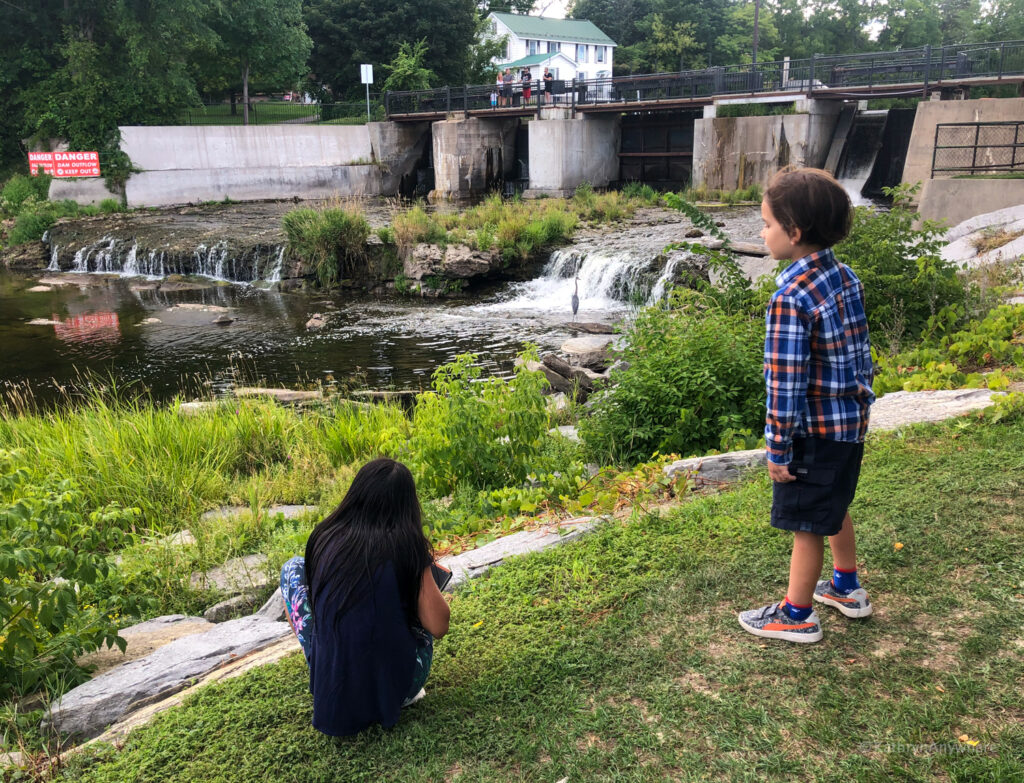 The town of Gananoque is quaint and family-friendly. The waterfront park area is built around a park that boasts a splash park and play structure for the kids. As a single parent, I look for "easy" places to go and experiences to have so a lot of my time isn't spent chasing two children at two different developmental and age stages in life. Taking kids on vacation in the Thousand Islands satisfies that. Logistically, it's a good idea for a couple of days, trust me on that, especially during the COVID-19 time frame we find ourselves in. Plenty of opportunities in uncrowded areas to practise social distancing.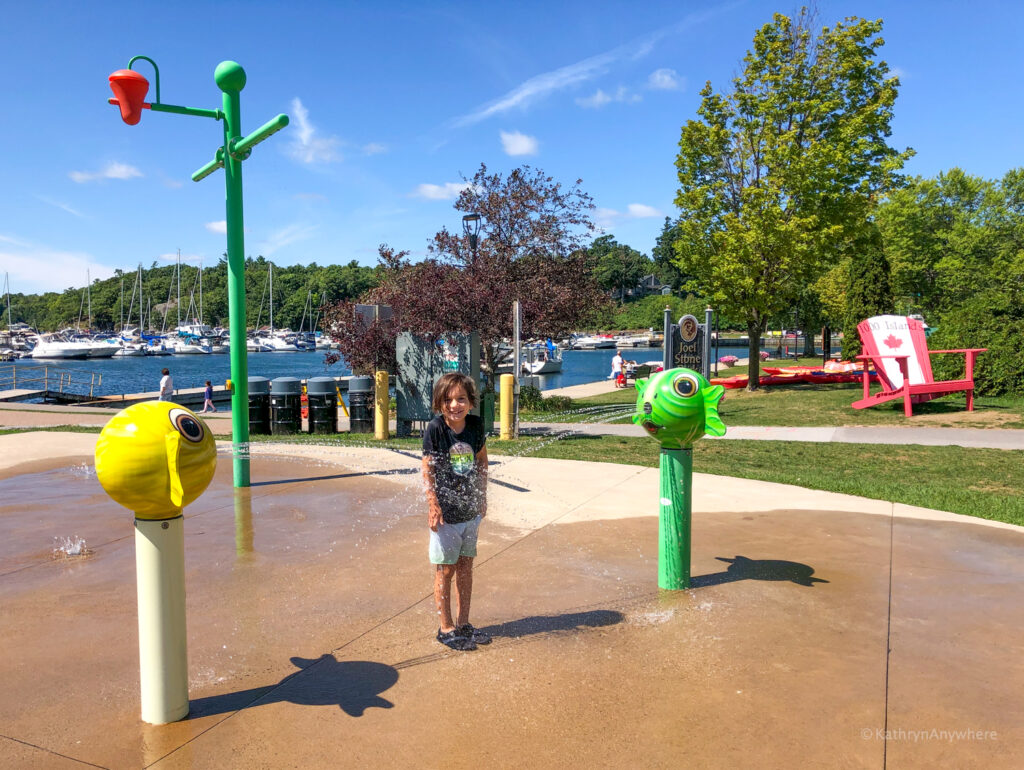 We must acknowledge that the name "Gananoque " has a couple of meanings and is indigenous land first; " Water Rising over Rocks" or "Garden of the Great Spirit".
If anyone is inclined to learn about the history of Gananoque, it was a Loyalist stronghold base and supplies can in and out of The St. Lawrence River between Montreal, Cornwall and Kingston. There are remains of the canons that were used to protect the town are there. You'd have to picture that from here, you would be able to see American forces coming from across the water.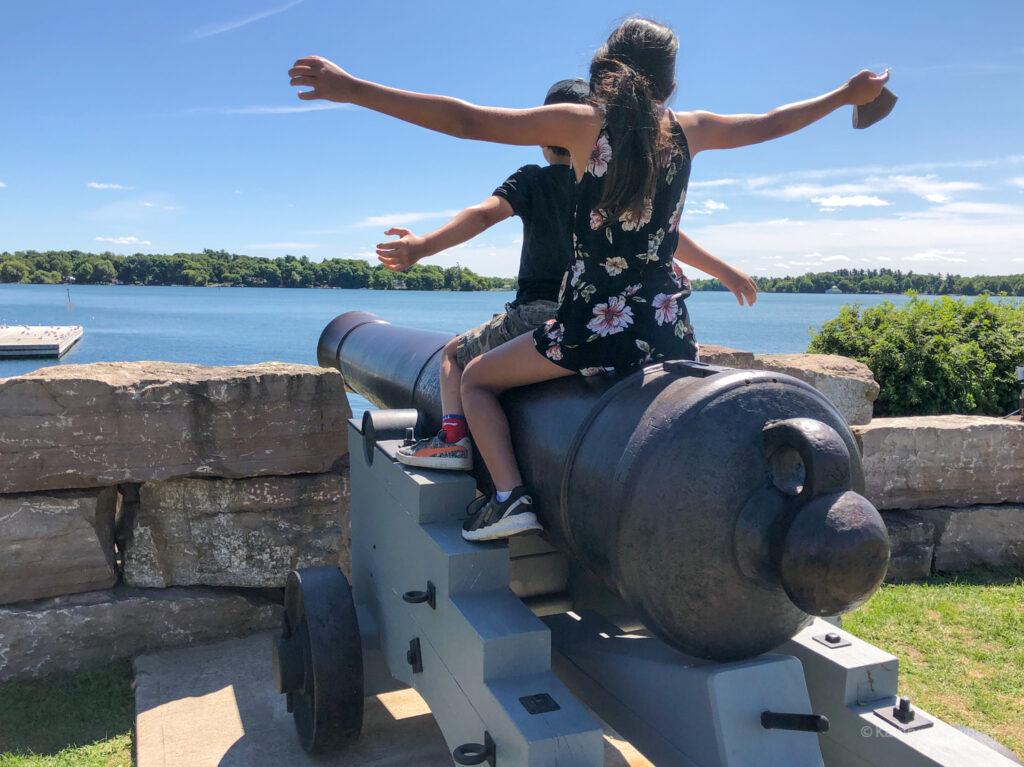 Where To Stay In Gananoque, Ontario
During our stay, we are at the Colonial Resort and Spa, in the west end of Gananoque. Price point wise, this is a very affordable place for families to base themselves from.
Here is what I liked about the Colonial Resort and Spa and especially during the COVID-19 travel time frame:
Motel-style parking outside your door. We did not have to go into any internal hallways or pass by other guests inside
Outdoor pool for the kids to play in
Ample outdoor space for the kids to stretch their legs and play
The gift shop at the check-in desk area – could purchase bottles of water and sweaters for late summer air chills so you didn't have to travel elsewhere
Free wifi throughout the grounds. Great in the room, seemed a little slow by the pool.
Fairly contactless interactions and a clean room when we arrived.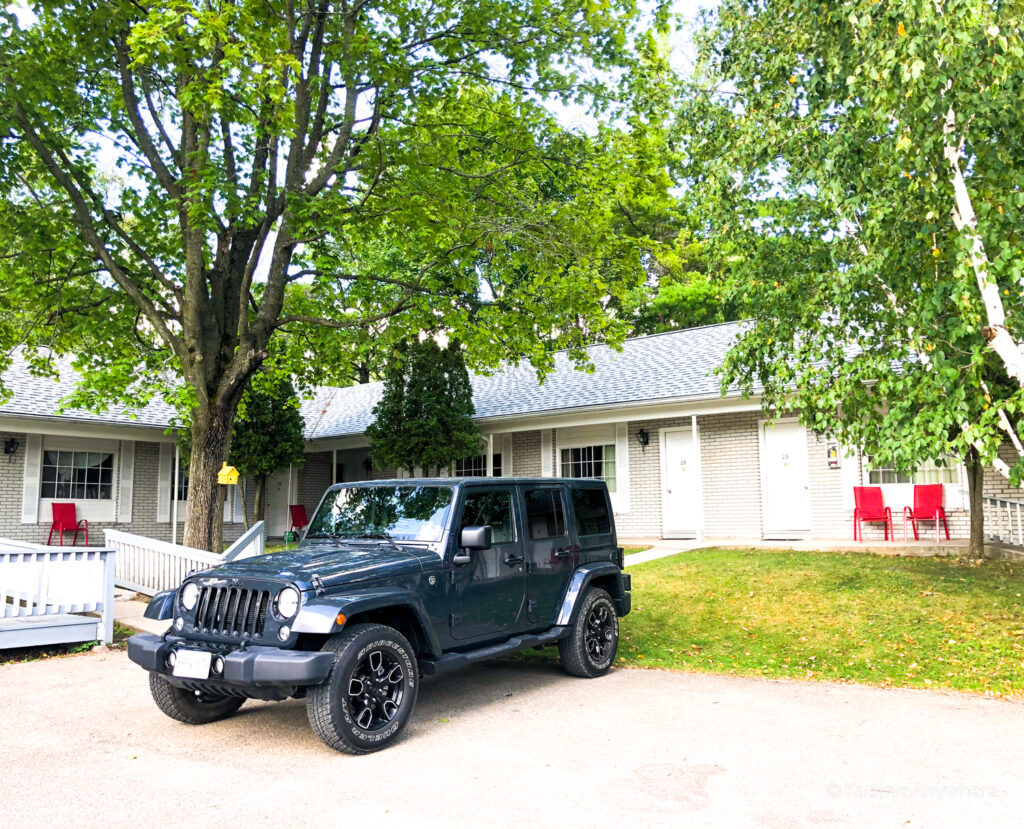 Here is what surprised me about the Colonial Inn and Spa:
There were more Quebec license plates than Ontario plates parked in front of the rooms. I normally would not have been bothered by this but since it's not encouraged to travel province to province right now, I was taken aback. There's no law or rule saying it cannot be done, so game on I guess.
On the first day we had arrived, there was a large group gathering taking up all that common area space. This was a huge family group. I suspect it may have been more than one family and they did not pay attention to the signs stating the maximum amount of people permitted at the pool area. No one from the hotel seemed to be monitoring the situation. There were timed entry sign up sheets that were basically blank.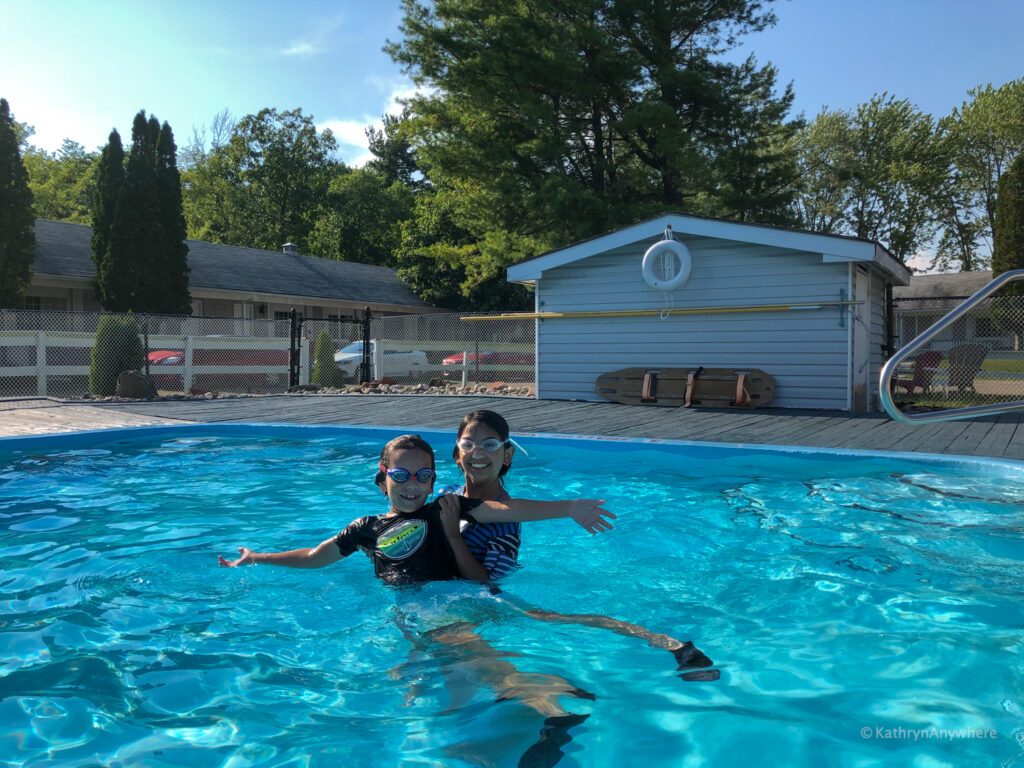 This is what I disliked about the Colonial Resort and Spa:
Construction crews working on adjacent rooms
The worn inside state of the room. It's not fancy or new by any stretch. Trust me when I say the kids don't mind.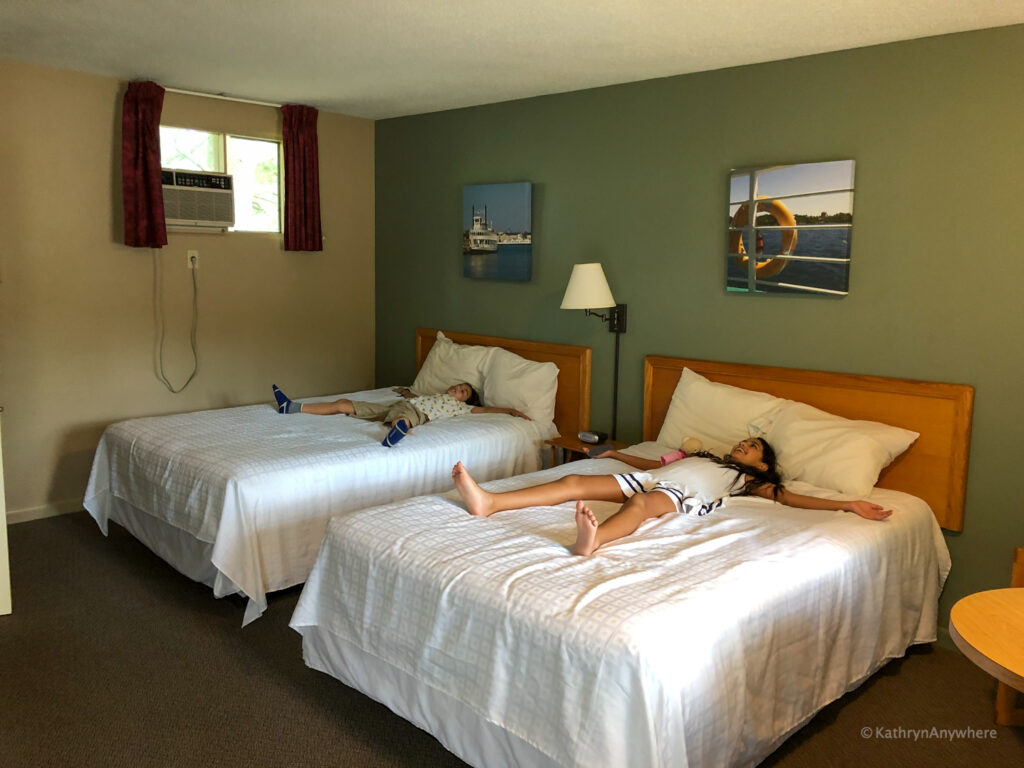 Thinking of booking a trip to Gananoque? Compare pricing and locations in the handy map below from Booking.com. I might make a small commission if you choose to book your accommodations through this link.
1000 Islands Helicopter Tours
Have you ever thought about taking your kids for a helicopter ride? You can in Gananoque and soar over the 1,864 islands in the St. Lawrence River and quite honestly, the view you are going to have is unrivalled. 1000 Islands Helicopter Tours and Kouri's Kopters is the best way to see the islands, both Canadian and American from the air and give you the absolute best views.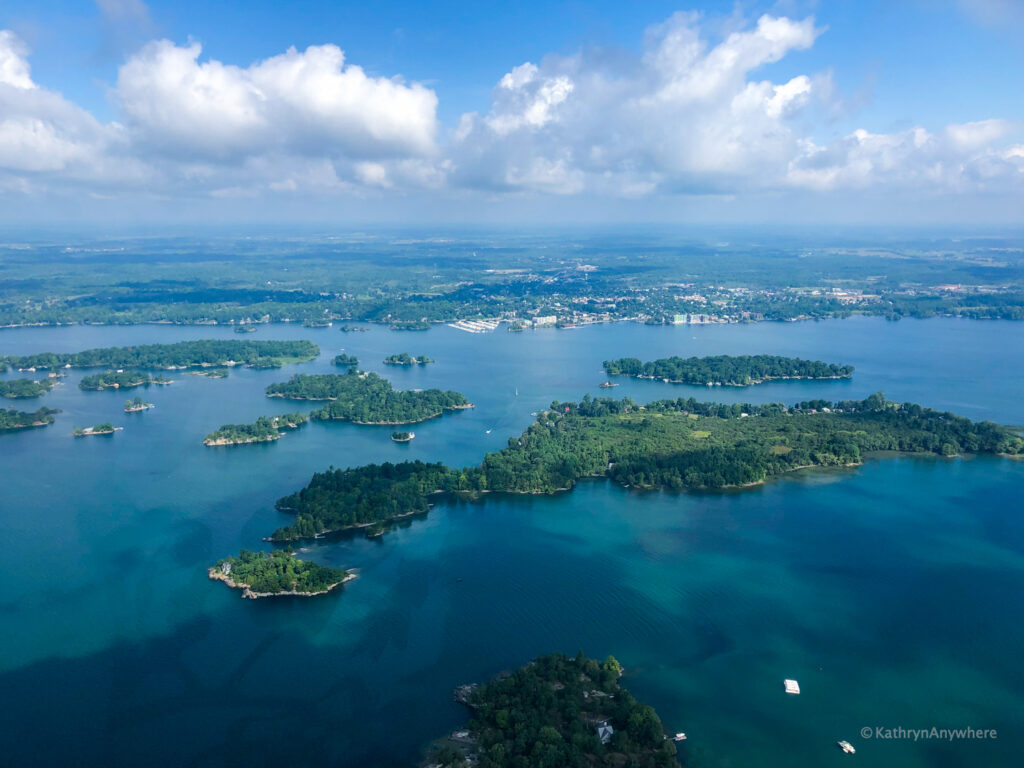 Up to 3 people can join the pilot, so I and my two kids work out perfectly. You must wear your facemasks for safety purposes.
Little Man, who is now 6 years old declared this helicopter ride as the best time he has ever had. EVER! He will be talking about this and the "poop lake" to all his friends for weeks to come.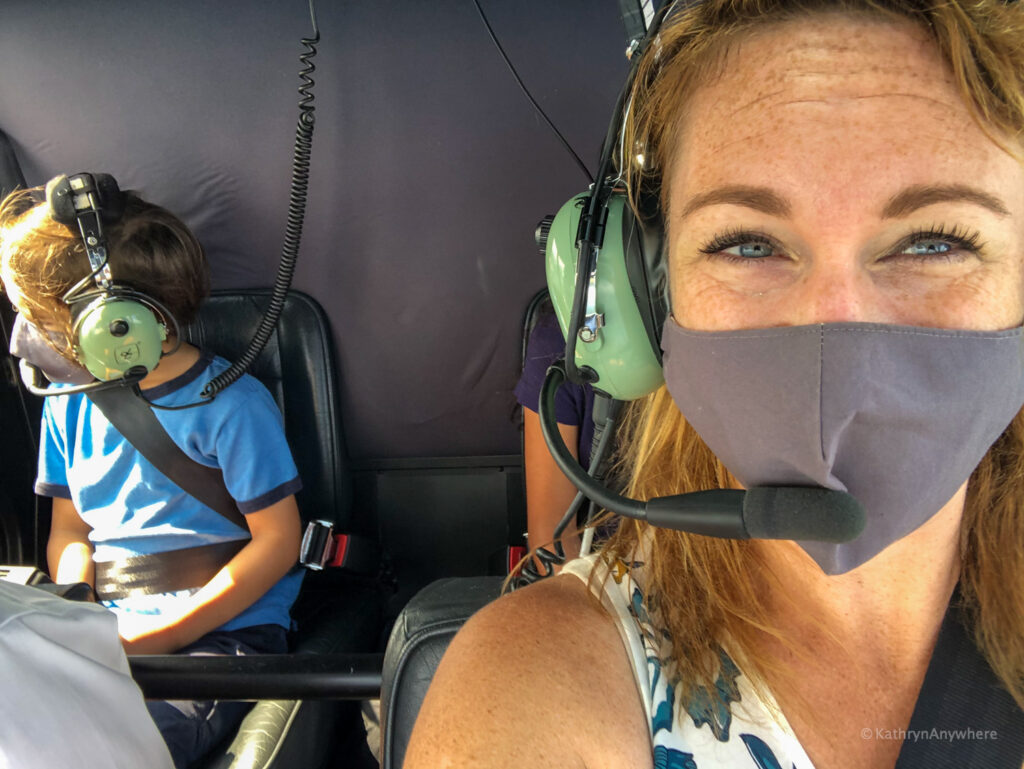 Truthfully, this was my first time in a helicopter and it was pretty damn exciting. Like a trip of a lifetime exciting. Like having a private chauffeur in the air! He knew the region, gave a personal narration and was very professional.
There is something extremely mesmerizing of seeing the 1000 Islands from the air. Seeing the islands, the colour of the water, the boats, the cottages and houses. Believe it or not, the water is fairly clear!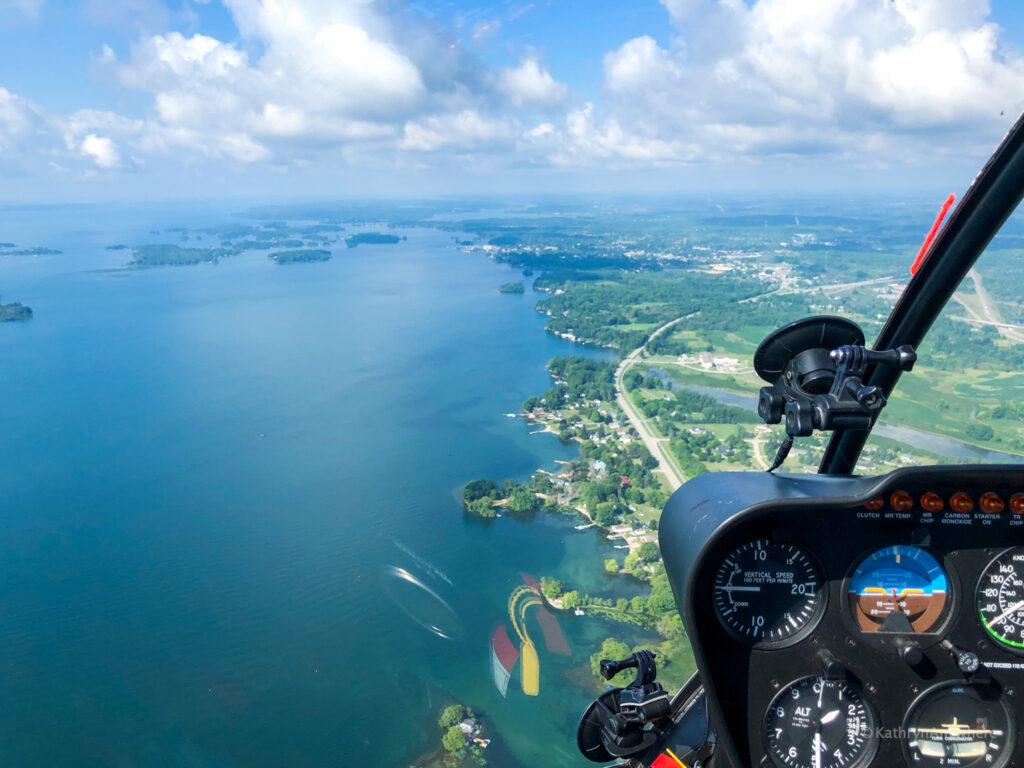 1000 Islands Helicopters offer a dozen tours of historic landmarks and regional activities. Their 20-minute Boldt Castle tour is a Destination Ontario Signature
Experience and their 30-minute Two Castle tour is a Destination Canada Canadian Signature Experience. What I wouldn't give to see Boldt Castle from the air too! Next time for sure.
https://www.1000islandstourism.com/experiences/helicopter-tours/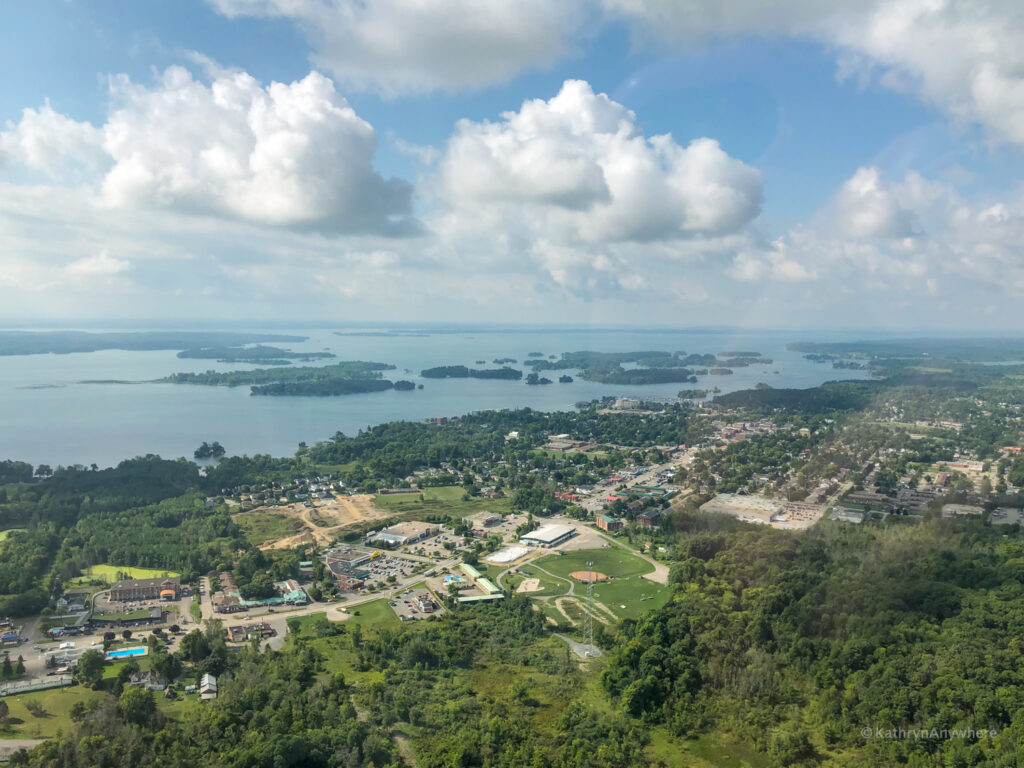 1000 Islands Kayaking With Kids
The kids and I had an incredible morning on kayaks in Gananoque. One of the best ways to see the 1000 Islands National Park is by curving in and out of her channels and inlets by kayak. This was Miss M's first time on her own in a kayak and she's a natural. Little Man came tandem with me and sometimes dipped his oars into the water because it was the thing to do. It's alright, he's six years old.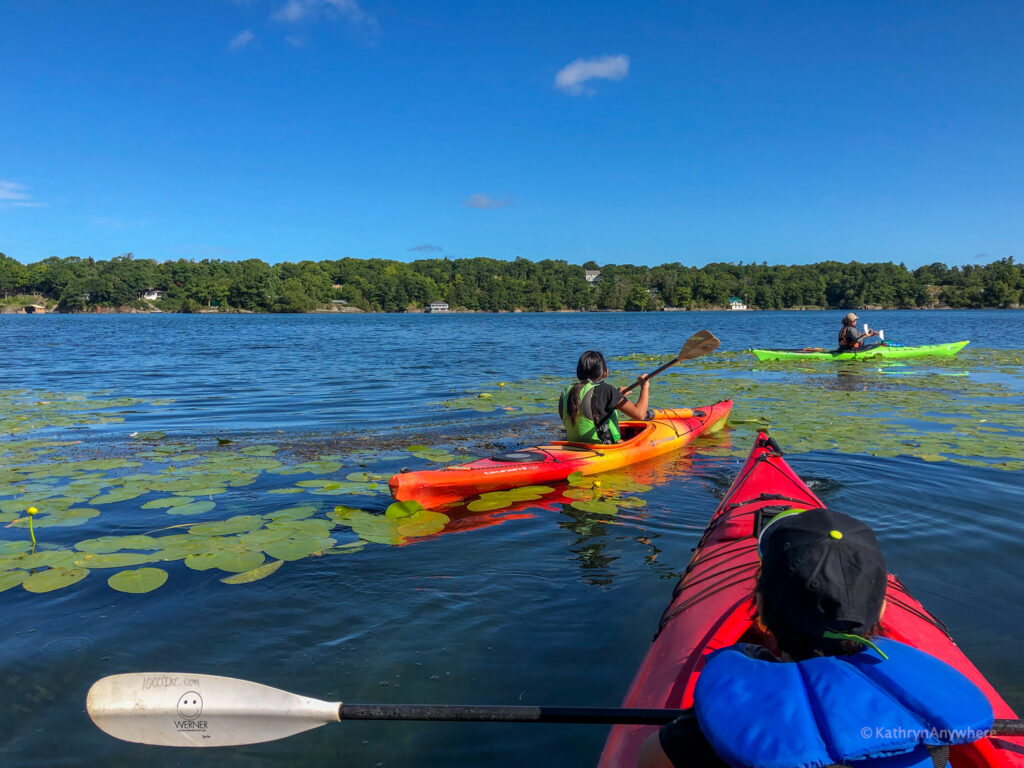 You know what? I am so glad we got to share that experience together. Miss M constantly surprises me with what she can do, she's a lot stronger than she looks.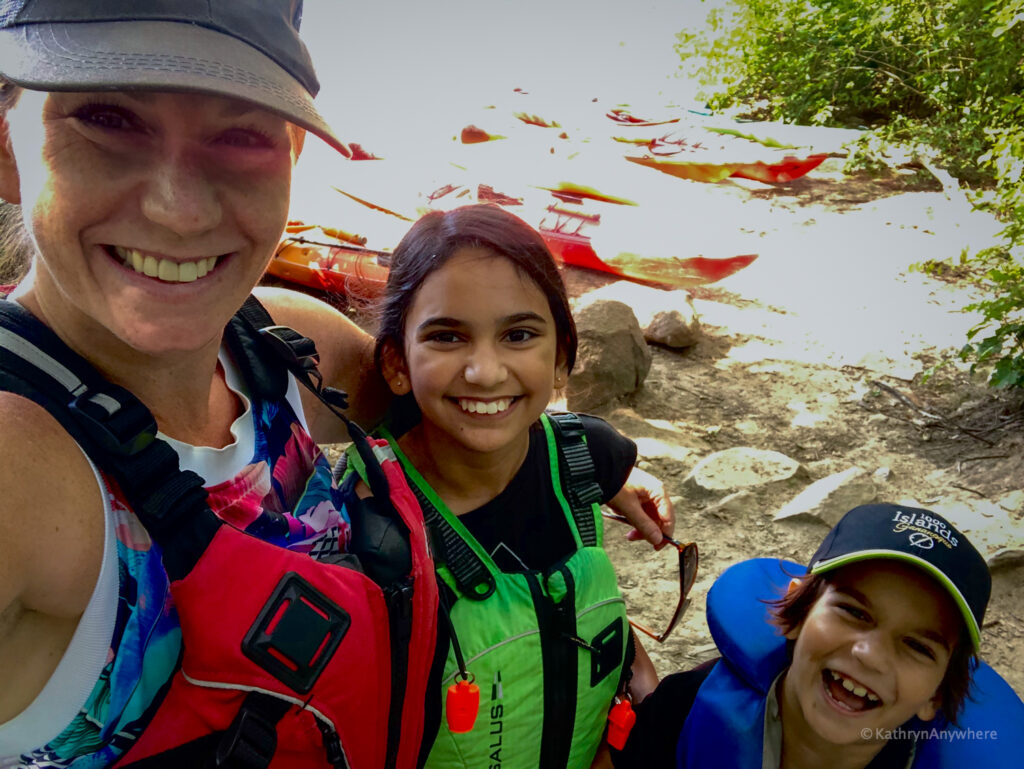 Our guide, Danni was super helpful and friendly and took the time to make sure the kids were cool. She knew the waterways expertly. I would absolutely recommend spending time on the water with them. They rent you the gear as part of the package so you don't have to worry about having to strap your own to the roof of your car. The boats, life jackets and paddles are all cleaned and disinfected between usage. Kayaking is a very safe, socially distant activity, just stay in your own boat.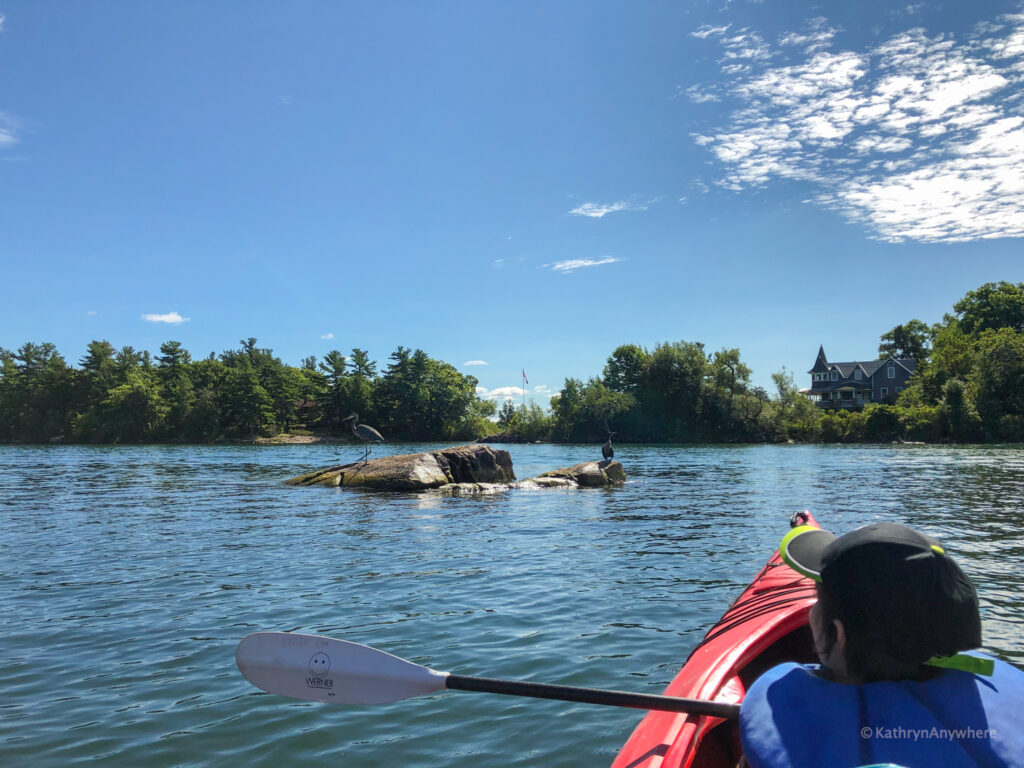 1000 Islands Kayaking offers fully guided full-day, half-day and overnight kayaking excursions along the mighty St. Lawrence River for all experience levels. Personally, I cannot wait until I get back out into the water there. I feel like I'm Moana and it's calling me.
https://www.1000islandstourism.com/experiences/kayak/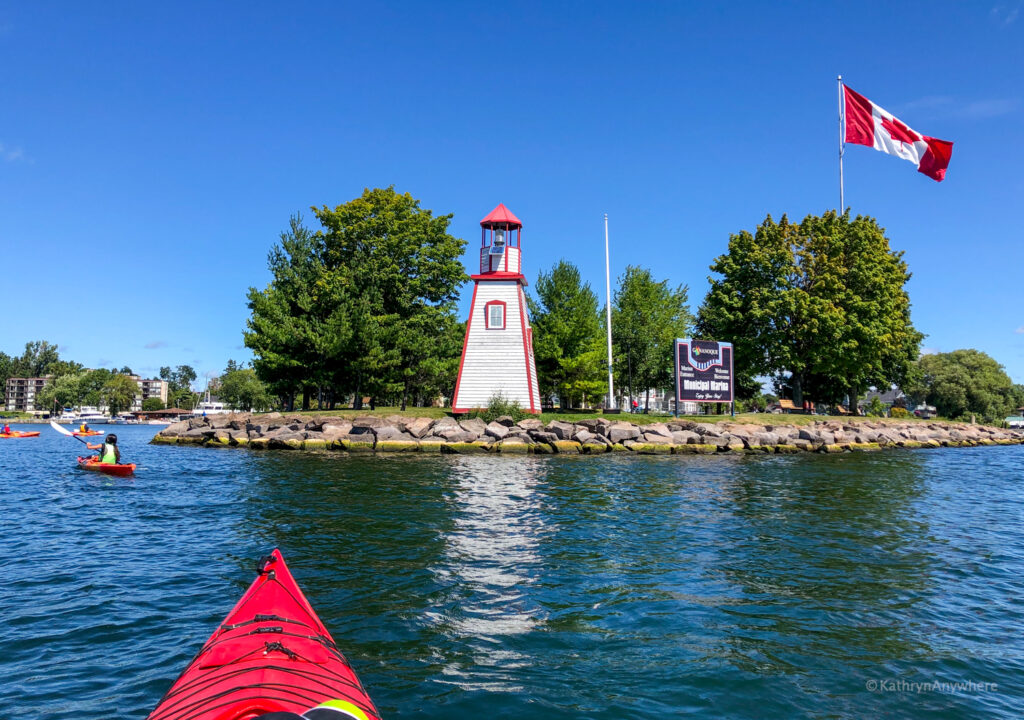 Go For a Hike With The Kids In 1000 Islands
My dad was the driving force in my youth to getting me outside, camping, on the trails, on skis, at a campfire. I work hard to give my city kids the same experiences I was lucky enough to have as a kid. Whether they appreciate their time in nature or not, that's a conversation for another time. Anyway, I had plans to get them hiking, but didn't tell them ahead of time and did not dress for the part as part of the element of surprise.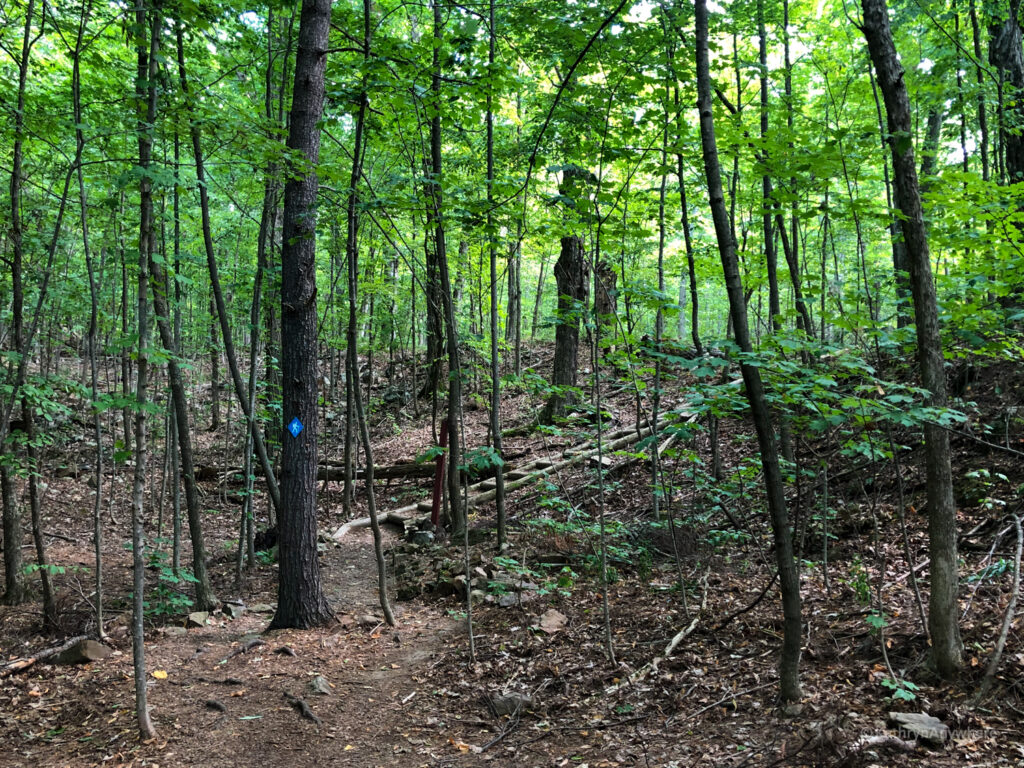 On our way to Rockport for an island boat cruise, we stopped at the Landon Bay Centre and hiked to the lookout point. This gem of a view is barely a kilometre hike from where you park and super easy for kids to get to!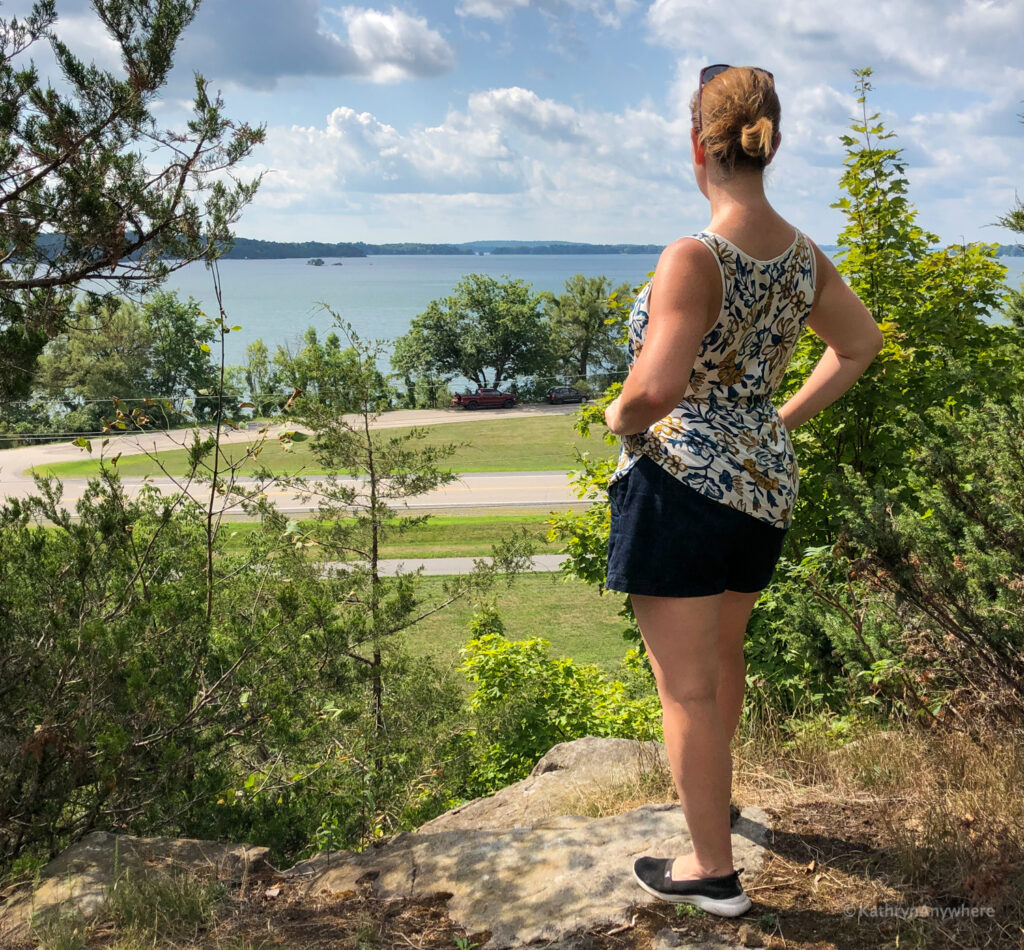 There is an extensive trail network at Landon Bay. Quite honestly, you could spend an hour like we did or you could hike all day there.  But I will tell you, the view from the Lookout Trail has long been recognized as the best natural view in the Thousand Islands area.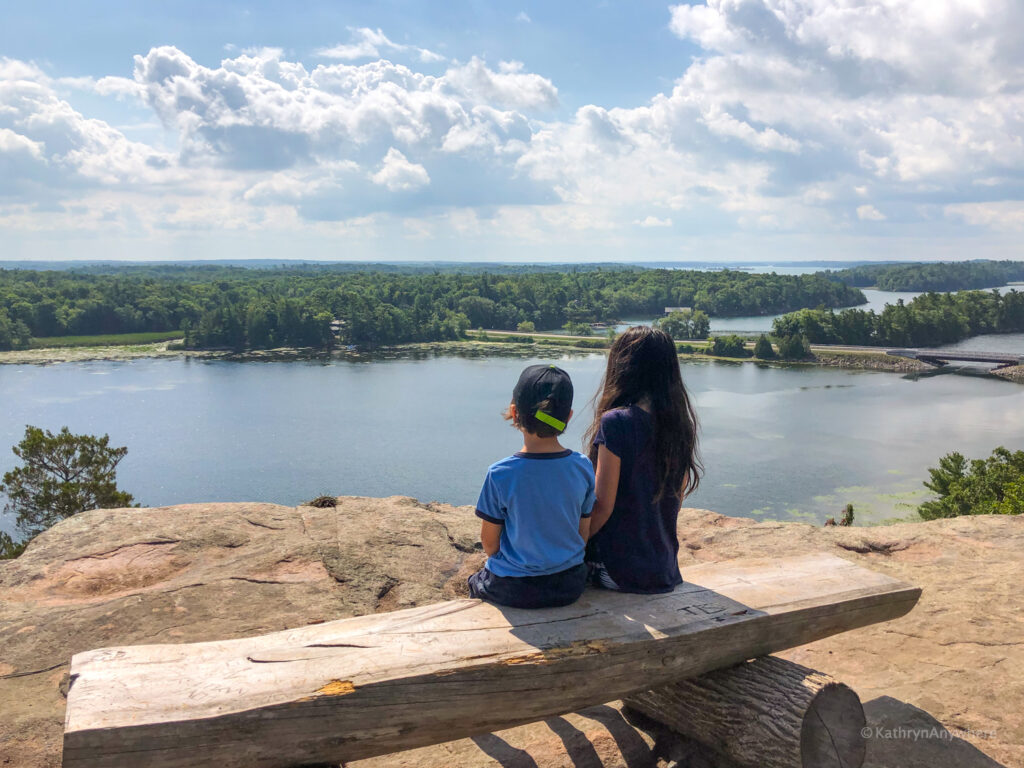 1000 Islands Boat Cruise on Rockport Boat Line
Another way to explore the islands is from a sightseeing boat. We headed over to Rockport, where incidentally the kids and I also enjoyed some ice cream at a picnic table and wandered by their marina in hopes of seeing some sunfish. Spoiler: ice cream is good. Fish sightings? Few and far between by the kids wanted to keep looking anyway.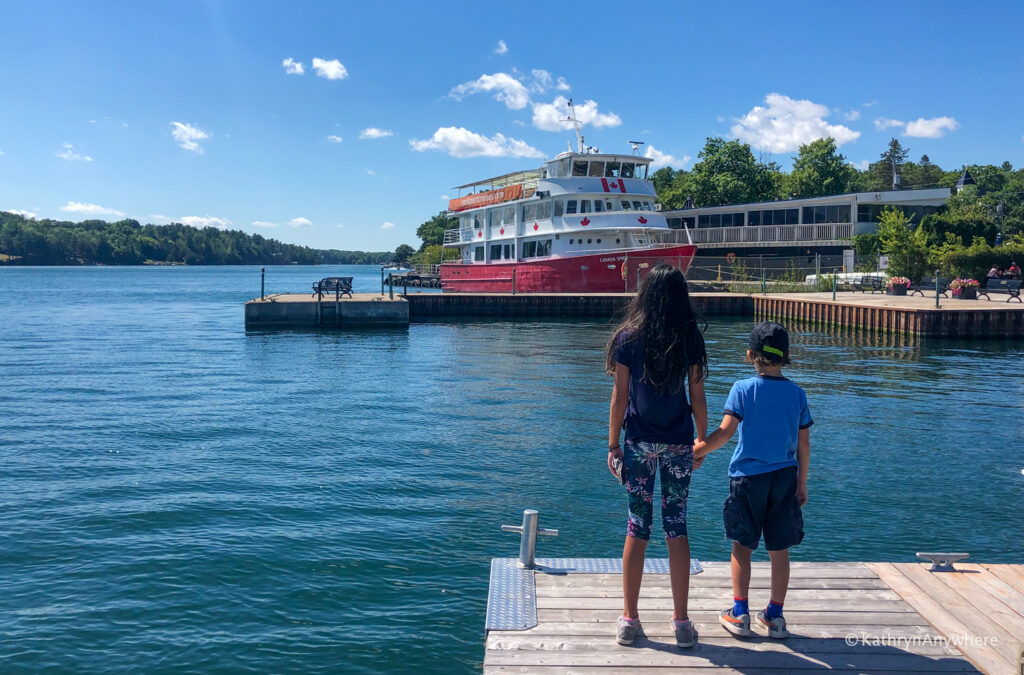 All passengers are COVID screened before boarding and you must purchase reserve and purchase tickets in advance. The cruise we took was 90 minutes long and masks were required at all times onboard.
The cruise took us around islands, we saw Boldt Castle – which as a child I was lucky enough to arrive there by my dad's boat and explore. Unfortunately, we are unable right now to dock and get off to visit Heart Island as it is on US soil. What we did see though, was outstanding! Brought back so many memories for me.
https://www.1000islandstourism.com/experiences/rockport-boat-line/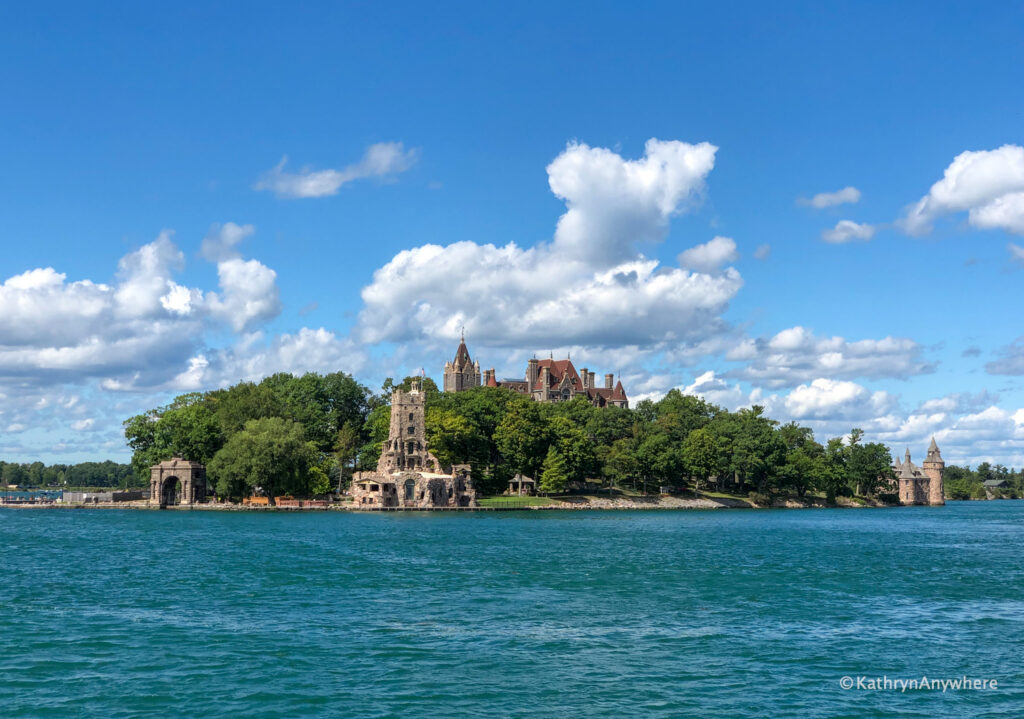 Those Coveted Thousand Islands Sunsets
You might know the 1000 Islands for the waterway and St. Lawrence River, but what if I told you that some sunsets from Gananoque, Ontario are parallel to none?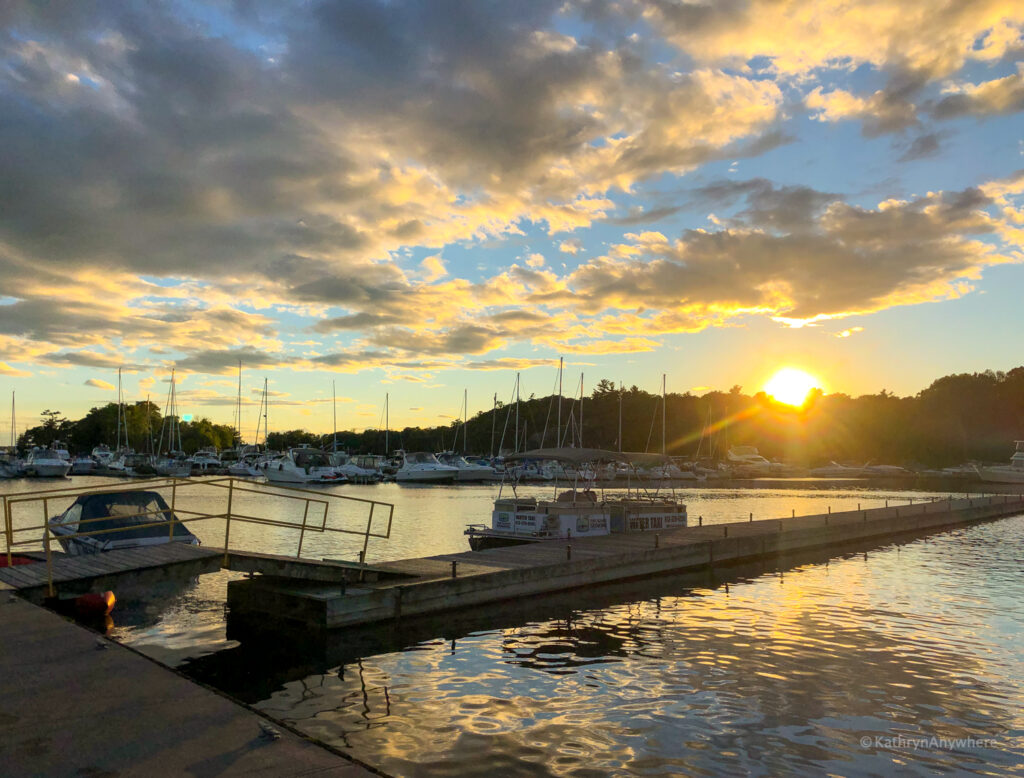 Until I saw it myself, I had no idea. These photos were taken at Joel Stone Park in Gananoque. What's awesome about this area is that the kids can play at the park and catch the majesty of the sky.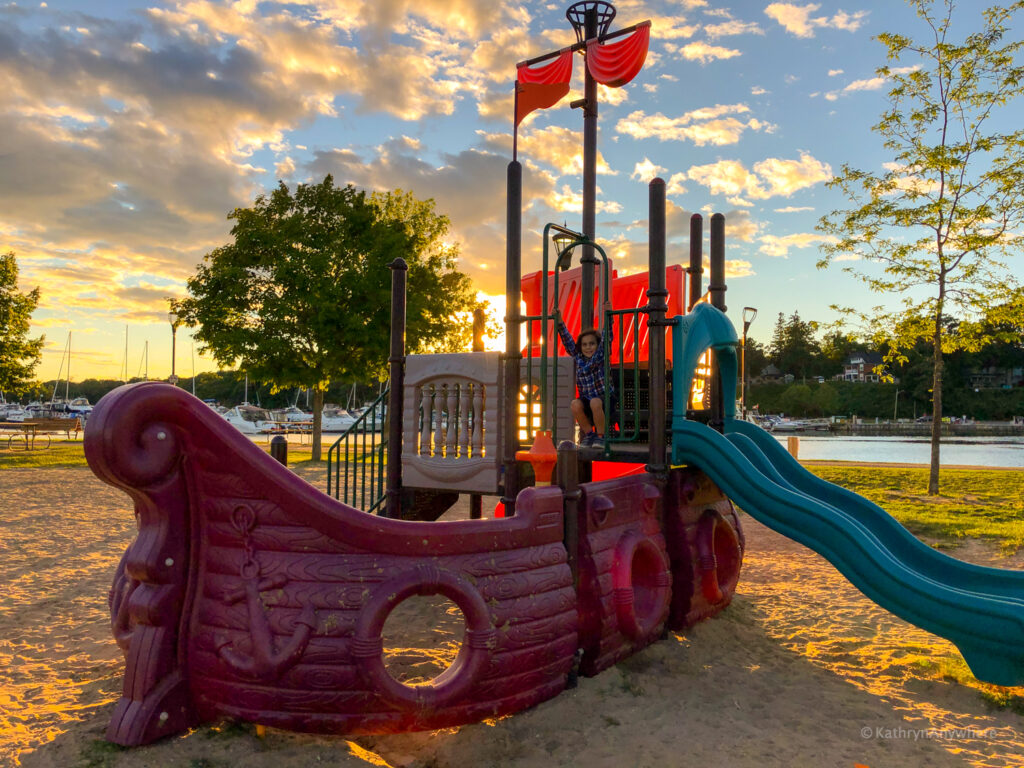 Where to Eat in Gananoque
The food menus here are fairly decent. The Tinder menu, not so much, too many photos of men holding up fish. On that note, let's strictly focus on the food. The kids are I were in Gananoque for two dinners. We ate at Muskie Jake's Tap & Grill and had a nice sunset view from the balcony.
We also ate at The Maple Leaf Restaurant, which is famous for authentic Czech cuisine including schnitzel, pierogis, and spaetzle.
Be sure to drop by Panache Bakery & Café at 162 King Street East for coffee and pastries in the morning.
For a small town, this Gateway to the Thousand Islands has it all. Gananoque and the 1000 Islands region is a welcoming place with plenty of open-air and distance. Never did the kids and I feel unsafe, smothered or that we were in danger. There were plenty of activities to satisfy their interests and it's a very outdoorsy place.