From Brighton to Trenton, Frankford and Belleville, the fall colours are coming out in full force!  It's the time of year where the trees are about to show us how lovely it is to let the dead things go. And that we do. Quite frankly this is the time of year I love to be outside the most. The amazing array of colours spoil my eyes. Coupled with still moderately warmish days,  it's a shame to stay inside and miss it. Before the short days of winter, get outside and get that final vitamin D boosts from the sun. While you are at it, enjoy the splendour of October. Here are some of the best areas to see the fall colours around Belleville and Trenton in the Bay of Quinte Region of Ontario. 
"How beautiful the leaves grow old. How full of light and color are their last days."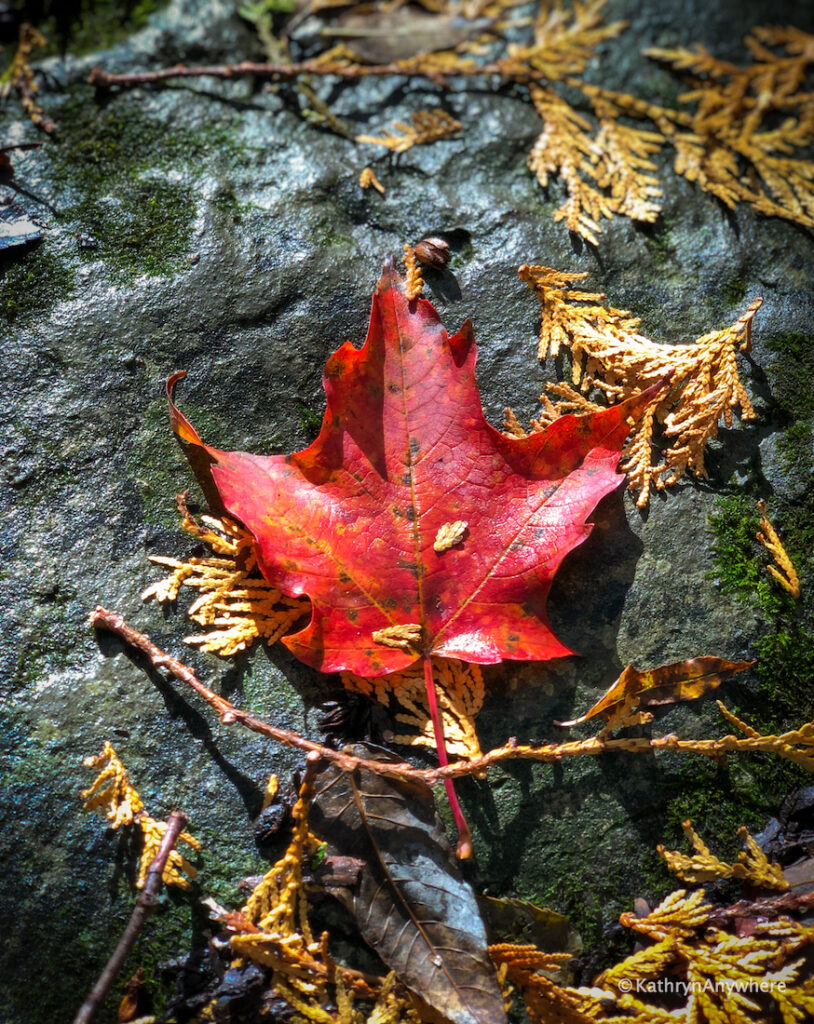 Where To See Fall Colours Around Belleville and Trenton, Ontario
Want to know where to go for the best viewing spots for seasonal colour in the areas between Brighton to Frankford to Trenton to Belleville? I have my favourites that I will disclose to you here. So read on to find out where I like to be for optimal colour viewing from east to west of the Bay of Quinte Region!
Presqu'ile Provincial Park
How lucky is the town of Brighton to have neighbourhood access to one of the best provincial parks in Ontario? Presqu'ile Provincial Park boasts Lake Ontario access, bird migrations, amazing camping and lovely areas to wander. The wifi isn't weak here though, cellular reception is fairly decent.
The best place to wander for fall foliage viewing in Prequ'ile Provincial Park though is the Jobes Woods Trail. It's only a kilometre long so no complaining that it's too arduous. Getting out for a half-hour walk isn't that wrong is it? While the greens stay strong for a long time here, when they turn, is's a brilliant canopy of golden hues overhead.
If you're ever interested in roofed accommodation camping at Presqu'ile Provincial Park, check out my experience camping with my son there: Presquile Provincial Park, Falling For the Minka Tent
One of the best places to catch sunsets in Ontario is from here as well. Curious to know where? Read Where To Find The Best Southern Ontario Sunsets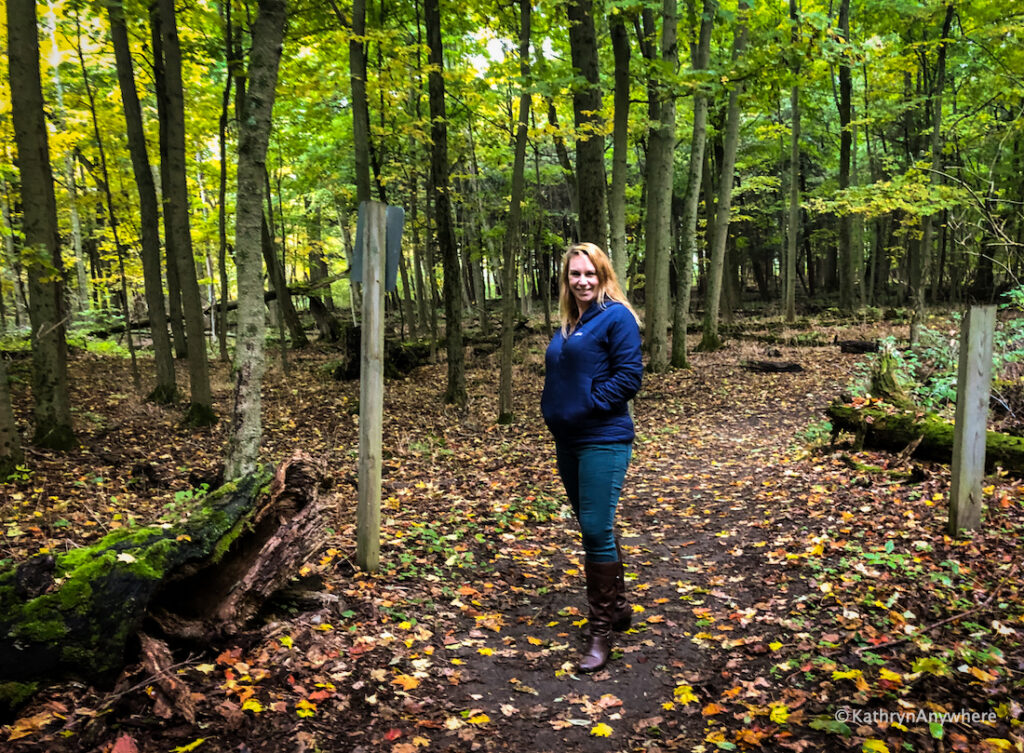 Frankford Tourist Park and Lock 6 on The Trent Severn Waterway
When I was growing up in Belleville, I missed a high opportunity to explore the area of Frankford. Now that I am older and my mom has relocated there, I'm sure glad she has. About 15 minutes driving north of Trenton, Frankford Tourist Park is a great place to park the vehicle. From there, you can stroll the banks of the Trent River on the west side. At Lock 6, there are picnic tables and places to rest and take in the beautiful setting.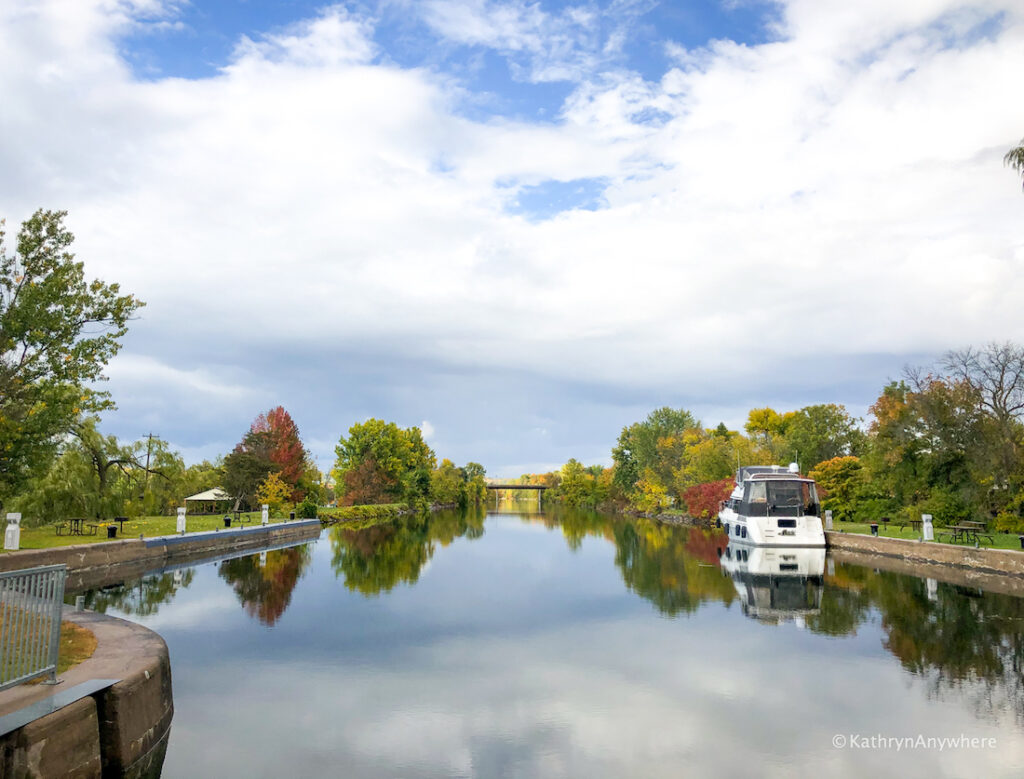 Not only is this one of the best places to view fall colours around Belleville and Trenton, this is also one of the best places to catch a sunset in Southern Ontario. I mean come on, look at that still water reflection! Read Where To Find The Best Southern Ontario Sunsets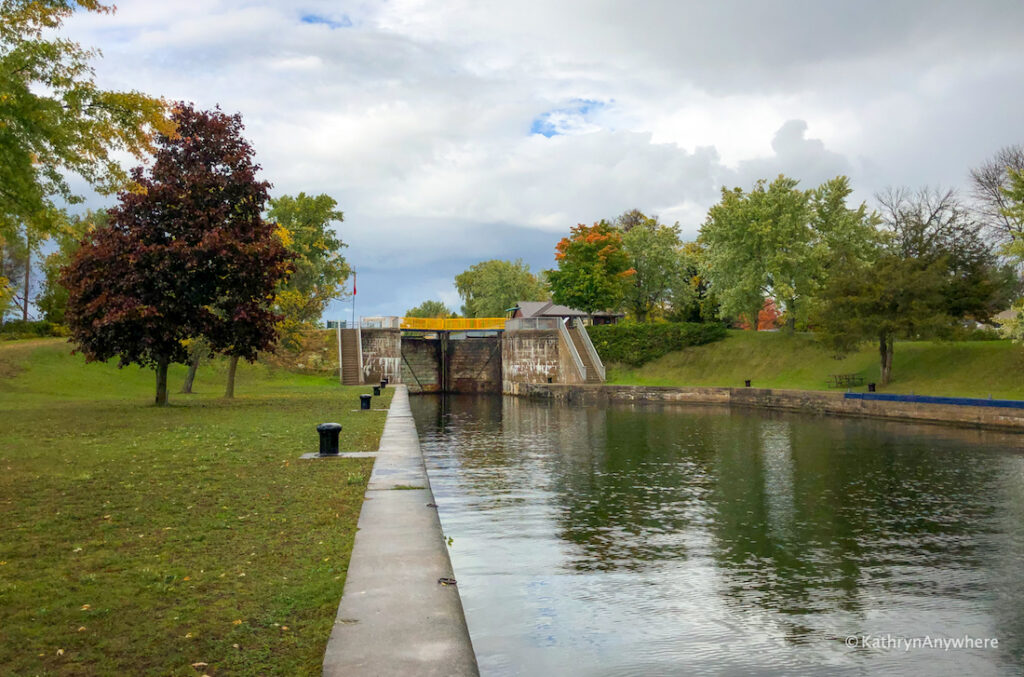 Sager Conservation Area
Roughly 30 minutes by car north of Trenton and tucked in behind the Oak Hills Golf Course is Sager Conservation Area. From the top of the lookout tower is one of the best places in all of the Bay of Quinte Region to view the fall foliage.
It's a challenge to get up there! The hike from the parking lot to the tower is only half a kilometre and there are stairs involved as the trail is steep.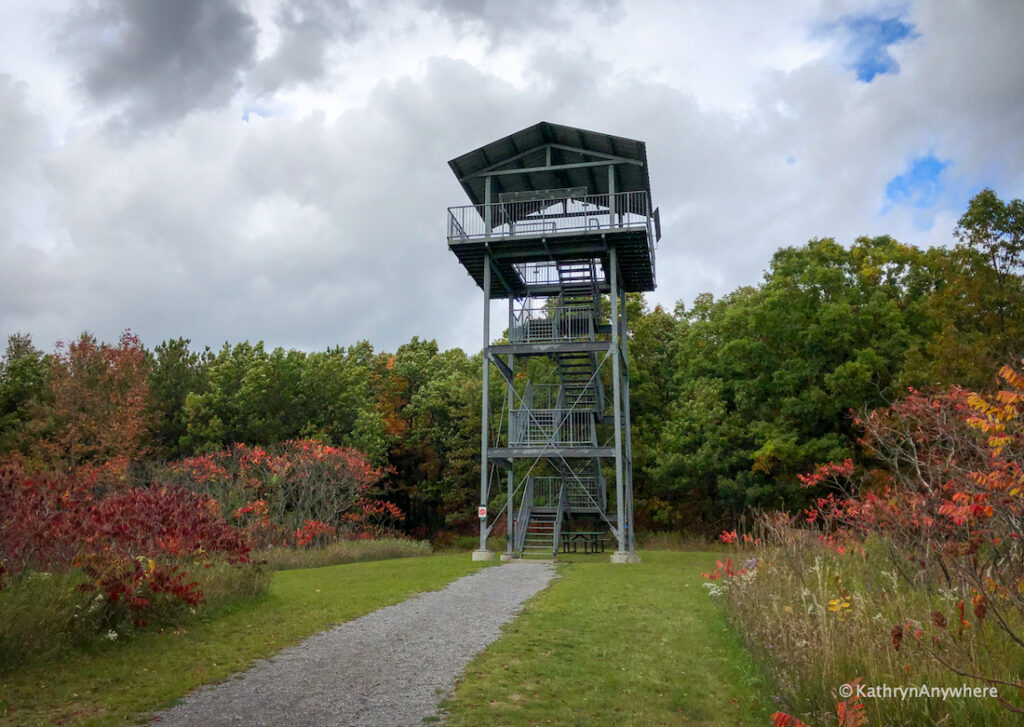 While this is a great place to go with the family, this area is not stroller friendly or good for the mobility impaired. There are 48 additional steps going up the observation tower after the steep trek. For the able-bodied, it's worth the 30-foot climb for the panoramic views of the Trent Valley. On clear days, you can see all the way into Belleville, Trenton and Campbellford.
This happens to be a favourite spot of mine in the winter as well Sager Conservation Area Trail: Easy Winter Hike With Kids
"Wild is the music of the autumnal winds amongst the faded woods."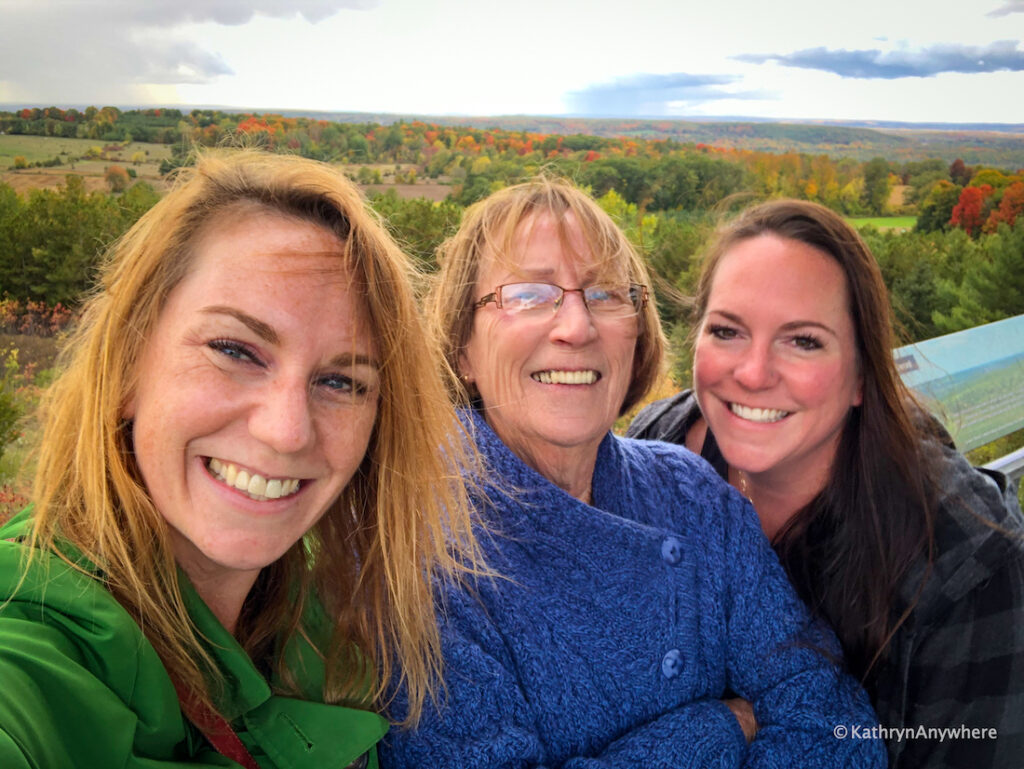 Mount Pelion
Here's full disclosure on Mount Pelion, I've spent some time up to no good here in my teen years. Mostly it was late at night and I was trying to impress some friends. I didn't appreciate how awesome the view was then.
Every local in Trenton knows how to get to Mount Pelion. The pity is, I don't know how many actually go up there.  The other day when I was there, it was empty except for a runner who whizzed by. Of course, it is early in the fall foliage season. Great for the curious wanderers, visitors to the lookout point are well rewarded with a perspective of the area that nowhere else can provide. It's a short, but steep, uphill hike, that is worth it.
From the vantage point of the 30-foot lookout tower on top of Mount Pelion, you can see all of Trenton, into Prince Edward County and even all the way to Belleville. In the fall, it's the perfect great time to see the autumn hues colours that blanket the city.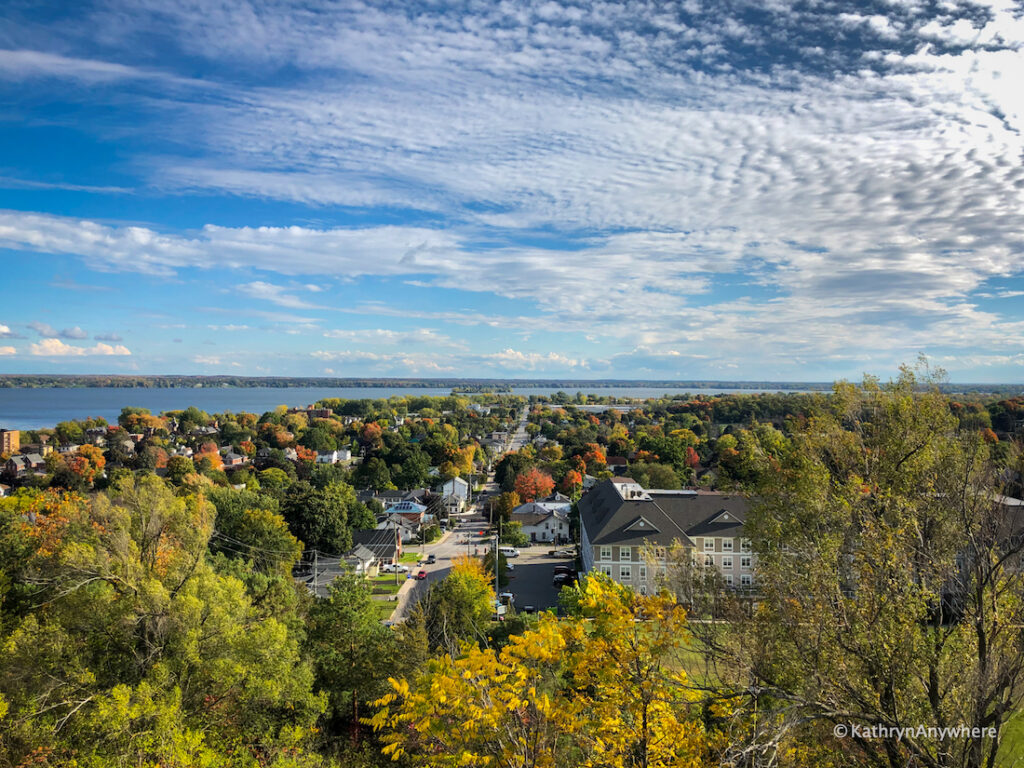 Riverside Trail Park
Fall is always one of my favourite seasons. The time when trees burst with its last beauty. As if nature had been saving up all year for the grand finale. Riverside Trail Park is definitely where this is true.
On the trail that runs alongside the Moira River, there are several rest spots along the way to enjoy your surroundings. Pack a lunch, stroll with no destination in mind. You can park and start at the Canada flag planted on the hill that is used for toboggans and make your way along the river south and back again.
HR Frink Centre
This conservation area has a ton of lovely trails you can hike. I think I have some memories of my days as a Girl Guide on day trips here, that's a lot of years ago by the way. Being a conservation area rich in a lot of trees, that's a lot of colour bursts coming your way! There's a marsh, a boardwalk trails in the woods and a ton of canopy tree cover. It's a romantic spot for a socially distant date as well.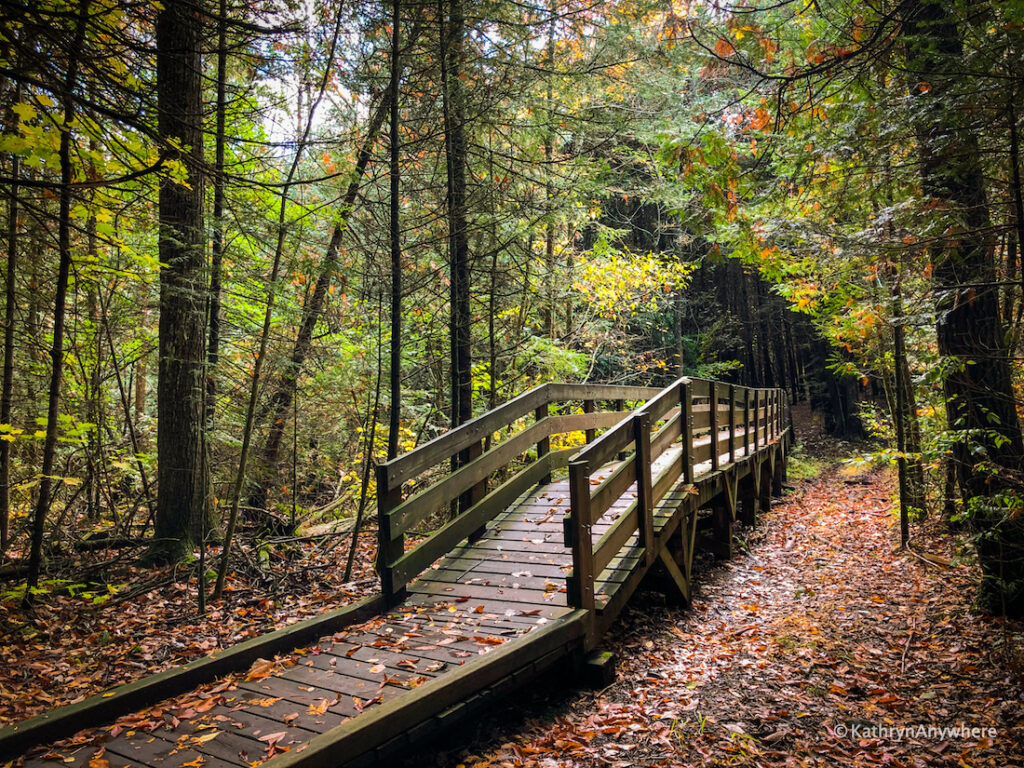 For more ideas of what to see and out around the Belleville and Trenton area, be sure to visit the Bay of Quinte tourism website. Happy autumn hue hunting!