Weird But True Canada by National Geographic Kids Will Blow Your Mind
When I was a child, I would sit, cross legged in my parent's basement flipping through their collection of National Geographic magazines from the 1970's and 1980's. I was mesmerized by the photography and the wild exploration that I held in my hands. It seemed like every part of the world was showcased and it was all at my finger tips. The journalism or photos were not necessarily geared towards children at all and maybe I didn't get the context of what I was looking at, but it did fuel a fire of curiosity in me that's been insatiable ever since. For that reason, I'm so glad that National Geographic Kids reading materials exists.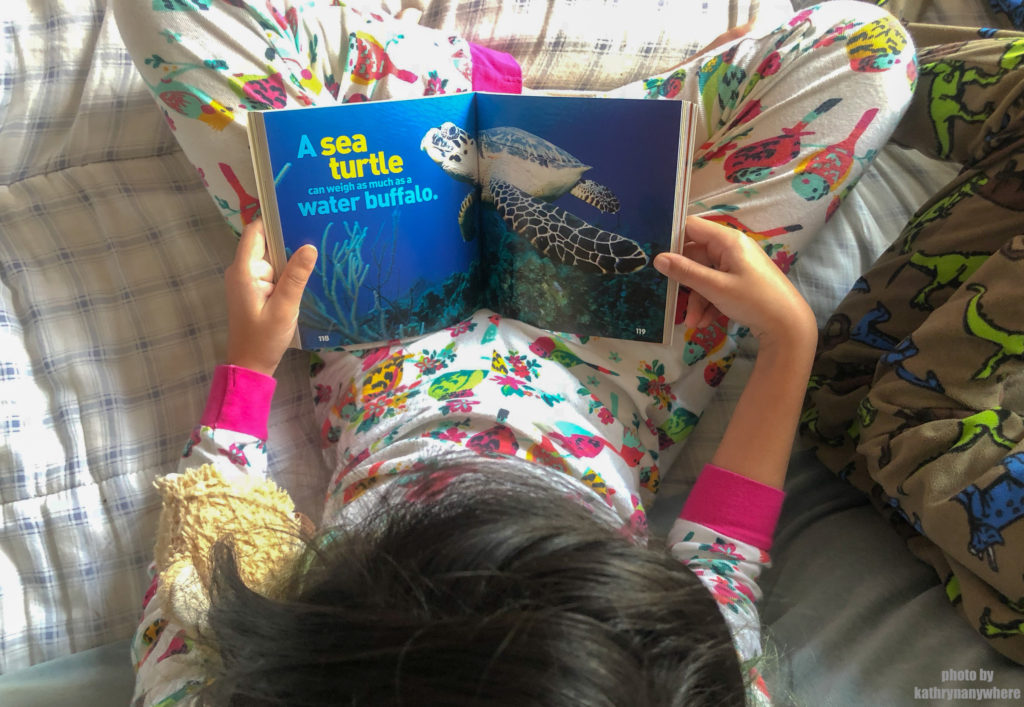 A lot of reading materials have changed in the thirty (or so…) years since I was a kid. The things I used to read have been re-written, rebranded or taken out of circulation, meaning, there isn't a lot of the same books I can nostalgically bond over with my children unless I held on to them. I did keep some books from high school and college, but my kids and I are not about to fan girl over The Catcher And The Rye by J.D. Salinger or Thomas Moore's Utopia right now. We can bond over National Geographic Kids magazines and books.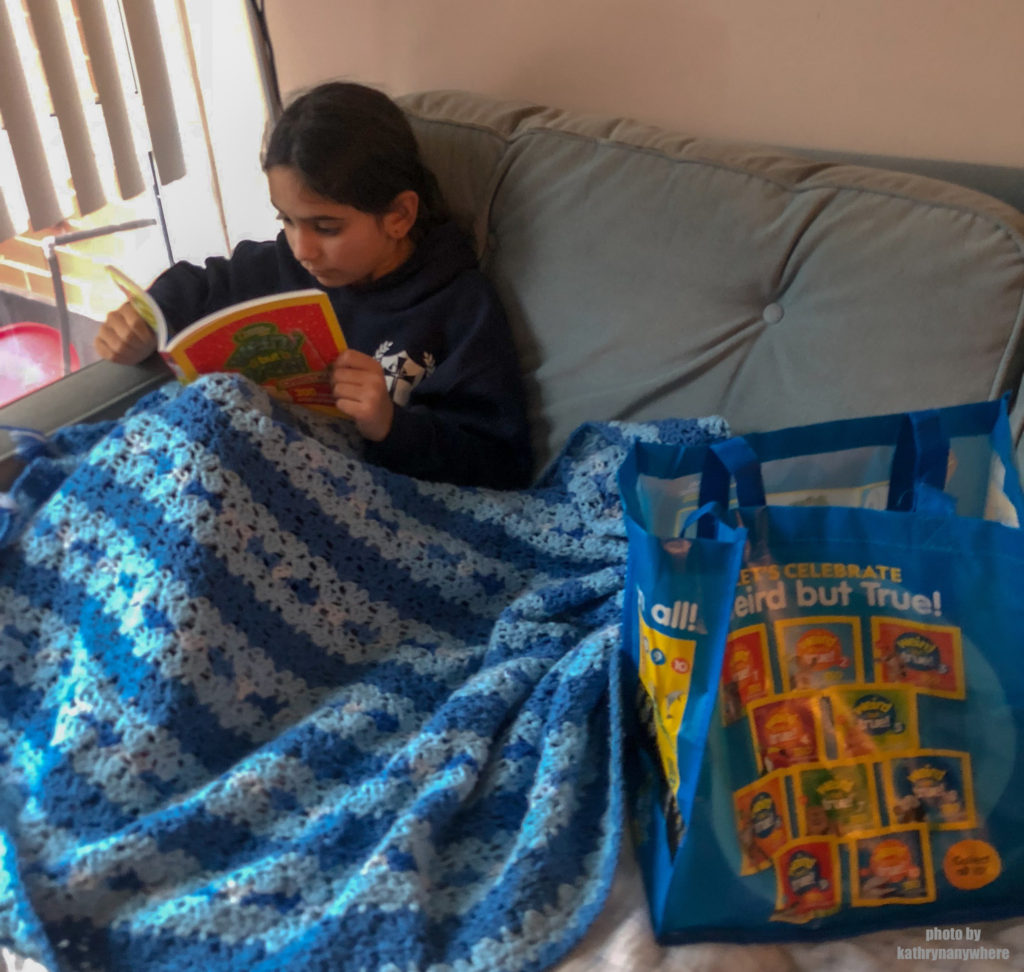 We've partnered with Moms Meet to bring you our review of Nat Geo Kids Weird But True books. Thanks to our now over postal strike, we received our package right before Christmas. As soon as it arrived, my daughter broke into it and grabbed the Weird But True Christmas edition. I wouldn't normally post such a low quality picture, but I caught it in a hurry.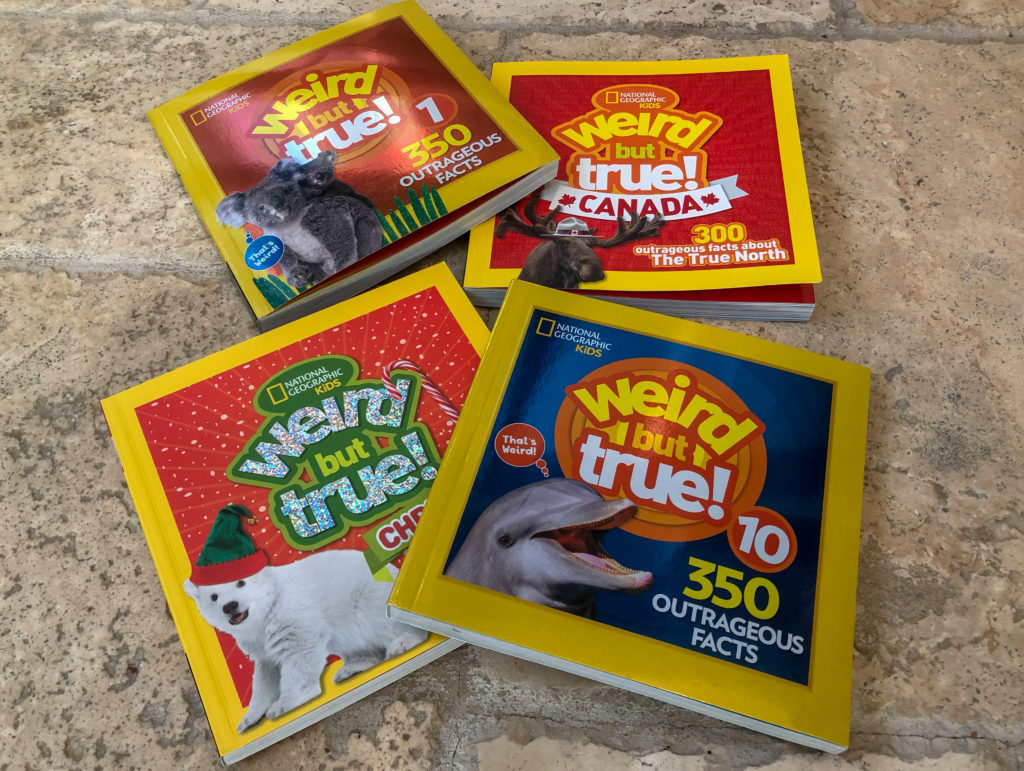 For the kids that can't get enough of the NatGeo Kid's magazine, they might be interested to know that there is also a Weird But True volume of books for kids to devour!
The 10 volume series (it's also their 10th anniversary), plus a few special editions are perfect for the kids who love to know EVERYTHING. You know the children in your lives that like to impress adults with all the information they know? The kids that want to tell you that once police arrested a goat for loitering outside a donut shop in Saskatchewan?  I have kids like that and you can find that last fact on page 192 of Weird But True, Canada. National Geographic Kids Weird But True is excellent for children to fill their brains with.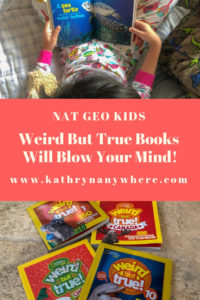 Speaking of brains, did you know that messages from your brain travel along your nerves at up to 431 kilometres an hour? Yes, I've now been told that fact by both my kids a couple times. They found that one on page 21 of Weird But True, volume 1.
Weird But True Canada Blew Our Minds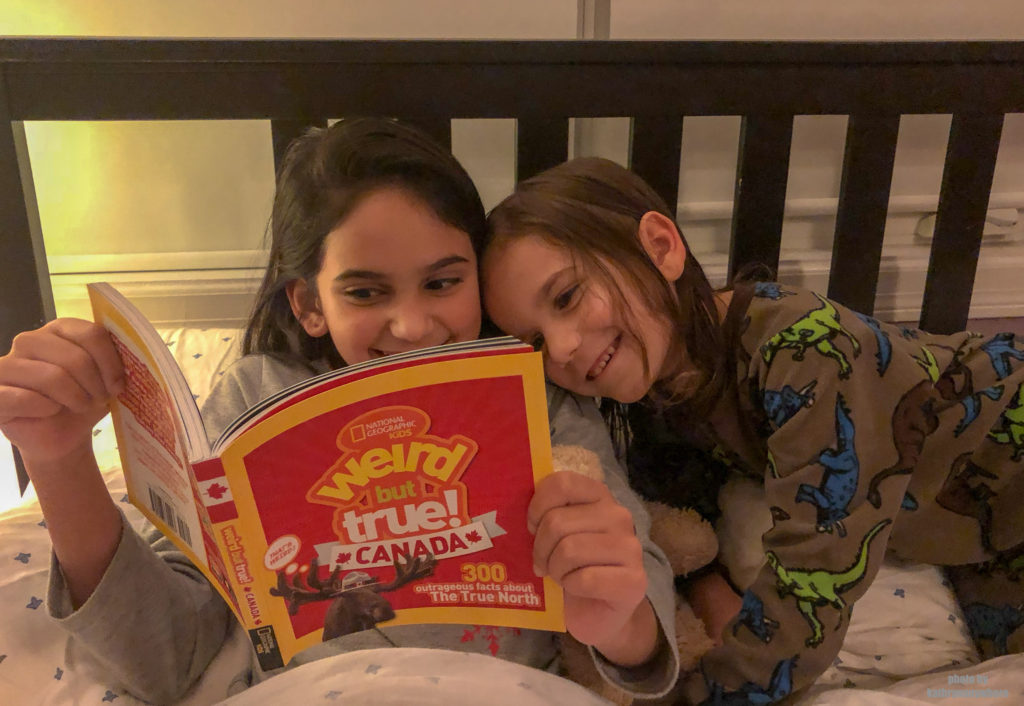 Reading before bed is part of our nighttime ritual. I've said this a million times before, literacy is so important to me and reading to and with my children is paramount. We did a lot of reading together of Weird But True Canada. The books are geared towards kids ages 6-14, but my four year old son soaked it all up with us. I kid you not, we would read some of the facts and then I would immediately google it. One, because I didn't know that was true or two, because we started to plan new road trip travel routes from some of these facts.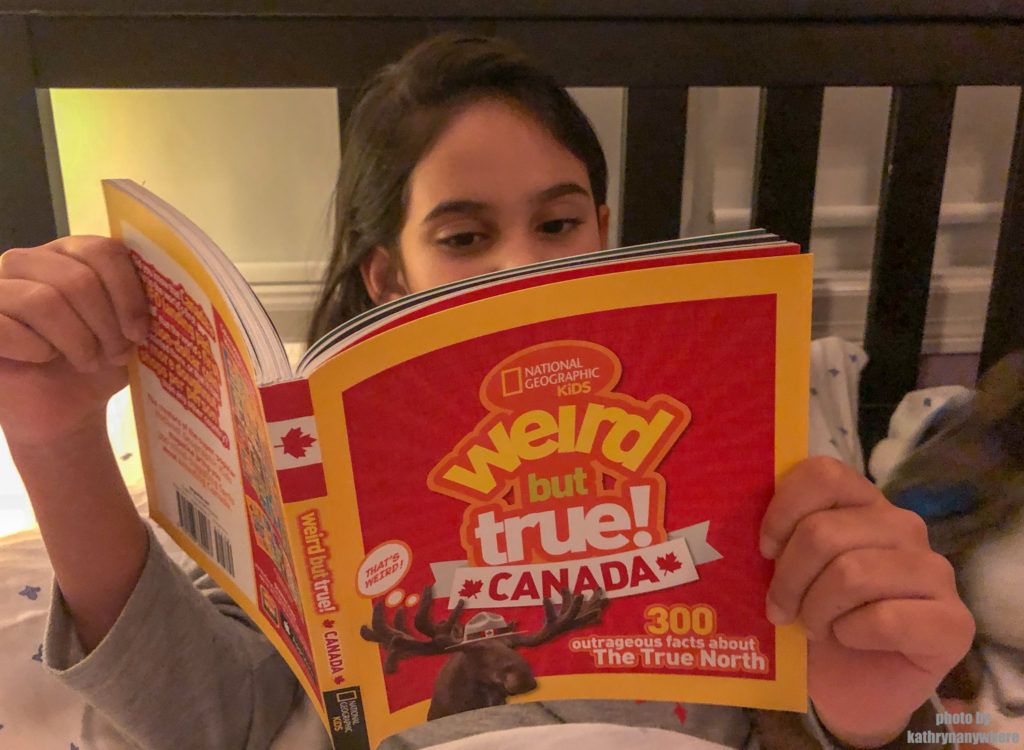 Starting at page 14 – we learned that the Athabasca Sand dunes in Saskatchewan can be nine storeys tall. I'm ashamed to say I did not know we had sand dunes in Canada. I've been to sand dunes in Namibia to ATV and watch the sunrise! Looks like I'll be travelling to Saskatchewan for more than just business in the future. And the kids will be joining me!
When the kids saw that there is a hotel in Banff that is haunted, guess what happened? They started making plans for us to travel there. And actually stay there. They want me to sleep in a haunted hotel? I'm not sure it's going to happen like that, but we can go ride the elevator and see if it stops on floors no one has requested. I will sleep somewhere else. Preferable in a hotel that is not inhabited by ghosts.
We also now have to go see the Della Falls in British Columbia to see if it's really is almost as high as the CN Tower because… well, we just must. Since I waterfall chase anyway, I suppose we can put this on our "must see" list of places!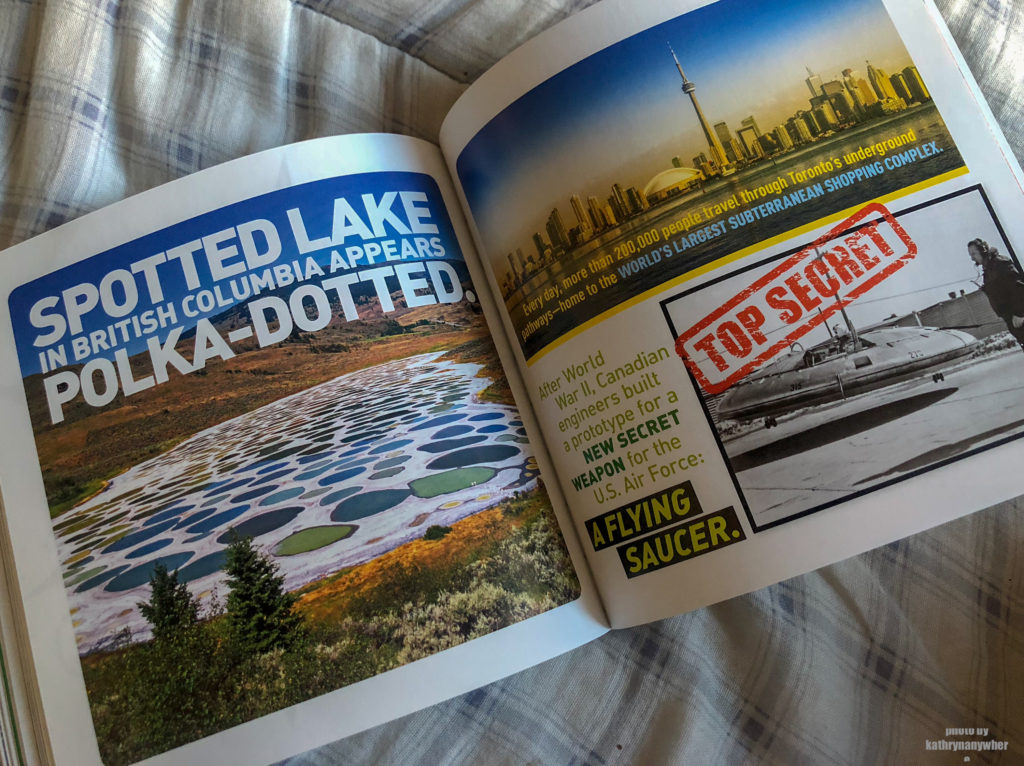 Miss M and Z Man really enjoyed reading all the Ontario and especially Toronto based facts as it gave them a sense of connection. We go through Toronto's PATH system frequently for dentist, banking and orthodontists appointments and it's very familiar to them. To explain to them the volume of 200,000 people passing through there daily and they are part of that was really cool!
As for the Toronto restaurant that once made an ice cream cake that weighted as much as five rhinos? Turns out that made the kids love Dairy Queen *that* much more. There will be an ice cream cake present now for Z Man's upcoming 5th birthday.
There are 300 tidbits and strange facts out Canada in the book to entertain your kids with. Guaranteed there will be facts that make you groan, laugh, google and raise an eyebrow at.
National Geographic Kids Weird But True books are available to purchase at natgeokids.com/wbtbooks, National Geographic Kids Weird But True! Canada is available to purchase at Indigo, Barnes & Noble, independent bookstores, Target, Walmart, Amazon, and wherever books are sold.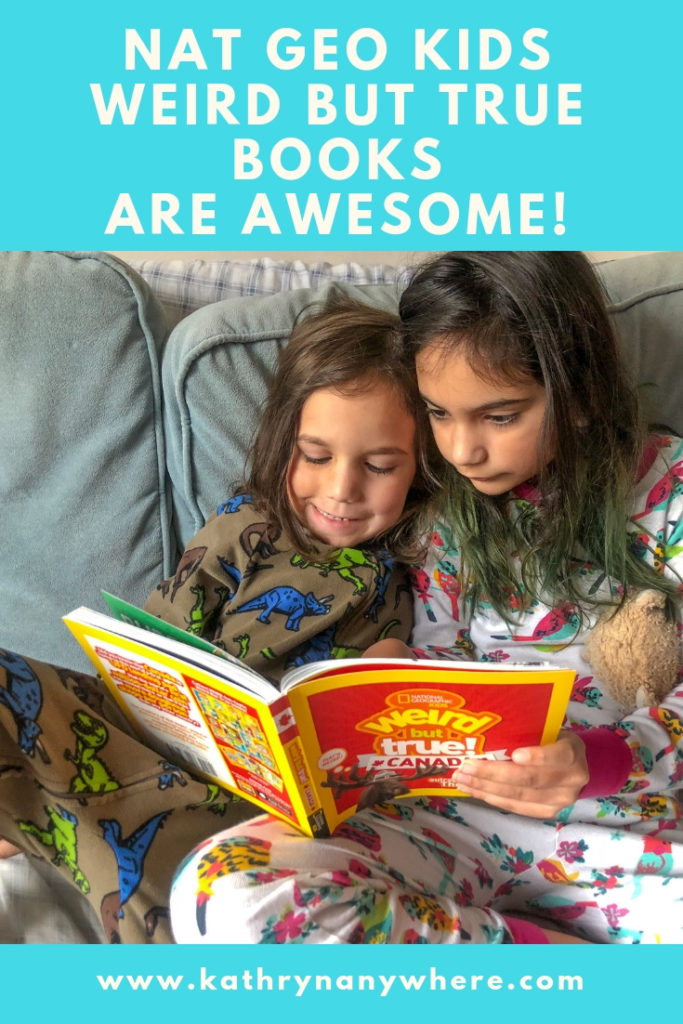 I received this product for free from Moms Meet (momsmeet.com) to use and post my honest opinions. Compensation for this post was provided and this page may contain affiliate links.