Silver Creek Conservation Area – First Hike of 2019
It took me 6 whole days into the year of 2019, but I finally got out for my first hike! Said like a hiking junkie, but really it's been a mere ten days since my one hour jaunt at Sager Conservation Area and before that was an embarrassingly long couple month stretch. It got cold here, okay?!
I joined the Hamilton and Toronto chapter of Women Who Explore for the first adventure of the new year at Silver Creek Conservation Area. Fresh air and fresh trails for me as this was a spot I have not hiked before.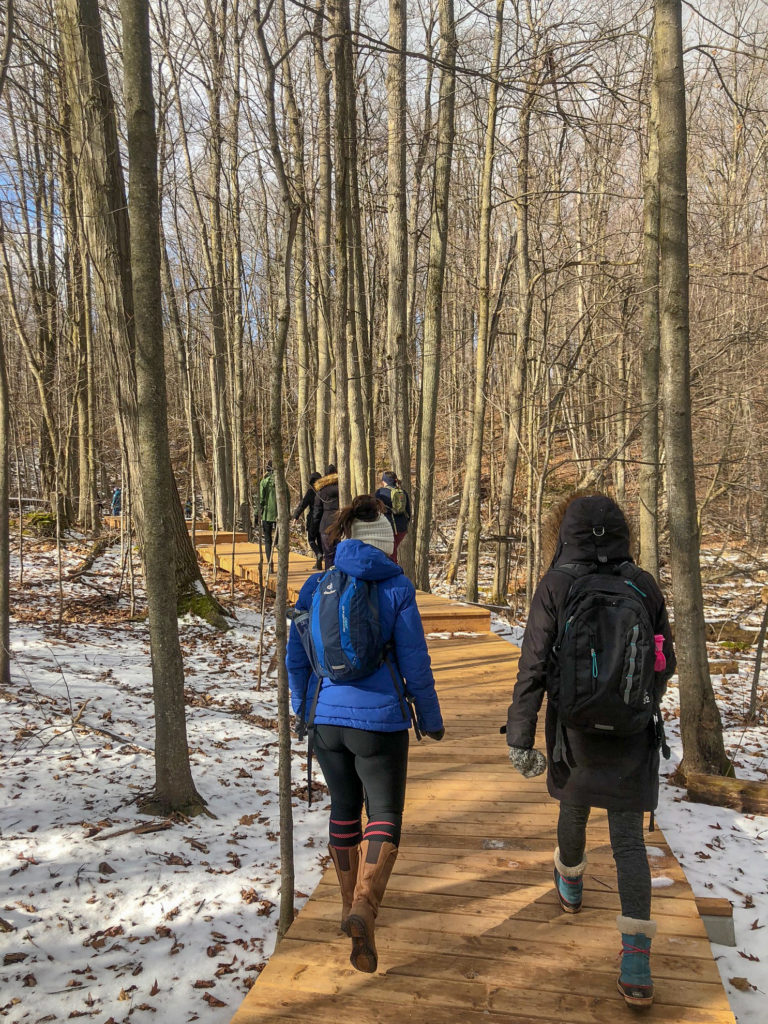 Don't let this boardwalk fool you as it did me. It lulled me into complacency.
I Didn't Know Anyone!
This was also me jumping into a crew of women – none of them I have ever met before, but being with people who hold similar interests, enjoying an afternoon together. I really need to do this more. Sometimes parenting is really insular and while I have met many other parents, we don't always share the same interests just because we had children around the same time.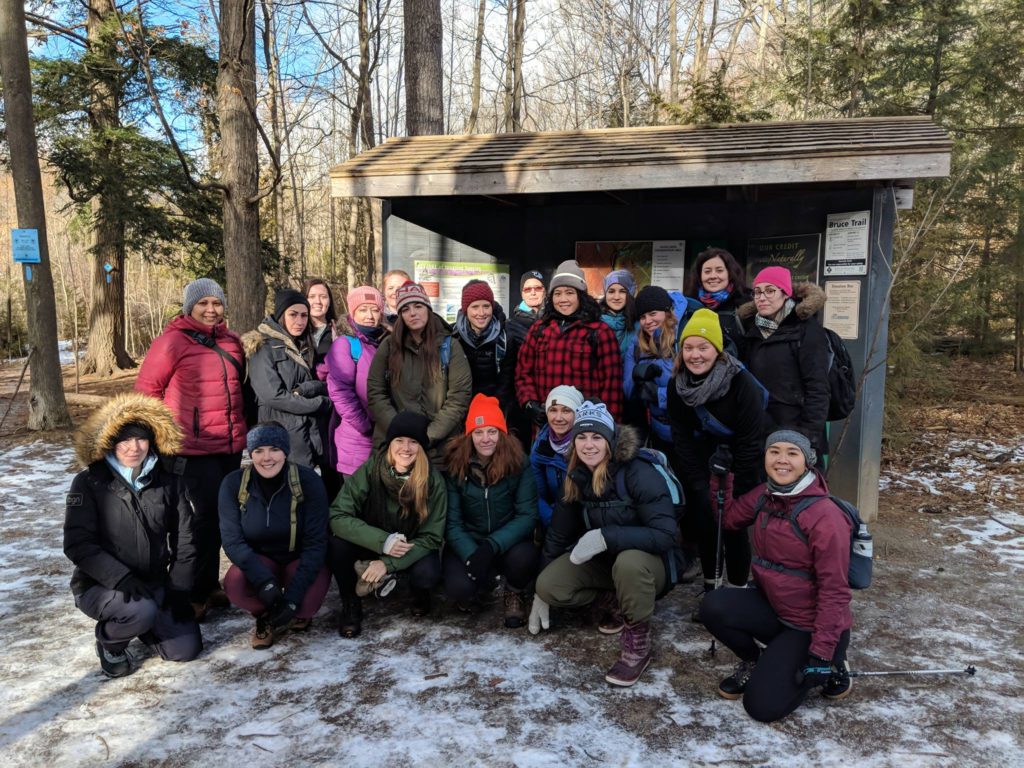 Being a parent is part of who I am, but it's not all of who I am. I completely appreciated getting into the outdoors without my littles running behind me and having adult conversations that did not include poop consistency or sleep regression once! Score!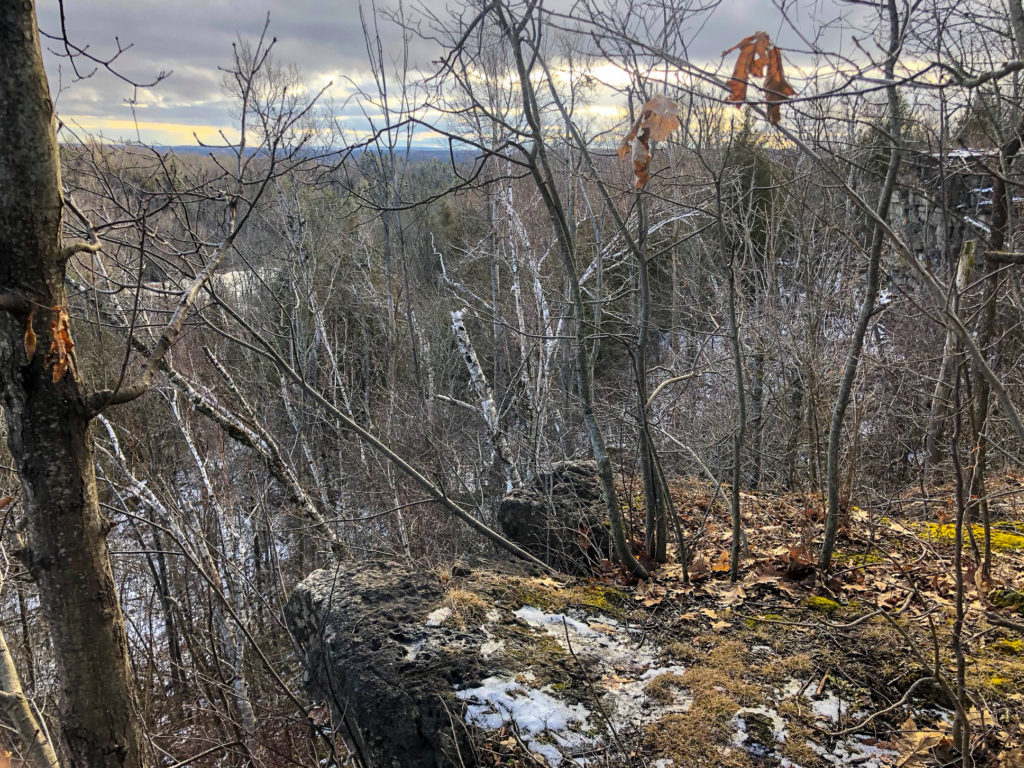 Silvercreek Conservation Area is part of the Bruce Trail. I've been slowly ticking off a handful of kilometres at a time on the trail over the past couple years. Anyone want to place bets on how long it will take me to get through it? Anyone got 12 years on the betting card?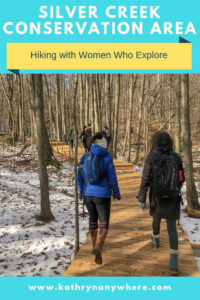 Where Is Silver Creek Conservation Area?
This lovely place full of many kilometres of trails is only one hour by car from my front door and even better, I could use the Toronto Premium Outlet Mall as a half way stop to shop! You can find this conservation area northwest of Mississauga and Brampton. In terms of driving route, I took Trafalgar Road north from the 401.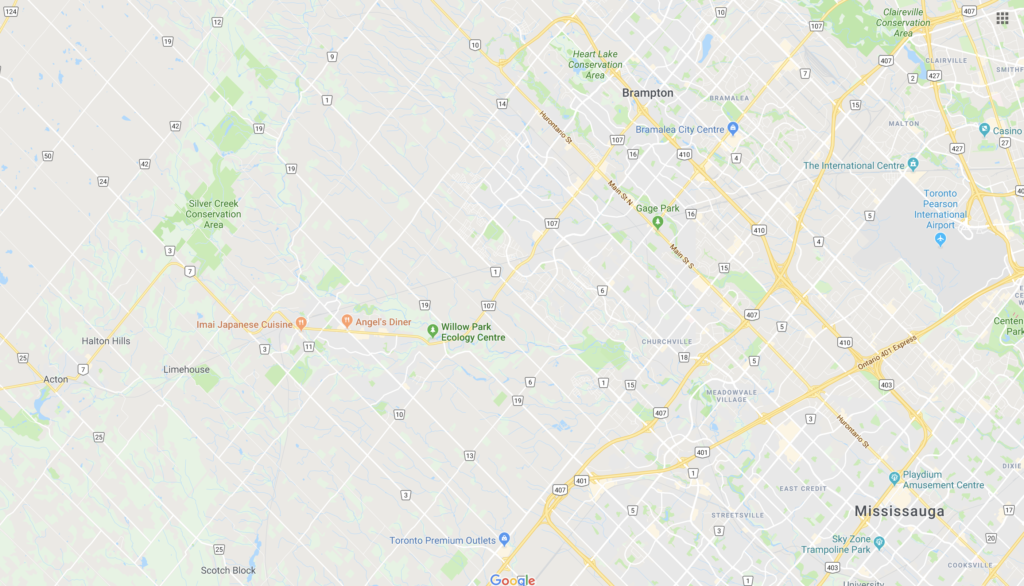 As this is part of the Bruce Trail Conservancy, everything is clearly marked. Main trail and side trails are clearly well maintained throughout the year. We could see the paint parkings on trees everywhere, at no time were we lost. Anytime we had a question about where we might be or which way we should go, we referred to the Alltrails.com application many of us had on our phones.
On the topic of mobile phones, my service was often in the 3G level. Only at the road where we parked did I have LTE strength. I tried to post a short video to my Instagram stories at one point during the hike and did not have enough signal to do so.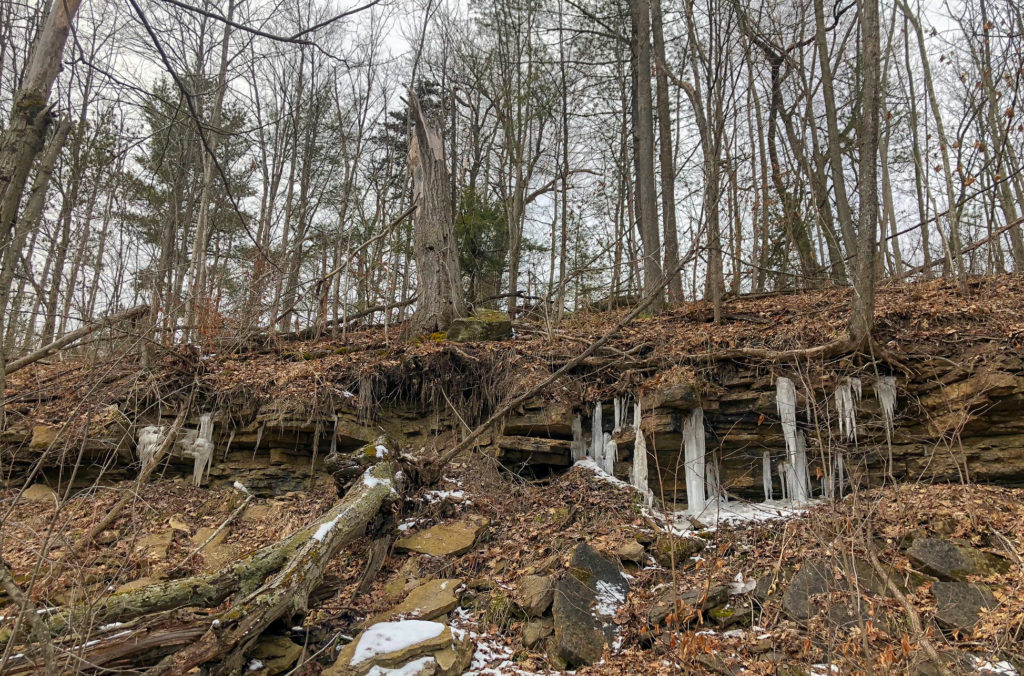 Just over 20 women in our group alone invaded the Silver Creek Conservation Area and hiked approximately 4.5 kilometres over some fairly icy terrain. The first trail we did was the approximately 3.5 kilometre Roberts Side Trail, that loops into the main Bruce trail back to the trail head and it took the group almost 80 minutes to complete. It was slow going in many areas. As I type this, my muscles have pretty much recovered from screaming after an epsom salt bath.
I fell on my ass
I have a bit of a bruised ass from a wipe out at the bottom of a set of icy stairs.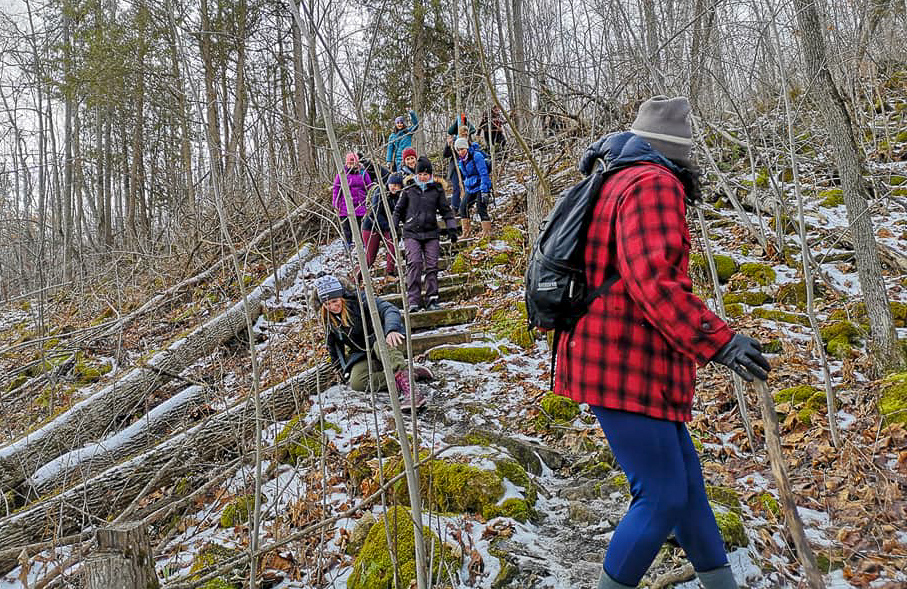 Everybody falls! Doesn't matter your experience or fitness level, how awesome your boots are or how careful you're being. You're no match for the ice! Just get up and keep going. Don't stop. Don't quit. Mother nature will have your ass if you do!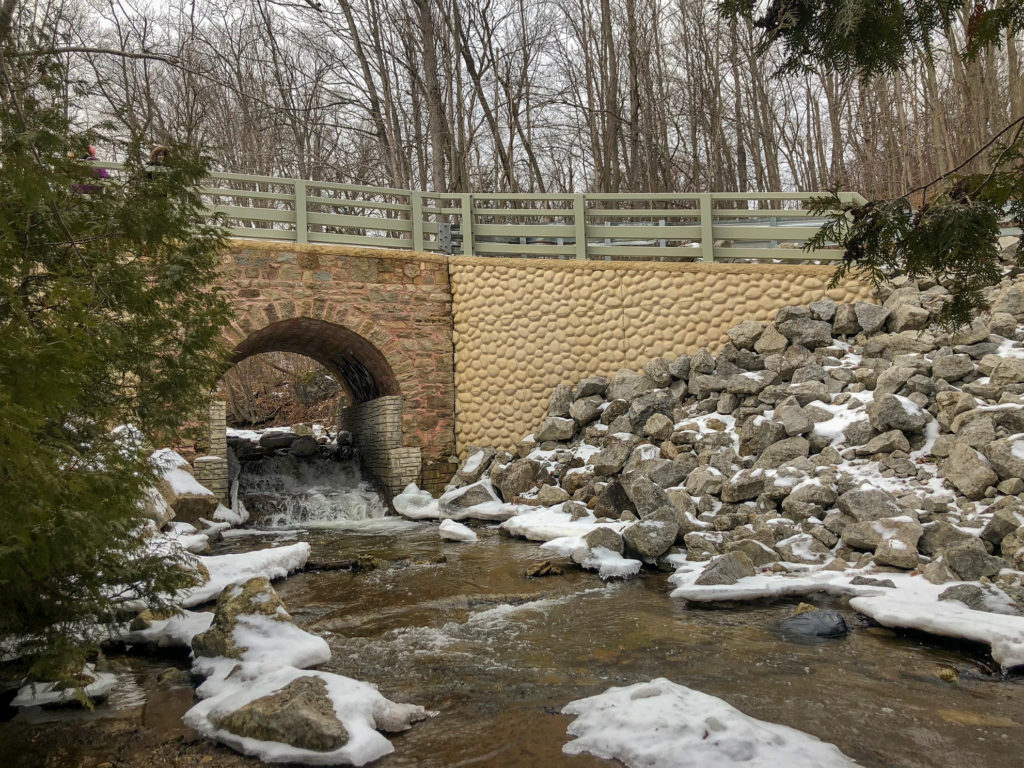 Quite a few of us took a misstep somewhere on the trail. The ice is a tricky little sucker that way. Without crampons, it was difficult. Some areas were full of mud as there had been a thaw the day before. I didn't even think I would need crampons given the non-snow or winter type weather we have been having in Toronto. So even though I had packed more snacks than necessary and 3 pairs of socks into the car, I didn't bring crampons. Lesson learned.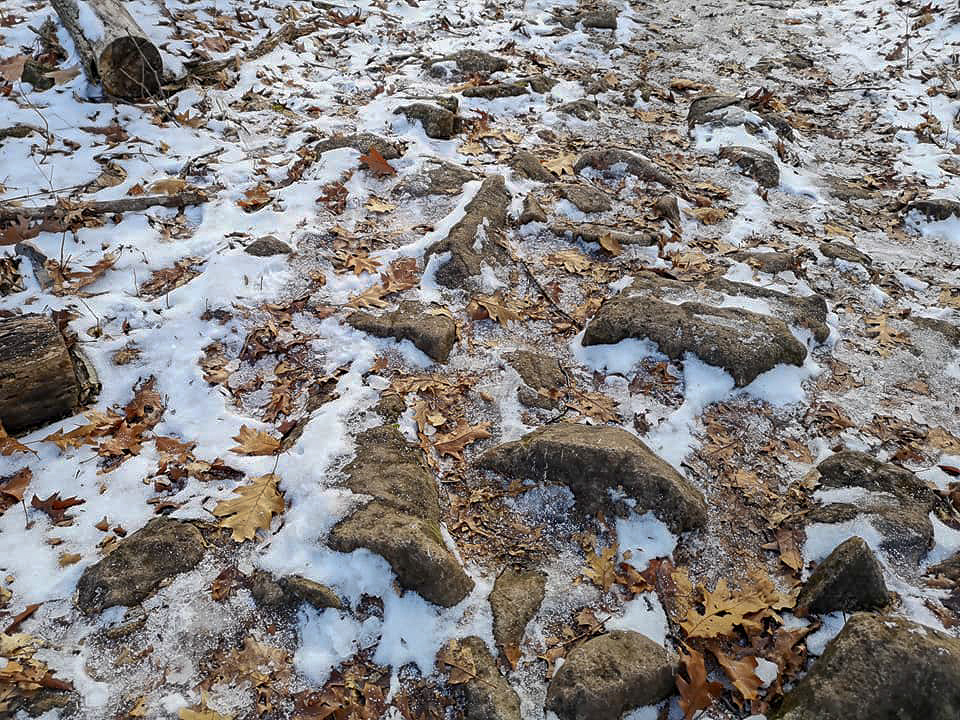 Do you have crampons? If you're doing some winter hiking that might see you traversing some ice, I highly recommend you look into getting a set for your own safety as they aren't expensive and can be shared with others when you're not using them because they are adjustable to your shoes/boots:

The second trail we did was the Irwin Quarry Side Trail and that was approximately 0.9 kilometres. I'd really like to head back to this area in the spring or summer with my kids and check it out again. As the conditions were fairly icy, I spent a lot of time looking down, at placing one foot in front of the other opposed to looking up and actually taking in and enjoying the scenery. Okay, I did see some gorgeous scenery….
I found myself trying to jump from rock peak to rock peak, looking for something that wasn't frozen as a lot of the ice was in between everywhere. This normally would not be a difficult hike at all. I'd rate the trails we visited as easy to moderate under normal circumstances. With the ice, it was a highly level of difficult. Although, oddly enough, there were a couple men on a run who just zoomed past us.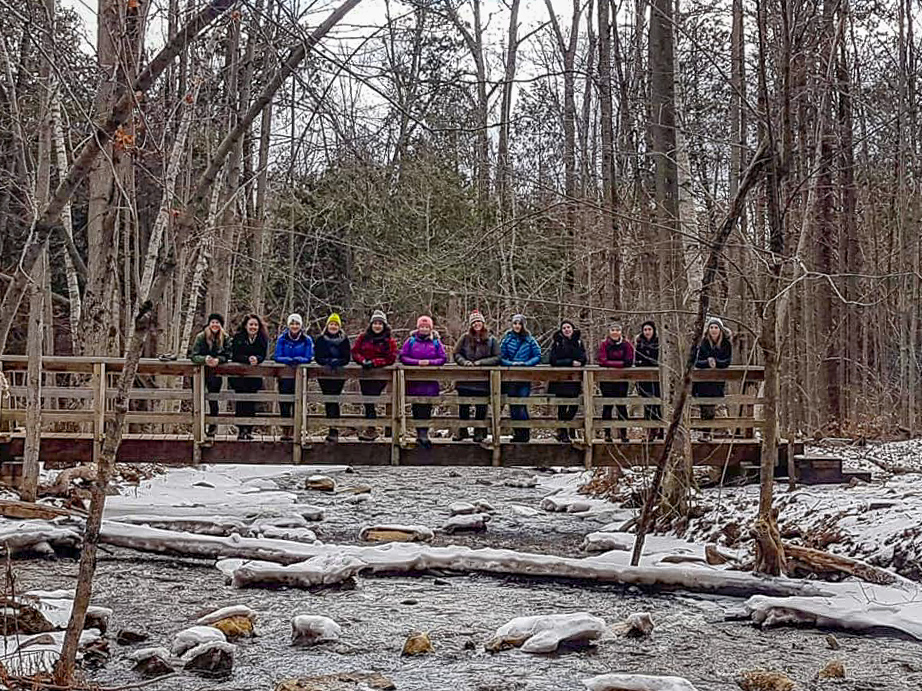 Here's to a new year and to new adventures! What a great hike to reconnect with mother nature after the craziness of the holiday season and to reassess my own outdoor goals for 2019. More time outside = a happier me.
Can't wait for the next outing!