Why You Will Love Beaches Negril Resort and Spa
The country of Jamaica had always been on my list of places to go, but let's face it, if I haven't been there, it's on my list. I had already been to quite a few islands in the Caribbean – Roatan, Bahamas, Cozumel, Cuba, St. Maarteen, to name a few, but never before to Jamaica. The food, the music and the culture were all calling my name, so my itchy feet said that I had to do it. I am also in love with the Beaches Resort brand, so when we booked our trip to Beaches Resort in Negril while still at the Beaches Resort in Turks and Caicos, we knew we would be in for a good time! We were not disappointed and this is why you will love Beaches Negril Resort and Spa.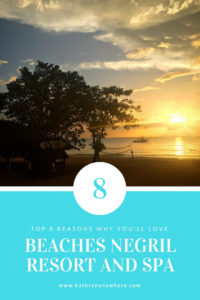 Here Are Top 8 Reasons Why My Family Loved Beaches Negril Resort and Spa:
1.) We found that the resort is "small" enough that you can see straight across the beach area and can see who is at Pirate Island in a hurry despite being on Seven Mile Beach in Negril. We could allow the kids to have more freedom and not be chained to us because we could have a sightline of them a little bit further away from us than we have in bigger resort areas. The kids are starting to be of the age where being a little bit separate from us is good, but they're still very dependant on asking when we're going to have lunch and can they have another "Miami Vice" from the swim up bar.
2.) The sunsets were amazing! I'm a sky porn sucker, no doubt about it, but the hues of the orange, tangerine and yellow that I saw on that beach in Negril were exceptional! The sunsets were a long and drawn out affair, slow, peaceful, meandering. The daylight lingers a bit as if it's fighting to stay present, but then just gives up and slowly is overcome with the darkness.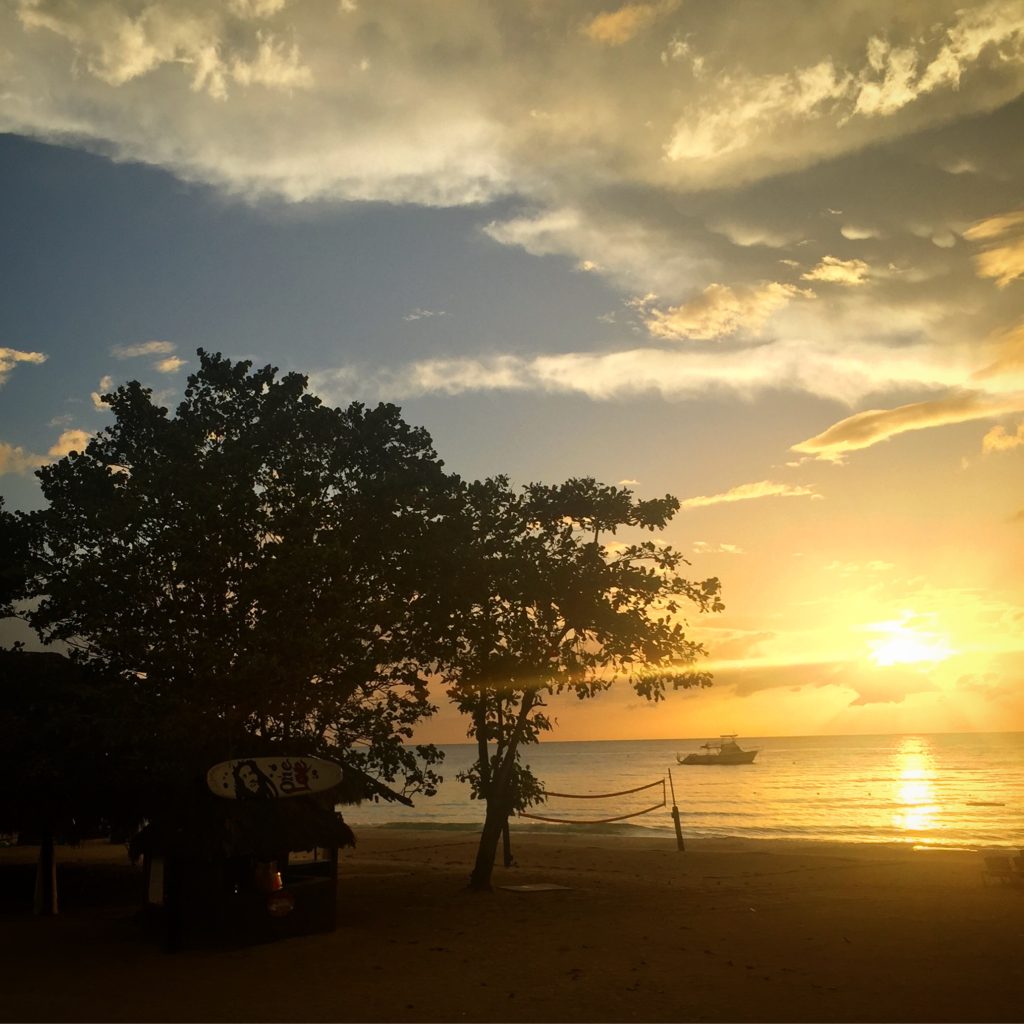 3.) There was a dinner beach party one night – that we missed most of due to dinner reservations at the Venetian, but man it looked fun! There was a marching band that came, that we hung around to watch and it just ramped up the atmosphere to full tilt party. I was told that this is a weekly party.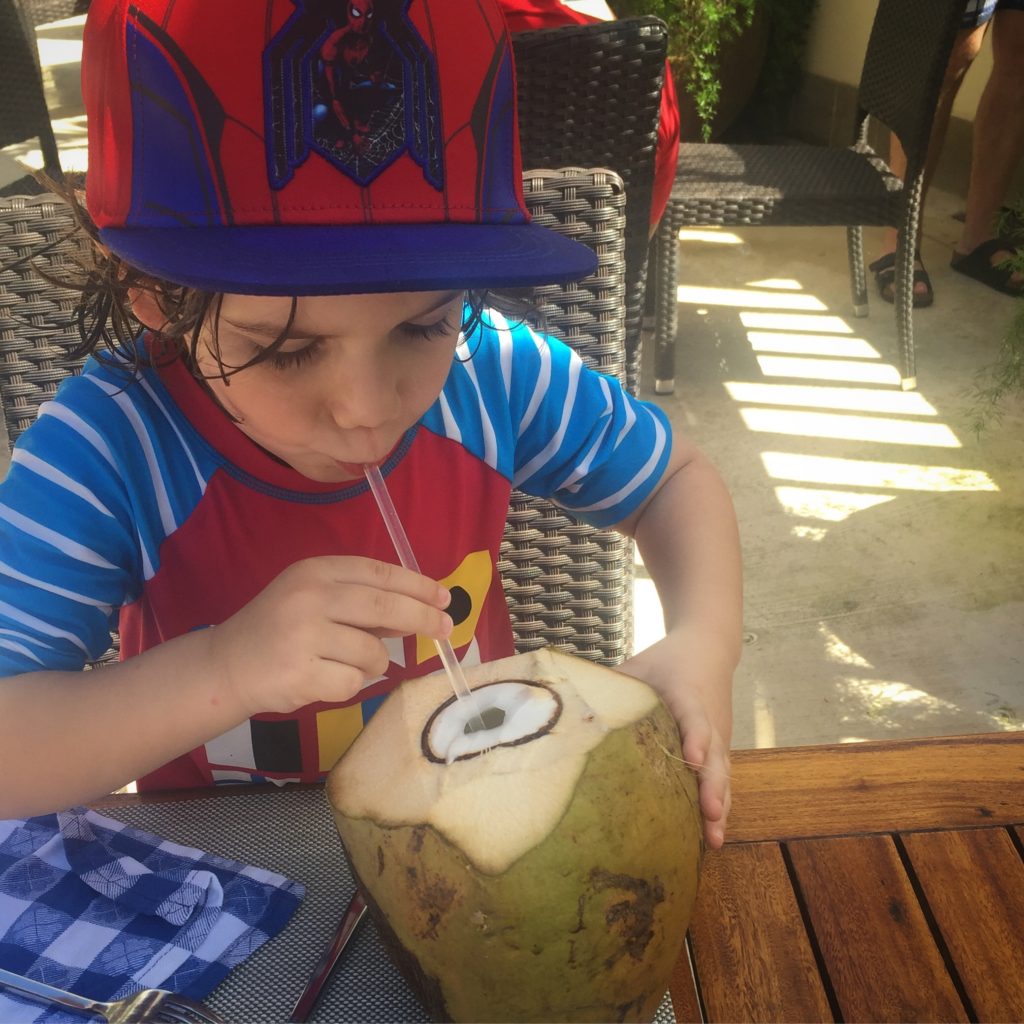 4.) Neither the kids or the adults ever went hungry. There was a quick service BBQ serving Jamaican patties, sandwiches and burgers all day long. My daughter, my son and their friend were able to have frozen yogurt at Yo Yo's every day. That's not a bad thing when you are on vacation, is it? Monday there was an amazing BBQ on the beach for lunch and coconuts were served. It was my kid's first time drinking from real coconuts. My favourite restaurant there is Stewfish – so laid back with Jamaican inspired cuisine. It's right on the beach (go in sandals and flip your shoes off under the table) and served us both breakfast and dinner. For breakfast, I opted for the eggs benedict and for dinner (we were there twice), I had the traditional stewed fish and then I had the chicken breast.
The Mill was the easiest breakfast spot for us due to proximity to our hotel room and it was a buffet so it also have the kids a bit of independence to be able to serve themselves. I have zero complains about any of the food we ate there. We ate really well.
5.) The Jamaican people were great! The answer to everything we asked for at the resort, the airport, on the beach was "Yes" or "No problem". The staff was super friendly, and made my kids and us feel so welcome. We found the staff actually remembers you from day to day – the bartenders would remember the kids favourite drinks when they saw them and of course remembered that I like Pina Coladas. I wonder if part of it was were in there in low season, so there were a lot less people for them to remember, but my bet is on that they truly cared about making our experience that much more personal.
6.) We didn't feel crowded anywhere. We went at the end of January into the first week of February. There was ample space on the beach, lot of pool loungers at both Pirate Island and the main pool. It seemed that we never had to wait long to be seated for meals. Nothing ever felt crowded and you never felt like you didn't have your own space to enjoy yourself.
7.) The big winner in terms of attractions at the resort for our families was Pirate Island. The kids loved the lazy river so much and the slides. Who doesn't love a water slide? The two moderate size waterslides were a ton of fun. You can be so carefree and cheerful.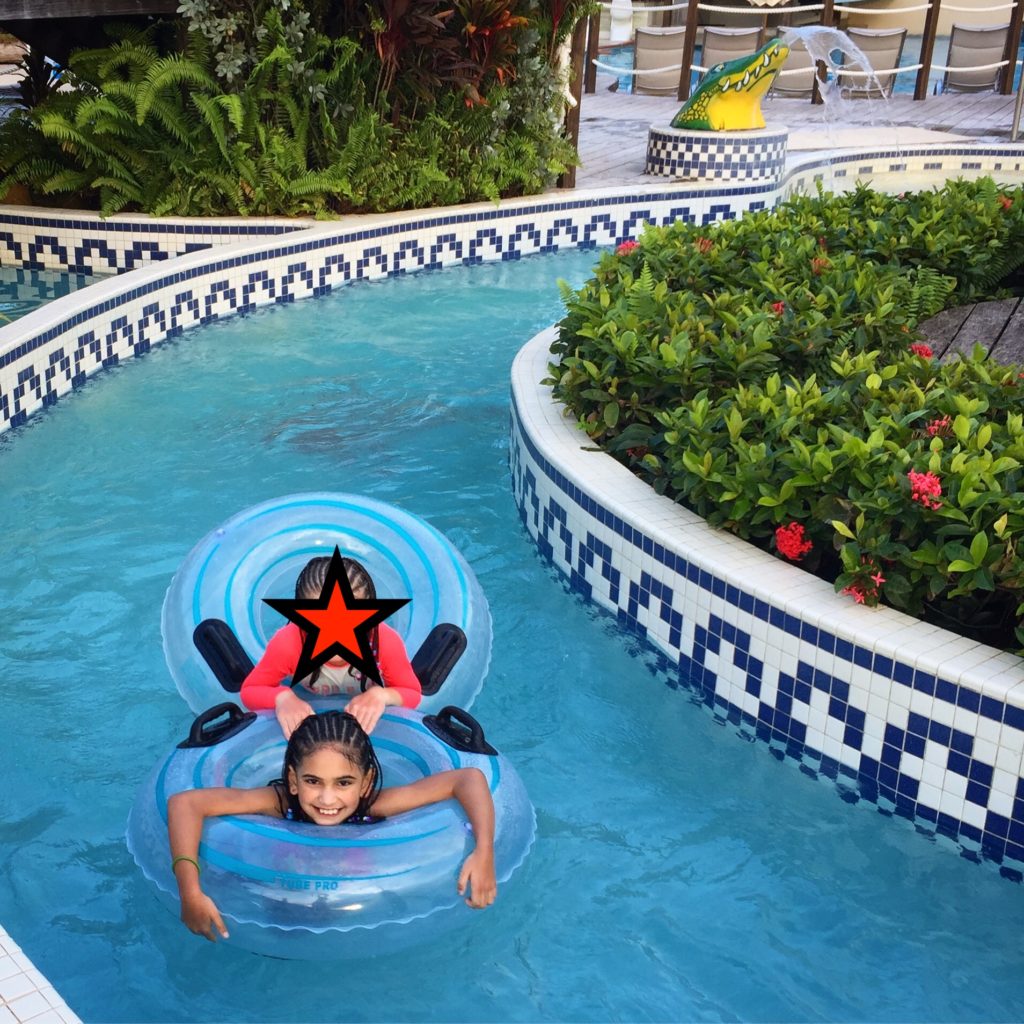 Last, but not least of the reasons of why you will love Beaches Negril Resort and Spa:
8.) Everything is included.
Not a single extra cost incurred for us. Unless you ordered a bottle of wine at dinner from the manager's list – which we did do. Also, if you shop at the gift shop, those purchases are not included. Be sure to pack your sunscreen and flip flops!  We went snorkelling, no cost to rent the mask and fins, no cost to hop on the boat!
Off-site excursions are not included in the price and prices are marked on the website. We opted to not leave the resort for this trip.
If you have read down this far – here's a bonus for you! I have edited together video from a day in the life of a family on vacation on Beaches Resort in Negril! Check us out from entering and peeking into the room, to Pirate Island and the evening on the beach. Enjoy!
Our only hiccup was check in. When we arrived from the airport, they had no record of our reservations. Then my family was assigned a room on the other side of the resort as our friends. We were also told we were not a returning Loyalty Guest. It was really strange considering we had booked our vacations in the Loyalty office in Turks and Caicos the year prior. The good news is, it did get sorted out and we had a great time!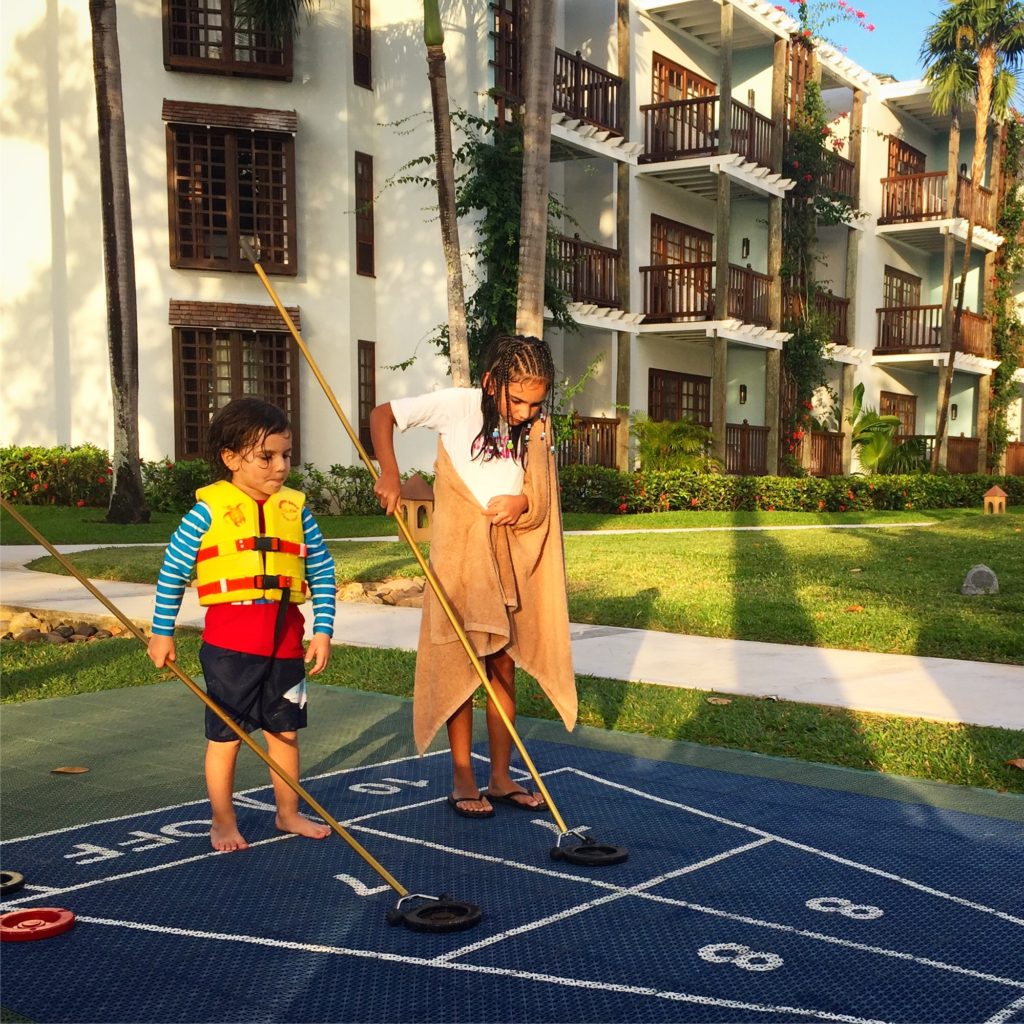 Ready to price out a vacation to a Beaches Resort of your own? Click the image below!