Getting to Billings, Montana was a complete and total cluster fuck. "Someone's trying to tell you something" my mom texted me. Turbulence, rerouting, delays, missed connecting flights. Like it wasn't meant to be. My determination made it so it was. Everything accumulated to me not making it in time for my media pre-conference tour and I was gutted. Either way, if I had not gone to TBEX in Billings, Montana in the pre-COVID travel world I would not have had this incredible Montana Moment.
Incredibly new to the online dating world at this point, I'm skeptical and definitely not an active participant. "Swipe right on that guy" my friend, Monica coaches me over lunch. "Go for it" she urges. See, I'm the Queen of the left swipe, quick trigger. It's not uncommon to get to the very end of the list in my filters and I will have swiped left – as in "no thanks" on almost every single gentleman presented in front of me. 
Leading Up To My Montana Moment
Under my girl friend's guidance, I swiped right on 5 or 6 guys. Boom, within minutes I had matched with 4 of them. Shit, now I need an opening line. I freeze. What the hell am I doing? I'm literally in Billings, Montana for three nights for a travel bloggers conference. I should be schmoozing with the tourism board reps at the bar at night. But instead….
"What was the best live show you've ever been too?" I toss that line out to all of them. I got a couple of boring answers (George Strait, The Wiggles with my daughter – YAWN) and then one stood out "No Doubt opening for GooGoo Dolls and Bush. No Doubt blew them both away". I look back at his profile. Tall, cute, 43 years old, works in construction. His bio profile reads that he describes himself as "fit and fun. Spontaneous and generally up for anything". Well, dude, you're about to meet your match and then some. Let's have an adventure.
I respond that I think that would have been an awesome show. Immediately he is asking what my plans are for the night. Excellent. Tossing caution to the wind, I invite him out for a drink. I took him off guard and he was pleasantly surprised. He gave me his cell number and we make plans to meet in an hour at a bar in downtown Billings. I excused myself from the TBEX party, left my cell phone information with a couple of colleagues (safety first!), made sure I had some cash in my wallet in case I needed to jump in a taxi and made my way to Hooligans. Beating him there, I grab a table close to the door and drop my pin on Google maps, sending it off to a couple of my friends telling them what I was doing along with a screengrab of Montana Man's profile.  Let's call him Strider.
"Have fun, be safe" is the response from both.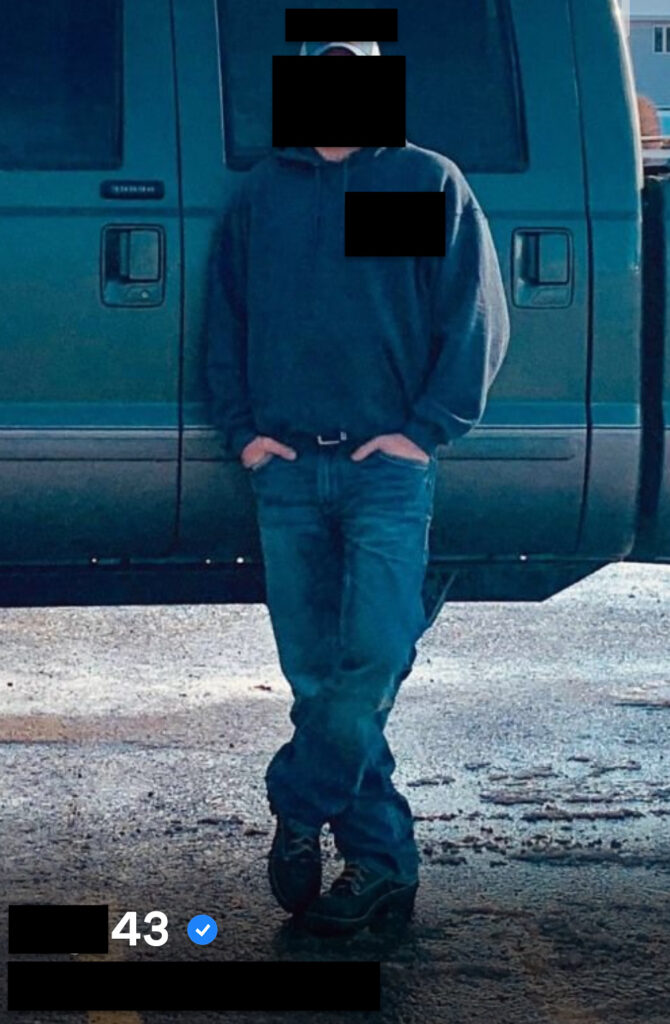 Hooligans
Strider comes in, baseball cap, jeans, blue and grey plaid shirt, cute as cute can be. He is tall and fit. Damn, that is a fine, fine man.
I'm completely upfront that I am in town for work for a couple of nights, I'm Canadian and leaving on Saturday because I love my healthcare and Liberalism, so even if we hit it off, I'm out. It was right in my Bumble profile too, so if he actually read it, he would know. The conversation flows easily. We talk about all the places we've lived in and travelled to. What we do for a living. Turns out, both of us have backgrounds in martial arts, both played rugby, we both have children, we talked about the political climate, favourite concerts, Y2K, Canadian television (he's a Letter Kenny fan), cheesy romantic comedies (I promised him I would never divulge his favourites to the world), and of course one of my favourite topics –  craft beers.
I'm smitten. Strider's smile is adorable. By the time we order our second beer, we've already decided we're getting out of here. I want to see Billings I tell him. Strider said he knew just the place and not to worry, he wasn't going to get "handsy". 
As we leave Hooligans in downtown Billings, he asks if I knew what a "fuck boy truck" is. He explains that he won his vehicle in a poker game. I'm so intrigued. A block away, there it was. This gigantic, red behemoth of a monster truck. I'm in 3-inch heels, a dress and I've got to climb my way in and out of that? Challenge accepted.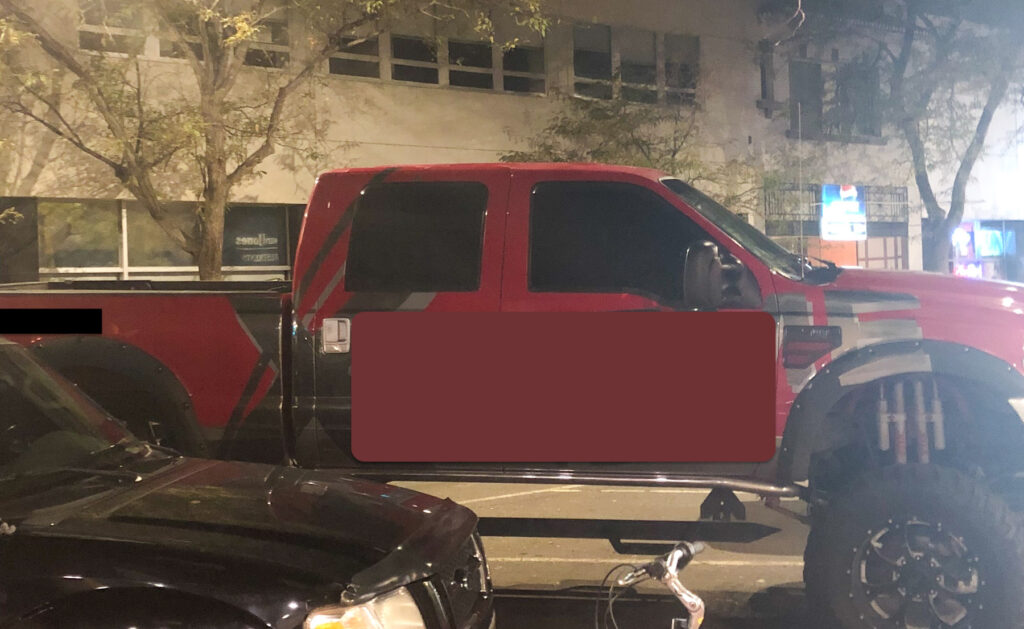 Swords Rimrock Park
It takes about 10 minutes and we arrive at our destination – Swords Rimrock Park. In the parking lot, there are a couple of foggy windows of people making out in their cars – no wonder he said he wasn't going to get "handsy", this is a make-out point for the locals! I question what's going on here when we park and he assures me to not worry, just hop out, he's got a surprise for me. Okay, I open the door and figure my way out of the truck in my heels. 
"So it's a bit of a hike, not far, only 50 or so feet downhill". Let's recap – I just jumped out of a monster truck, it's dark, I'm in three-inch heels, with someone I just met on an online dating app a mere few hours ago. Strider offers to piggyback me, but because I'm so damn independent and an expert hiker, I'm going to do this on my own. Managing to not roll my ankle in the process, we make it to the rim. The surprise? A stunning vista of Billings. From our vantage point, we can see it all. And a bonus? A harvest moonlight tops off the night. 
Yes, this picture is really shitty, but you can see my beige heels on the left as proof this story really happened.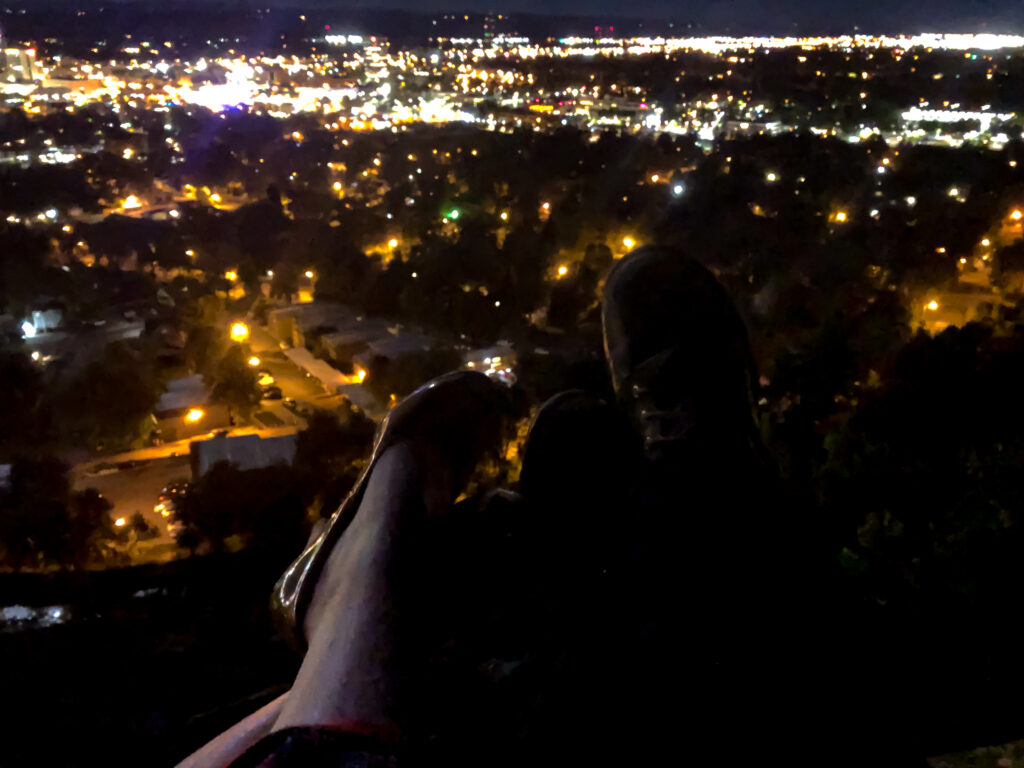 The Montana Moment
The great conversation continues and there are lots of laughs. He confesses his real name as he used initials on the dating app. I pulled out my SkyView app and found our birth sign constellations. Maybe it was the moonlight, maybe because before I met up with him, I was already a drink or two in, but we just looked at each other, our eyes locked and he came in for it. And he's a good kisser. Really good kisser. 
We hung out on the rimrock for a while longer, but the night time temperature wasn't exactly tropical. I fought it for a while, claiming my Canadianism as my shield to the cold temperature, but at a certain point, we had to give up pretending we were even remotely warm. And we both had to pee. Climbing back into his truck, he asked if I'd ever driven anything like his truck before. Nope. We parked at a gas station so we could run in to use the facilities. As we exit, Strider tosses me the keys. "You're up".
HELL YEAH! You can take the girl out of Belleville, Ontario, but you can't take the Belleville out of the girl. Giddy as a teenager, running off of the high of making out with this super hot guy, I climb up, close the door and start it. I peel out of the gas station and down the road. Yes, I'm driving a "Monster Truck" in Billings, Montana and loving every second. Up and down the highway we went, I mastered the three-point turn in that baby at a dead end (it took me a few attempts). Pulling back into the front of my hotel after 1:00 am in the morning, I didn't want to part company because we were having such a good time, but it was the sensible thing to do.
The Fun Of Travel…
This is where the story with Strider ends. I thought about seeing Strider the following night, but let's be realistic about the situation. I would be heading back to Toronto in two short days. 
But, who would have thought that the most charming, winsome, down to earth, adventurous, captivating and HOT man could be found in Billings, Montana? Oh and the view from the rimrock? So incredibly worth it!
Pro-tips about online dating:
never meet up with someone that you have met on an online dating site without leaving your cell phone number and pin-drop location with another person
screengrab the profile of who you are meeting with and send it to a safety point person
do not arrive without a charged cell phone, cash in your wallet for emergencies and a credit card or a $20 bill stashed in a pocket as a just in case fall back