Amanda from Ride The Bine hosted me (again) and my colleagues on this tour so we can witness first hand how to safely take beer and wine tours during our current times.
Welcome to the summer of 2020. It will affectionately be forever known as the summer where we couldn't go anywhere except exploring in our own backyard. While the past few months have been utter emotional garbage for many, including myself, I'm turning my thoughts to the silver linings. There are a lot of positives on staying local, less travel time in the air with the kids and hearing them ask "are we there yet?". I'm becoming an expert in southern Ontario. Seeing some of the same highways in different directions and at different times of day means seeing something new all the time. In that vein, once again, I find myself in Norfolk County.
Happily, I'm back on Ride The Bine, a fully guided beer and wine tour with my friends and fellow co-founders of the Toronto Bloggers Collective, Chris Mitchell and his wife Bri, Chris Rudder and Kevin Wagar. We are safely, in our new COVID style world order, reconnecting and enjoying some social distancing fun.  It's been months since we'd all laid eyes on each other in person and I cried like a baby all over Chris Rudder's shoulder. For real, wrecked my eye makeup before I even left Toronto. This period has been hard on everyone.
Back to our day trip – Ride The Bine was started in March of 2017 by Amanda and Susan – 2 local girls with a passion for all things Norfolk. Amanda was our tour animator for the day and she is FUN!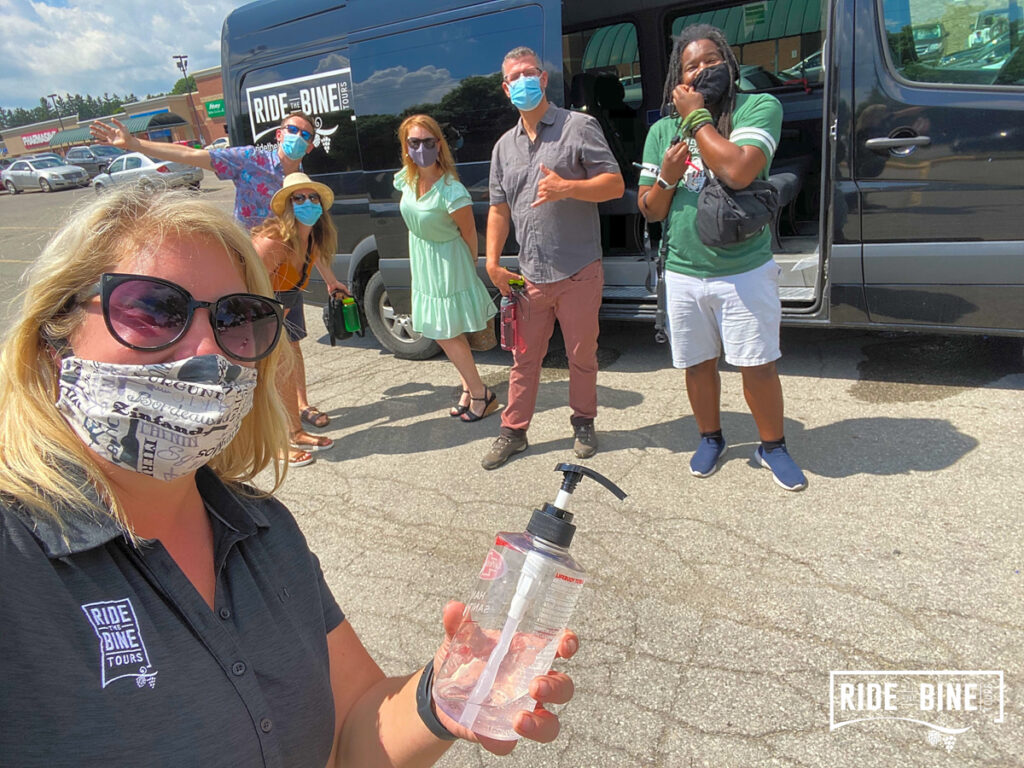 Ride The Bine New Safety Measures
Since the last time I had been on Ride The Bine, there's been a bit of a change in the world. A global pandemic, health safety measures, that kind of thing. Not to sound too blase about the whole scenario, but at this point in the journey, we have to have a laugh about something somehow. And really, I need a laugh, so bear with me.
Boarding the Mercedes Benz sprinter van, all passengers are required to put their masks on. There is a clear plastic barrier between the driver and the passengers in the back. I'm going to admit, it's right out of a strange parallel world. I'm a hugger and very physical. Yet, I'm restricted from touching others. Hands to myself! I can do it, I can do it…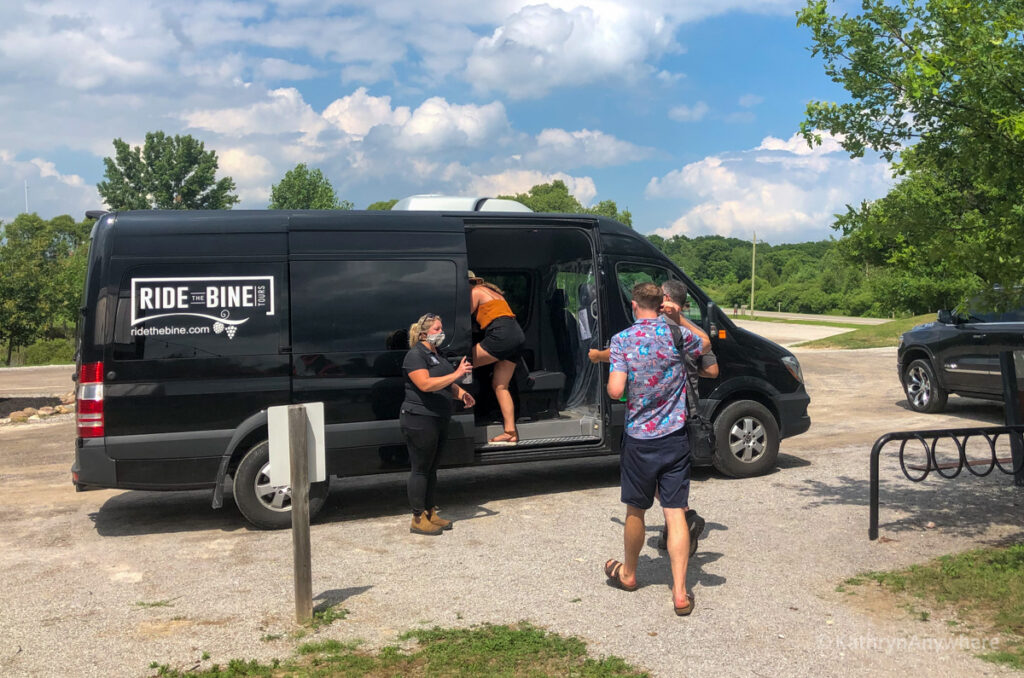 We were limited to a maximum group amount of eight people. In total, our group size was 5. We were able to safely spread out between the four rows of the cab. We also had generous amounts of hand sanitizer pumped into the palms of our hands as we boarded. Hand sanitizer was everywhere we stopped.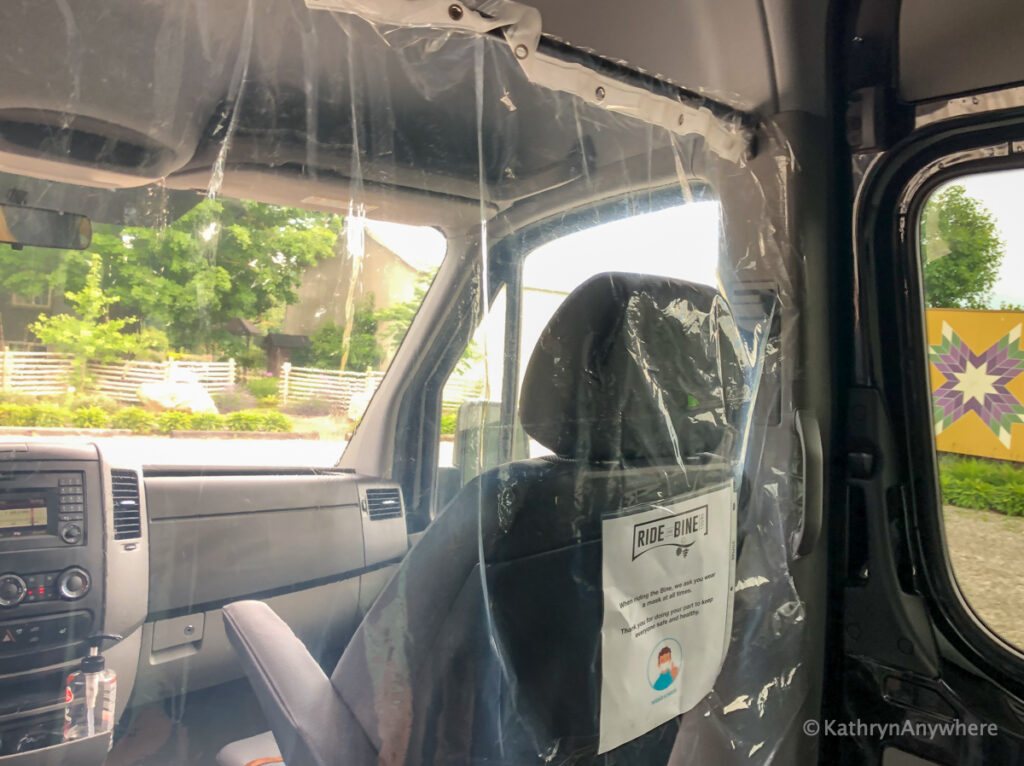 Stop # 1: Bonnieheath Lavender and Winery
Like many places in Norfolk County, Bonnieheath Lavender and Winery is a former tobacco farm. As we were lucky enough to visit in July, the lavender fields were IN FULL BLOOM. Like, perfect. Lavender is in bloom from approximately the last week of June through to the first week of August here.
If there is a reason to come to Bonnieheath in the summer, this is it. Excuse me, here are some obligatory lavender field photos with us.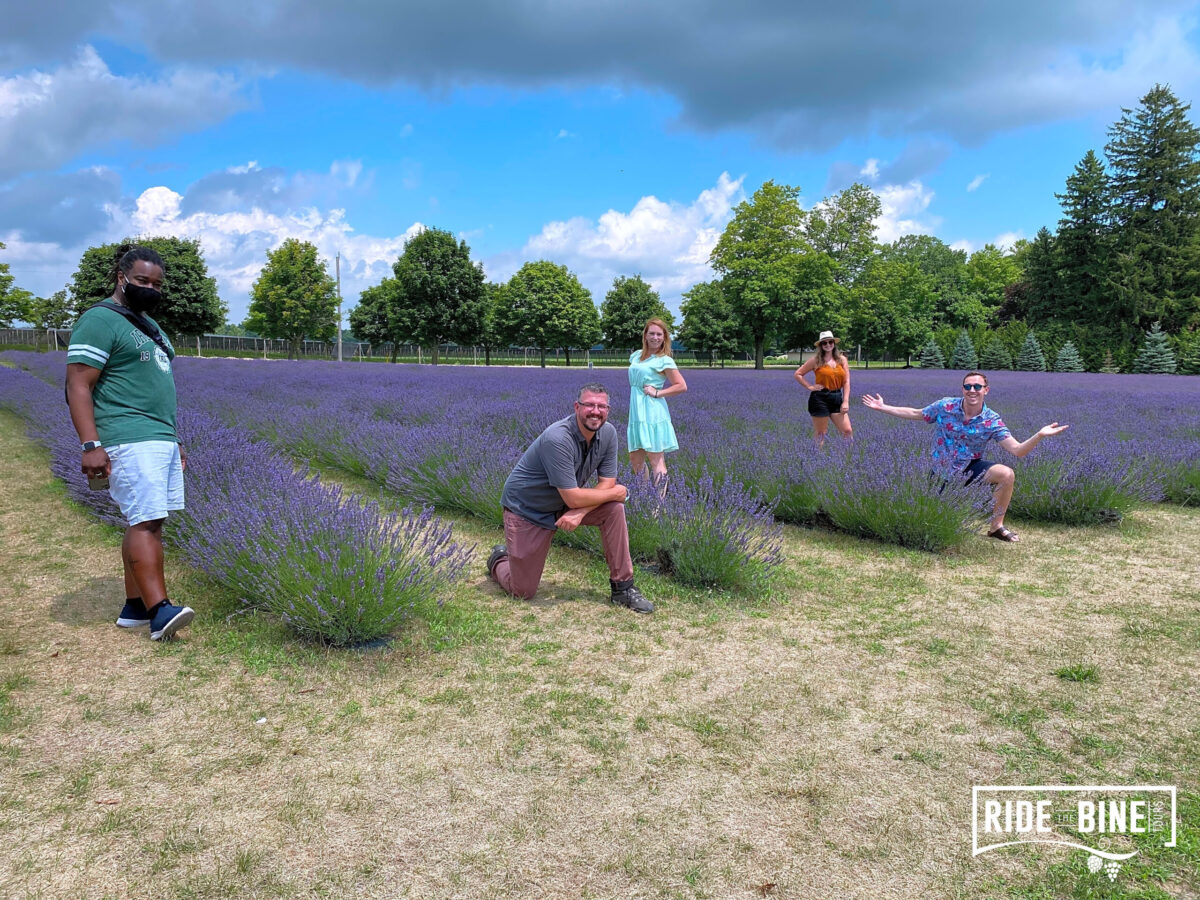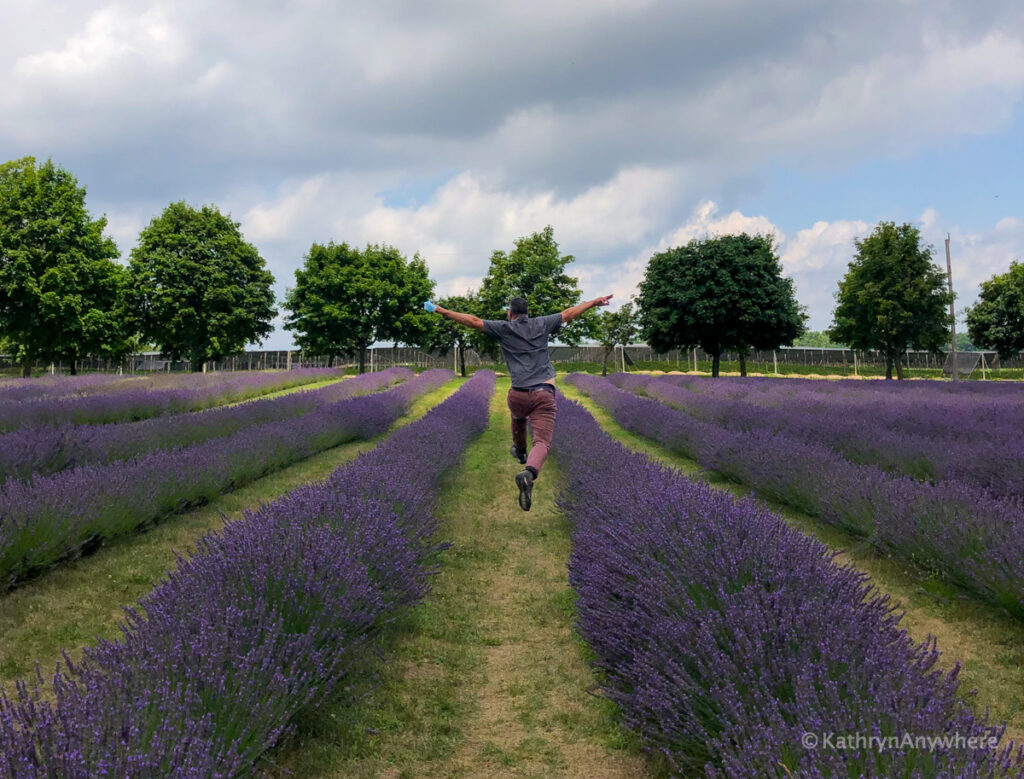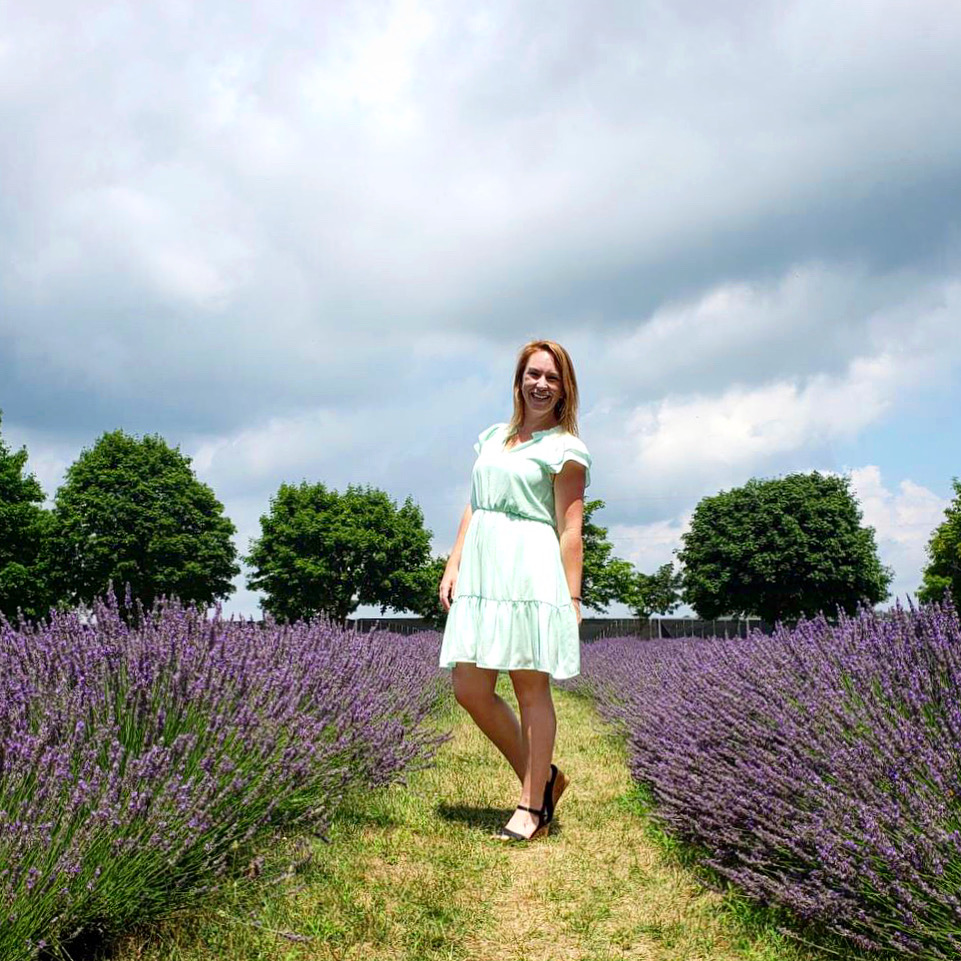 Onto the winery! I visited Bonnieheath two summers ago and fell in love with their ciders. Happy to say that they are just as good as I remember! Known for their Folkin' Hard ciders – named after the county of Norfolk, they are a blend of 100% Norfolk apples, along with other local seasonal fruits including sour cherries, blueberries, and strawberries. Good information to note – Amanda from Ride The Bine is an apple grower and her apples go into the cider blend. Hometown proud!
The tastings here were done in their production facility, which is inside. We were served by the owner who was wearing a face mask and a face shield.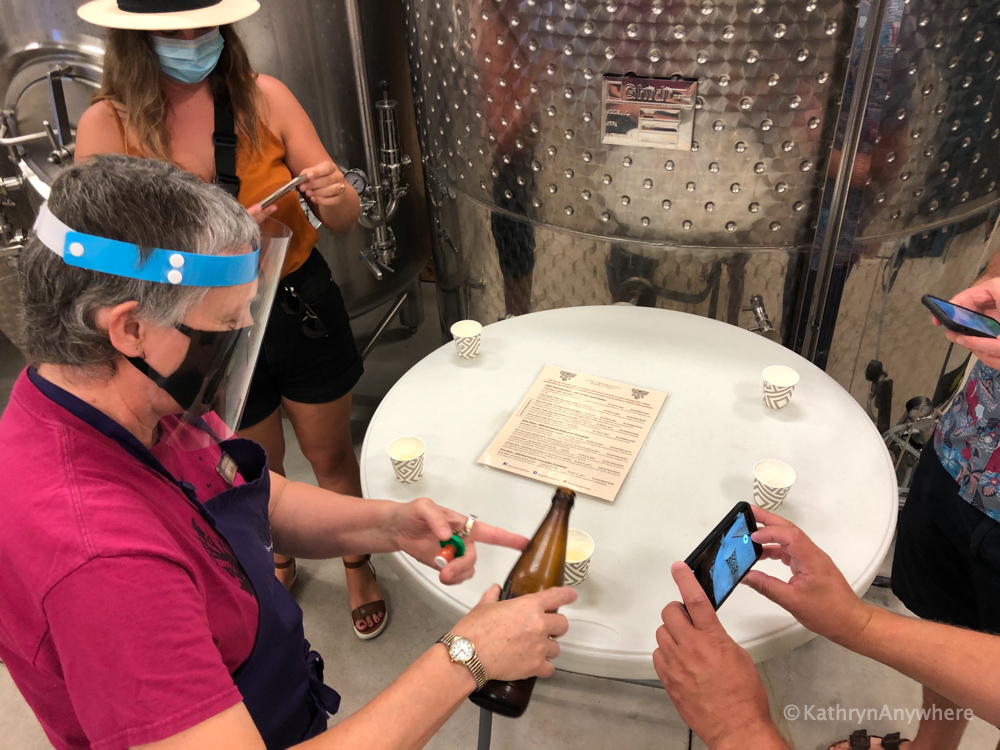 We sampled their Fresh Apple, Cherry Bomb (cherry), True Blue (Blueberry and Lavender), and their Sweet Lips (strawberry and maple syrup) ciders. My favourite is Cherry Bomb by a long shot. It's all for sale in their shop and yes I bought a couple of bottles to take home. 
Also for sale in the shop is lavender products! Lavender is harvested and distilled in former tobacco kilns on-site. From there, they create their array of lavender products including soaps, pillow sprays, essential oil and sanitizer.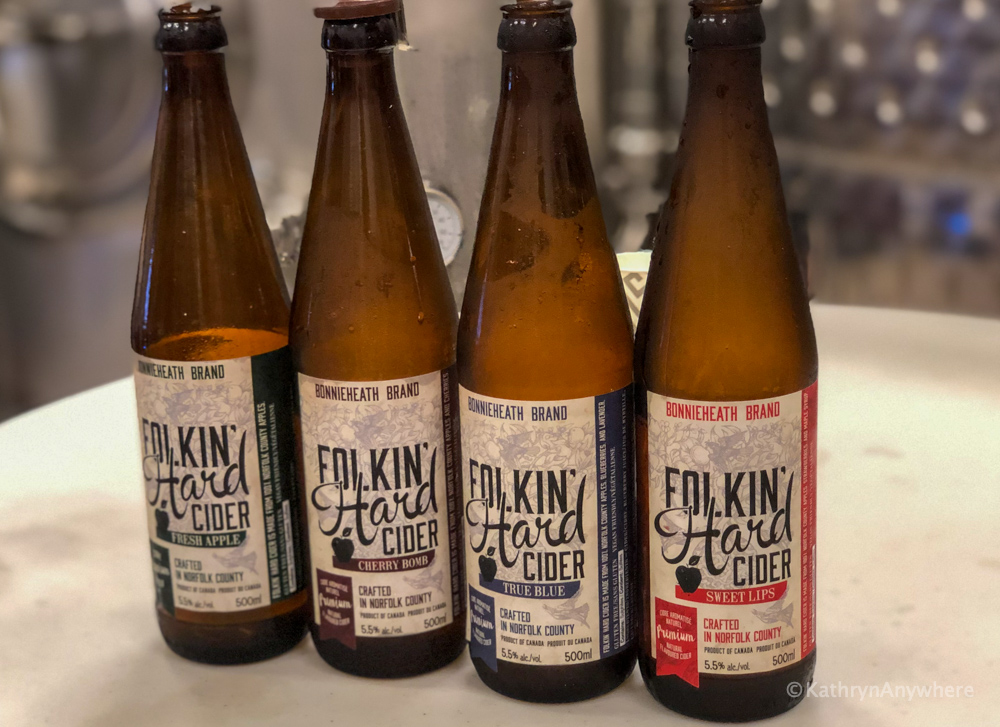 Stop #2: Burning Kiln Winery
For the third time, I find myself at one of the biggest and best wineries in all of Ontario – Burning Kiln Winery. The wines here pay homage to the farm's history as they are named after some element of tobacco farming. 
Before I talk about the wines, I'm going to tell you about their safety measures. In a usual year, Burning Kiln is host to multiple outdoor concert events and the vineyard provides a stunning backdrop for hosting weddings. The tastings were taking place in the outdoor canopy as weddings are not happening on the property this year. The staff all behind plexiglass poured the sample into a shot glass and then the shot glass into our sample glass. The sample glass was reusable and we all got to take our individual glasses home with us.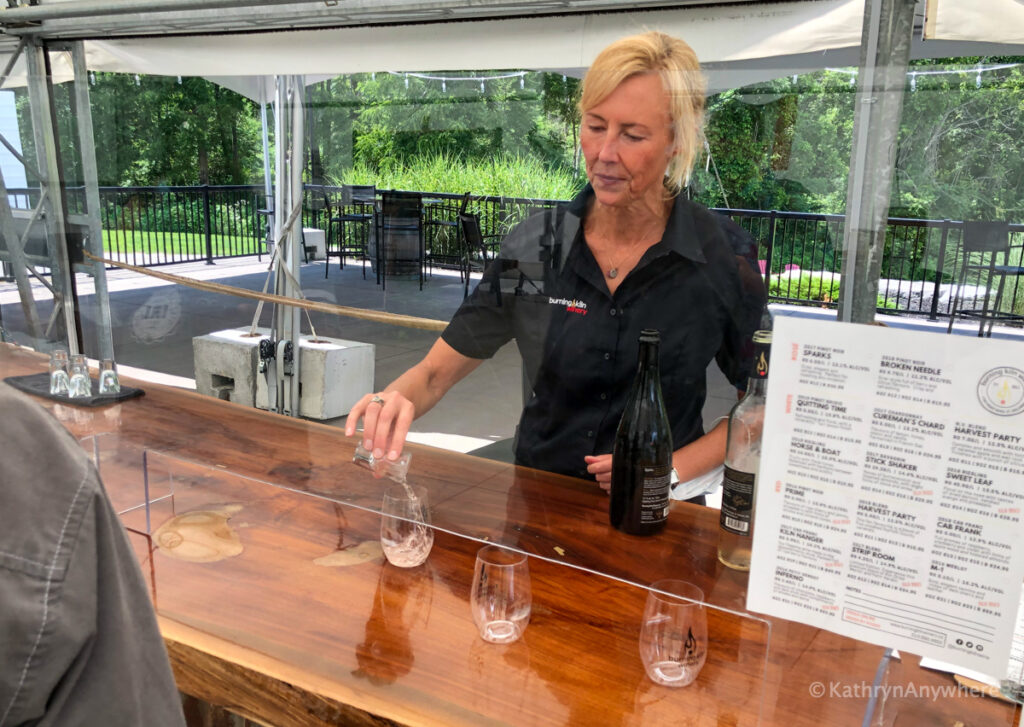 Having sampled some wines there in the past, I know a little bit about what I like the most here. Normally I go for a red, however since it's summertime, a chilled white wine is my preferred drink. On this day, my favourite was the Sparks, a sparkling rosé made in the Cuvée Close method. Since I was there, I also bought the flagship red wine, Kiln Hanger. At $50 for a bottle, kiln-dried grapes, and barrel-aged for close to 3 years, it results in an incredibly flavourful and complex red. I'm going to save it for a special occasion.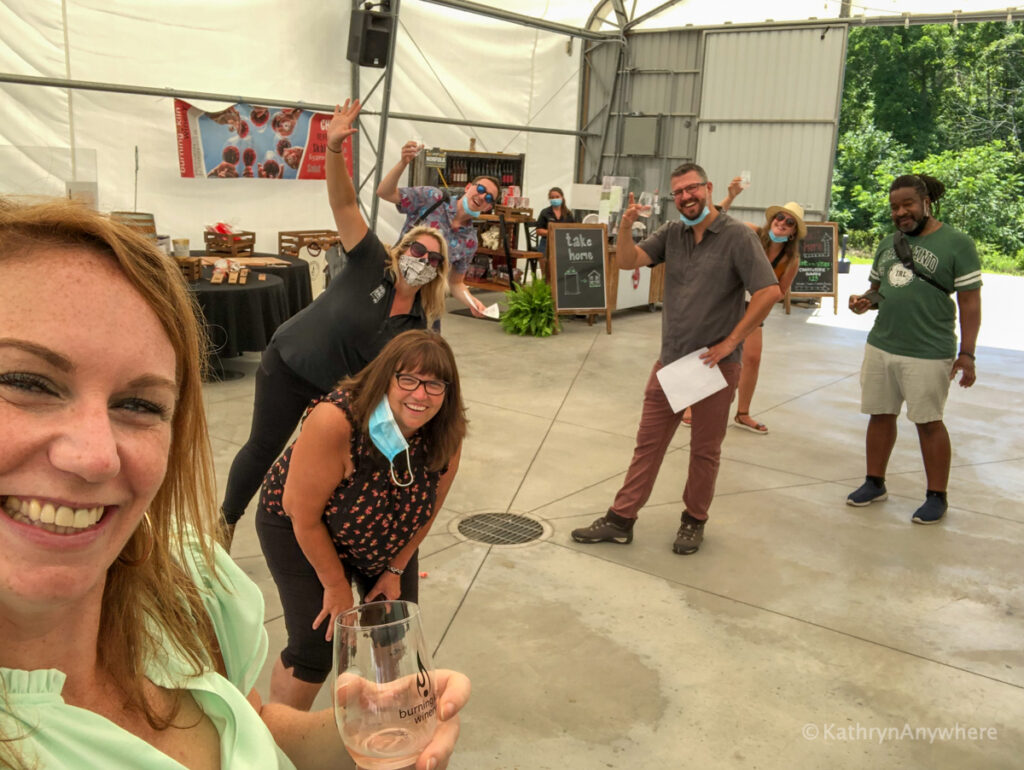 Lunch: Canned Heat on the Patio at Burning Kiln
Canned Heat is in its 2nd year running food service on the patio at Burning Kiln Winery. With a huge focus on local food and ingredients and showcasing the best of what Norfolk, Ontario's Garden has to offer, daily menu items feature local seasonal produce and a great variety of local fish fresh from lake Erie and local beef and lamb. Spoiler – I had the lamb burger and it was divine!
Stop #3: Hometown Brew Co. at Long Point Eco-Adventures
A couple of summers ago, my kids and I stayed at Long Point Eco-Adventures. Some craft beer on-site would have been nice. My wish has seemingly turned into a command!
Started by 3 local young guys in their 20s, here you can sip on brews and enjoy incredible views of the Turkey Point marsh, Lake Erie and Long Point. Hometown Brew Co. has several beer styles available to try including their famous Blueberry Saison featuring blueberries from the farm of one of the owners. The logo for Hometown Brew Co. features a lighthouse – reminiscent of the one in Port Dover and also Long Point. Being "home" at the lake is huge for Norfolk County folks – many residents own boats, cottages, or simply just enjoy being down at the beach after a long week of work, or a long hot day of working on the farm.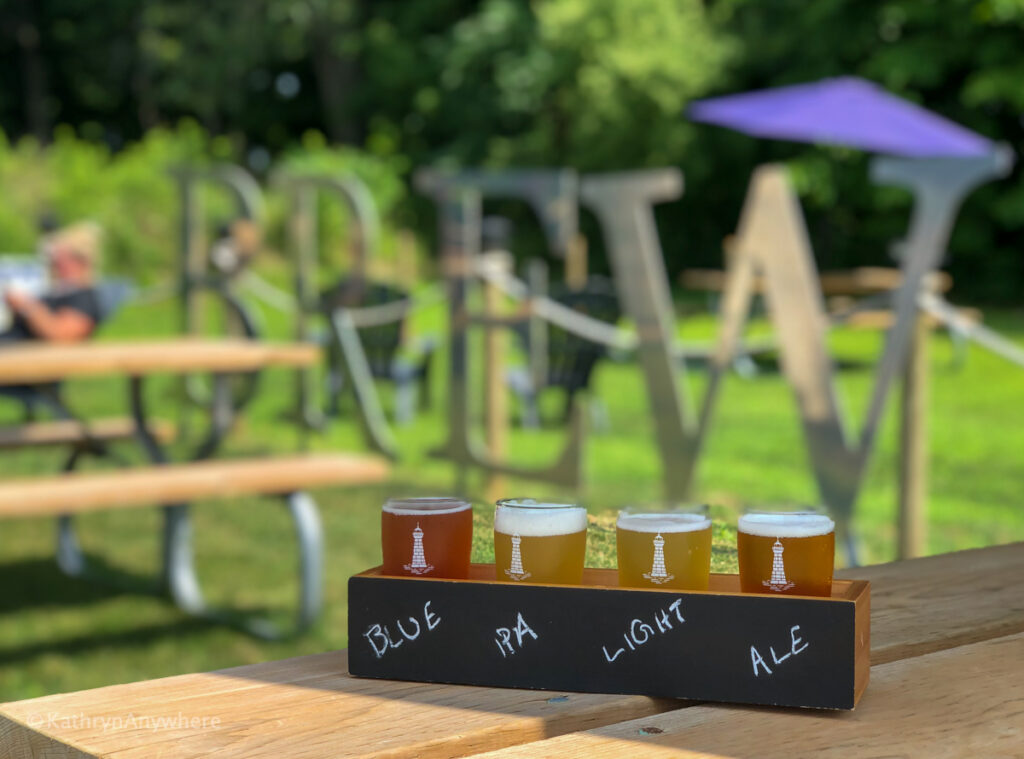 Here physical distancing is not a problem. Lining up for your beer, you have to adhere to markers on the patio. Tables are spaced fairly far apart so you can cheers your friends from a distance.
My favourite beers to try here are the Southern Ale and Southern Light. I also sampled the IPA and the Blueberry Saison.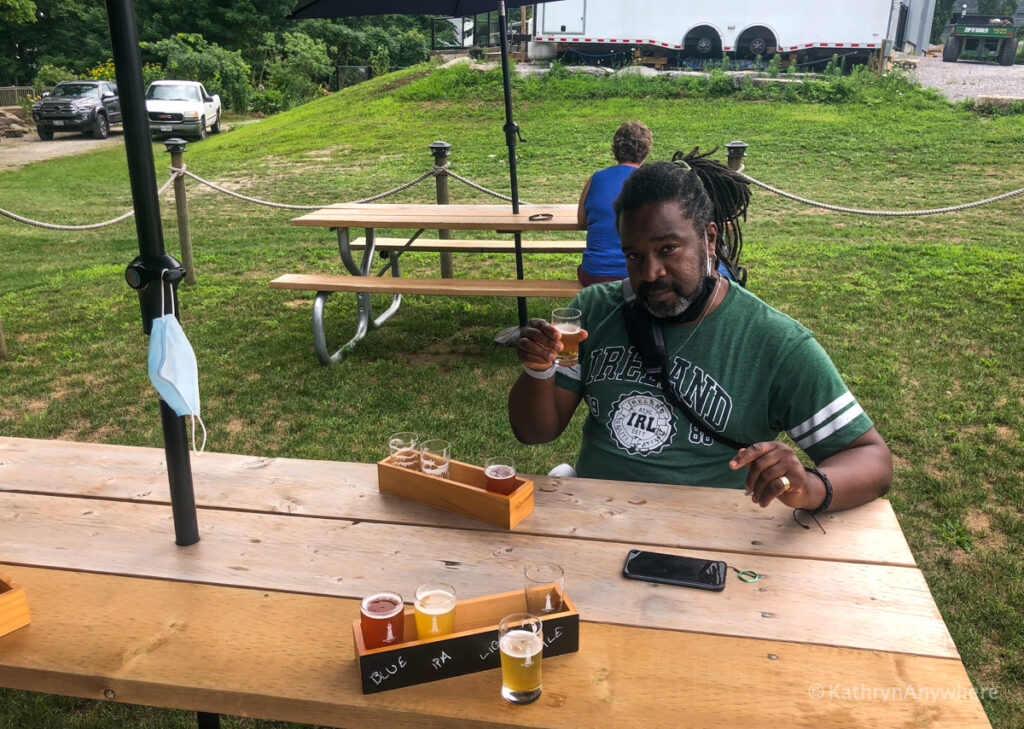 Stop # 4: Inasphere Wines
Want to know where to enjoy incredible views of the Inner Bay of Lake Erie and Long Point? It's at Inasphere Wines? Currently a family-run, working vegetable farm and winery, this is the lowest elevation farm in all of Norfolk County.
Ryan and his wife Shantel, are the 3rd generation to own and work the farm. Ryan is a winemaker and studied at Niagara College and Jackson Triggs to hone his winemaking skills. What's incredibly unique is that he has grown up on the property, manages the vines and also produces the wine. Very intimate knowledge of the land and what he is putting in bottles for people to enjoy.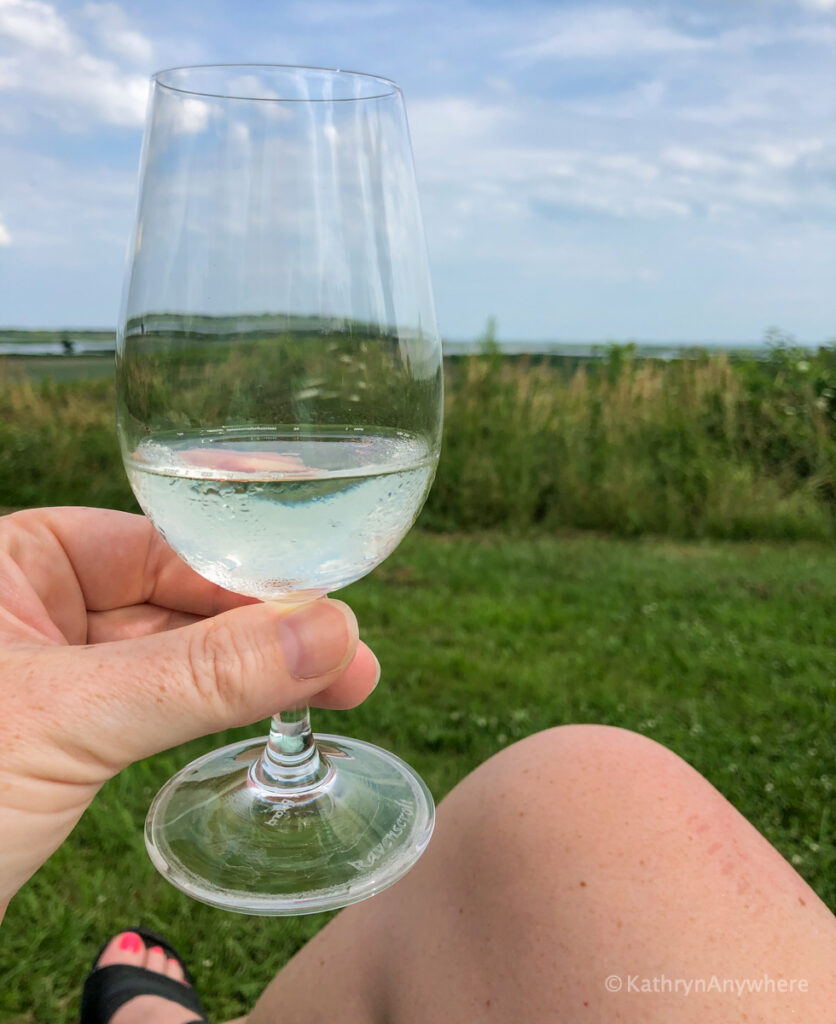 We didn't enter their building except to use the washroom, we conducted tastings outside from a distance. We sampled their Dry Riesling, Sauvignon Blanc, Grey Area (lightly pressed Pinot Noir – red grape but produced as a unique white wine), and also their Cabernet Franc. Grey Area was fantastic!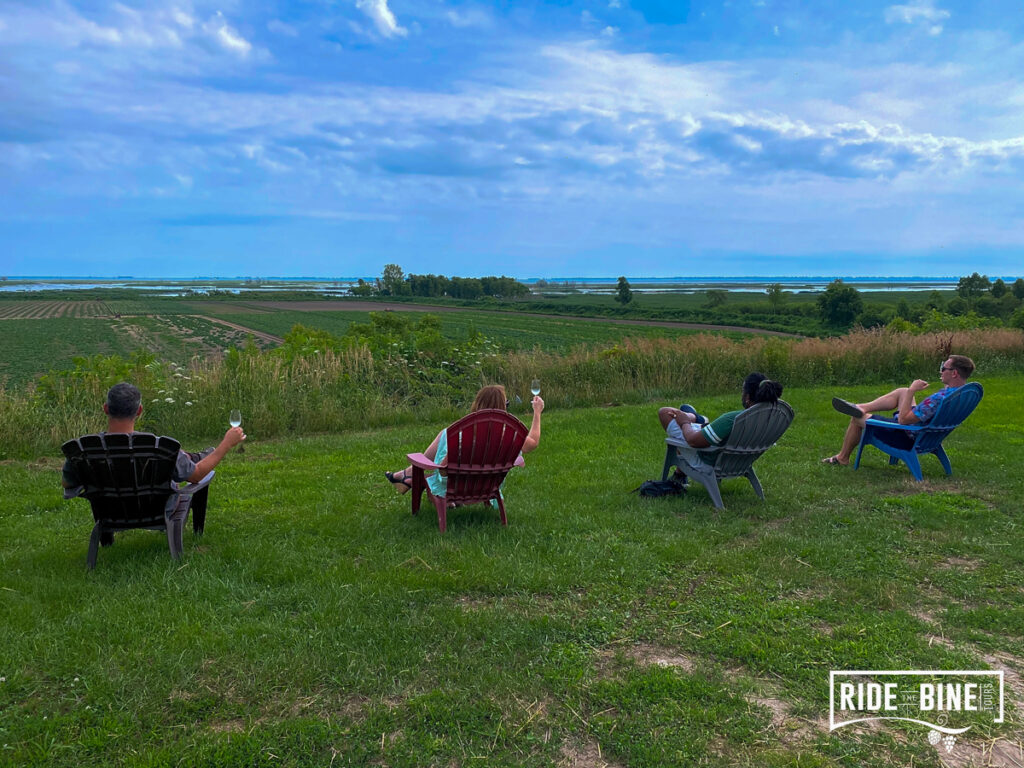 Having done this tour with Amanda and Ride The Bine, I can unequivocally say that our safety, social distancing and hygiene were of the utmost importance. I have confidence recommending this tour to anyone wanting a safe and enjoyable guided beer and wine tour with a fantastic animator who knows everything there is to know about the area!
CHECK OUT OUR DAY HERE – VIDEO COURTESY OF RUDDERLESS TRAVEL:
And as a bonus, you might even be able to get a stop at Cider Keg Farm Market, a popular stop for boaters and cottagers to grab fresh, local produce to enjoy on their way to the lake. Ice cream, baked goods, meats, snacks, cheeses, preserves and a plethora of local produce is available for purchase. Heck, you're in Ontario's Garden, enjoy it!