I was hosted at The Port Rowan Inn in January 2020 for a solo stay.
It was lovely and I would do it again. I'm not being coerced into a nice review.
The pace isn't fast in the small town of Port Rowan in Norfolk County, in Southern Ontario. In this town with a population of 1300 on the shore of Lake Erie, you won't find fast food establishments. In Port Rowan, you will find the County Fork, a local restaurant just over 3 years old that is happy to offer home-style breakfast, lunches, dinners, local goods, giftware and catering. There's also The Boat House, a quaint fish and chip homestyle dinner restaurant overlooking the water. There are food trucks in the summer and a well-known ice cream shop. At the centre of it all is the newest gem of the town, The Port Rowan Inn, a boutique hotel with four eclectically decorated rooms and cozy modern amenities.
Owners, Sara and Ian took possession of the former CIBC building in November 2018. The PRINN opened on September 9, 2019.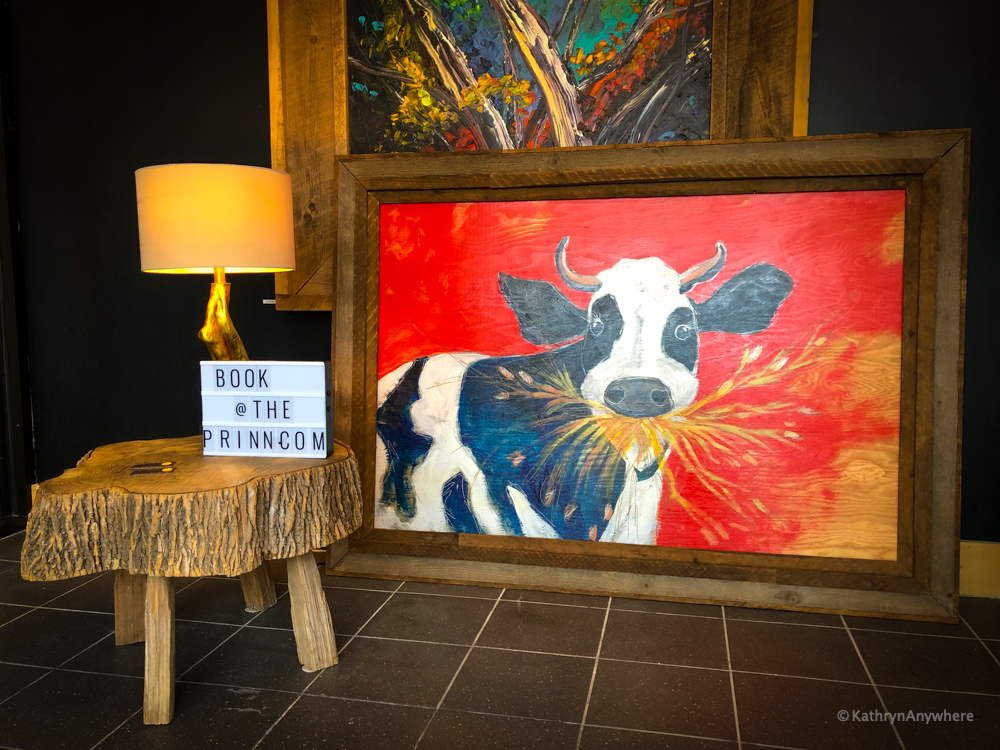 How The Port Rowan Inn Came To Be
Owners of The PRINN, Sara and Ian are proud Port Rowan residents. Almost by accident, they saw the unique home they now own, loved the quiet and fell in love with the contrast to the busy city.
After commuting to their jobs in downtown Toronto for years, they decided after starting a family they had enough of Bay Street and wanted to change up their work and life situation. The opportunity to purchase the former CIBC building came up and they jumped on it.
The address of the Port Rowan Inn has a long history in the town. Hanson House was a 1900 turn of the century establishment that burned down thanks to a kerosene lamp in 1907. From these ashes rose the St. Charles Hotel on this site. Rumour has it, a brothel was once operated in that hotel and as recent as the 1960s, a lady could not enter the Men Only Door or even Ladies and Escorts without an Escort.
Fire strikes again in the 1960s and St. Charles Hotel burns to the ground. A building was erected for National Trust in 1972, which later became CIBC. In July of 2018, the bank closed its doors.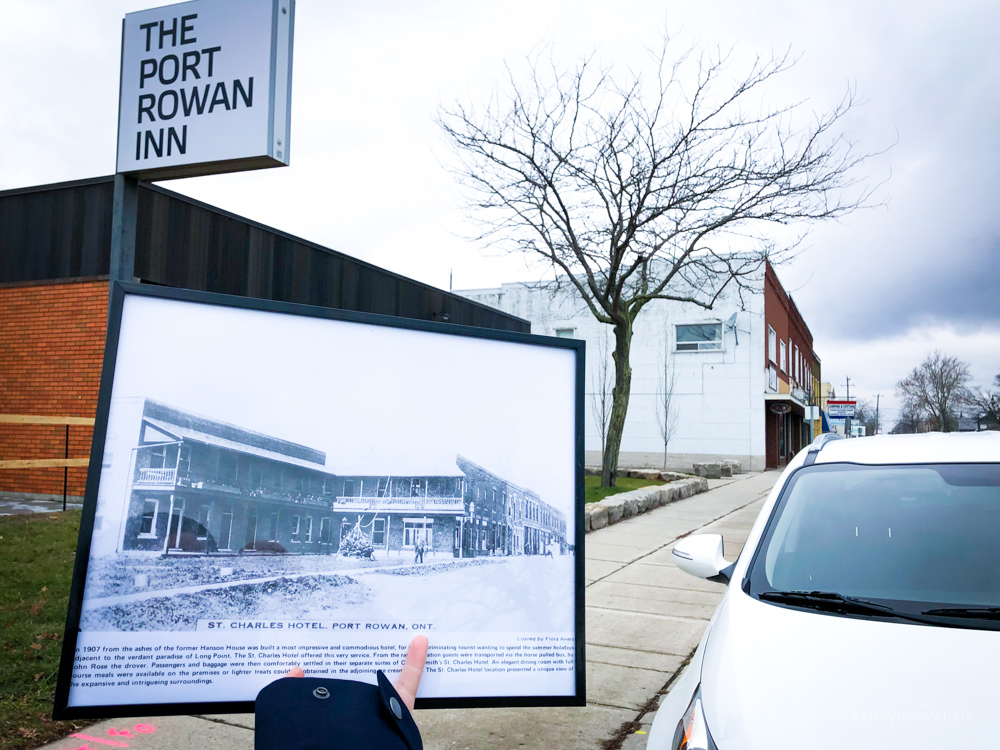 Step Inside The Hotel In Port Rowan
Walking into the lobby, you're wowed by the interior design, layout and artwork. Pride of ownership shows in every corner. It's a considerable place to gather with friends or those who would be friends to have a glass of wine and an amazing conversation.
No restaurant on-site for guests, but there is a kitchenette to store some food and a coffee maker to get you going in the morning. The venue is licensed for alcohol,  but there isn't a bar per see. If there is an event booked, or the whole venue booked, service can be arranged.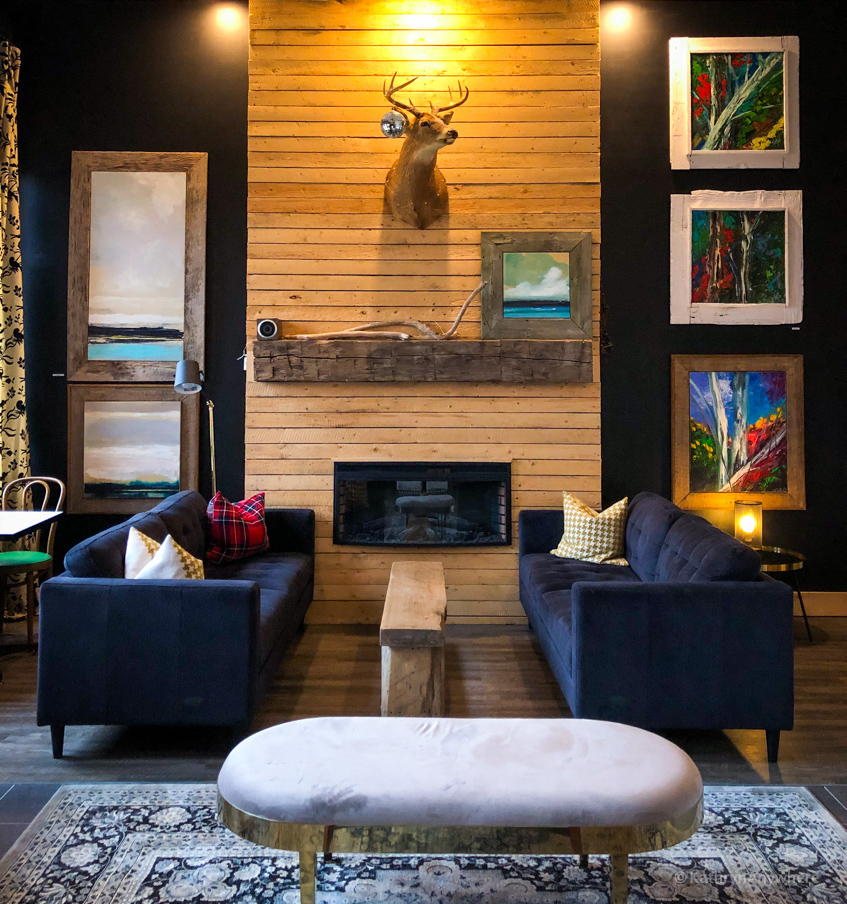 There are four cozy guest rooms in this converted bank. They are the signature Anchor Suite, The Bay Room, The Dockside Room and The Rowan Room. The names a nod to the nautical nature of Port Rowan being on Lake Erie.
Each room sleeps two people comfortably with either a King or Queen sized bed. I had the pleasure of staying in the signature Anchor Suite during a solo retreat.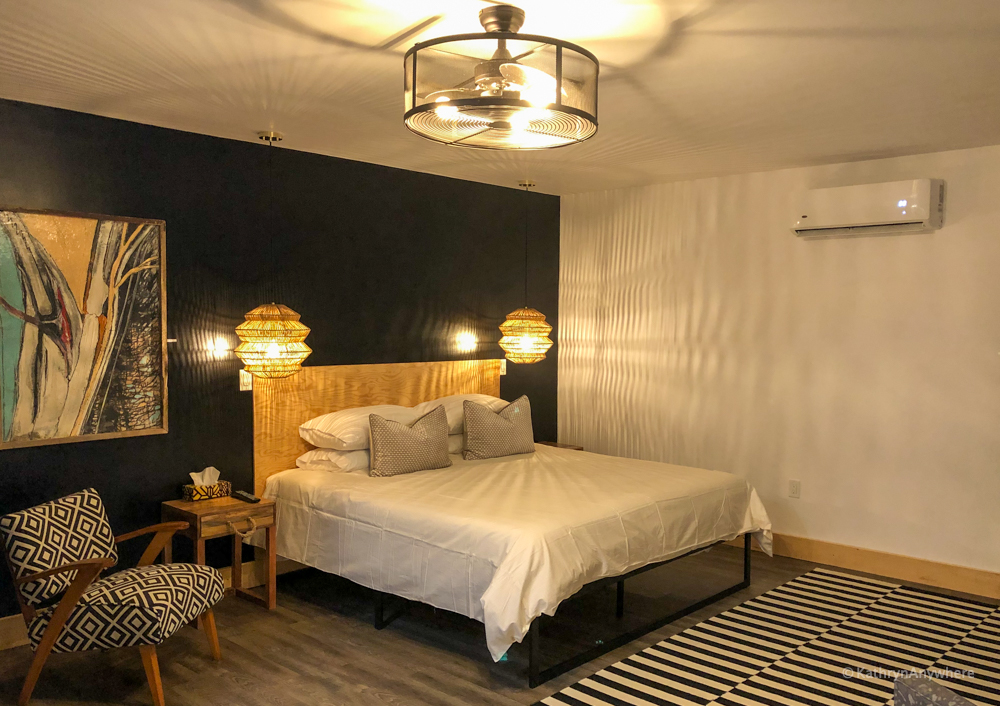 While it was more space than I physically needed, it was a mental space that I treasured. A fancy washroom all to myself? Sliding into a king-size bed at night with no one to bother me? Freedom to move around? Check!
Each room has a walk-in shower, a flat-screen TV and there is complimentary wifi in the building.
The vast majority of the artwork in the lobby and the guest rooms is done by a local artist named Scotty. Scotty lives right up the street and all the artwork in there is for sale.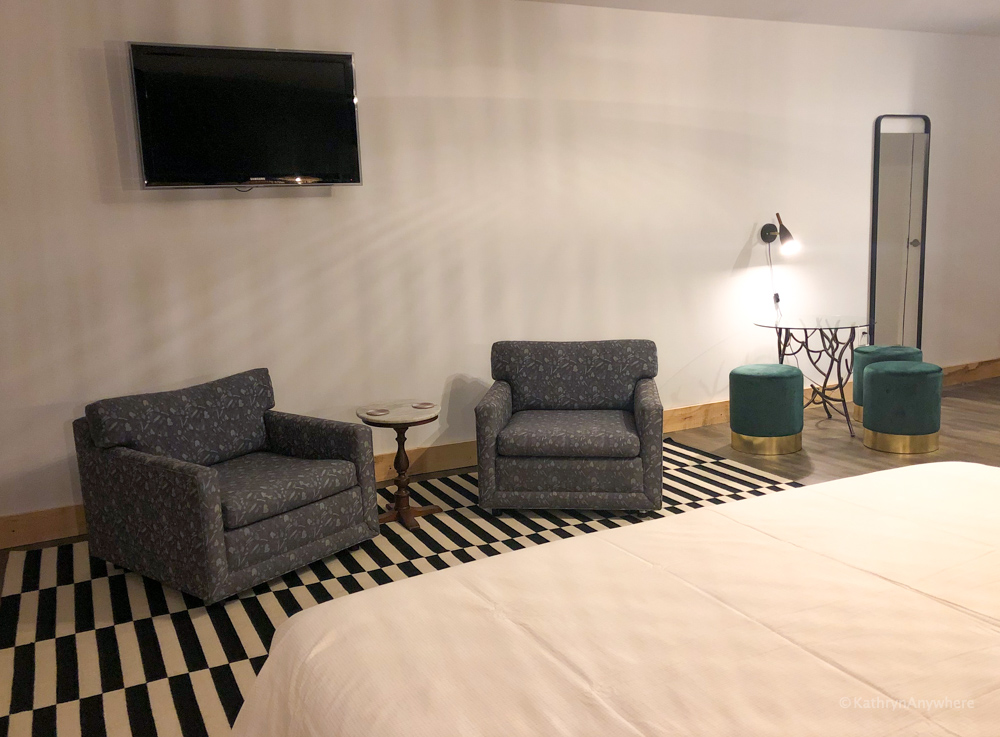 Wine, Dine And Stay By The Bay
The Port Rowan Inn is perfectly situated for short getaways from hustle and bustle. Only 2 hours from Toronto, it's an easy drive with great scenery. Plus you can walk out the front door of the Inn to the lake for stellar views.
Be sure to check out Ride the Bine – go for a wine tour (tell them I told you to!), have a nice meal in town and then stay at a cool hotel. There is a package you can book with the PRINN and Ride the Bine and you won't have to think about doing anything other than reserving that package.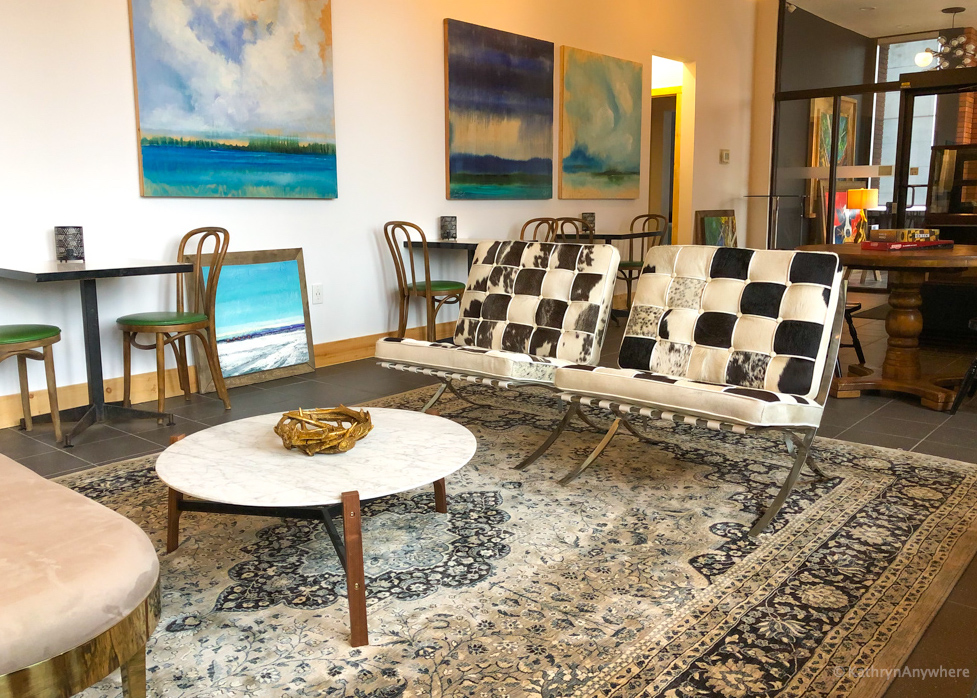 How To Find The PRINN
Google maps decided to name the town of Port Rowan, Vittoria. No clue why. The PRINN can be found at 1007 Bay Street in Port Rowan, Norfolk County, Ontario.
Sara and Ian hope people come here and find what they love so much. The owner's pride in the quaint town amenities and aesthetics. It's a unique place. To make a booking at The Port Rowan Inn, be sure to visit their website linked here and tell them I sent you!
Things To Do In Port Rowan
Port Rowan is in Norfolk County in Southwestern Ontario and I have mentioned this area a few times in my writing. There are a few things I recommend doing and a lot you can find in this post here: Family Friendly Fun in Norfolk County, Ontario, looking to do a wine, beer or cider tour? Definitely contact and book your selves with Ride The Bine! Find out about my wine tour with the hostess with the mostess, Amanda here: Three Wineries In Norfolk County You Need To Get To With Ride The Bine
Just visiting the area for the day? Definitely take the time to revel in a trip on the lake with Long Point Island Hugger Tours and enjoy some time on a pontoon boat with Captain Graham. Visit Long Point Beach, take the kids to Carousel Stables, Backus Mill Conservation area, Long Point Bird Observatory Studies (once it reopens to the public), and of course, since you are in Ontario's Garden, be sure to look for some fresh berries to pick, seasonally dependent.
There is quite a selection of antique and thrift stores in Norfolk County. If picking through dead people's things is your hobby, the options are there! That is not a dig at antique shopping. merely the name of a popular antique store in Prince Edward County.