Earlier in the summer, I took my kids on a "glamping adventure" in a rustic cabin. Personally, I thought it was wonderful due to the luxury of electricity, mini fridge and microwave. While those were definitely bonus features, for my pampered kids, the lack of an on site toilet or running water was a shock. Okay, let's be real, Z Man doesn't care, he's 4.
For Miss M, it was more like camping, while I considered this experience to be glamping. Since my daughter really likes the higher end of accommodations and I'm more like a back country camper, I needed to find a compromise for us for our end of summer adventure. Something to please us both (note, Z Man is happy everywhere). I went on the hunt for a luxury family glamping experience and I found it at Long Point Eco Adventures, in Norfolk County, Ontario.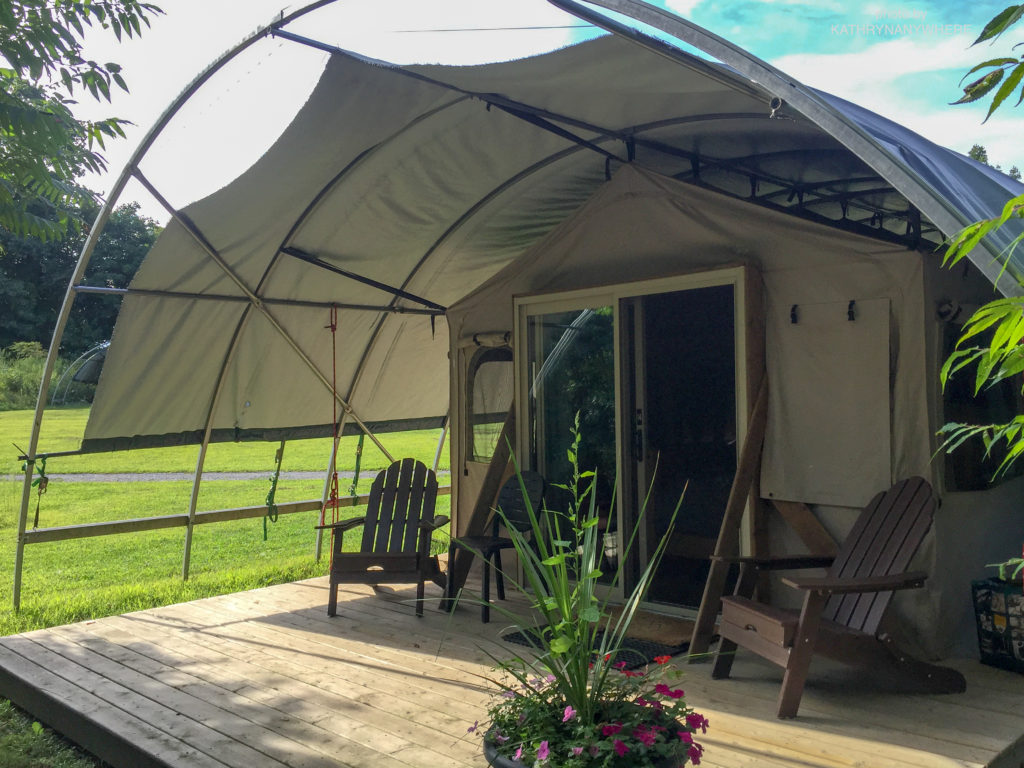 What is Glamping?
Glamping is glamorous camping. Simply put, it's not roughing it in the wild in a tent on the rocks and sand. Glamping consists of sleeping off the ground on an actual bed under a roofer accommodation. There may or may not be electricity or water or a washroom at your disposal. Whether or not the toilet is attached, the restroom facility will likely be a toilet as opposed to a self-dug hole in the ground, with a make shift stand that acts as a toilet if you are camping.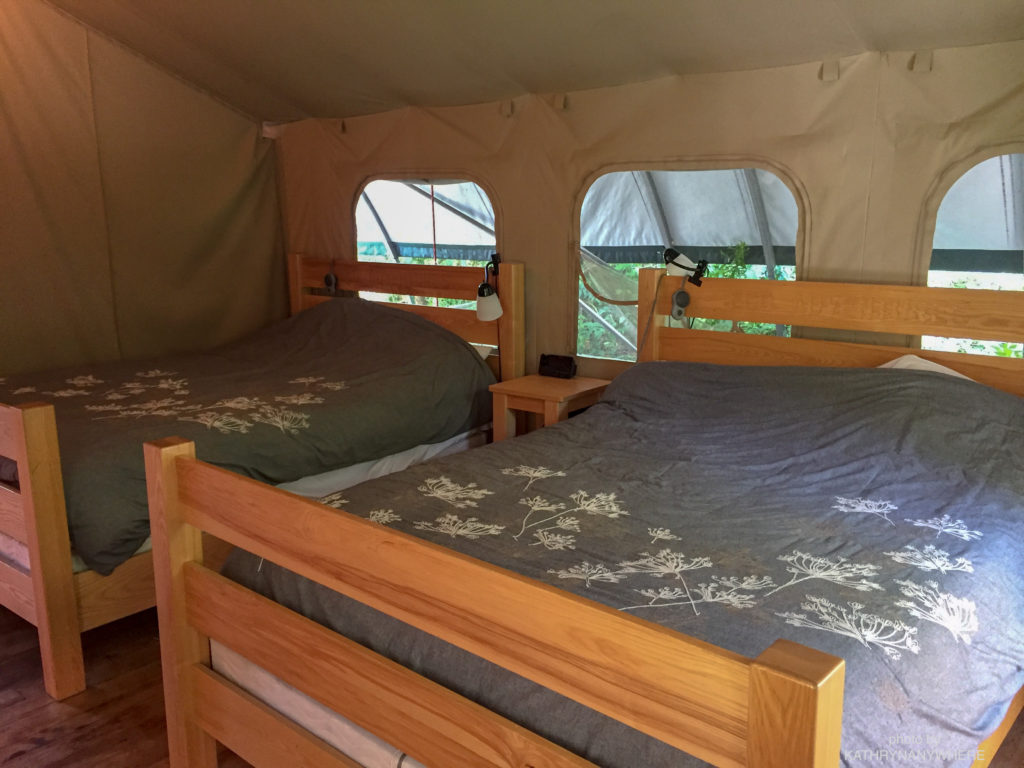 What Is Long Point Eco Adventures?
Long Point Eco Adventures is a truly unique experience! It's a luxury glamping experience with onsite adrenaline rush activities from zip-lining to axe throwing to a night sky observatory.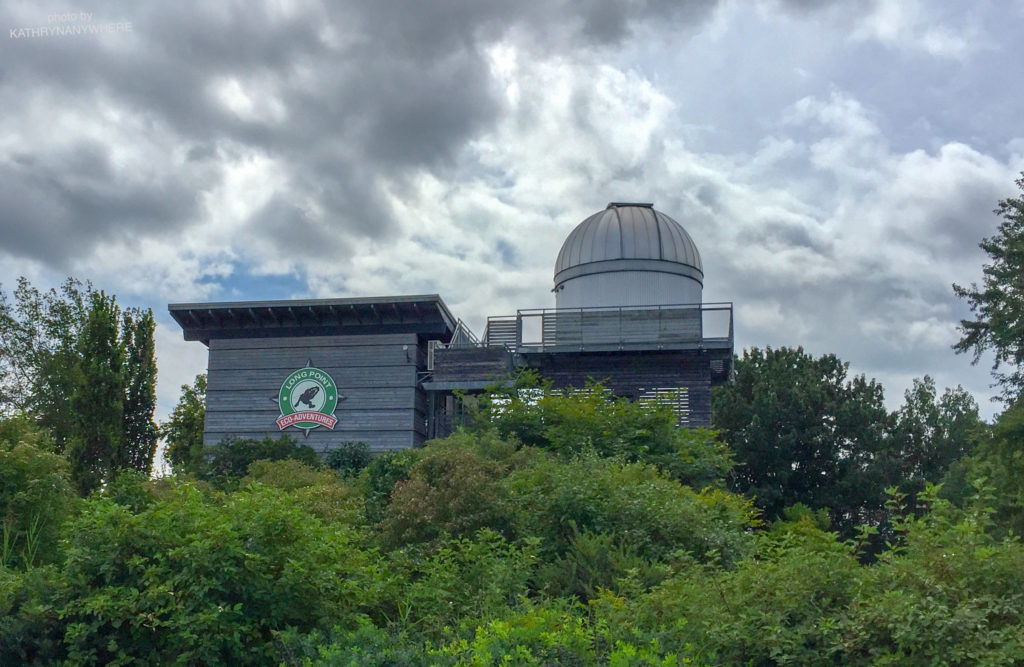 Where is Long Point Eco Adventures?
Long Point Eco Adventures is across the road from Burning Kiln Winery, this is an important fact. It is 3-5 minutes north of the village of Turkey Point on Lake Erie in Norfolk County.
What Are The Luxury Family Glamping Accommodations Like?
We stayed in a Wilderness Suite that is a large tent on a platform that had two queen size beds, a mini fridge, a fan, electricity and outlets, private toilet that flushed, an outdoor shower, hardwood floors, sliding glass door that locked and a private verandah. There are wilderness suites that come with a king size bed too.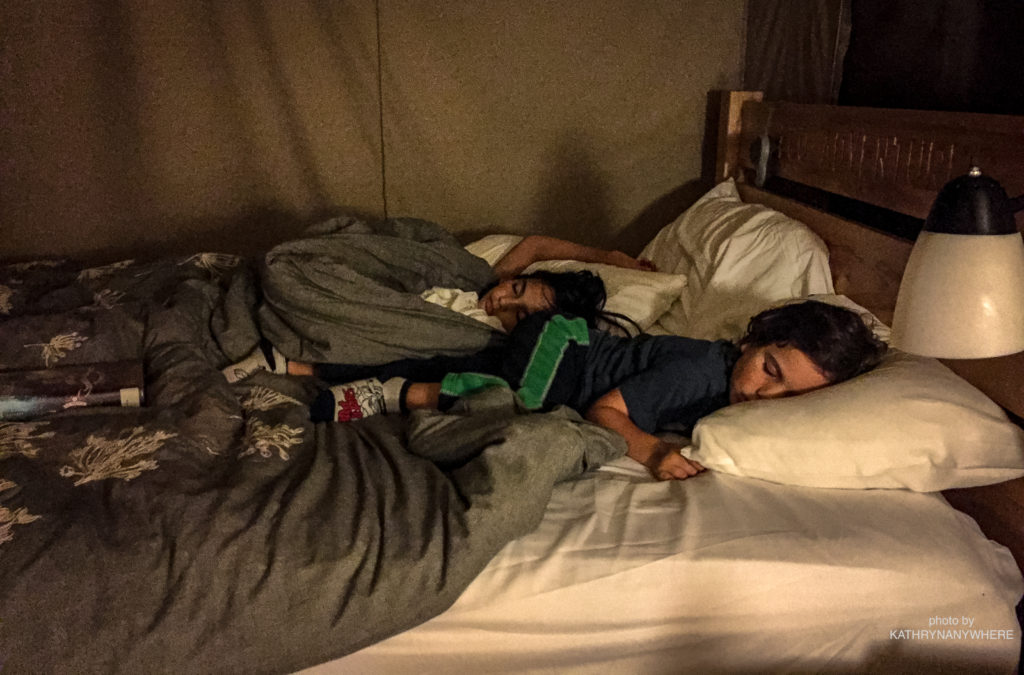 Other roofed accommodations include camping and wilderness pods. The camping pods come with either a queen bed or two double beds do not have electricity or a washroom attached. Guests there must utilize an outhouse. The wilderness pods have a queen bed, flush toilets and electricity, but shared outdoor showers.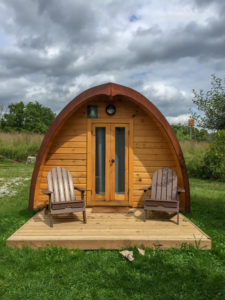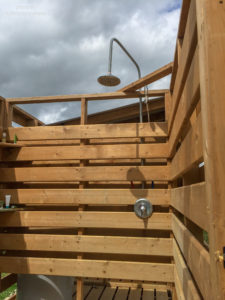 Inspired by a climbing trip to Kilimanjaro in Africa, the accommodations are very hotel like and not so much camping. Now, I never had a luxury glamping experience back in 2006 when I camped my way around the south west part of that continent. It was more like tents with openings for scorpions and snakes, but I digress… these beds at Long Point Eco Adventures were comfortable, the tents were spacious and the vibe was relaxed.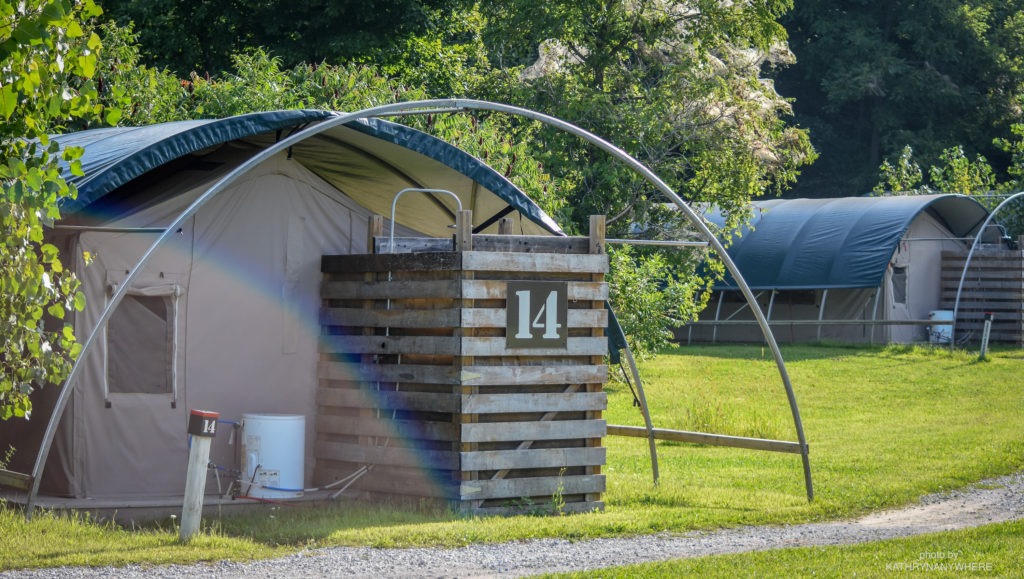 Here's what I liked about our Wilderness Suite:
I liked that I wasn't sweeping pine combs out of the tent, I liked that I could go to the washroom in the middle of the night and not leave my kids alone in the tent. I liked that this was a tent with a sliding glass door that locked so I could feel safe about leaving belongings in the tent and not locking them in the car. We had electricity, a mini fridge to store the kids snacks and left over food and wifi and I could work or entertain myself with my laptop after the kids had gone to bed. Even though we had lighting, it wasn't bright lighting, it was soft and kind of romantic. I liked the fan we had in the tent because summer in Ontario is hella hot and I liked that I wasn't sharing a sleeping bag with sweaty, sticky bodies on an air mattress. I liked that I did not have to cook breakfast or clean up after myself so it felt a little more relaxed.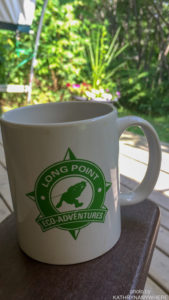 Although these are essentially tents, they feel do private because of the canvas over top. Unless someone walks right up to your window, they cannot see in. 
I LOVED the private front deck that faced the trees. It was nice to drink coffee on while my kids slept in. I also loved the outdoor shower, especially at night, imagine having a starlight shower. Too bad I was alone… okay, I'm with my kids, but you know what I mean, no one to share that shower with at night. However, I would caution this – if you were sharing that private, outdoor shower under the stars with someone else, the noise you could potentially be making could be carried throughout the entire tented wilderness suite area. The moral of this story is to be quiet.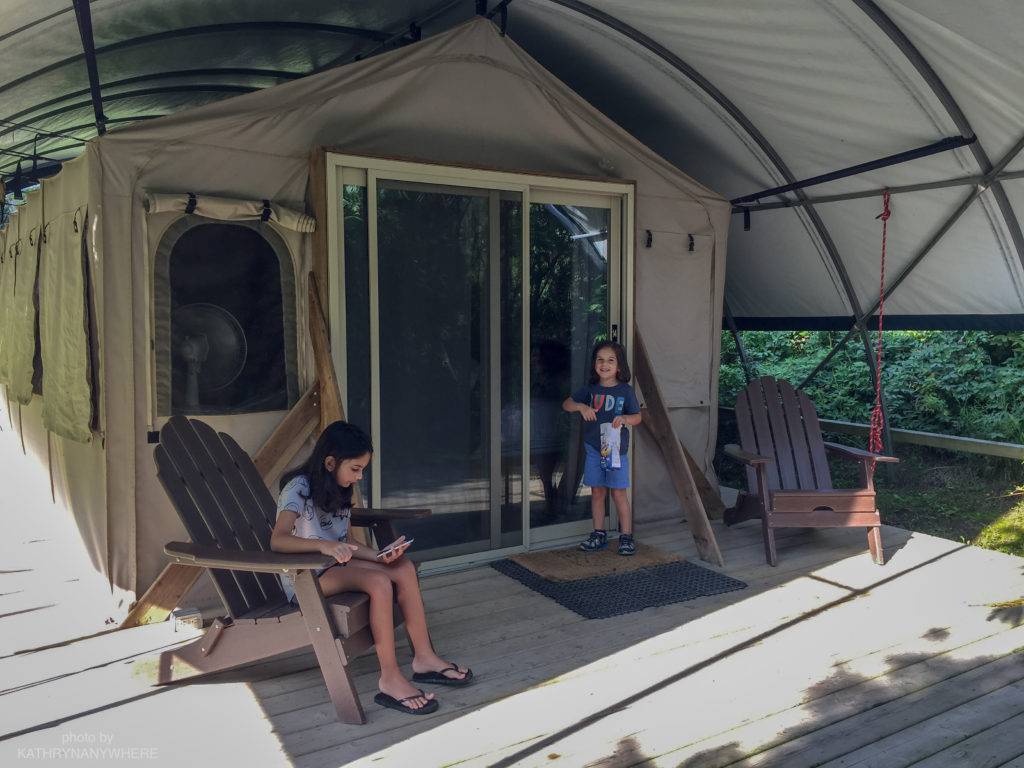 Here's what my daughter liked about our Wilderness Suite:
She liked the the comfort and amenities of the suites. There was nothing lacking for her. She liked that it was clean and that nature was right outside the door.
Here's what I would caution about: You don't get to pull your car up to the tent, there is a central parking lot. Don't get too comfortable and overpack clothes, shoes and food, there is no closet to hang them in, just a couple hooks in the washroom. Although there is a golf cart that will arrive at your car and assist you with getting your luggage to your tent, if you have too many bags and too much stuff, it will be difficult to manage or expect to do back and forth to your car.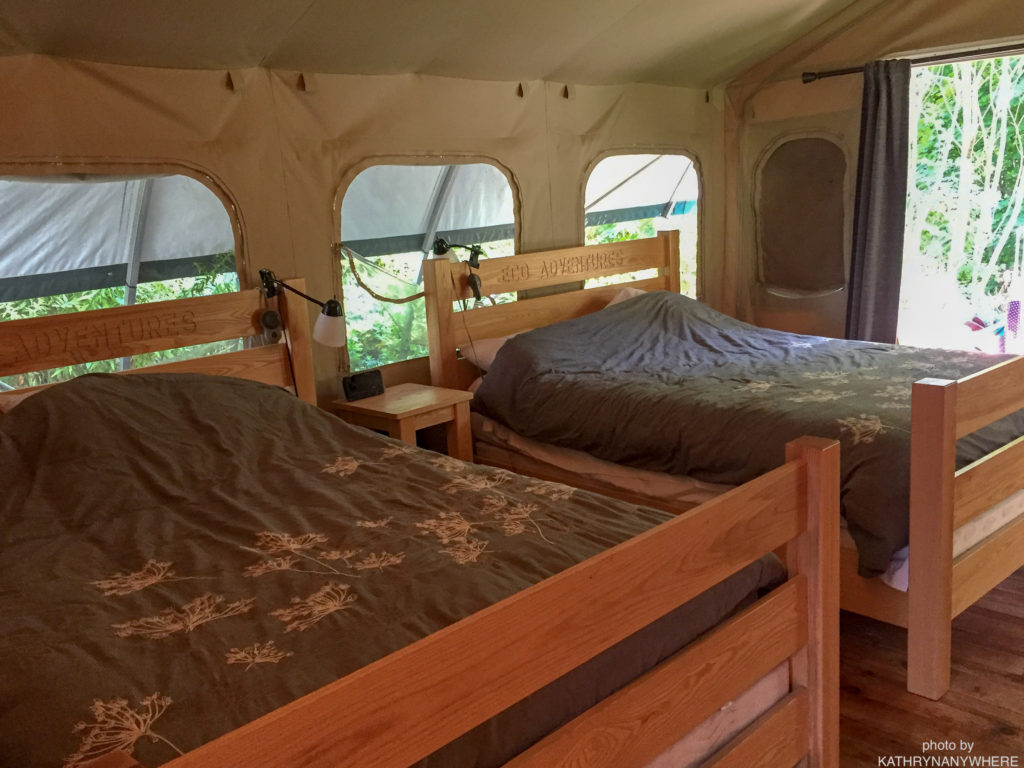 Also, Norfolk County mosquitos are hearty and plentiful. The accommodations might be luxury, but the bugs still exist. Bring and use your best bug repellent.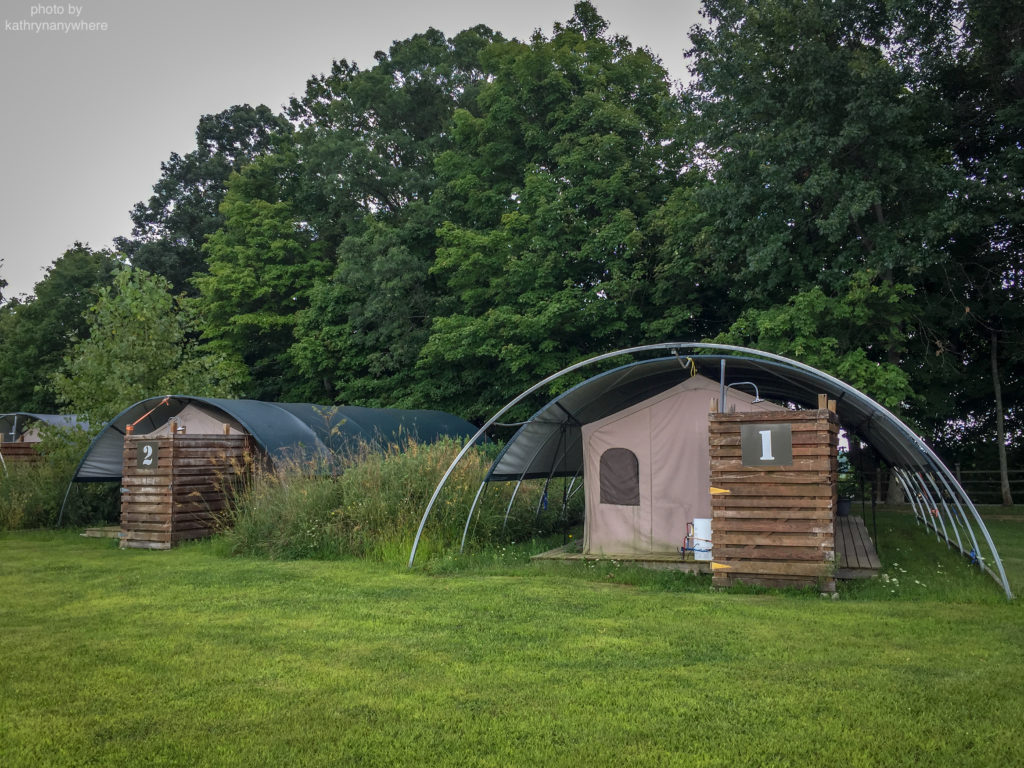 Can We Eat There?
You bet! You won't starve for breakfast or lunch. A hot, buffet breakfast is included in your stay and you will find that in the central food hall. While we were there, the breakfast menu consisted of rotating between sausage and bacon, there was also scrambled eggs, toast, bagels, juice, coffee, potatoes. And coffee, good coffee.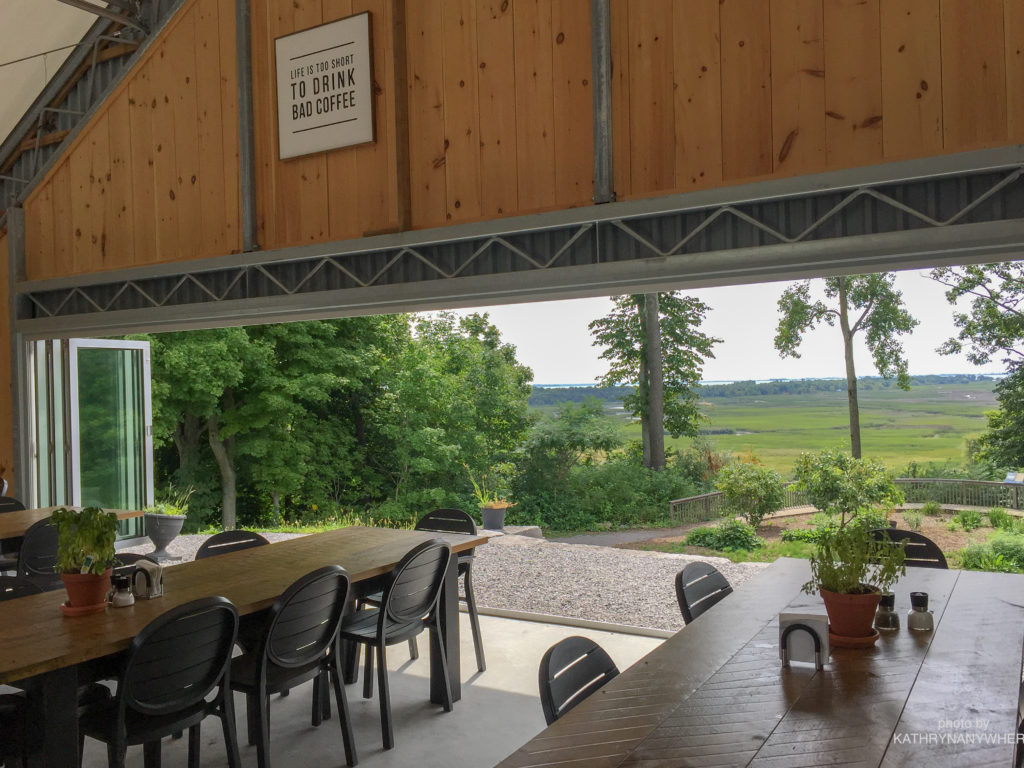 For lunch, there is a food truck that is open until 2:00pm. The menu does change and the food is locally sourced. This is not included in your accommodations, it costs extra. We did eat lunch there one day and between the three of us, we split 2 mains. For the size portion of the lunch, we actually had some leftover.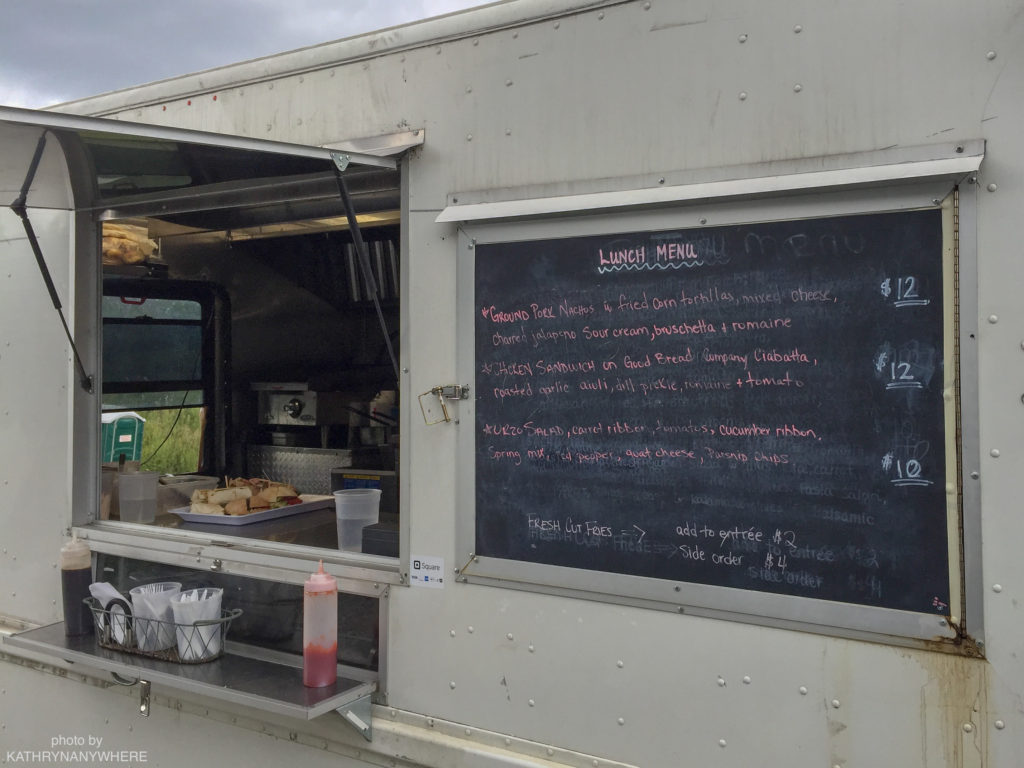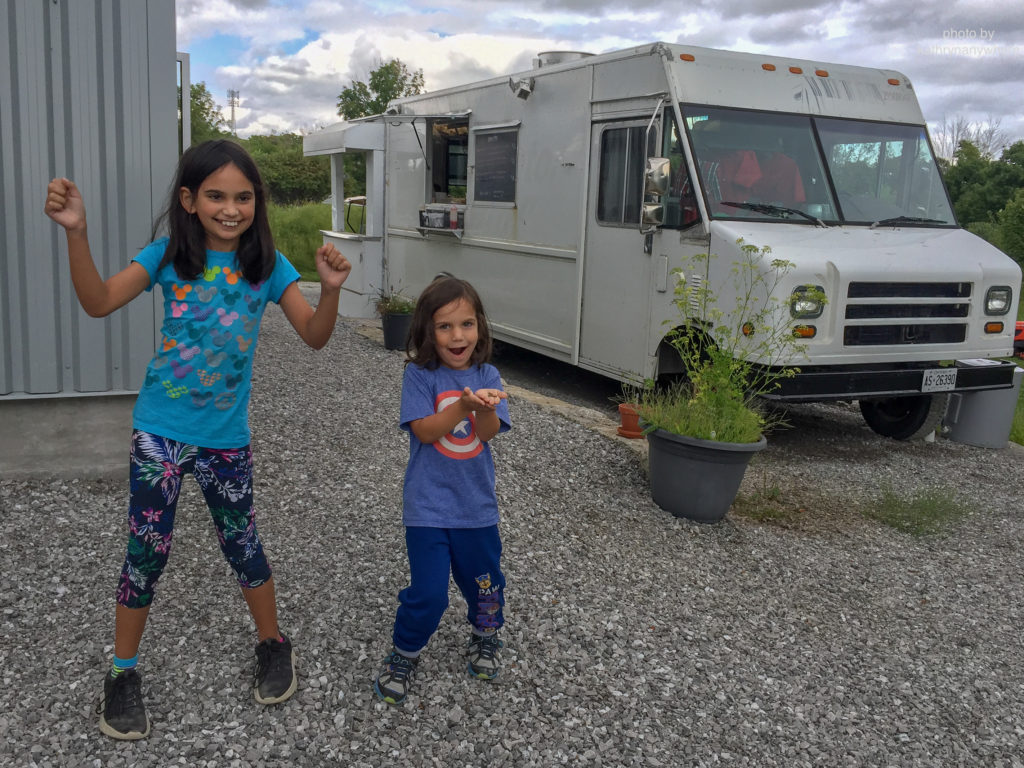 For dinners and other snacks or meals, you can cook your own if you bring a propane camp stove. Be sure to also bring your own utensils and cooking gear. Or you can walk across the street to Burning Kiln Winery and sample some of the best wine I've had in North America. Also, the village of Turkey Point is a five minute drive away and there are a few options there at very reasonable prices.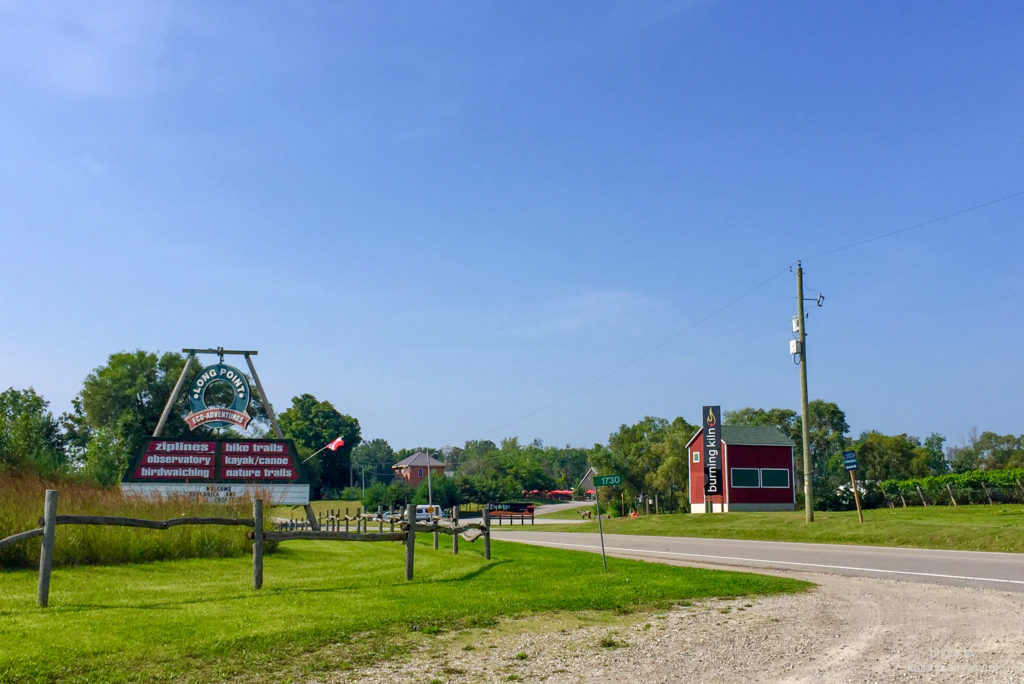 What is the Price Point For Staying At Long Point Eco Adventures?
Luxury family glamping in Ontario does come at a price. Based on the 2018 pricing advertised on the website, the camping pods are prices at:
$95 / night low season weekdays 

$115 / night low season weekends and high season weekdays 

$135 / night high season weekends
The Wilderness pods are priced at:
$185 / night low season weekdays 

$235 / night low season weekends and high season weekdays 

$285 / night high season weekends
The Wilderness Suites (like what we stayed in) are priced at:
$199 / night low season weekdays
$249 / night low season weekends and high season weekdays
$299 / night high season weekends
Prices are based on double occupancy; additional guest fee is $30
There is a 2 night minimum on weekends (Friday & Saturday) in the High Season.
Long Point Eco Adventures typically opens for the year at the end of April and remains open until the end of October. The high season is end of June until Labour Day.
BOOK YOUR GLAMPING ADVENTURES HERE: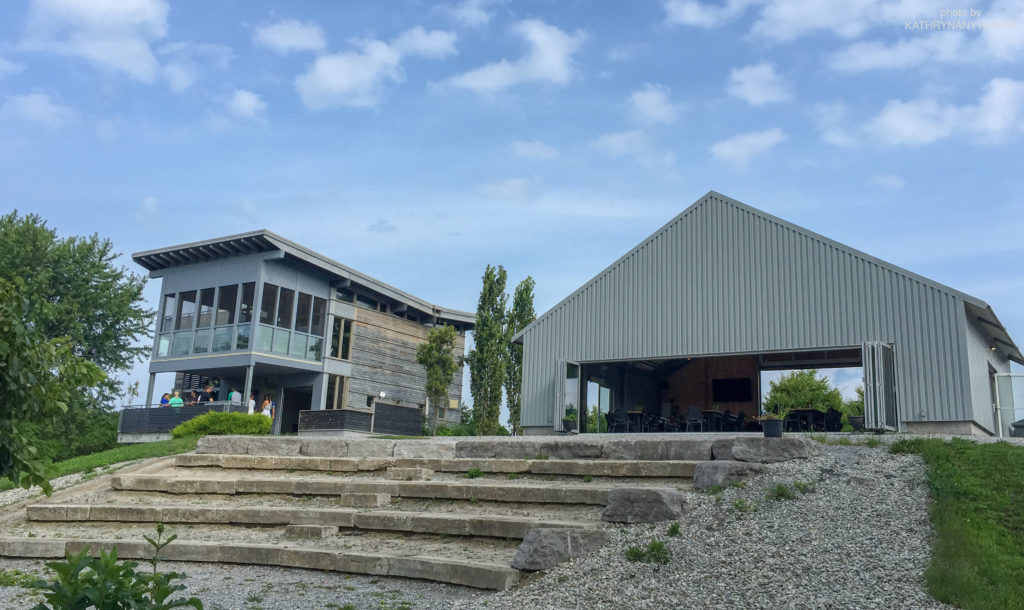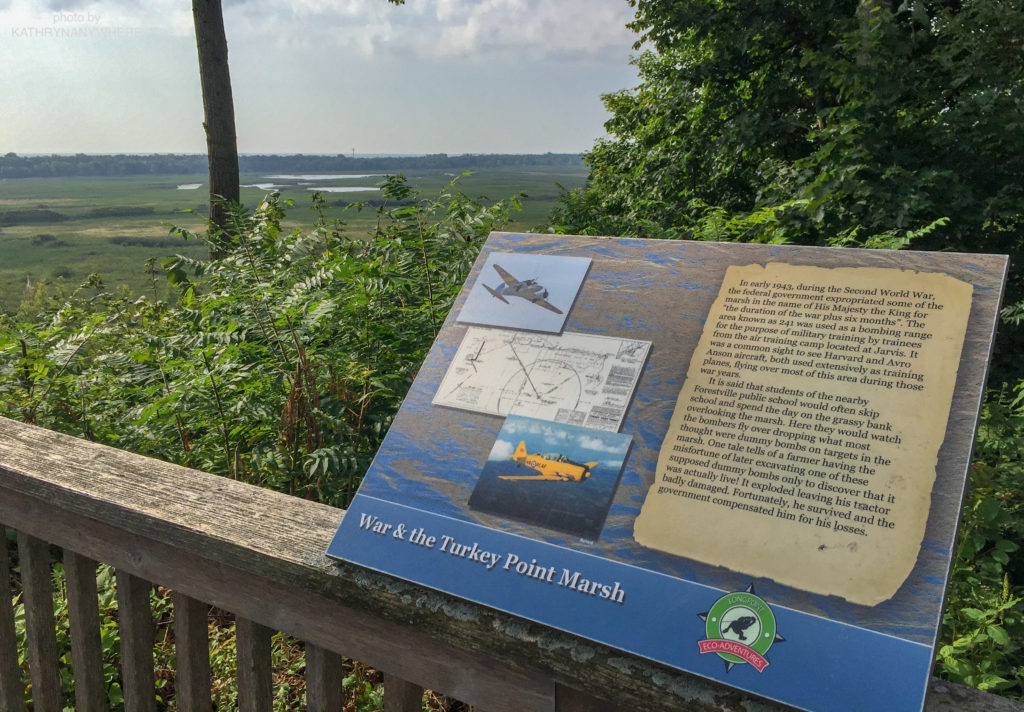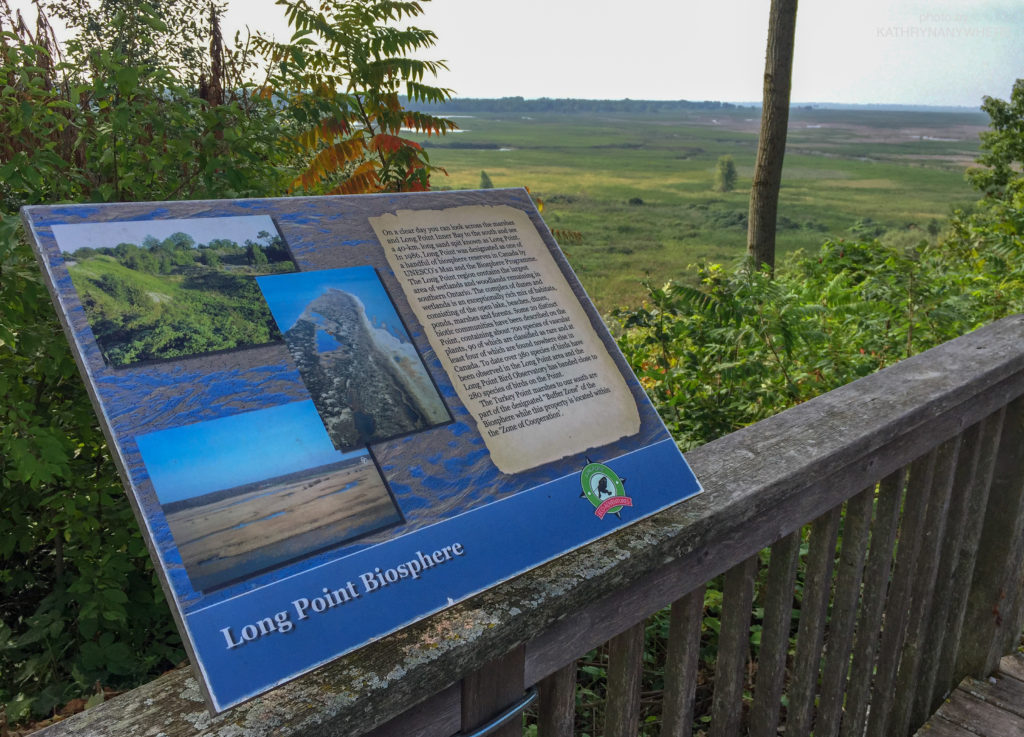 What Activities and Amenities Are at Long Point Eco Adventures?
Here is the good news for those in the family or travel party who like to be constantly on the go or entertained: There is a lot to do. Other activities onsite consist of apiary tours, night sky observatory, ziplining and axe throwing.
Norfolk County is full of family friendly activities as well, so you're not confined to only staying on-site. In fact, I encourage you to make a long weekend trip here and try to take in as much as you can.
For me, flying solo and taking my kids here, it was an easy experience in nature. I can honestly say I've never camped anywhere that's across the street from a vineyard and has a food truck on site. And I've never really glamped aside from pop up trailer, parking lot camping. This was my third glamping experience this year. In 2018, I've done a yurt in Mew Lake in Algonquin Provincial Park, a rustic cabin in Bonnechere Provincial Park and now this luxury family glamping at Long Point Eco Adventures in Norfolk County, Ontario.
I'm a bit of a convert as this is so much easier on my back when sleeping and my kids enjoy this experience in the outdoors so much more. Win, win.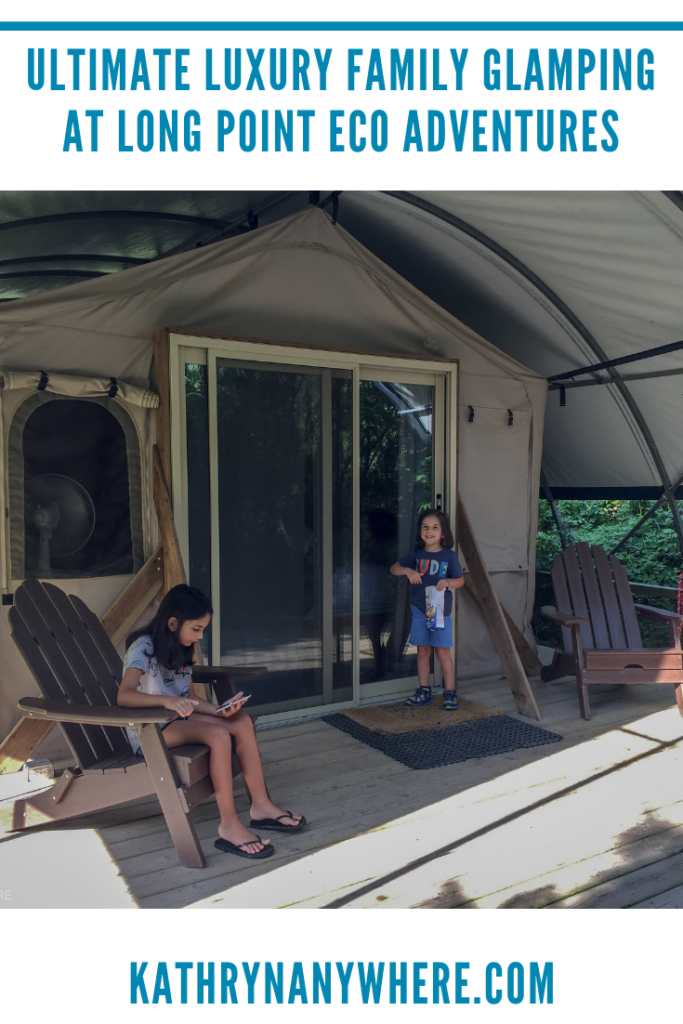 We were guests of Norfolk County Tourism while visiting the area and we received all accommodations and activities in exchange our opinion. We were not swayed into having a good time, but we did.