My time exploring the things to do in Sigulda, Latvia was courtesy of the Latvia Tourism Department. They foot the bill for all of my exciting experiences and delicious food. My opinions, however, are always mine.
Not typically one to travel north during the fall or winter months, it might come as a bit of a shock to some that I went further north than where I live in Toronto, Canada to travel to Latvia. In November. I went on a hunt for adventures and found a ton of things to do in Sigulda, Latvia to satisfy that lust.
Sigulda has celebrated it's 800th anniversary and has a population of roughly 11,000 citizens. Of that, 86% are Latvians, 9% are Russian.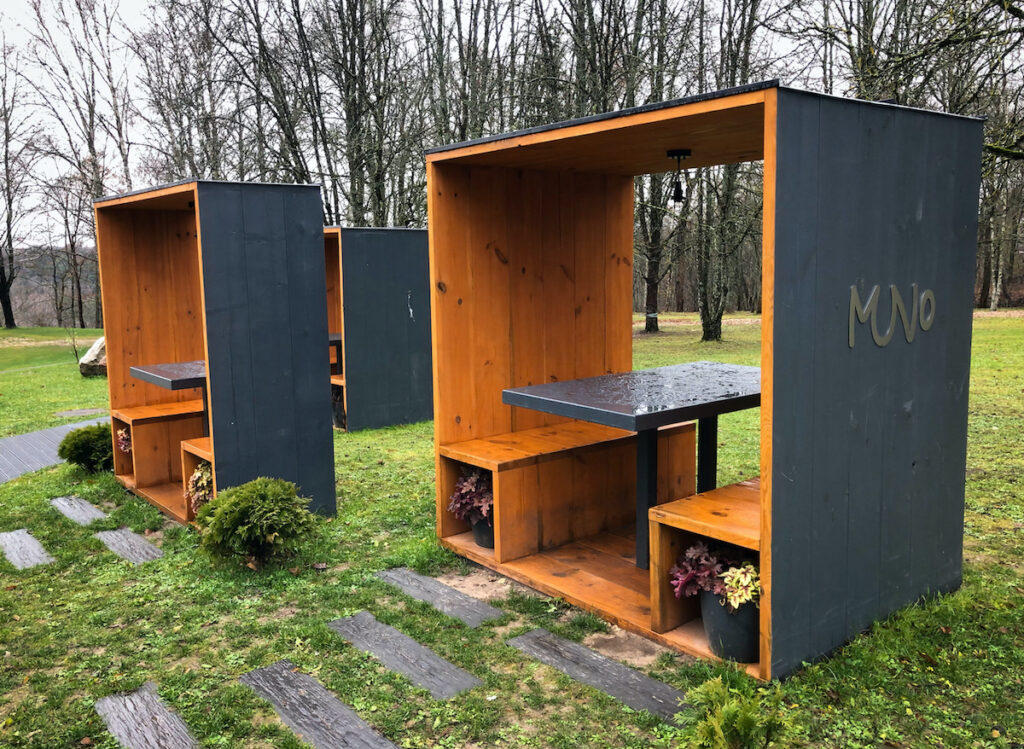 Where is Sigulda, Latvia?
Sigulda is east and outside of the capital city of Riga. If you're curious where Latvia is, it is on the Baltic Sea and borders Russia, Estonia, Belarus, and Lithuania. It was once part of the USSR before that fell apart.
How To Get From Riga to Sigulda?
If you have gotten yourself to Latvia, chances are good you have landed in the capital city of Riga. From there, Sigulda is approximately an hour's drive away. The highway systems we travelled on seemed a lot like ones we see in Canada and much to my surprise, they also drive on the right side of the road with drivers on the left side of the vehicle. You can also take a bus or a train to get there and they run frequently as Sigulda is regarded as a suburb of the capital.
If you are interested in all the Cool Things To Do In Riga, Latvia, click the link!
What is Sigulda's Weather Like?
As I mentioned above, it was November when I travelled to Latvia. I expected to freeze my butt off, however, that didn't happen. While checking the weather forecast, I realized it was actually warmer by a degree or two there than Toronto. Checking the overall average weather though, the summers seem to be a bit cooler.
Full stop honesty – I didn't see any sun while in Sigulda. It was incredibly dreary, cloudy and the air was moist. Definitely not the most inspirational weather for travelling, but the sun isn't everywhere I go. I was assured that they do see some sun there on occasion.
The town actually sees a lot of rainfall and it lies about 100 metres above sea level.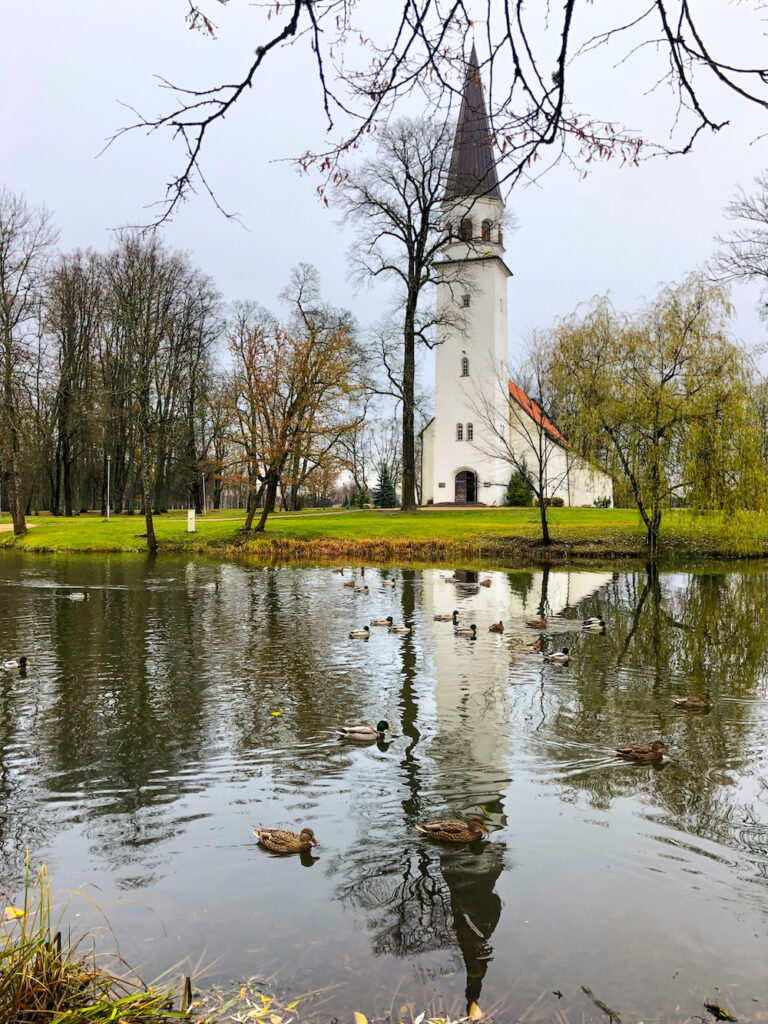 Things to Do In Sigulda
We had a full day to explore Sigulda and we fit quite a few activities into it. By no means is this a list of everything there is to do there. This is what we got to experience while there.
Sigulda Cable Car
After breakfast at Spa Hotel Ezeri where we stayed the night before and experienced the traditional Latvian sauna (that's a story and a half, check that out when you have time), we were picked up and driven to the cable car in Sigulda. Cable Car Sigulda Krimulda takes you over the Gauja valley and river so you can see both sides. From up there on a clear day, you can see the three castles in the area (Sigulda, Turaida and Krimulda) and all the way over to the bobsleigh track… Oh yes, there is one of those!
To see this is autumn, above the treetops would have been a real treat!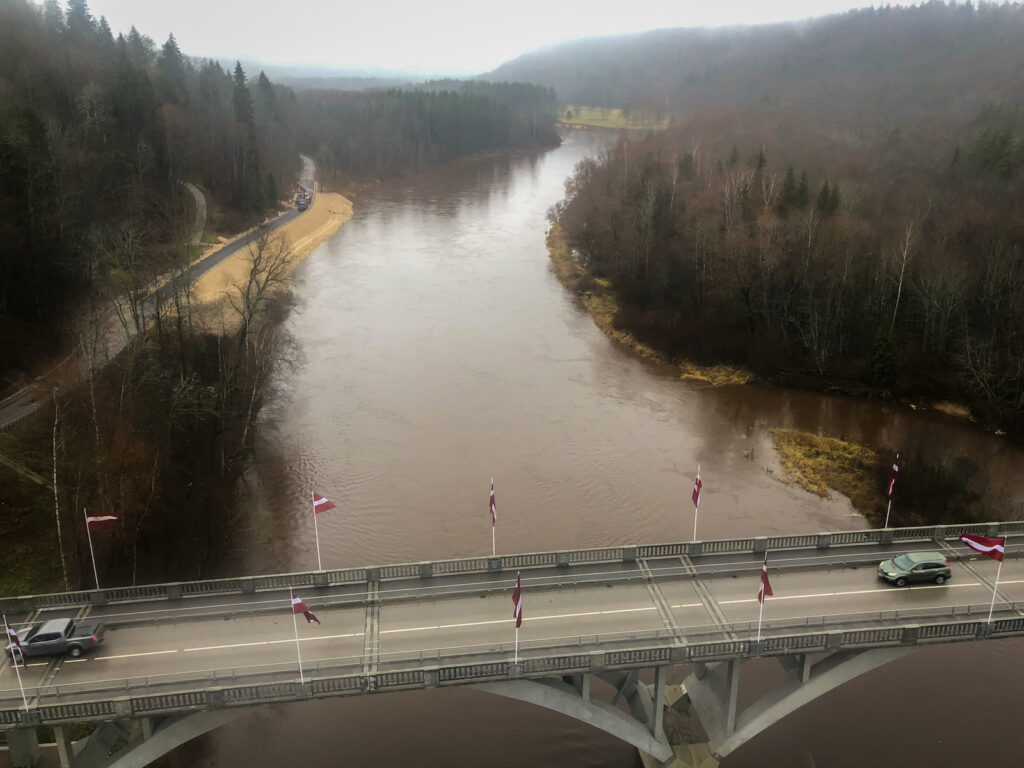 The return ticket costs 12 Euros for adults and opened at 10:00 am when we were there.
This is also where The Bachelorette did their infamous naked bungee jumping scene. Research tells me that naked bungee jumping is not a thing in Latvia despite what the show wants us to believe. Yes I would bungee jump, not sure if I would do it naked.
RT if you would love this date 😆 😏 #TheBachelorette pic.twitter.com/5H79VosreX

— The Bachelorette (@BacheloretteABC) June 25, 2019
Smart Bike Through the town to the Castle of Sigulda
About 100 feet away from the cable car is where you can rent a motorized smart bike and make your way through the town to the Sigulda Medieval Castle. Electric bicycles are a great way to save energy and be able to see all the things you want to get too!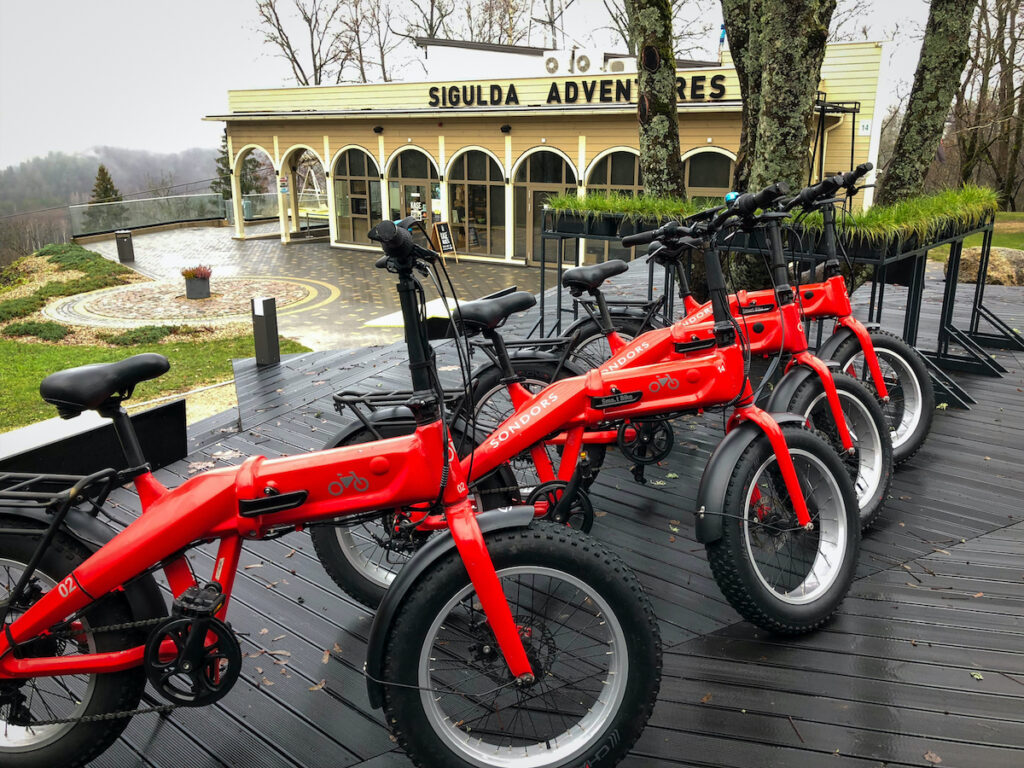 The castle was built sometime around 1200 protect the Gauja River and to fend off any invasion attempts from the nearby bishop's castle in Turaida which we visited later in the day!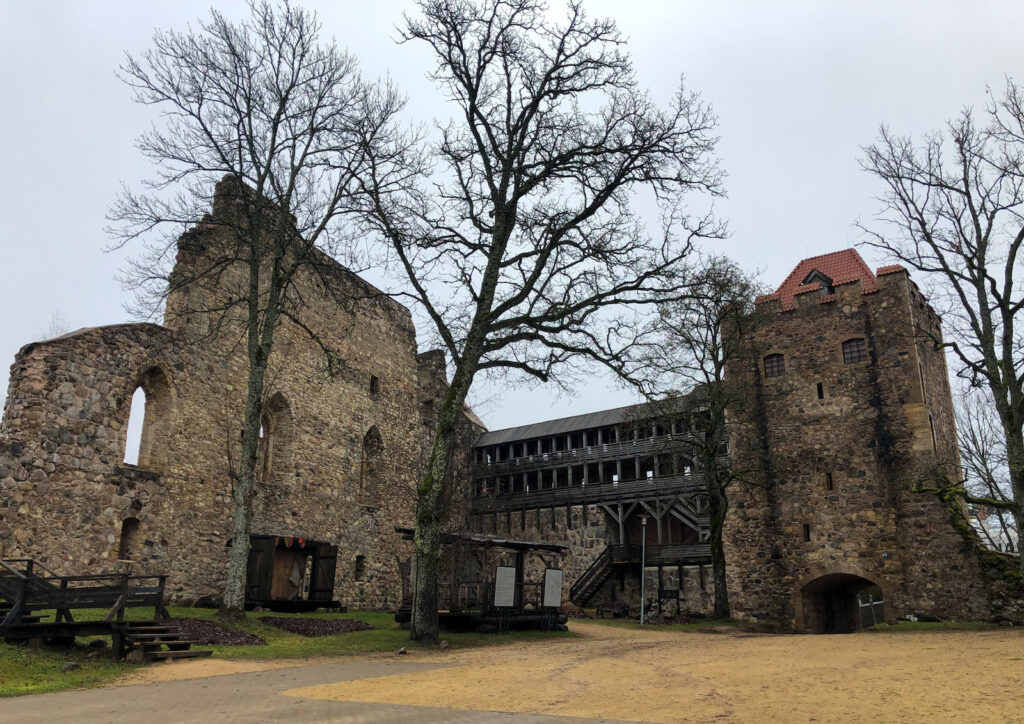 The castle changed hands many times during the centuries through war and damage and by the early 1700s became a private estate until a newer castle was built in the late 1800s where the Medieval Castle eventually fell into ruins. And what romantic ruins they are. You can wander and tour and envision the grandeur of the are in the time gone by.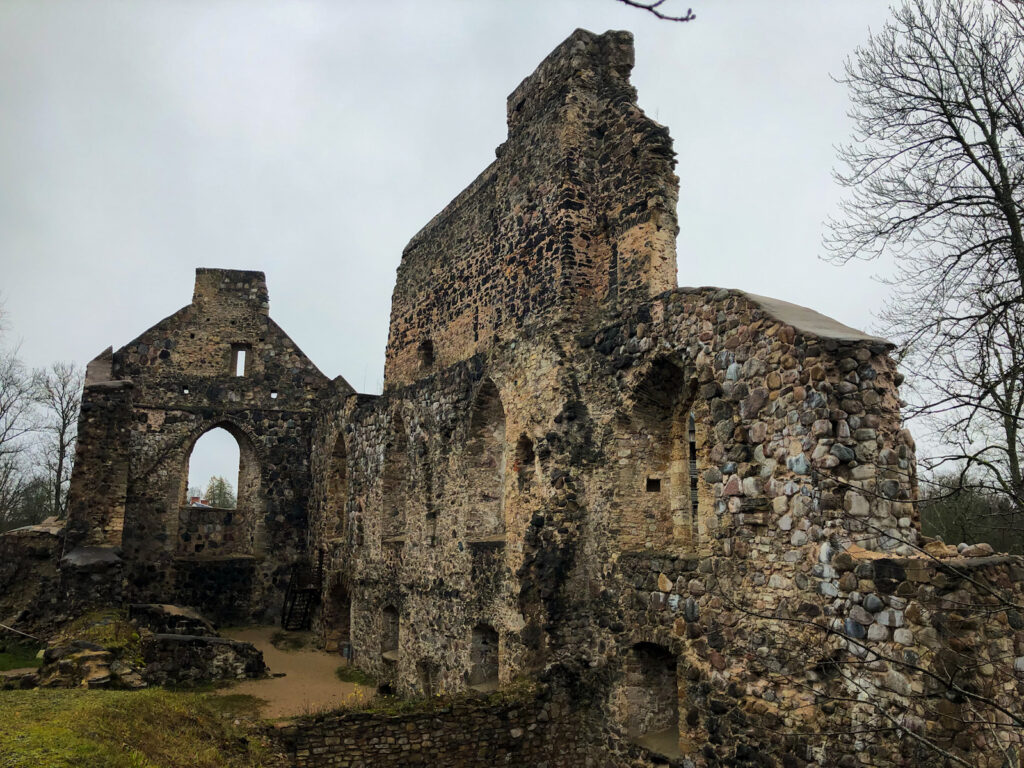 There's a great view of the Gauja River Valley from there.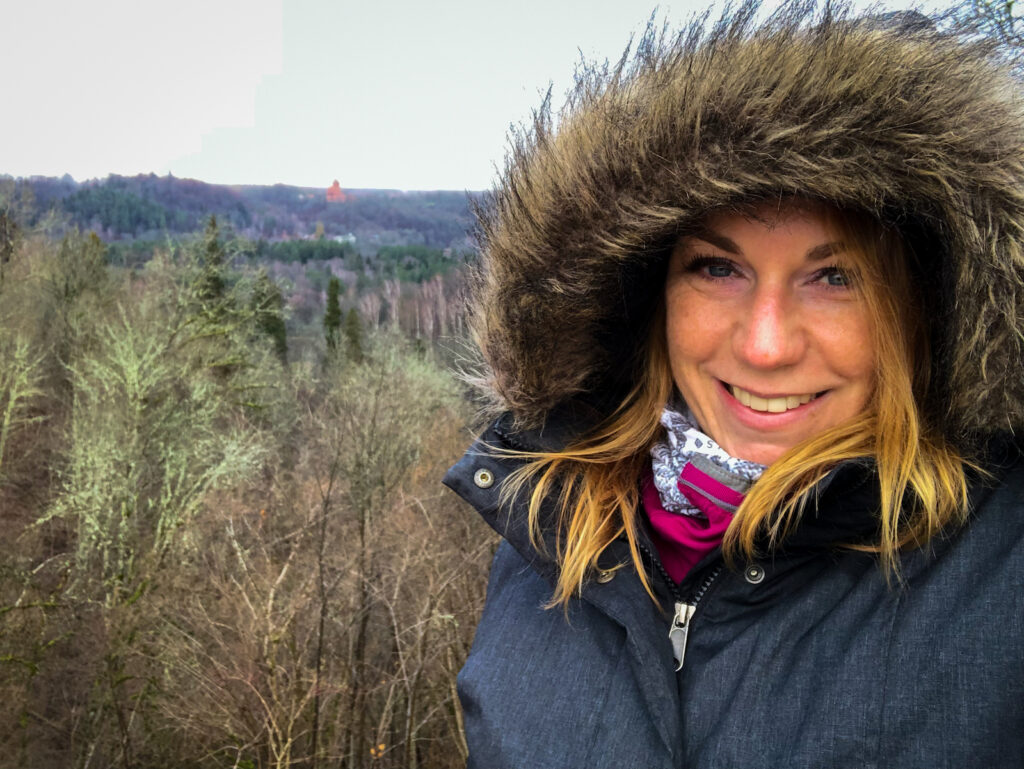 Make A Walking Stick
We stumbled across the cutest little shop where you can make your own souvenir walking stick. The walking stick is a symbol of Sigulda and the workshop where you can make them in is employing a process that dates back more than 200 years. We scrapped the back off with what seemed to be a butter knife and then used a string to help with the curve of the handle.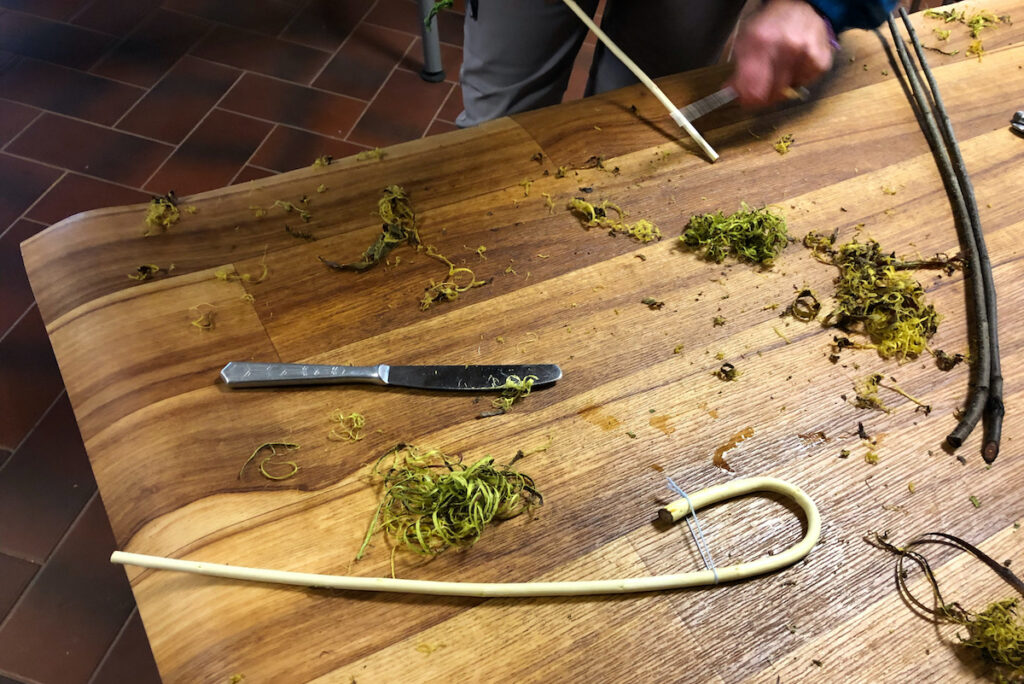 Guidebooks from the 19th century, are rumoured to say that "a walking stick can be bought from a boy for a walk along Sigulda's ravines". Today, the sale of these walking sticks are income for local farmers. The size of the one that I brought home was fairly small and I even got my name carved into the side of it. It totally came home in my suitcase.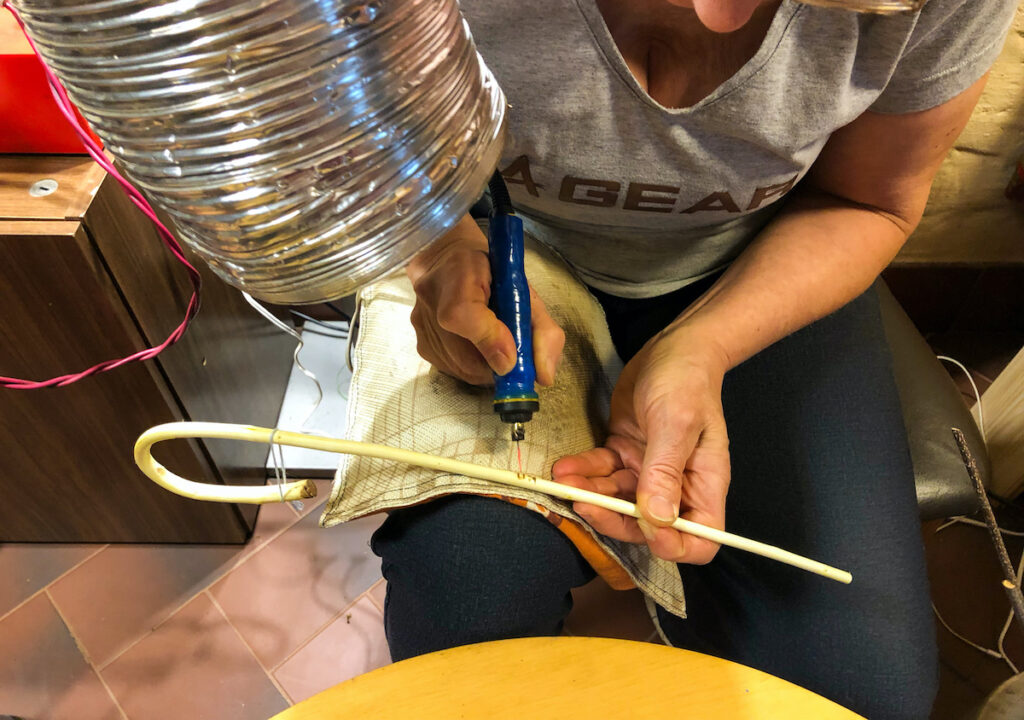 Inspired by the infamous symbol of Sigulda, Walking Stick Park is a great place to let the kids run around!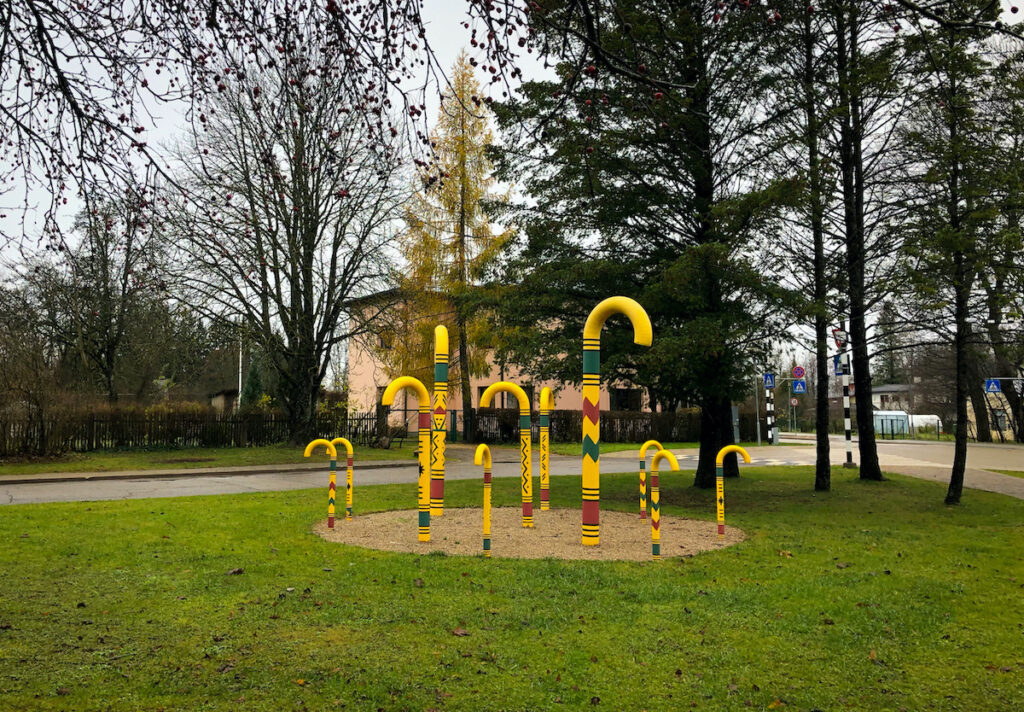 Sigulda Latvia Bobsleigh and Luge Track
Did you know that there is a world-class bobsleigh and luge track in Sigulda? Teams from all over the world have come to train here for the Olympics!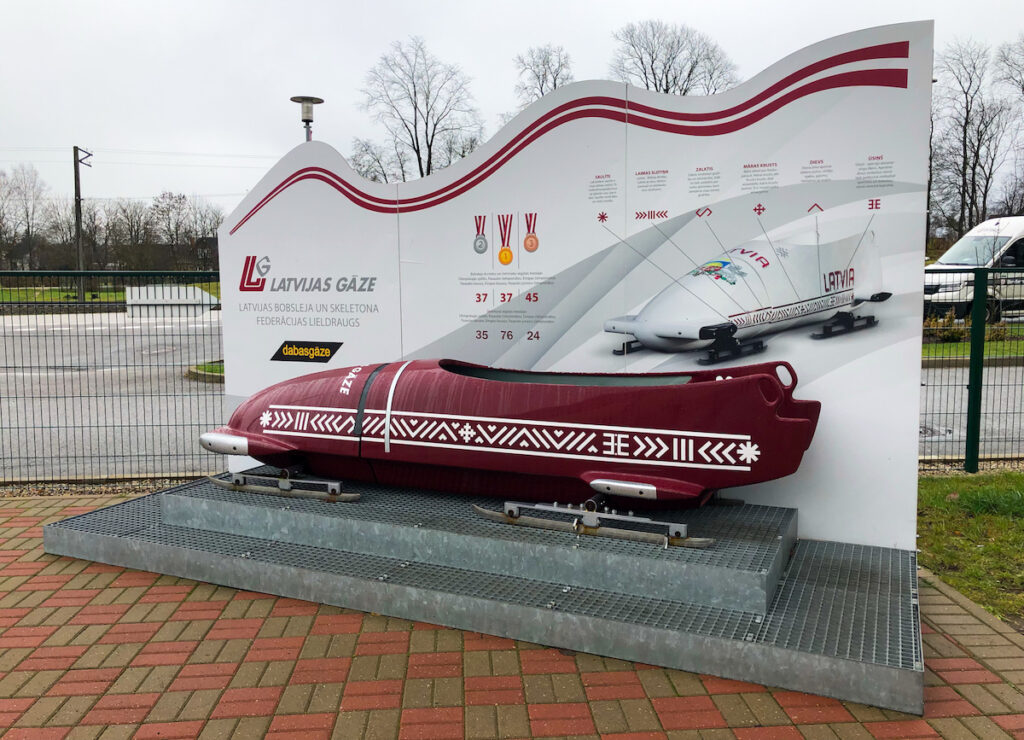 We not only went there to see the track, saw members of teams from France and Germany there… but then ALSO RODE A PADDED BOBSLEIGH IN TEAMS! Quickly helmeted for safety, we were ushered into the sleigh and told to put our bloody phones and camera away. If we didn't, we'd most certainly lose them.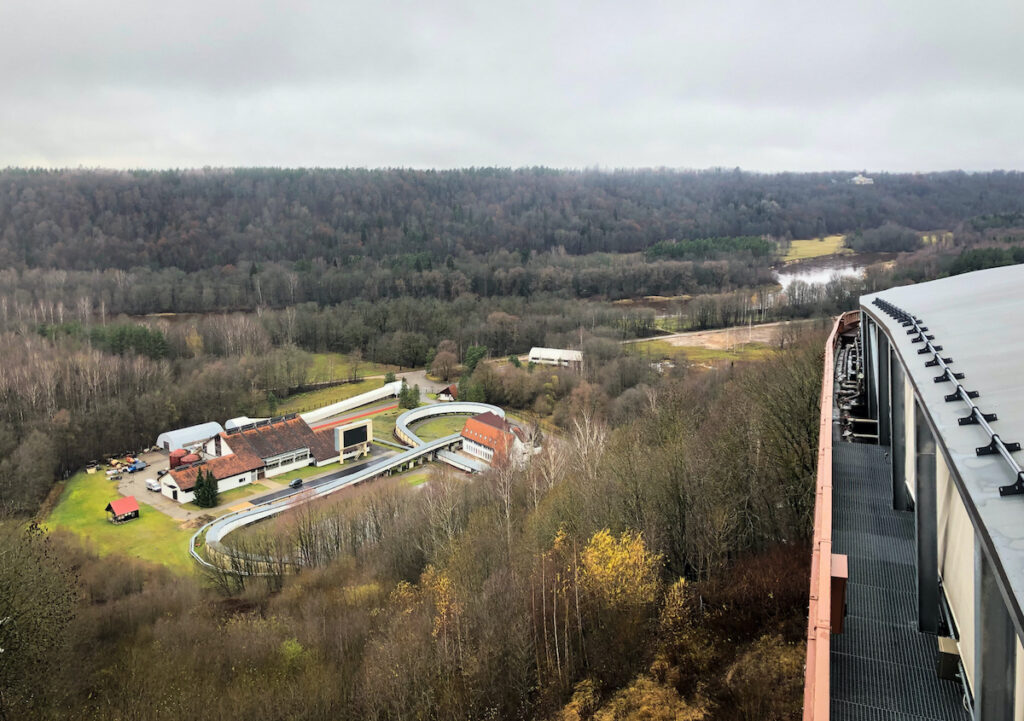 We rode in a Vucko, which is the soft bob. Super popular among insane tourists like myself I suppose is the phrase used to describe it. We went down in teams of 4 and may have reached 75km/hour in speed! Our sled made it down in under sixty-seven seconds!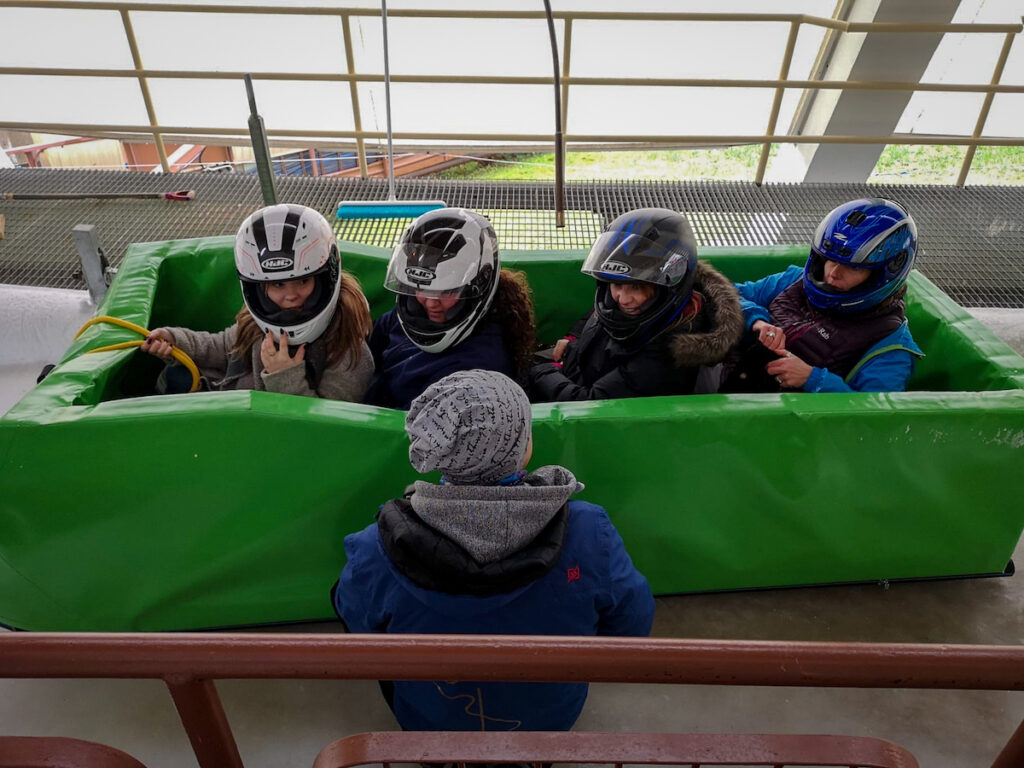 I'm going to have to admit that I did scream and laugh the whole way down. As an adrenaline junkie, I have been known to partake in activities that thrill the hell out of me. This ranked up there with a great rollercoaster.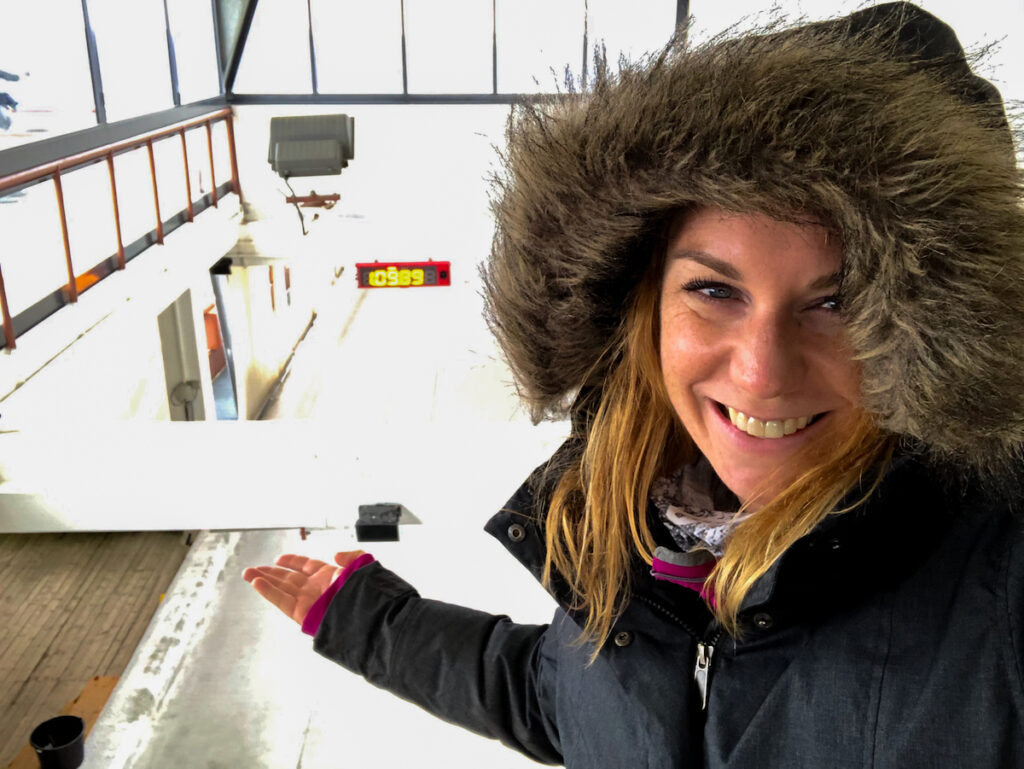 Turaida Museum Reserve
To see one of the best collections the country has to offer in terms of culture, history and archeology, you must plan a visit to the Turaida Museum Reserve!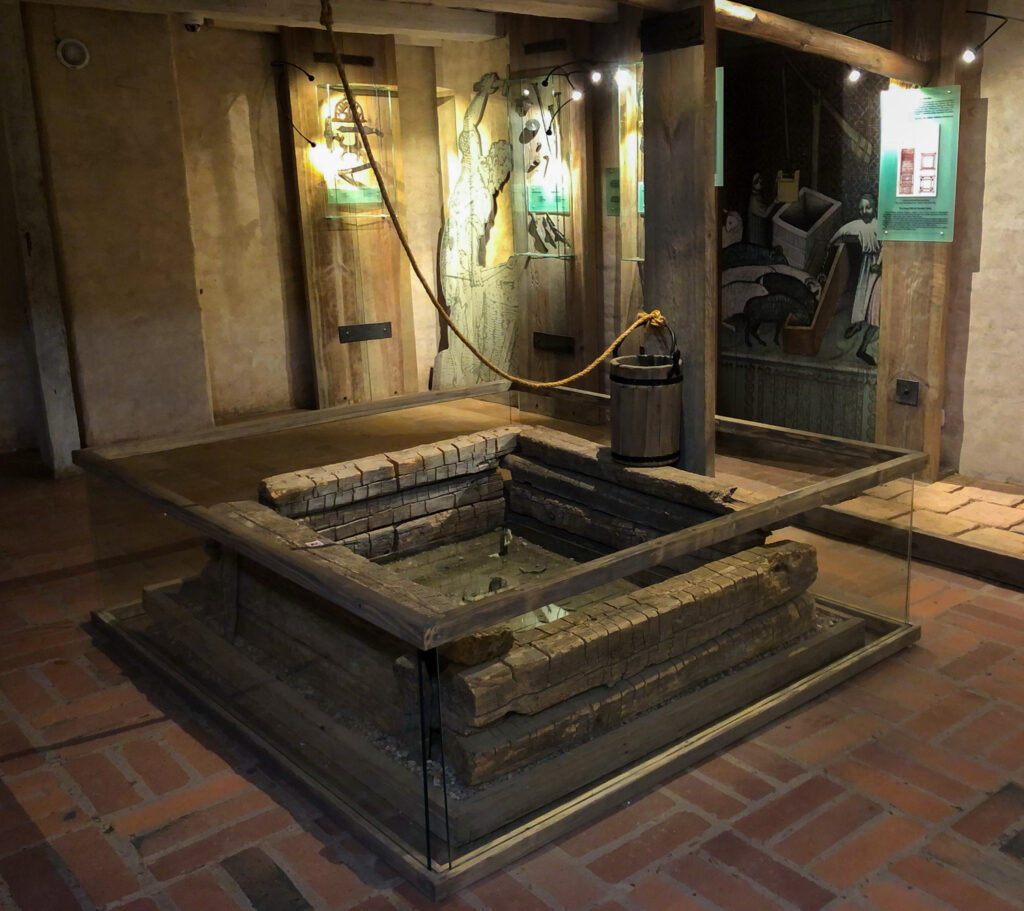 This attraction is home to 42 hectares with a steep history. The ethnic Livonias called this area the Garden of God. One of the not to be missed areas in the reserve is the hill of Folksongs. Commemorated in 1985, there are 26 sculptures in the garden on the hill that symbolize love, honesty and devotion in al the poems and folksongs of Latvian lore.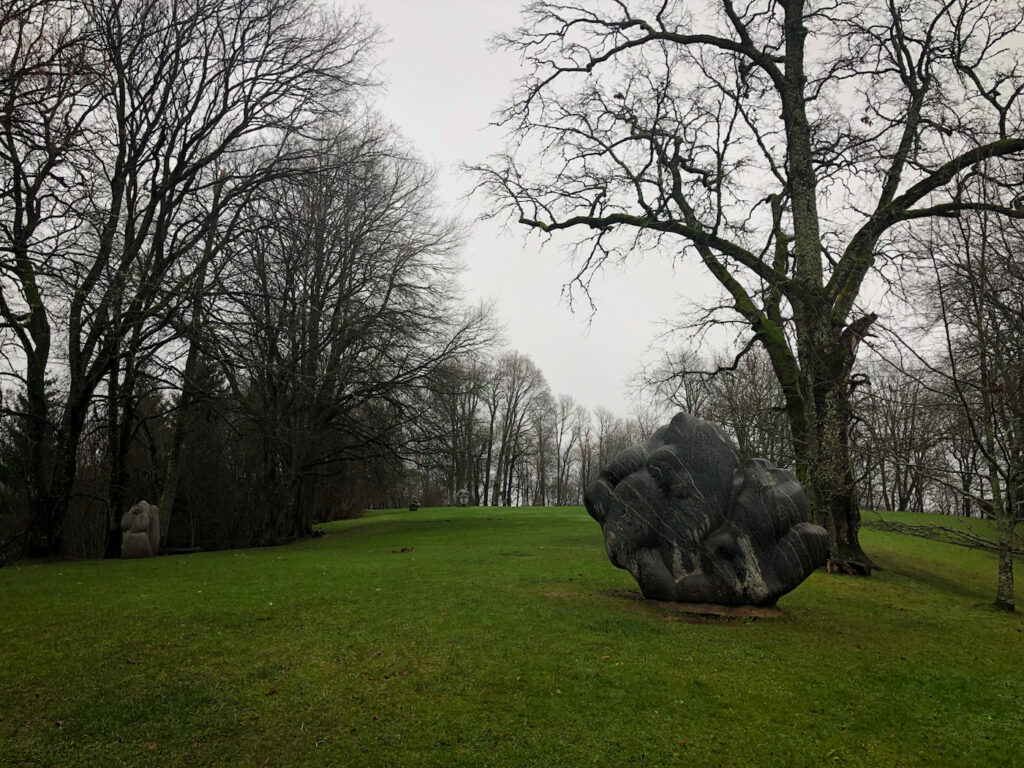 Turaida Castle is the part you'll want to see the most. Much like the spread of Christianity through a lot of Europe, it was during the Crusades that Latvia met Jesus. And this castle, on what was Livonian land was built by the request of a Bishop.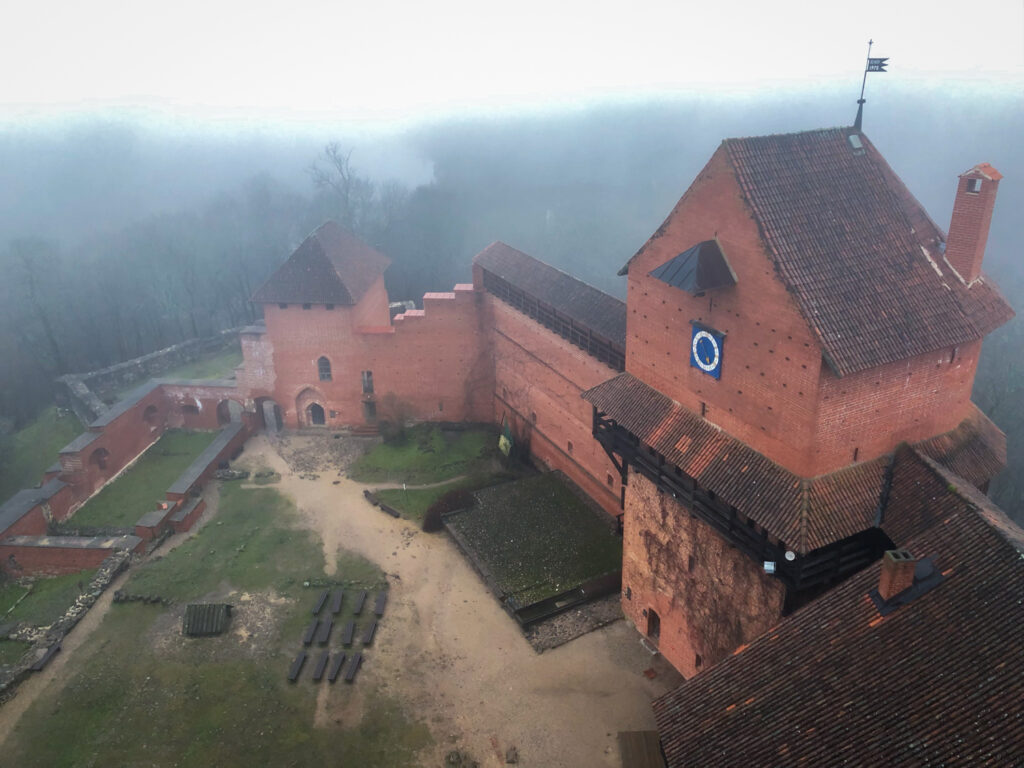 Gutmanis Cave
Gutman's Cave, located on the Gauja River, in the national park is one of the biggest and most impressive caves in the Baltics.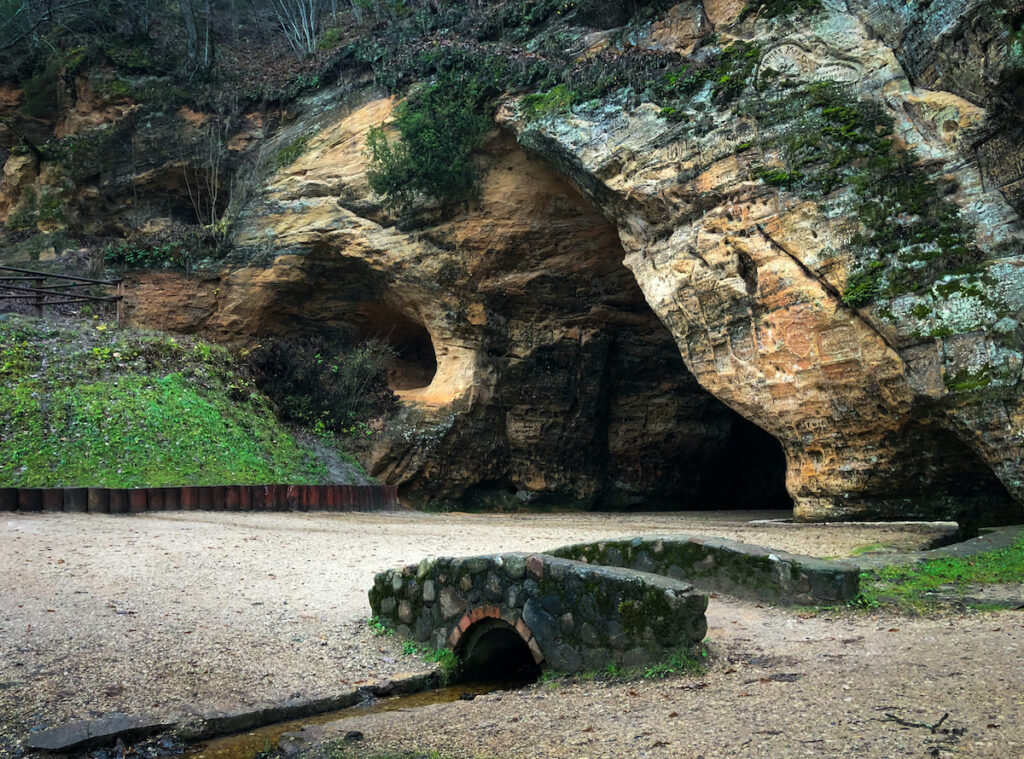 Formed during the ice age, this rock formation is the oldest and one of the most visited tourist attractions in Latvia. Many carvings in the rock, spanning back hundreds of years, you find names, dates, phrases and couple's inscriptions.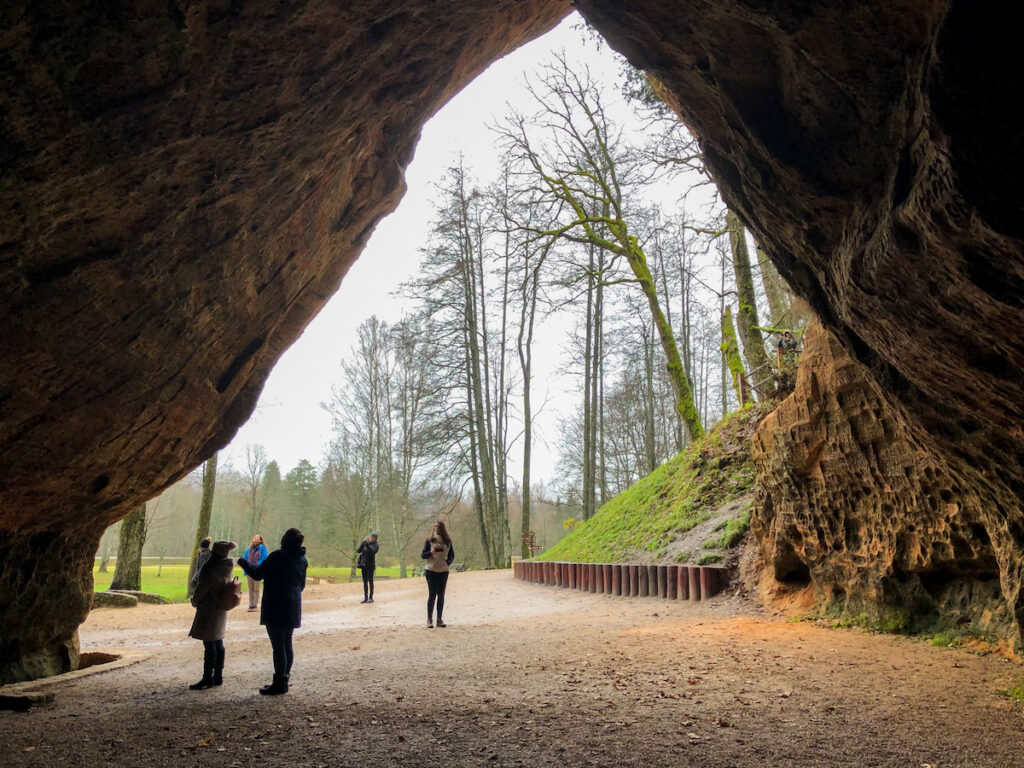 Wine Tasting at Cremon
This is me we are talking about, so of course, I had to partake in sampling the local flavour. Inside a former barn houses the winery Cremon where winemaker Janis Mikans makes approximately 15 kinds of wines and liqueurs from berries. Yes, this is berry wine. Berries and flowers to be exact and all locally grown.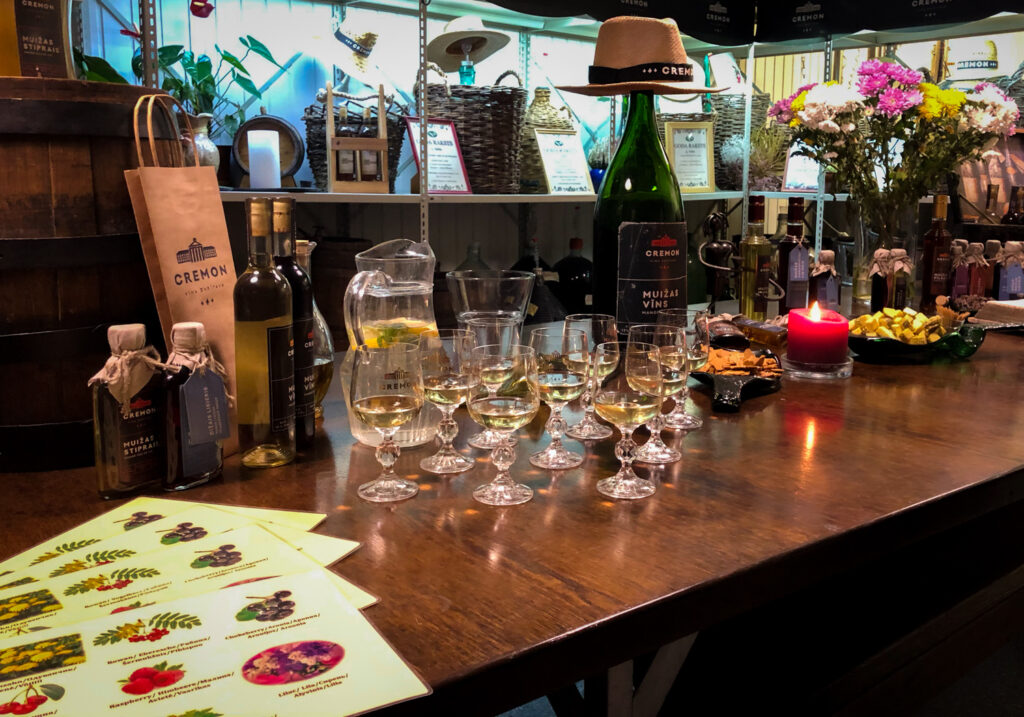 Every consider rhubarb and dandelion to make it into a wine vat? Nope, neither did I, but it did and I sampled it!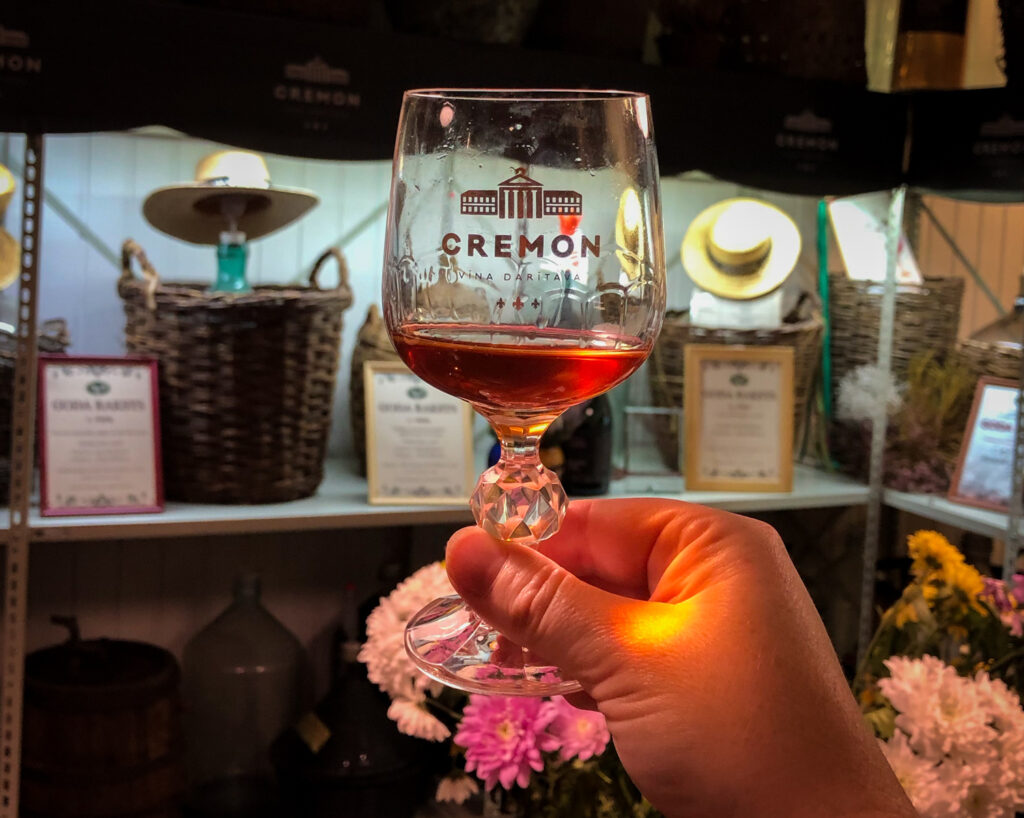 Convinced to travel and check out the things to do in Sigulda, Latvia? Think you might want to stay there for the night or maybe longer? Check out the accommodation options for your dates through my booking.com affiliate search box:

KathrynAnywhere is a participant in the Booking.com affiliate advertising program designed to provide a means for sites to earn advertising fees upon guests booking reservations at the accommodations listed.
Wait, Why Were You In Latvia?
Before the summertime of 2019, I have to admit that the country of Latvia was not really on my radar of places to visit any time soon. How did I end up there? I had originally purchased a ticket to head to Kansas City Missouri in the spring of 2020 for the Women In Travel Summit, which is a conference for female travel writers, bloggers and content creators (that includes all the Instagram Models too).
Due to my staunch beliefs that a woman should always be able to control what happens to her body, I decided to boycott any US State that enacted barbaric anti-woman, anti-choice, religious abortion laws. I mean, if they refuse to legislate restrictions on the use of a man's penis, how dare they legislate what happens to a woman's uterus? Therefore I would no longer be travelling to Missouri. I contacted the conference organizers to change my ticket, which they graciously agreed to do. So low and behold, I would be travelling to their next conference in Riga, Latvia, which was in November 2019!
I realize that Latvia does have legislation surrounding a woman's choice as well. However, it's not as intolerable as what we're seeing happen in the Puritanical United States.