Sager Conservation Area Trail: Easy Winter Hike With Kids
I think I have found the shortest and easiest hike to take the kids on in the winter. And bonus for me – it is just up the highway from my parent's house. It's Sager Conservation Area Trail in Quinte West.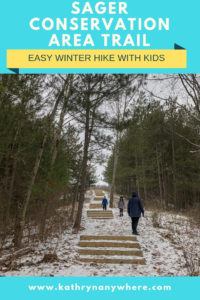 Lengthwise, it's only half a kilometre hike in and out. For the kids, it's pretty hard to complain that this is taking too long! Also, my mother, who just last year had emergency open heart surgery in Kingston, was able to do this winter hike with us. It's the perfect multi-generational outing!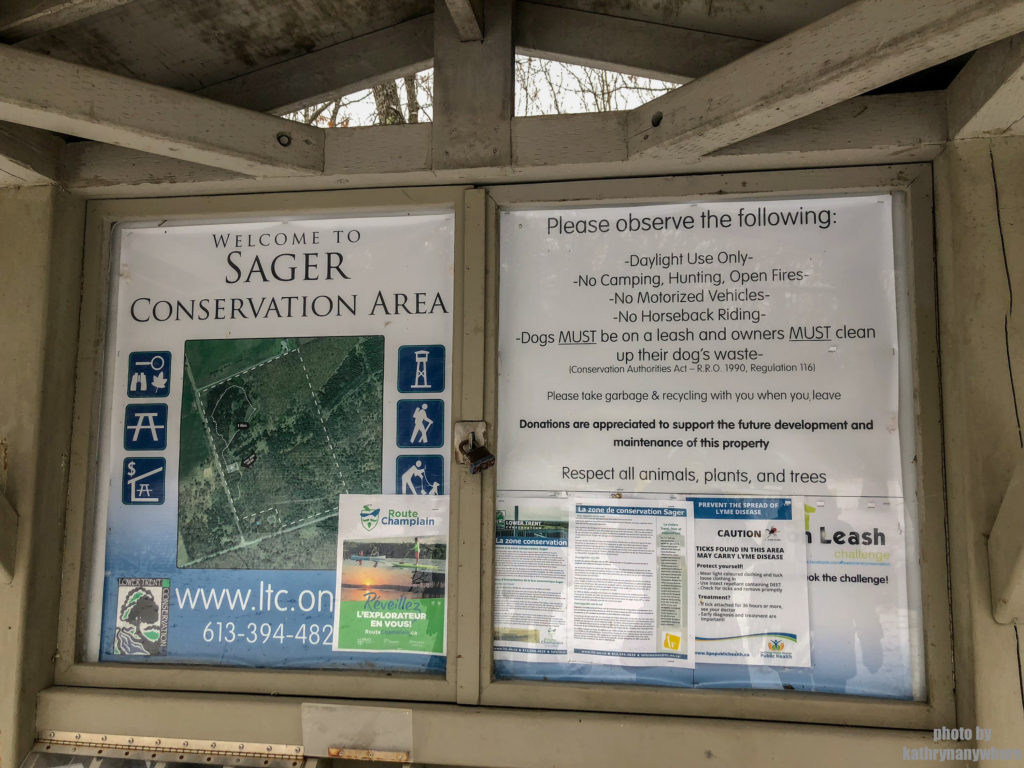 Where Is Sager Conservation Area Trail?
You'll find Sager Conservation Area at 30 Golf Course Road, Quinte West.
The trail is south of Stirling, but north of Frankford in Ontario. To be exact, the parking lot is off of Gold Course Road, east of highway 33. Take highway 33 north from Frankford and you can either head east on Fish and Game Club Road. You can also take Oak Lake Road. Follow the conservation area signs.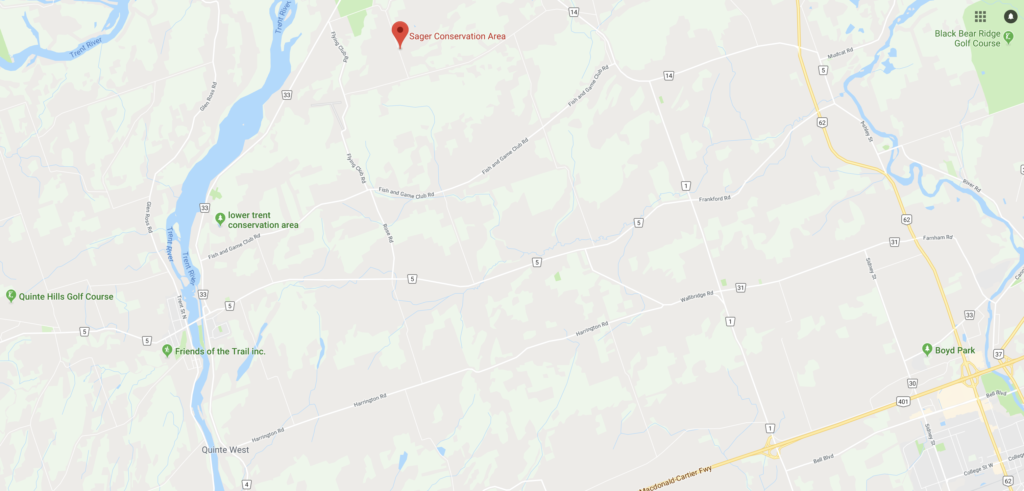 You will have to drive there in a vehicle. It is possible to reach this destination by bike, however I caution you against that due to narrow, twisting roadways and high speed vehicles.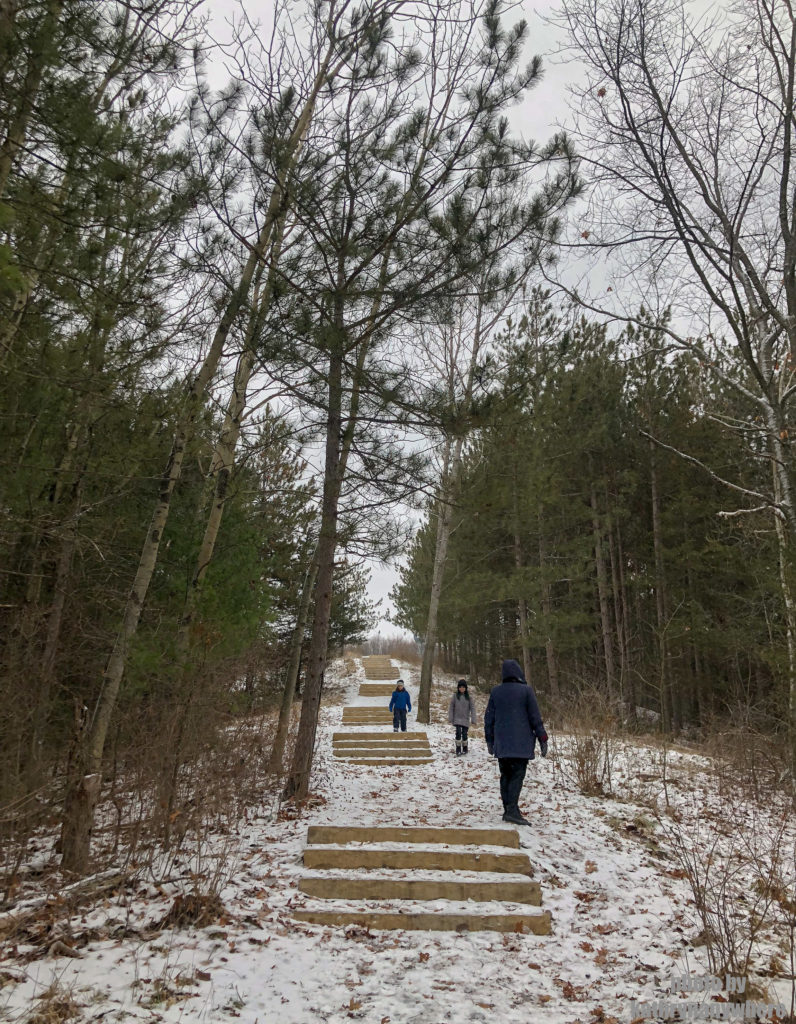 Why hike at Sager Conservation Area Trail?
It's the weekend, it's winter and you're looking for something to do to pry the kids off of their Playstations or get them to put away the legos or knitting. They're bored of the backyard or there's nowhere left on the lawn to make snow angels.
If your kids like look out points, like mine do, this is a good place to go and see how far they can see. We always end up going on days with poor visibility though like our day at Dundas Peak and Tew's Falls and we have to pretend what is on the horizon.
Also, there is a a covered picnic area beside the parking lot so bring snacks and hang out a little longer after the hike.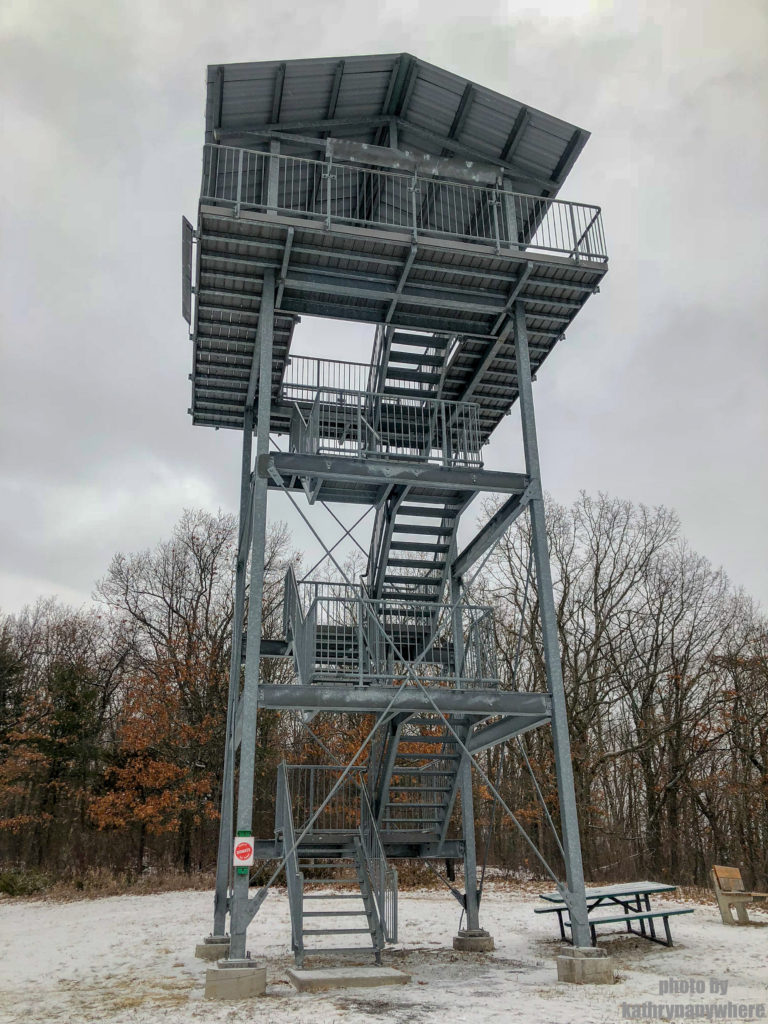 What to Expect at Sagar Conservation Area
From the parking lot, you can head over to the covered picnic area and wait for any friends who might be joining you. Or go to the trail.
If you need to "use the facilities", there is an outhouse by the picnic area.
The trail to the 30 foot high observation tower is by a man made stairs or you can walk beside the trails if you're not interested in working on your hamstrings and glutes. It might be easier for you if you're not in good physical shape to stick to beside the stairs. The stairs may also potentially freeze in the right conditions, so please be aware of that possibility.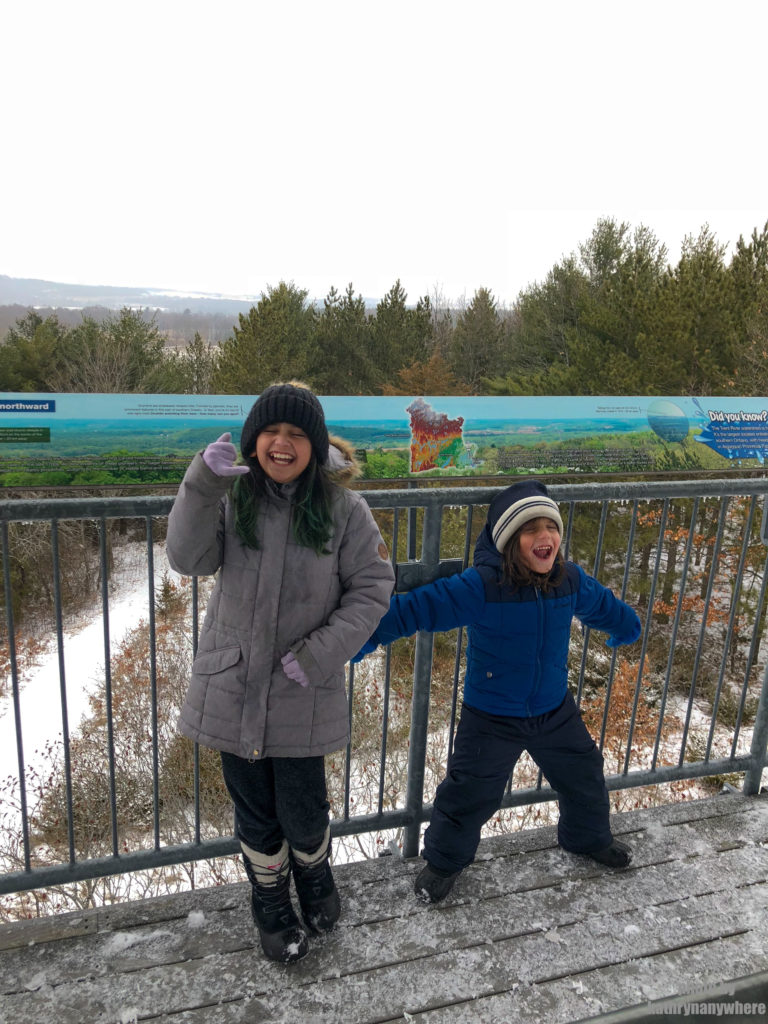 The area is part of a glacial feature known as Oak Lake Island. That is a series of large drumlins (hills) that formed an island in glacial Lake Iroquois.  If you were standing on the conservation tower, 20,000 years ago, there would have been 2kms of ice on top of your head.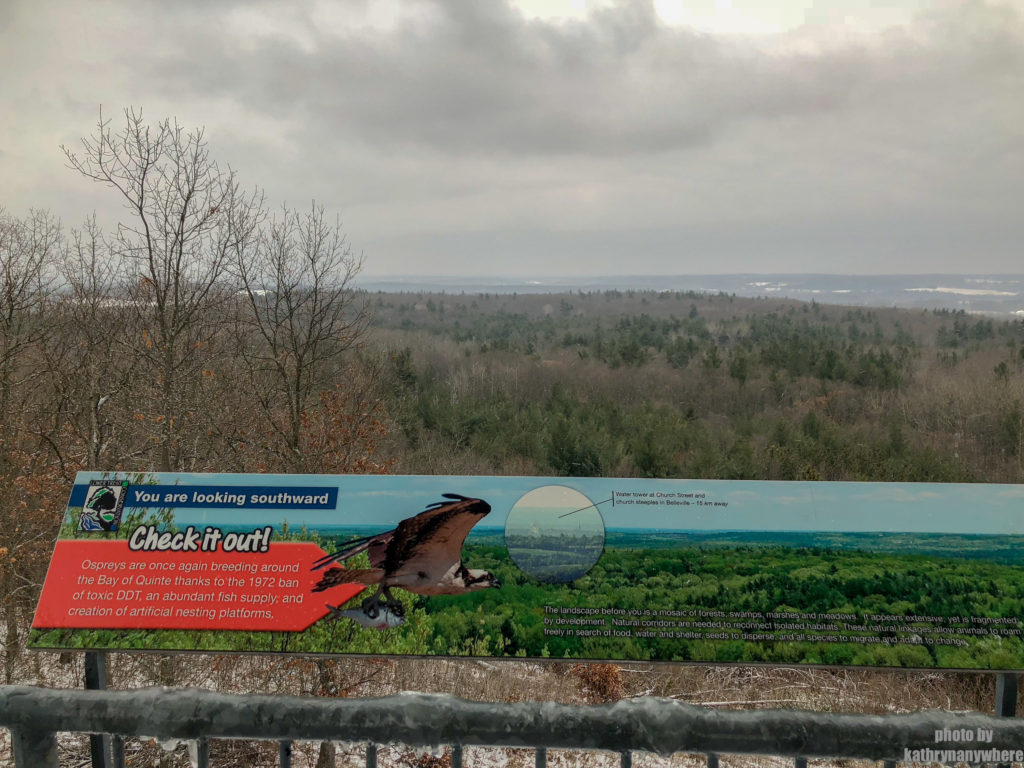 The drumlin in the conservation area is one of the highest points of land in the area. The look out tower provides an amazing point to view the surrounding county side including part of the Trent River valley. On a clear day, you can see all the way into Belleville! You just might be able to see the water tower that stands beside my old high school. Bonus points if you can name the high school beside the water tower in Belleville…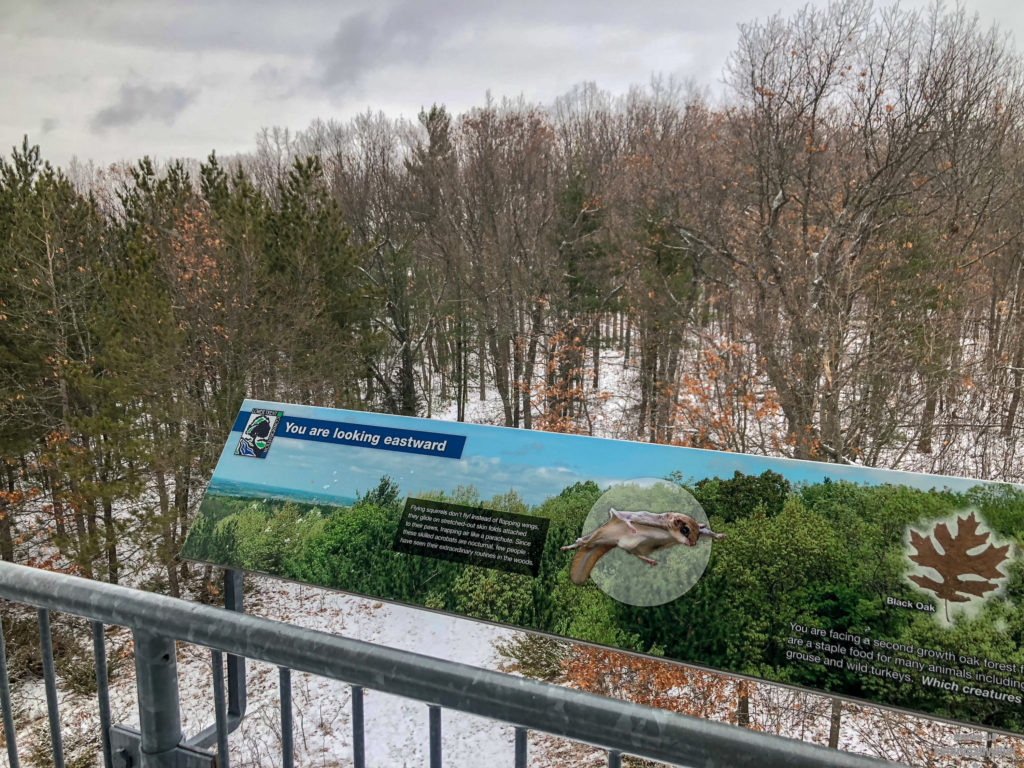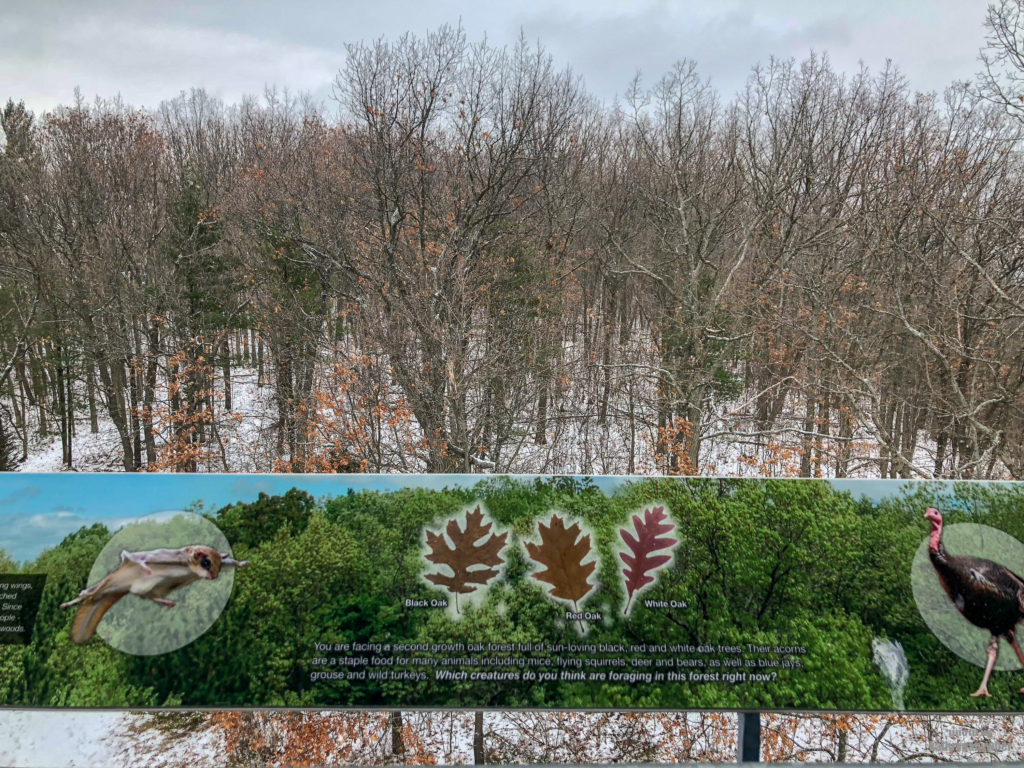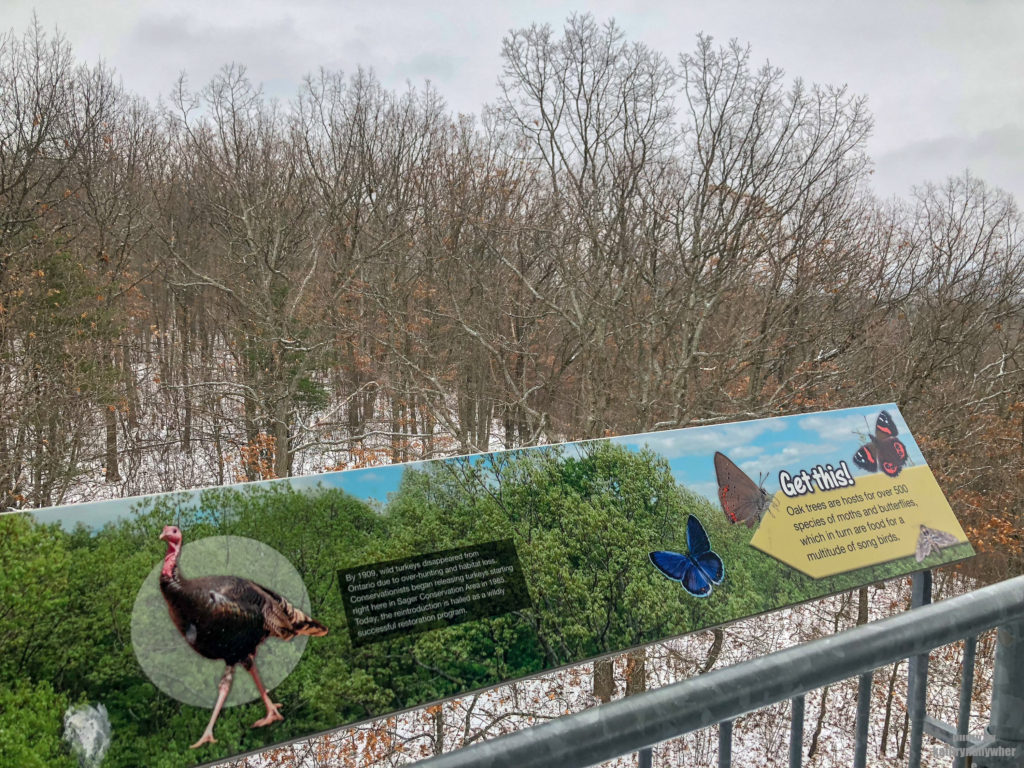 Back in the 1980's, when we first moved there, the Belleville area was a pretty bad spot in the province for pollution. Safe to say, much of Ontario was because we didn't know we were wrecking the environment, but I digress… Many of the conservation efforts, including reintroduction of species in the area has brought the Quinte Region back to being a place for nature lovers. Hastings County has a lot of places to hike, kayak and relax.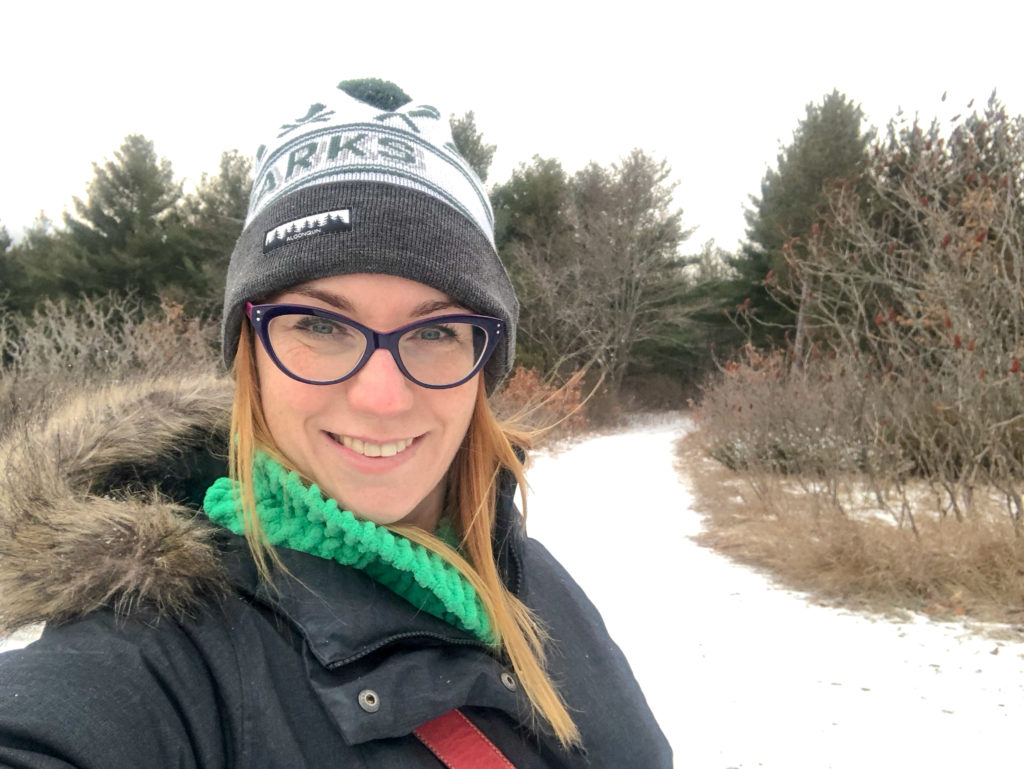 This is a "leave no trace" area, so please take any garbage back out with you.
Cell phone reception here was decent. Every time I looked at my phone, it was still on the LTE network (l'm with Telus).
Parking is free and there is no admission to the conservation area. You will find a donation box at the base of the observation tower.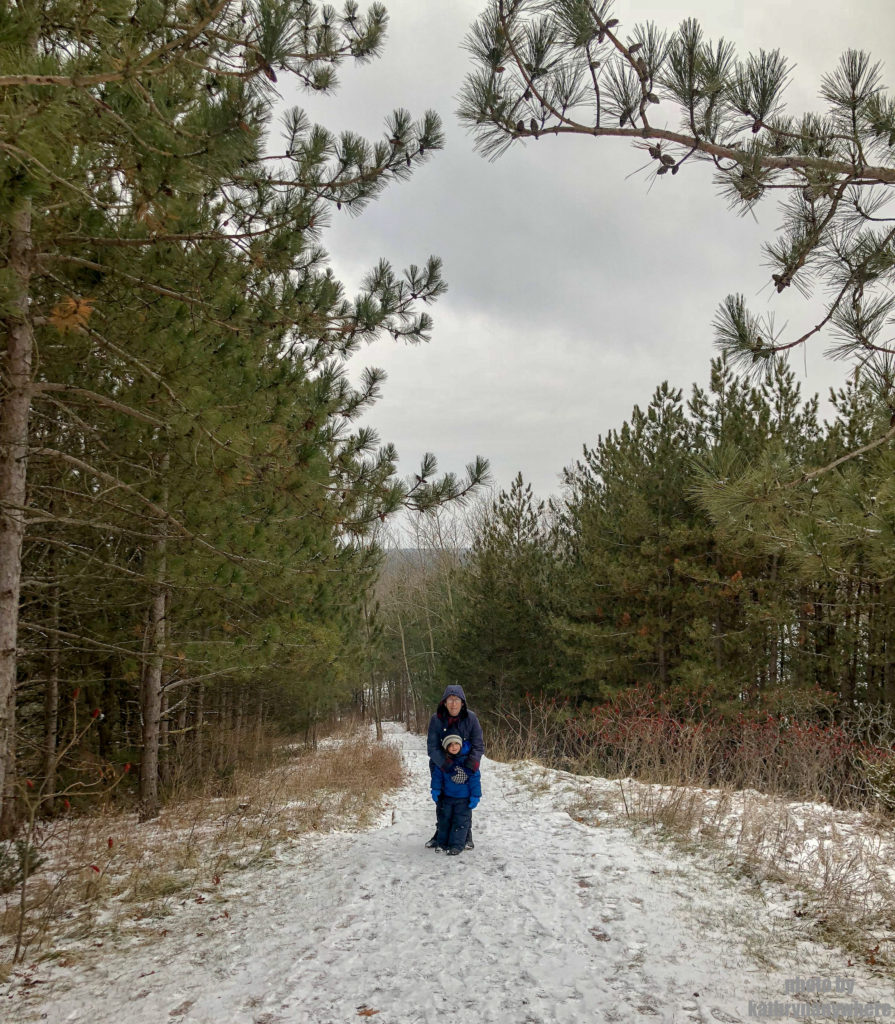 How Hard Is This Hike?
This is an extremely easy trail. My 4 year old son ran laps around us and my 73 year old mother also hiked the Sager Conservation Area Trail and climbed the stairs up the tower with us. I'm not saying every senior citizen can do this, but if they are in reasonably decent shape, it's not too far to do. Also, there are benches to rest on along the way.
It is nice to try and be out in nature and fresh air.