My time discovering the Sudbury Winter Activities was courtesy of Sudbury Tourism. They foot the bill for all of my exciting experiences and delicious food. My opinions, however, are always mine and my children's.
Ever since I made it my mission to explore as much of Ontario as possible with my kids, I've covered a lot of ground. A vast majority of that geography has been southern Ontario however. When the opportunity came up to head a little bit north, I agreed without hesitation! I mean, Sudbury, on the surface does not seem to be a destination for families. My previous experience with visiting Sudbury was a drive past with my parents when I was 15 or 16 when we were driving back to Belleville from Alberta. Then, a couple of years ago with my own children as we were returning to Toronto from a road trip around Lake Superior. We pretty much stopped to eat at The Keg, have a good sleep at the hotel across the street and carry on home. Not exactly getting any flavour of the city. Big mistake.
I've come to realize that many towns and cities in Ontario really are a destination and Sudbury is no different. What makes Sudbury stand out is the topography which is rocky, to say the least. While Sudbury is famous for being a mining town and having a lot of vegetation washed away due to acid rain, that's not all it is. What makes Sudbury great is the science museums, outdoor activities, abundance of lakes, safe atmosphere and never-ending things to do with your kids there. And in all honestly, Sudbury rocks for families in winter. Yep, this coming from a Toronto family. Here's what you need to know about Sudbury and why you should consider it as a destination with your family in the winter.
Sudbury Winter Activities For Families
Sudbury rocks! Hahahaha, get it? If you don't, you will soon.
Population wise, Sudbury is the largest city in Northern Ontario. The city was built on the traditional Ojibwe grounds of the Algonquin indigenous group. Once nickel was discovered, the city was built up by European settlers. The "Nickel City", as it has lovingly been nicknamed, is spread over 330 lakes. The entire region of Greater Sudbury contains more lakes than any other city in Canada. If that doesn't scream that there is a big outdoor scene here, I don't know what will.
As Sudbury is roughly four hours north of Toronto, it does drop in temperature in winter. For Torontonians who can't stand the cold, that could be bad news. The good news is that the cold feels different. The cold we feel in Toronto is wet, gets in your bones and aches cold. Sudbury's cold air is a little dryer and to the kids and me, it was more tolerable. I'm good in pretty much all weather except for that sweat-your-face-off humidity, making Sudbury a fairly temperate location for us to visit.
However, even if you are there in the winter and you find it chilly, you don't particularly need to spend much time outside. We had a great mix of inside and outside activities on our weekend trip there and there is an abundance of things to do.
If you're ever around Sudbury in autumn, be sure to check out What To Do And See In Sudbury In Fall.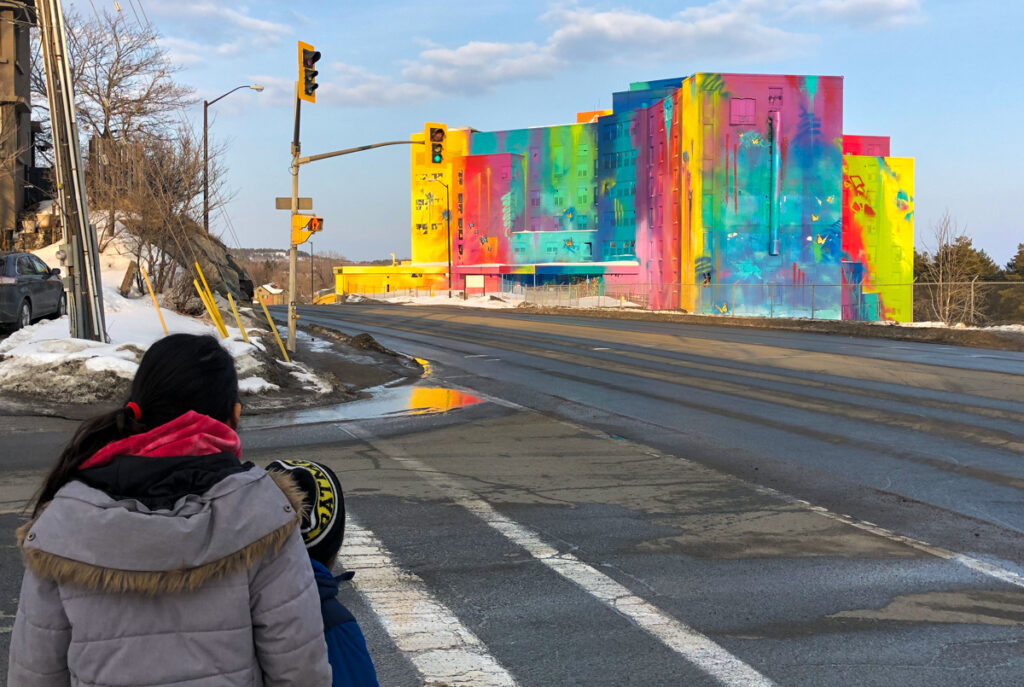 Sudbury Winter Activities Get Out And Do The Following
Cross-Country Skiing at Kivi Park
We had an absolutely beautiful morning at Kivi Park! The kids learned how to cross county, equipped with gear rentals from Adventure365 at Kivi Park.
I grew up cross country skiing out of our front door and garage from our home in Belleville. We lived on the edge of town and had the ability to head out into the woods at the end of our street. It was something my parents, my sister and I did and our dog ran along beside us. Growing up in downtown Toronto, my children aren't afforded that same opportunity. It's a totally different life.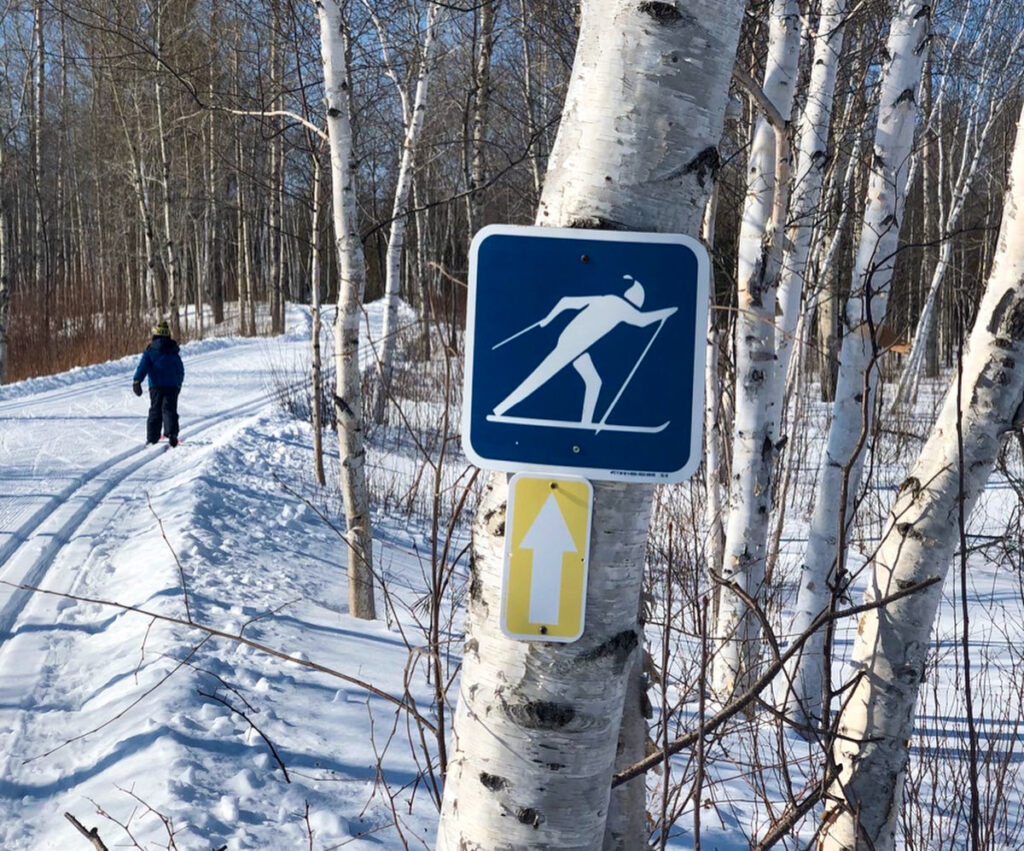 Little Man has taken downhill skiing lessons before and loved it. Miss M has only been on downhill skis once before in her life and it didn't go over well. I mean here's the thing, when I'm chasing after two kids on a sport that I barely have mastered myself… it almost begs for another adult or an actual instructor to assist or one kid isn't going to get the attention they need. That happened.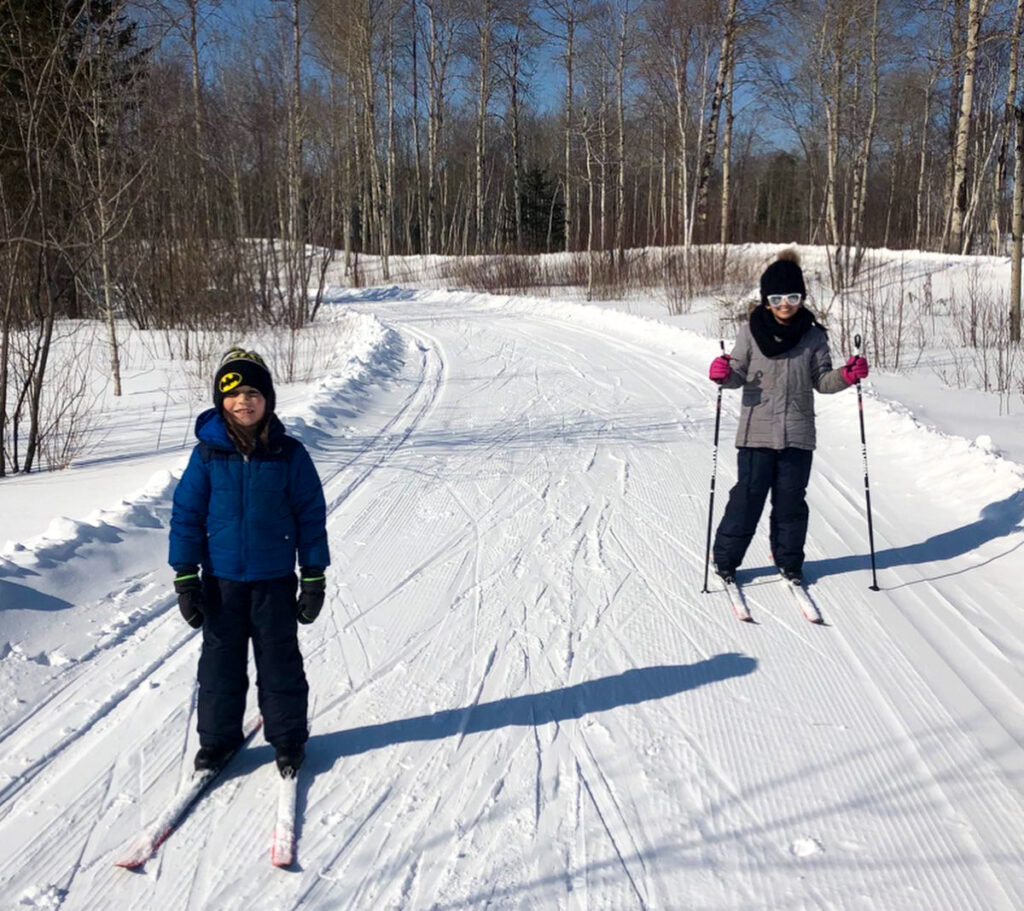 Our time XC skiing in Kivi Park was a winter activity redeemer for Miss M. Both kids had an excellent time and by the end of the morning, we were all sweaty and sad it was over. I am so glad we could all cross country ski together. They want to do it again! Actually they want to go back to Kivi Park again so that's worth a trip back to Sudbury.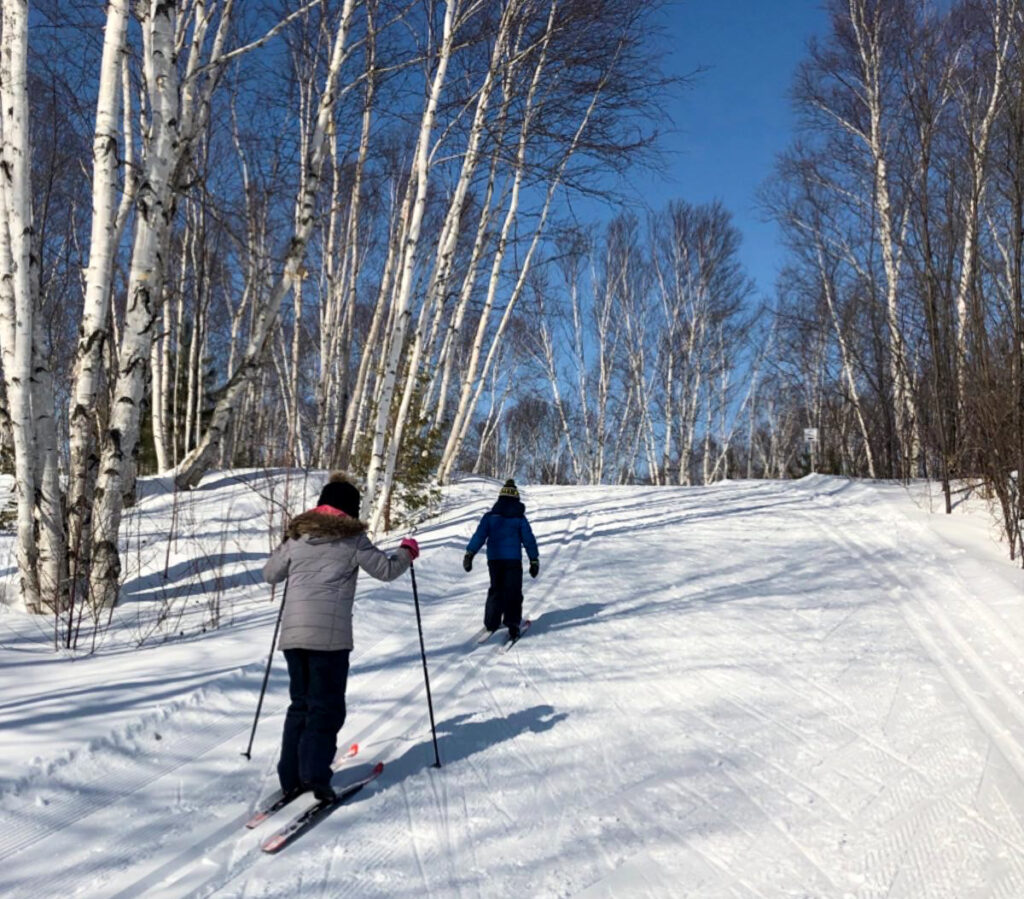 Side note – Kivi Park is an all-season, multi-sport recreation area set on over 450 acres of Cambrian Shield.  Other activities you can do there include hiking, snowshoe, fat bike, skating in the winter or canoe, kayak or paddleboard on Crowley Lake in the summertime.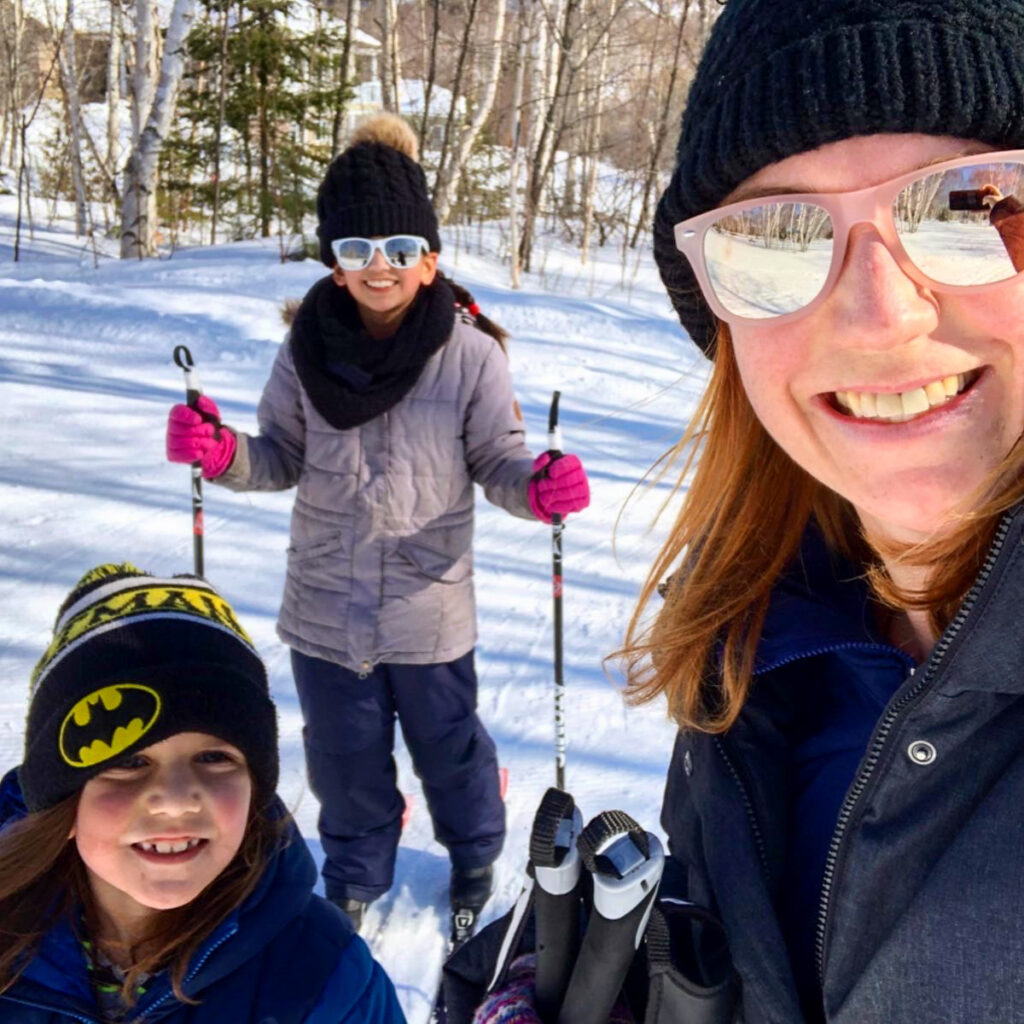 Science North 
Want a fun-filled afternoon? Spend it at Science North with the kids For Sudbury winter activities, sometimes you have to head inside. So many intriguing and interactive exhibits over four floors for the kids to get their hands and imaginations into. The first floor has an IMAX theatre, planetarium, cavern and a toddler treehouse.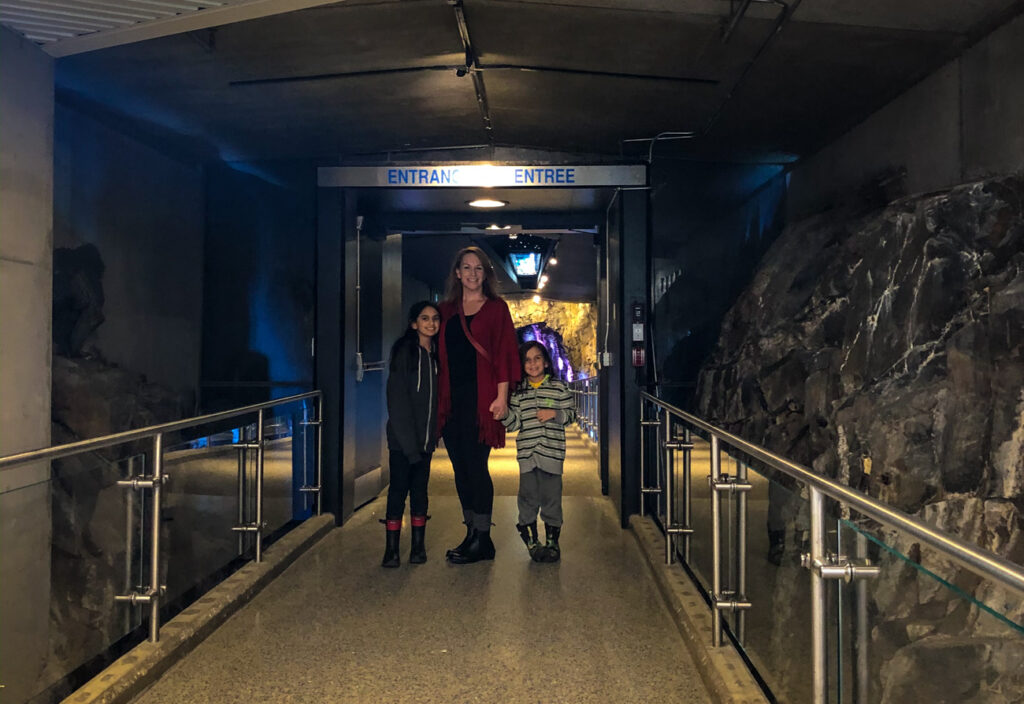 The second floor is the nature exchange, lapidary and the butterfly gallery. There's a lot to see and do on floor number three, but here's the condensed version – a section on animals in northern forests, a nocturnal room, northern lakes and rivers section along with its inhabitants, a wetlands section and a theatre. The fourth floor holds the object theatres, the body zone where you learn about the body and DNA, a racetrack to build your own cars at, the space place and a tech lab.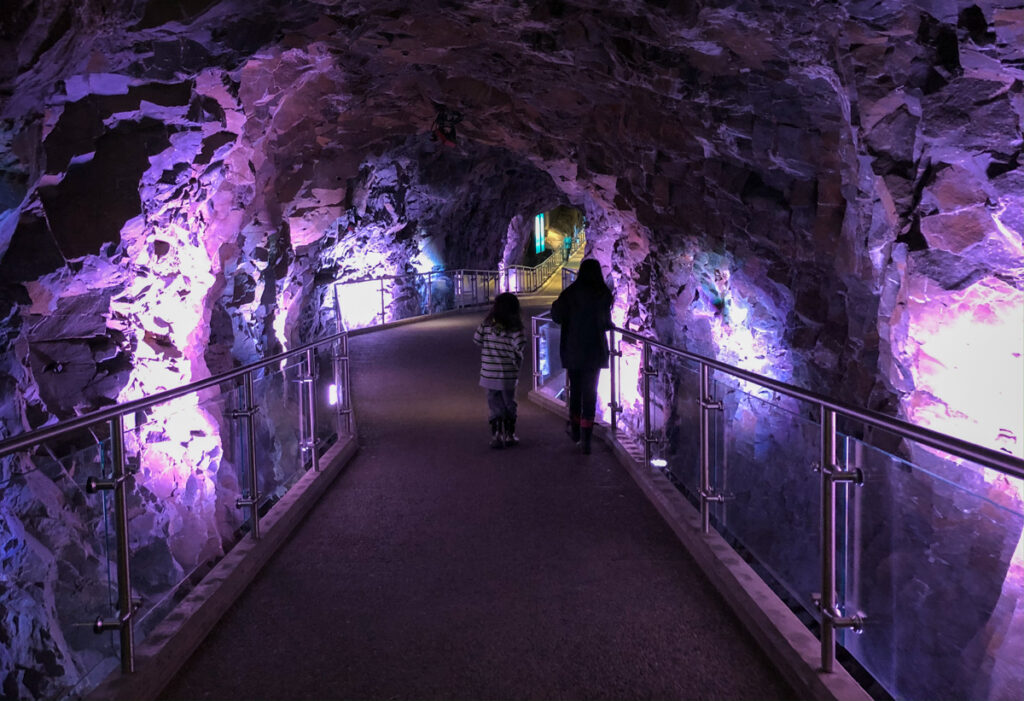 The highlight for me? There's a bed of nails you can lie on. It's a lesson in physics!
The biggest highlight for Little Man? The fin whale skeleton! It's 20 metres long and came from Quebec. It's quite a sight and can easily be mistaken for a dinosaur. As the circular staircase winds up, it's hard to miss this species in the middle. No joke, as he spotted it, he ran to see it.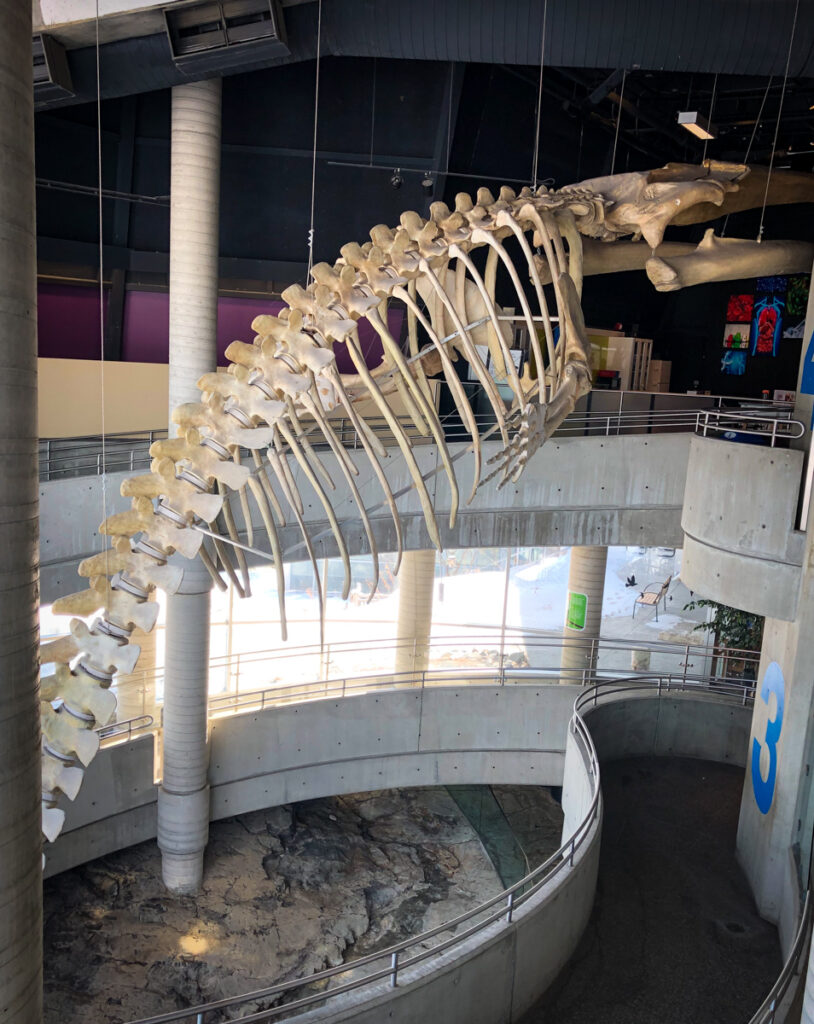 For Miss M, her highlight was petting a fox snake on the third floor. That or building her race car and seeing it move on the fourth floor.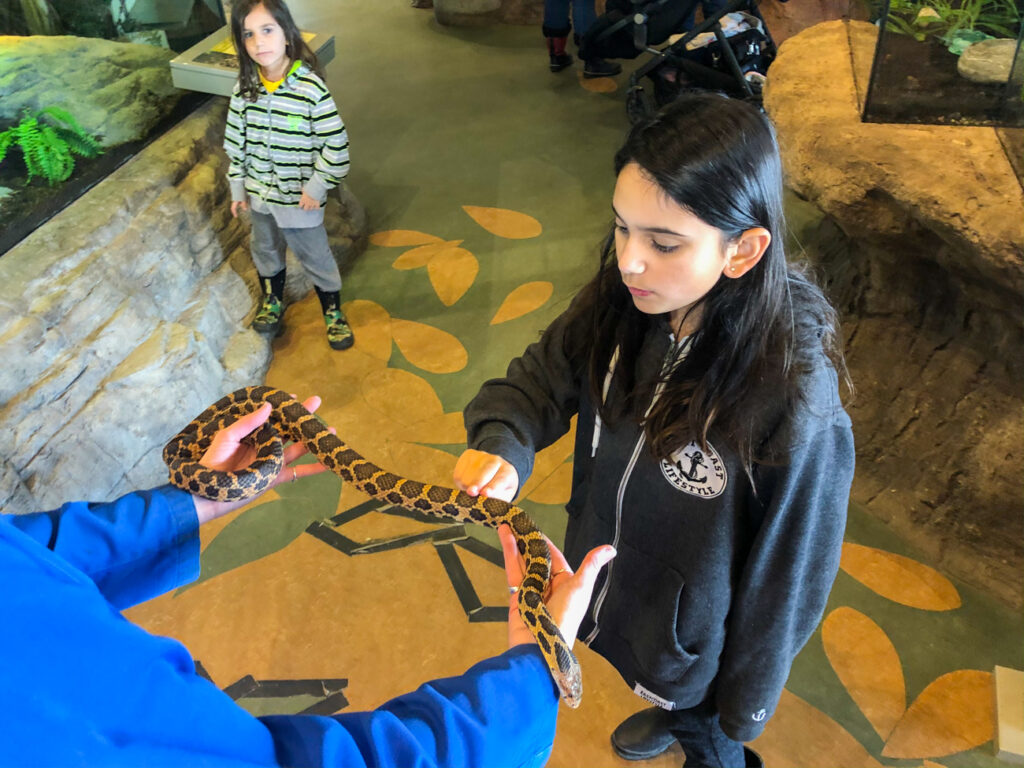 The oddity of Science North? Drifter and Kash the beavers and also animal ambassadors refused to pose for photos for me. The nerve!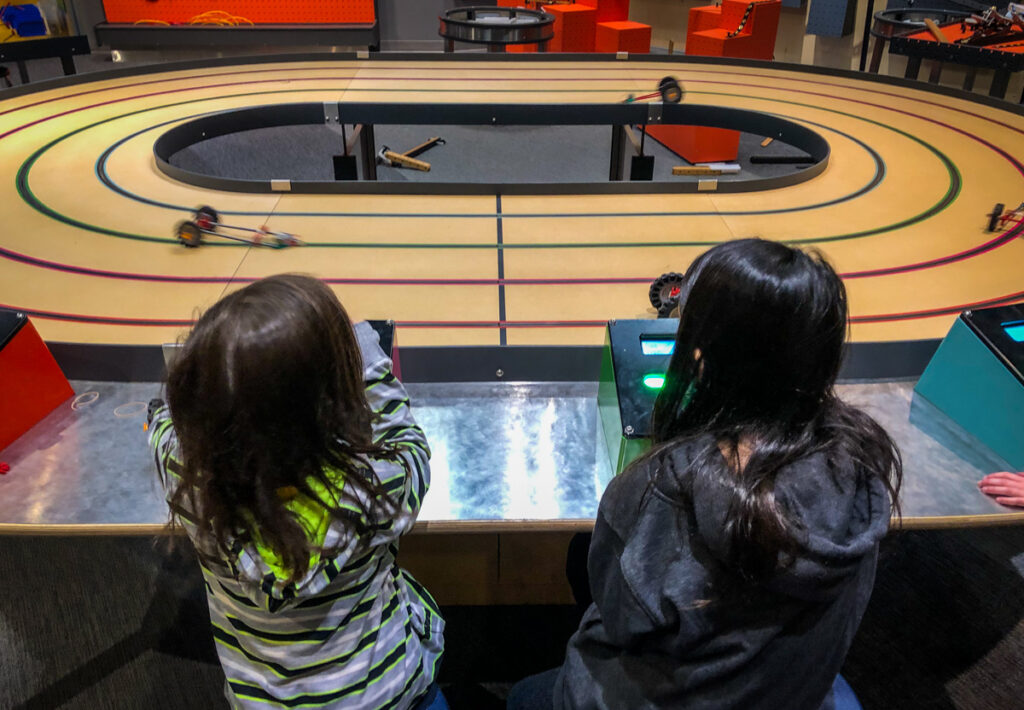 Skate the Ramsey Lake Skate Path
Skate the Ramsey Lake Skate Path? OKAY, I'LL DO IT! Of all the Sudbury winter activities, I have to say I'm always a sucker for a good skate.
Accessible from Science North parking lot lies a popular skate path on Ramsey Lake in the middle of Sudbury. The skate path runs from Science North to the Sudbury Canoe Club and features unique structures built by students of the Laurentian University School of Architecture.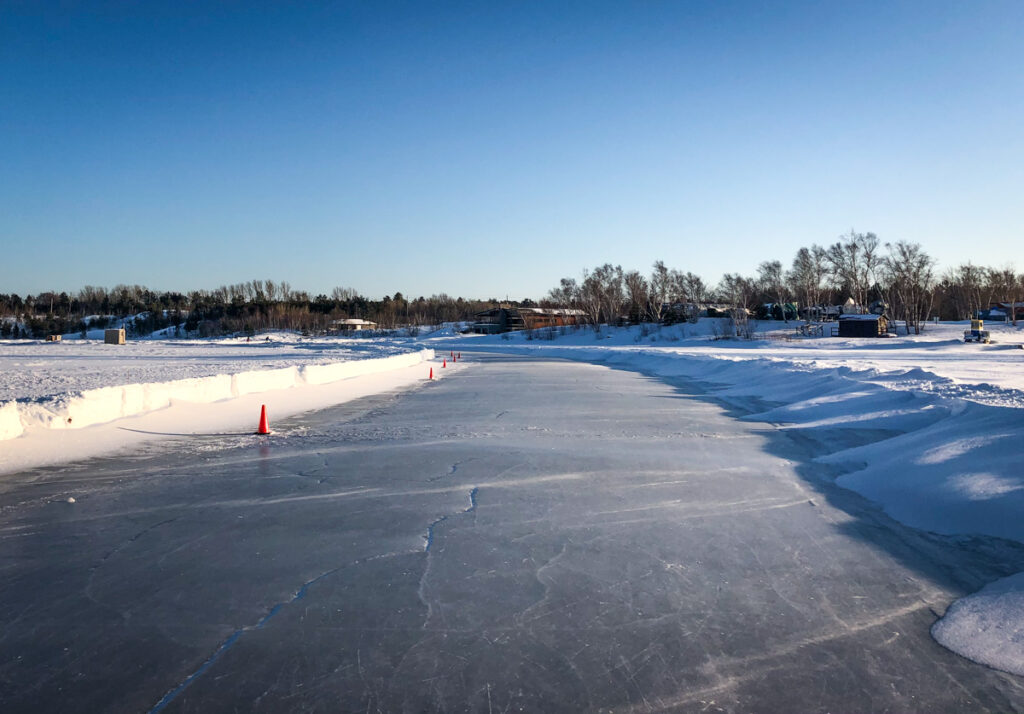 Now, my kids and I didn't make it end to end like I wanted to do. It was windy and there were some tears (not mine). But we still got to enjoy some of it.
And best of all, this activity is FREE. Bring your own skates and helmets because they do not have rentals on site.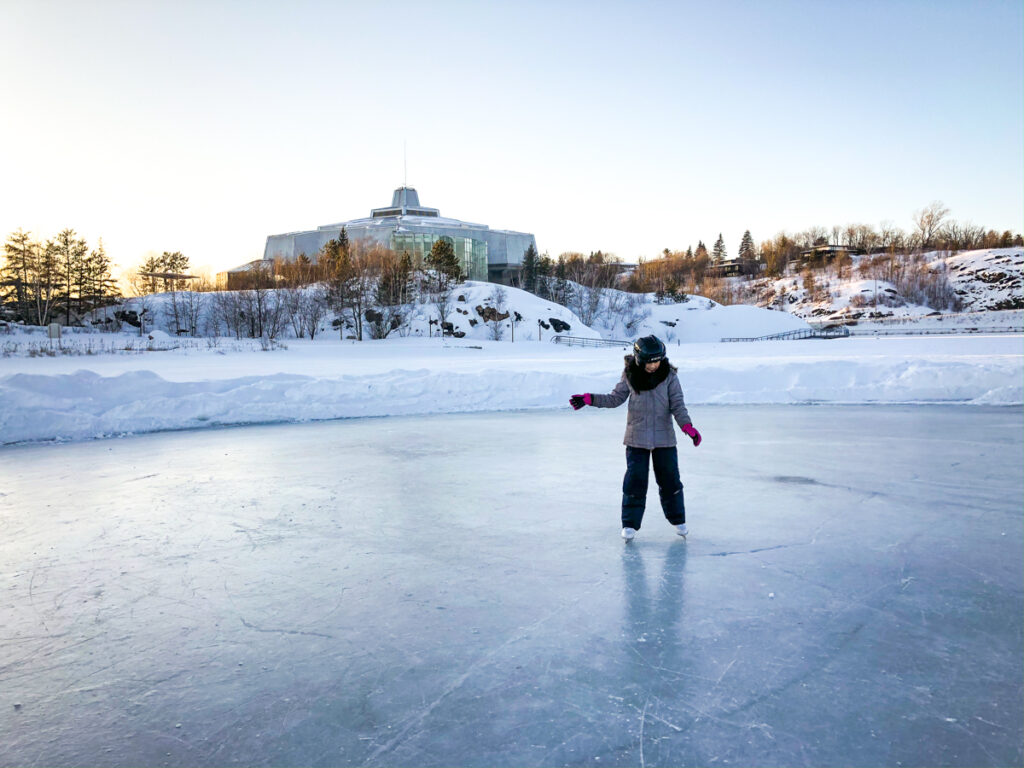 Dynamic Earth
Want to know where to find the Big Nickel? It's on Big Nickel Mine Dr.!
The Big Nickel is a replica of the 1951 Canadian five-cent coin, built in 1964 by local Sudburian Ted Szilva. Open to the public at no cost, visitors are invited to walk around the Big Nickel and explore the site of the Centennial Numismatic Park. The big nickel weighs approximately 13,000 kilograms so that's about as much as a school bus. The entire outer core is made of stainless steel which is why it hasn't rusted after 55 years. Last random and amazing fact about the big nickel? It's approximately the same size as a Tyrannosaurus Rex.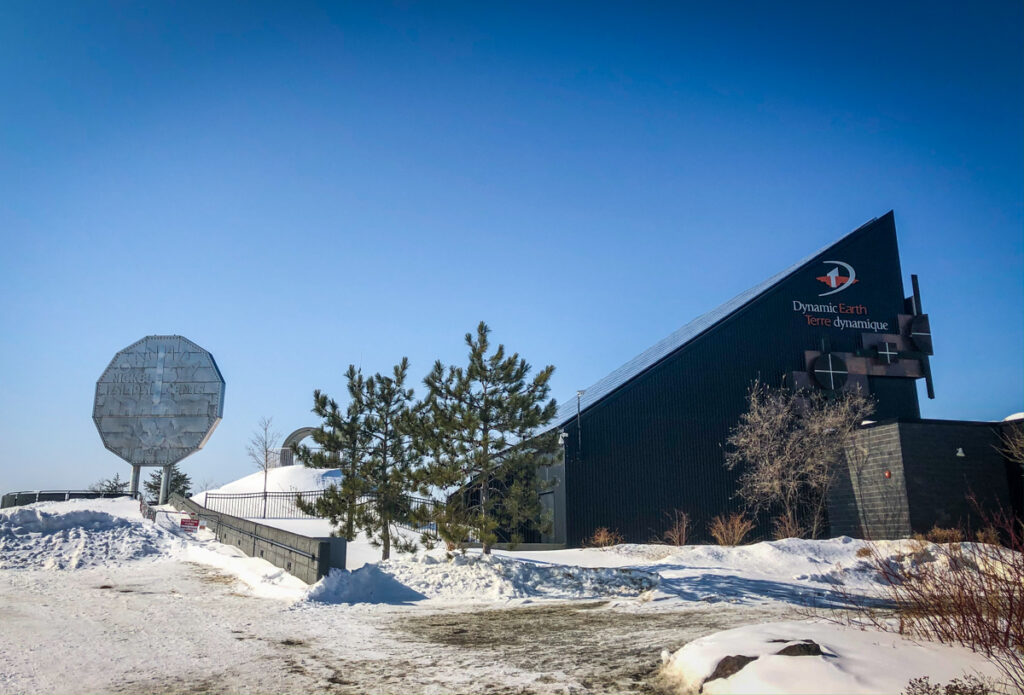 The Big Nickel isn't all to this attraction! Head into Dynamic Earth – an earth sciences museum with a focus on geology that builds on the city's mining heritage. 
Do not miss the opportunity to pan for gold on the simulated stream table, take an actual mine tour that shows you how things were done in the past, what a mine looked and felt like as well as the equipment they used.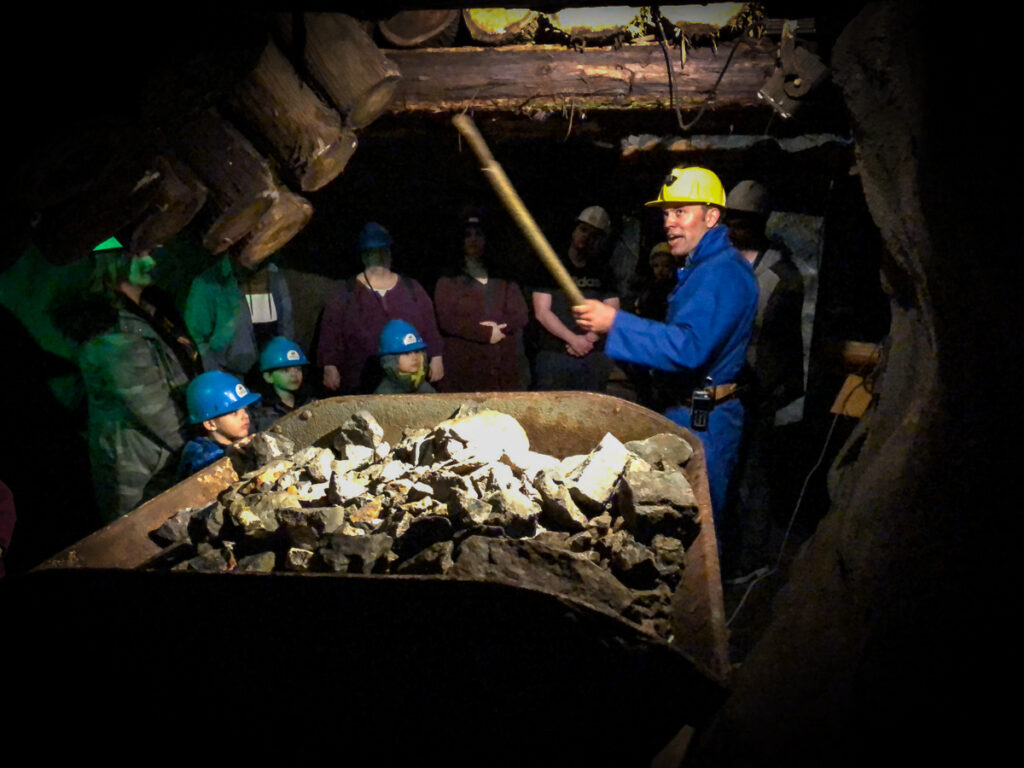 And the new exhibit – Digging into Permafrost. Enter the world of the Western Hemisphere's only permafrost research tunnel and take in sights and sounds that are usually hidden underground.
I would recommend this as a half-day activity for the kids. The mine tour is approx 90 minutes long and towards the end, the kids could get bored.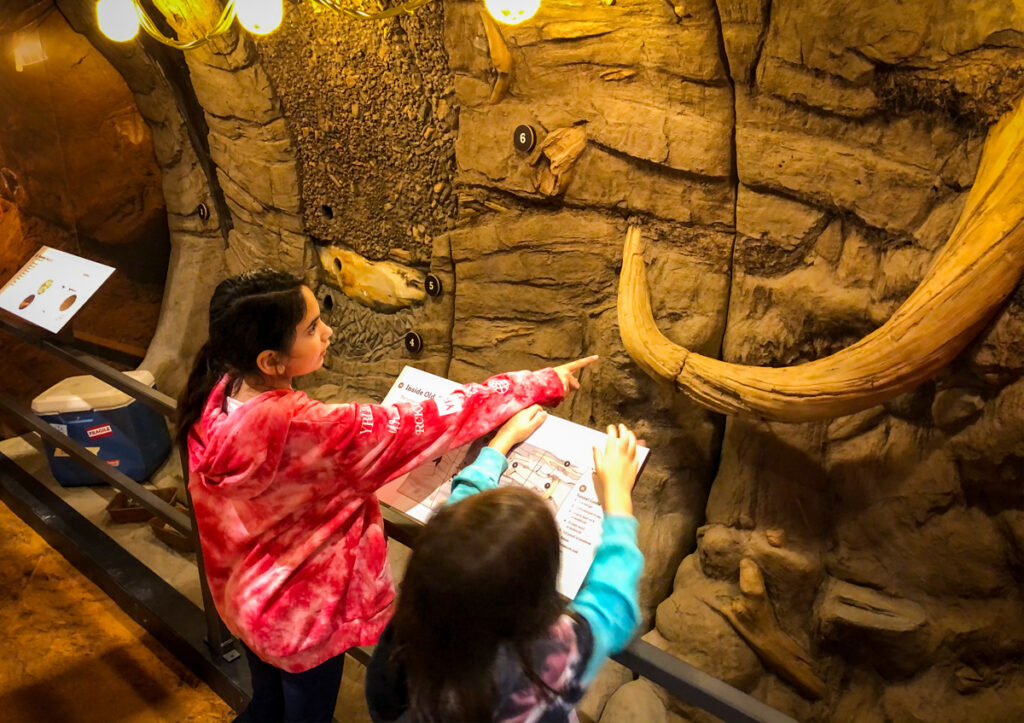 Urban Air
I'm just going to say it, it's hard to get a decent picture of the kids inside of Urban Air Adventure Park.  The reason being is they're so busy running and jumping and making merry inside of this ultimate indoor adventure park!
Opened in Sudbury in March 2019, this is way more than a trampoline park! There are obstacle courses, rock climbing walls and a place to practice your own freestyle tricks. And if you think I'm just going to let the kids play? Well no, I jumped too and I rode the Skyrider, like a big kid HA!
Definitely, a place we could have spent way more than 3 hours at! I wish there was one in Toronto, but until then, we'll always have Sudbury.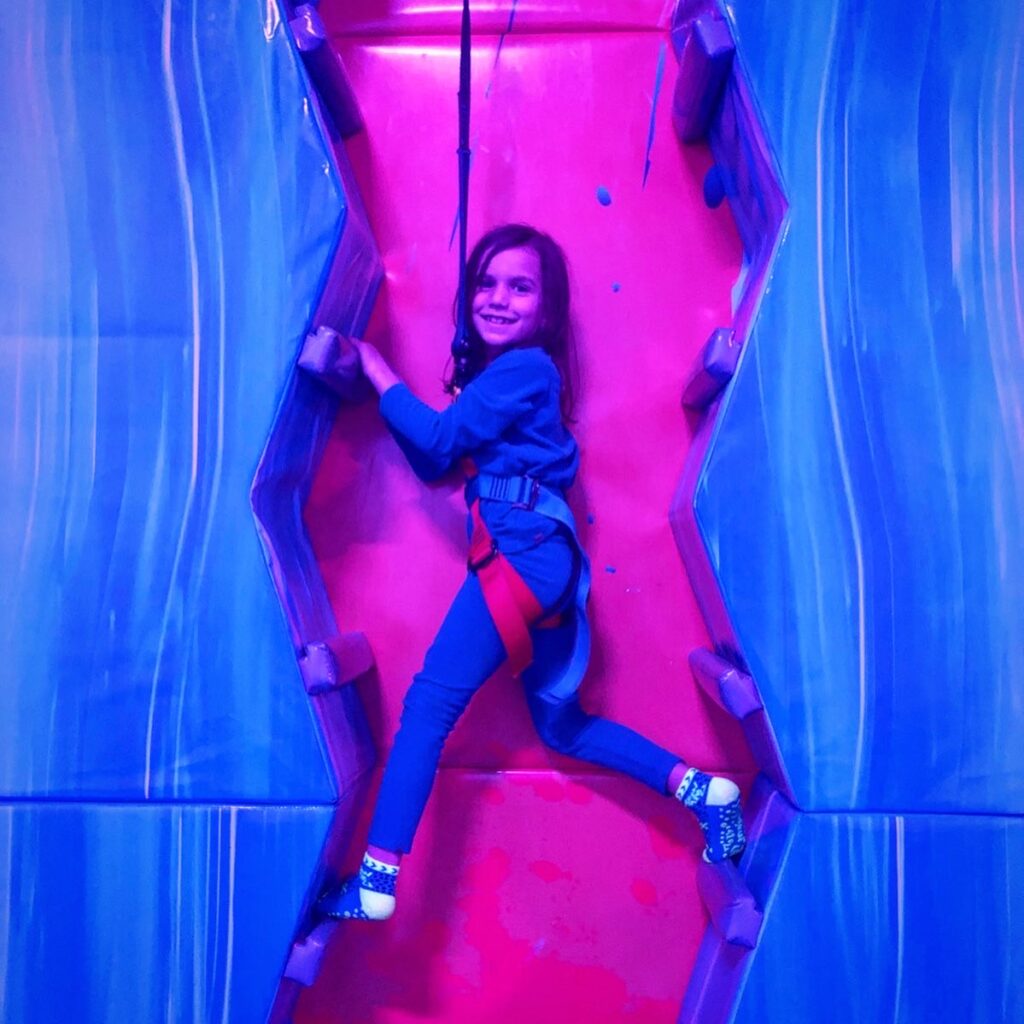 Where to Eat in Sudbury With The Family:
Stack Brewhouse tour and dinner – Shockingly, but perhaps not, I find myself at a craft brewery, Stack Brewing for dinner. It's Sudbury's award-winning craft brewery and restaurant.
Brewmaster Brenden is new at the helm here, having recently graduated from Niagara College, but is already is putting his stamp on the process and taste. Now I have nothing former to compare too, but I can tell you that the four brews I tasted (Nickel City Lager, Expansion Sour IPA, Saturday Night Cream Ale and Impact Altbier) were all smooth, district in flavour that was done with the right amount of hops.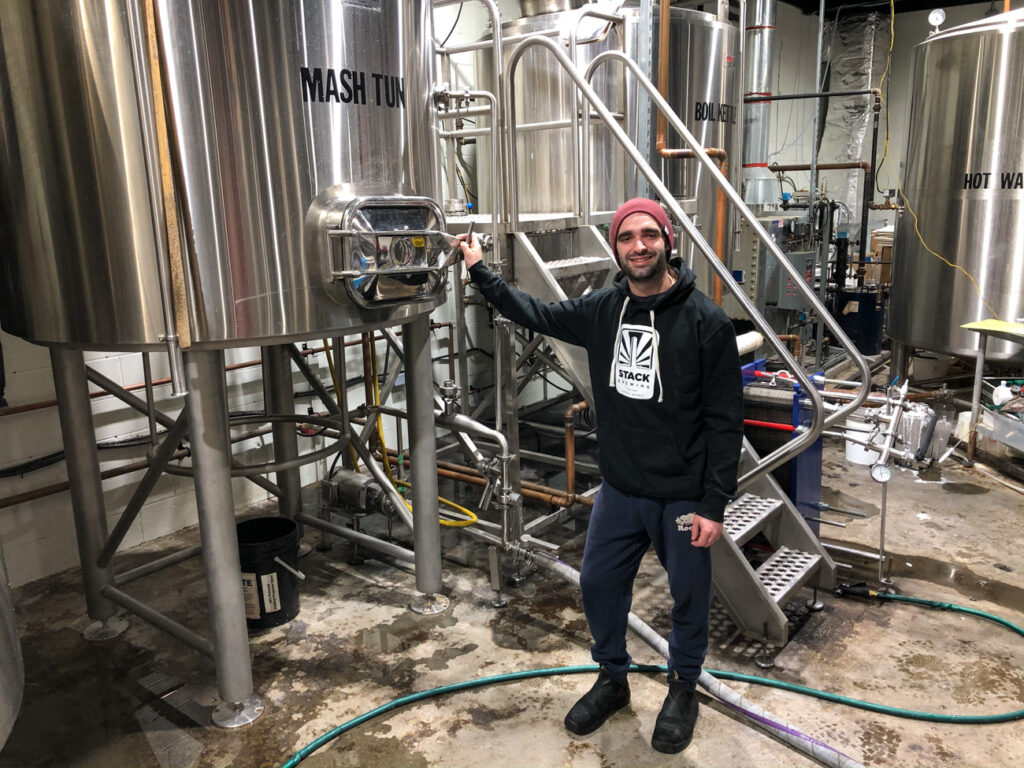 You can bet I made a purchase of a few cans to take home to Toronto on our way out! Food was good, there was no kids menu presented to us and that's not surprising seeing as though it was a brewhouse, but my kids ordered tacos and a burger and were very happily eaten.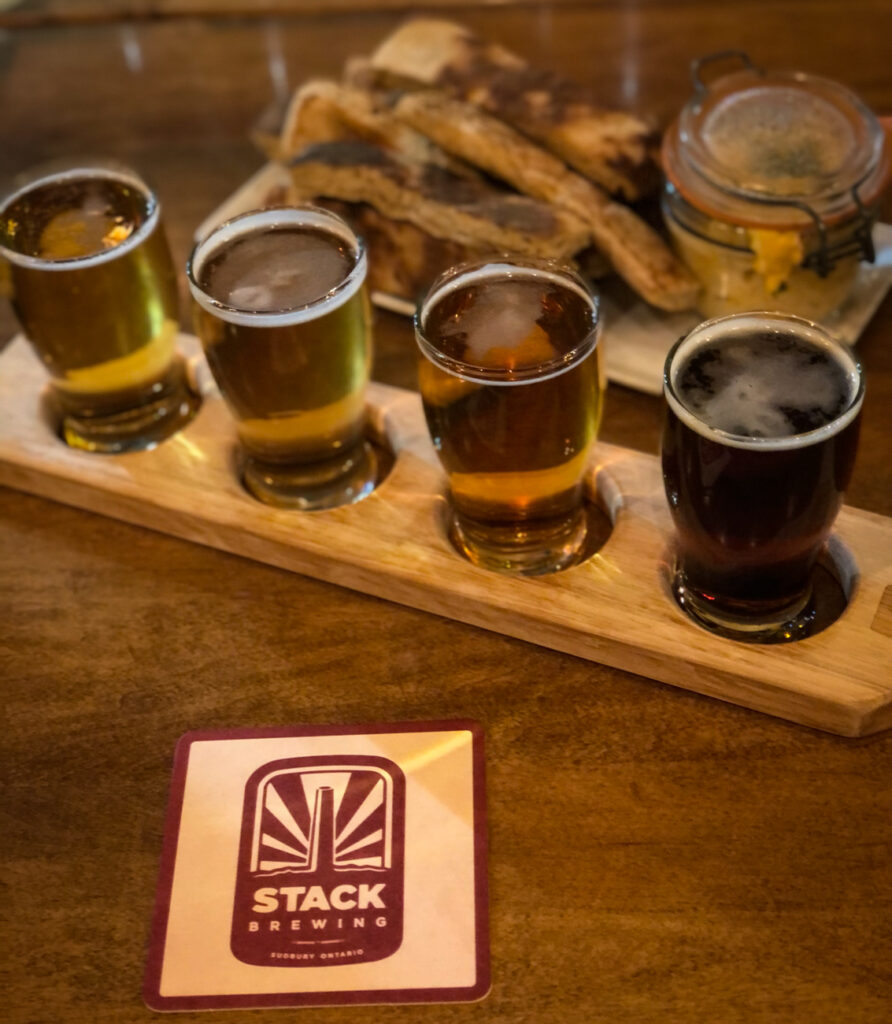 Miss M and Little Man love pizza, they're kind of becoming experts about taste and quality of it around the world. They loved having it for lunch at P&Ms Kouzzina.
I had the turkey, bacon and brie sandwich. Divine! Bonus for us? It's right around the other side of the plaza from Urban Air!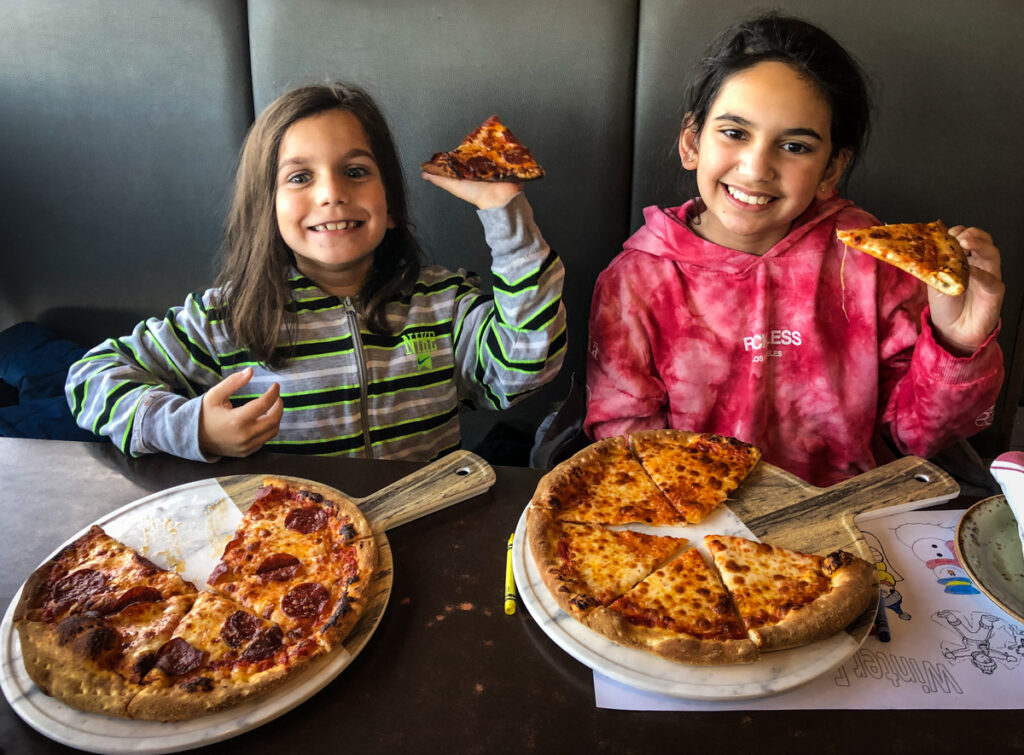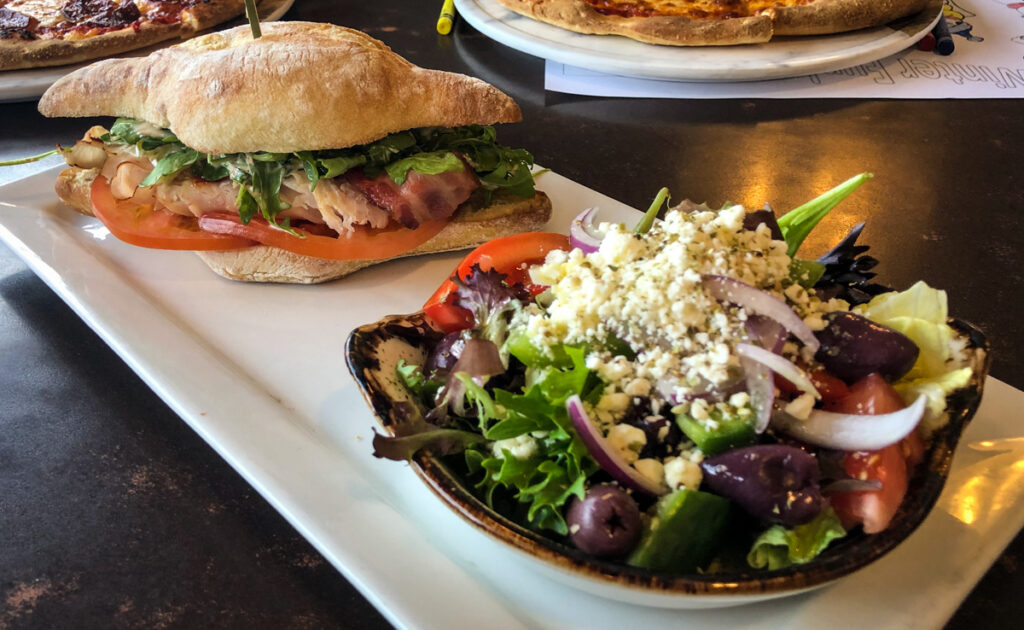 Respect is Burning Kitchen & Bar
Who takes their kids out to an awesome restaurant, downtown Sudbury on a Saturday night? I did! What lovely dates they are. I mean I did open up Tinder while I was there, but I was with my kids, so no sampling of the gentleman inventory.
Little Man ate more pizza, surprise! Miss M indulged me though, we split arancini balls and a steak. Highly recommend a night out here!
I never really thought I would enjoy vegan food very much. I mean, I feel like it's not in my DNA. However, restaurants like Tucos Taco Lounge change my mind. Check out the Bành Mì' Taco at Tucos Taco Lounge, Sudbury. Delicious!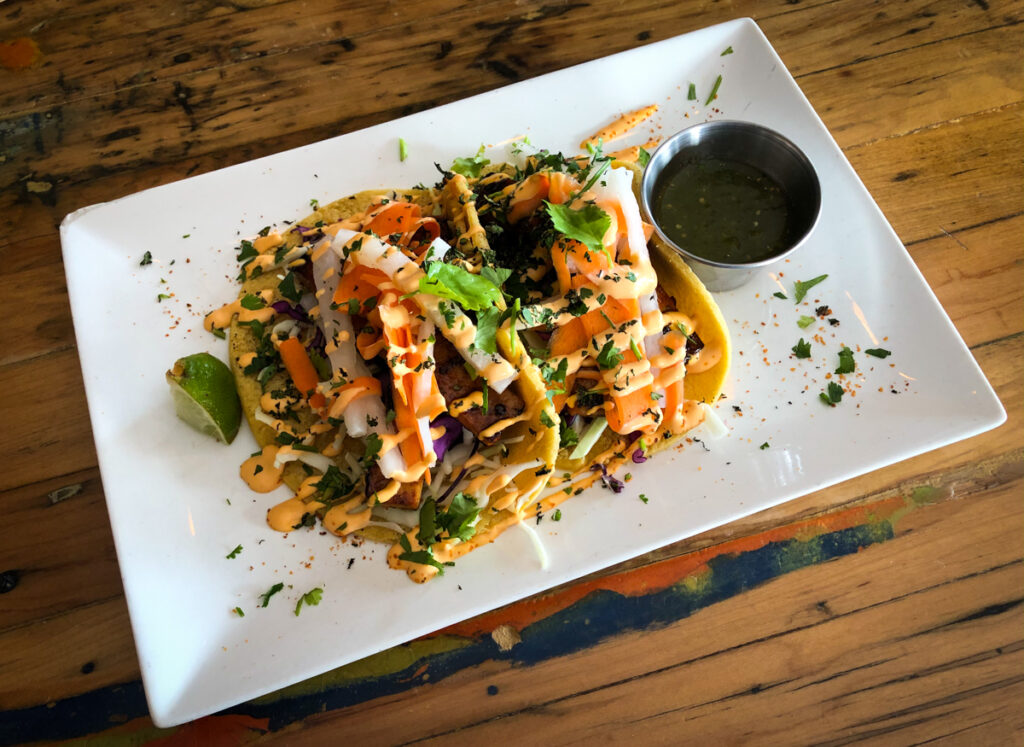 Full disclosure, I did not tell the kids it was a vegan restaurant when we went in, nor when we sat down or before we ordered. I waited until after they ate. Remarkably, they were unbothered by that fact. I guess we will do it more often!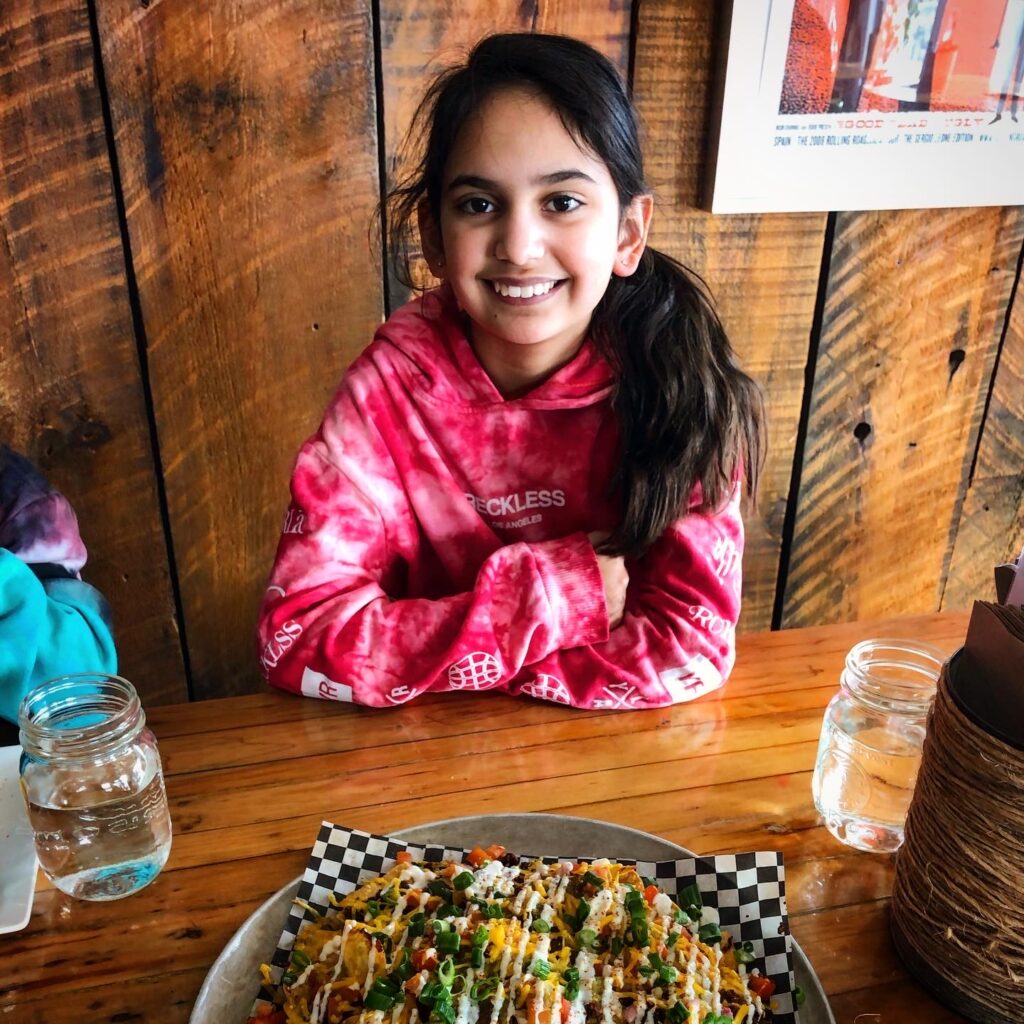 Where to Stay in Sudbury With The Family:
We stayed at the Travelway Inn in Sudbury. This is a locally owned establishment so if you are looking to reinvest in communities with your tourism dollars, try doing it here.
Location-wise, everything is pretty much a ten to fifteen-minute drive away in Sudbury, but this accommodation is literally right across the street from Science North and the Ramsay Lake skate trail. There is also a hospital across the street and plenty of parking for hotel guests.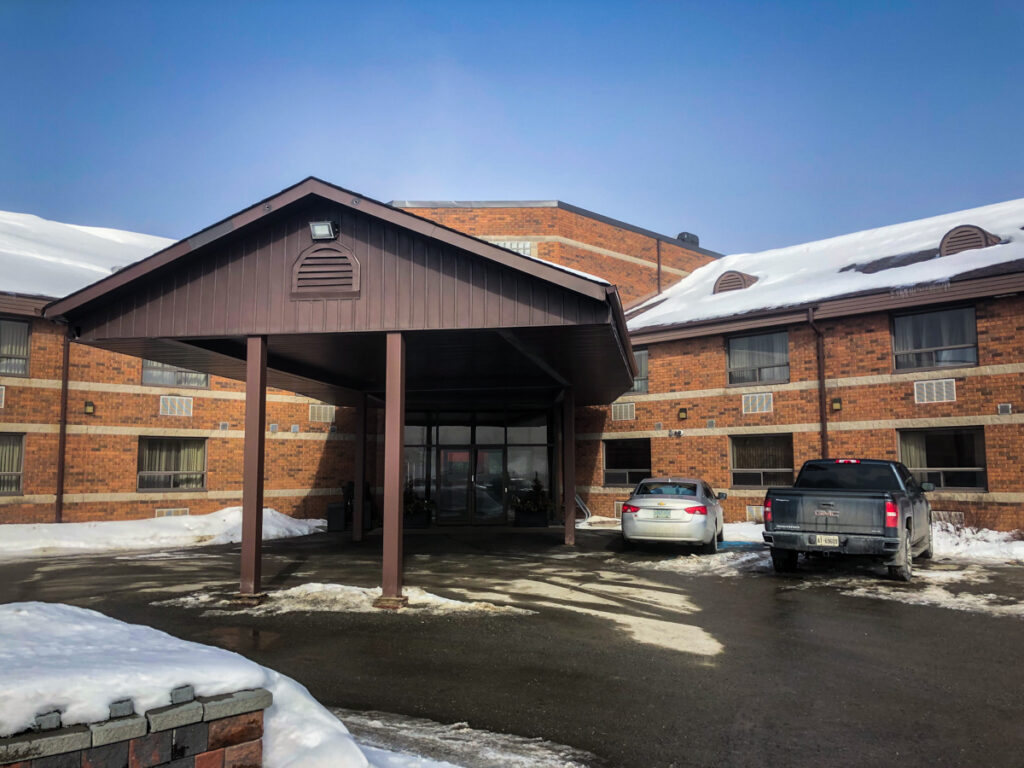 For families, the rooms are a large size, the beds are comfortable, there is a mini-fridge for leftovers, a coffee maker in the room for mornings, free wifi and coin-operated laundry facilities because travelling with kids means always having to wash something. Our room was on the first floor and we could pretty much park in front of our window, so if I wanted to look out at my vehicle early in the morning to ensure it was there, I could.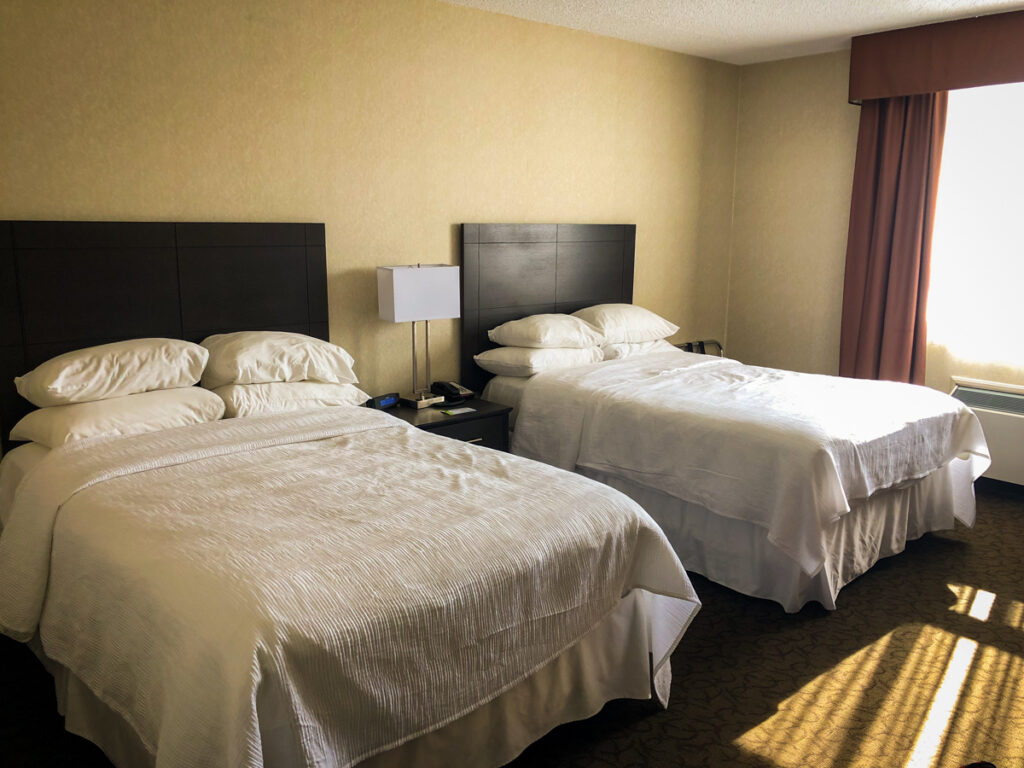 A continental breakfast is always included in the room rate. Plenty of toast, muffin, oatmeal options as well as juice, tea and coffee. We were there for 2 mornings. The first morning options included bacon and mini pancakes as well as hard-boiled eggs. The second morning, the options were sausages and egg patties.
Hot tip for parents – if you rise before your kids and can't wait to eat any longer, head down there and ask the service staff for paper plates to take some food away with. Some days my kids could sleep well beyond the cut off time of breakfast service, so I have to be constantly mindful of that.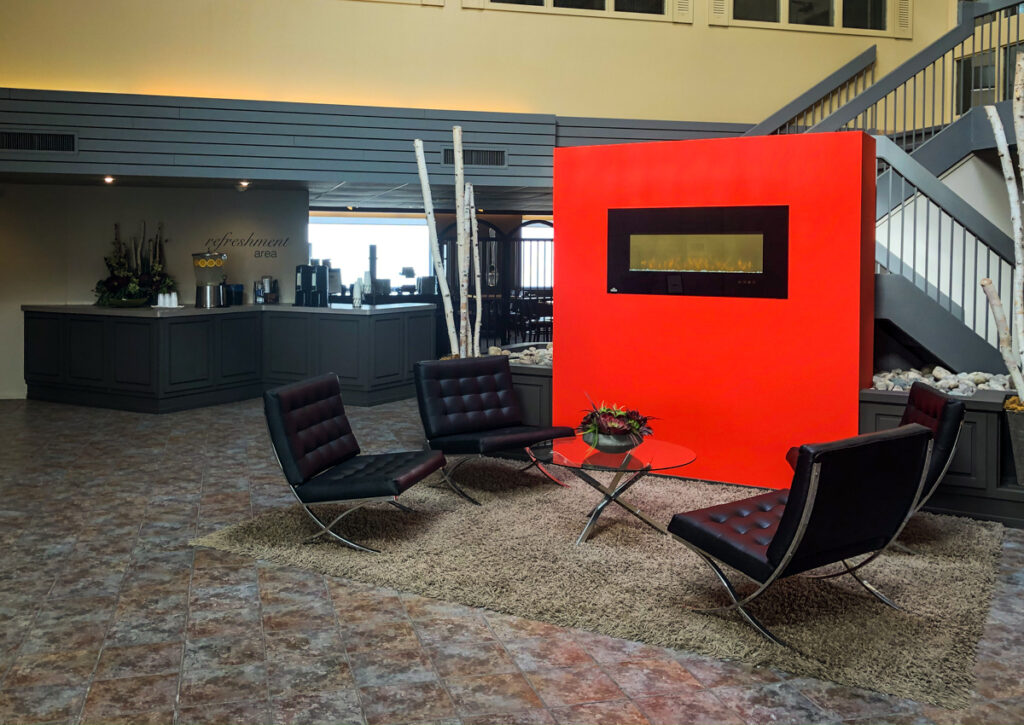 Worth The Drive
Our winter experience in Sudbury was pretty amazing for one weekend! The drive was only four hours to Sudbury and it can easily take that long to leave Toronto and arrive in cottage country. I hope this illustrates how Sudbury rocks for families in winter. As a solo parent, this was an easy escape from Toronto and all the activities with the kids I could easily handle. Knowing full well that we only scratched the surface of the city, I cannot wait to head back in June (without kids this time) and explore during the Travel Media Association of Canada conference.
We've also experienced Sudbury in the fall and really loved our time there. Be sure to check out The Greater Sudbury Area then as well: What To Do And See In Sudbury In Fall
Want to see where else I have explored in Ontario? Take a walk through these past posts and find out.
Interested in heading north to find out why Sudbury rocks for families with your crew? Check out accommodation listings in the area here:


KathrynAnywhere is a participant in the Booking.com affiliate advertising program designed to provide a means for sites to earn advertising fees upon guests booking reservations at the accommodations listed.