As I have grown into my advanced age of (cough, cough) 40, I have found myself attracted more and more to good beer. In case you missed that, I am the big four-oh… Uh oh! Anyway, as my taste has been developing, the craft and microbrewery beer industry in Ontario has been growing. Barely an hour from where I live in Toronto are three breweries in Durham region that you need to know about. I discovered all of them while on a trip with the Toronto Bloggers Collective, of which I am one of the cofounders.
We were delightfully hosted by Durham Tourism in conjunction with York Durham Headwaters on a fantastic couple days that included ice fishing, brewery tours and a spiritual retreat.
What Is The Difference Between Craft Breweries and Microbreweries?
I hear a lot of people interchange the term "craft" and "microbrew". Sometimes people get it right. A lot of times, they do not. What's the difference? Craft breweries tend to use top quality, local ingredients, more traditional malts in their beers to add flavour, texture, and dimension and will often use large quantities of corn, rice, or other sugar syrups to make it less expensive to produce. Craft beers are often made without preservatives and chemicals. They are mostly are unfiltered and unpasteurized. So basically, the craft brew is defined by the process and the people.
While most craft breweries are microbreweries, they aren't always one and the same. A micro-brewery is defined by the quantity of beer it produces a year. Think the phrase micro = small. In the USA, a microbrewery is defined as producing up to 15,000 barrels per year.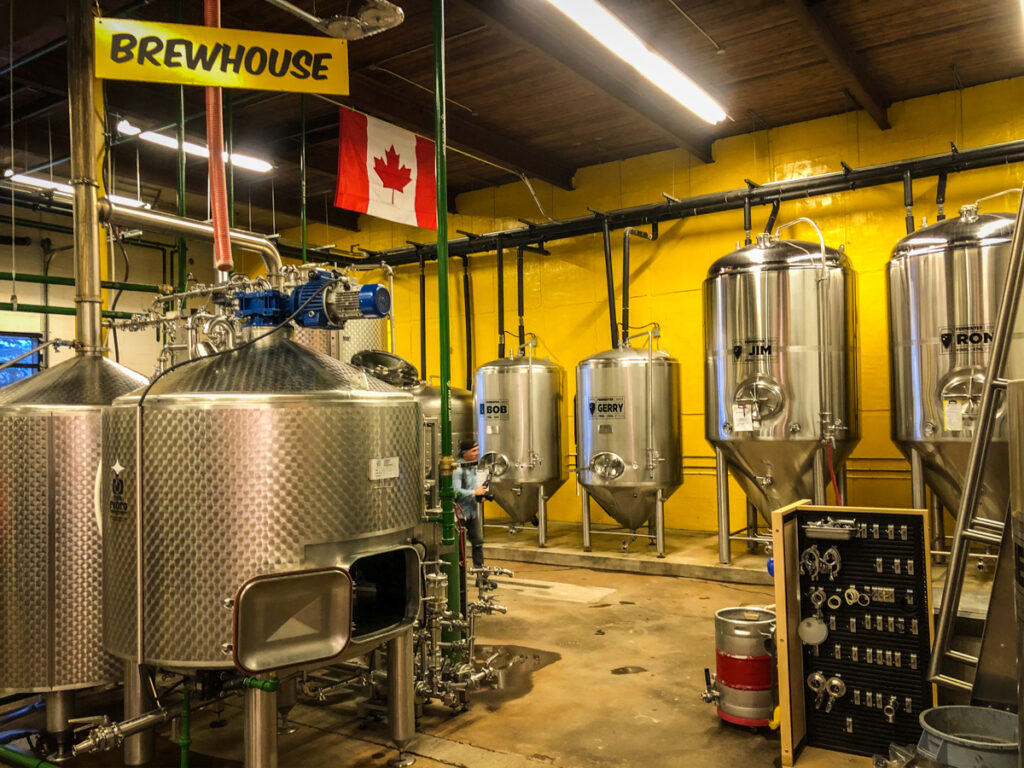 Breweries in Durham Region
As mentioned, I was touring microbreweries in Durham Region, Ontario with other members of the Toronto Bloggers Collective. The craft and microbrewery scene isn't exactly new, but the explosion in popularity is.  Everyone is jumping on the beer bandwagon. For the record, I've been into beer since long before I turned legal age in Ontario in 1998…
Without further ado, here are the three breweries in Durhan Region you need to know. Each one of them has something that makes them special.
All or Nothing Brewhouse
Oshawa, Ontario
Stop number one on our three brewery tour! All Or Nothing Brewhouse is a bright and spacious place with an amazingly large seating area to taste the samples in.
Founded by brothers, this brewery opened the doors to this brewhouse in Oshawa in June 2019 after hanging out in Oakville for a bit.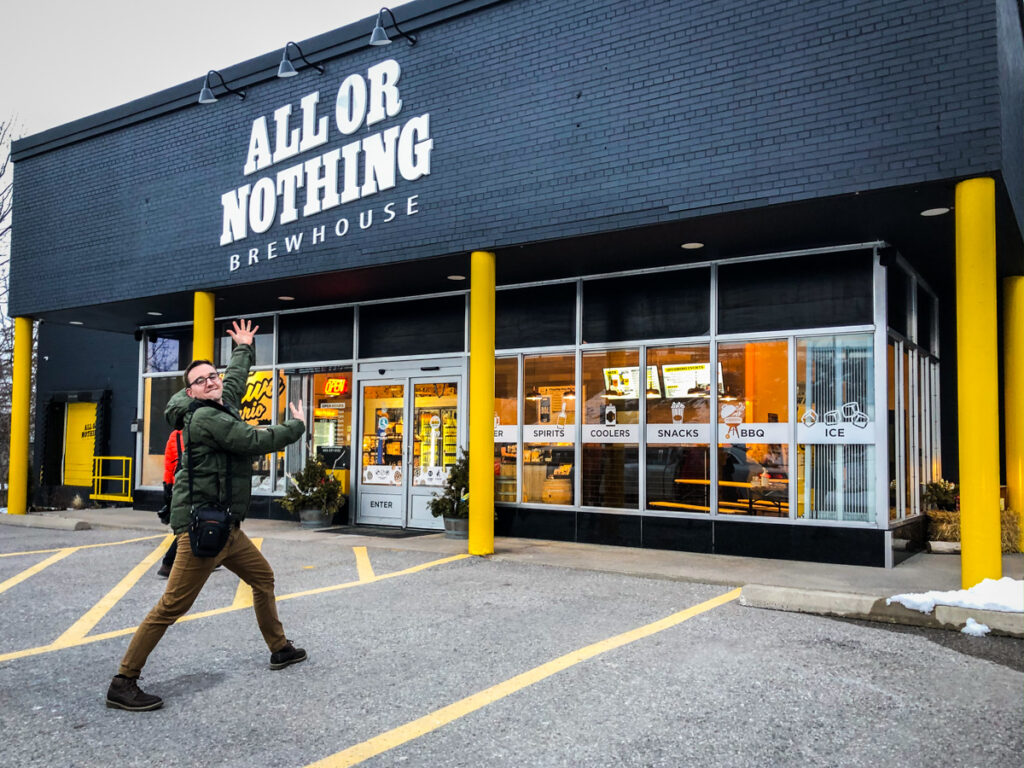 Makers of mead as well, there are a quite a few brews happening here. Some have found their way into the LCBO and Beer Store proving bold and delicious beer always has a place in the retail stores of Ontario.
The ones I tried in my flight are:
Mind Over Matter (Mead/Braggot) – Mind Over Matter is brewed using 2-Row barley and Ontario wildflower Honey to create one rich and refreshing ale.
Into The Dark (Schwarzbier) – Dark in colour, light in taste this dark lager Schwarzbier is a delicious twist on a classic crisp lager.
Hustle Over Hype (Wheat Beer – American Pale Wheat) – A lightly-hopped, highly sessionable wheat beer. Golden in colour, with a sparkling foamy head, a delightful hybrid of Hefeweizen and west-coast Pale Ale flavours.
Blood Sweat & Tears (IPA – American) – An IPA that has the perfect fusion of citrus and pine from the use of Citra, Magnum & Cascade hops. Notes of orange & citrus zest are enjoyed with each sip.
My two picks out of the four are Hustle Over Hype and Blood Sweat & Tears.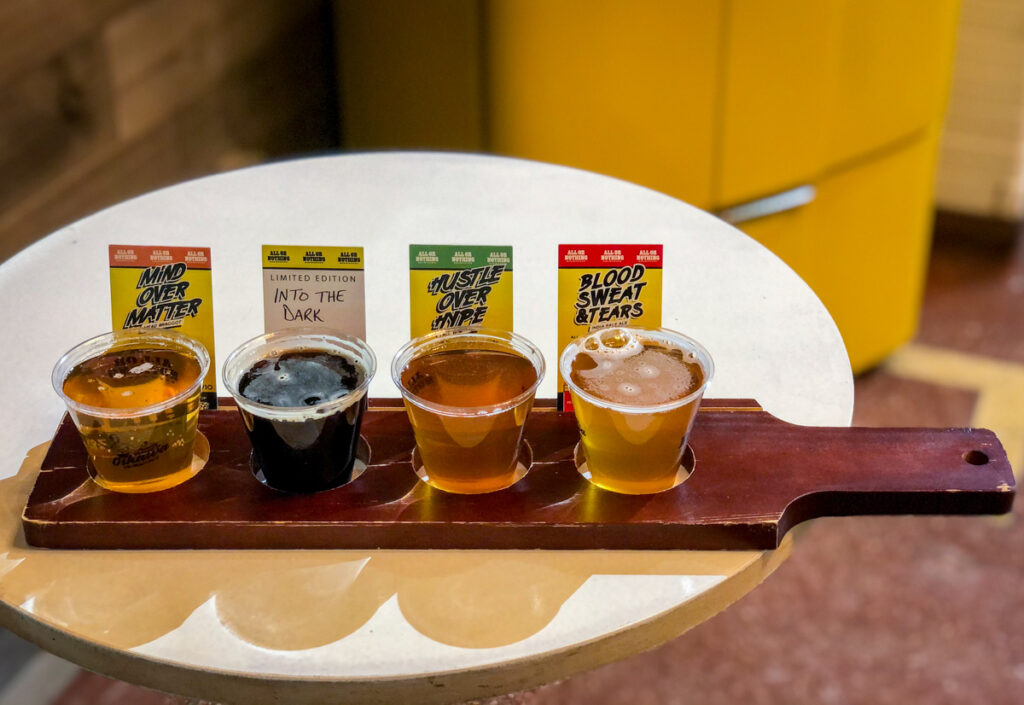 Falcon Brewing
Ajax, Ontario
Stop number two on our tour of breweries in Durham Region is Falcon Brewing in Ajax, Ontario. This brewery opened their doors in this location in April 2017 and normally have 20 different brews on the go at one time.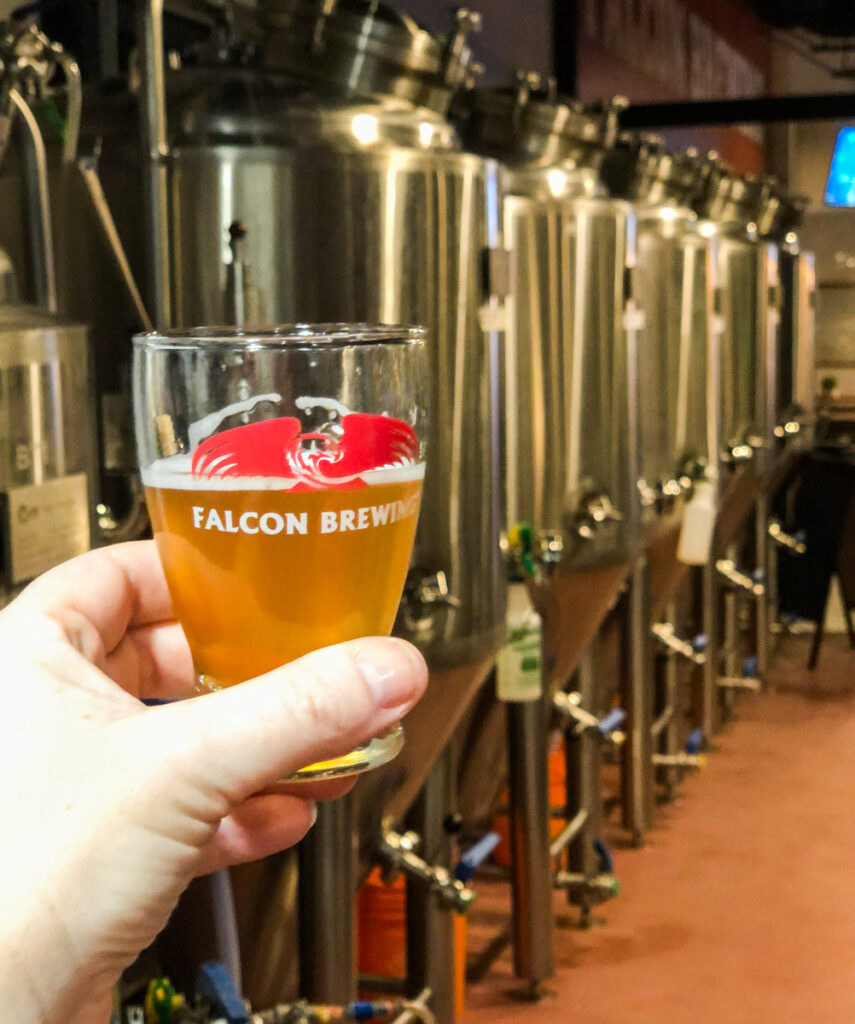 The town of Ajax was home to the largest shell filling plant in the British Commonwealth during World War II. Supplies for the allies came from here and this history provides the backdrop for the inspiration of the names of the beers at Falcon Brewery.
The beers I tried in my flight are:
Bomb Girls (Blonde Ale) – This is a North American style blond ale, light pale gold colour, crisp and spicy taste, and a honey-like aroma.
Munition (IPA) – Munition India Pale Ale has a complex malt nose and taste, very full-bodied, and a citrus hop aroma and flavour that comes from Citra, Columbus and Cascade hops.
Ginger Haze (American Pale Ale) – This ale starts out as a pale ale but has a full 10 kg of fresh ginger added to it. The ginger is not subtle at all. Nope. Be prepared.
Winter Ale (Amber Ale) – Seasonal tap for the winter!
My two picks out of the four are Munition IPA and Bomb Girls Blonde Ale.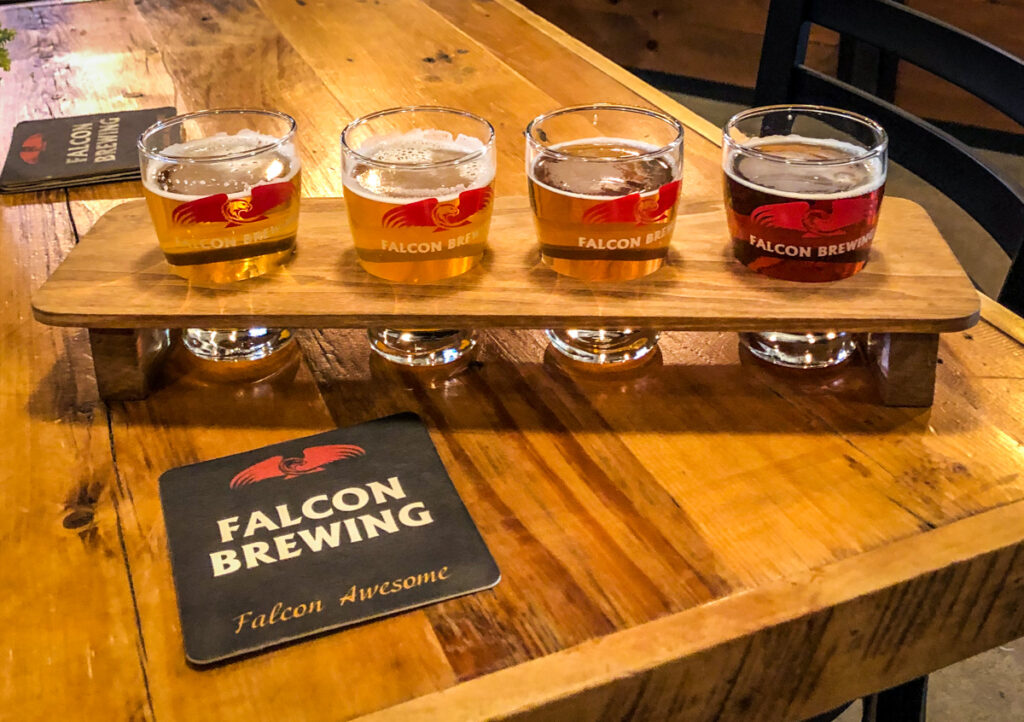 Brock Street Brewing Company
Whitby, Ontario
Full disclosure – our third stop on the Breweries in Durham Region was a party atmosphere. We had already been sampling along the way. I have some pictures and I know there were 3 different kinds of brew on the table, but oh my Lanta, I'm embarrassed to say I didn't take notes and only participated in the beer-drinking.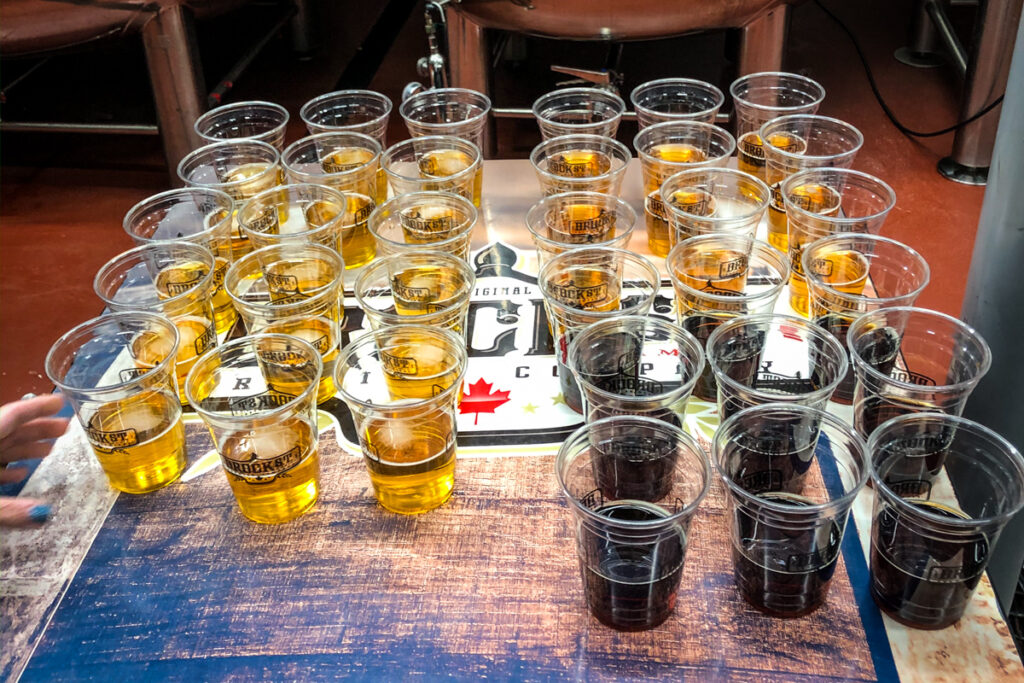 Brock Street Brewing is an award-winning brewery in Whitby that opened in 2015. Here we sampled the following. I had to borrow some information from the website because I neglected to take notes:
Blonde Lagered Ale – Incredible fresh malt aroma with a smooth and clean finish; perfectly balanced with specialty hops for dryness and aroma.
Bohemian Pilsner – A soft breadiness and slight sweetness gives way to a floral and spicy aroma from the Magnum & Sazz hops in a crisp clean finish.
The Traditional Irish Red – Our Irish Red uses a variety of roasted malts to achieve a deep red colour, medium malt body, smooth caramel finish, with a subdued bitterness.
The brewery and the restaurant attached are there are two separate establishments, but they do indeed serve the beer there.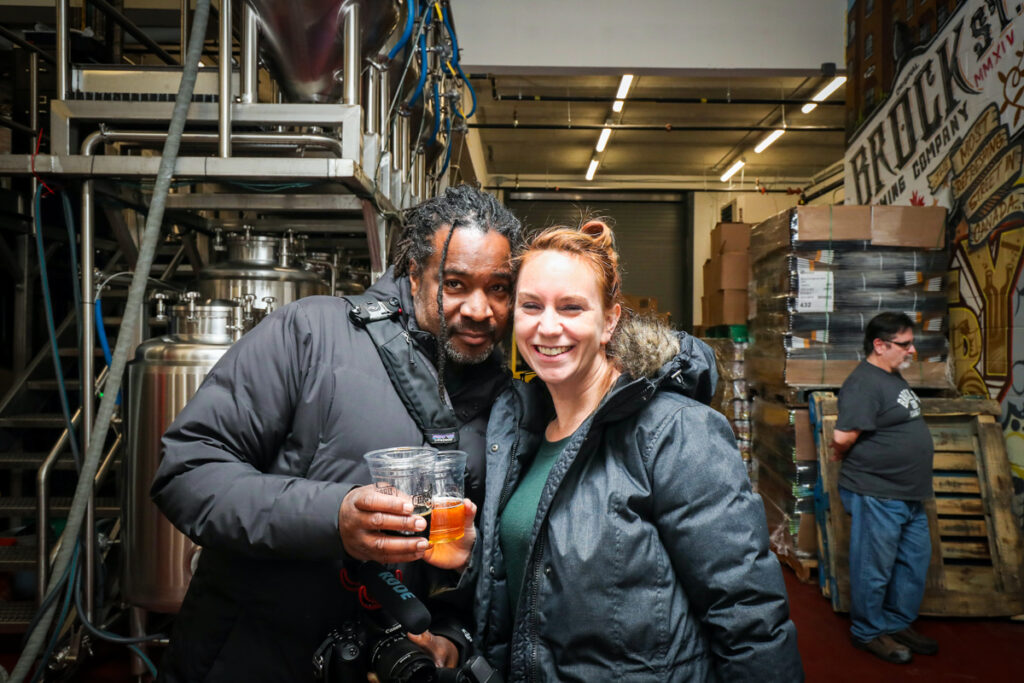 Now and get over to Durham Region and sample their craft beer goodness!
Interested in checking out breweries and want to be responsible and not drive away? Check out accommodation listings in the area here:


KathrynAnywhere is a participant in the Booking.com affiliate advertising program designed to provide a means for sites to earn advertising fees upon guests booking reservations at the accommodations listed.
Want to know where else I've checked out in Ontario? Click here: More Ontario Destinations