What To Do And See In Sudbury In Fall
My kids and I were hosted by Sudbury Tourism to take part in the splendour of what to do in Sudbury in fall. Our opinions of how much we love Northern Ontario's largest city are always our own.
Sudbury has not historically ranked up there in terms of gorgeous autumn places to go in Ontario. However, after years of meticulous care, reseeding and revitalization, The City of Greater Sudbury has become a playground in the outdoors for everyone in all seasons. I have been lucky enough to play in the winter wonderland of Sudbury before. And in the fall, there are so many gorgeous sights and things to see around Sudbury.
What To Do In Sudbury In Fall
Here's a great list of what to do in Sudbury this autumn. From tourist attractions in Sudbury to off-the-beaten-path breweries and distilleries, we tried to discover it all. We even found the largest mural in the city!
And you might want to hurry outside before the leaves all fall off the trees. My kids and I were lucky enough to experience these attractions in Sudbury, Ontario ourselves when the red and orange leaves started popping!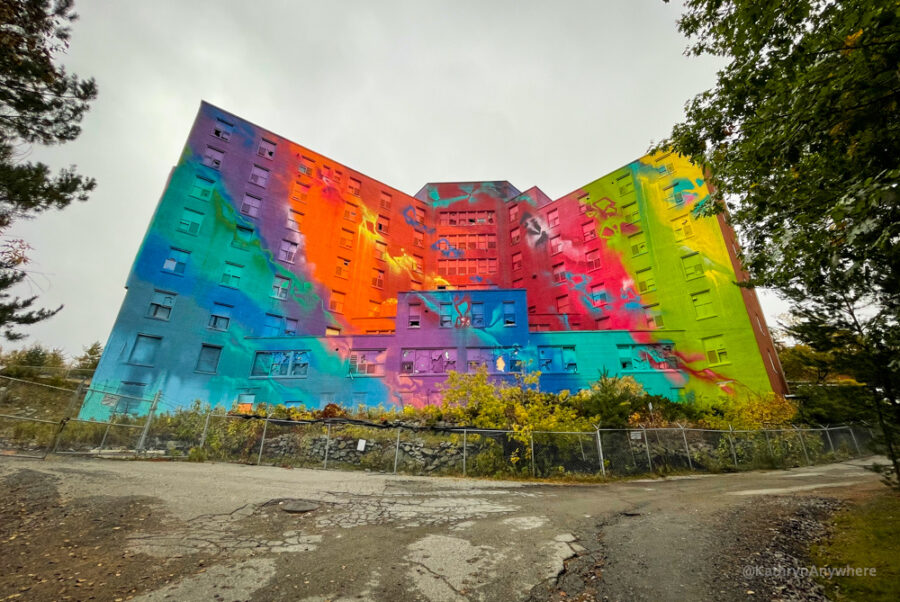 PUMPKINFERNO at Dynamic Earth
Where else can you enjoy an animated Halloween show projected onto the iconic Big Nickel? Nowhere else! Pumpkinferno at Dynamic Earth is one of Sudbury's most exciting Halloween events for families. The Pumpkinferno experience features 19 carved pumpkin vignettes and roughly five thousand glowing jack o'lanterns displayed along a 250m outdoor pathway. For now, the indoor attractions at Dynamic Earth are closed during this event.
It was definitely raining the night we attended Pumpkinferno. We likely missed out on taking in the outdoor science show or telling spooky stories around a campfire, but that didn't stop the rest of the outdoor fun for us. The kids participated in a scavenger hunt, made seed bombs and most importantly made fun of my pumpkin carving skills. I really have to level up my game now after being inspired here. You have to see some of that artistry!
The Pumpkinferno experience is every Friday to Sunday in October evening. Please note that there is limited capacity for this event and other specific details are on the website pertaining to safety measures to keep your family safe. Admission tickets for timed entrances to allow for social distancing must be purchased online.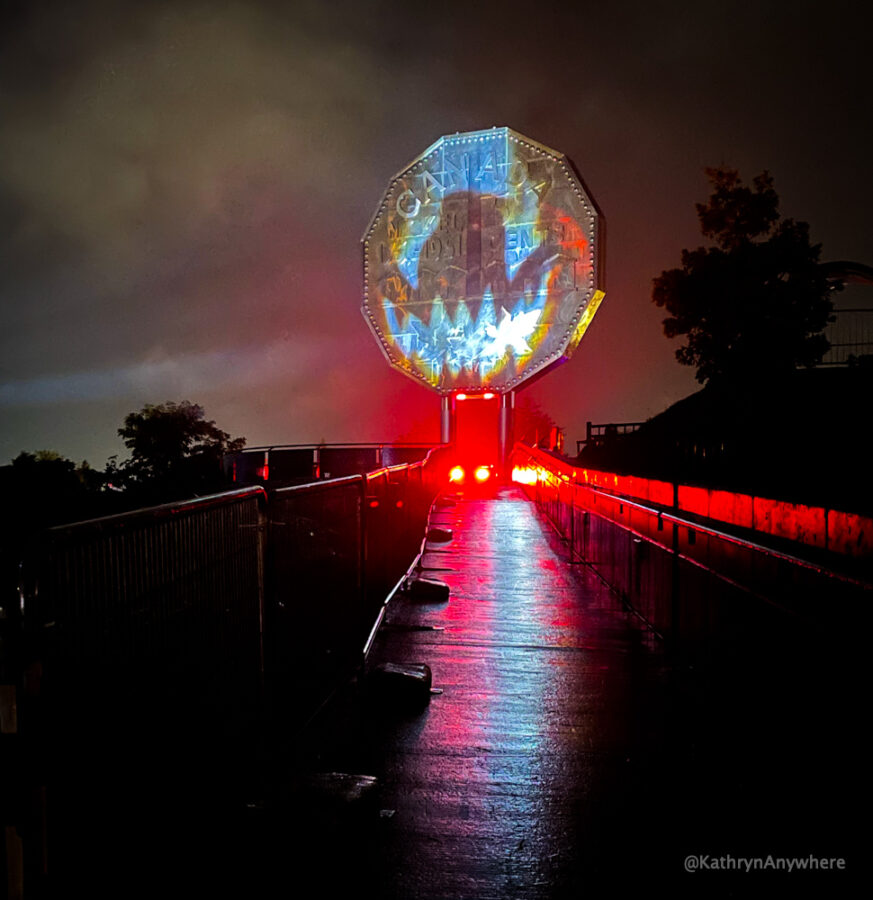 Science North
For those familiar with southern Ontario family tourist attractions, the Science Centre in Toronto is our gold standard. Science North is Northern Ontario's gold standard and dare I argue, a family favourite for us.
Of all the amazing exhibits at Science North, you must discover the new Indigenous Ingenuitiy exhibit . It's new since our last visit to Sudbury in February of 2020 and you can definitely check out our winter travels here Sudbury Rocks For Families In Winter.  Indigenous Ingenuity is designed around an interactive quest. You access the audio explanations via a bracelet you obtain when you enter the exhibit and take with you from station to station as your guide. The exhibition allows you to experience the innovative Indigenous knowledge and processes by listening to the elders with their knowledge and experimenting with basic scientific principles. This means for the kids, it's actual hands-on experimentations. From leaving "how to hunt" humanely, to building structures like teepees and seeing things the origins of things that we use in our everyday life.
Get Outside – Hiking trails in Sudbury
One of the bests things to do in the autumn is to go hiking. How else will you see the amazing autumn hues that Mother Nature has painted for you? Seriously, my favourite colour is October 🍃🍂🍁♥️
Here are a couple of trails that I highly recommend around Sudbury:
Onaping Falls Trail
Have you seen Onaping Falls yet? Onaping Falls is only a half-hour northwest of Sudbury and it will take your breath away! When you park your vehicle in the parking lot, you're not too far from the A. Y. Jackson Lookout. The A.Y. Jackson Lookout is famous for the Group of Seven artist, A.Y. Jackson, who memorialized this view on his canvas entitled Spring On The Onaping River.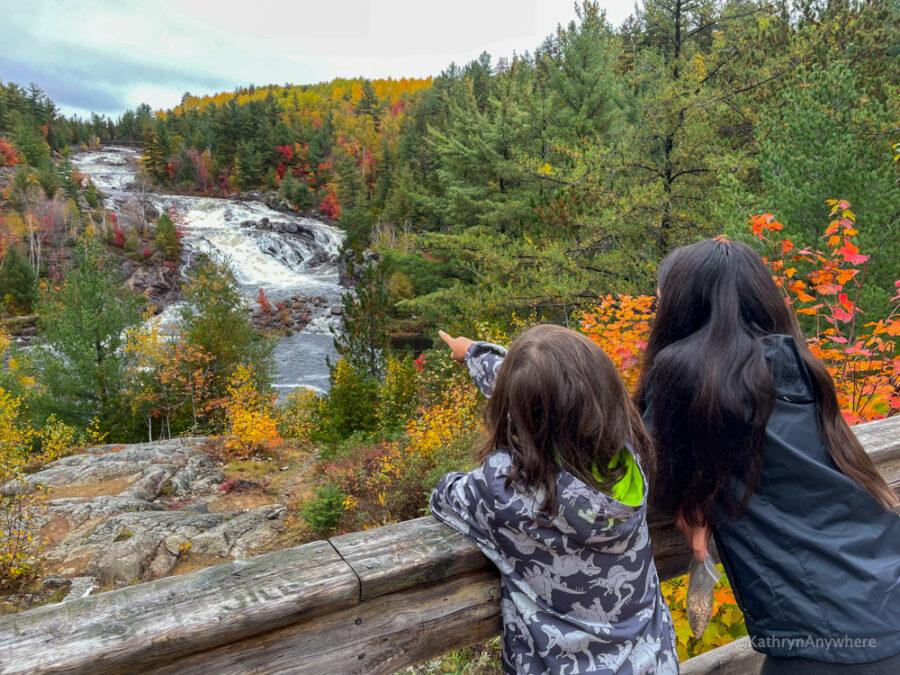 The hiking trail from the A.Y. Jackson lookout point to the bridge over High Falls is approximately 1 kilometre. It's a bit rocky and requires some steady feet and appropriate footwear. You do need to go down the rock scramble and then through the woods with lots of protruding rocks and roots. There are multiple viewpoints along the way as you get closer to the falls and bridge. Definitely a great adventure with the kids! Then we hiked to the bridge for some seriously stellar views.
Kivi Park Trails
In the south end of Sudbury is Kivi Park. If you're in that area, you should check out the hiking trails at Kivi Park. Their hiking trails are available year-round, are well maintained, the trail system is marked and they offer a range of loops and trails for hikers of all levels. The Kivi Park trails will take you through forests, meadows and past beautiful lookouts over the lake. The length of the hikes ranges from 1 kilometre to 7 kilometres. They're good for kids and for adventurous souls as well. You can also bring your bikes here and if you are not afraid of cold water, paddle boarding and kayaking is also an option.
Speaking of kids, the playground just off the parking lot here is excellent!
During the winter months, be sure to check out the cross country ski & snowshoe trails as the kids and I have before in this very same spot.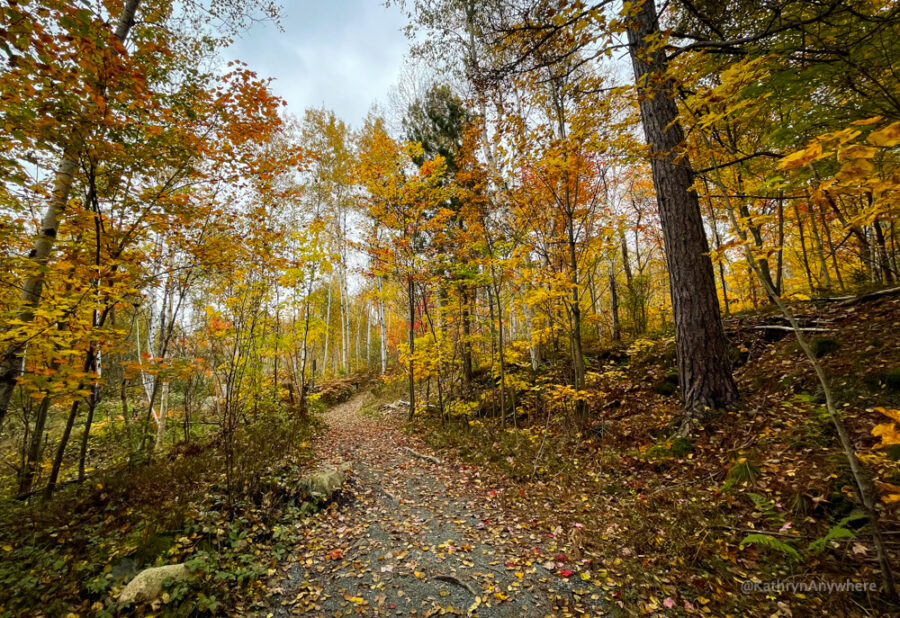 Great Lakes Waterfront Trail
When you think of the Great Lakes Waterfront Trail, you may, as I did, think naively only about southern Ontario. Imagine my surprise to be walking along Ramsay Lake on the Bell Park side with my kids and then we found ourselves on the Great Lakes Waterfront Trail. It turns out, Sudbury is the east anchor of the Great Lakes Waterfront Trail. And there are over 60 kilometres of this cycling trail around Sudbury interconnected together. Now you know!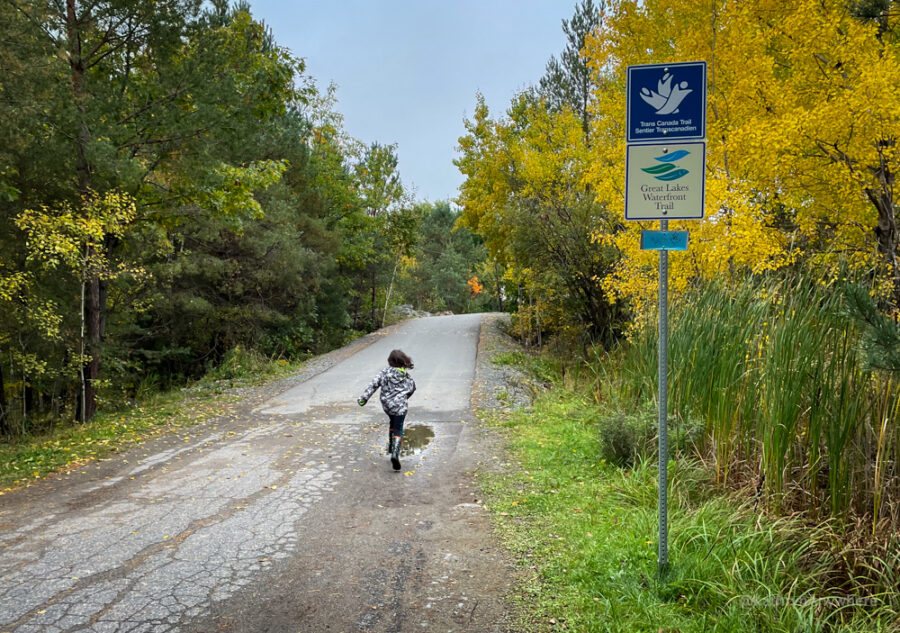 Fun Places To Visit in Sudbury
While travelling with my kids we do hit a lot of family-friendly type destinations and activities. However, there's going to be a stop or two along the way that's for my enjoyment and not necessarily for the kids. Here are some of the fun things to do in Sudbury that involve maple syrup and distilleries:
Maple Hill Farm
Have you ever had bourbon-aged maple syrup? I had not before I picked some up from Maple Hill Farm. Now, we all know I'm a whisky lover, but an oak barrel whisky flavouring on my pancakes for breakfast is a game-changer!
Celine and her husband are the new owners of Maple Hill Farm, a maple syrup farm on 35 acres of beautiful forest. This location has been in the maple syrup business for many decades, closed for a while and is now reborn. The farm's historical values and traditions have been maintained and if you're in the Sudbury area and need to get your hands on some excellent maple syrup, this is the place to go. The syrup is made on-site and while they've upgraded to a mechanical process, there's still a lot of manual labour and love that goes into running such a wonderful place.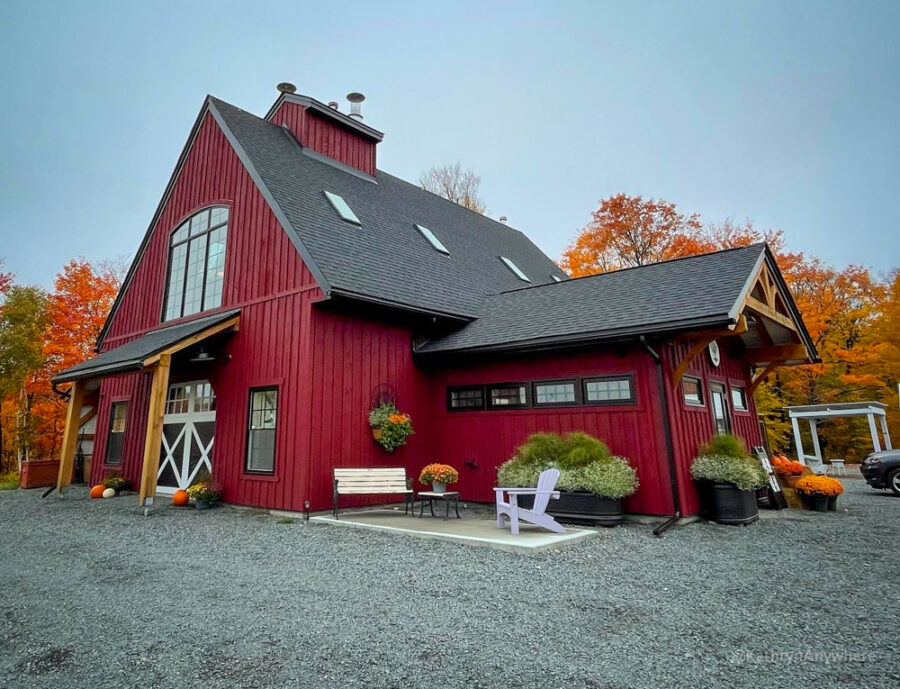 Production happens in the spring, so don't expect to see the sap flowing from the trees in autumn. However, you're still welcome to visit and book the outdoor space for events if you wish. While this was an educational experience for me, the kids were amazed by seeing the sap lines from the trees and how they run downhill to the newly built sugar shack. Really put the idea of how we use nature
This location is so gorgeous, particularly in the fall, it's worth the drive outside of the city.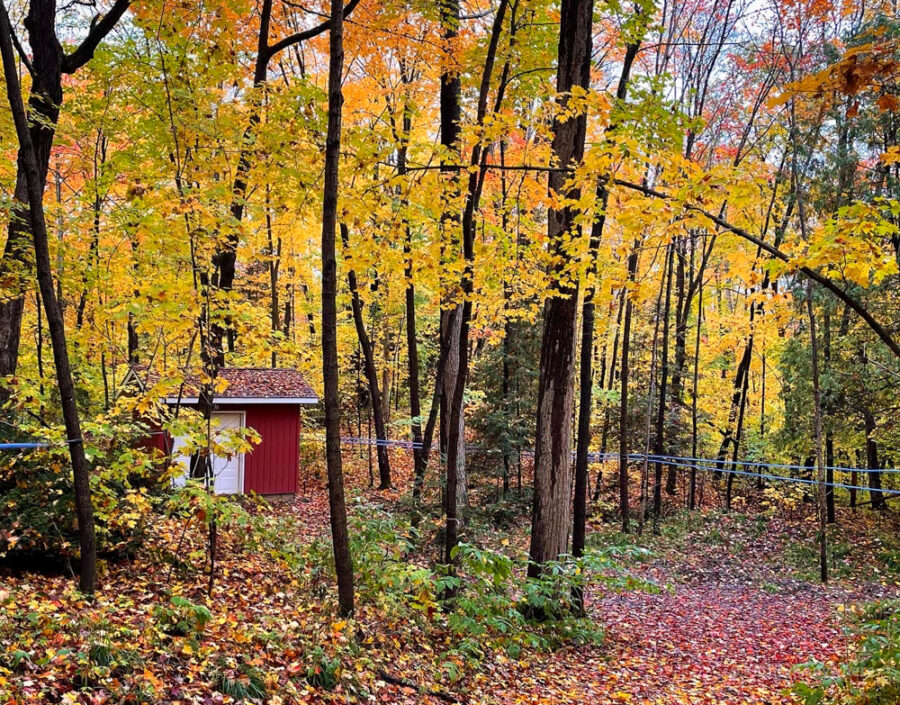 Crosscut Distillery Sudbury
How do you feel about drinking the best Ceasar you will ever have in your life? Truth be told, I have never really been a Ceasar fan. I've had them at brunches before and they were always okay, but not high up on my enjoyment scale.
Then I had a Ceasar made from Bacon Vodka. Yes, Bacon Vodka. It's a Triple Grain Vodka, distilled with caraway, black pepper and bacon to create a balanced flavour.  This Ceasar has a nose of caraway, pepper, salty brine, sweet smoke and cardamom. I bought each and every one of the ingredients to take home to make it myself.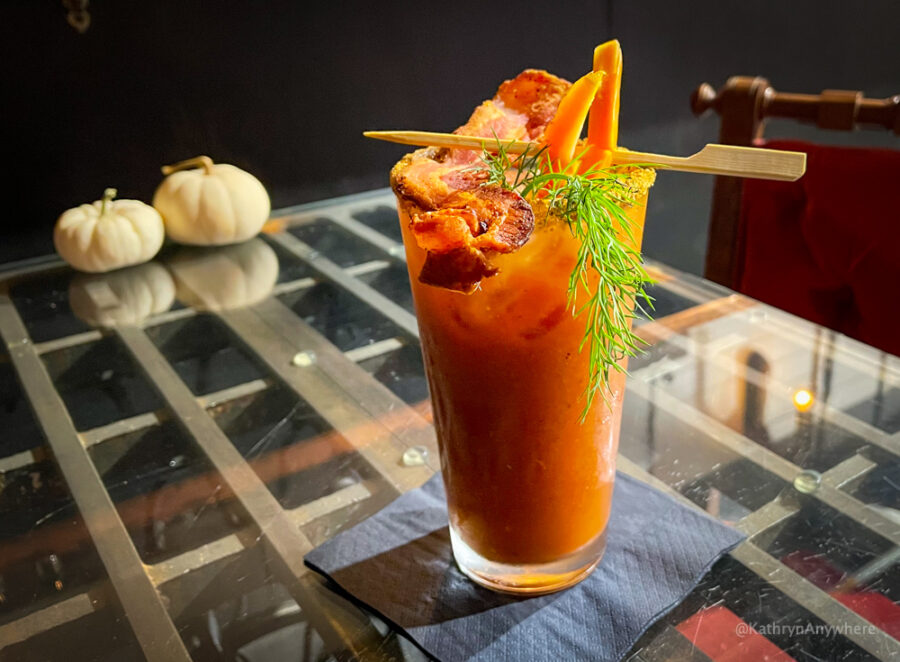 This is Sudbury's one and only distillery. Crosscut Distillery opened in April 2018 and produces vodka, gin, whisky, liqueurs & more. Crosscut Distillery is a craft distillery making small batches utilizing local ingredients and quality grains. You can taste the edge of Northern Ontario with every sip. Especially with their gin.
I do want to give a nod to the creativity here as well – I had a pumpkin spice cocktail here that was like a really great boozy desert.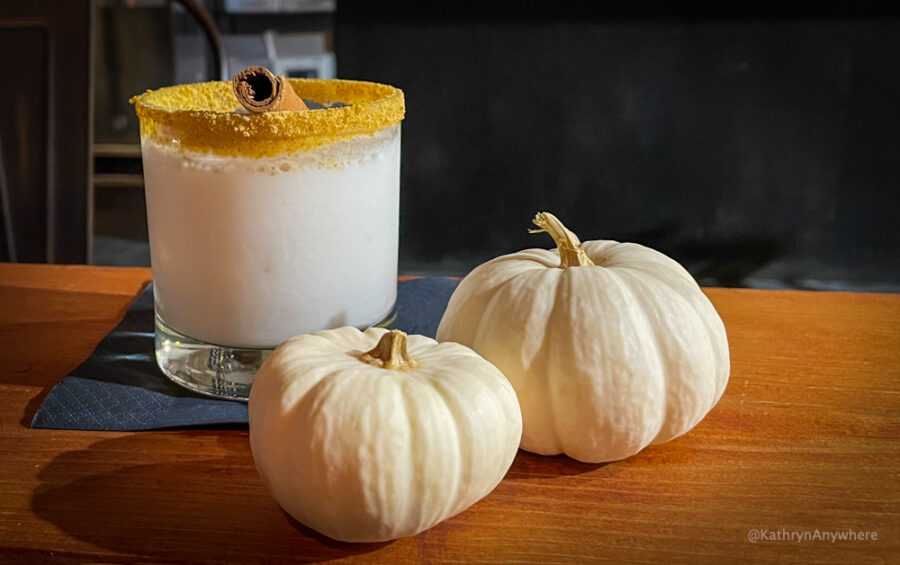 There are breweries in Sudbury. Sudbury has a bit of an emerging craft beer scene. I tried Stackt Brewing when I was there last and when I look back on my beer tasting and rating app that I use Impact, an altbier is actually rated as one of my highest and best.
Where To Eat in Sudbury
I'm a huge fan of locally grown and harvested ingredients and farm-to-table meals. While Sudbury does have its share of chain restaurants, there most certainly are a few local gems worth mentioning.
Nickel City Cheese + NCC Poutinerie
This isn't really a restaurant. This is a cheese factory with a chip truck outside in the parking lot and that's charming. Nickel City Cheese makes fresh cheese and curd and has quickly become a local favourite!
Laughing Buddha
Laughing Buddha is a lovely restaurant in downtown Sudbury. The food served up is vegan and vegetarian dishes, but have no fear meat lovers, there are options for you too!  My kids got pizzas and I got the Buddha Bowl and it was really good. I don't eat vegetarian only for the most part as I am a meat lover, but I would call the meal very enjoyable.
They serve draft beer with local options on their taps, so always a bonus in my eyes.
Hotels In Sudbury Ontario
Where do you stay in Sudbury? This time, my kids and I stayed at the Holiday Inn Sudbury Ontario. This is a big, spacious hotel that has a great pool for relaxation. The beds are very comfortable. The rooms are a great size for families. There is a restaurant and bar on-site, ample parking and the rates per night are fairly decent.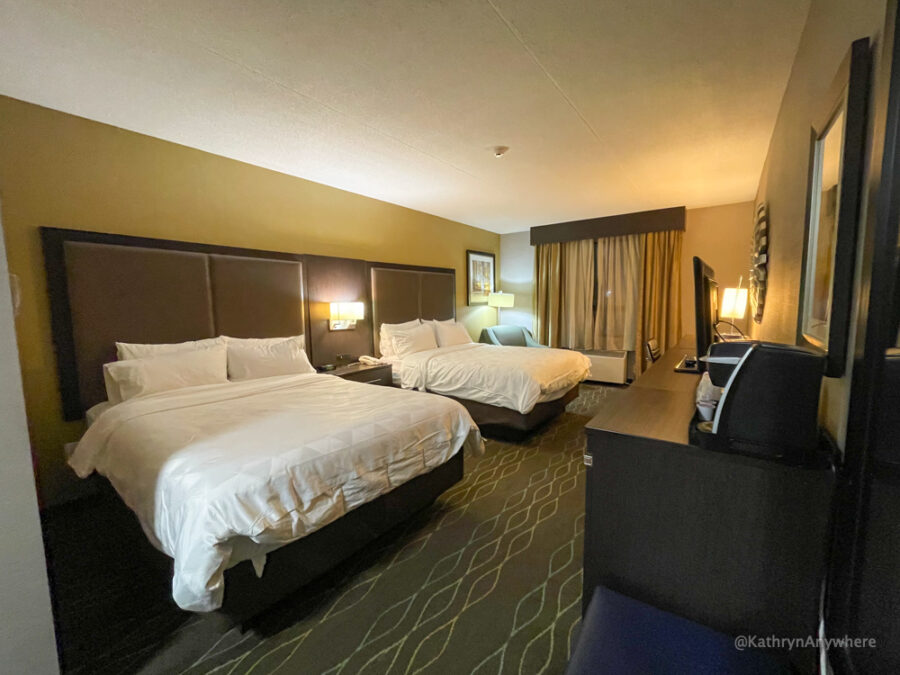 The one beef I have and I have this with pretty much every hotel – there's never enough coffee provided. And why is there always the same amount of decaf coffee as regular coffee? This is a mystery to me.
If you're travelling to Sudbury, be sure to check out the Holiday Inn or Travelway Inn in Sudbury where we stayed last time here:
(This is an affiliate link and I make a small commission if you make a booking. This is at no extra cost to you.)
Hope this provides you all the inspiration to get out and enjoy what Sudbury offers in the autumn! And if you are looking for winter activities, because that season is right around the corner, but sure to check out Sudbury Rocks For Families In Winter.  There are more restaurant recommendations and activities to check out with friends, as a couple or with the family.