I was hosted as media to attend the Exclusive Media Preview of Currents: Niagara's Power Transformed in Niagara Falls. Things to do in Niagara Falls revolve around visiting the Niagara Parks Power Station twice. This is not because they treated me well. I will always tell my readers as it is and you will see that in my below summation.
Niagara Falls, Ontario is truly one of these places that has something for everyone.
Fine dining? Yes.
Great locally made wine and beer? You bet!
Stunning scenery? You got it and you won't see this anywhere else.
Kitchy and ridiculous shops and haunted houses? Find them on Clifton Hill.
Attractions that make you scream as you sail through the air? Holy hell yes!
I've been going to Niagara Falls since I was a child. In fact, my family and I even lived in the area for a couple of years when I was growing up. Every year it evolves a little bit more and continues to entice all of us from near and far to keep returning. Returning not just to gaze and marvel at the spectacular Horsehoe Falls, but to the city and its personality that we love and adore.
Things To Do In Niagara Falls In A Day
I am one of those Toronto people who without fail, return to Niagara Falls year after year for a myriad of reasons. Sometimes it's to hear and observe the roar of the falls. Often, I can be found taking my kids to a waterpark that is connected to a couple of different hotels. On that same trip, you can find me also at the speedway, in the arcades and in one of the wax museums telling my kids who that famous movie star is in wax from before their time. If I have a free afternoon, I might make a special trip to pick up wine from Niagara On The Lake and then take a drive on the parkway. I feel like I know this area fairly well and I have planned a day trip itinerary here that gives you the view and feel of the power of Niagara Falls, Ontario and sprinkles in some recreation and enjoyment of food and drink.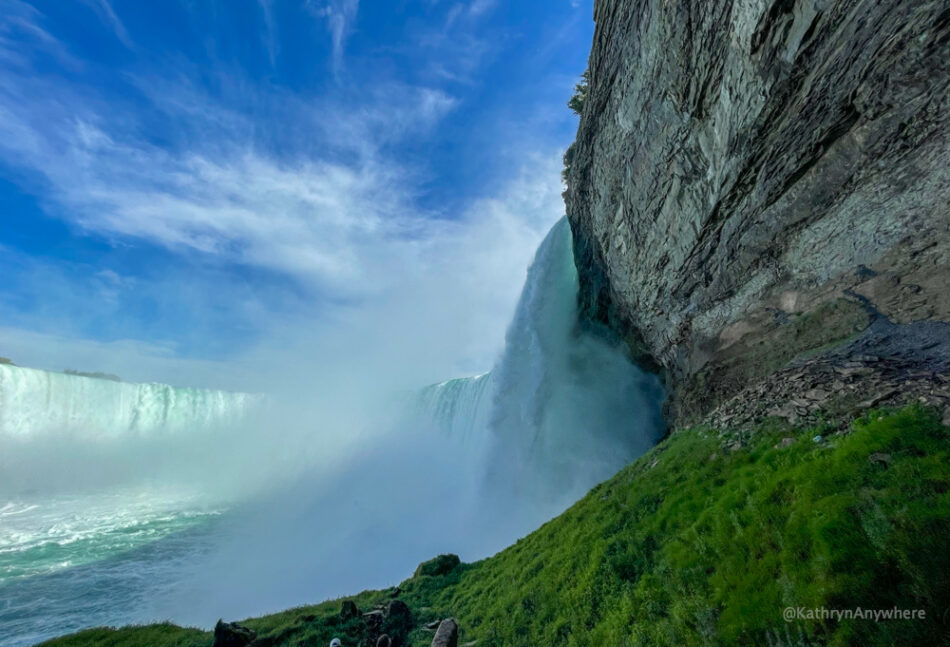 How Do I Get To Niagara Falls
Whether you are driving from Toronto or London or Windsor, Ontario, once you get to the QEW, take Queen Elizabeth Way all the way south, past St. Catharines and then take the ON-420 exit toward The Falls/Niagara Falls/U.S.A. This will take you to Stanley Ave/Regional Rd 102. Take Niagara Pkwy to the parking lot by the Table Rock Welcome Centre. 
Here's a valuable piece of advice for when you drive into the city – Do not cross the Rainbow Bridge! The Rainbow Bridge is the bridge to the USA.
For this one day itinerary in Niagara Falls, I am making a bit of a different recommendation. I am recommending that you drive to Niagara On The Lake first to see some of the wineries and the parkway. But honestly, my first recommendation would be to park your vehicle and bike to some of the wineries in the area. In the map below, start at the northern markers in Niagara On The Lake.
If you do not have access to a vehicle, you can take a Go Train from Toronto to Niagara Falls. Check out Go Transit's website for more information.
Bike The Niagara Parkway To Two Sisters Vineyards
The first stop on our one-day itinerary in Niagara Falls, Ontario is a cycling stop. If you have a bike rack for your vehicle and can bring your bicycles, do it! Park at the McFarland House Parking Lot, it's a spacious lot with a park and lots of green space. In the summer, there is a fruit stand with excellent local options – be warned they accept cash only for payments there.
The ride to Two Sisters Vineyards from the McFarland House parking lot is just over two kilometres each way if you go straight there and back on the bike path. However, if you have the time, it's definitely worth exploring more by bike. There are a couple of other wineries on the way or from that same parking lot starting point, you could also ride south and in two kilometres, you'll find a couple more amazing wineries.
My advice? Park at MacFarland House, ride to Two Sisters Vineyards with your backpack. Buy a couple of bottles of wine (Eleventh Post is one of my favourites!), cycle back to your vehicle. Drop off wine. Get back on the bike, head south on the bike trail to Reif Estate Winery. Buy wine. Return to vehicle.
You're welcome for the workout you put in to deserve that wine!
(It's worth noting that Kitchen 76 at Two Sisters Vineyards is one of the best restaurants in the area as well)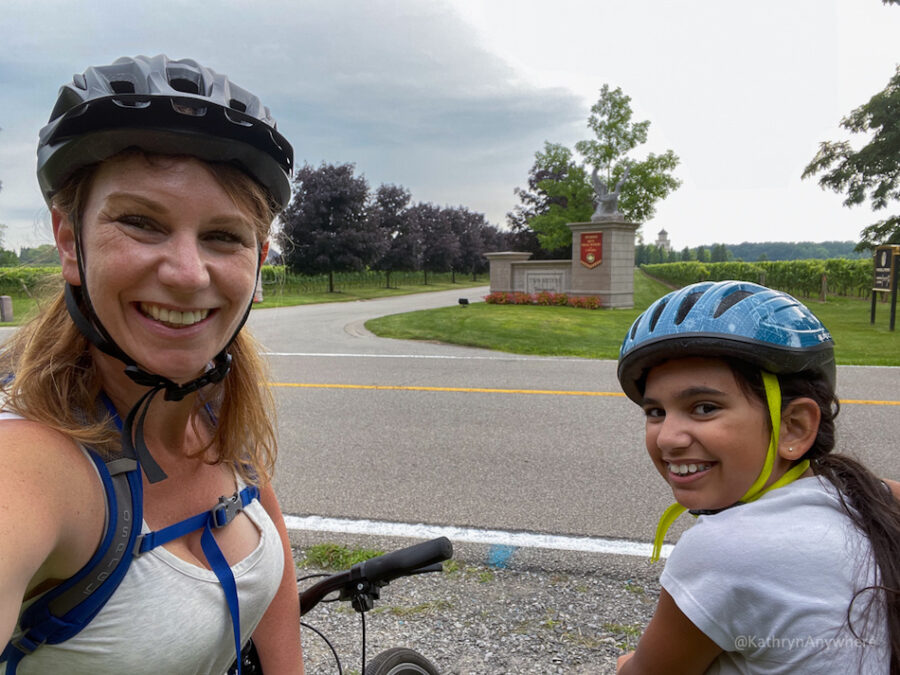 WILD PLAY NIAGARA – ZIPLINE OVER NIAGARA FALLS
Once you have driven into the city of Niagra Falls and parked by the Table Rock Welcome Centre. Walk north on the sidewalk along the Niagara Parkway, past the exceptional view of Horseshoe Falls (pause and take it in, but you're going to want to stop and take some pictures!), past the Nicola Tesla statue to the Wildplay Zipline check-in centre. It is highly recommended that you book this in advance through the Wildplay website. They do assign time slots and it's like a reservation, and it's popular but organized and not overwhelming in terms of the number of people you will find here.
This is an exceptional attraction that I have actually been able to do twice now!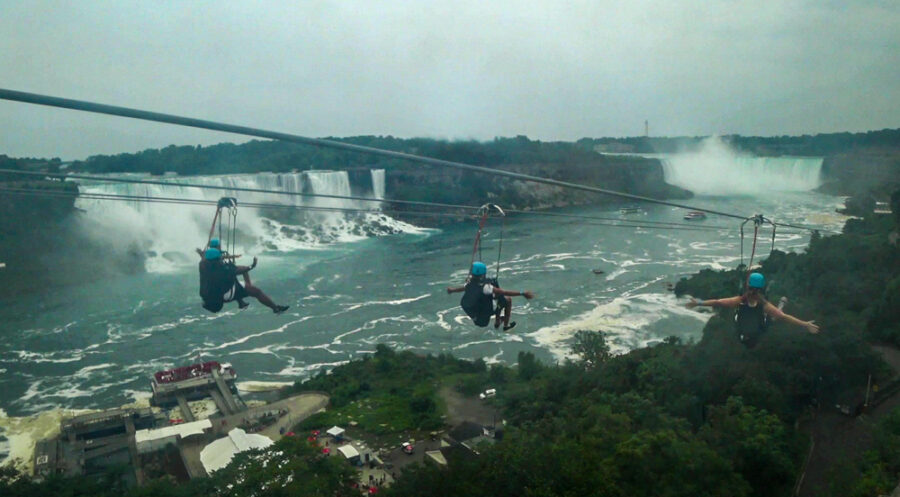 Check out Fun Things To Do In Toronto With Friends to see the video from the first time I did this!
Taste A Beer Flight at Queen Victoria Place Restaurant
Chances are good, you would have already walked past The Queen Victoria Place Restaurant when you packed at Table Rock Welcome Centre. This is the place to get a $10 beer flight and have a great view while you enjoy it! The beer flight offered is a Niagara Craft Beer Flight that featured Table Rock 1885 Ale, Blackburn Brew House Old Scow Lager, Niagara Brewing Company Beer Devil IPA and Oasthouse Barn Raiser Ale. My favourite beer on the flight was Blackburn Brew.
Niagara Parks Power Station During the Day
So the first question here should be – where is the Niagara Parks Power Station?
The Niagara Parks Power Station is south of the Table Rock Welcome Centre and as you can see in the photo below, it's just beyond the Horsehoe Falls.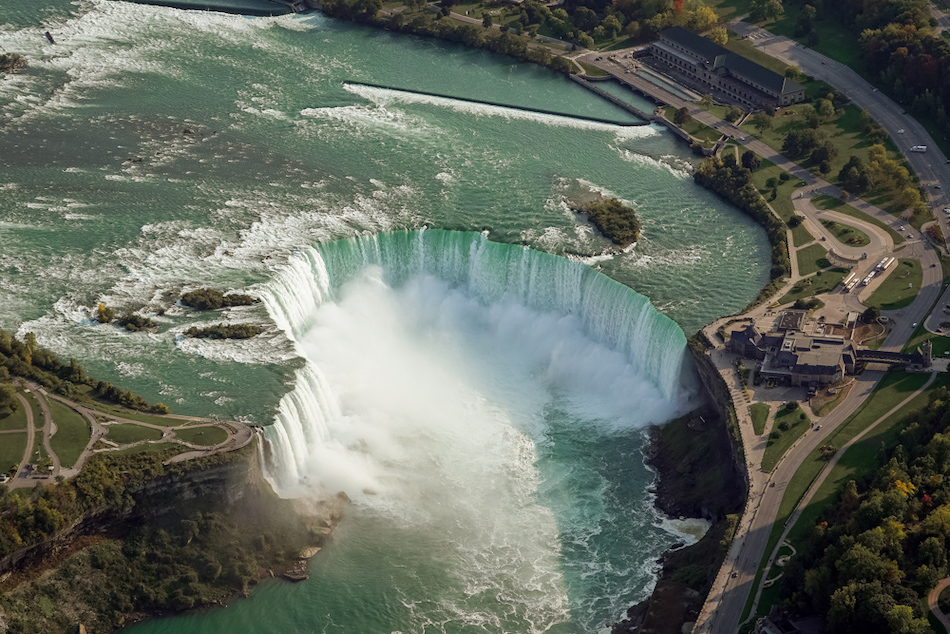 And then the second question is what is the Niagara Parks Power Station?
The Niagara Parks Power Station is a decommissioned hydro plant from the early 1900s. It operated from 1905 to 2006 and it once provided power from the Niagara River to parts of Ontario and New York state. Now, it's an "entertaining and educational experience" that highlights the history of electricity and is a unique architectural structure that shows guests how this hydropower station generated electricity.
During the daytime, you can explore exhibits, restored artifacts and see the history of the area. This isn't all you can do here. Hang tight, because I recommend you come back in the evening.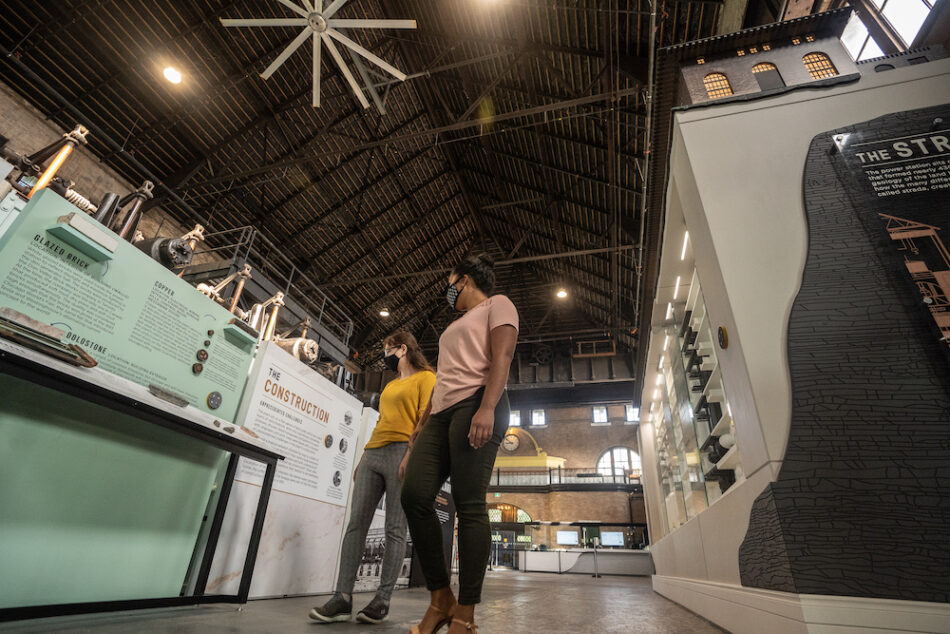 Journey Behind The Falls
I love, love, LOVE visiting Niagara Parks Journey Behind The Falls. This is an absolute must-do for any visit to Niagara Falls. First, you will need to descend 125 feet and walk through 130-year-old tunnels in bedrock. Then, you will feel the vibration of the Horseshoe Falls long before you see them. You'll find incredible cave-like portals that open behind the falling water before you make your way to an observation deck with the most stunning views of the falls ever!
Did you know that up to 2,800 cubic metres of water thunders over the brink of the Horseshoe Falls every second, travelling 65 kilometres per hour? That's a lot of water!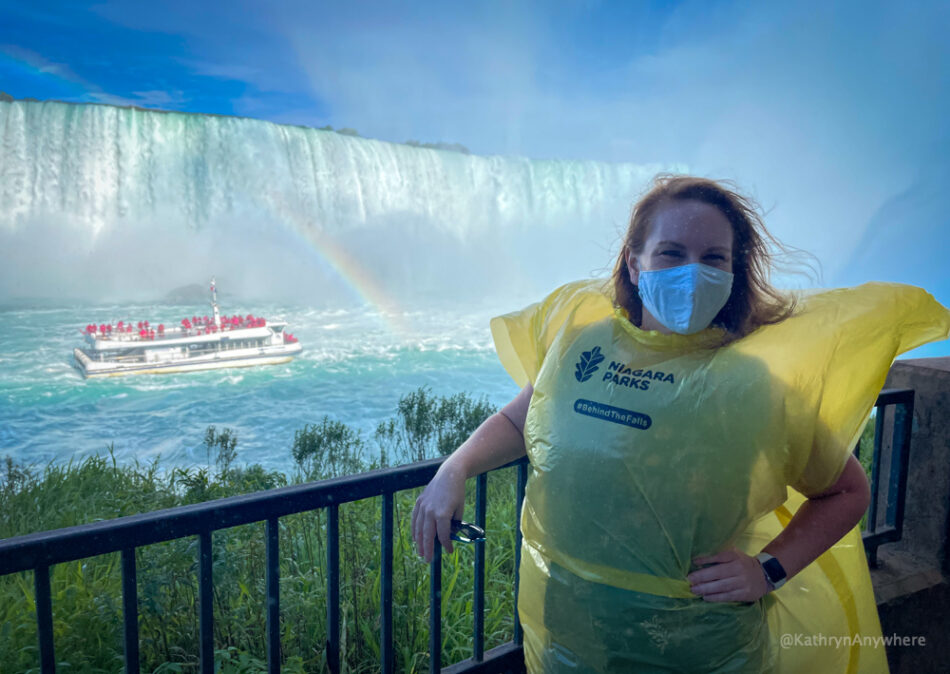 Dine: Dinner at Table Rock Restaurant
After a fun day of cycling along the Niagara Parkway between wineries, zipping down the zipline, taking in the roar of the water at Journey Behind The Falls and touring the brand new Niagara Parks Power Station, head to the Table Rock Restaurant in the Table Rock Welcome Centre for the best dining view of table rock and the closest restaurant to the falls. The floor-to-ceiling windows are exceptional for viewing!
All of the food is as locally sourced as you can get and incredibly delicious. If you are there at dusk, be sure to check out the colour-changing water masterpiece outside the window.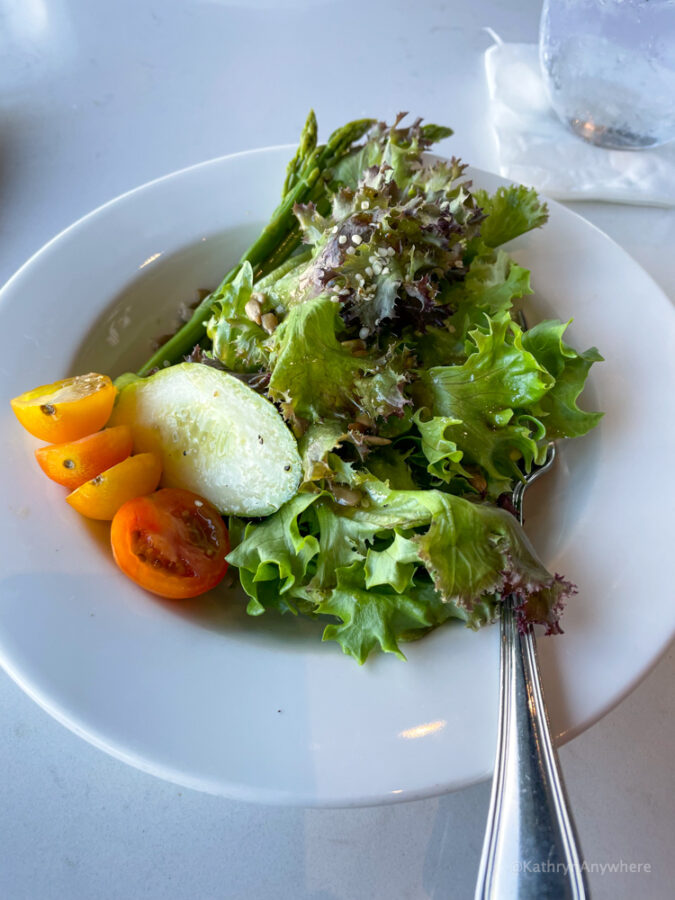 Niagara Parks Power Station At Night
It is rare that I advise anyone to return to the same location twice in one day. However, you'll want to check out Currents: Niagara's Power Transformed. Currents is an amazing light and sound show that immerses you into the iconic power plant machinery and history of the region. You get to witness the Niagara River flow down from the walls and onto the floor in lights and then electricity begins to pulse from the generator, flowing up the walls and onto the ceiling. It's an experience to take in to truly describe!
View this post on Instagram
Where to Stay In Niagara Falls
If you opt to stay overnight in Niagara Falls, there is no shortage of accommodations that are available. There are hotels to satisfy all budgets and levels of comfort. Some of my tried and true preferences include The Sheraton Fallsview Hotel, The Skyline Hotel and Waterpark and Hilton Niagara Falls Fallsview.
On my most recent media trip, we were treated to a stay at the Old Stone Inn. It has chargers for electric vehicles, which is a big bonus. The unfortunate drawback is that there was construction happening outside early in the morning. I did not find the bed to be the most comfortable I had ever slept in. People who like really firm beds will love it though!
Think you can fit any more activities into your day there? I'd love to know what else you see or do in Niagara Falls. Comment below if you have some hidden gems that you recommend.
Be sure to check out Niagara Park's website here to buy attraction tickets.
Thank you to Niagara Parks for hosting me as Media for the preview of Currents, Niagara's Power Transformed and showing us a wonderful day.