I'd like to thank Cornwall Tourism for hosting me as media with one of their Cycle & Stay Packages so I could explore beer and biking in Cornwall Ontario. As always my opinions are always mine.
What if I could tell you that you could bike from brewery to brewery in Cornwall, Ontario? You can depart on bike from Humble Beginnings Brewing in Ingleside and arrive at Rurban Brewing in Cornwall.  Sounds simple right? Almost a straight 21km drive via Vincent Massey Blvd.
Here's the hitch: Use only the bike trails on the Long Sault Parkway and the Waterfront Parkway and then up through Cornwall. It is a bit of a physical challenge if you're not an experienced rider. It's not overly stressful in terms of any elevations, but it's not a short bike ride to do this route. However, the views are worth it.
This beer flight to beer flight route takes you on the Long Sault Parkway, a chain of 11 islands connected by causeways that is most definitely one of the most beautiful bike trails in all of Ontario. You will also cruise through the Waterfront Trail and the town of Cornwall. Just over 28 kilometres (just over two hours timewise) of a leisurely ride, minus all the picture-taking stops brought me from one beer-tasting flight to another.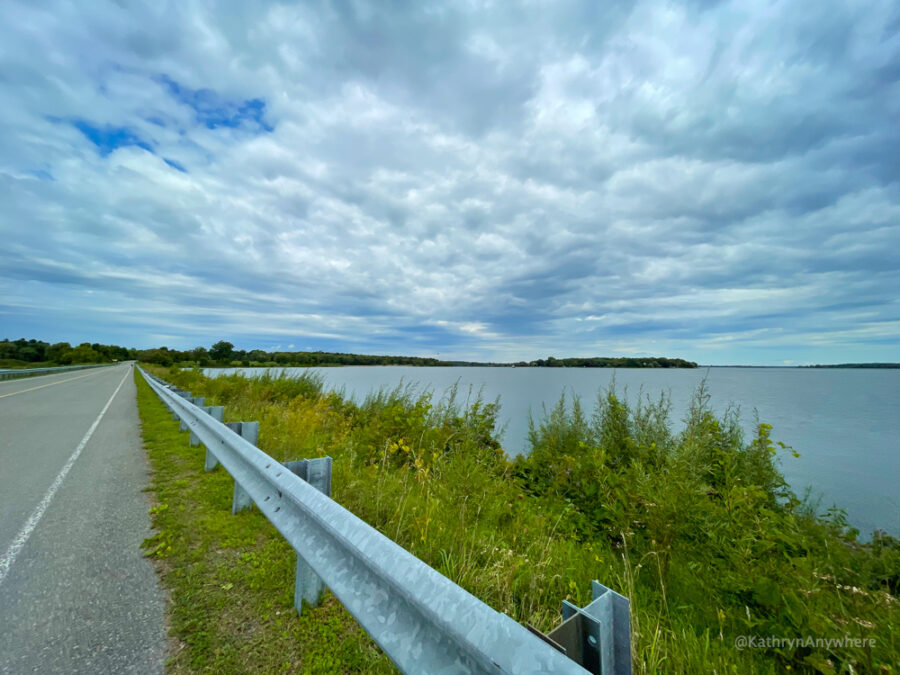 Beer and biking Cornwall Ontario
Ontario craft beer is enjoying a high right now. It's trendy and it's good and I predict it will remain popular for the majority of my adult life. Long gone are the days of our Dad's simple Blue and Blue Light. Our tastes are more refined now. Some like it hoppy and bitter, some like it malty with notes of caramel and chocolate or some straight up like the pineapple and sours. Whatever your taste preferences may be with respect to craft beer, in the Cornwall area, you're bound to find it.
Beer and biking go hand in hand in Cornwall.
In 2020, bikes were sold out everywhere. With COVID and shutdowns, cycling has become a very popular outdoor form of activity. Cornwall is fortunate to have a long stretch of paved bicycle path that's right by the water for the most part. There are over 40 kilometres of traffic-free, waterfront, paved recreation trails that people can travel. You don't have to bike the entire 28 kilometres that I did. The access to it from many different points is amazing, so it's great for families, seniors on a leisurely ride, serious cyclists, or newcomers to cycling.
Cornwall is has been recognized as a Bicycle Friendly Community by the Share the Road Cycling Coalition. Almost every single road in Cornwall has a bike lane, it's pretty impressive.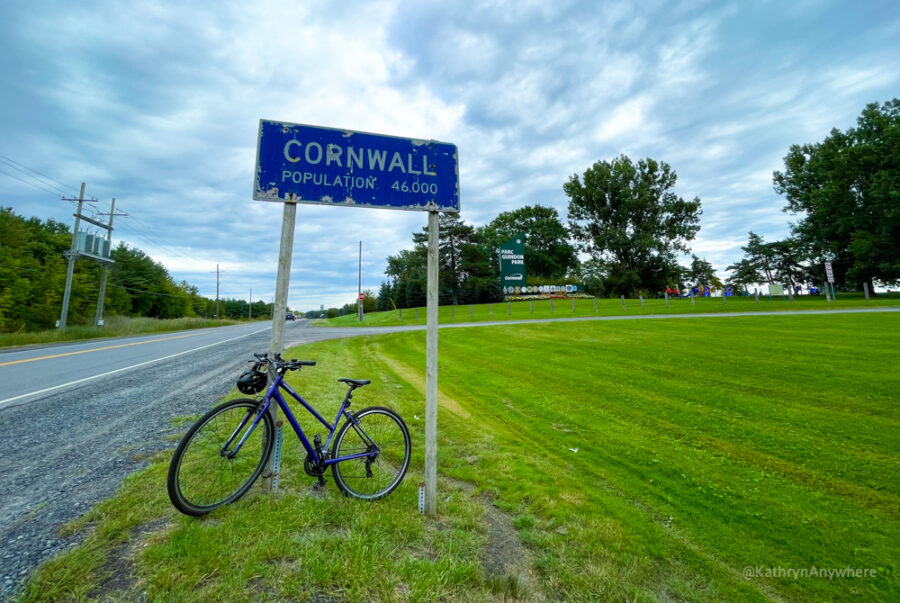 Where Is Cornwall and Long Sault Parkway?
Cornwall, Ontario is located just west of the Quebec and Ontario border. The Long Sault Parkway, in the St. Lawrence River, is just west of Cornwall. This is the furthest eastern point of what is considered the 1000 Islands region. If you have been reading my posts for a while, you might remember that my kids and I spent a few days in
Gananoque and 1000 Islands
in the summer of 2020. Cornwall is just over the hour east of Gananoque.
The region around Cornwall is one of the oldest in Ontario and loaded with history. On my dad's side of the family, we can even trace back to being farmers a couple of hundred years ago, just north of Cornwall in Glen Robertson.
The driving distance from Toronto is just over four hours.
How To Bike Around Cornwall?
Unless you have a vehicle driver like I did to drop me off, you'll have to park and ride. The Civic Complex in downtown Cornwall offers free parking to cyclists. You can park your car, unload your bike and go off and enjoy the trail. You can also check out some of the history and culture that Cornwall has to offer.
There are places to rent bikes in Cornwall in case you need to rent a bicycle or want to and enjoy the trails here.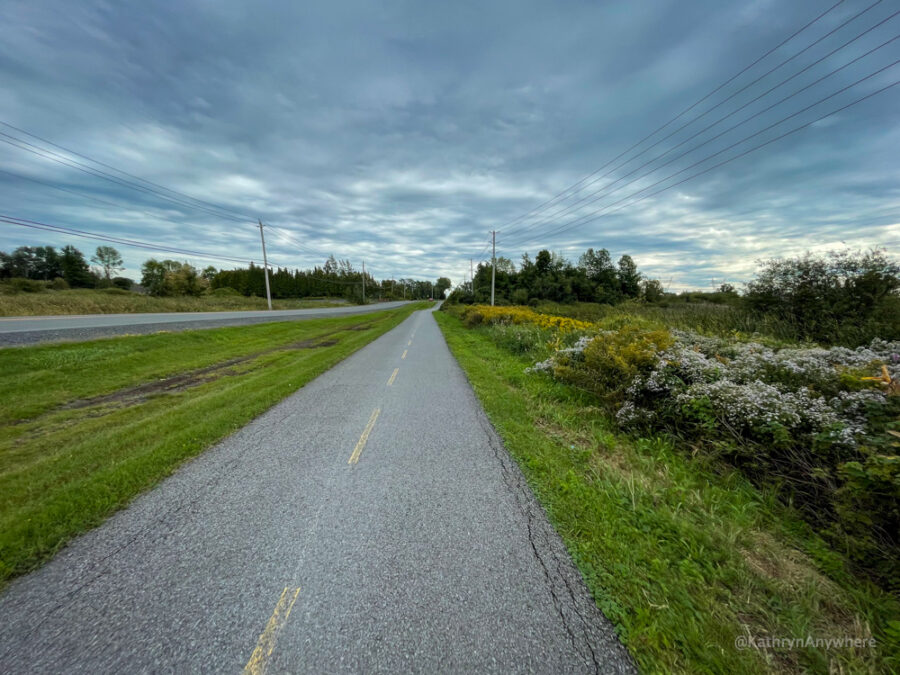 Stop 1: Humble Beginnings Brewing Co. – Pre Bike Ride Beer in Ingleside
My ride on this day starts at Humble Beginnings Brewing Co in Ingleside, Ontario. Humble Beginnings Brewery Co is a small batch, handcrafted brewery in an unassuming strip mall nestled between a major bank branch and a busy local restaurant.
With a view of the St. Lawrence River from its door, you can sit in the beer garden and watch the neighbourhood antics and get the small-town feel of the area.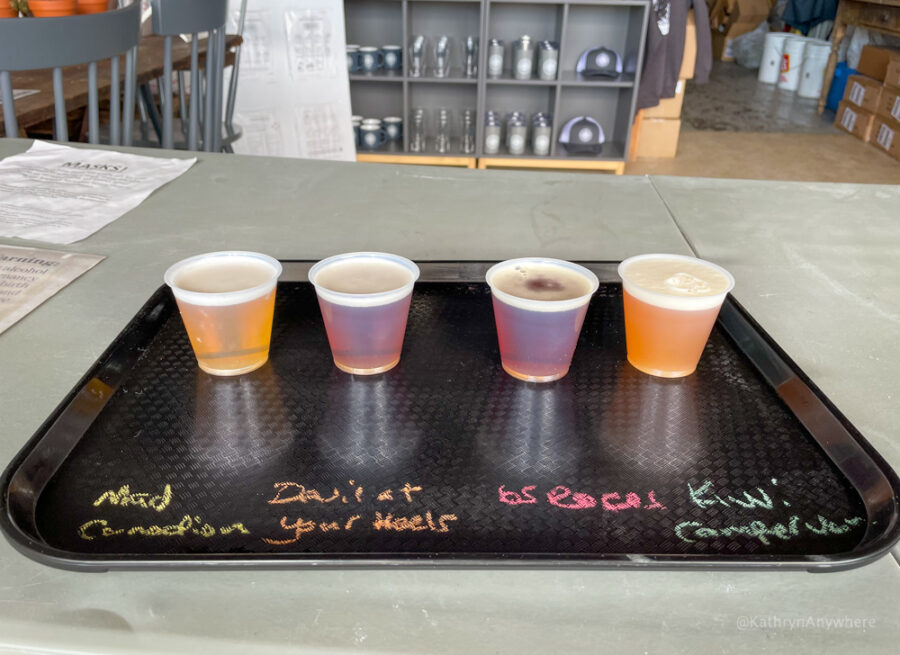 The beers on tap this day are Mad Canadian Kolsch,  Kiwi Campervan Pacific IPA, 65 Roses Red IPA and The Devil At Your Heels Copper Ale. Mad Canadian Kolsch is a clean, crisp lagered ale. Kiwi Campervan Pacific IPA is a bright, hazy and bitter beer featuring Pacific North West and New Zealand hops. The Devil At Your Heels Copper Ale is said to bring out your inner daredevil!
Based on the colour of the beer alone, my bet was placed on Kiwi Campervan Pacific IPA being my favourite, but it was the Mad Canadian Kolsch that edged them all out. Devil at Your Heels was the second-best in the flight to me.
Beer and biking Cornwall Ontario on this day was off to a good start indeed!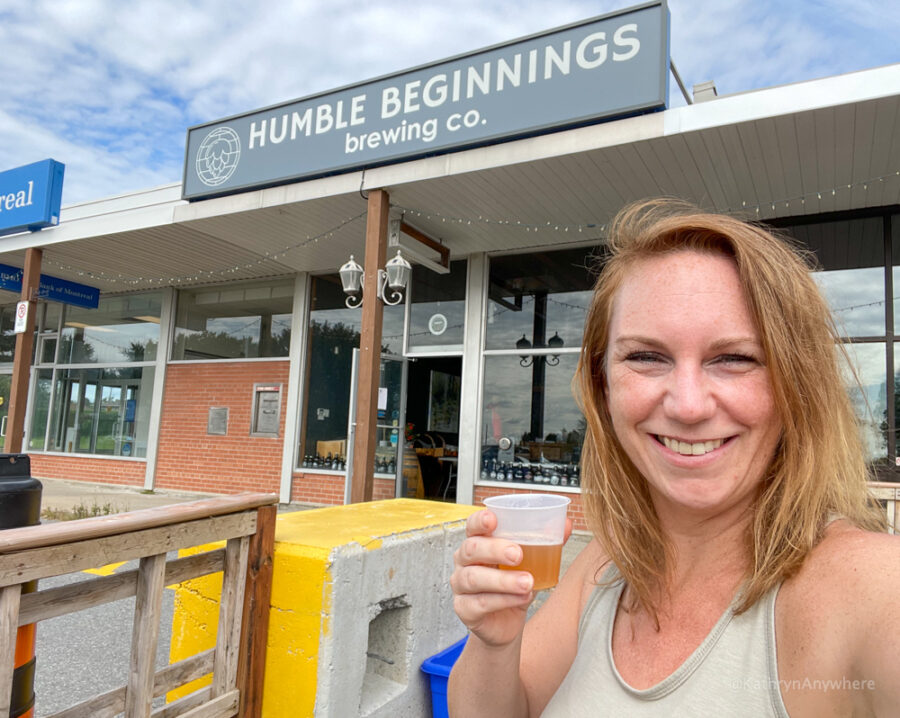 Long Sault Parkway
With my taste buds tickled and fuelled for the ride, I take off from Humble Beginnings Brewery in Ingleside, Ontario for the one-kilometre ride to the head of the Long Sault Parkway at the West Gate. The Long Sault Parkway is a series of 11 islands that were created from high points of land left after the flooding of the St. Lawrence River during the construction of the Seaway in the 1950s. In fact, the river has covered up some villages that once stood where the river now lies. There's a bit of interesting Canadian trivia for you. Many of those residents from the now flooded villages were relocated to Ingleside or Long Sault. Some of the structures that could be moved were taken to
Upper Canada Village
.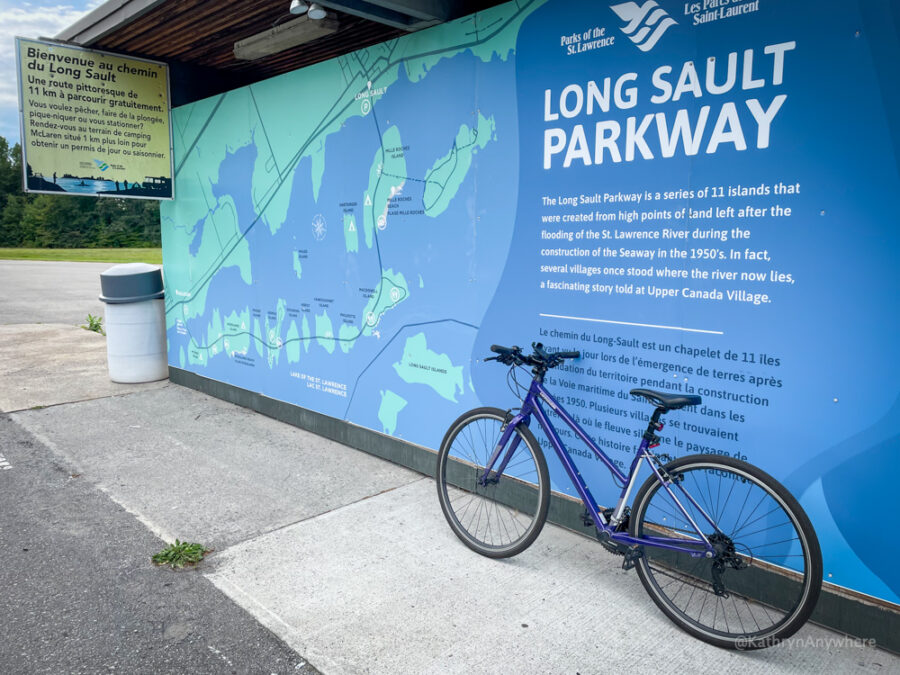 Once the causeway is crossed, you find yourself on McLaren Island. You will ride past the McLaren Campground, then cross a small swamp and you're on Woodlands Island. Woodlands Island is home to both a beach and a campground. Causeways carry the parkway east to Fraser Island, Hoople Island, Dickinson Island, Heriot Island, Vankoughnet Island, Phillpotts Island, Macdonnell Island and Mille Roches Island.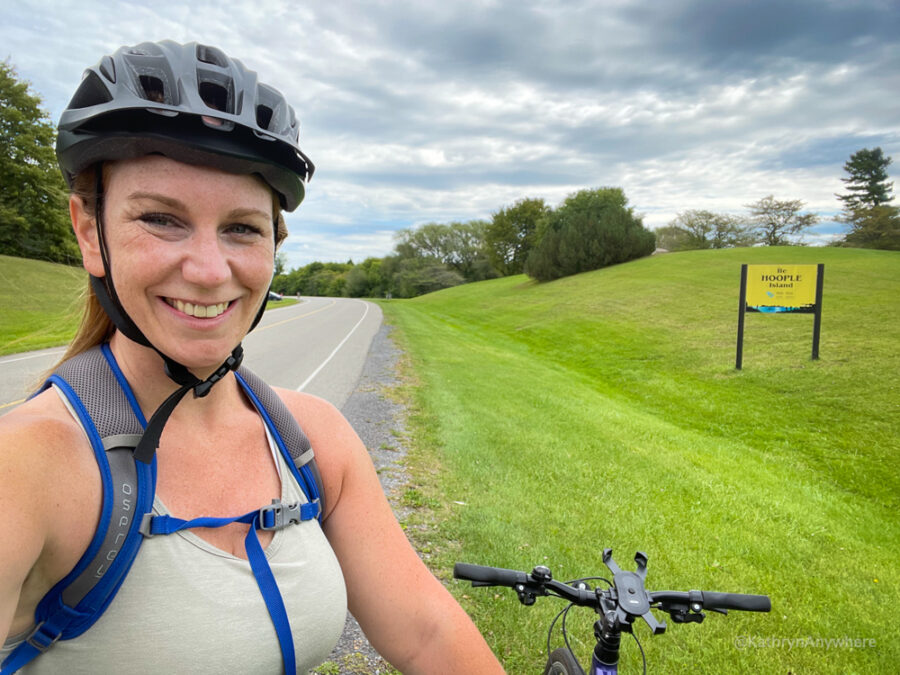 On Macdonnell Island, the parkway starts to turn northward as you pass an information booth for The Lost Villages. On this island, you also find porta-potties that are clearly visible in case you need to relieve yourself. Of interest, I learned that there are shipwrecks in this area! Took a bit of time to explore this. On Macdonnell Island is the diving club location for Save Ontario Shipwrecks.
In terms of scenic bike rides, this is one of the most beautiful in Ontario.
Waterfront Trail into Cornwall
After 10.1 kilometres of gorgeous scenery and easy riding, you find yourself at the intersection of the Long Sault Parkway and The Waterfront Trail. Head east on The Waterfront Trail here. What's important to note here is that you will be sharing this trail with hikers and cyclists of all abilities. Cornwall's Waterfront Trail is a multi-use trail that spans the city's entire waterfront.
As I flew through this area, I had to pause at The Lost Villages Museum where over 70 vendors were set up. Dozens of artisans set up on the museum grounds selling all sorts of handcrafted goods. Instantly regretted only having my small backpack that was already jammed with bottles of water, sunscreen and spare underwear.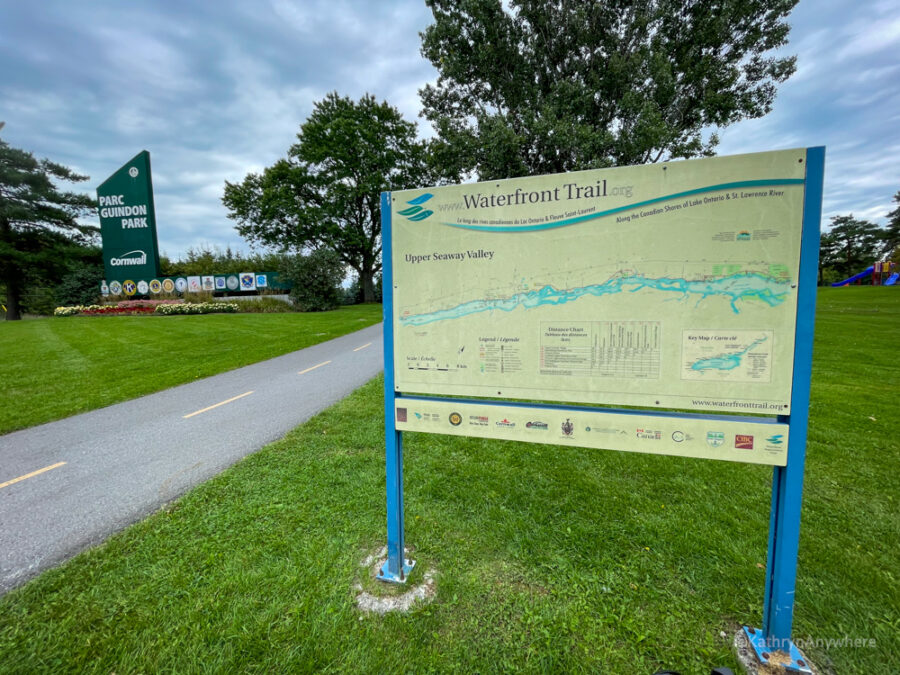 Once you get to Guindon Park, you can take a pause to refill your water bottle here, play at the park, rent a kayak or take a break and enjoy the scenery. At Guidon Park, the milage check is 17.39 kilometres and 73 minutes in time from Humble Beginnings Brewery by bike on Long Sault Parkway and The Waterfront Parkway.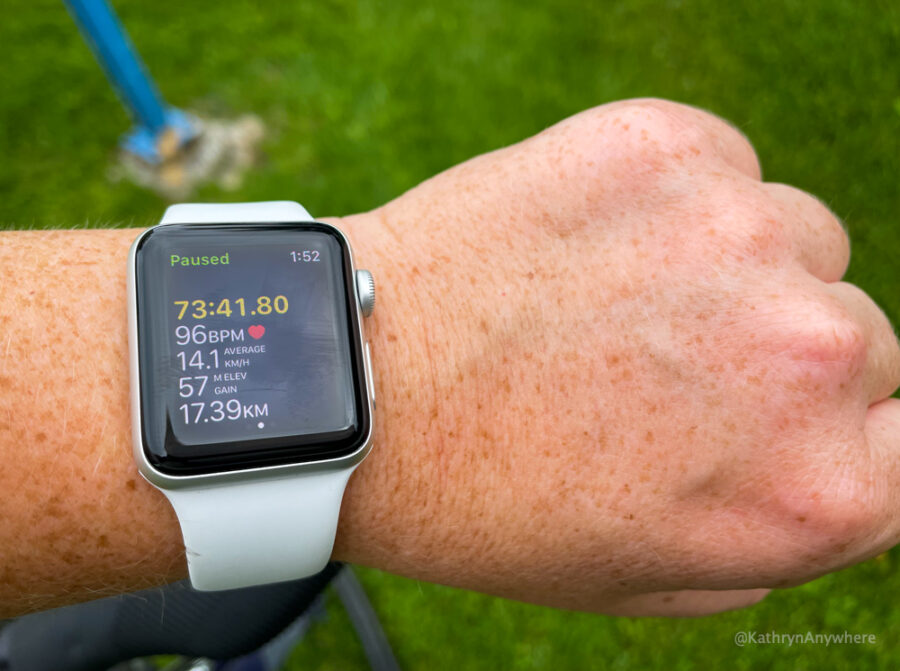 Cornwall is a very bicycle-friendly city
Cornwall is proudly recognized as a Bicycle Friendly Community by the Share the Road Cycling Coalition.
The city is very accommodating to cyclists, with a network of over 75 kilometres of dedicated bike lanes and recreational trails reaching to every corner of the community.
A combination of the Waterfront Trail and dedicated bike lanes form to create an urban loop around the entire perimetre of the city.
Stop 2: Rurban Brewery – Post Bike Ride Beer in Cornwall
As far as Cornwall Ontario beers go, Rurban is the best. Rurban (the words rural plus urban) Brewing, is run by a husband and wife who have a long history in brewing.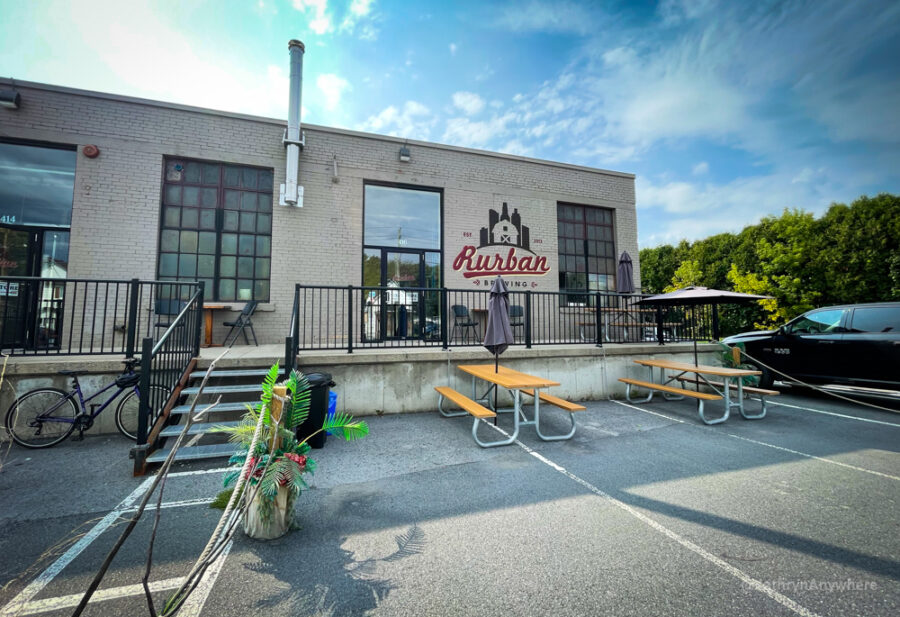 The beers on tap in my flight this day are Cornwall Lager, Cherry Wit Wit, Kumk-What? and The Song Sings Itself. Cornwall Lager is a golden lager (however classified as an amber beer on an app), Cherry Wit Wit is a cream beer, Kumk-What? is a Creamsicle Ale and The Song Sings Itself is a UK Style Pale Ale. The Cornwall Lager was my favourite on the flight. I think. I liked them all but for different reasons. I'm a pale ale and pilsner girl primarily, but I'll never snub an amber.
Beer and biking Cornwall Ontario finished on a high note! These beers felt very well deserved. Maybe it was the taste of satisfaction, but since I can't purchase these in the LCBO at home, I made sure to take some cans with me. Beer from this brewery isn't found outside the region, so be sure to visit in person to taste and purchase.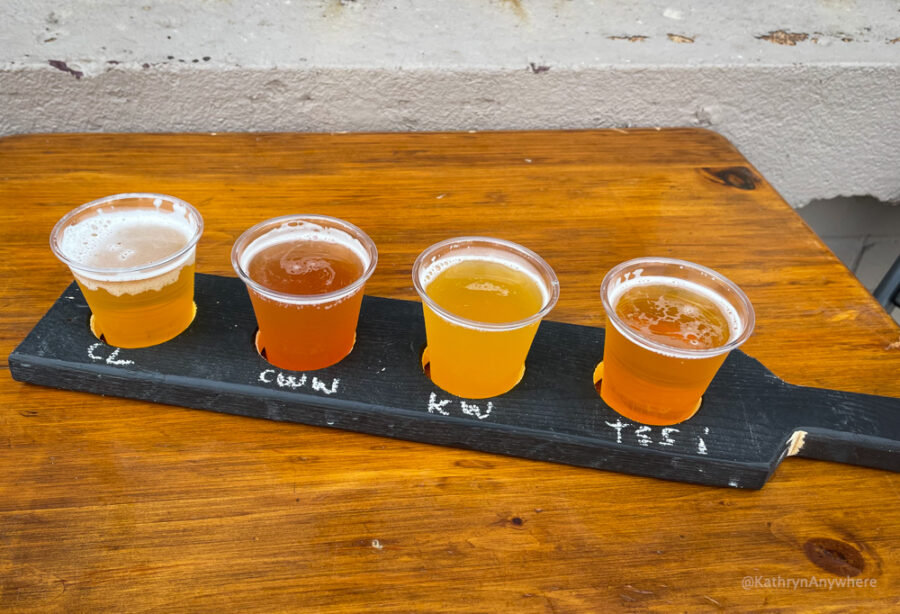 Where to Stay In Cornwall
If you are looking to visit a Cornwall Brewery while visiting the area to enjoy the bike trails, Cornwall boasts an amazing Cycle and Stay Package. Visit the
Cornwall Tourism website
to learn more about what is included and when it is offered. We stayed at the Ramada Inn and it was lovely. The bed was very comfortable and the room was spacious. There is a pool and a relaxing courtyard to visit. There is also a continental breakfast.
Everything in Cornwall seems relatively close so nothing was very far away from the hotel. You're relatively close to all the good restaurants and downtown.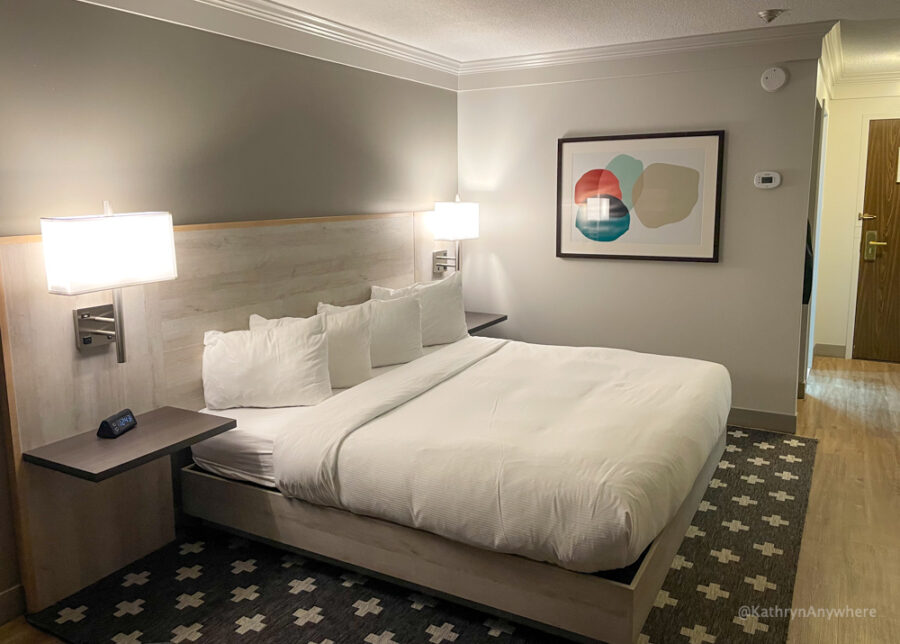 Why Beer and biking Cornwall Ontario?
Craft beer in Ontario is alive and well. And now that you know how easy it is to do, why not do it? I mean, think of all the calories you will burn and how much more space that will make for beer!
Interested in other great beer destinations in Ontario?
You must check out the Best Breweries in Durham Region and All The Best Beer and Wine in Norfolk County!