Fun Things To Do In Toronto With Friends
The Greater Toronto area can be a tremendously fun place to get together with your friends for exciting activities. Now that restrictions are lifting and we are allowed to partake in activities again (even if socially distant), we are all looking to fill our calendars with bucket list-type excursions. I've compiled a list of my favourite outdoor activities to share of fun things to do in Toronto (and around Toronto as well)! So take note of all of these fun things to do in Toronto with friends.
Fun Things To Do In Toronto With Friends
In this section, we will focus on some of the fun things to do in Toronto with your friends. Let's get getting away from the basic patio hangs and indoor bowling alleys to outside activities. Most of these are things to do in summer in Toronto and a lot of these can be considered fun activities for date nights in Toronto.
The Docks Driving Range
DJ? Foot trucks? Sunshine? Golf Swings? All that and more at The Docks Driving Range – Downtown Toronto's only outside driving range. Not driving vehicles to be clear. There can be nothing more humbling and entertaining than learning to golf with friends. Bust out those how-to Youtube videos for this session.
Unlimited balls for 30 minutes are $22.50, bargain for an hour at $40.
Don't worry if you don't own your own clubs, you can rent a driver and an iron that is sanitized between uses.
View this post on Instagram
Axe-Throwing
Care to put your lumberjack skills to the test? Axe throwing is great for birthdays, bachelor parties, bachelorette parties, corporate team building or reuniting with a group of friends.
Here, I test my mettle and aim at BATL – Backyard Axe Throwing League in Toronto with Chris from Rudderless Travel and Kevin from Wandering Wagars. Check out who stays on target, and who won't be invited on the next camping trip.
Various price points depending on number of people in your group and time you throw for.
Stand Up Paddle Boarding
Have you tried SUP yet? Done standing up on a large surfboard with a long paddle, balanced on the water, stand-up paddleboarding is a fun way to get a full-body workout. Not only that, your workout is done while exploring Toronto Harbour or the Humber River or Scarborough Bluffs.
Did you know that SUP tones and strengthens your core, arms, legs, and aligns your whole body from the soles of your feet up? Grab your friends and paddle around. Rentals, lessons and group bookings are available. Check out Oceah Oceah.
View this post on Instagram
Wander Kensington Market
Second-hand clothing, vintage boutiques, craft brewery, mom and pop shops, charming coffee, gelato and delicious fusion food… Find it all in Kensington Market in the west end of Toronto's Downtown Core. Best described as the intersection of where all different cultures and generations come together in one eclectic and lively blend, Kensington Market is absolutely worth wandering for hours on end. Every single shop is worth a visit.
My friend Chris from Rudderless Travel and I profile it here in The Planet D's video about the Top Things To Do In Toronto.
Cycle The Toronto Islands
Did you know you can take your bike on a water taxi or the ferry over to Toronto Islands? This is my favourite thing to do with friends in the summer. We take a ferry to Hanlan's Point and then pedal our way across, making sure to lunch at the Riviera and chill at Ward's Island Beach. Weekends are busy on the ferry and on Toronto Islands, especially at Centre Island. Plan to go to Toronto Islands between Monday to Friday.
The cost of the Toronto Ferry is a bit cheaper than a water taxi.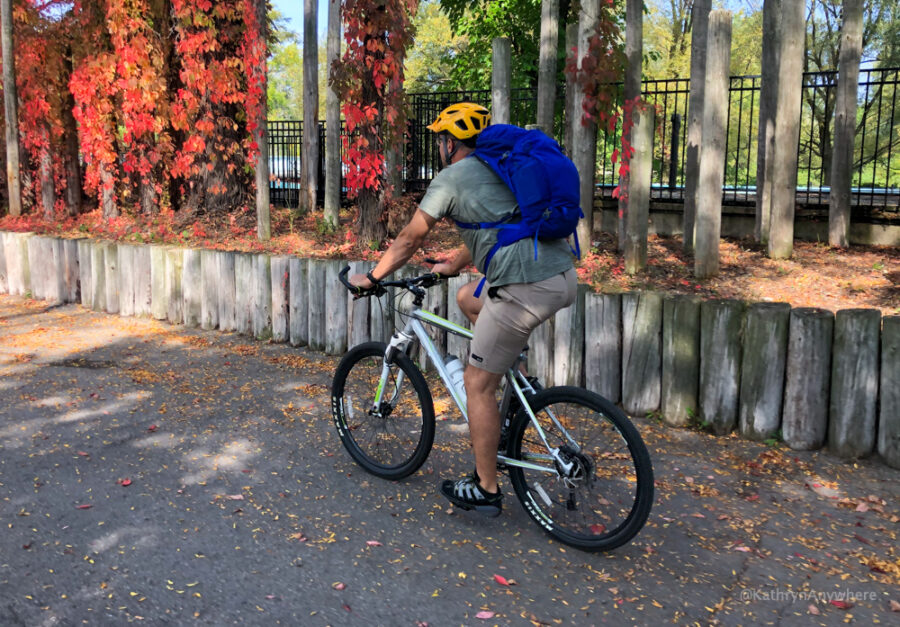 Fun Things To Do Near Toronto With Friends
Downtown Toronto is exciting for sure, but you can hop on a GoTrain, or get in your car. Now you can hit some other interesting events and activities that aren't the usual go-to's. Here are some of my recommended fun things to do near Toronto with your friends.
Haunted Walk at Pickering Museum Village
Looking for a spooky Saturday evening? Head to the Pickering Museum Village in York Durham Headwaters, which is only a half-hour east of Downtown Toronto for a Haunted Ghost walk and a scary good time! Take a date because you'll want to hold their hand!
Your guide takes you on a walking tour of the historic village at night and you will hear stories from the past that still haunts them today. Hear about paranormal investigations that have found evidence of spirits and ghosts in old buildings there, and hear stories of past tragedies that actually took place in Pickering's past.
$25 per person for the hour walk.
Waterfall Hiking
Bet you only thought there was one waterfall in Ontario and it's Niagara Falls?! Being a resident of Toronto, and a lover of nature, I am incredibly lucky to be able to explore so many conservation and green spots in the surrounding area. Of all of the exciting parts of the outdoors to hike and appreciate are waterfalls near Toronto. You'll find waterfalls outside Toronto and the suburban areas. Some you can swim at the base of too!
Grab your friends and keep a spare pair of shoes and socks in the car for when your feet inevitably get wet and check out my list of places of Best Waterfalls Near Toronto To Hike.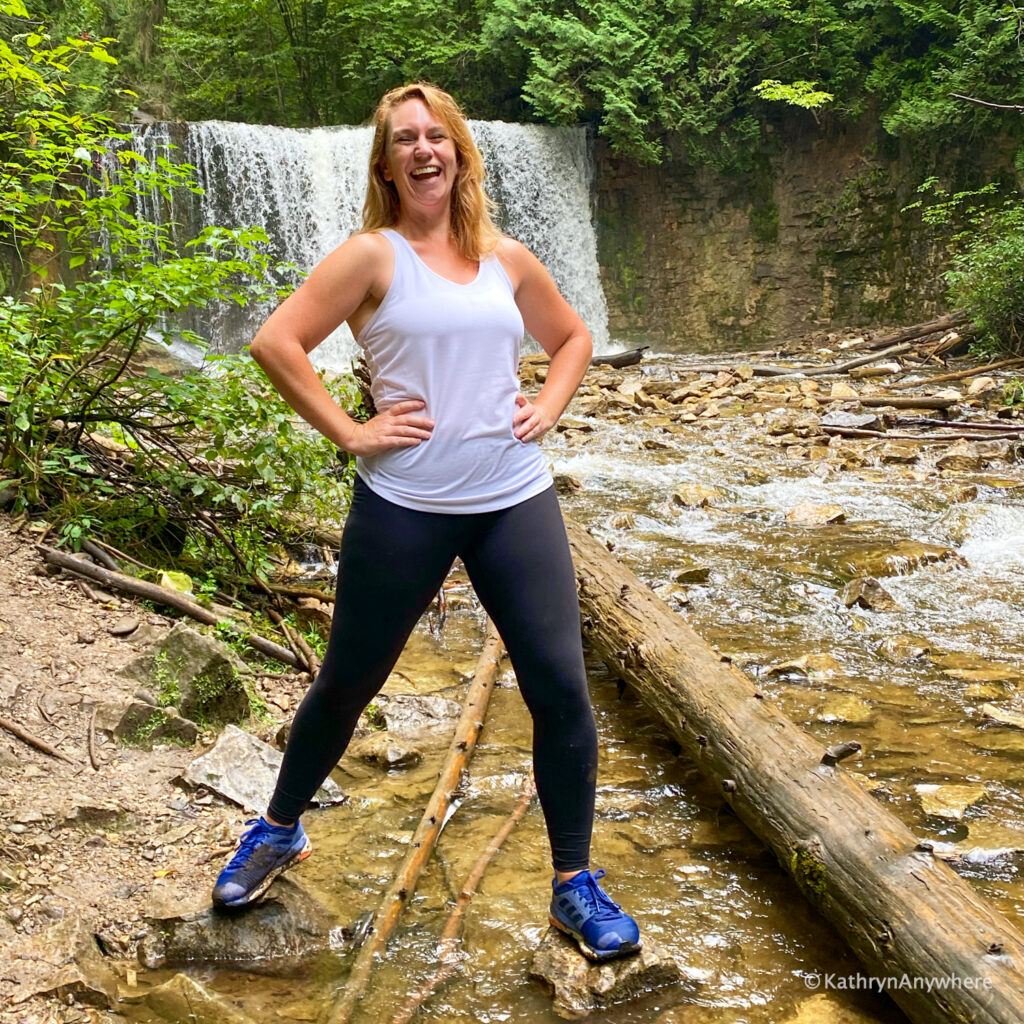 Treetop Trekking
Ziplines, suspended bridges, aerial courses, Tarzan yells, fresh air and traversing from platform to platform? Sign us up! There are quite a few locations around the Toronto area – Barrie, Brampton and Hamilton to name a few.
Nothing bonds you and your friends more than literally depending on each other and a cable, on a platform about 30 feet in the air.
Pricing varies depending on the activity package and the number of participants.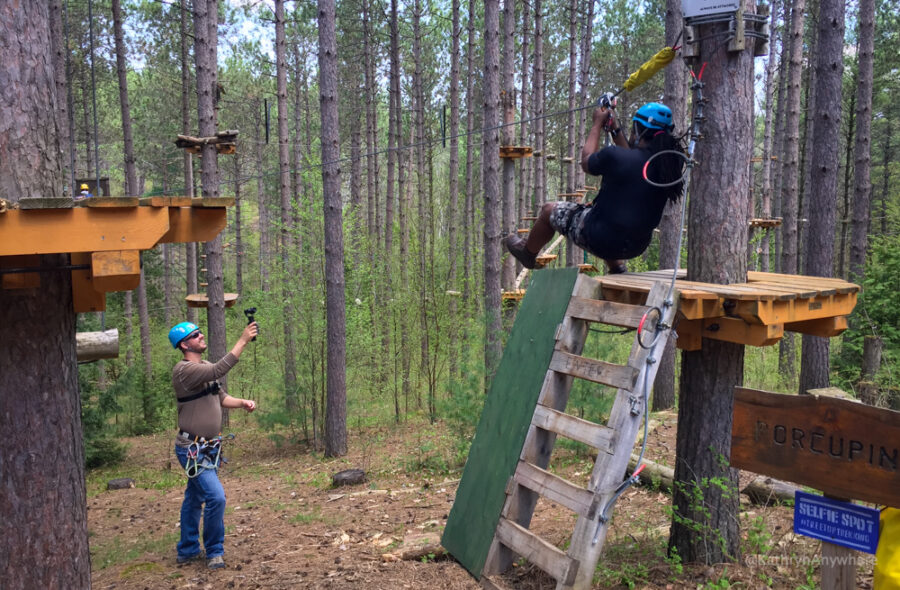 Ride The Bine Beer, Wine & Cider Tours
Ontario has certainly emerged as a powerhouse producer of some of the best craft beer, wine and cider in the world. Having done Beer, Wine & Cider tours in Norfolk County with Amanda and Ride The Bine, I can unequivocally say that our safety, social distancing and hygiene were of the utmost importance. I have confidence recommending this tour to anyone wanting a safe and enjoyable guided beer and wine tour with a fantastic animator who knows everything there is to know about the area!
Norfolk County is two hours southwest of Toronto. The Ride The Bine experience is truly priceless. Pricing depends on the tour choosen.
Tour Ontario's Lavender Fields
Okay, so hanging out in Lavender fields is only for the photo opportunities. There's nothing thrilling or life-altering bonding when tiptoeing through the fields. Unless you're truly into picnics. Maybe you are, but if you want to visit a lavender field with friends, I highly recommend Bonnieheath Lavender and Estate Winery because there's a cidery/winery attached to it.
Lavender in Ontario blooms from mid-late June to the end of July. Admission per lavender field varies. Always be sure to visit the gift shop for lavender-scented candles, oils and lavender-infused cookies!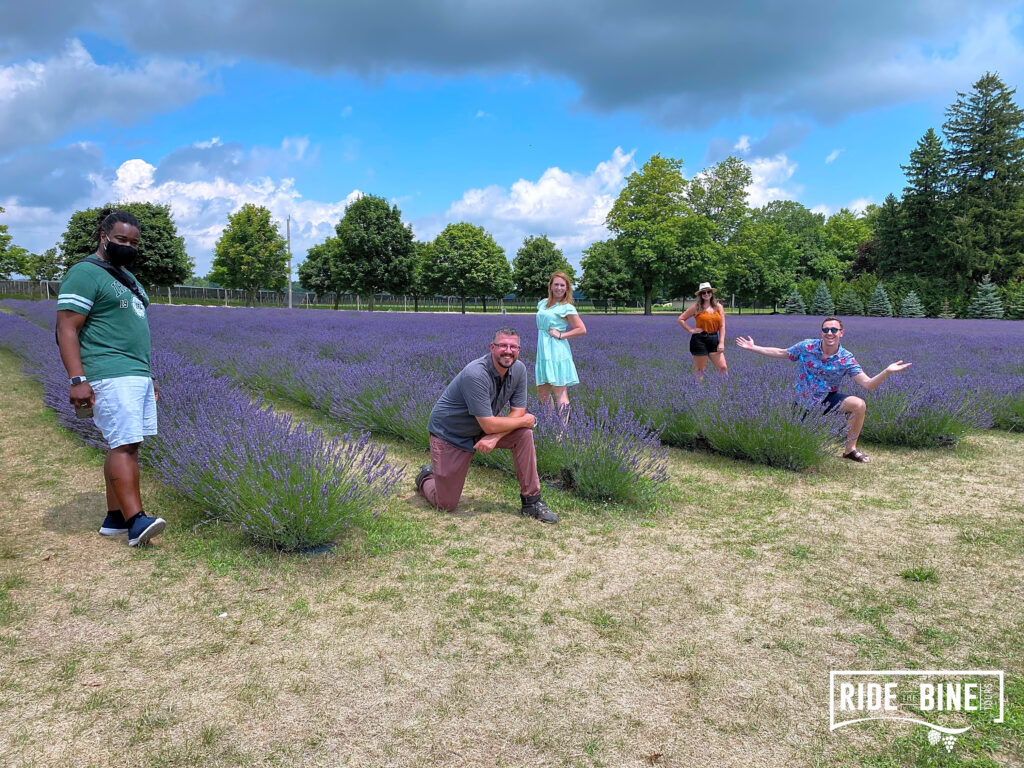 Wild Play Niagara – Zipline Over Niagara Falls
One of the most incredible and thrilling activities in all of Ontario is the Wild Play Niagara Falls Zipline To The Falls. Having done this with both my daughter and my friends Chris from Rudderless Travel and Kevin from Wandering Wagars, I can attest to the amazing experience this is.
After you strap in and leave the deck, you soar past the American Falls and land atop the falls observation deck at the base of the Horseshoe Falls. The view is truly amazing. You'll want to ride it again and again.
This is not an inexpensive activity, but nothing in Niagara Falls is cheap.
Back-Country Camping in Kawarthas Highlands Provincial Park
Canoe portage and camping go hand in hand. Like peanut butter and jelly. Mix in some of your best friends and suddenly it's the best trip ever… or is it? Nothing brings a friendship closer than canoe portaging and tent camping in the wild!
Kawartha Highlands Provincial Park is the newest Ontario Provincial Park. It's a great backdrop for adventures, canoes portages, and back-country campers. It's also home to some of the best sunrises and sunsets Ontario has to offer those who wander. It's only 90 minutes from Toronto by car.
There is a ton of planning that goes into making a camping and canoe portage with friends successful. Food, tents, sleeping bags, cooking gear, washroom habits all need to be taken into account and planned accordingly. With a bit of planning, a camping trip is a huge bonding experience.
For more tips and tricks on how to survive such an experience, check out How To Back Country and Portage Camp With Friends.
What are some of your favourite activities around Toronto to do with your friends? I'll be sure to come back and update on things to do in the winter in Toronto.
Looking for Toronto accommodations for your next trip? Check out what Booking.com has to offer (and as a small note, I make a very tiny commission on your booking at no extra cost to you).
Live in the Toronto area? Be sure to check out my list of Free and Cool Things to see and do in Toronto!
Interested in other things to do in the GTA? The Exploring Family has a lot of Brampton ideas for the family.
Stay safe and have fun!