Top 5 Reasons To Try Snuba
If you have never done it, would you ever want to scuba dive? If the answer is no, why not?
Is it the fear of swimming many feet below the surface of the water with an oxygen tank strapped to your back?
Are you panicked at the idea of having to remember to check your oxygen levels, check your depths, descend and ascend at a very controlled and slow pace? Are you worried about getting the bends?
What if you could go to depths of just 20 feet below the surface and not have to worry about any of that? What if you could just go with a mask and a regulator to breathe through and be tethered to an oxygen umbilical cord floating on the surface?
It's called SNUBA and it's a nice, gentle intro to scuba diving without all the schooling and equipment.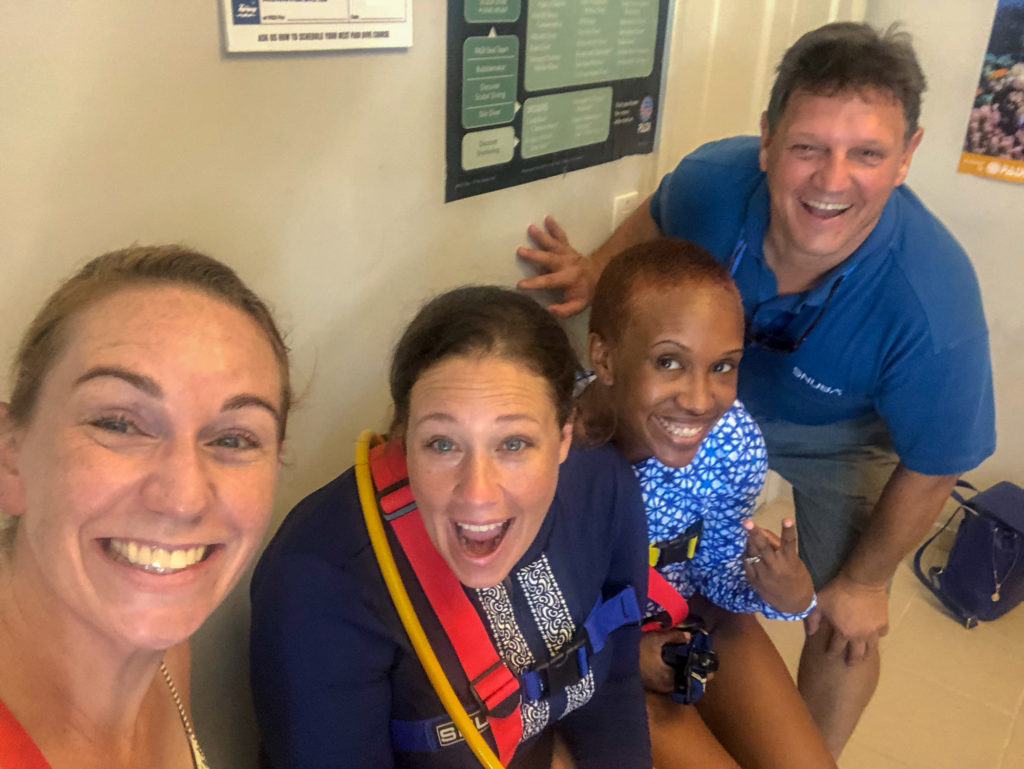 If you've been reading or following my adventures for a while, you know that I chase after experiences that make my knees weak. Or my heart race. Or a combination of the two. I recently attended Social Media On The Sand, an invitation only social media conference at Beaches Resort in Turks and Caicos and the opportunity was presented to me to try out an offering with their water sports – SNUBA.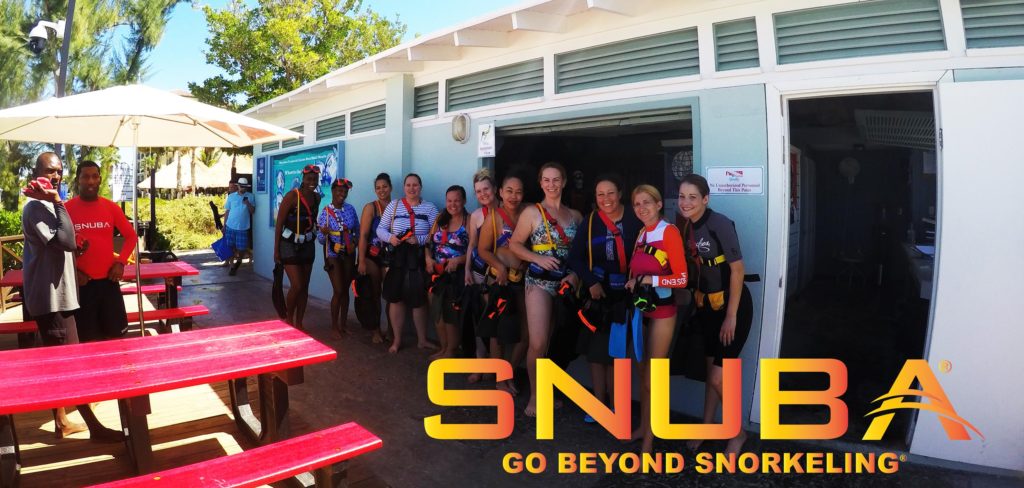 What exactly is SNUBA?
SNUBA is a hybrid underwater experience of snorkelling and scuba diving. You breathe through a simplified regulator, that is attached to an airline and is attached to a tank of air that's in a raft on the surface. There can be 2 or 4 divers attached to each raft.
Essentially, it is like being tethered to your oxygen and your dive buddy and you're only going 20 feet deep.
When can I try SNUBA?
Anytime, except during hurricanes or tsunamis, that wouldn't make sense.
Where can I try SNUBA?
There are more than 80 locations around the world, mostly in the Caribbean and you can find the locations here: http://www.snuba.com/where-to-snuba/
I tried SNUBA at Beaches Resort on the island of Providenciales in Turks and Caicos. The resort dive shop is a 5 Star Padi diving facility, so you know everything there is top notch. What's interesting about doing it here, was that we walked and then swam out from the beach, opposed to taking a boat. I've never done a beach scuba dive before.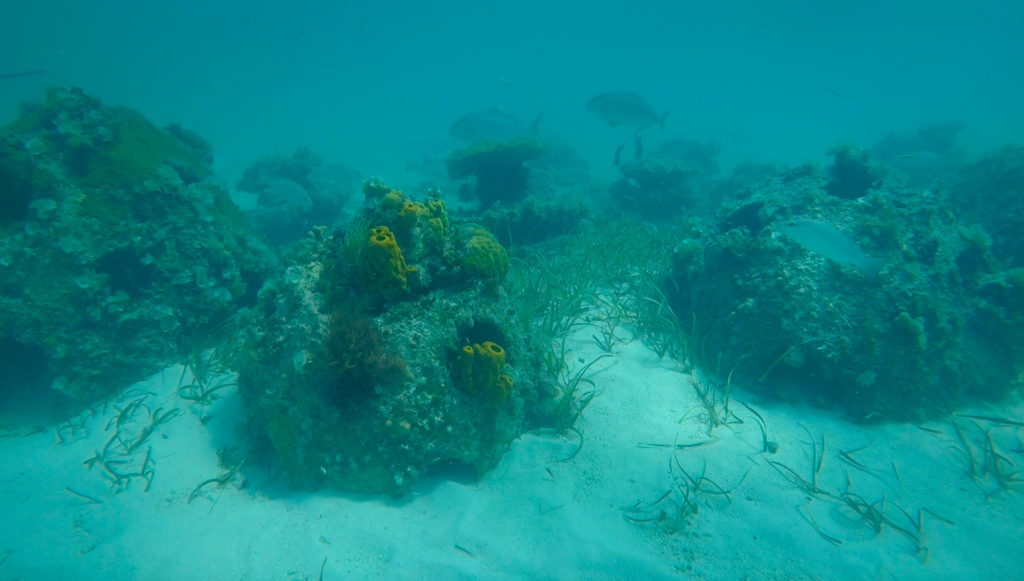 Aside from it being something I had never done before, why did I want to SNUBA?
Here are my Top 5 Reasons Why To Try SNUBA: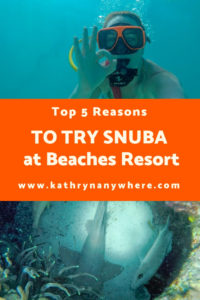 Trying out SNUBA is easy – you don't have to be a certified diver or an experienced snorkeler – although it does help to be really comfortable in the water. You go through a 15 minute pre-dive orientation session, equipment outfitting, a skill demonstration, then out you go! The entire experience can be completed in one hour.

SNUBA is intended to be an activity for anyone over the age of 6. I can see this being an amazing family activity for my kids and I! Well, once my son stops crying at swimming lessons, but that's a different story.

SNUBA tours take place on "well worn trails", that is well trafficked areas where there is minimal risk of a dangerous fish (shark) to attack. While it is extremely rare for a scuba diver to be injured during a dive by a shark or other sea mammal, it is a risk.

As a lapsed open water scuba diver who requires a refresher course before my next scuba dive, I'd rather do a SNUBA experience. Vacation time with my kids is really precious and I don't want to than lose out on any time with my kids doing the actual refresher course if I cannot do it ahead of time.
Getting up close and personal with the fish and marine life! When you snorkel, you're at the surface and can only go as deep and and stay under as long as you can hold your breath. With SNUBA, you can go 20 feet down!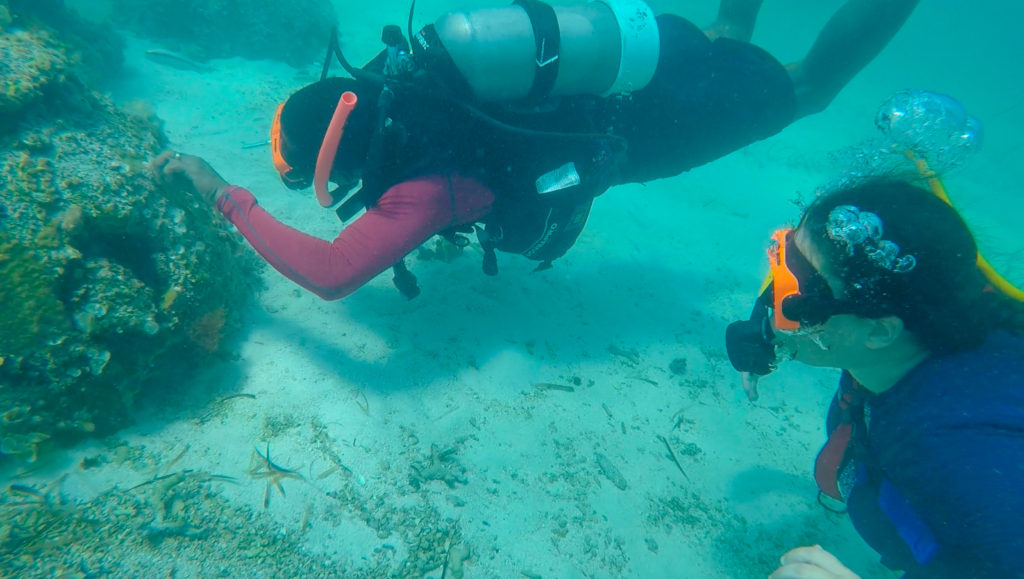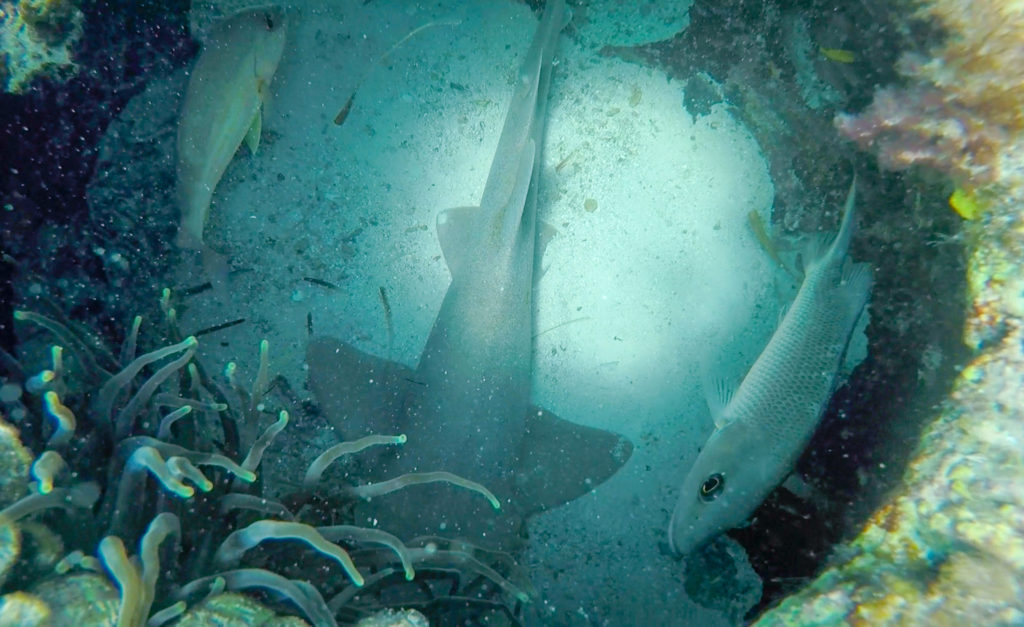 And to be completely transparent with you:
I Had A Panic Attack Trying Out SNUBA
Yes, I am an adventure seeker who jumps out of planes and I am a certified open water diver. Yes, it's been a few years since that last dive, by a few, I mean about six years. I thought it would be just like riding a bike, especially since this was supposed to be gentle and easy.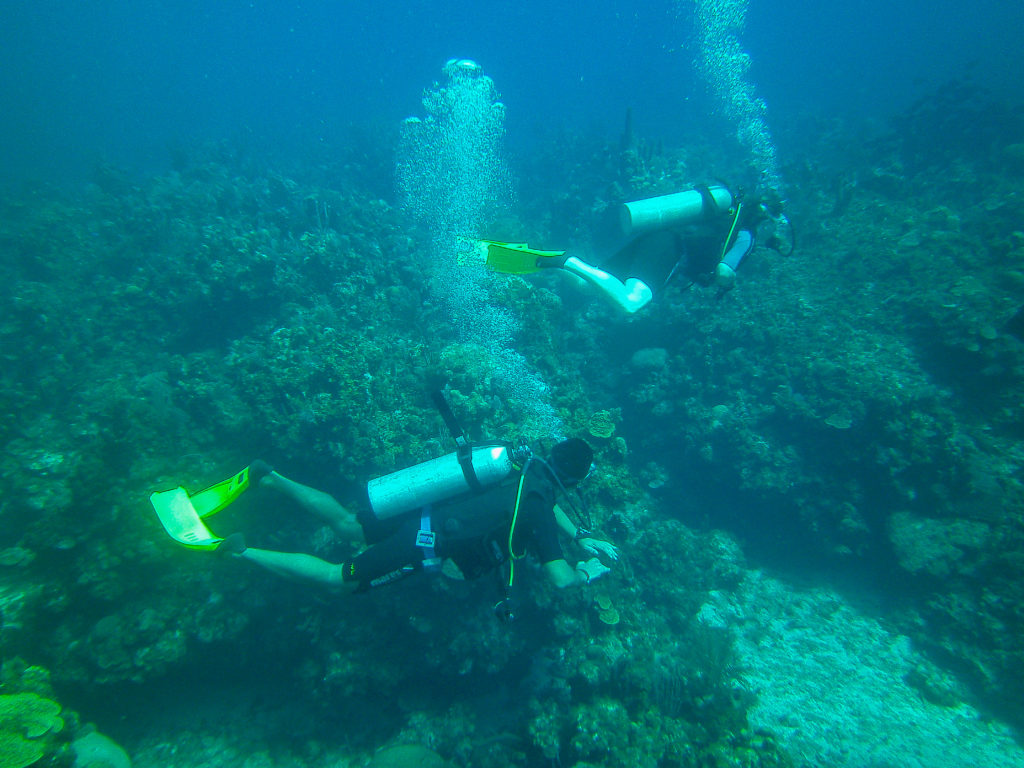 Yet, somehow, I had a panic attack trying out SNUBA, I hyperventilated and I sucked up a lot of air. I can't explain why.
We walked and then swam out to the water from the beach, I was ready to go, super excited to be doing this. Got underwater, started swimming along, equalized once and then… BOOM! I couldn't breathe right, I started inhaling hard and fast and my heart was pounding. Am I going to die in a foreign country? No, I'm not because I'm going to do the most dangerous thing ever and sprint to the surface as fast as I possibly can! Luckily, because it's SNUBA, I wasn't coming from very deep depths at all. But you should never, EVER do that.
It makes all the difference in the world when you have the right dive buddy and dive master with you. My dive buddy was fellow Canuck, Sara from Solo Mom Takes Flight. She said all the right things and our dive master, Johnny was amazing with the situation. He held my hand, kept me breathing, looked me in the eyes and sadly lost the wrestling match to keep me under the water. It took me almost 10 minutes to get my bearings, talk myself down off of my psychological ledge and re-join my dive buddy and our dive master. 
Most days, I feel like there isn't anything I can't do. But some days I remember I have littles to take care of and all of a sudden the risk adverse side of me comes out.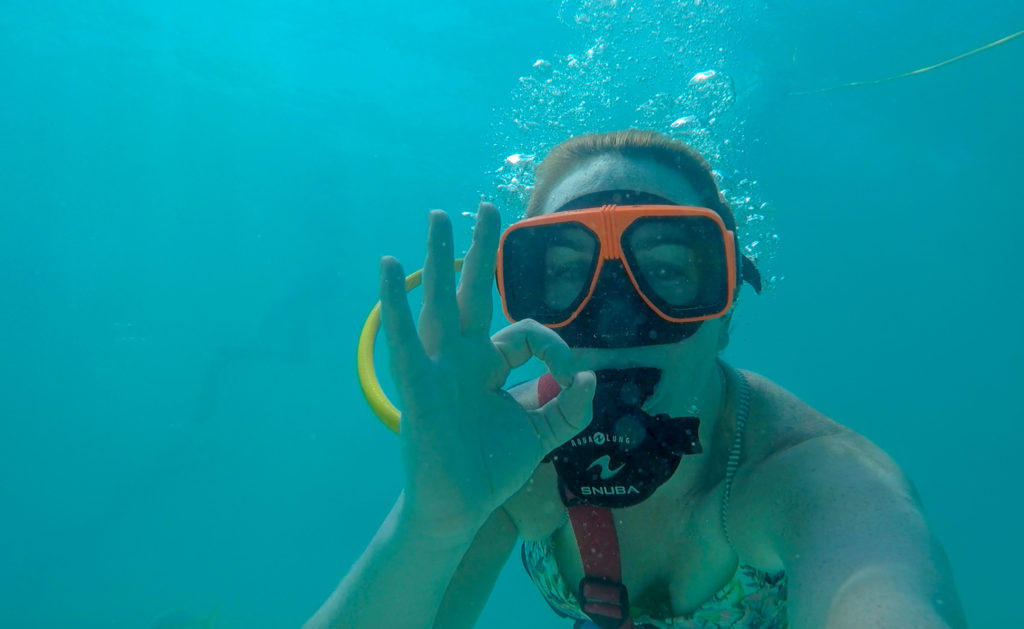 That being said, I can wait to dive again! My next experience isn't coming fast enough. I'm so glad I overcame my panic attack and got to fully try SNUBA. Check out the sights I captured:
SNUBA was a gifted experience while attending Social Media On The Sand at Beaches Resort in Turks and Caicos and my opinion was not swayed by drinking any pina colada flavoured kool aid.
Yes, I truly would SNUBA again, hopefully without a panic attack.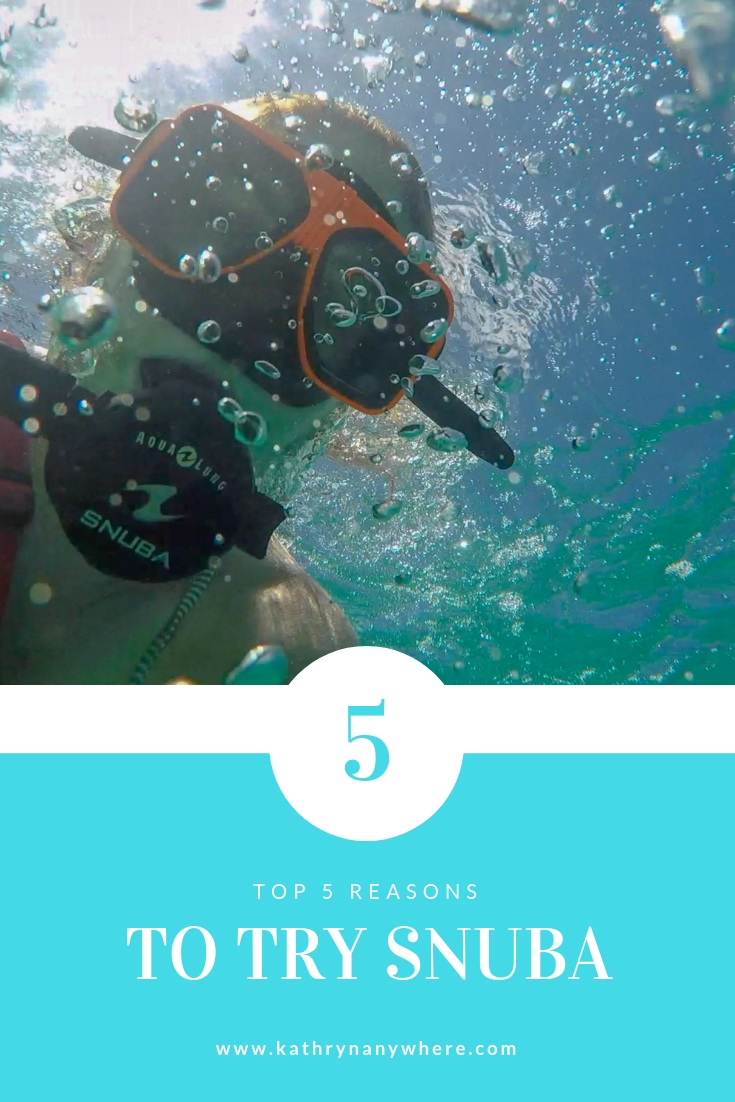 Considering a vacation at a Beaches Resort? SNUBA is available at all 3 Beaches Resorts Locations! Book your vacation here (affiliate link):