My stay at Viamede Resort was hosted.
All opinions and experiences are that of mine and my family and I am always brutally honest.
If you know my Mom, you know where I get many of my personality traits from. My wanderess, my storytelling ability, my "balls to the walls, take no prisoners" mentality.  Also my ability to hold my tongue and lash out through my eyes, but I digress… Needless to say, if you understand me and my inability to sit still, then you know my Mom. When the folks at Viamede Resort invited me to bring the kids to absorb some nature, play on their paddleboards and have a great time in one of their cottages there, I knew I had to bring my Mom along too!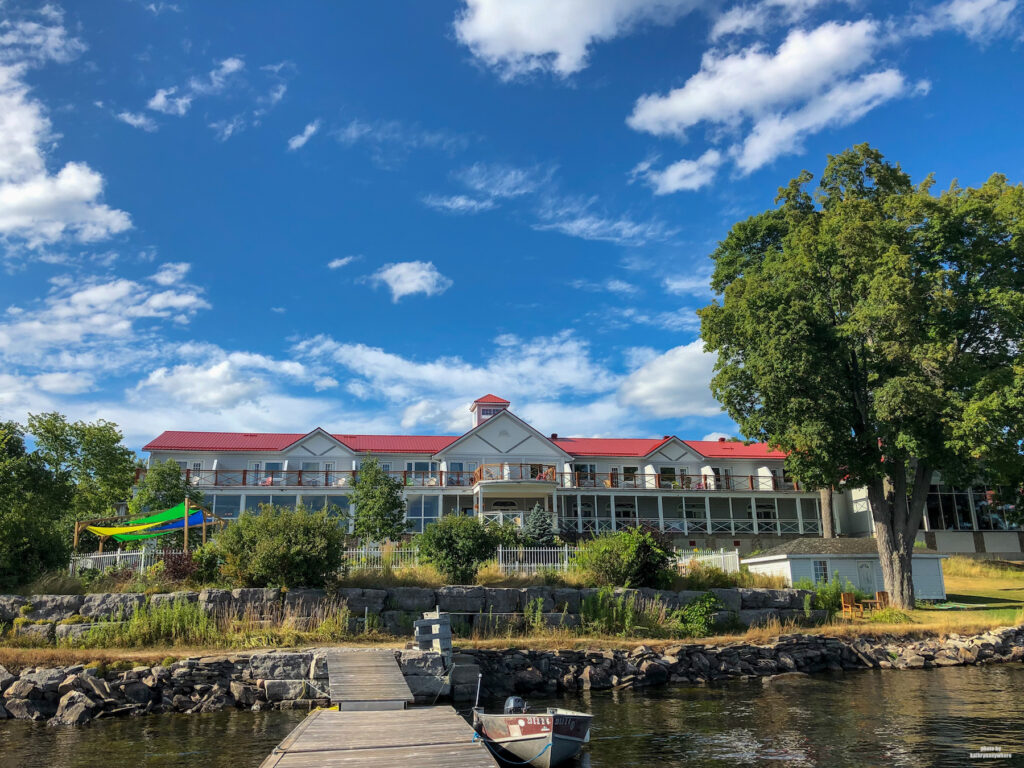 WHAT IS VIAMEDE RESORT?
Viamede Resort is a quaint and rustic four-season resort that has resided on Stoney Lake since 1885. That means that many families have had grand traditions of visiting and revisiting many times over the years. So, that is a lot of beautiful Ontario sunsets on the lake watched here, mine included.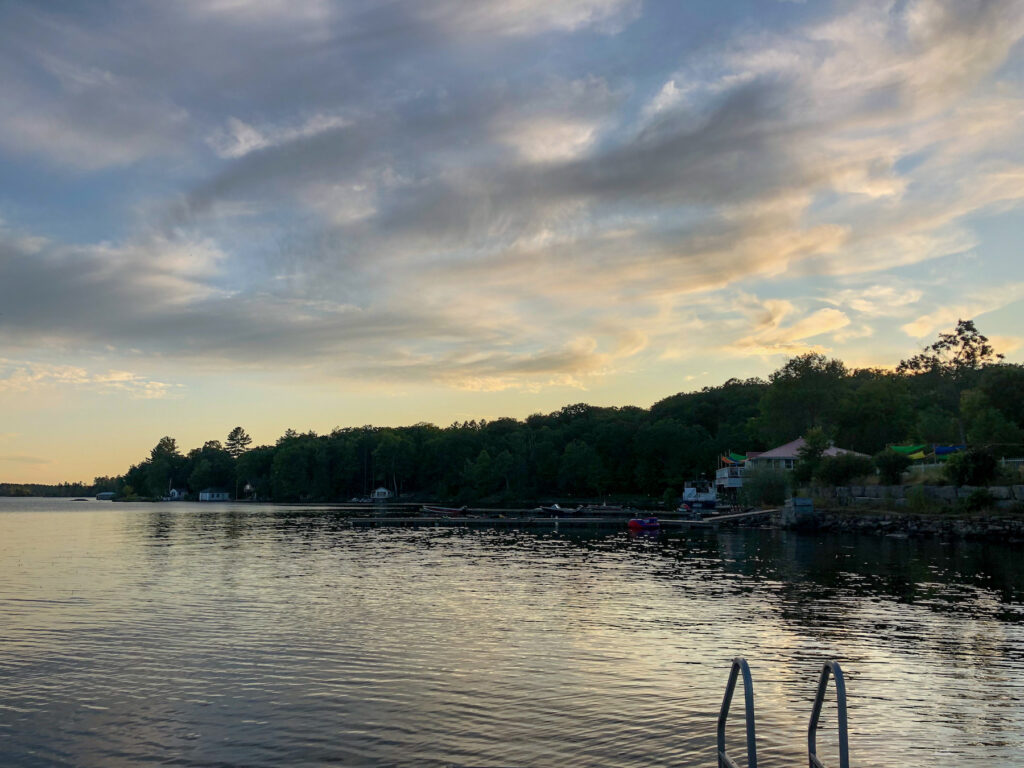 The exterior of the resort was a little worn looking and the landscaping was wild. It did suit the resort, like a bit of scuff on a ruggedly handsome man. You know, he could shave but he's pretty adorable with that shadow? That's how I think of Viamede Resort. If a landscaping crew came in and completely tidied it up, it wouldn't feel as comfortable. Part of the charm is the overgrown, Ontario oasis of wildflowers.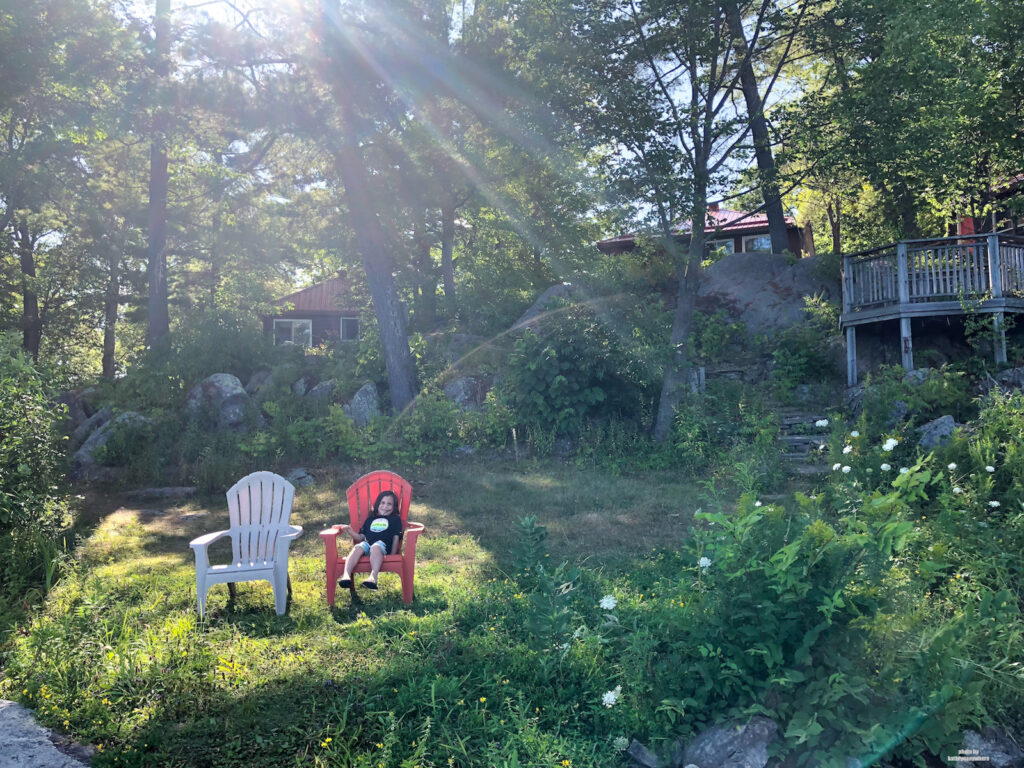 The original hotel no longer exists due to fire, but the main building that was erected around 1907 still retains some of that original charm. Aside from the main building, there are cottages and other hotel resort rooms in a couple of rows overlooking the lake. There is an indoor and outdoor pool, saunas, a chapel, a small beach, a great lake to swim in, kayaks and stand up paddleboards to play on. Oh – and restaurants and a farm.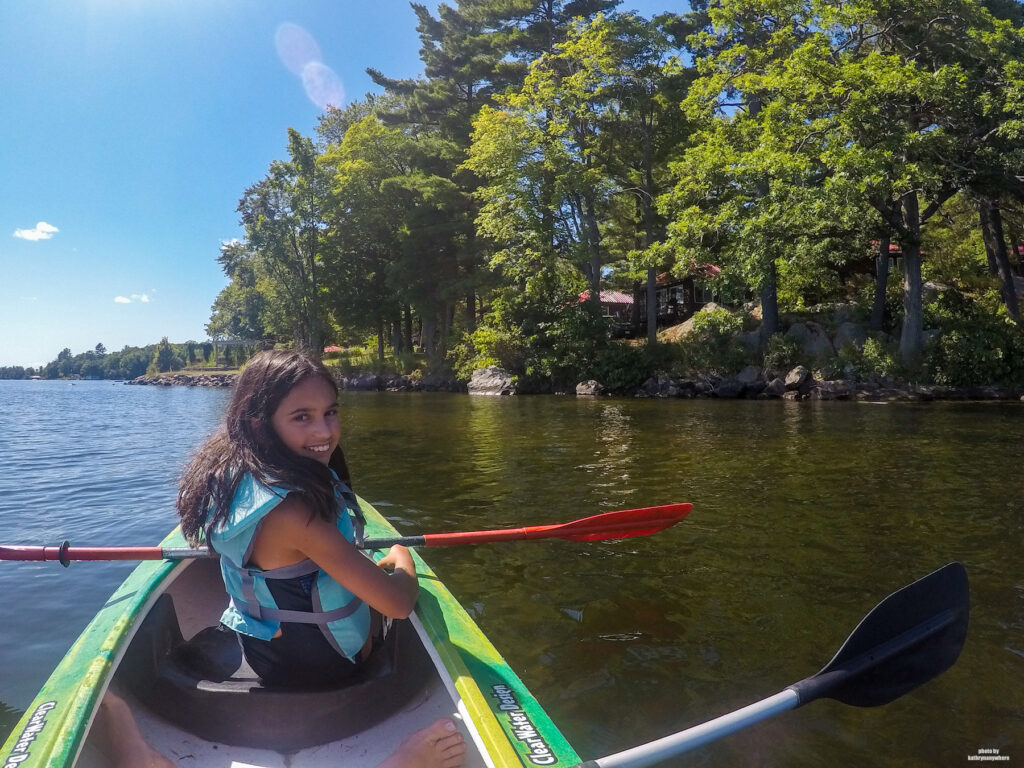 I'm sad to say that we have never been before. As someone who has always wished to have a cottage or a recreational property in the Kawartha region, Viamede Resort ticks all the boxes of a year-round destination that my children and I belong at.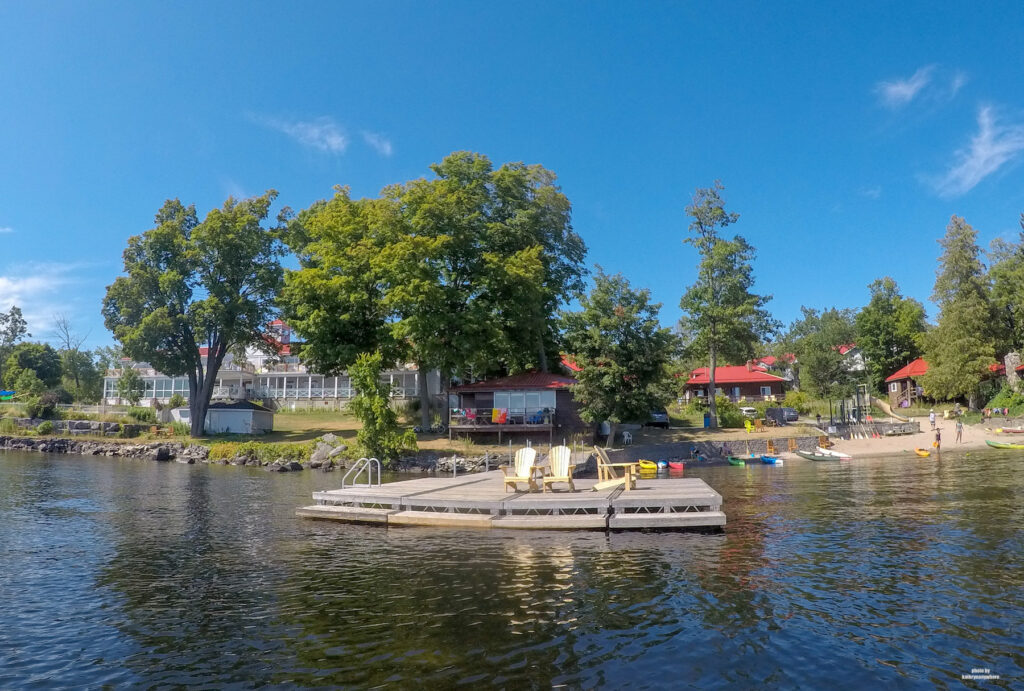 WHERE IS VIAMEDE RESORT?
Viamede Resort is located just outside of Woodview, Ontario. If you're never heard of that town, don't worry you're not the first to not know where it is. Basically, Viamede Resort is in the area of Peterborough and the Kawarthas. Just west of Apsley, Ontario on Highway 28. From downtown Toronto, the driving time is approximately two and a half hours depending on the time of day you leave downtown at.
Hot tip: Downtowners know to depart for the Kawarthas and Peterborough region between 11:00 am – 1:00 pm or after 8:00 pm to skip high volume traffic. 
OUR 2 BEDROOM COTTAGE
For our stay, we had a 2 bedroom cottage. I feel like it was a good choice for the four of us – two children aged five and ten with two adults. Included in the cost of booking a cottage is breakfast in the main lodge, all resort activities, and amenities, participation in recreation programs (check the timetable and offerings by the front desk), parking and wifi. The wifi is sufficient for emailing and texting. Web streaming (Netflix and Youtube) is not so great on their network.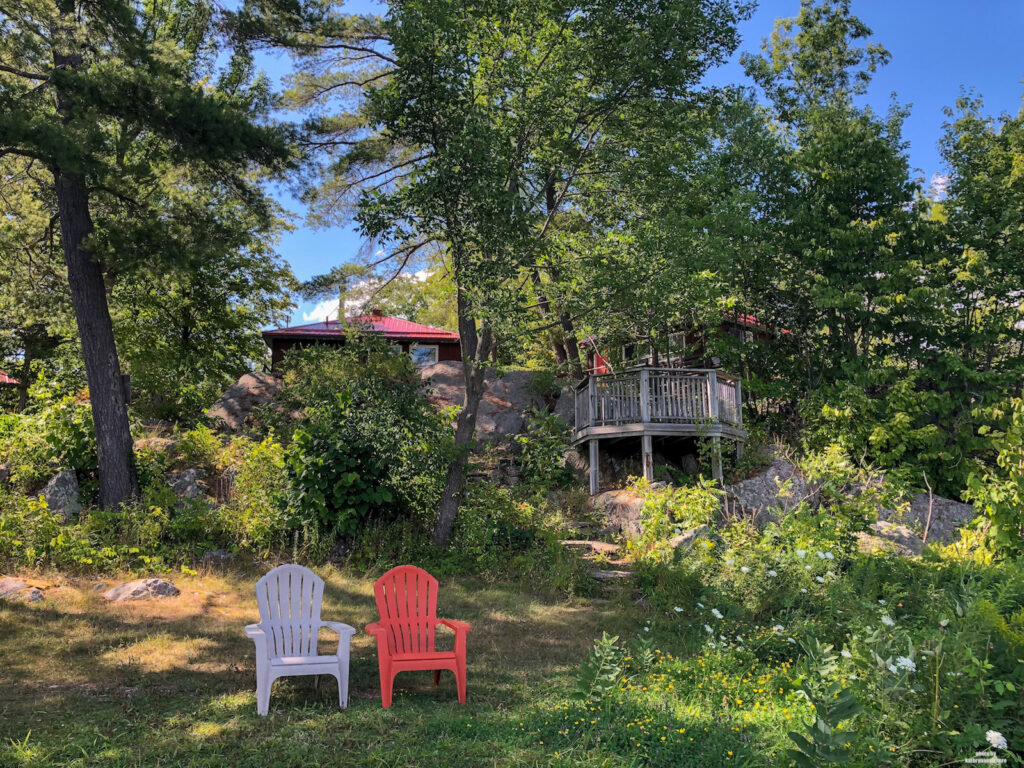 Outside, we had a back deck that faced the water with a bar-b-que for cooking. There was a small table and chairs to eat at and you could hang your wet beach towels to dry over the railing.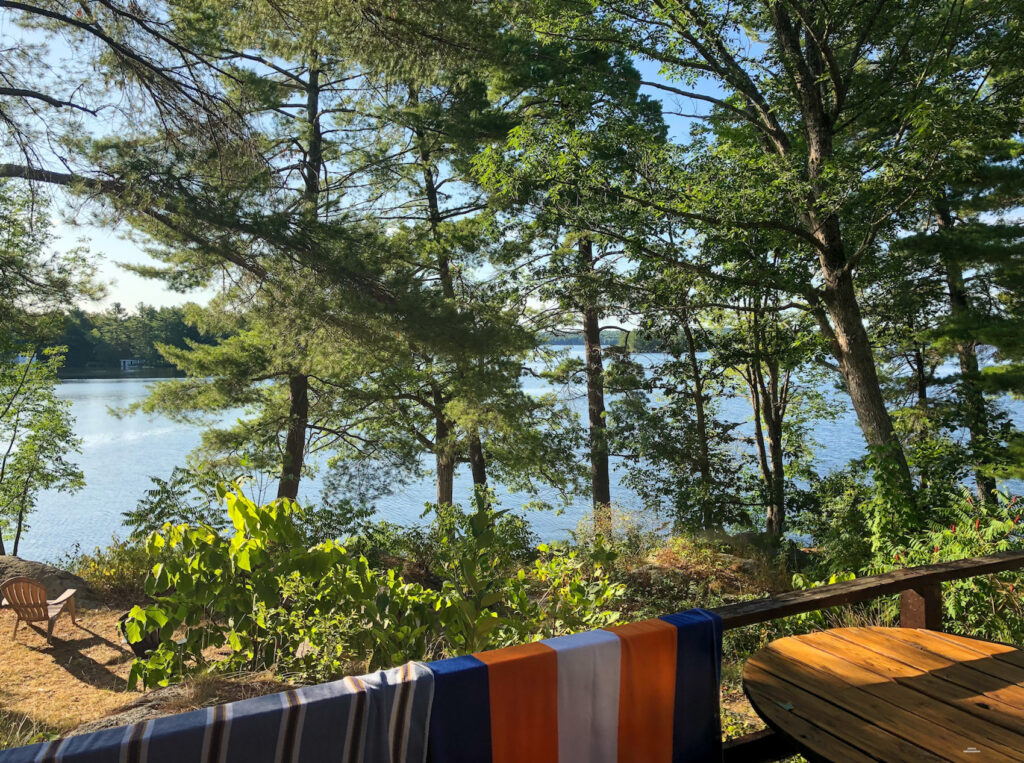 The first bedroom has a set of bunk beds, the bottom bunk was a double bed. The top bunk was a single bed. The master bedroom had a queen-size bed. For our purposes, my mom got the room with the queen-size bed (because she's our queen!). I shared the bunk beds with the kids, much like I do at home anyway.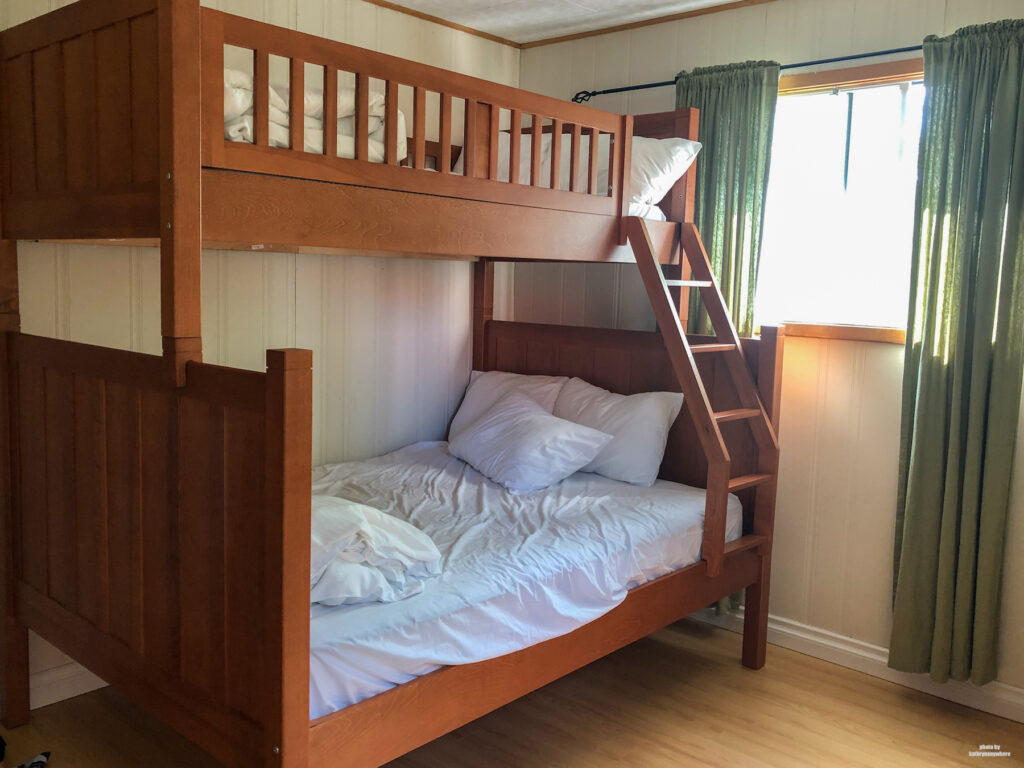 Our cottage had a small TV (with some cable channels) and an electric fireplace.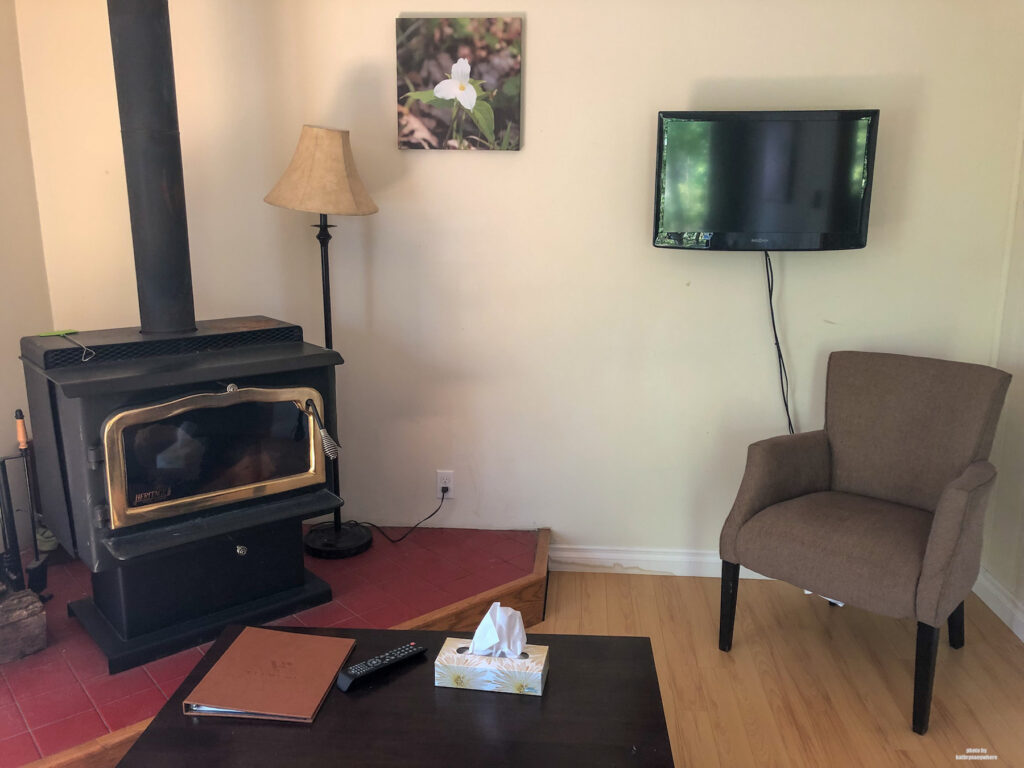 We had a lovely living room area, a kitchen, that had a microwave, a stove, and a sink.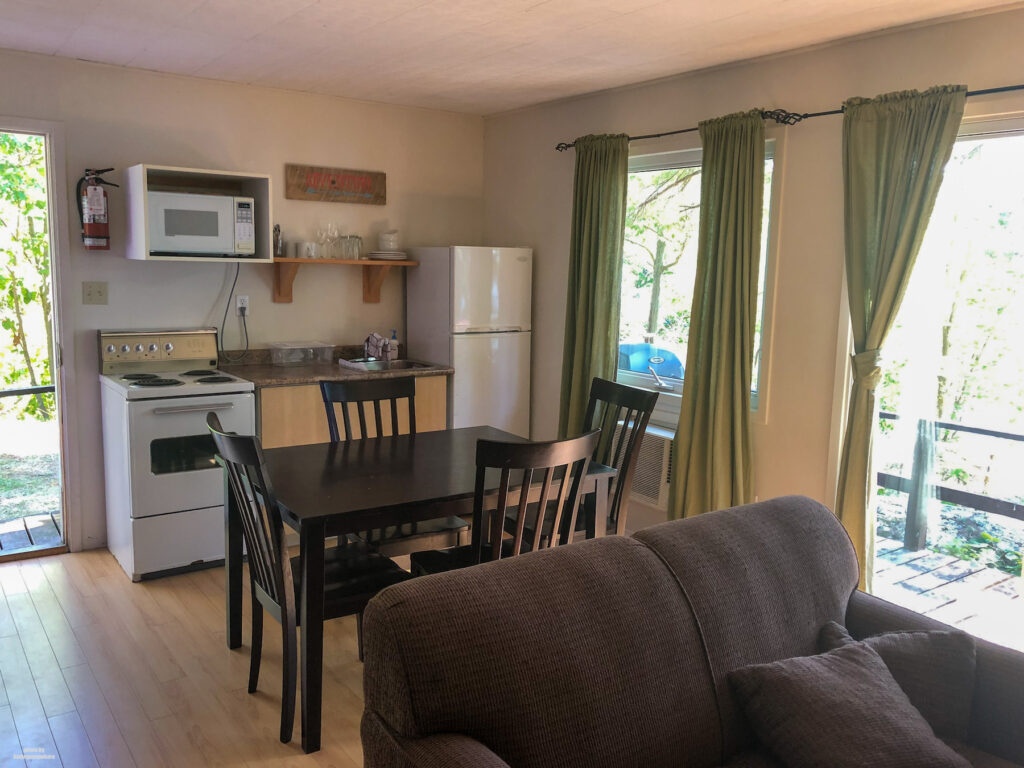 We can boast that we had two washrooms (equals two toilets) in our cottage! Isn't it amazing that little things such as multiple toilets in accommodations get you excited? I mean if you've ever needed to poop at the same time as your kids, you get it. And once you've been spoiled by multiple toilets, it is hard to conceive going back to staying somewhere with just one vessel for all your bodily disposals. The main washroom had a shower, the ensuite to the master bedroom had a huge soaker tub!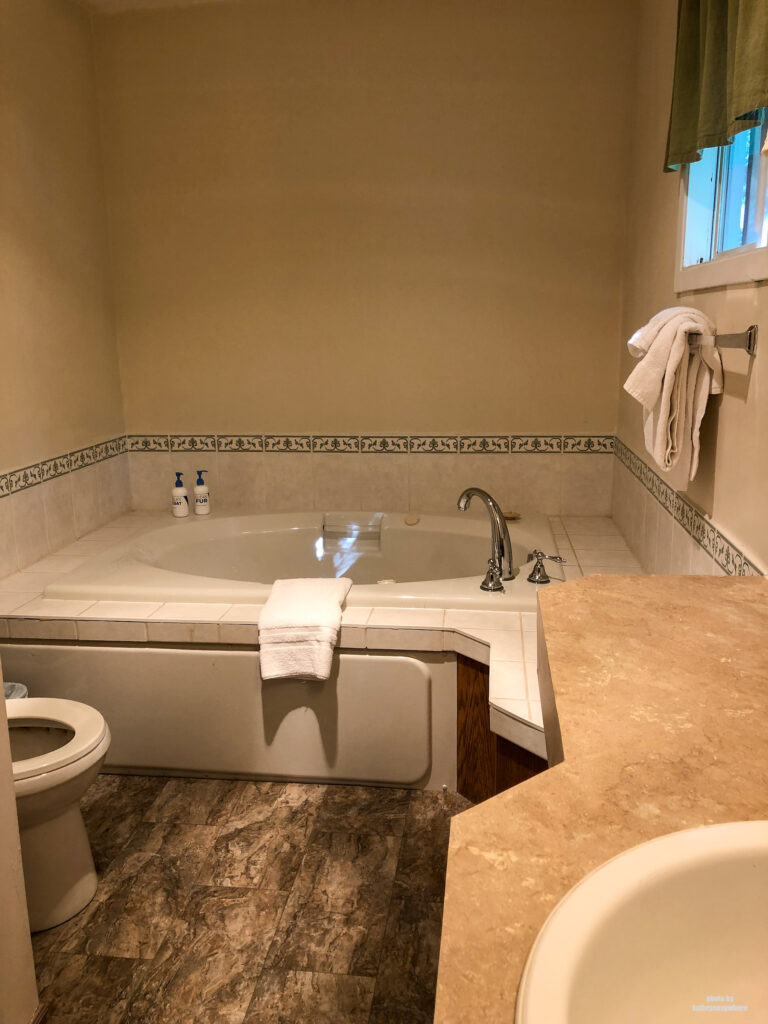 ALL THE AMENITIES OF A COTTAGE FOR YOU TO USE
As I mentioned above, Viamede Resort has a lovely indoor pool attached to the main building with two saunas. I can see this area being popular in the winter. When the kids and I swam there one evening and my mom sat on the deck and napped, we were the only people in there.
The majority of the pool is shallow, the deep end was only up to my shoulders. My oldest child had no problem swimming inside. My son, who is five, wore water wings and was fine.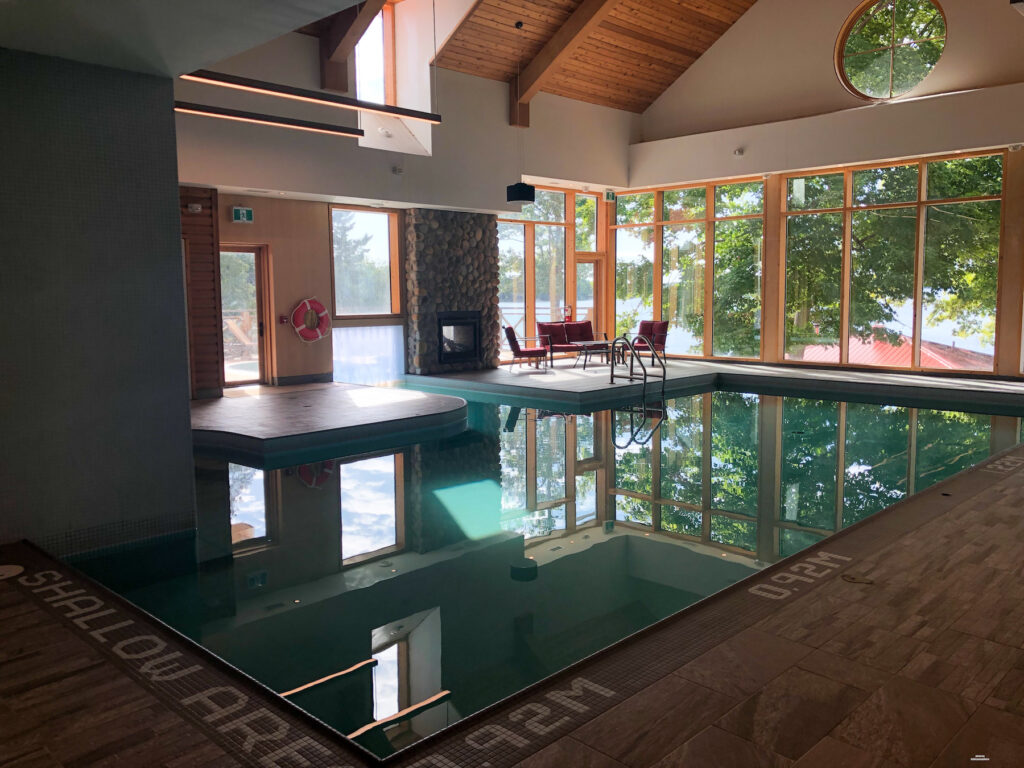 What's really cool about the indoor pool is that there is an opening you can swim through to the outside. Outside, there's a cute sun deck with a great view of Stoney Lake. And there are loungers because you know, the kids have it tough and need to relax. I mean, it's a great place for adults to chill out.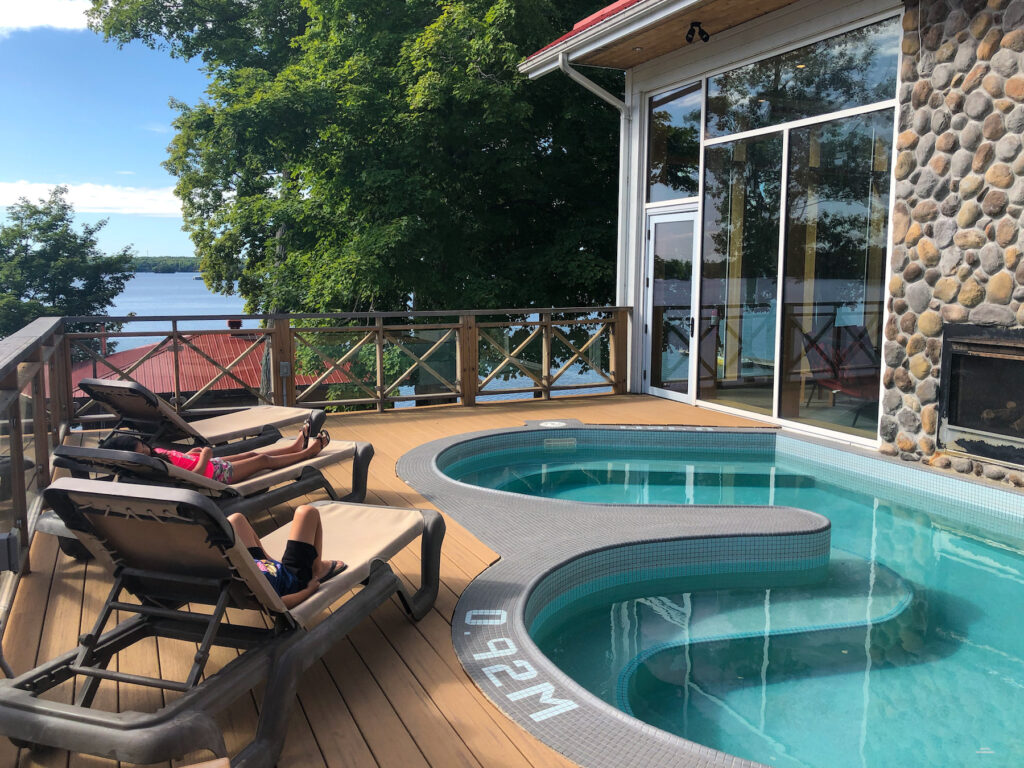 There is also a refreshing outdoor pool with a view of Stoney Lake (see a theme – lake views everywhere)! Towels are supplied by the Resort, no need to bring your own unless you're at the beach.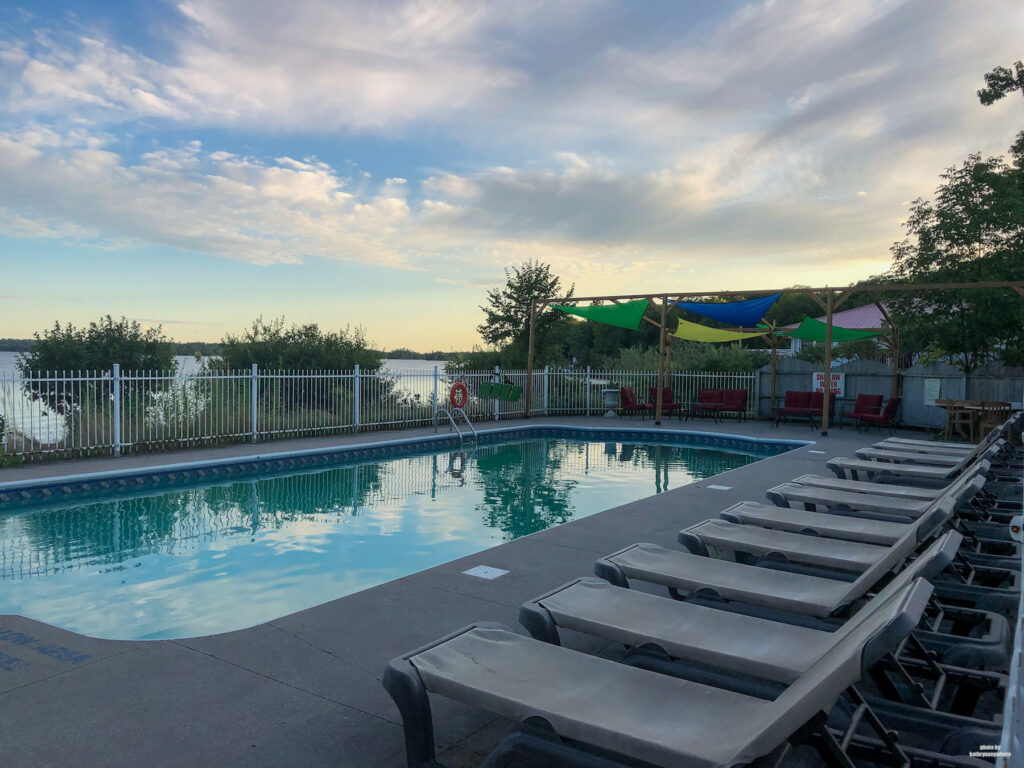 ON THE WATER
As important as being in cottage country is having a small sandy beach to frolic at. Viamede Resort does have a small beach with a nice swimming area, kayaks and stand up paddleboards to play on. All of these amenities are included at the resort and are available for guest use on a first-come, first-serve basis.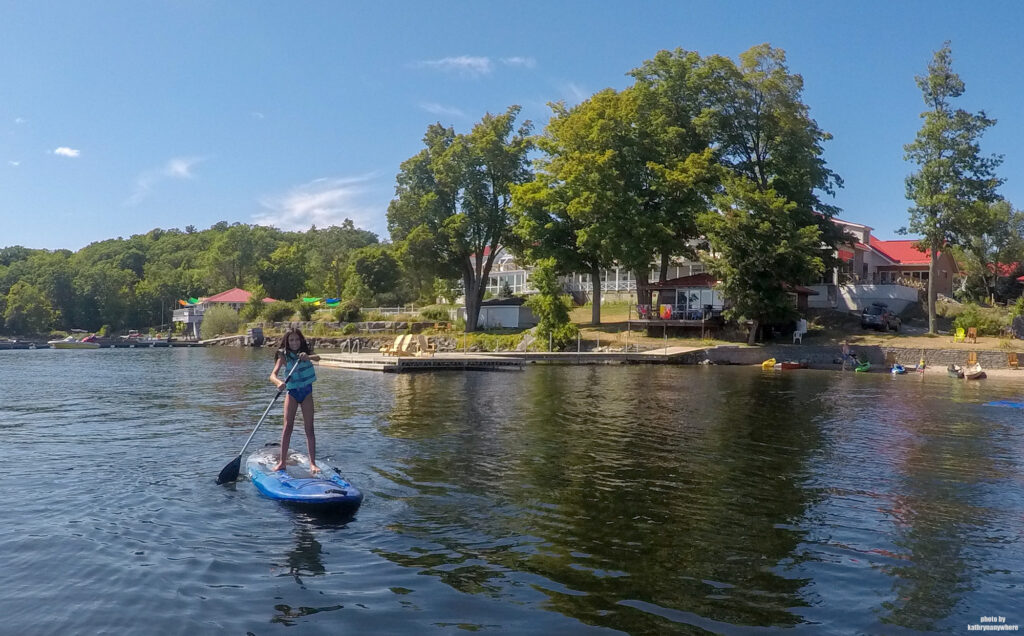 I just want to mention how much my children and I really enjoyed ourselves on the water here in the kayaks and with the stand-up paddleboards (SUP). My mom is not so keen on the water, so she took the opportunity to rest while we played. Or we switched – I played with one kid on the water while she spent time with the other.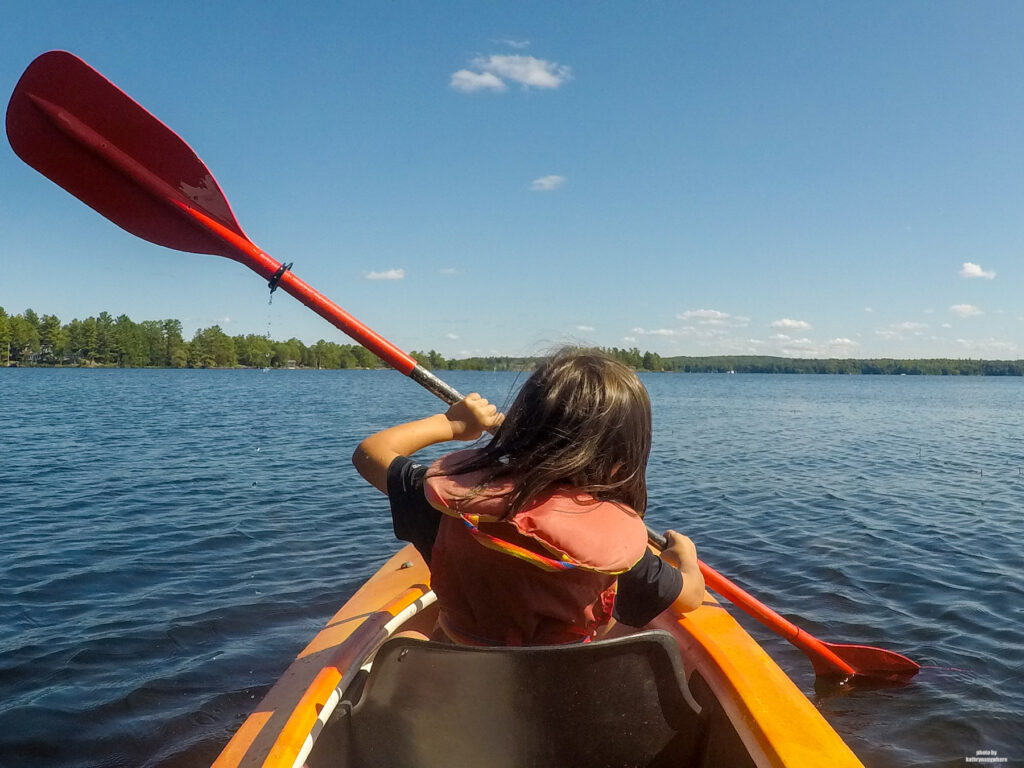 Giving my children the chance to learn how to paddle in a kayak, with no time restrictions or demands on a schedule was an amazing gift. It was an opportunity for them to spend time with me in my element and see the best of me in that moment, which is something they really needed.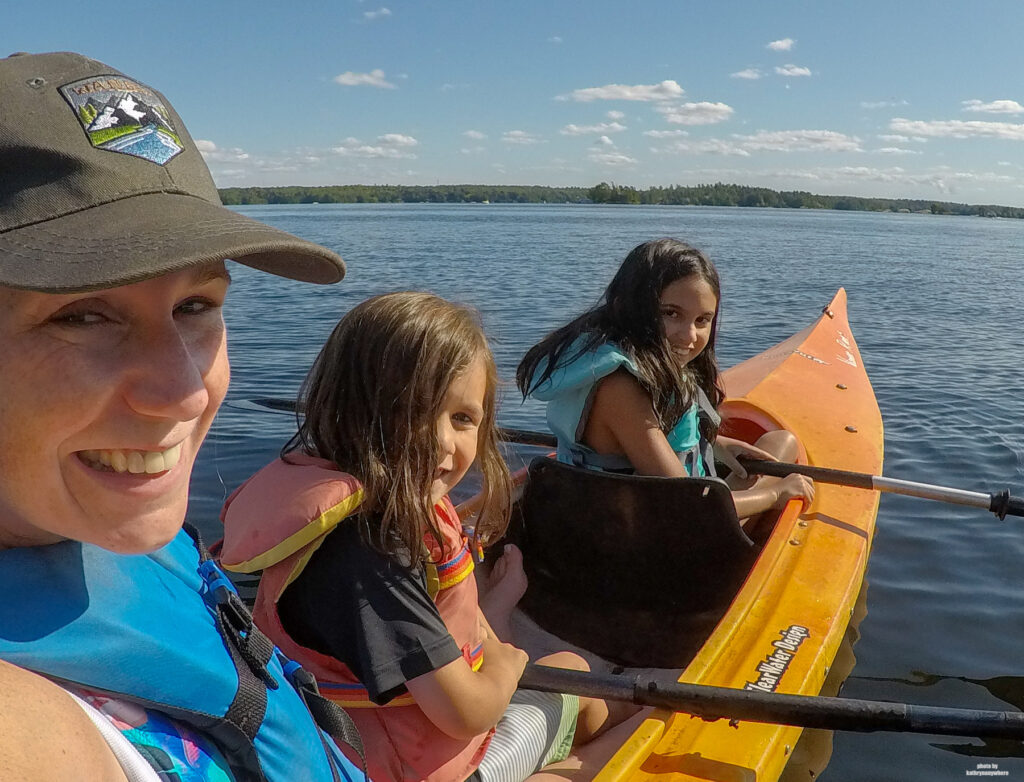 Also on the property, is a farm, however, we did not have the time to visit it. Sorry, we were too busy on the water, all day and evening!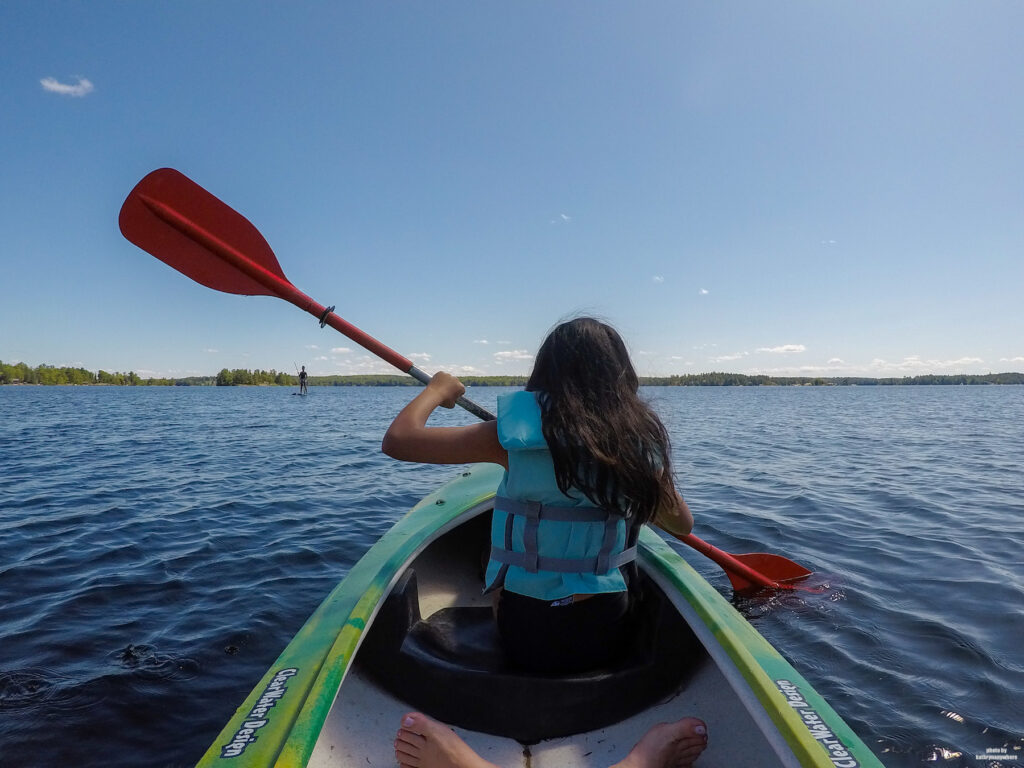 WHERE TO EAT AT VIAMEDE RESORT
If you have one of the cottages as we did, you could prepare all your meals and enjoy them in your pajamas or bathing suits on your deck overlooking the water.
For breakfast, you can head into the main building to the Restaurant/lounge 1885, as this is where you will find a hot breakfast. Bacon, scrambled eggs, sauges and toast are available. The highlight for the kids was the make your own waffle station and the fresh juices available. The highlight for me is the coffee station. For my mom – it's tea.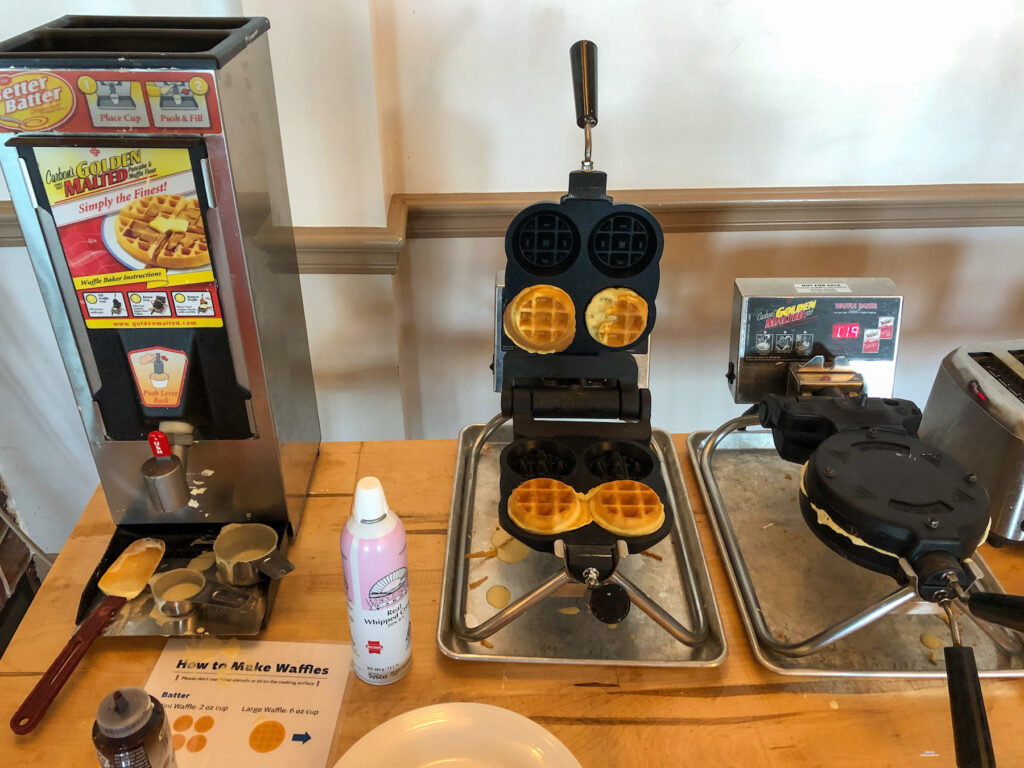 The Boathouse Restaurant is a long-standing structure that has gone through many incarnations. Rumoured to have been a dance hall, it was also a pub before it became Viamede Resort's Boathouse Resort. Open for lunch and dinner, the menu sources a lot of local ingredients and influences in their dishes.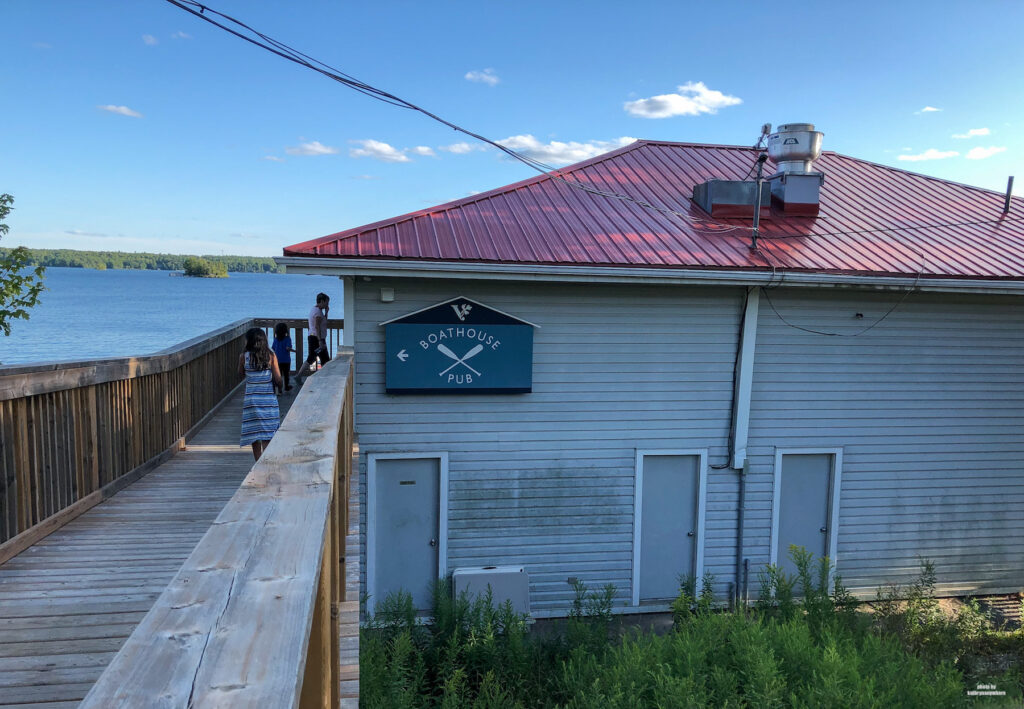 Open year-round and located right on the waterfront, the location is perfect for cottage dwellers and area boaters to pull up at the dock and come in for a meal.
Pro tip: If libations are something you would like to partake in while on holiday, pack your own for your stay. There is a limited wine and beer menu at the Boathouse restaurant and you can't buy from here and wander the resort grounds with it.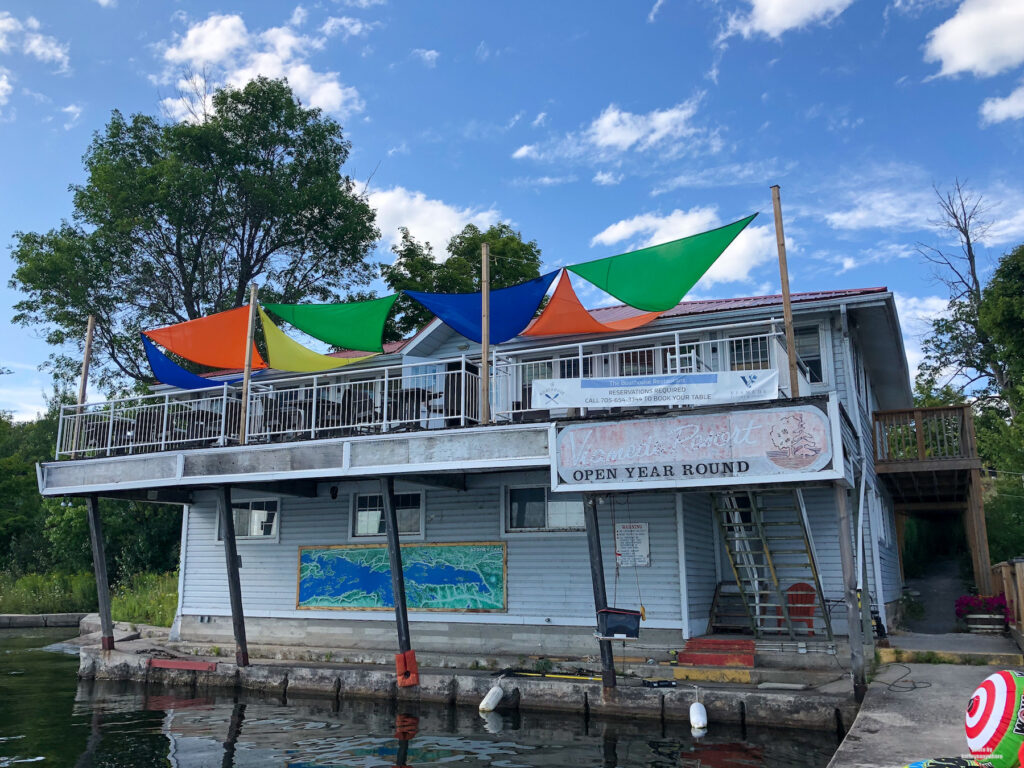 Not pictured or described here is Mount Julian – a signature dining, nine table restaurant across the street. I did dine there on another occasion with other travel writers after we paddled the Serpentine Loop in Kawartha Highlands Provincial Park and you can read about that post by clicking here.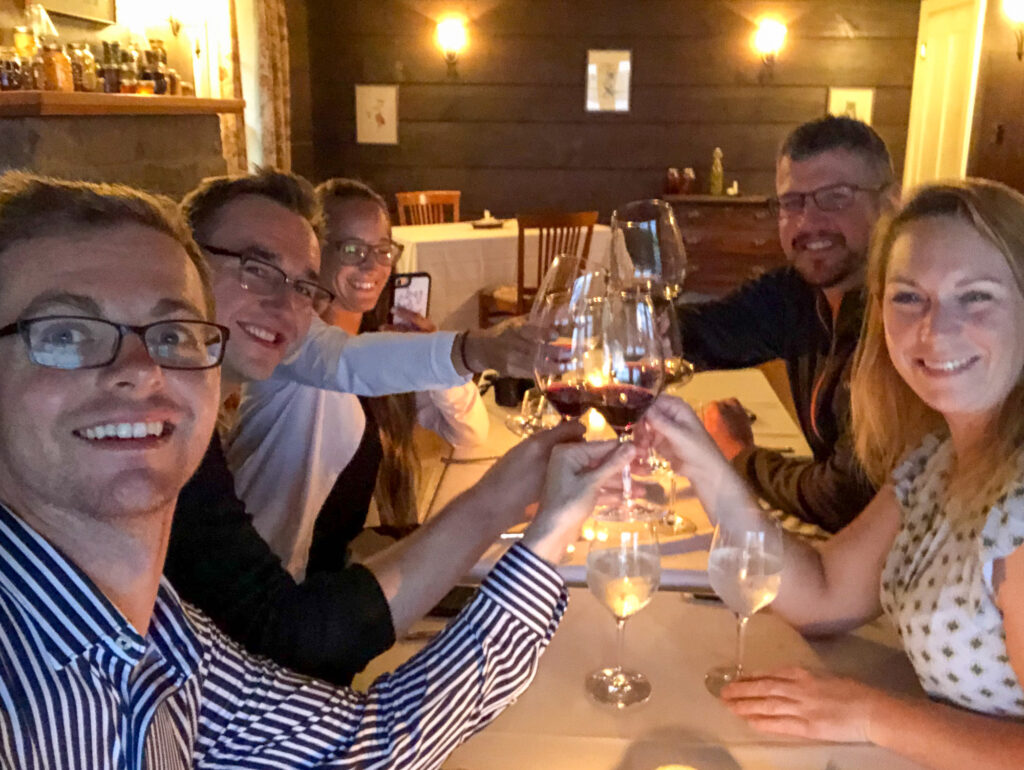 WHY VIAMEDE RESORT IS PERFECT FOR MULTIGENERATIONAL FAMILIES
 Viamede Resort allowed us the freedom to spend our time how we wished too. We were not confined to schedules and our accommodations allowed us to be together, but be separate so there wasn't "too much closeness". I think it's fair to say that we all want to spend time with our parents as they age and our parents want to spend time with their grandchildren. I live in Toronto, my Mom is 2.5 hours north-east from me. We don't get to see each other all the time because of the distance. Having my mom with us at Viamede Resort afforded me the opportunity to sit and relax on my own, which is always sorely needed. And it was a good opportunity for the kids to create new memories of summer vacation time with Grandma.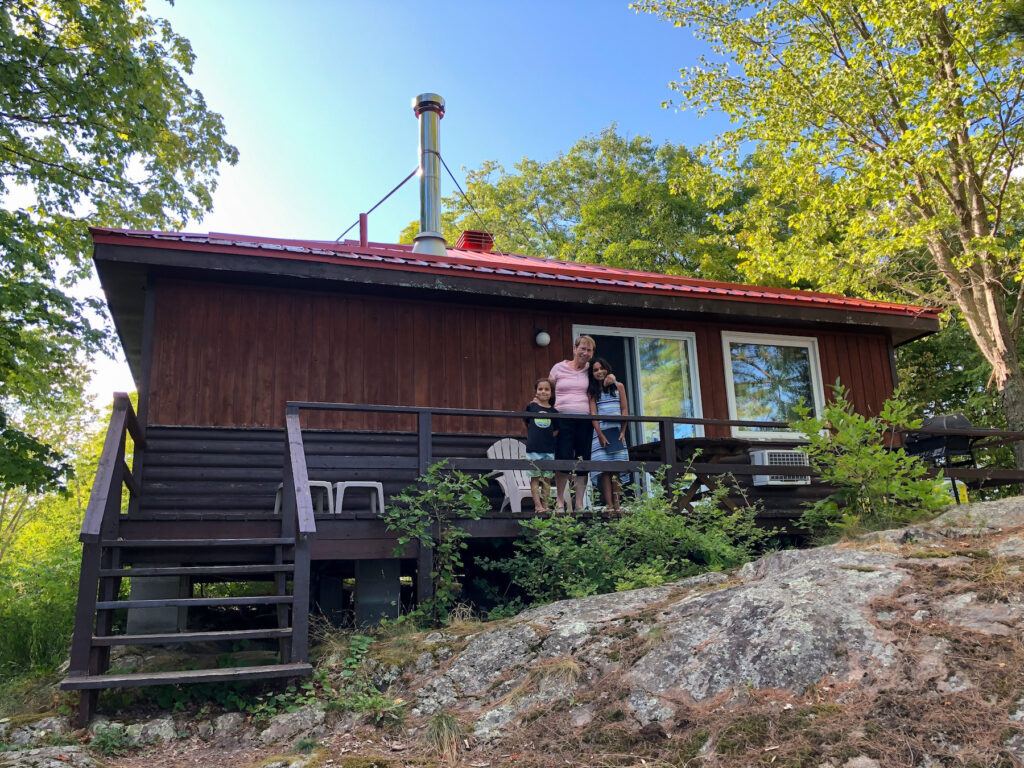 Also, in the area, we enjoyed a trip to nearby Petroglyphs Provincial Park for an afternoon. Neither my children or mother have visited nor knew of the historical significance in the area and it was an eyeopener. The main entrance to the park is a 15-minute drive away and it worth the visit for a cultural excursion.
To book your stay at Viamede Resort for any season – click here! You won't be sorry!