Serpentine Loop in Kawartha Highlands Provincial Park – 20 Photos to Inspire You To Canoe That Route
My camping and canoe portage with The Land Canadian Adventures on The Serpentine Loop in Kawartha Highlands Provincial Park was hosted by Peterborough & the Kawarthas Tourism.
If you have ever wanted to connect with nature, experience some of the finest back-country camping Ontario has to offer and paddle your canoe to your heart's content, but have come to dread the drive north towards the Muskoka or Algonquin regions from Toronto, the hands-down best alternative to get that fix and not get snarled in cottage country traffic is Kawartha Highlands Provincial Park. I will personally vouch for the fact that Peterborough and the Kawarthas region have some of the best reflective lakes, sunrises, and sunsets you can find in Ontario.
I discovered that I didn't need to get on a plane or drive hours away to find cotton candy skies.
Quiet sunrises, picturesque days where the sky reflects in the water and incredible sunsets are all found here. Trust me, I saw them! Kawartha Highlands Provincial Park is a back-country only campground. Each site is accessible only via canoe with portages of various lengths in between.
A portage is the carrying of a boat or its cargo between two navigable waters. There is no possible way to drive to any campsites which means your experience on the Serpentine Loop will be all on you. No one can drive up and rescue you if you don't feel like paddling anymore.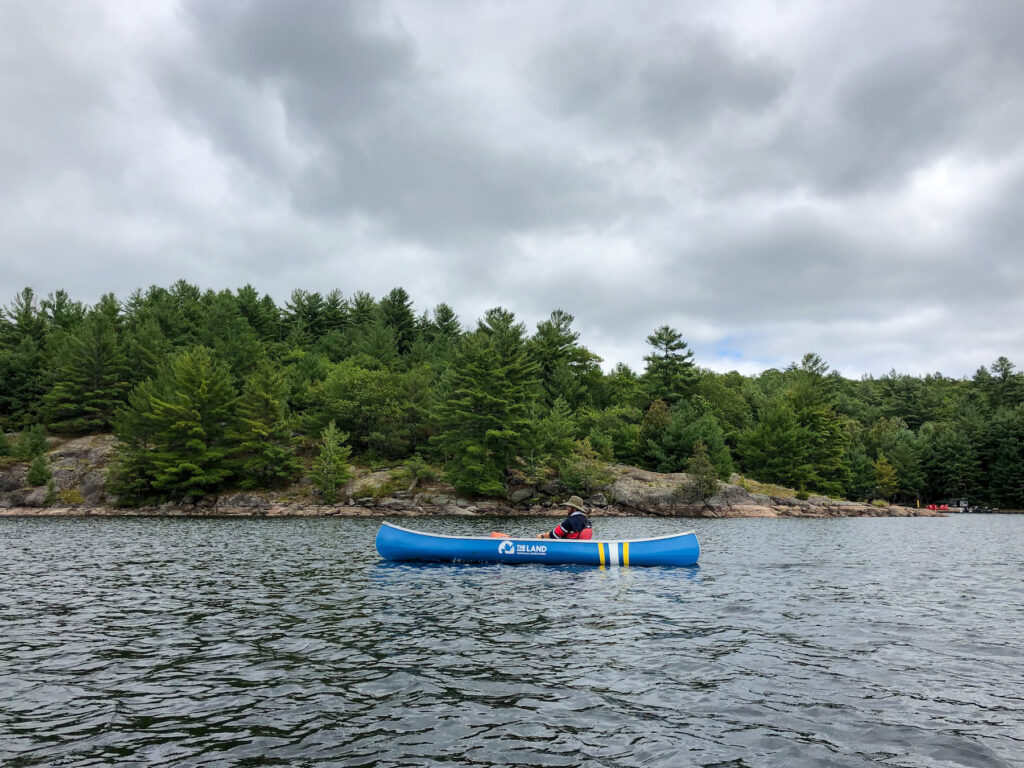 After Algonquin Provincial Park, Kawartha Highlands Provincial Park is the largest park in southern Ontario. Established in 1989, Kawartha Highlands Provincial Park is one of the newest recreational and wilderness areas in Canada.

The Serpentine Loop in Kawartha Highlands Provincial Park
Described as a "lovely and challenging route through the moderately remote northeast corner", the Serpentine Loop in Kawartha Highlands Provincial Park is approximately 21 kilometres in length. I was lucky enough to be able to experience this portage with my friends, Kim from Walkaboot Travel, Ryan from Out With Ryan, Chris from TravelingMitch and my steady stern, Kevin from The Wandering Wagars. We were lead by the ever so patient, kind and knowledgeable guides, Noah and Andrew from The Land Canadian Adventures. I'm not sure if they knew what they were getting themselves into with us.
Want to know how to survive a camping portage with your friends? Read here: Canoe Portage With Friends: How To Have A Successful Back Country Camping Trip
The Land Canadian Adventures is a family run business with an energetic group of outdoor enthusiasts led by Bretton and Briagh. You can be a novice paddler and someone from their crew will guide you with expertise, confidence and a huge zest for the outdoors.
Never camped before or do not have the right gear? No fear! The Land Canadian Adventures supplies you with sleeping bags and tents all nicely done up in dry bags that you can throw over your shoulder like a backpack for those portages.
Can you cook in the wild? You sure can! Their guides have the gear and knowledge and tasty menu to get you through!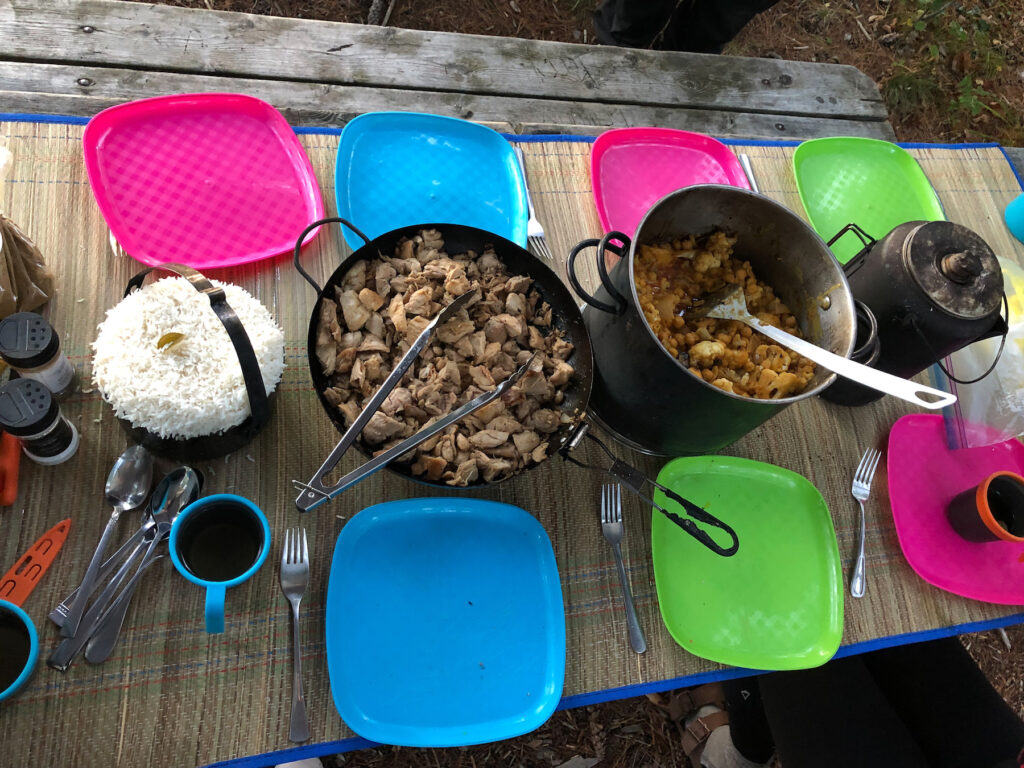 Stunning Views Everywhere
According to the history of the area, these canoe routes date back to the time of Samuel de Champlain, who explored this region. To clarify a historical point – the routes do date back even further due to the close proximity of the petroglyphs, which are ancient rock carvings.  Today, the First Nations people call the carvings Kinomagewapkong, meaning "the Teaching Rocks" and they pre-date any European settler in North America. It is believed that the routes were used by the ancestors of indigenous people in the area.
In a nutshell, on the Serpentine Loop, you put in on Anstruther Lake, portage to Rathbun Lake, then into North Rathbun Lake, experience the longest portage of the whole trip to Serpentine Lake. Paddle to the portage point to Copper Lake, before re-entering Rathbun Lake and finishing the reverse way through your first portage back to Anstruther to the point where you put in.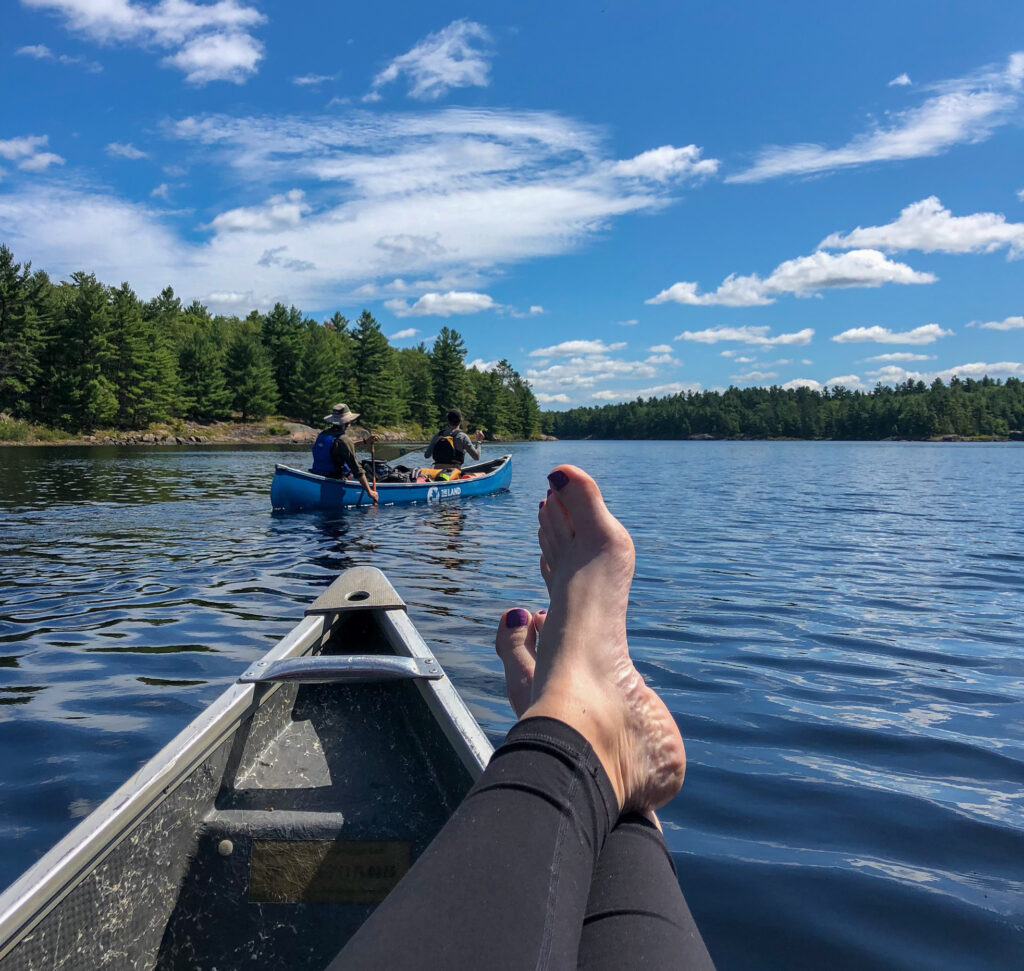 Day 1 – Launch
Footloose and kid-free, we launched for Serpentine Lake Loop at Anstruther Lake, Rd Access Point 5 in Kawartha Highlands Provincial Park. Listen, I love traveling with my children, but here is an opportunity to be out in the wilderness with adults. Excuse me while I jump on this chance!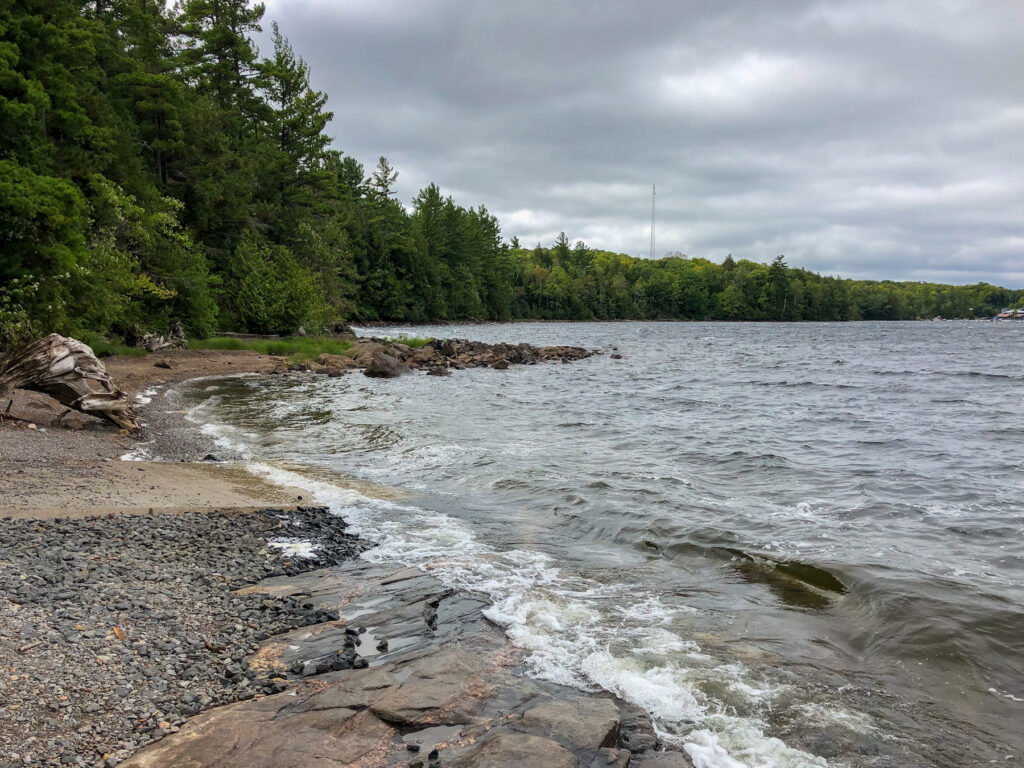 Heading north through the big lake and cottaged area of Anstruther Lake leads to a quick portage of 201 metres into Rathbun Lake. Here, we stopped for lunch – this is what the large and heavy food barrels are for – sustenance!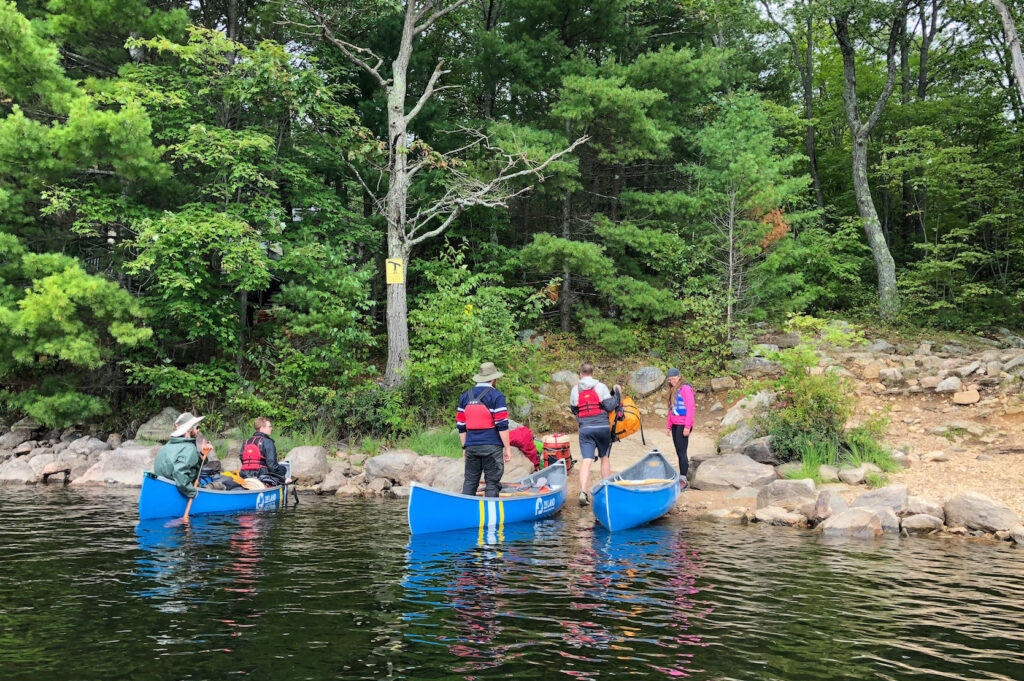 From Rathbun Lake, another short portage of 164m leads into North Rathbun, a very small and remote lake and this is where we set up our first camp. There wasn't another soul to be found on the lake. It was just us, the solitude is amazing. In fact, we didn't pass any other campers or canoes on our first day. Knowing that in such a large space, there is not another person to be found out there.
The sky on this night was clear and we were treated to one of the best sunsets in Ontario I have ever seen. Living in Toronto, I don't get to see the stars as often as I want, but this night made up for it.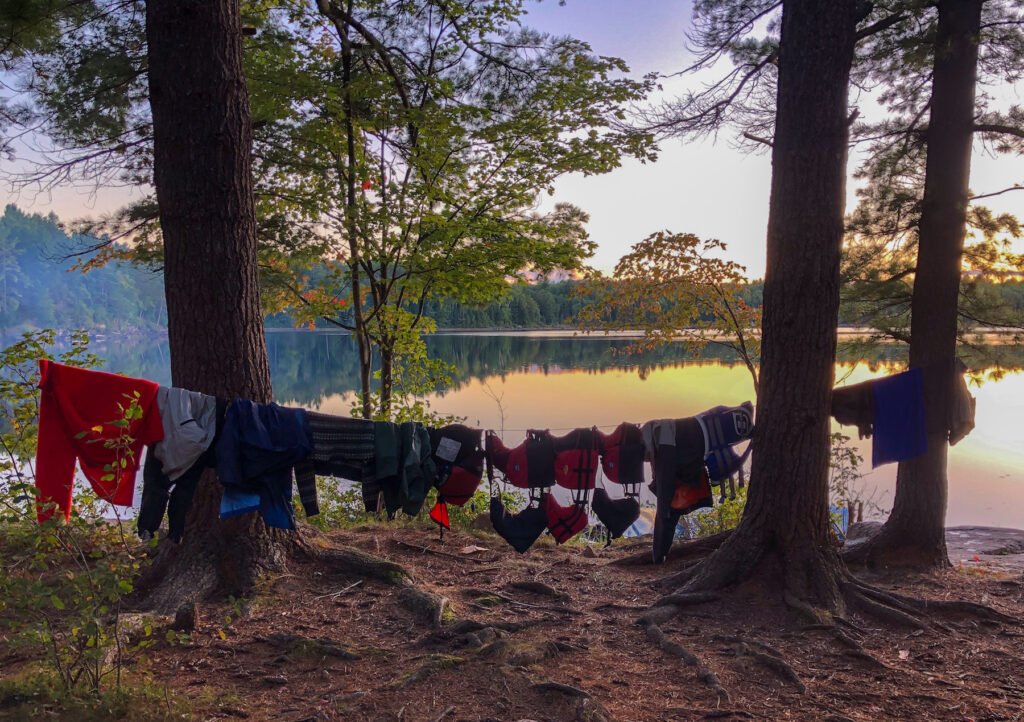 Dinner prepared by our guides as we took in the sunset was a feast of butter chicken. Who knew you could eat so well camping?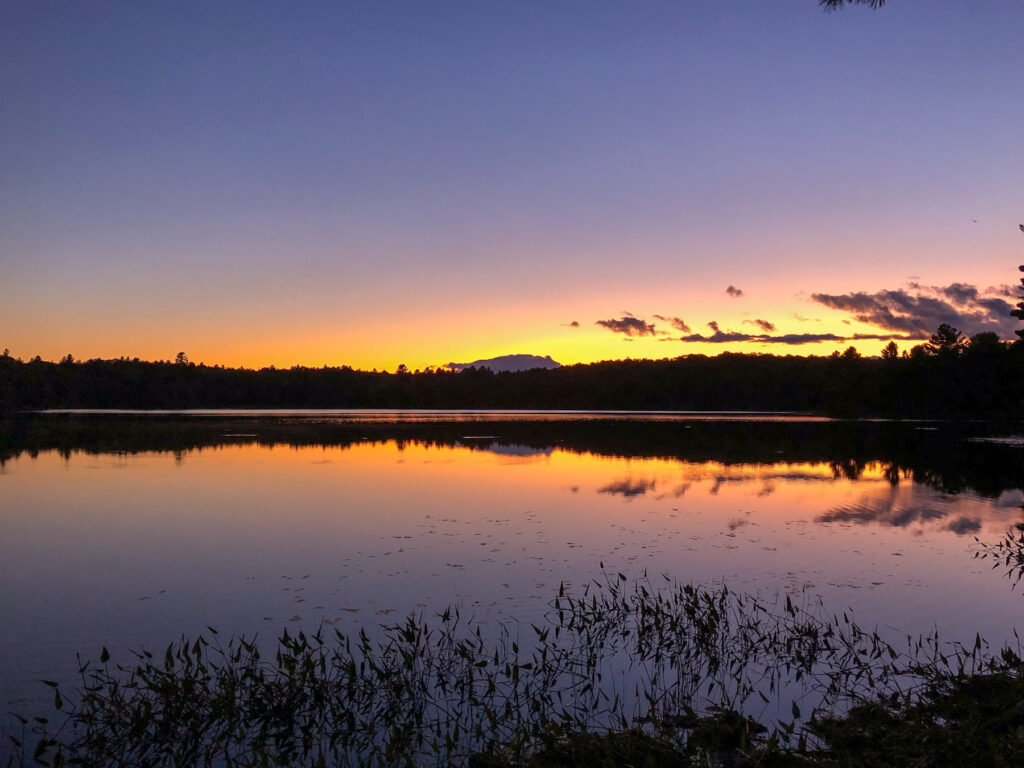 Day 2 – Longest Portage Ever
After retrieving our food barrels from a canoe we launched out in the lake overnight to protect us from bears, we started the second day with the largest portage, 1411m from our campsite over to Serpentine Lake.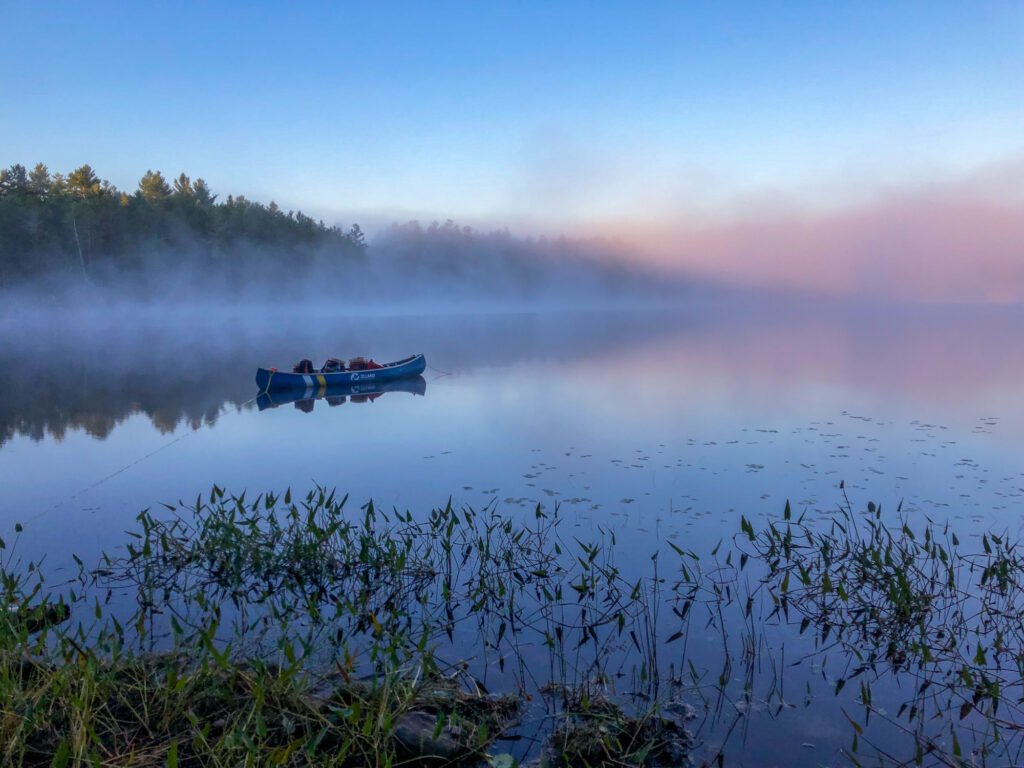 The best part about doing that first thing in the morning is that it's out of the way for the rest of the day.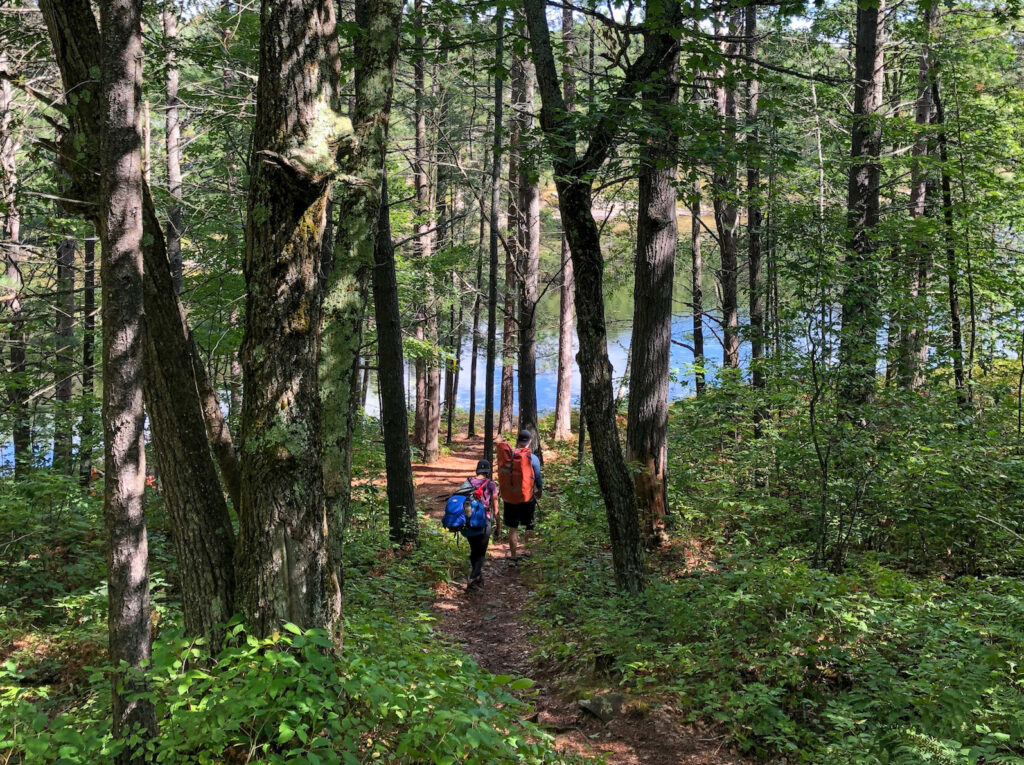 A cool part of this portage was the wild edibles found along the path. Noah and I picked some berries and enjoyed them as a snack.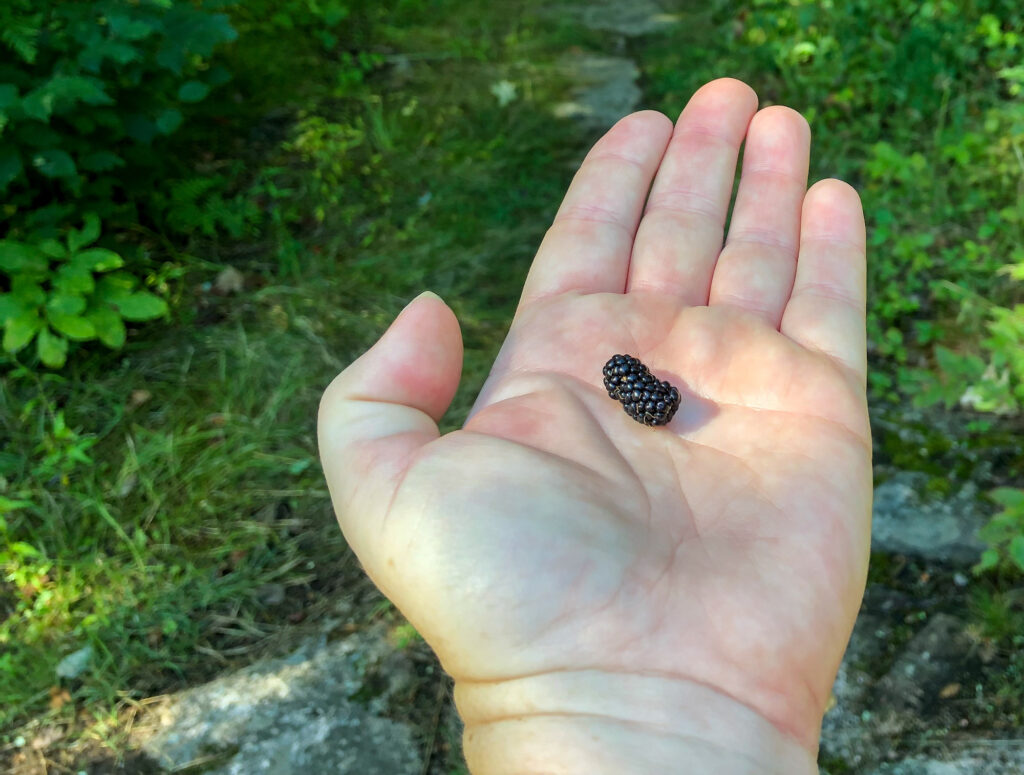 Here we paddled south through Serpentine Lake and then a short portage of 160m into Copper Lake. During this portage, we passed our first and only fellow camper on this day. He was going the opposite way. Good on him for doing this alone.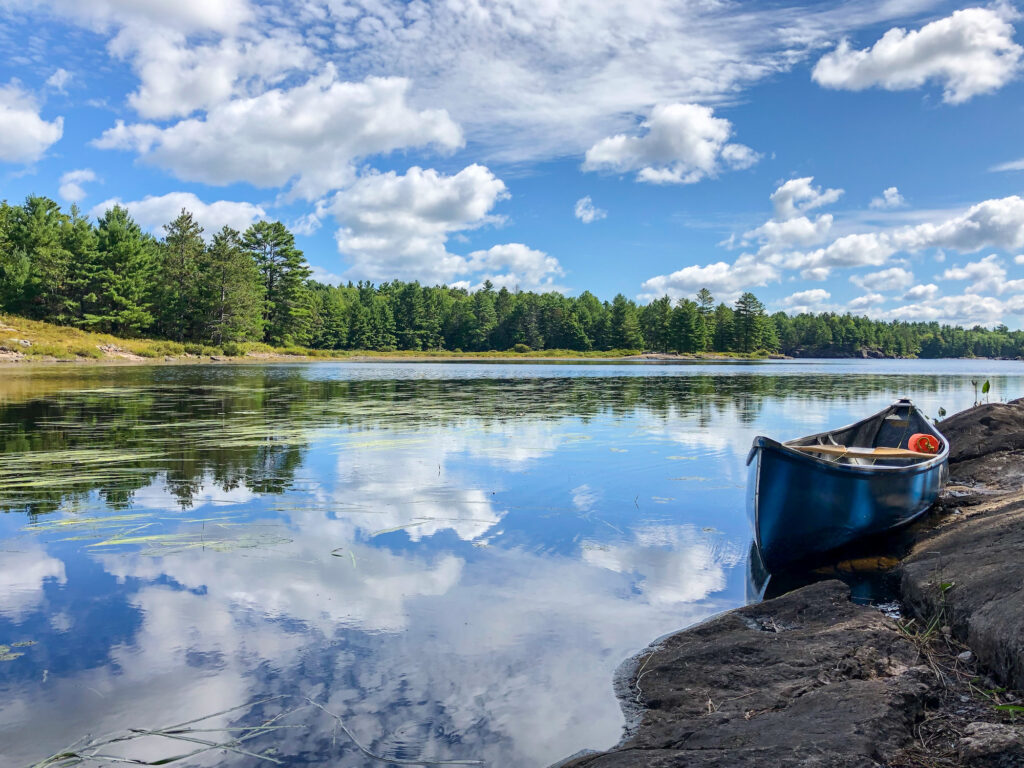 After making our way through a dense creek area, we emerged out to Copper Lake. Here, we took advantage of the expert paddlers. Kevin, Chris and I sharpened our canoe skills with Andrew and Noah. A couple of quick tips and we're on our way to being just as advanced.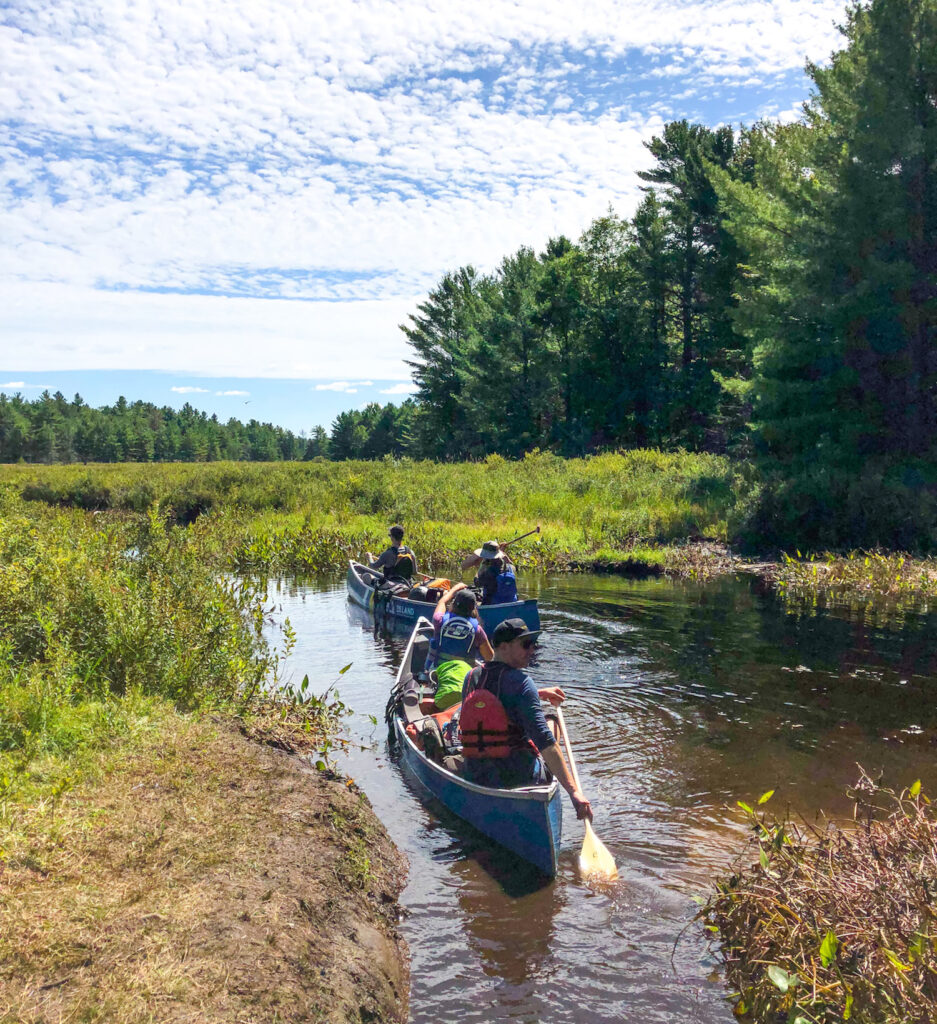 Our campsite on Copper Lake was just as amazing as the first night. If you fail to be blown away by the beauty of this park, you're dead inside.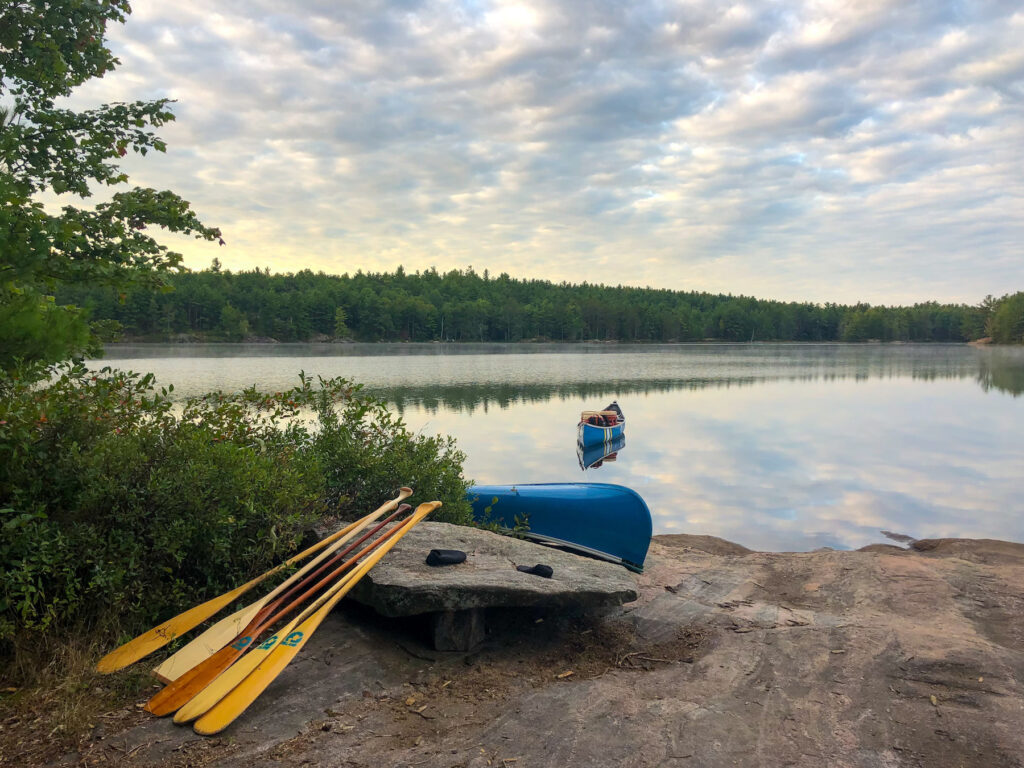 Day 3 – I Don't Want This To End
Do you know what happens on the third day of a canoe and camping portage? The food barrels become much lighter.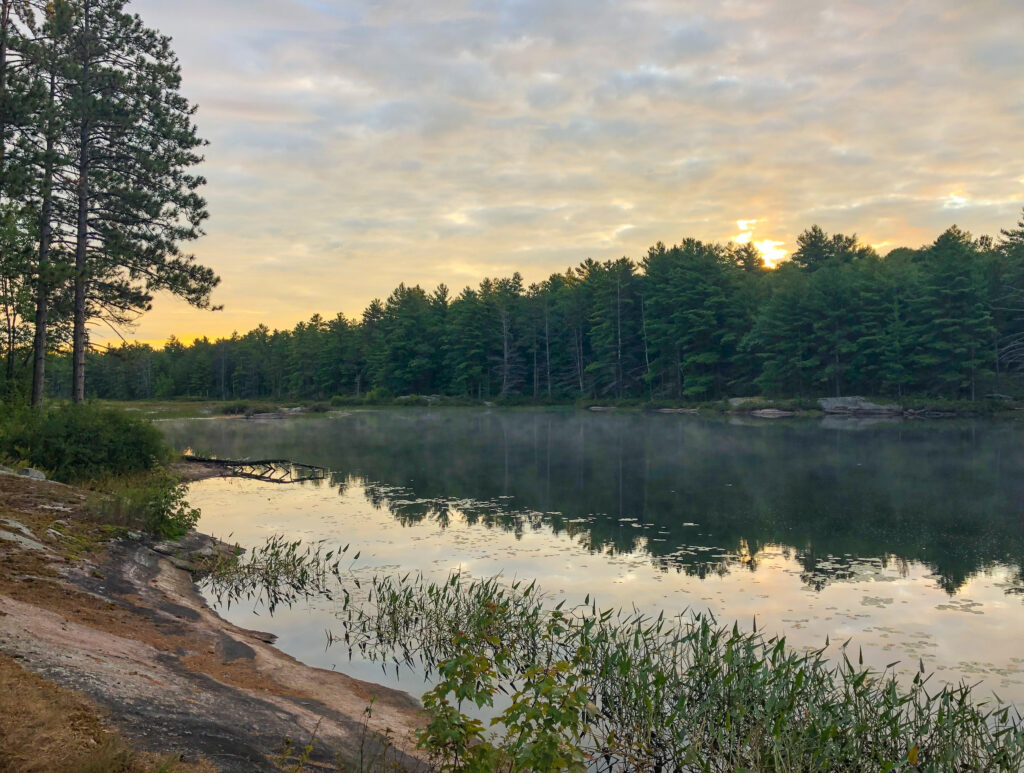 Also, after no showers and hard paddling, we all equally smell terrible. And our jokes are more punchy.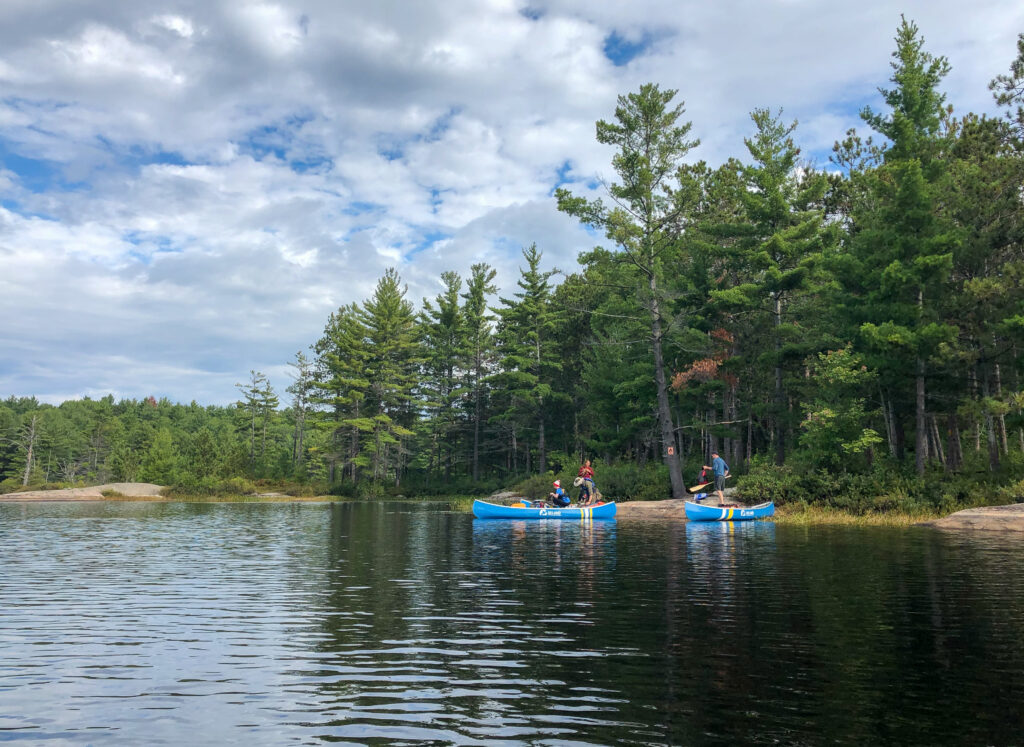 Starting our morning heading towards the first portage to Rathbun Lake, we took our time. Who knows when the next time we will be back here? Might as well enjoy every moment!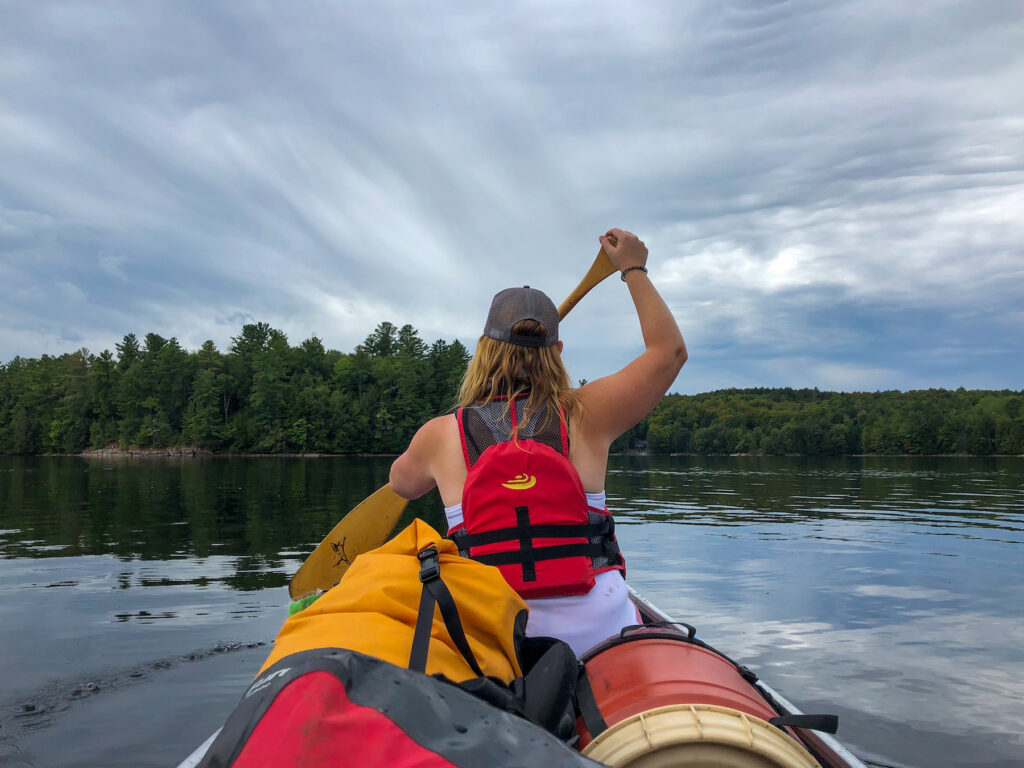 And guess what we found on the portage? A waterfall. Don't go chasing them or should we all get in and pose for a Survivor Style picture? Survivor – Bloggers Take Over… or something like that. Head out there and you can take a picture there too. Just pose better than I do, okay?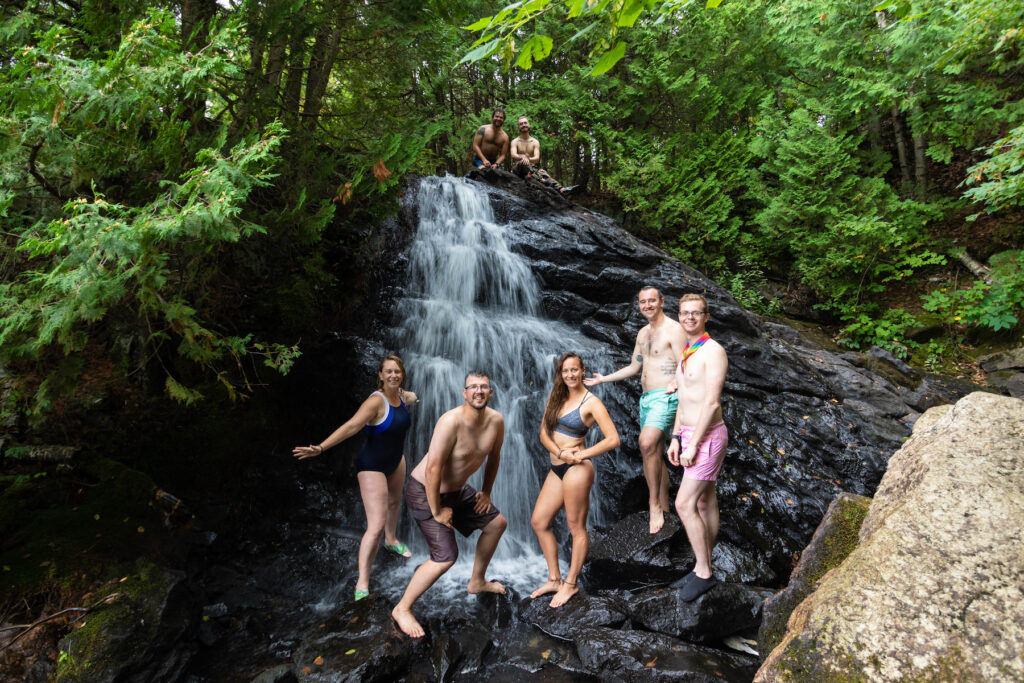 Although we had a long portage on this day, it wasn't a hardship. We were all well established in our roles of who was the stern, who was the bow, who carries what and how. We had grown into a quiet, calm of fluid cooperation that comes with camaraderie. Although we finished this route in what seems like record time to us, we were ready to pull up and head into a hotel for a nice evening and meal.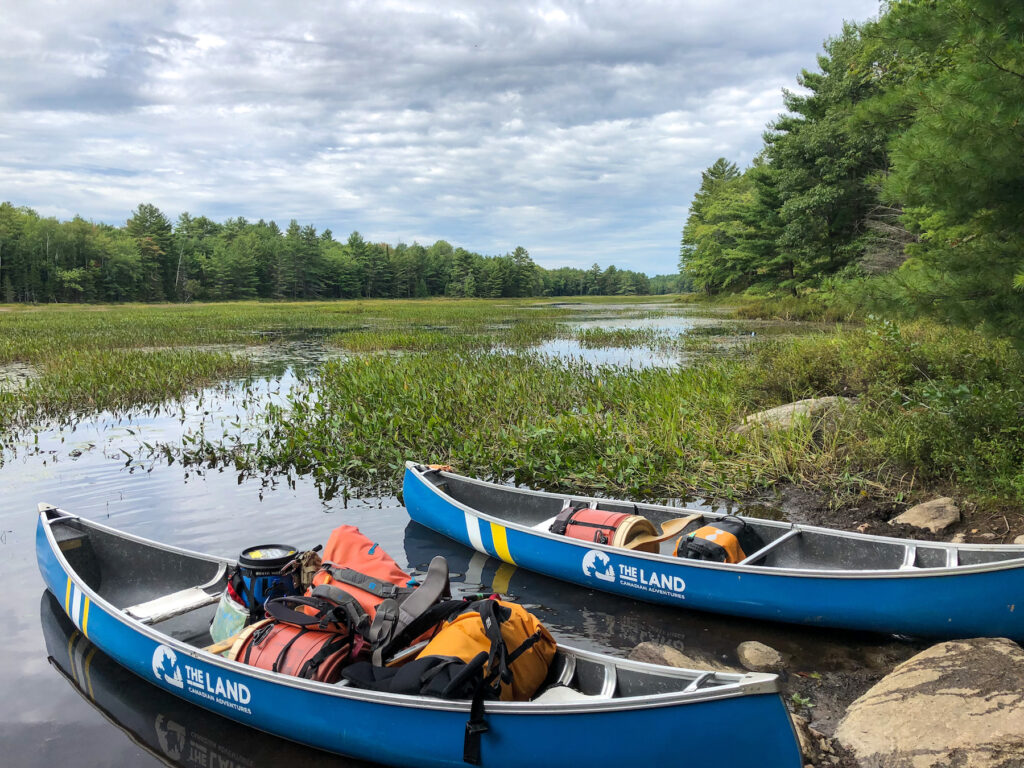 Viamede Resort
The leisurely timeline we had on the loop was 3 days. Then, we all had a night to recuperate at Viamede Resort – read that as had showers and slept in a bed. That night, we were all treated to an amazing meal at Mouth Julian – the signature dining experience and served by Ben, the owner.
I highly recommend Viamede Resort. You can check out my review of my stay from August there with my mother and children here.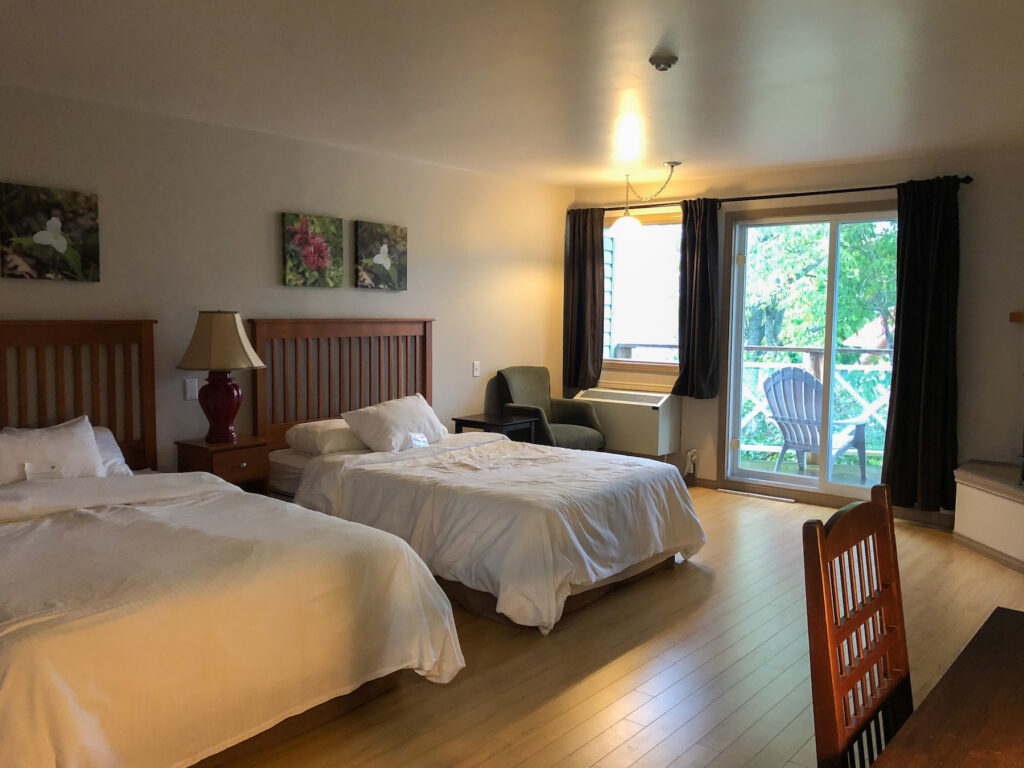 Day 4 – Bonus Paddling Day in Eel's Creek
Just when you think you've seen all the beauty you could see by canoe in Peterborough and The Kawarthas, there's another location to paddle in. Briagh and Bretton gave Noah and Andrew the day off after dealing with the likes of us for a few days and they lead us on Eel's Creek to High Falls for a picnic lunch and swim.
Thankfully, we did not encounter any eels. To my knowledge, there aren't any there, so no fear.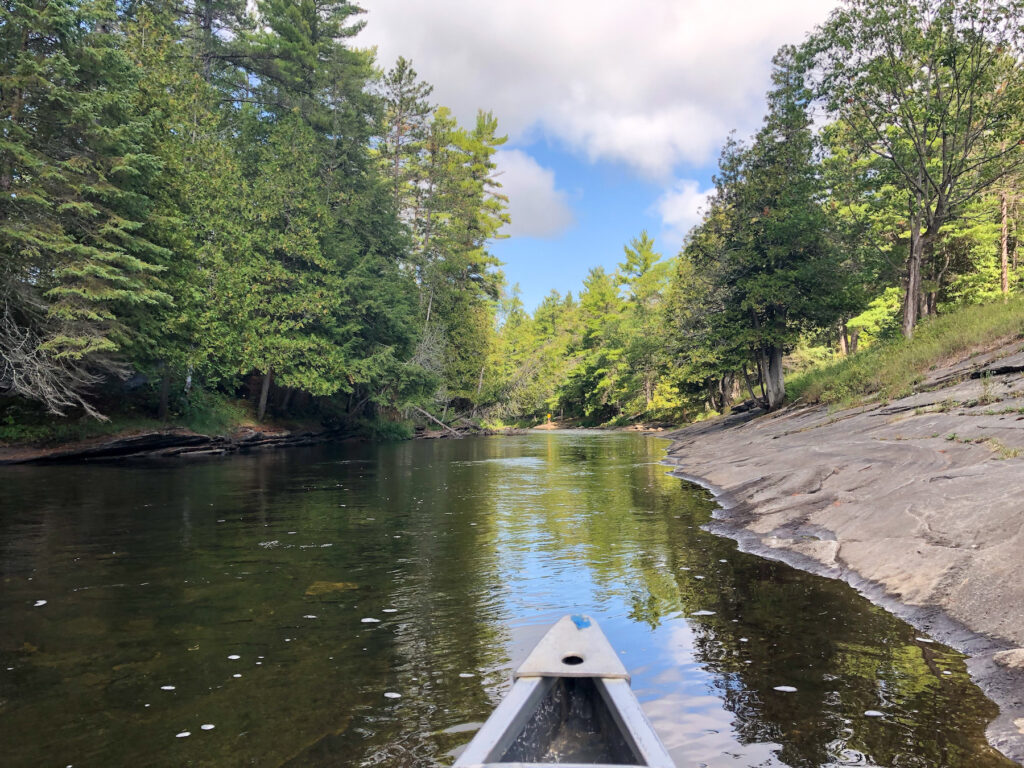 I really have to give credit where credit is due with Briagh and Bretton. No one can make pesto like Briagh can. The lunch they prepared for us was an amazing local soup dish called Three Sisters. Corn, squash, and beans are known as The Three Sisters. If you did not know that fact (like me), now you do. This name comes from how these three crops grow together. Like there's a method to the madness of planting and harvesting.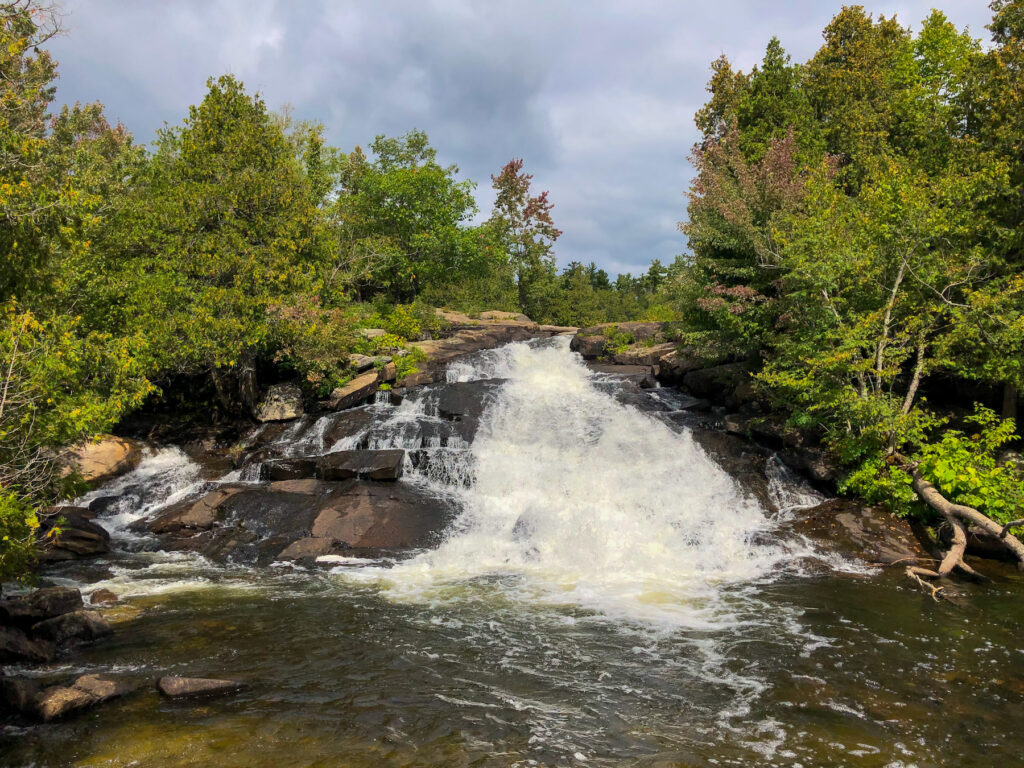 At High Falls, we swam in one of the most secluded swimming spots in a wild and slippery waterfall that they knew of – because they're locals. They have the first-hand knowledge and experience and knew exactly where to take us.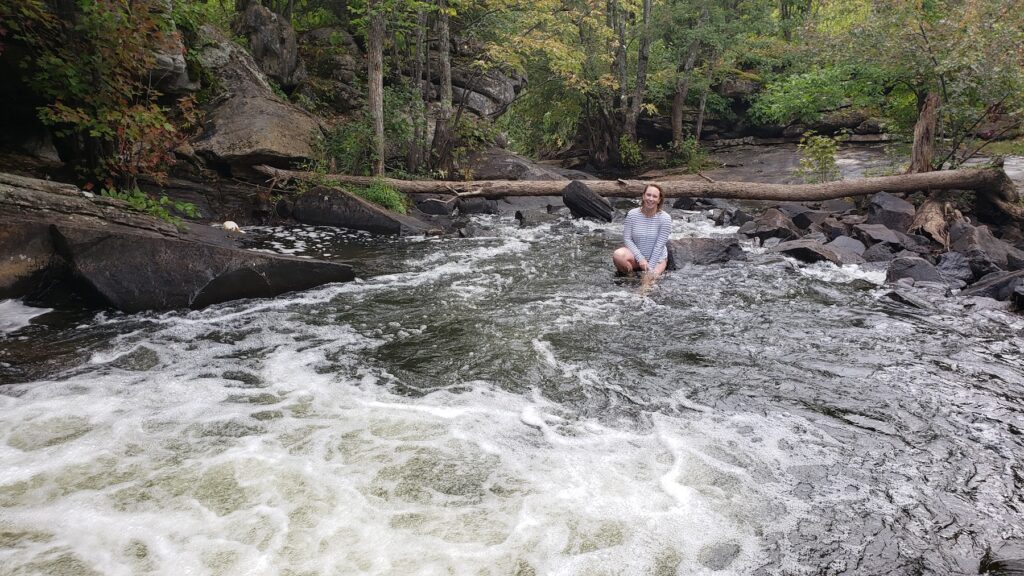 Think you might want to try this canoe portage route? I'm hoping that I can take my kids on an adventure with The Land Canadian Adventures next summer. Briagh and Bretton have kids of their own as well and know what that is like. They excel in putting together these group trips.
Be sure to visit Peterborough and the Kawarthas area. Have a meal at Canoe and Paddle in Lakefield while you're out there too, I recommend the Union Jack burger.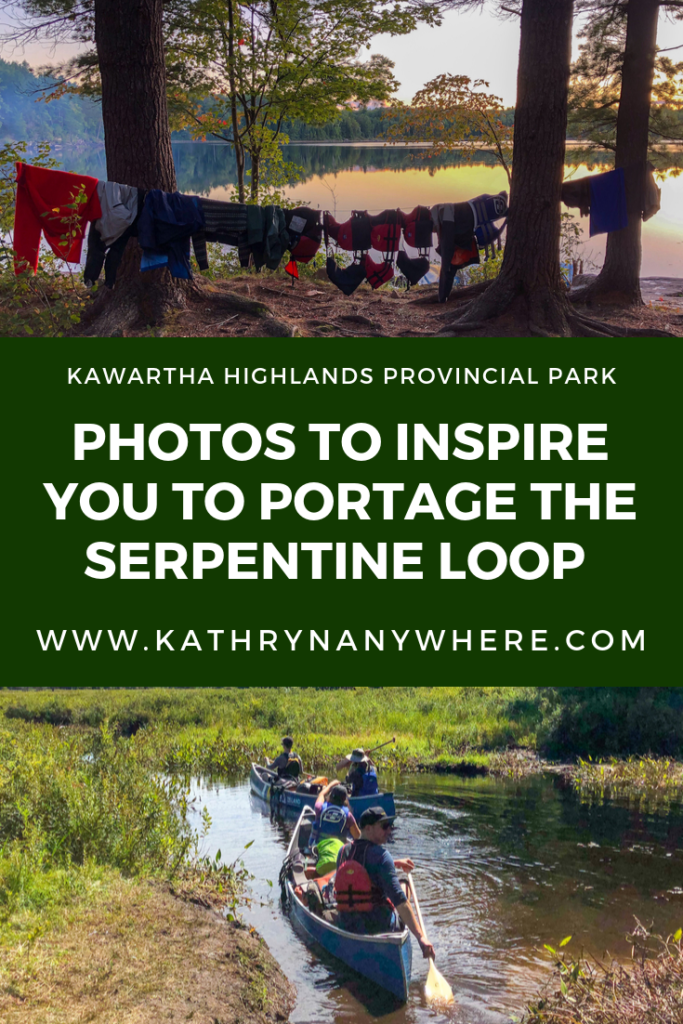 I'm no stranger to experiences in Ontario Parks. You can read up on my other camping and glamping trips here:
Epic Hikes With Kids – Barron Canyon Trail, Algonquin Provincial Park
Yurt Winter Camping in Algonquin? Yes Please!
Glamping in Bonnechere Provincial Park
Why I Took My Son Camping At MacGregor Point Provincial Park
20 Photos That Will Inspire You To Snowshoe at MacGregor Point Provincial Park With Your Kids