Waterloo Region Fall Family Fun
Never being one to sit still, when Waterloo called, I answered. And I'm very glad we did as the Waterloo Region is perfect for fall, family fun weekends. There is nothing better than a quick road trip to explore a close by area that you haven't devoted the appropriate amount of time to.
The kids were hosted in the Waterloo Region for Fun By Day and Fear By Night.
All of our experiences and reactions are genuine and we actually experience it all as opposed to simply posing for a photo.
A little over an hour from Toronto lies the beautiful Region of Waterloo. Waterloo Region is an easily accessible destination for families driving via the 401 or by train. And for Family Fun in the fall, this region should be on your list for a road trip! 
Why Visit The Waterloo Region?
The Region of Waterloo combines a couple of cities – Cambridge, Kitchener, and Waterloo, as well as the townships of North Dumfries, Wellesley, Wilmot, and Woolwich. There are many charming rural roads to drive between them lined with farms. You can visit stunning scenery while walking on trails alongside the Grand River. While you are exploring between the cities and townships, there are cute stops you can make along the way like the Montrose Kissing Bridge (one of the oldest covered bridges in Canada) or St. Jacob's Farmers Market. 
While the cities are considered to be large, you're never far from lots of green space and room to breathe fresh air. The cities have built a lot of parks and outdoor spaces. And at this time of year, those green spaces are turning to spectacular autumn hues of reds, oranges, and yellows. It's perfect for fall outdoor activities for families.
Amidst all of the outdoor space, the Waterloo Region is home to a number of craft breweries and restaurants that boast food from nearby farms. As my readers know, I will travel for beer. You'll find farmers' markets, farm visits, and other attractions that are family fun during the day, along with scarier attractions at night that will make you jump!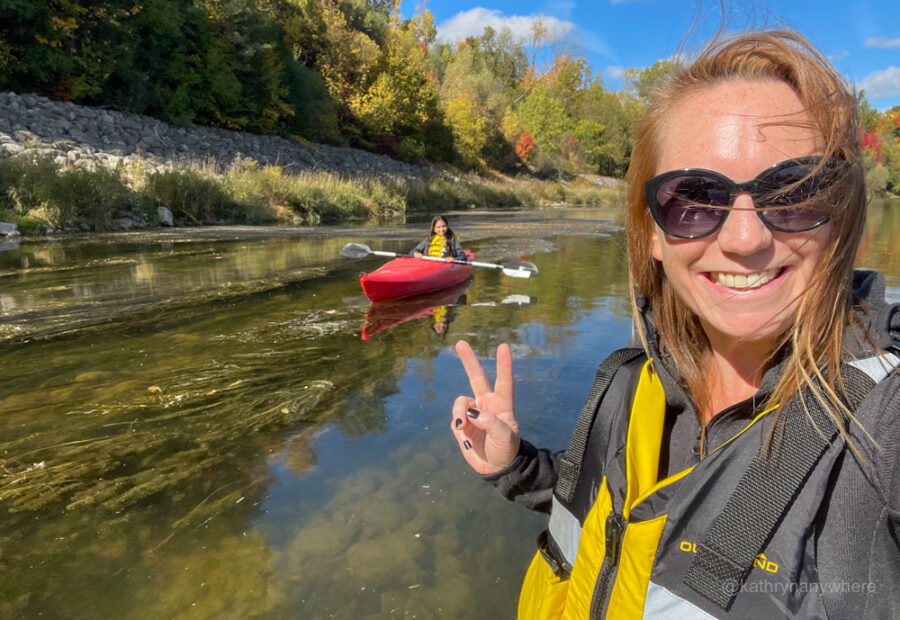 What To Do This Weekend in Waterloo?
Waterloo is not too far away from the Greater Toronto area, so you can jam-pack an itinerary for the day or plan to spend a whole weekend! With so many options for fall activities, it's a good idea to book in advance and line your timings up.
Here are some of the fall activities for kids and the whole family if you are heading to the area. First up – fun family fall activities you can do during the day:
There is nothing better than a fall paddle and there is something about the beautiful perspective of the autumn hues from the water. The Grand River is an oasis of a beautiful display of fall colours in October. This is an amazing fall activity for kids as they can sit up front of the canoe while the parent (or adult) does the work. My son and I shared a canoe while my daughter kayaked solo.
The Grand River has a mighty current that will gently pull you along if you need to take a break from paddling. You can choose from different time slots and lengths of courses to take. We did a 5km paddle that dropped us in at Woolwich.
Canoe The Grand rents kayaks and canoes and can be found at 3734 King Street East, Kitchener. You can park there and they will shuttle you to your starting point or they will designate you to start elsewhere and finish there. Please consult the guide and their website for more information.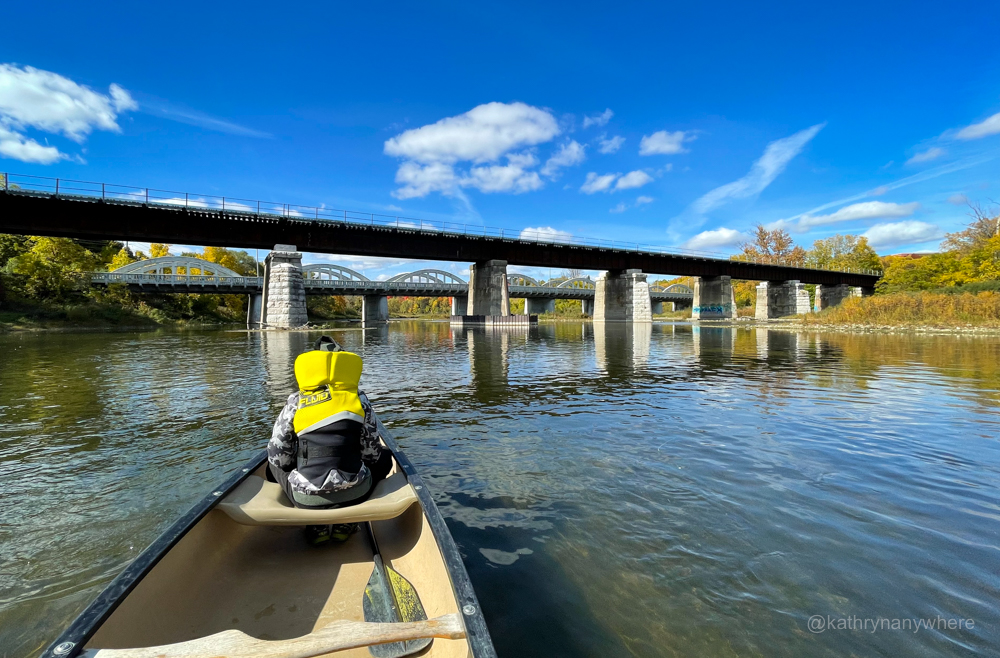 Hike Alongside The Grand River at Walter Bean Trail
Waterloo itself has more than a dozen different trails throughout the city. The Walter Bean Trail is a long, 17.4-kilometre trail that's classified as moderately challenging. For those with kids, you don't have to do all of it and can stick to the easier parts by Schneider Park – where you can find free parking for your vehicle. Please note that the parking lot isn't large, so plan to go early to secure a spot. The trail is really picturesque and for autumn hue hunting, it's a nice place to be.
It's also a stone's throw away from Canoeing The Grand, so your family can combine two outdoor activities around one location.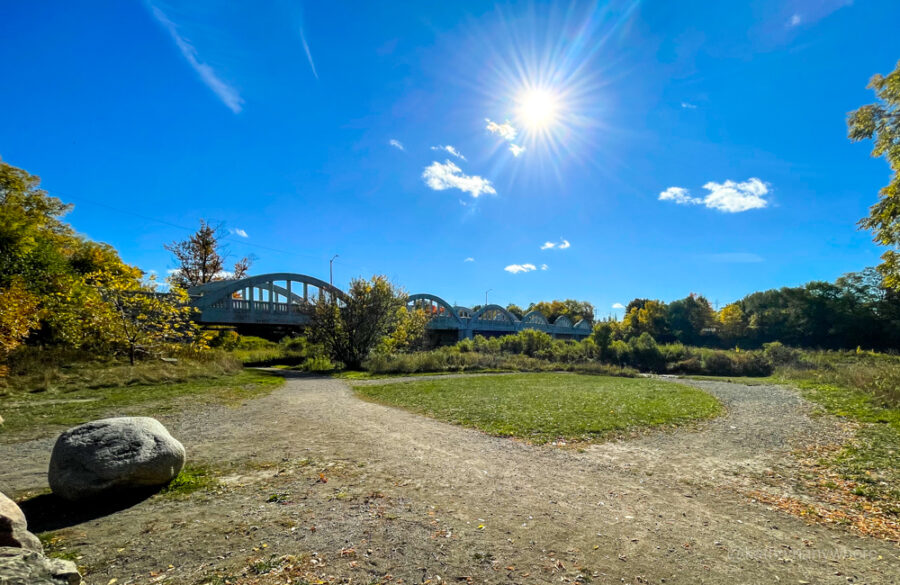 My kids and I did not allot enough time – we think – to Snyder's Family Farm. We arrived close to 2:00pm and stayed all the way until closing time. Our advice? Plan to spend at least half a day with the family at Snyder's Family Farm. This is also a good place to plan to get lunch as there is a grilled cheese double-decker bus and a burger hut. 
There is honestly enough to keep the kids entertained here for hours from a jumping pad and a jumping pillow to a corn maze you can spend an hour in and a hayride and play areas. There was also a puppet show, there are play ground areas for smaller children, a pumpkin patch you can get your pumpkins from as well as a bake shop you can make purchases at.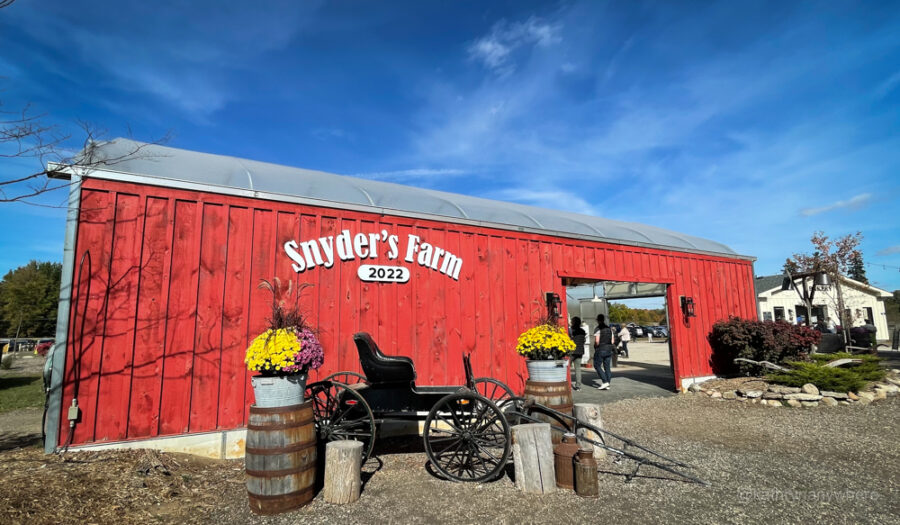 For an extra add-on special experience for the family, you can rent a campfire pod. Campfire pods are available to book and you will be assigned a team member who takes care of bringing wood to the fire and keeping it going. That means it's your family's job to sit back and relax and let someone else look after your pit.
As if the experience alone wasn't amazing enough, you can order food and drinks directly to your pod. While the kids delight in roasting marshmallows for s'mores, mom can enjoy a local beer from Block 3 Brewing Co.
Snyder's Family Farm can be found at 936685 Blenheim Rd, Bright, ON N0J 1B0. It's approximately 25 minutes of a drive from Canoeing The Grand.
Although fun doesn't stop when the sun goes down, the tone changes in the fall to fear! After a fall family fun day, the spooky and scary come out to play!
Snyder's Family Farm becomes the setting for Fear Farm!
The Fun-tastic Farm turns into a haunted hayride through cornfields and forests. Keep your wits about you, you don't know who or what is lurking where! Multiple themed hauntings will keep you on your toes and not sure what's around the corner.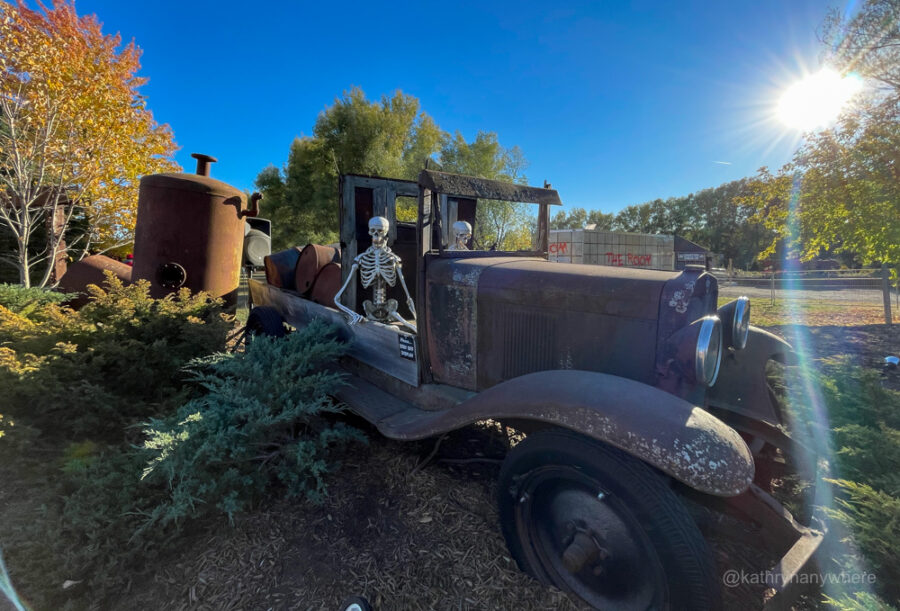 Running select nights between now and Hallowe'en, be prepared to get your scare on because Screaming Season is here. Screampark takes brave souls through 6 horrifying attractions meant to leave you shaking in your shoes!
While the gory and terrifyingly dead cast members won't touch you, they certainly can death stare you down as you visit The Lot, Soulless Swamp or Devil's Hallows. You might even find yourself being chased by a chainsaw-wielding maniac. 
The kids were definitely terrified. As a tip – there are emergency exits. Should you find yourself too scared to continue and it's okay to jump out.
Fear Farm or Screampark are not recommended for anyone under the age of 12.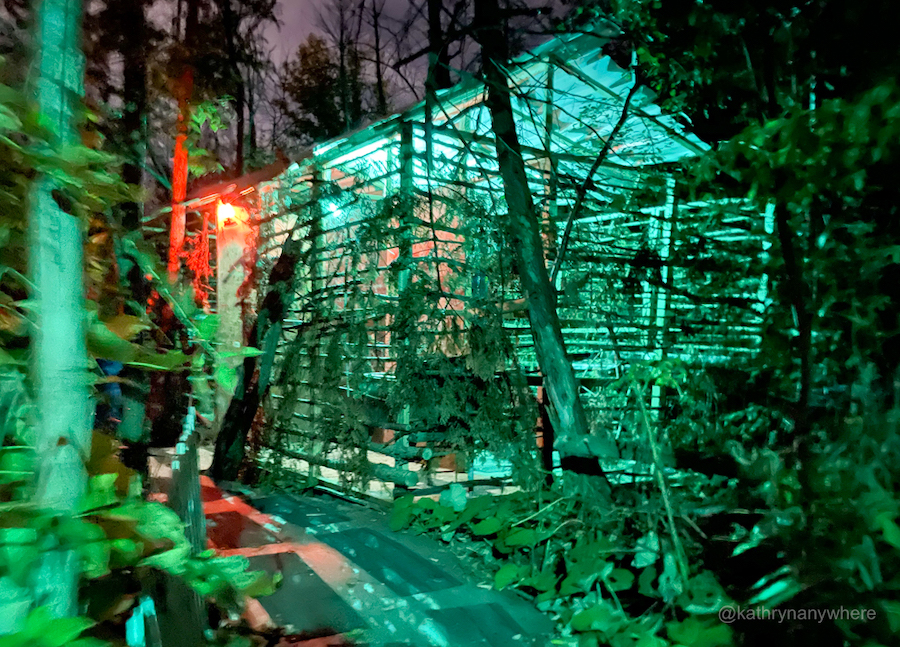 Where to Stay in the Waterloo Region
We stayed at the DoubleTree by Hilton in Kitchener. The DoubleTree by Hilton Kitchener is located close to the highway in the southern part of the region. It's very close to Bingemans, to Canoe the Grand, and has many shopping conveniences.
The rooms are comfortable and spacious, perfect for family stays. My kids and I were quite comfortable. The restaurant is delicious for breakfast – while the service is buffet, we had eggs cooked to spec. The staff are lovely and kind and the price point is affordable.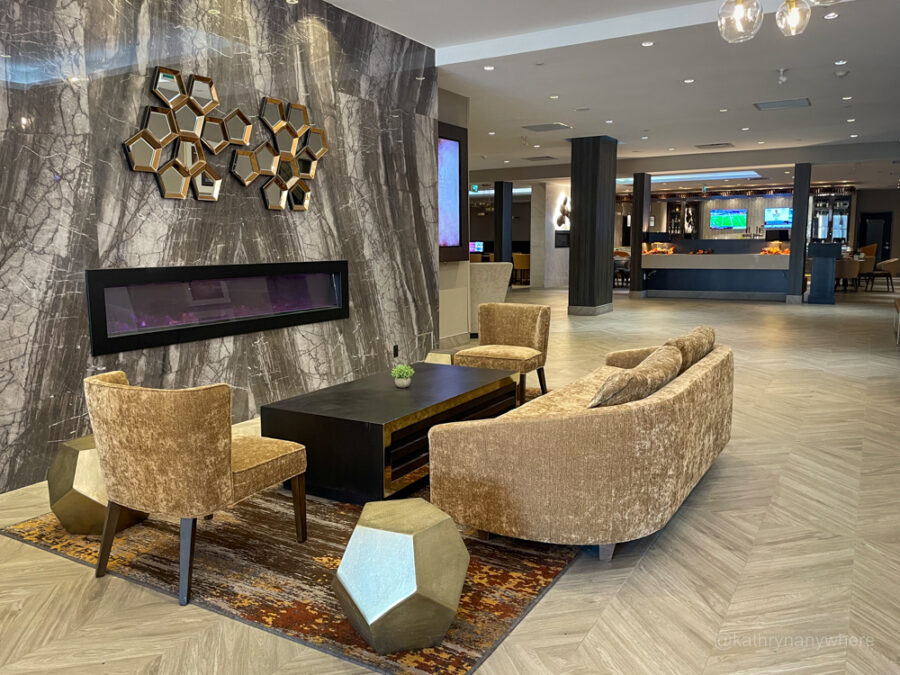 Where to eat in Waterloo? Well there are lot of chains restaurants, but there are many locally owned and operated resturants
What my kids and I got to do in this mini-itinerary is a small tip of the iceberg. There are so many fantastic family fun activities during the day for the whole family. And don't forget the fear-by-night attractions that the Waterloo Region has to offer. It will definitely entice you into wanting to return.