Quebec's Eastern Townships – Plan The Perfect Long Weekend
The kids and I were hosted by Québec's Eastern Townships (Tourism Eastern Townships) to explore. We spent 3 nights and took in all of the quaint charms of the region that we could. We are never coerced into having a good time. Opinions are always ours.
Do you want to take a road trip to a Quebec destination with French and English language and culture?
Beautiful countryside?
Ready access to nature, bike and hiking trails?
Delicious and fresh farm-to-table cuisine?
The Eastern Townships of Québec will check all of the boxes.
Spend a long weekend in Québec's Eastern Townships and you will most certainly head home from this special corner of Québec with a desire to return!
What are Quebec's Eastern Townships?
The Eastern Townships is a place that will take your breath away! While we've only had the pleasure of being there in the summer, it's a year-round destination. Around every corner are a picture-perfect village, historic building, farm, mountain, lake and a culinary adventure. Romance, outdoor activities and vineyards dot the landscape with a lust for life. Wildflowers grow in fields alongside the roads beckoning you to stop. 
There are 114 towns and cities that make up the Eastern Townships all connected by roads across the 9 territories.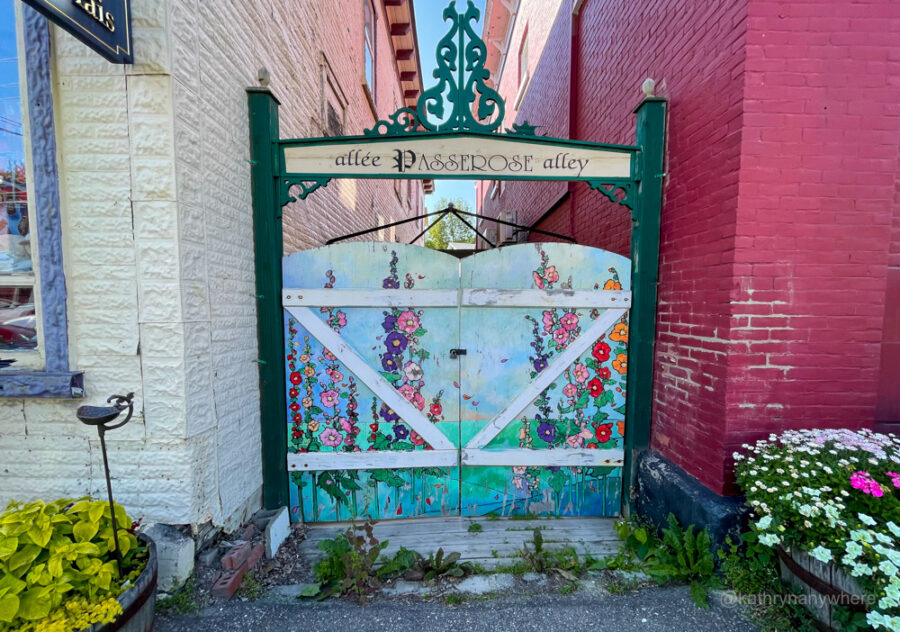 Where are Québec's Eastern Townships?
The Eastern Townships of Quebec are approximately 6 and a half hours from downtown Toronto. The major city of the region is Sherbrooke, Quebec. You'll find this area right on the Vermont, USA border area of Quebec which is why there are strong English communication skills in pockets of the area.  
What Are the best activities in the Eastern Townships?
There are many ways to fill your time in the Eastern Townships. For this itinerary, we are going to focus on the area of Magog, Hatley and Coaticook.
Magog is the bigger city in this area with the city amenities.
North Hatley is quaint and reminds us of a beautiful French town. The streets are walkable and the people are personable. The entire town is scenic and photo opportunities are on every corner.
Coaticook is a medium-sized town, known for its dairy production.
Kayak tour in Cherry River 
Sometimes the best way to appreciate the environment is through actual exploration of it. Take a kayak tour through the Cherry River (Rivière-aux-Cerises), a wonderful open-air classroom to observe the more than 20 plant and animal species that appear on the endangered list as well as introduce yourself to an easy and gentle water sport. Set against the backdrop of Mount Orford, the ecosystem of the Cherry River Marshland is a relaxing adventure to observe birds and maybe see a couple of beavers here and there. 
The waters are calm are appropriate for all skill levels and family members.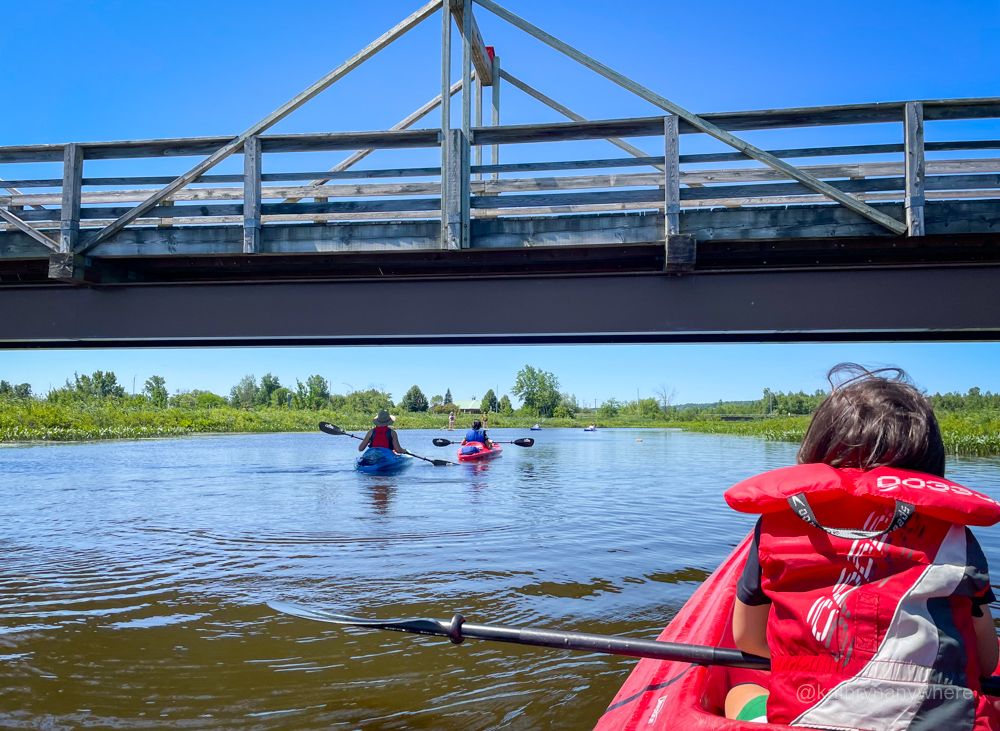 Parc national du Mont-Orford
Hike – Many trails up Mont-Orford lead to stunning lookouts, vistas and picnic areas. Plan to spend hours on the trails, many of which are boardwalks built out from the rock. While some of the trails are really tough, a few of them can be tackled by all family members and the rewards are worth it.  
Kayak or SUP – For a relaxing day on the water, there are kayak and SUP rentals at Lakes Stukely. For a nominal price, you can spend an hour, a half-day or a full day. You will have to pay to enter the park. And the beach! It's a wonderful place to bring the kids and play!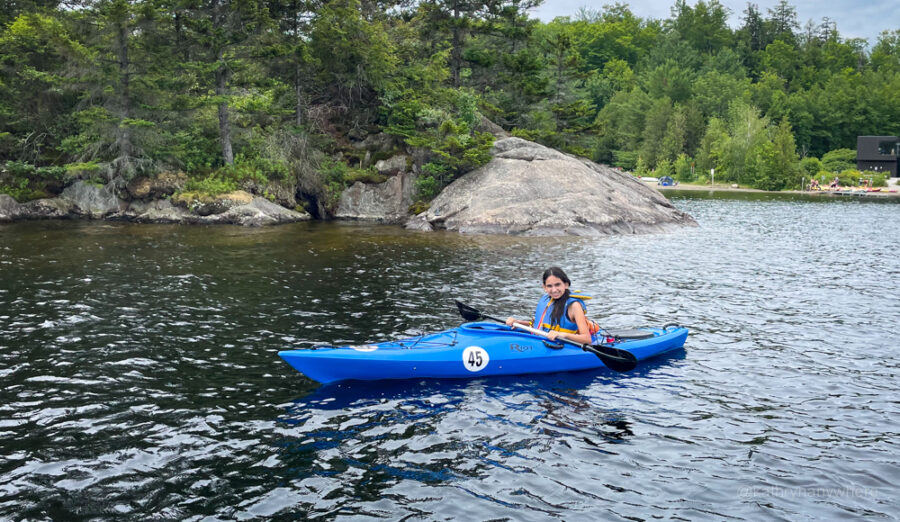 Head under ground at Épopée Capelton (Capelton Mines)
Did you know that there is a rich mining history outside of North Hatley? Capelton Mines was originally opened in 1863. The property owner at the time found copper, iron and sulphur. Combined together, that is called chemical pyrite. At the time of the discovery, copper was more valuable than gold! The mining at Capelton Mines stopped in 1907 as they were running out of chemical pyrite and the entrances were all filled in.
The Capelton Mine is one of the oldest industrial mining complexes in Canada. Many years after its closure, the property, along with the abandoned mine was purchased in 1995 and a family business was born. Now you can tour a piece of history in the Eastern Townships. 
You board a truck and head up the mountain to the original entrance where your guide will lead you in and explain the mine, how it worked and show you some of the tools that were once used.   
While only a few floors can be explored on a guided tour, it's very impressive!
Pro tip: This is a major area cycling junction here. Also, this is a great spot to get lunch.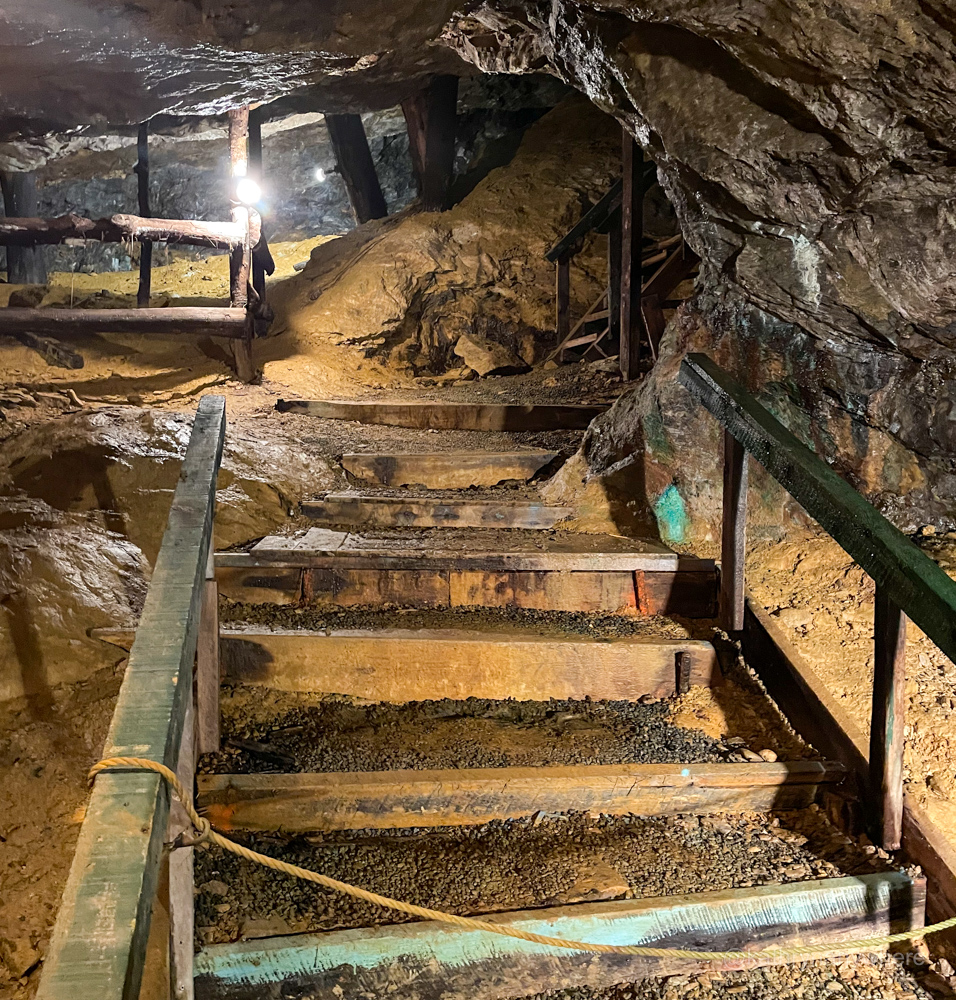 Acoatica at Parc Découverte Nature
The Acoatica experience is unlike anything you're ever experienced before. At Acoatica, you learn about and go through the lifecycle of a fish. Through the use of a video game, you create a large reef of fish and then your objective is to go through the different stations collecting points. Through the "learning activities" by way of a video game, you understand the habitats, feeding and how to better the chance's of the fish survival. The end goal is to help save an endangered species in the video game.
For a lunch option – and part of the admission – you can catch and prepare your own fish on site. There is a river to catch a trout in. Acoatica supplies you with a fishing pole and bait. They also have an outdoor barbeque area, an herb garden and provide seasonings for a culinary experience.
Disclosure – we did not catch a fish and eat it. My son wouldn't allow this so we got some feed and fed fish in another area instead. I am familiar with catch and release. I haven't eaten a fish that I have caught since I was a little kid.
Pro Tip: Don't forget to fill your water bottle before arriving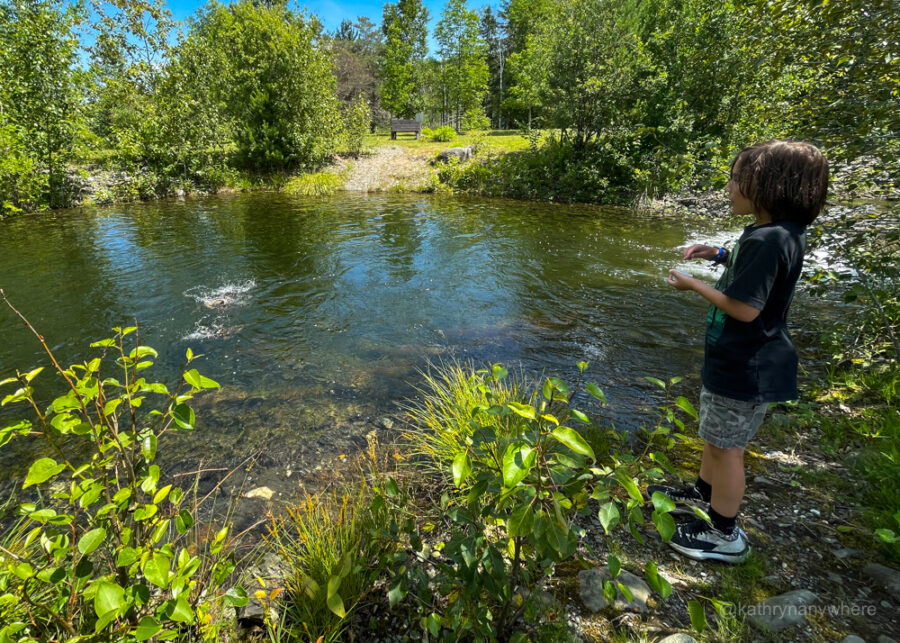 Mini-golf at Glo Golf Aventures
A one-in-a-million experience! Inside a repurposed church, Glo Golf Adventures is an 18-hole
Mini-golf course played in the dark where the balls and decor glow.  It's a big visual trip! Wear white shirts so you can see the crew you are with easily. If you do not understand French, you can understand mini golf.
Each hole is a different theme where you will find yourself in a Museum of horrors, in space, in a castle, in the mouth of a shark and more! Perfect for chilly evenings or days when the weather doesn't cooperate.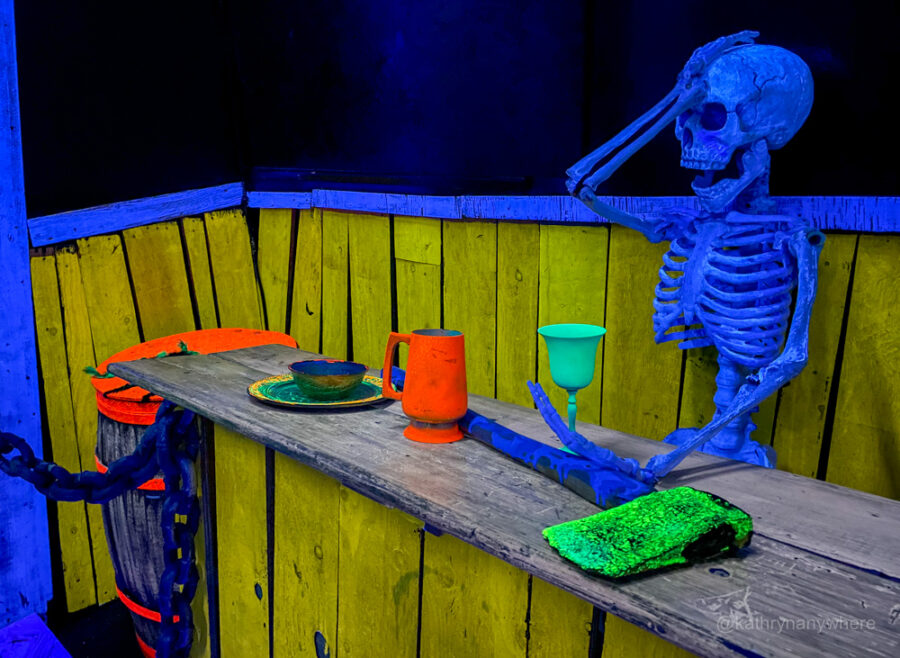 By day: Hiking trails and the suspended footbridge at Parc de la Gorge de Coaticook
Very worthwhile hike alert! There are trails of 3 to 20 kilometres you can take and explore about the Gorge de Coaticook. Be sure to make your way across the massive suspension bridge across the Gorge of Coaticook, which is 50 meters in the air. If you are afraid of heights, do not take the bridge.
Other attractions of the park include observation towers, a cave – which we went into, a dam, an operational hydroelectric power station, cascades, a round barn, a flower garden, a horseback riding centre, a mini farm, and the majestic Gorge of the Coaticook River. The trails are family-friendly and the main ones accommodate hikers and walkers of all levels.
Protip: Bring refillable bottles of water with you as there are refill stations along the way.
View this post on Instagram
By night: Foresta Lumina at the Parc de la Gorge de Coaticook
After sunset in the gorge, the enchanted forest comes alive with the myths of Quebec, inspired by the fictional tales of the region. Through lights and sounds, the transformed 2.5-kilometre walking paths and suspension bridge introduce you to "Margaret" the main character at
the heart of the narrative told throughout the 'enchanted forest'. As a 'Luminaries' (a visitor to
Foresta Lumina) you embark on an immersive experience that beckons you to come and come back again.
The entire experience takes about an hour and a half, so plan accordingly if bringing your children with you. Strollers are not recommended, if you have baby carriers for the younger ones, it's a good option to have.
View this post on Instagram
Where to stay in Eastern Townships of Quebec
There are quite a few options of boutique and smaller hotels in the area to stay at. It's rare to find large chain hotels, which adds to the charm of the area. In the Eastern Townships, the kids and I stayed in two amazing accommodation choices.
La Station du Chêne Rouge
The first is La Station du Chêne Rouge in Hatley. This is glamping at its finest. We had a super cozy cabin in the woods where we had our best sleep in months. Station du Chêne Rouge offers 10 short-term 4-season ecolodges, 10 campsites and 5 seasonal ready-to-camp ecolodges on a platform scattered over 150 acres at the top of the mountain. 
The cabin we stayed in had a loft with a mattress and a bed on the main floor. There was a small and very basic cooking area along with a fire pit for relaxing at night. It wasn't overly secluded as we had fellow glamping neighbours within 100 feet of us, however, it was quiet and we were unbothered by others. Our cabin did not have electricity or a toilet, but we could still get a hot shower and a place to do our business at the comfort station under the main office. You cannot drive up to the cabin and will need to bring your stuff to your site either in a wheelbarrow or on your back.
The grounds are beautiful to walk around or drink a coffee and watch the clouds roll by.
This spot is located 15 minutes from Sherbrooke and from the village of North Hatley. We highly recommend here for off-the-grid relaxation.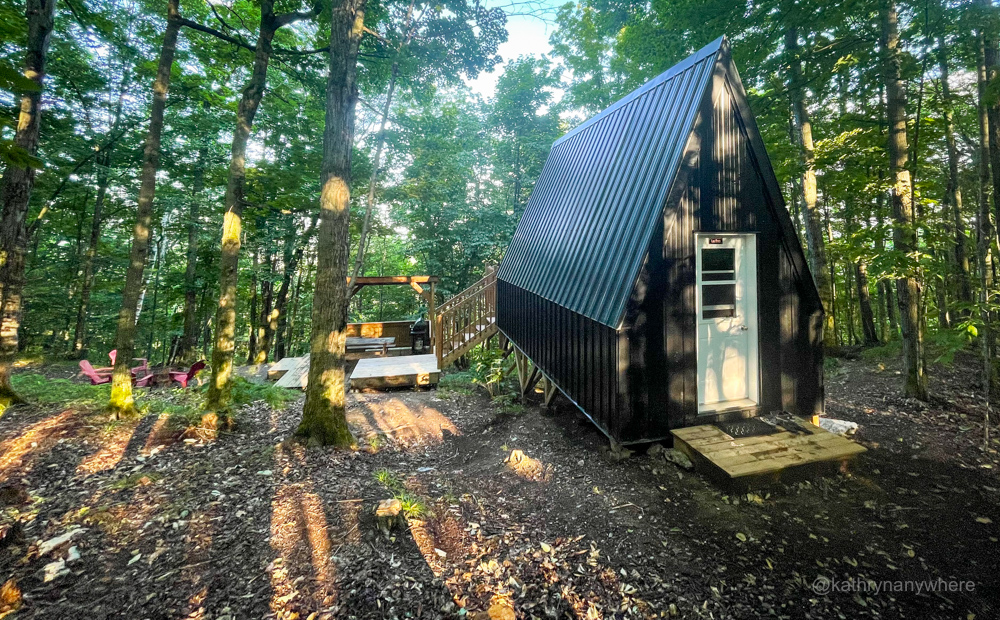 Hôtel Chéribourg
The second place we stayed at was Hôtel Chéribourg in Orford. As an asterisk to our stay – we arrived there on a Sunday, very late in the afternoon. What I learned is that not much is open in the area on Sunday at that time. The restaurant was closed so we ordered delivery pizza from town and it took close to 2 hours to arrive. The outdoor pool and kids' activities closed before we could get out. The kids and I swam in the indoor pool and enjoyed it. In the morning, my son enjoyed the kid's club before we checked out and drove back to Toronto.
Hôtel Chéribourg has a cheerful vibe, known for its spa experiences and food. Our room was a 1 bedroom suite that had a kitchenette and a living room. We could drive our vehicle right up to the front door to unpack and repack with ease. The balcony off the bedroom faced a quiet, residential neighbourhood.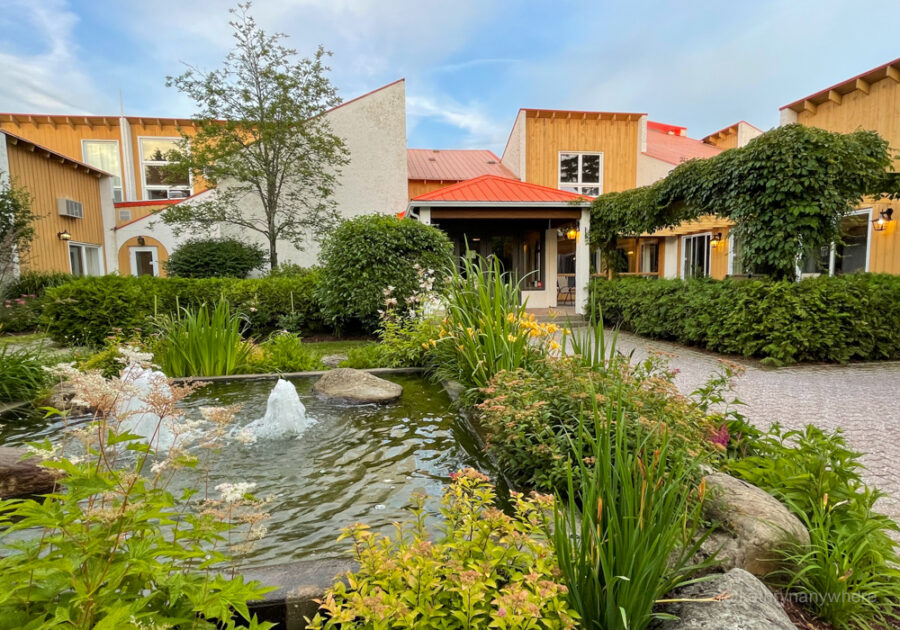 We would return to both locations and would spend more time at each in the future.
Where to Eat in Québec's Eastern Townships
Food is part of the culture in the Eastern Townships and no dining experience will be alike. Everything is market fresh. So many of the ingredients are locally sourced. It's mindblowing.
La Caravane
The first dining experience we had was quite literally in someone's backyard at La Caravane. La Caravane, on the roadway heading into North Hatley, serves Italian pizza and pretty much that's it. It was incredibly unexpected to be in such a homely atmosphere with everyone who worked there being a member of the family. 
The pizza was delicious. Drinks handcrafted. Mind blown!
l'Auberge La Chocolatière
Artisan chocolate for breakfast? In the town of North Hatley, yes. Expertly make into pancakes or crepes or drizzled onto french toast. It's French-style heavenly food on a plate.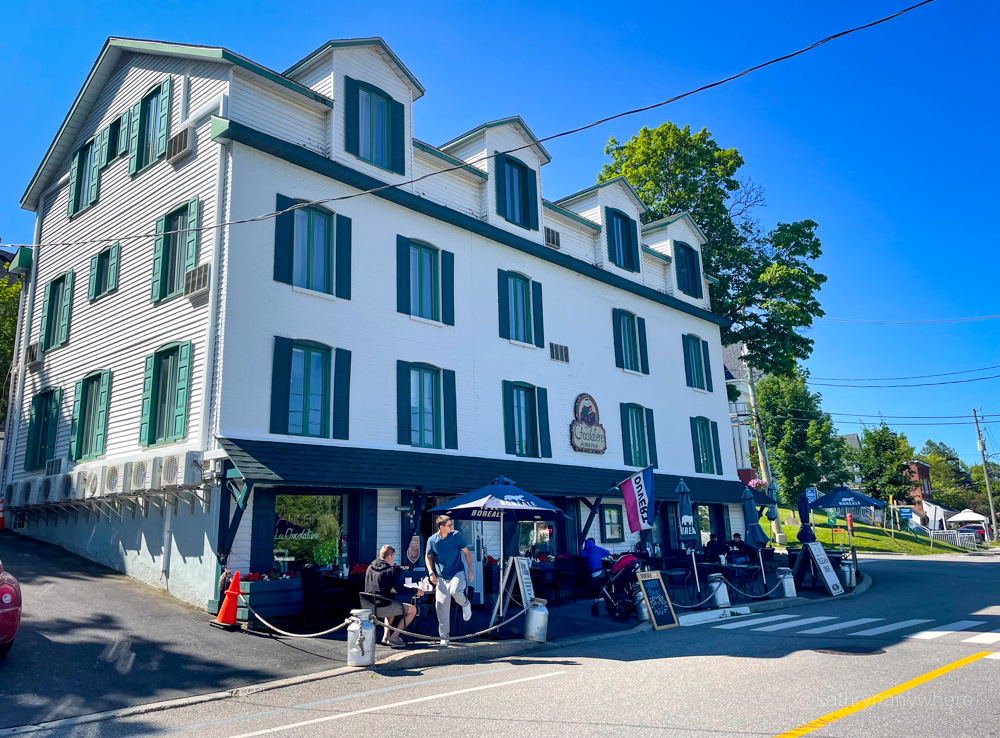 Microbrasserie Coaticook
Always been a sucker for a brewery when I travel, this trip wasn't complete without a visit to one. The patio here is a great draw with a constant lineup on a sunny day for a spot. Beer in the sunshine is never a bad way to spend a dinner hour. 
Of note – there were a lot of families there at the same time we were. I like seeing this as I don't feel alone being with my kids at a brewery all the time.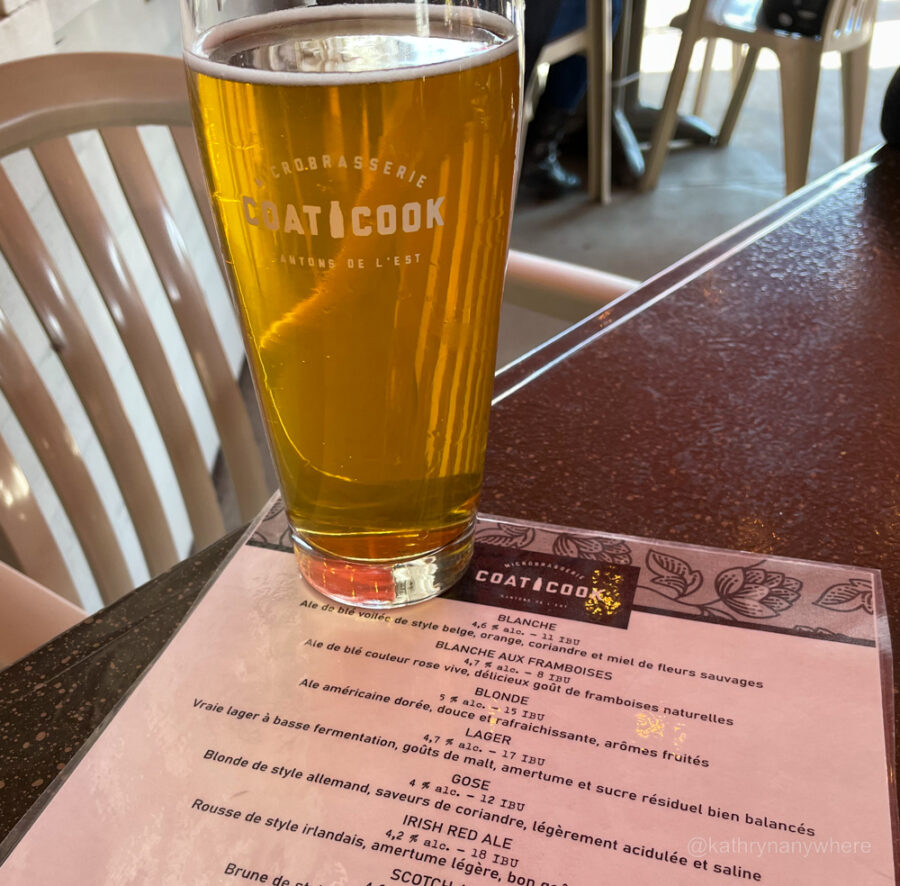 Laiterie de Coaticook Ltée
After dinner at the Brewery, cross the street for Ice cream for dessert at the Laiterie de Coaticook Ltée. Laiterie de Coaticook Ltée is one of the largest ice cream manufacturers in Quebec. On a summer day, there's no better place to get dessert.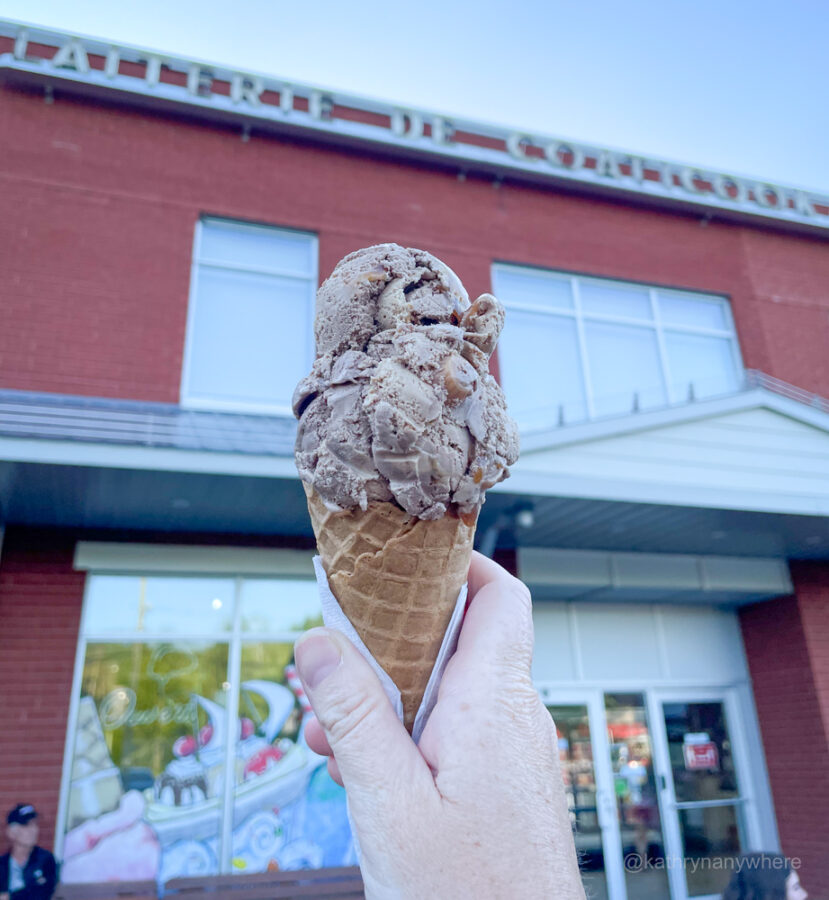 Now is the time to visit Québec's Eastern Townships
The Eastern Townships of Quebec are the region I had always wanted to explore. I feel like I have seen a small corner and I know I definitely want to encounter more. There is so much to eat, drink, bike, drive and experience in Québec's Eastern Townships. This scenic, quaint and charming area is a gem to behold.
One long weekend will draw you in, but it will definitely encourage you to plan a return trip.
Are you inspired to travel through the Eastern Townships? Consider browsing accommodations here on booking . com (which will pay me a small commission if you book and travel – AT NO EXTRA COST TO YOU):