Why My Family Loves Blue Mountain
Living in Toronto, I'm beyond lucky to be a close enough to drive to so many amazing destinations in
Ontario for all year round family fun. One of our extended family favourite weekend away go-to destinations for many years has been Blue Mountain, just outside Collingwood.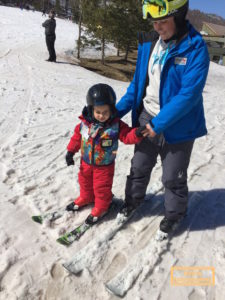 We have visited Blue Mountain, situated on a section of the Niagara Escarpment, in the past as part of our extended family "cousins weekends" during the summer months, where my siblings and cousins from my Dad's side of the family book out a bunch of suites in the Village – hopefully beside each other – and go with all our kids for a super crazy, fun weekend of mini golf, relaxing, cooking, dining out, hiking, reconnecting, walking and breathing the fresh air!
In the winter months, we love taking in the outdoor activities such as tubing and for my kids, well they are learning how to ski there and I could not be more proud!
Some of the perks for this Mom about making ourselves at home at Blue Mountain Village for a weekend are:
Amazingly clean, spacious, nicely decorated and well laid out accommodations with kitchenettes/kitchens and separate bedrooms (studio, 1 bedroom, 2 bedroom and 3 bedroom suites available in Village Suites, Mosaic and the townhouses across Jozo Weider Blvd) at a reasonable price for families or travel groups
Variety of dining options at a medium price point within a very short walking distance
Endless outdoor activities that appeal to each family member (although costs not included in accommodation pricing)
Private ski lessons as my kids are more comfortable this way with their learning
Really active night life for when the adults want to go out and play at night
A shuttle that drives around the village and resort if the distance is too far to walk – especially if you are carrying a lot of equipment like skis or toddlers
Exclusive beach use on Georgian Bay
For an adrenaline rush – ride the Ridge Runner. DO IT!
Relaxing environment
According to my eight year old daughter, the highlights for her are:
The weather is great in the winter time, well the times we have been there – which full disclosure, we go in the middle to end of March – so it's not a polar vortex or Alberta Clipper.
Likes the candy store, but seriously, what kids would not?
Tubing in the winter – seems to be her hands down favourite activity!
 Painting her own pottery at Crock – A – Doodle, for days of inclement weather or if you are just simply needing downtime, this is a must for kids.
Visiting Plunge Aquatic Centre at the Westin Trillium House Hotel because it's heated 😉 (happy face emoji was at her insistence)
Why not check out the highlights of her day in this video here:
Experienced traveller notes:
– If you want to purchase bottles of wine, spirits or beer for your room, be sure to plan in advance and bring your own from home or be prepared to drive about 5 minutes to a shop with limited selection. The village does not have a LCBO or liquor store.
– To save money, plan to cook meals in your room, especially breakfast.
– Book private ski lessons in advance as this is a popular ski mountain and instructors there are top notch and in high demand!
– The Grand Georgian Inn is where the check in desk is for all Village Suites. We like staying in the Grand Georgian Inn ourselves as we can walk out the side village entrance and right into Starbucks.
– When travelling with a group and you want to guarantee that you are all staying in the same building or area, either book the Mosaic suites or Rivergrass townhouse accommodations
The drive is just over two hours from Toronto and there are a couple different routes we can take from our home depending on time of day, weather condition and whether or not we need to stop for groceries on the way there.