*COVID-19 TRAVEL ALERT – I am writing and providing you information on Algonquin Provincial Park Visitor Centre.
I am not encouraging you to travel there right now. It is currently closed due to the pandemic* ⁠
Chances are good, if you have been to Algonquin Provincial Park in Ontario in the past couple of decades, you may have been to the Algonquin Park Visitor Centre. It opened in 1993 to celebrate the 100th anniversary of Algonquin Provincial Park. Algonquin was the first provincial park in the system in Ontario. Created in 1893 as a public park and forest reservation, fish and game preserve, health resort and pleasure ground.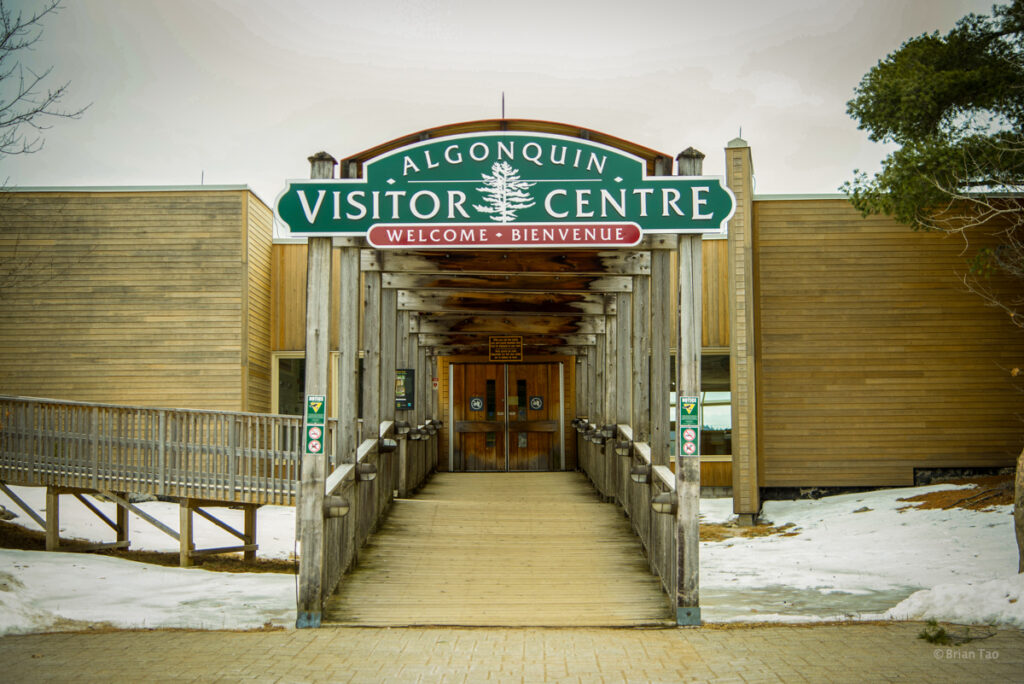 As a city-dwelling camper, one of the perks of visiting the Algonquin Park Visitor Centre is the flush toilets and free wifi! Aside from that, the Visitor Centre is a wealth of knowledge and exhibits about the Park's natural and cultural history, has a quick service canteen type restaurant, a bookstore maintained by The Friends of Algonquin Park and an excellent observation deck with panorama views of the park.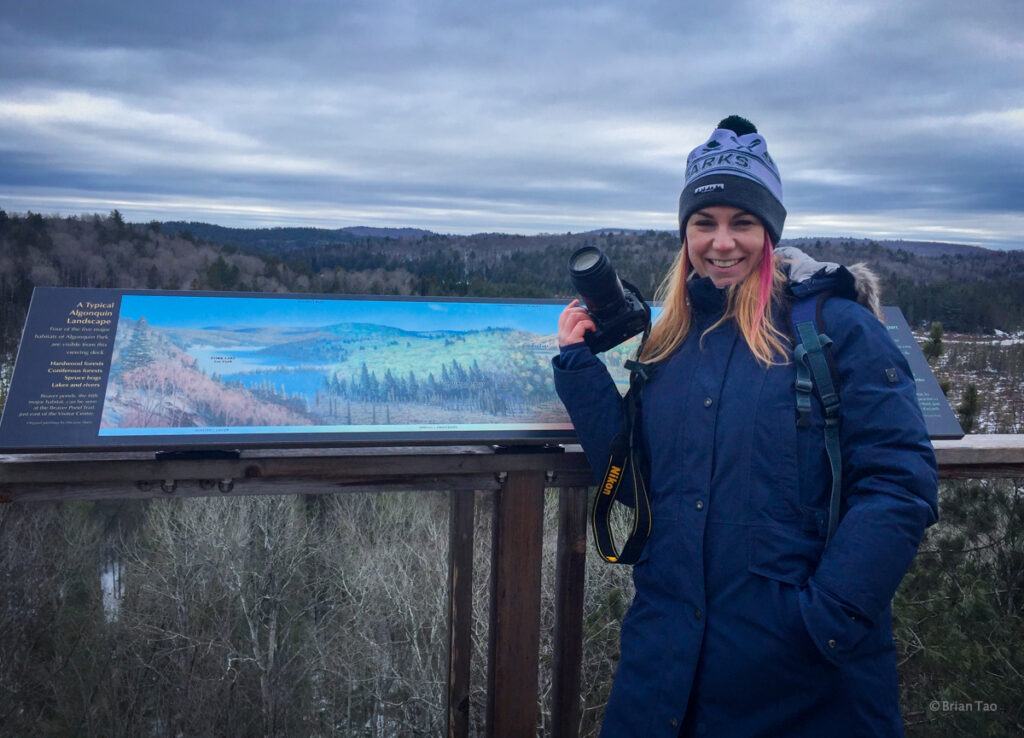 How To Find The Algonquin Provincial Park Visitor Centre
I've embedded this Google Map for you here. If you are diving up to the Algonquin Park Visitor Centre from Toronto or any other place in Ontario (or Canada), click on "directions" and type in the address you are starting from.
To get from Algonquin Provincial Park to Toronto, the drive is approximately three hours south on Highway 11. The same in the inverse, it takes approximately three hours to drive north from Toronto to Algonquin Provincial Park via highways 400 and 11.
What Is Inside The Algonquin Park Visitor's Centre?
Some say this is one of the best visitor centers they have been to in Ontario Parks. There are lots for every age kids to be entertained. In the foyer, there is a large board displayed where you can add your wildlife sightings for the day. During winter, even if you're not actually seeing the wildlife, you can feel it all around you because you can see their tracks in the snow or on the ice. It's the kind of feeling you don't get other seasons of the year.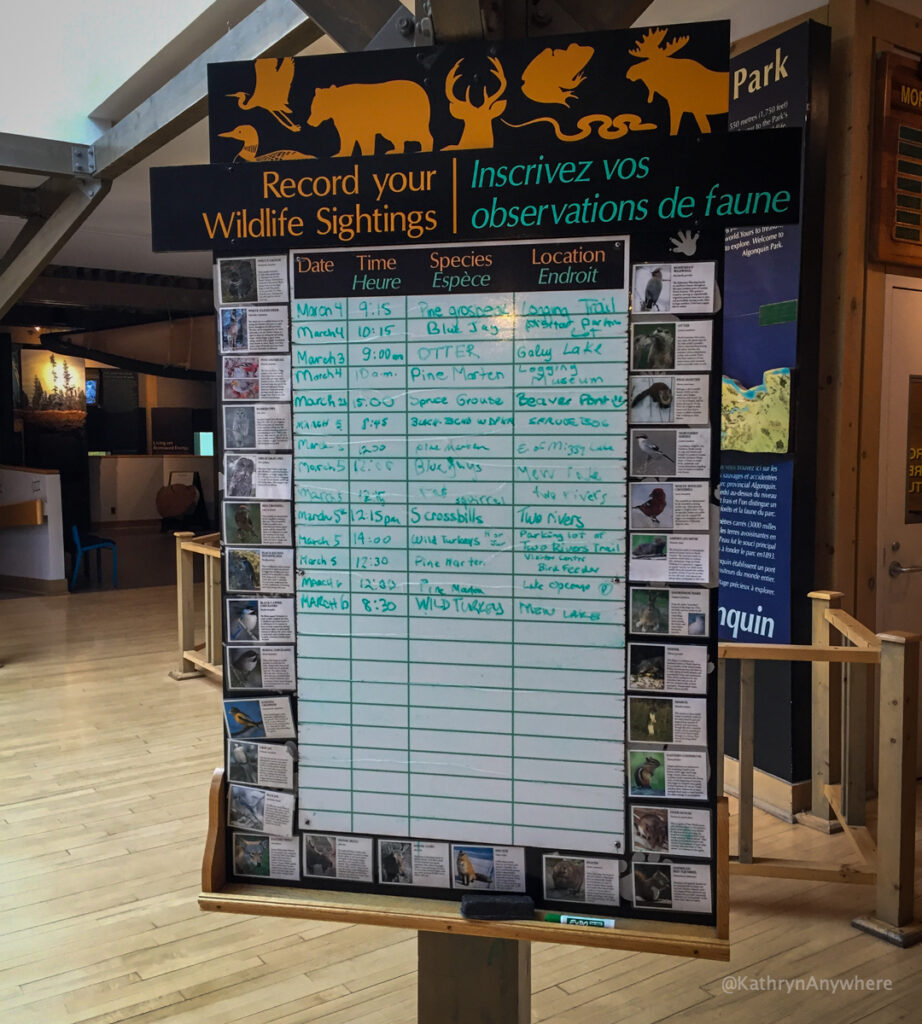 It is a very large visitor centre and doubles as the Algonquin Park information Centre. Here you can pick up park maps, canoe route maps, get information on camping. The displays are all very detailed, exhibits are interactive and there is a theatre as well. Educational programs are run out of the Algonquin Park Visitor Centre.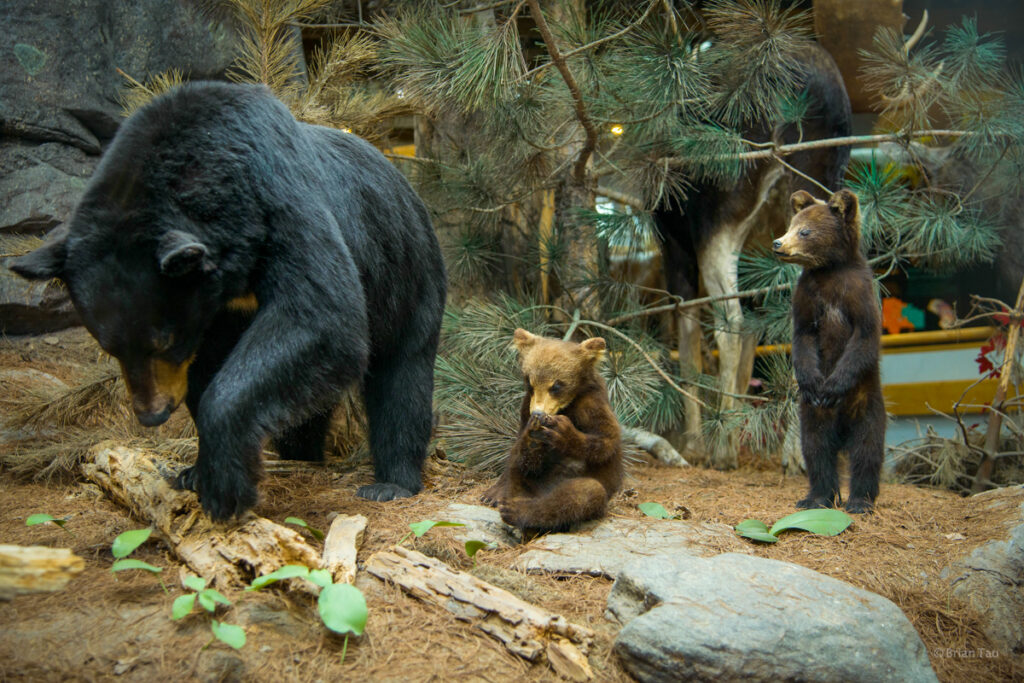 One of the coolest things housed in the building is the archives of the park. Even cooler is the flora and fauna specimen room downstairs. It's actually not open to the public. Assistant Park Superintendent Rick Stronks – who is incidentally the Chief Park Naturalist, gave me and my friend and photographer, Brian Tao a backstage tour that blew our minds.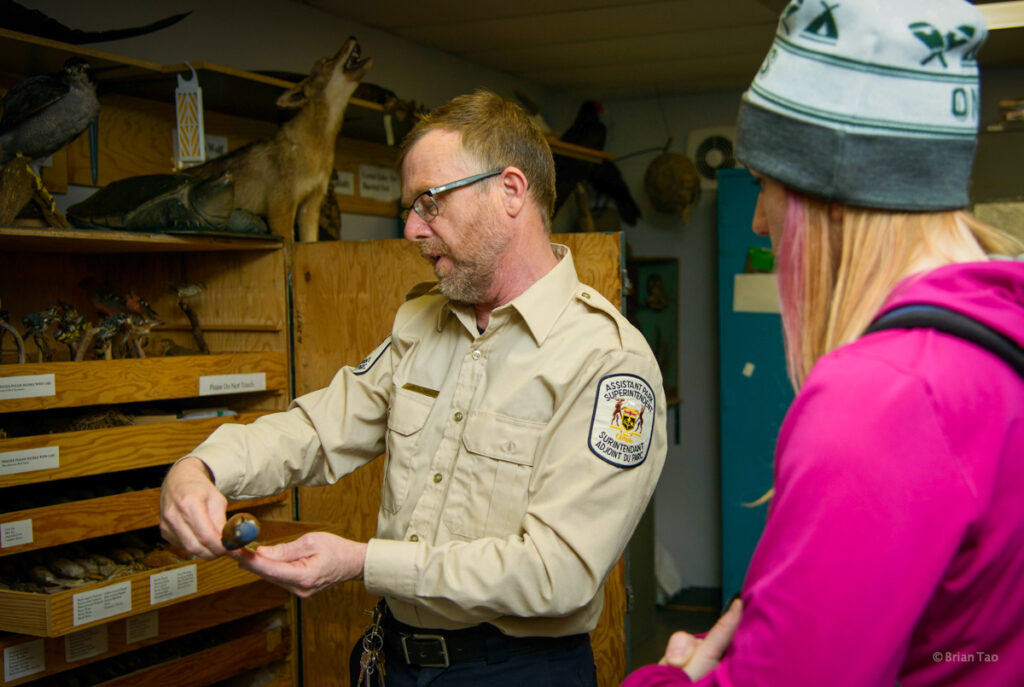 Rick's job is to manage and administer the Natural Heritage Education program, oversee all operations of the Algonquin Visitor Centre, Logging Museum, Art Centre, Staffhouse and Outdoor Theatre. He coordinates the procurement of all natural and cultural history records as well. On this day, it was also to provide us with incredible entertainment and stunning knowledge.

What is contained in this room is a record of every single type and species of bird, fish and mammal to have graced their presence into the park. It's a huge catalogue. The undertaking of a job for Rick and his staff to have organized this over the years is gigantic. Some of the taxidermy and written records we saw are more than 50 years old.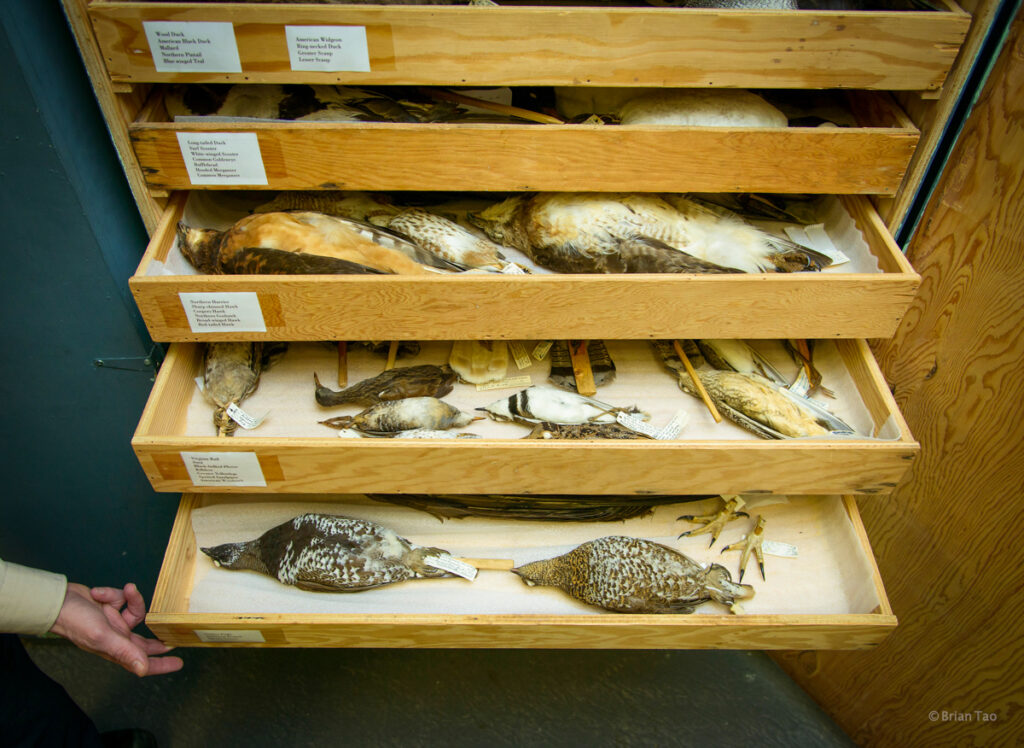 It's incredibly important to mention that these specimens were not captured in any way. We were assured that each one of these specimens was already deceased when found. By and how whatever natural reason they were already dead and preserved for learning and cataloguing. Each specimen that is brought in is treated with care and respect and restored.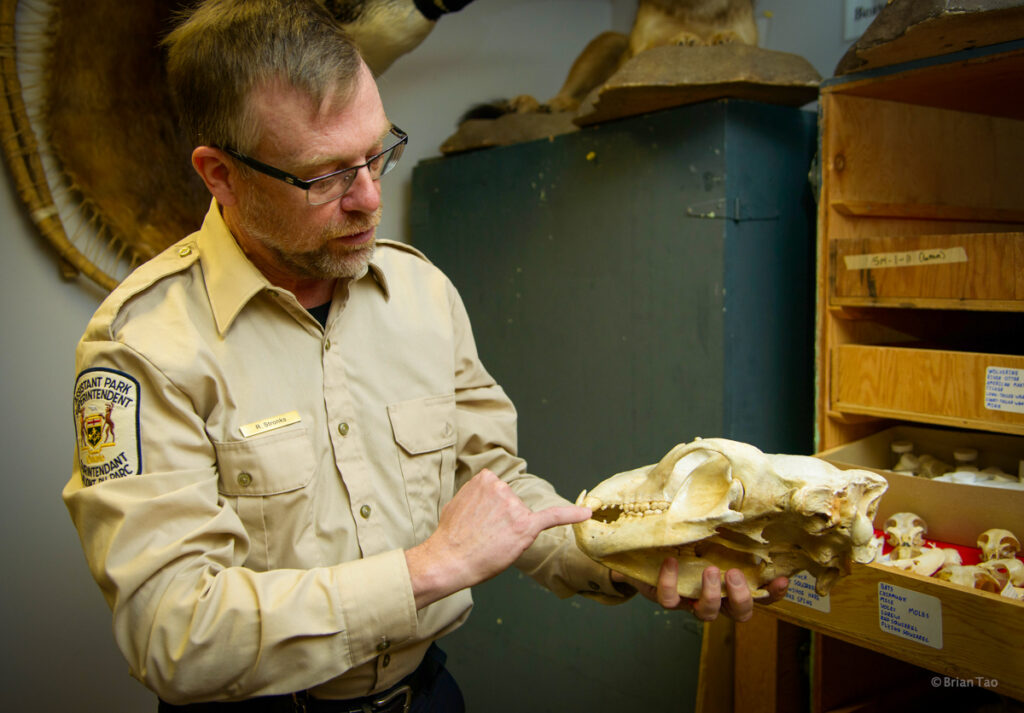 Naturalists are wildlife specialists who track and study animals. Every single one of these specimens is used to track the movements throughout the park and area. The primary role of naturalists is to educate the public about the environment. They also maintain the natural environment on land specifically dedicated to wilderness populations. Their primary responsibilities are preserving, restoring, maintaining, and protecting the natural habitat.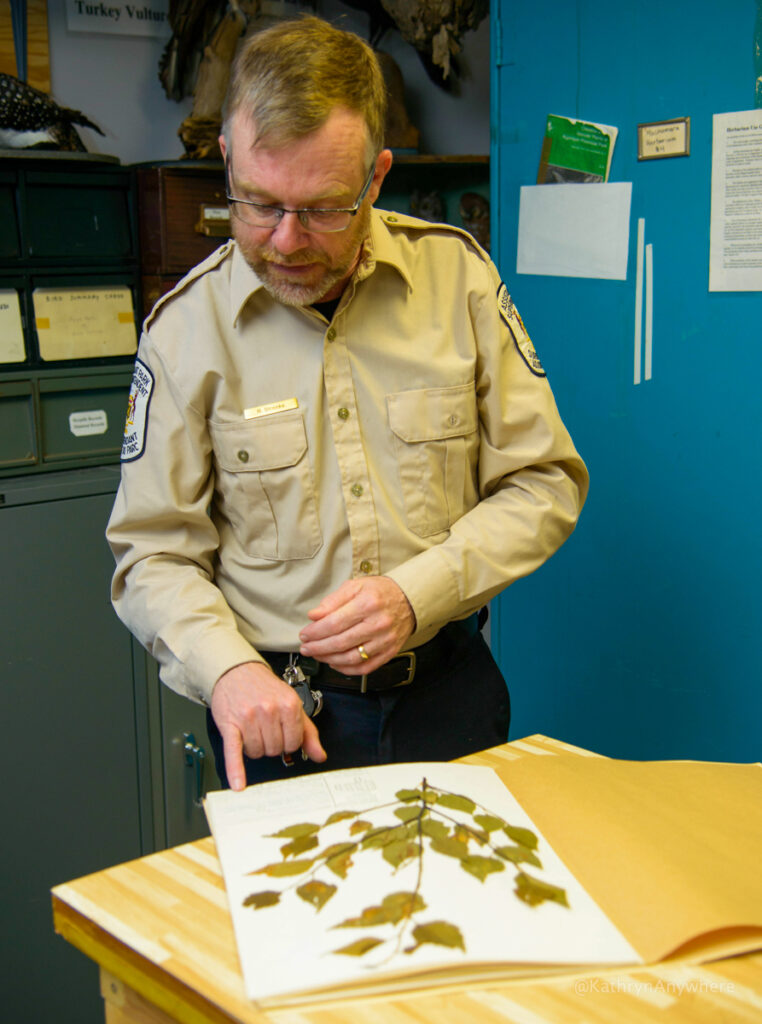 What To Do At Algonquin Park In Winter
Some of the hiking trails closest to the Algonquin Visitor's Centre and handy to some of the Algonquin Provincial Park Campsites are Spruce Bog Trail, Beaver Pond Trail, Big Pines Trail and Lookout Trail. If you're looking for a good place near the Algonquin Provincial Park Visitor Centre to launch your canoe, you're in luck. The Sunday Creek Access Point is in the vicinity. A map of Algonquin Park can be obtained at the Visitor Centre when they are open. Or check at one of the gate offices when they are open.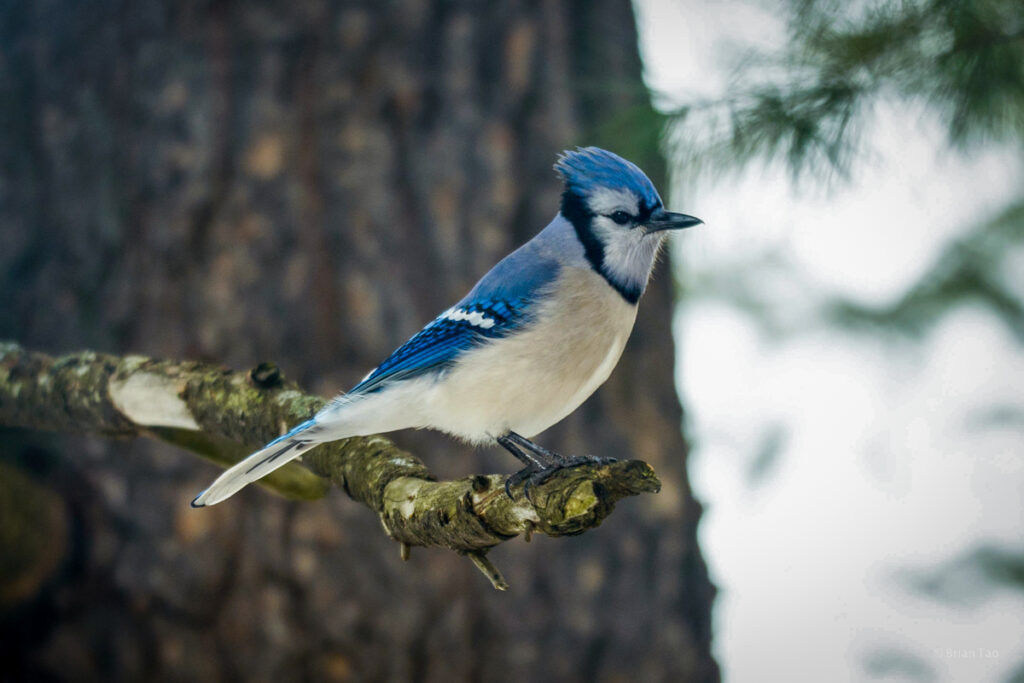 Please note that this is not the place to go if you want to rent snowshoes or other equipment. Head to East Gate Gatehouse for those. During the lockdown, these facilities are not available. Before heading into the park, please consult the Ontario Parks website. Be sure to check which facilities are open to the public at this time.
You can read about my experience camping in a Yurt at Algonquin Provincial Park by clicking here. If you would like to read about my favourite hikes on the Barron Canyon Trail with my kids, you can do that by clicking here.
If you aren't into glamping, or any other Algonquin Provincial Park camping and lodging options, there are some alternative accommodations. Look to try accommodations on the outskirts of Algonquin Provincial Park. Check out some of these accommodation options (this Booking.com site pays me a commission for booking at no charge to you!):
The Friends of Algonquin Provincial Park have an Algonquin Park Wild Bird Live stream on Youtube. If you'd like to see who is at the feeder, check it out there: