How Facebook Fails To Protect Kids
Here's a huge lesson for us all on how Facebook does not protect the users, our intellectual property and Facebook fails to protect kids. I never thought this could happen to me, but here we are. This is my experience and this is what I am trying to do about it.
On February 26, one of my followers pointed out to me that someone had stolen photos of me and my children taken from my
branded Facebook page
(or potentially my Instagram page) and are using them on a fake profile using the name
Solphie Ann
.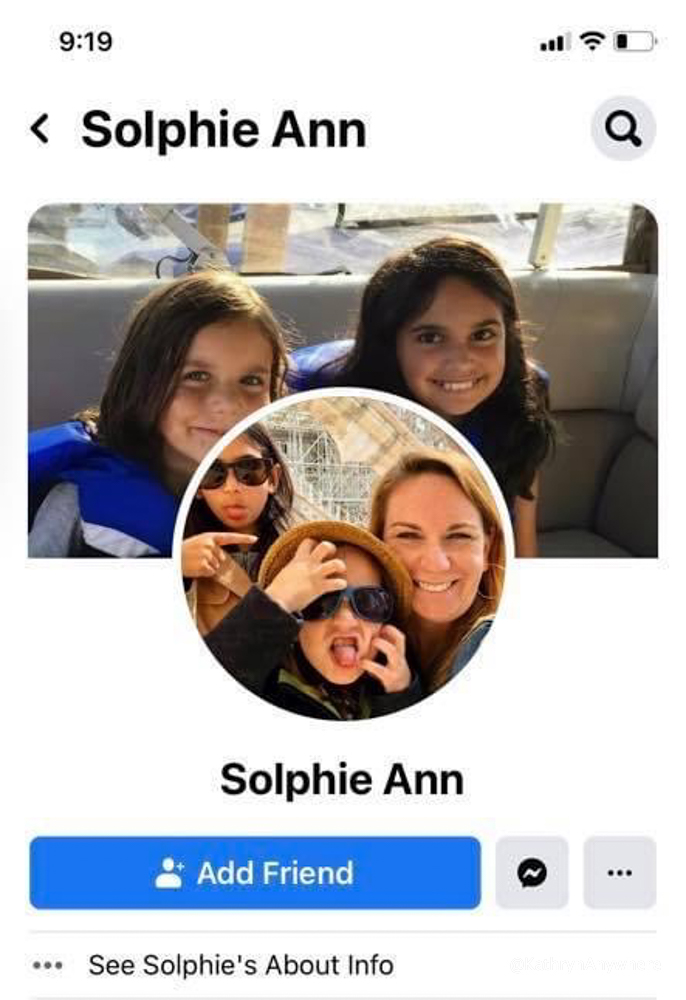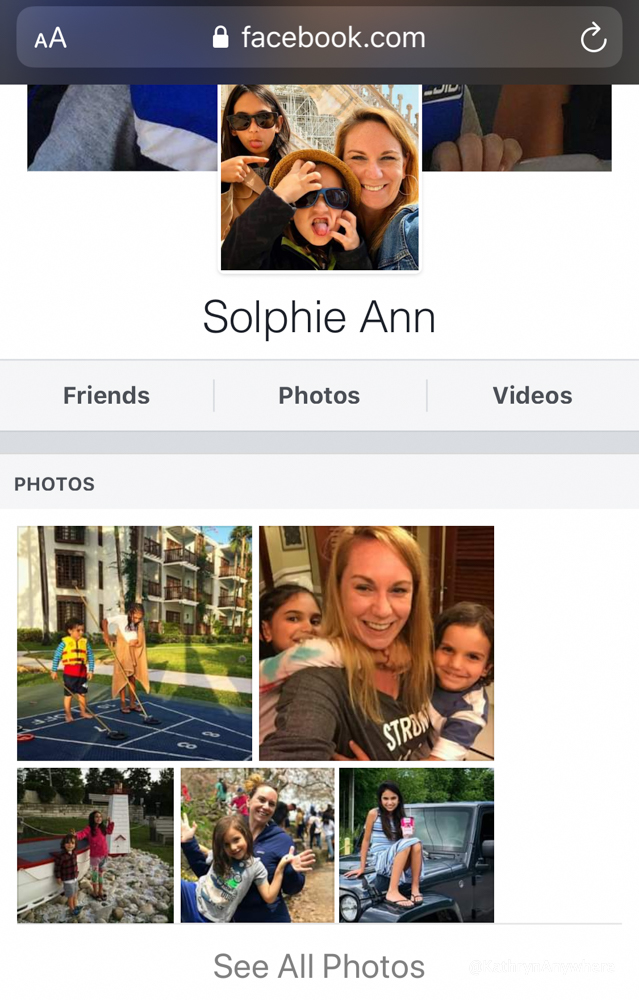 I and numerous friends have reported the profile and the stolen photos to Facebook. I have messaged the account and asked them to remove my photos, no luck (the scammer has blocked me and blocks everyone who messages them about this). At this point, the account and the stolen photos have been reported over 100 times. Believe it or not, Facebook has repeatedly told me that this account DOES NOT go against their Community Standards.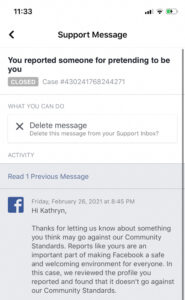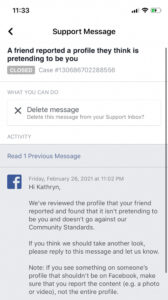 Friends and family of mine are commenting on the photos staying they are stolen, but that account has not been removed or reprimanded and the images of my children remain on this account. The images of my children and myself cannot be associated to this spammer account any longer. My children are quite terrified that they are going to be damaged by this in the future. I am terrified that this will be detrimental to my personal online footprint and existence.
Facebook has yet to take action. Facebook is failing to protect my children. This is an exploitation of my minor children and myself. It's incredibly baffling that Facebook does not find this to be a violation of their community standards.
One of my followers saw the scammer profile in a group selling tickets to an art show. She decided to bait them for me. This screengrab is their message exchange on Facebook.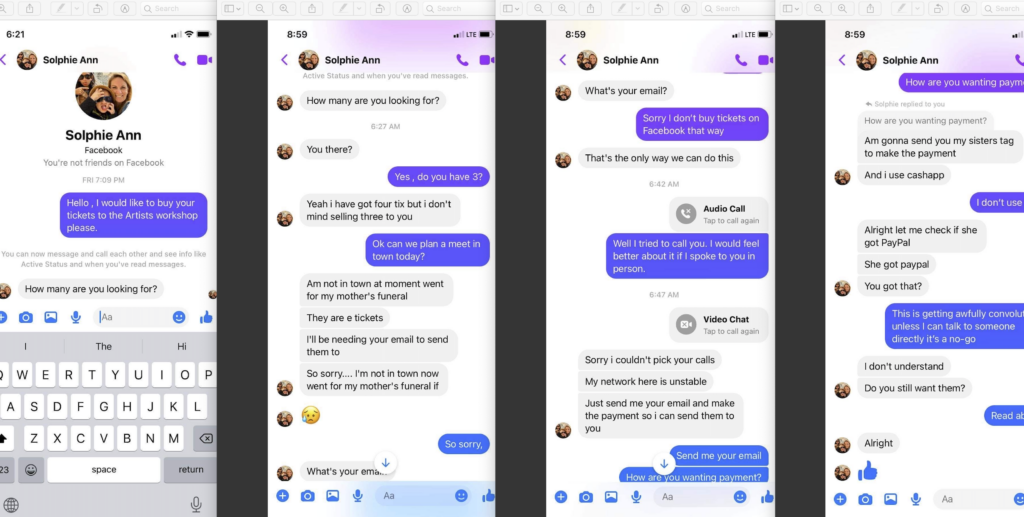 This account is stealing money from vulnerable families posing as a seller of tickets to an artist's workshop and I'm not the one behind it. According to my follower, this account stole $100 from a young family in her community.
At this point, I have pretty much exhausted ALL of my options with Facebook's platform. There is no phone number to call to complain. Not a single live person has responded to a single request for help with the spammer. My ex-husband, who is livid that these photos of our children are being used in a fake profile and aren't being removed has reported this story to several media outlets with this story, however, this is something that happens with great frequency on Facebook, so it's not news.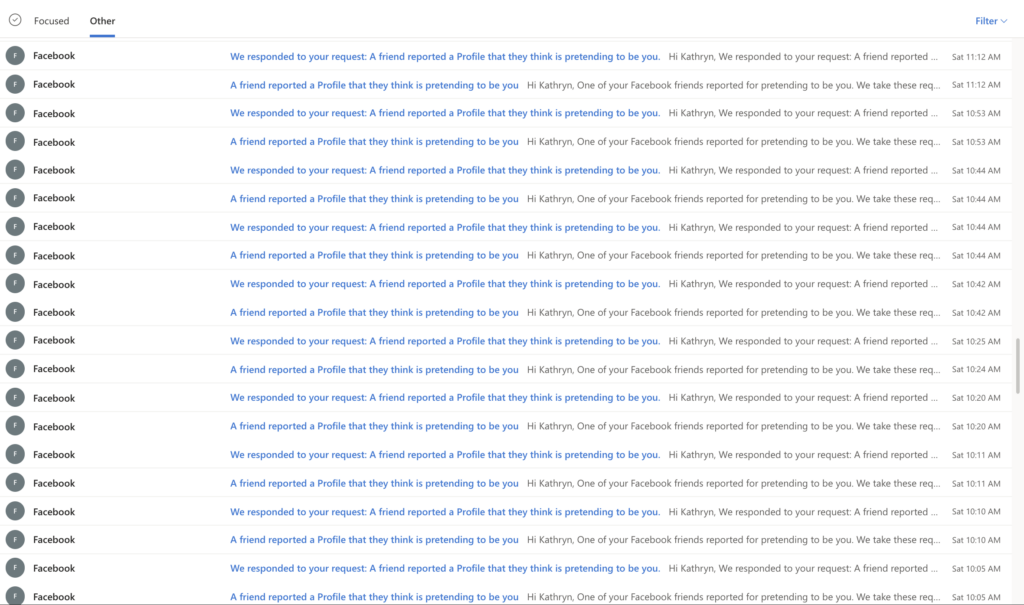 Can you imagine that this happens so much that not a single media outlet seems to care anymore? A friend of mine was able to obtain an email address of someone who works at Facebook through a family connection and I have sent them a detailed email. Truly I hope this gets resolved.
Honestly, I always thought I was moderately careful with my posting and my children. Sadly, their likeliness is now associated with a crime. Going forward, here's how I am changing my approach to posting photos on my branded Facebook page:
I will not be showing my children face on, not even on paid campaigns
Every photo I post on my Facebook page will be watermarked
My personal Facebook profile is completely locked down and I have begun unfriending people I don't really know anymore.
I am utilizing the services of Copytrack to find stolen images on other websites and enforce copyright
Aside from this bogus art fair ticket scam, I can't help but wonder how else our photos are being used? Is my face on a fake dating profile catfishing someone? Did someone set this up to collect welfare funds? Trick someone into paying child support? One thing is for sure, I am relentless and if I have to ironically set up a fake profile to catch this jerk, I will.
If anyone finds my photos anywhere else, please do let me know. And if a profile with my picture is trying to sell you tickets to an art fair in Denver, it's definitely not me. Please continue to report the profile.