Why Winter Camping in Ontario Is Awesome
Winter camping was one of those things I tried as a novelty. My first trip was to Mew Lake in Algonquin Provincial Park. When Ontario Parks invited me to experience yurt winter camping at Mew Lake in Algonquin Provincial Park during the first week of March, I laughed at the thought of me hanging out and sleeping in the cold, crisp Canadian air. Then, I jumped at the chance once assured the yurt was heated! Winter camping in Ontario is awesome.
Truly it is. Although Ontario is a year-round camping province, I had never camped outside of the summer months. Now, winter camping (or even winter glamping) is something I have now done year after year.
Camping in the winter is beautiful and still. The air is fresh and crisp. The people are few and far between.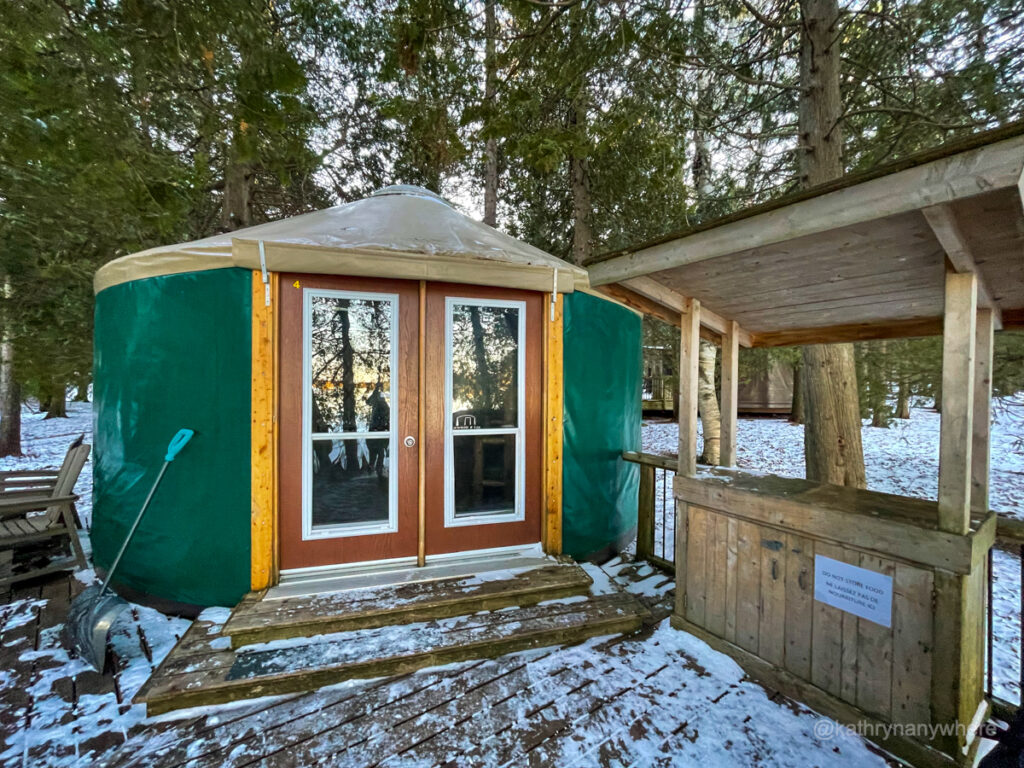 Over the past couple of years, winter camping has become one of the hottest trends in outdoor adventure. Winter camping in yurts or winter camping in a rustic cabin is amongst the most popular activities. Hard-core adventure seekers and back-country enthusiasts still camp in wintertime. The camping season in Ontario does not end on Labour Day in September! The best part is, you don't have to be an experienced camper. Camping novices can try a yurt or a rustic cabin in the woods.
So let's pull on the long underwear, pack the hot chocolate and let's check out all of the exciting winter camping (and winter glamping) options in Ontario.
Winter Camping in Ontario
From luxurious fully catered, resort-like settings complete with restaurants and flush toilets, to self-catered heated cabins and yurts with comfort stations, or self set up hot tents and RV camping in Ontario Provincial Parks, there's something for almost everyone.
Spending the night in the great outdoors during any season is good for your soul. When you are camping and spending more time in nature, you're surrounded by trees. This means you are breathing in more oxygen and less urban pollution. Your body will be much healthier and will function better when there's more oxygen.
Contact with nature has been found to lower blood pressure, strengthen the immune system, help prevent disease, and reduce stress levels. If that doesn't attract you to the great outdoors, what will? Ontario Parks has 26 Provincial Parks that are open during the winter season. Services and facilities range from day use only to front and backcountry camping and roofed accommodation.
Different Types of Winter Camping
As mentioned, there are many ways to camp in the winter in Ontario. You can find luxurious glamping tents that are at fully catered, resort-like settings complete with restaurants and flush toilets (maybe even a private bathroom). There are many places to book self-catered heated cabins and yurts with comfort stations at many of the provincial parks or at some private facilities that can be accessed on Airbnb. For the hardcore camping enthusiasts, you can still set up your tent at a campsite or hike a few kilometres out and have a backcountry experience.
Back Country Camping in Winter
Backcountry camping in winter can also be called cold camping. What cold camping means is that you don't have heat in your tent. There's no stove and there certainly isn't electricity. Much like a summer backcountry excursion, everything you take in with you, you have to take out. This is a hike it in and hike it out situation. The bonus part of doing this in winter is that you can often transport your gear and food on sleds if there is enough snow.
Only attempt cold camping if you are an experienced camper who can meal plan. You will need to understand how to stay dry and warm and why wearing cotton while cold camping is bad. This is a situation where tents and sleeping bags have to be rated for extremely cold temperatures. Test out your camp stove at home before taking it cold camping to ensure it works in such cold temperatures.
Hot Tent Camping in Winter
Camping in a hot tent is really interesting. Your hot tent has your stove right inside. And the chimney runs out the ceiling of the tent. So this is a very warm and cozy method to camp and a good way to dry out gear. These tents and the gear are expensive to beginners, but once you have built out your kit and you are comfortable with your gear, it's less daunting.
There are many different kinds of tent canvas and tarps and stoves to build out your site with and of course, there are many safety lessons to learn before you do this on your own the first time.
There are many sites throughout the provincial park system you can bring your top tent set up. Once you have the right gear and everything set up properly, you can be comfortable for days on end as long as you're happy to cook over a fire in the ground.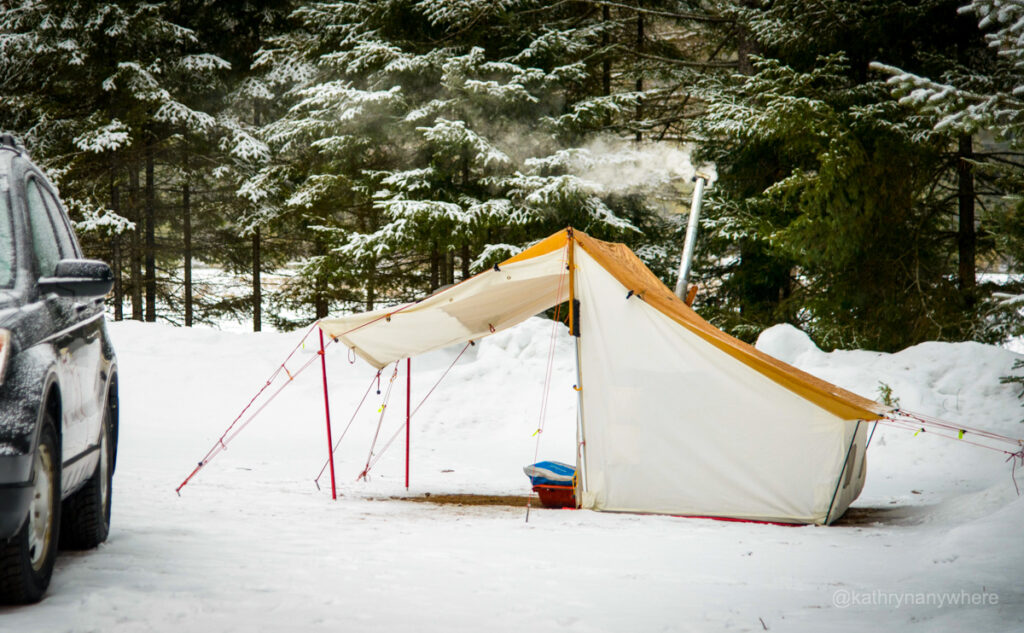 Yurt Winter Camping
One of the most popular new adventures is winter camping in yurts. Yurt winter camping often referred to as glamping, is a comfortable way to ease yourself into the winter overnight, outdoor experience without exposing yourself to the elements. A yurt is a soft-sided structure. It's made of heavy-duty canvas and is on a platform, off the ground. Many yurts have electricity and are heated either by an electric stove or by a wood-burning fireplace. It is rare to find yurts with running water.
Like camping in a tent, you need to keep your food out of the yurt. Food should be stored in the trunk of your vehicle or in food storage lockers. Any scent of food in a yurt is an invitation for an animal to try to make its way in. Cooking in yurts is dangerous and should not be done due to the flammable nature of the structure.
Very few yurts have access to private washrooms. Provincial and national parks have comfort stations for use as well as outhouses. Yurts in Ontario are available to book through Parks Canada, Ontario Parks as well as at numerous private campgrounds across Ontario. These are great options to introduce kids to winter camping, you can read all about my son and I camping at MacGregor Point Provincial Park here.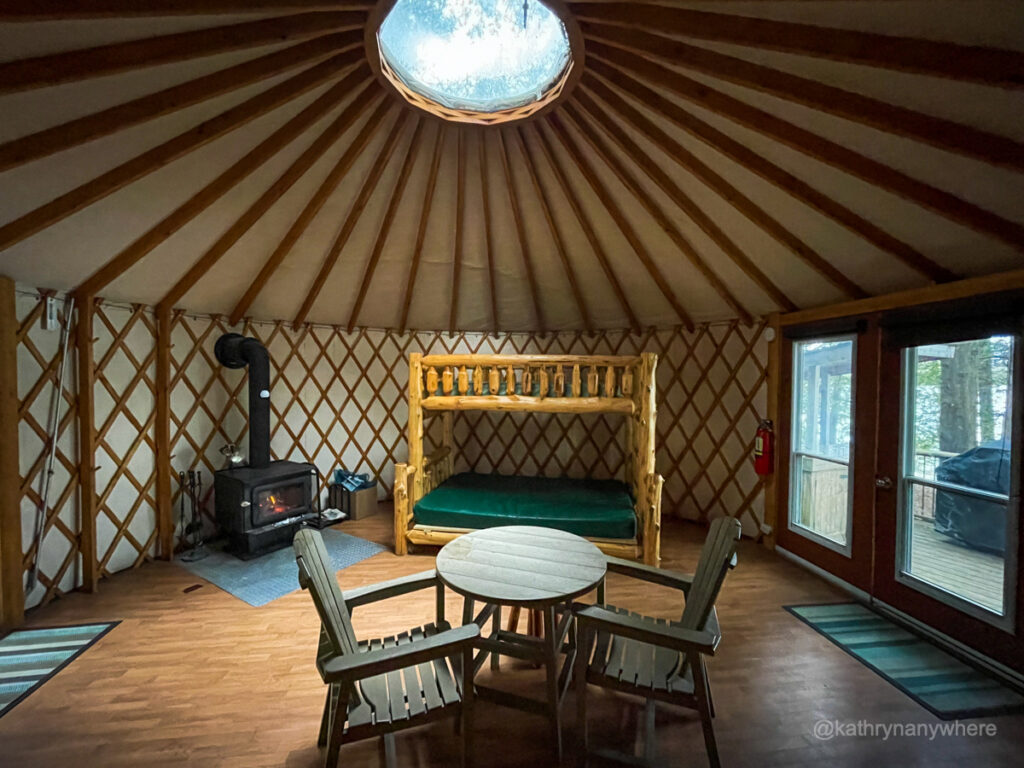 RV Winter Camping
If you have a recreational vehicle and you use it in the summer, chances are good can use it in the winter. That is the ultimate comfort in camping. As a camper who actually sleeps on the ground, in tents and have hiked and canoed my gear through lakes and over hills, I personally do not consider RV a camping vehicle. An RV is a cottage on wheels. Private and comfortable bedroom, flushing toilets and an equipped kitchen? You can take that mobile cottage to the campground and plugin for your water and electricity. I have seen many RV's in MacGregor Point provincial park over the winter.
Sounds like a perfect retirement plan if you ask me!
Cooking While Camping In The Winter
Cooking while winter camping is exactly the same as cooking during summer camping, you just need to dress for it. The same equipment is required – fire, frying pans, gas stoves… But you're wearing gloves in sub-zero weather. It's important that you plan a menu for us that consists of pre-cooked protein foods (steak, chicken and dumplings if you eat meat) that only need to heat over the flame for a short period of time to eat along we easy to prepare side dishes. Preseason food and pack it in your cooler.
Even in the winter, the food needs to be stored away from your accommodations. Lock coolers and bags of groceries in your trunk or some campgrounds, like Cyprus Lake in the Bruce Peninsula, have food storage lockers.
Many yurts come with a BBQ for you to use at your site. Trust me when I say that as a single mom camping with kids, it makes your life easier.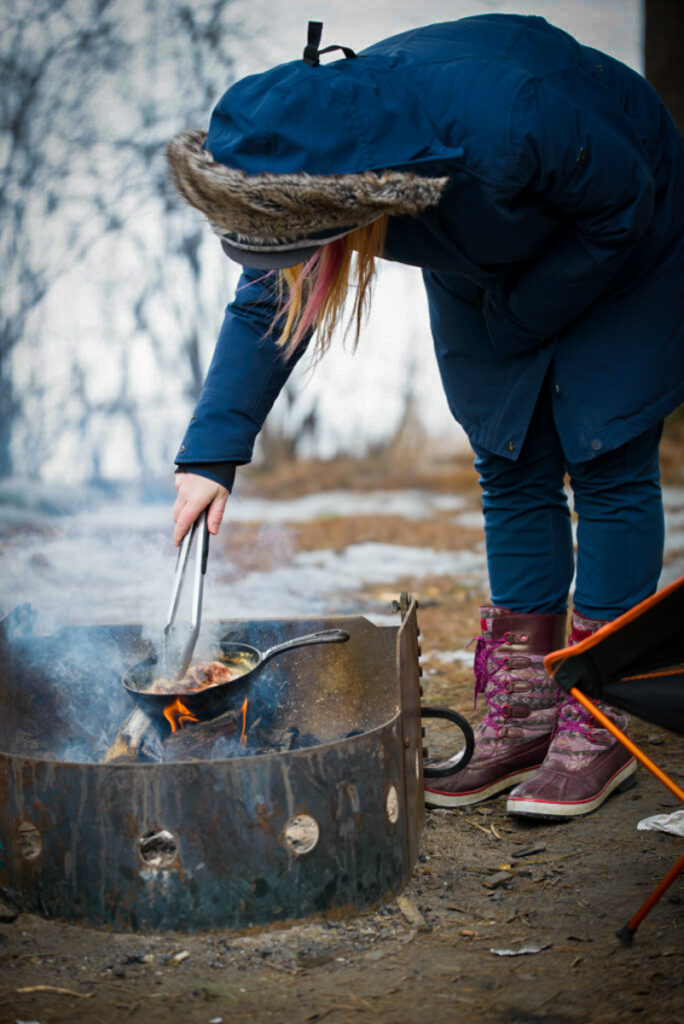 The First Winter Yurt Camping Experience
My first winter camping in Ontario experience was a (glamping) camping trip in a Yurt at Algonquin Provincial Park. My friend, Brian from Luxography Photography agreed to join me for a few days hiking, exploring, cooking and taking a thousand pictures of the lake and surroundings.
When Brian and I pulled up at yurt #49 at Mew Lake yurt in Algonquin Park, I was stunned looking at this green canvas thing on a wooden platform. When we opened the door to the yurt, any apprehension I had was gone. I'm usually up for any adventure, so there wasn't a whole lot of worry about what we were doing. However, for below zero weather and snow in the short-term forecast, I was wondering what I had agreed to.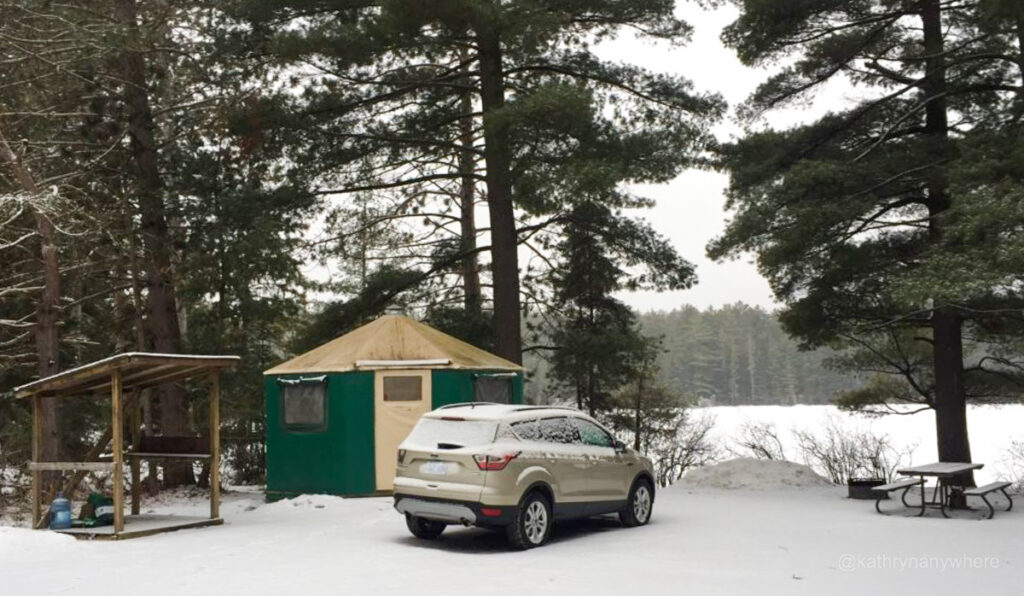 Inside the yurt, there are 2 bunk beds, the bottom bunks are a double and the top a single for a sleeping total for six people. I can see a family up to six people in there, but I can honestly say that a travel party of 6 adult friends might find the conditions cramped. We brought our own sleeping bags and pillows as your own bedding is required. There is also a table, some plastic chairs and a heater. Between the two of us, we each had ample space and never once did I find it crowded. There is a comfort station with heated water for showering as well as three sinks, hand dryers and flush toilets about a 4-minute walk from the yurt.
Also, this yurt had electricity!
The winter lake view was amazing, simply breathtaking – frozen lake, a dusting of snow on the trees, barely a soul in sight. And it was quiet. Wonderfully and delightfully quiet.
Things To Do At Algonquin Provincial Park In The Winter
While we were at Algonquin Provincial Park, there were a couple of families with younger children in Mew Lake and my first thought was – hey, there isn't a playground for these kids… What are they going to do? I realized that everywhere there was their playground and an opportunity to use their imagination.
The coolest and most Canadian attraction to the Mew Lake campground – the skating rink that is there! There are hockey nets and sticks to play with – right beside the comfort station.
Snowshoes are available for rent at the park gates for a reasonable price. Other Ontario Park locations that offer snowshoe rentals are Arrowhead, Frontenac, Killarney, Pinery, Wasaga Beach and Windy Lake.
Hiking trails are open during the winter months, depending on skill level and weather, these are mostly manageable, ice grips (ice cleats or crampons) might be required.
Nineteen Ontario Parks locations offer cross-country ski trails with 450+ km of trails with about half groomed or track-set. Many have warm-up shelters and/or cabins with wood fires and even hot chocolate to warm you up! Cross-country ski rentals are available at Arrowhead, Pinery, Wasaga Beach and Windy Lake.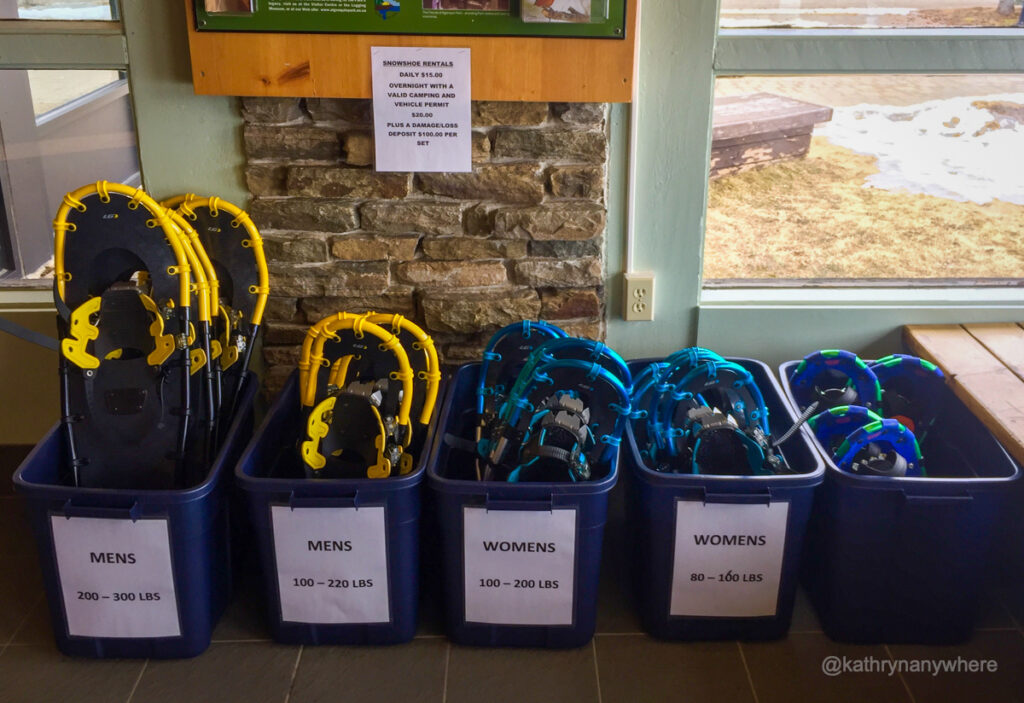 The Visitor Centre is open daily for bird watching, book purchasing and has world-class exhibits on Algonquin Provincial Park's natural and human history. During any season, the Visitor Centre at Algonquin Provincial Park is worth a visit. Be sure to check out and read here all you can explore: Algonquin Provincial Park Visitor Centre; behind the scenes
How's The Wifi Out There?
Like many campgrounds, they are not in dense, urban areas. Unfortunately, there is not a 5G tower on each corner and service can be spotty in the great outdoors. This is what some people will call a drawback – there is no wifi at the campground unless you are bringing your own. At Mew Lake, to have wifi access, we had to drive 20-25 minutes to the Algonquin Visitor's Centre to use theirs. If you are looking for a digital detox, go camping.
Important to keep in mind, an iPhone looks for a stronger signal everywhere and in the sub-zero weather, the battery drains itself in a matter of minutes.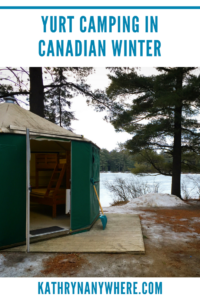 Are You Ready to Go Camping In The Winter?
No matter how you decide to camp in the winter in Ontario, you have to make sure you have the proper equipment. You need warm sleeping bags and durable tents. You need cooking equipment that will operate in sub-zero temperatures. It's imperative you have a  wardrobe to keep yourself dry. Also, you must prepare to keep yourself fed and hydrated.
Once you are prepared, the fresh air is all yours. Get out there and enjoy winter camping in Ontario.
To book an Ontario Parks yurt or rustic cabin or backcountry or car camping site, be sure to check out their booking site here: Ontario Parks Reservations
To book a Parks Canada yurt or Otentik, be sure to check out their booking site here: Parks Canada Reservations
If you would like to check out Ontario's Glamping hub, look here: Glamping Hub Ontario
Happy camping!
Disclaimer: Ontario Parks has provided me with the stay in a yurt numerous times in the past, but in no way swayed us into having a good time. Opinions are always mine.