Winter camping was one of those things I tried on a lark, as a novelty. My first trip was to Mew Lake in Algonquin Provincial Park. When Ontario Parks invited me to experience yurt winter camping at Mew Lake in Algonquin Provincial Park during the first week of March, I laughed at the thought of me hanging out and sleeping in the cold, crisp Canadian air. Then, I jumped at the chance once assured the yurt was heated! Winter camping in Ontario is awesome.
Truly, I've now done it year after year after year.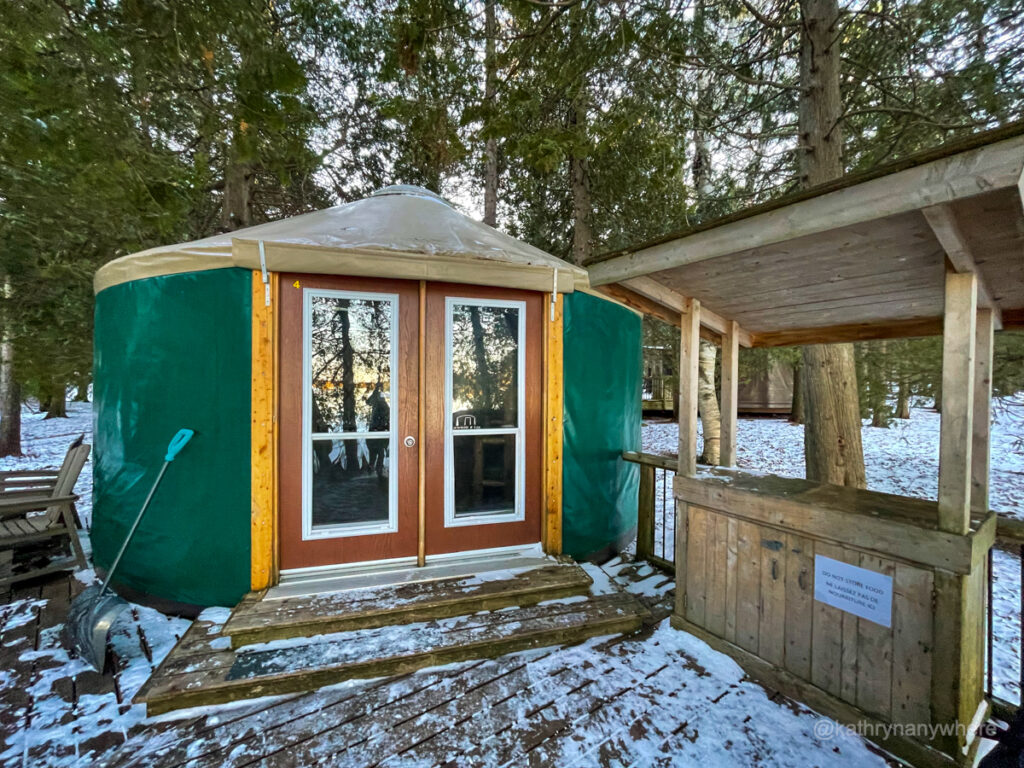 Over the past couple of years, winter camping (and glamping) has become one of the hottest trends in outdoor adventure. The camping season no longer ends on Labour Day in September! The best part is, you don't have to be an experienced camper to try a yurt or a rustic cabin in the woods.
So let's pull on the long underwear, pack the hot chocolate and let's unpack all the exciting winter camping options in Ontario.
Winter Camping in Ontario
From fully catered, resort-like settings, to heated cabins and yurts, or tents and RV camping in Ontario Parks, there's something for everyone.
Spending the night in the great outdoors during any season is good for your soul. Camping and spending more time in nature surrounded by trees means breathing in more oxygen and less pollution. Your body functions with less strain when there's plenty of oxygen. The extra oxygen also causes your body to release serotonin- considered a contributor to feelings of well-being and happiness.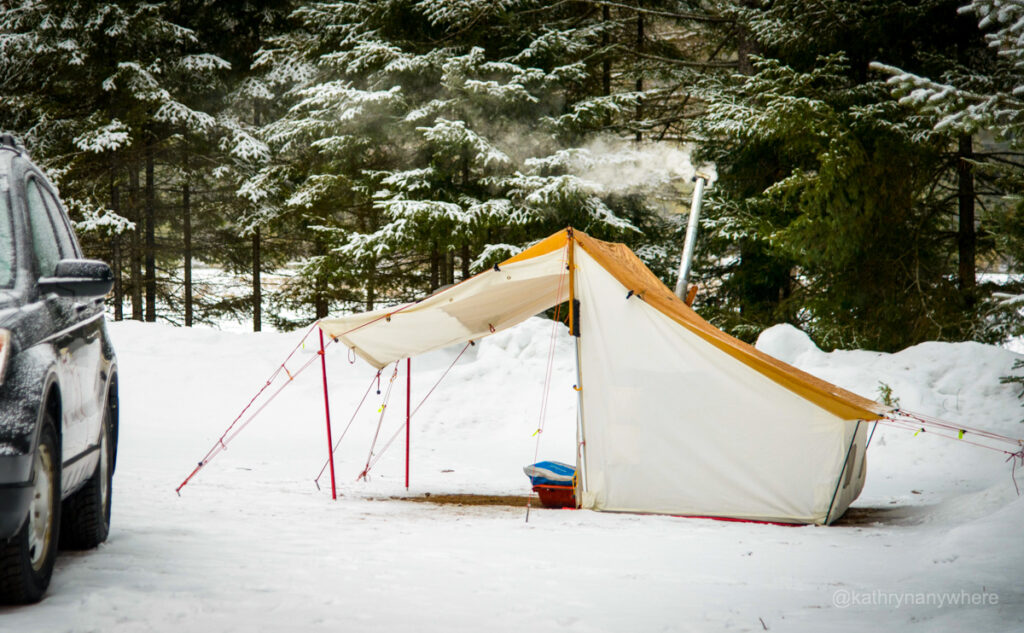 A few days in the wilderness would for sure get my scattered brain full of deadlines and storylines and cut lines back in order. Contact with nature has been found to lower blood pressure, strengthen the immune system, help prevent disease, and reduce stress levels… I'm sold right there on those merits alone. I camped a lot as a youth with my parents and always had a great time, so this would be similar, just in the snow!
Yurt winter camping at Mew Lake in Algonquin Park!
I looked around at my friends and I found a super experienced winter camping and photographer friend, Brian from Luxography Photography who agreed to join me for a few days hiking, exploring, cooking and taking a thousand pictures of the lake and surroundings. To be clear, when I decide on a vacation in the winter months, I normally head south, far south, so this was something entirely different for me and I am happy to say it did not suck, despite being sub-zero.
Ontario Parks has 26 Provincial Parks that are open during the winter season. Services and facilities range from day use only to front and back country camping and roofed accommodation. Mew Lake has a mix of sites for RV campers, tent campers and yurts.
When Brian and I pulled up at our Mew Lake yurt in Algonquin Park in the 2018 Ford Escape I had on loan from National Car Rental (Emerald Club member!), I was stunned looking at this green canvas thing on a wooden platform. When we opened the door to the yurt, any apprehension I had was gone. And really, if you know me, I'm usually up for any adventure, so there wasn't a whole lot of worry about what we were doing, but still, for below zero weather and snow in the short term forecast, I was wondering what I had agreed too.
Inside the yurt, there are 2 bunk beds, the bottom bunks are a double and the top a single for a sleeping total for six people. I can see a family up to six people in there, but I can honestly say that a travel party of 6 adult friends might find the conditions cramped. We brought our own sleeping bags and pillows as your own bedding is required. Next time, I might also bring my own pad to put on top of the supplied mattress. There is also a table, some plastic chairs and a heater. Between the two of us, we each had ample space and never once did I find it crowded. There is a comfort station with heated water for showering as well as three sinks, hand dryers and flush toilets about a 4-minute walk from the yurt. There was an outhouse or two closer to our site, I opted not to use them.
So on a scale of whether or not this is camping or glamping, I'd swing the pendulum more towards glamping. It had electricity!
Our yurt was site 49 in Mew Lake – it's one of the few yurts that are right on the water. The winter lake view was amazing, simply breathtaking – frozen lake, dusting of snow on the trees, barely a soul in sight. And it was quiet. Wonderfully and delightfully quiet. Due to a jam packed work schedule leading up to the trip, I can honestly say it had been a couple months since I had a good night sleep and I had a feeling I was about to have a few… regardless of the fact that research says spending two hours in the woods can improve sleep quality and help relieve sleep problems, I did not have my children with me and I did not have an alarm set for 7:05am to get anyone to school.
So there's another bonus to this experience…
and I am sure this is what some people will call a drawback – there is no wifi at the camp ground unless you are bringing your own. For us to have wifi access, we had to drive 20-25 minutes to the Algonquin Visitor's Centre to use theirs. If you are looking for a digital detox, go there.
We encountered spotty cell service everywhere we went, my iPhone was looking for stronger signal everywhere and in the -5 degree weather, the battery drained itself in a matter of minutes. Resistance was futile. Videos blogs shot here were few and far between, sorry!
What else is there to do while camping in the winter at Algonquin Provincial Park?
More than you think! There were a couple families with younger children in Mew Lake while we were there and my first thought was – hey, there isn't a play ground for these kids, what are they going to do? I realized that everywhere there was their playground and an opportunity to use their imagination.
First of all, snowshoes are available for rent at the park gates for a reasonable price. Other Ontario Park locations that offer snowshoe rentals are Arrowhead, Frontenac, Killarney, Pinery, Wasaga Beach and Windy Lake.
Hiking trails are open, depending on skill level and weather, these are mostly manageable, icegrips might be required (note, it was very icy when we went and therefore stayed to Spruce Bog Trail as well as the Algonquin Logging Museum Trail).
The Visitor Centre is open daily for bird watching, book purchasing and has world class exhibits on Algonquin Provincial Park's natural and human history, oh and there is a cafeteria open for snack purchases and warm up. The coolest and most Canadian attraction to the Mew Lake campground – the skating rink that is there! There are hockey nets and sticks to play with – right beside the comfort station.
Nineteen Ontario Parks locations offer cross-country ski trails with 450+ km of trails with about half groomed or track-set. Many have warm-up shelters and/or cabins with wood fires and even hot chocolate to warm you up! Cross-country ski rentals are available at Arrowhead, Pinery, Wasaga Beach and Windy Lake.
Lastly, cooking while winter camping is exactly the same as cooking during summer camping, you just need to dress for it. The same equipment is required – fire, frying pans, gas stoves… But you're wearing gloves in sub-zero weather, or if you are a nut like me, you don't. Brian planned a menu for us that consisted mainly of pre-cooked protein foods (steak, chicken and dumplings) that we needed to heat over the flame for a short period of time to eat along we easy to prepare side dishes. Yes, I still got my two cups of coffee every morning.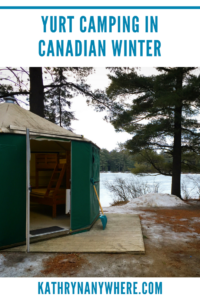 For the spring and summer months, BBQs are supplied at the Mew Lake campsites, but not during the winter months, so be sure to bring your own gear for cooking. We also brought all our own utensils.
I will write up another post about what to bring in terms of gear, attire (thermal underwear anyone…) and how to prepare. I am the Queen of winging it, but a certain amount of planning is always key to making any trip a success. Would I do this again? Would I do winter camping in a yurt in Algonquin again? Yes!
Want to reserve your Ontario Parks getaway, check out upcoming events in 2018 and help celebrate their 125th anniversary? Click here!
Happy camping!
Disclaimer: Ontario Parks provided us with the stay in the yurt, but in no way swayed us into having a good time. Opinions are mine.