My stay was hosted by Club Med as part of a press trip.  All opinions are my own.
Do you love snow capped mountain views? Love them in 360 degrees? Love them in the summer as well as in the winter? Do you love to indulge at all inclusive resorts and eat the best food and drink the best wine? Yes? I have a place for you to go – Club Med Les Arcs Panorama in southeast France's Auvergne-Rhône-Alpes region. 
Prepare to have your breath taken away with the mountain views! Mine was.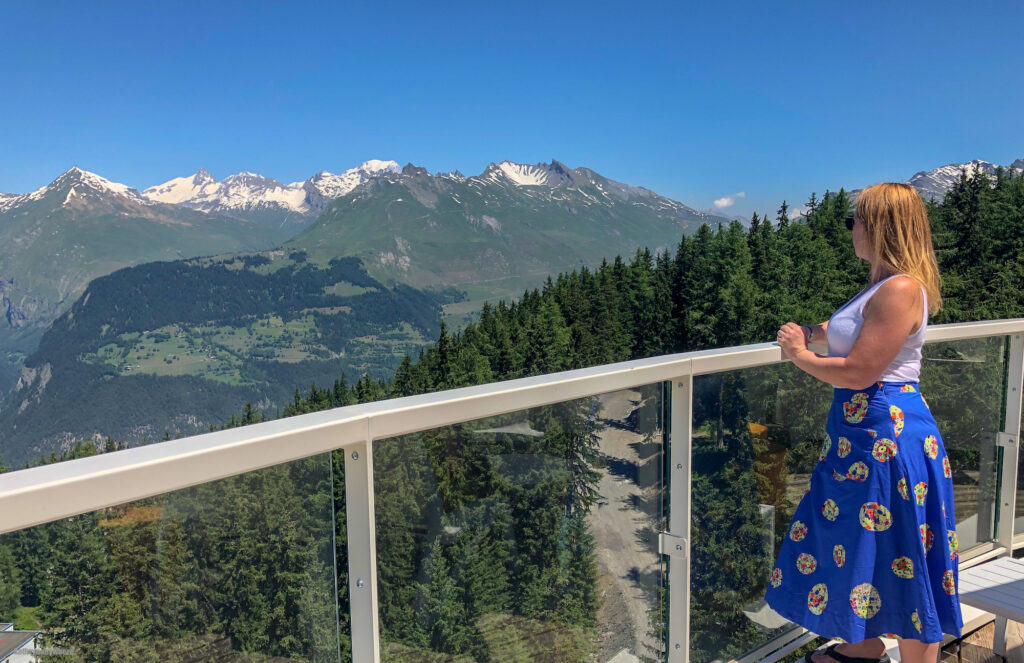 It was also the hottest week on record in France ever. That may have had something to do with my breathlessness.
Club Med's newest all inclusive resort in the Alpine region, close to Italy and Switzerland, Les Arcs Panorama, opened in December 2018 just in time for the excitement of winter. You can find it in the middle of the forest, literally. The resort sits overlooking the Tarentaise Valley and the town of Bourg Saint Maurice. It is called "panorama" for a reason. There are floor to ceiling panoramic views of the mountains all around the resort. Elevation wise, it's sitting at 1600 metres above sea level. 
It's a "4-Trident" Resort. 4Ψ Villages are considered to Club Med's Finest villages, offering luxury of the highest standard.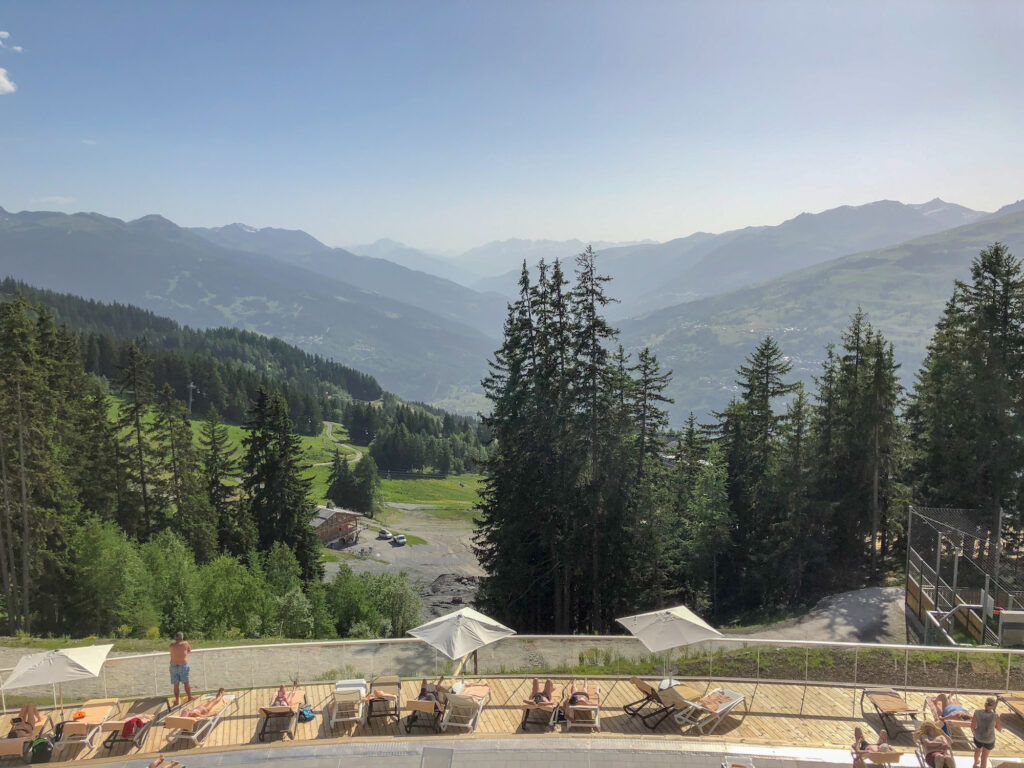 Summer Fun at Club Med Les Arcs Panorama
After a hugely successful inaugural winter season, Club Med has decided to move forward with designing alpine resorts for more than just one season. I was invited as part of a press trip for the opening of their first summer season. While it was not my first time at an all inclusive resort, it was my first time at a Club Med property. It was also my first time at an all-inclusive resort outside of the Caribbean. If Canada's Blue Mountains in Ontario or Banff in Alberta can be proof, mountain holidays in the summer are a real alternative for Canadian families looking for adventure year round.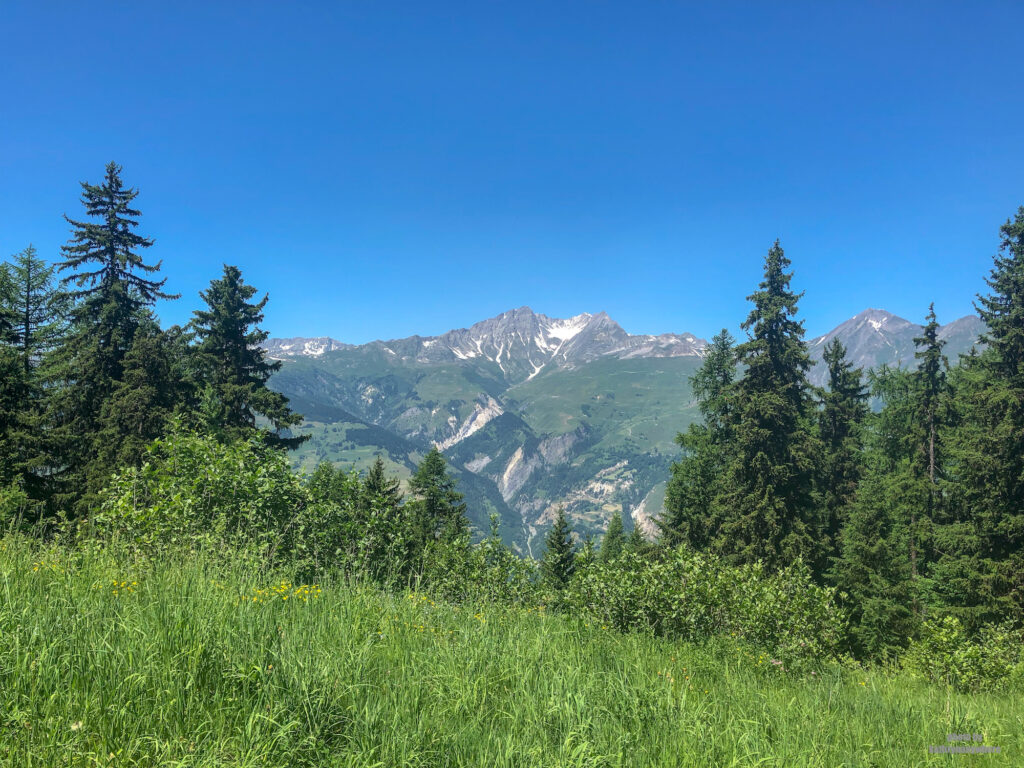 What makes Les Arcs Panorama a special place for summer vacationers, is the great recreational area in which the resort is situated in. With up to 3000 feet in altitude in the area, in Vanoise National Park, the area is infamous for bird watching, animal spotting, hiking in meadows and past farmer's fields, trying out new sports, enjoying rafting and cycling.
Once you've run yourself out for the day, the restaurants and lounge await in the village. You can indulge in tasting the magnificent ham and cheese from the Savoie area in the restaurants and enjoy some wine of the regions. If you feel up to it, go shop in town at the local markets.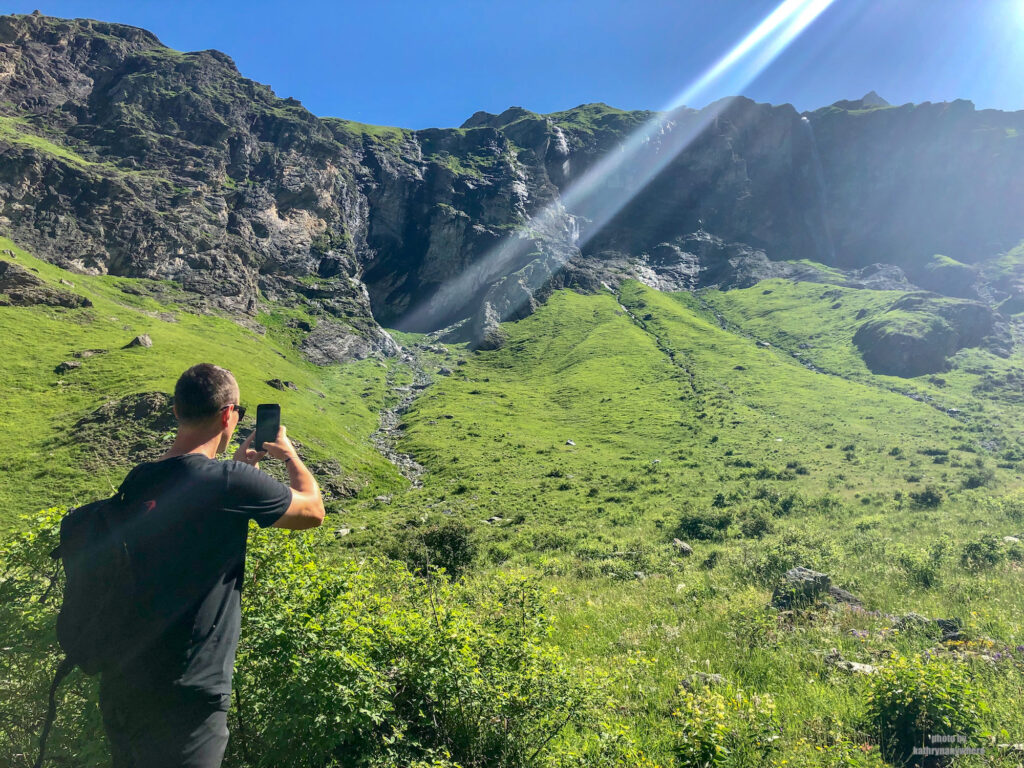 For families who want to have a down day, the children can enjoy the day at Baby/Petite/Mini Club Med. Parents can indulge in the Cinq Mondes spa, have a workout in the gym, take a dip in the pool, indulge in the jacuzzi or relax on one of the terraces of the club and watch the world go by.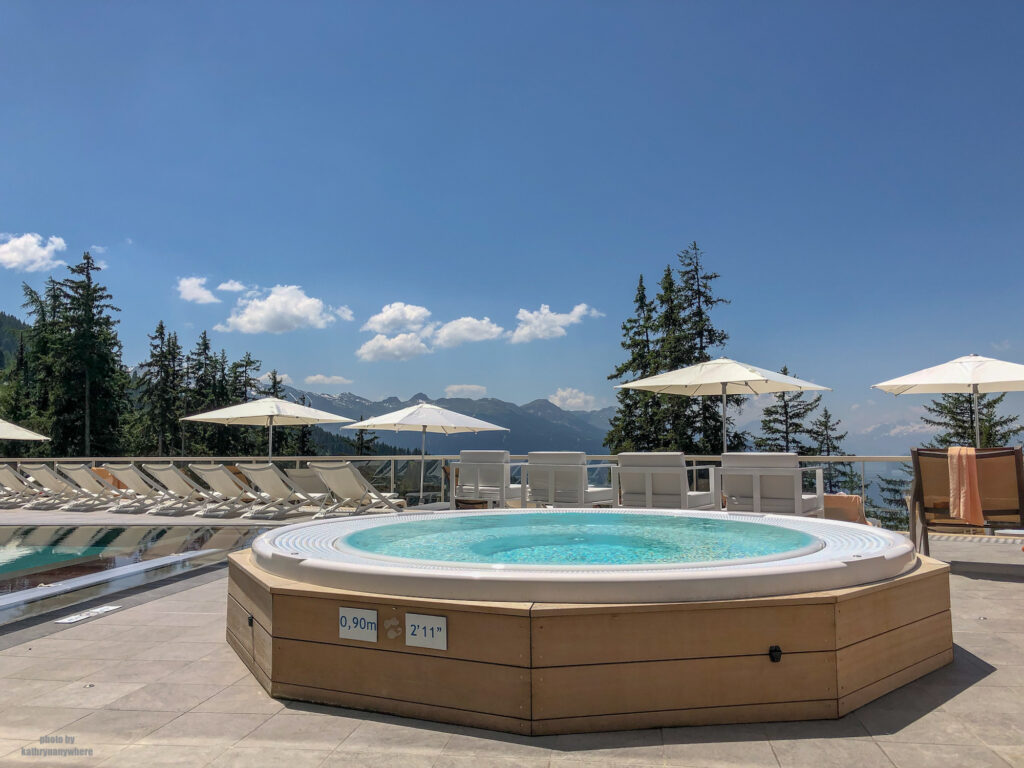 Visit The Region
It's relatively easy to get to the town at the bottom of the mountain, Bourge-Saint-Maurice via a taxi from the resort. I was quoted 53 euros each way. The funicular to the town of Bourg Saint Maurice was not open during my stay, but should be open now. From Bourg Saint Maurice, you can take a train to many near by destinations for a day trip filled with culture, history, architecture and language.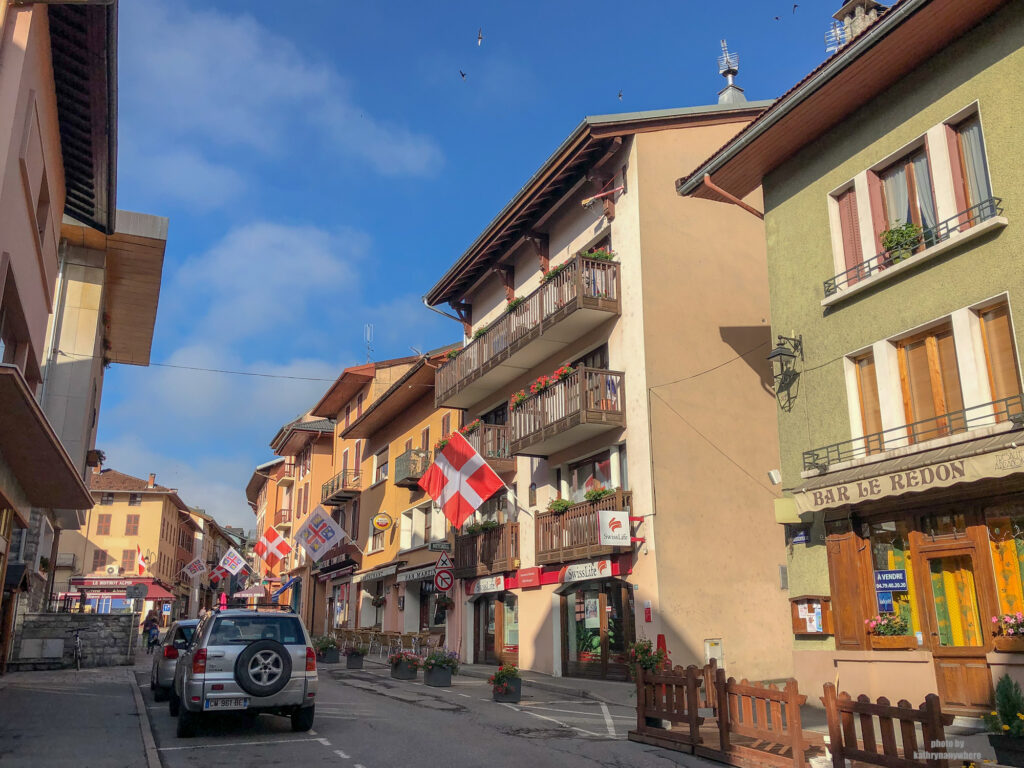 A family trip to this resort can be a stand alone week long vacation. There are direct flights to nearby Geneva, Switzerland and Lyon, France from Montreal, Quebec. It was a quick connection for me in Montreal from Toronto. You can book packages to this resort with flights and transfers from the airport included.
If I was to return with my children, I would absolutely consider visiting Club Med Les Arcs Panorama as part of a longer trip. I'd like to take my children to either Geneva or Lyon for a few days to visit art galleries, museums and eat regional food. We did not visit those cities on our last trip to Europe. Learning some of the French language isn't a bad thing either.
Brand New Building and Resort
This is where you can come to get away from it all for a detox or hide from the world. From almost every point around the resort, enjoy mountain scenics from floor to ceiling inside and outside. No city noise. While this is not everyone's favourite way to vacation, it's certainly one of mine. I'm normally a beach and water person, but the mountains have made me into a convert.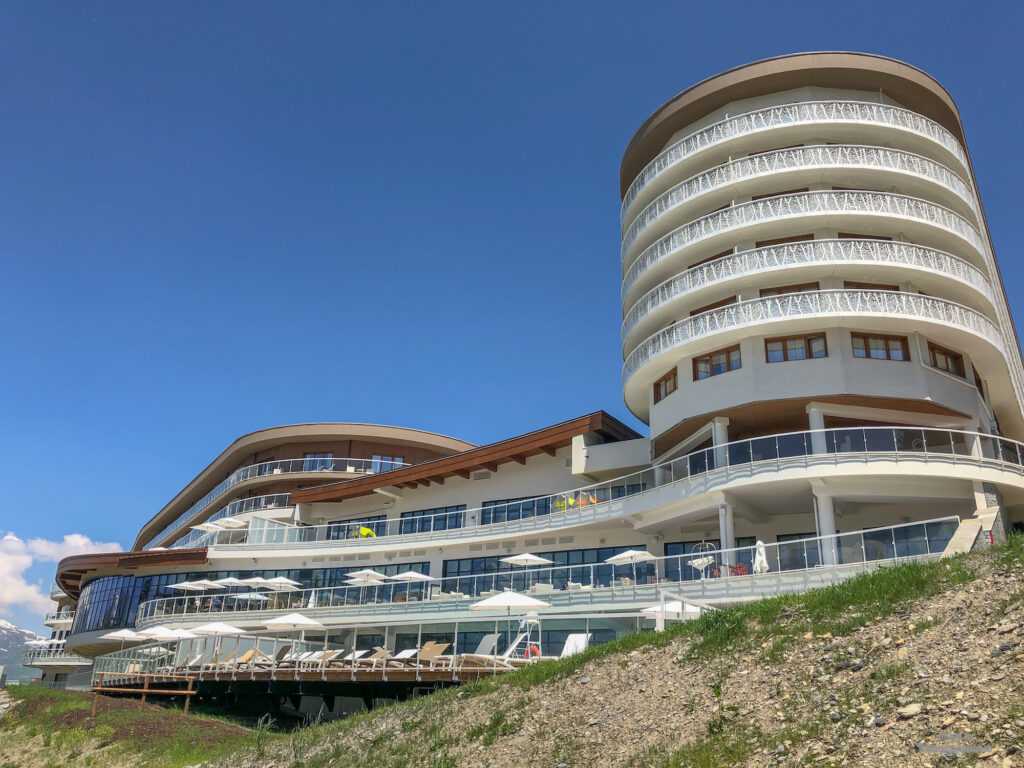 As mentioned earlier, this resort is a handful of months old. The outside landscaping was not complete, so I do not want to comment on the exterior grounds.
The resort has a really healthy and active vibe. Fitness activities are encouraged right down to the stairwells where the number of steps are charted between floors. The running joke we (media) had while staying there is that the elevators were purposely designed small and mainly unavailable due to such frequent demand so that we would take the stairs.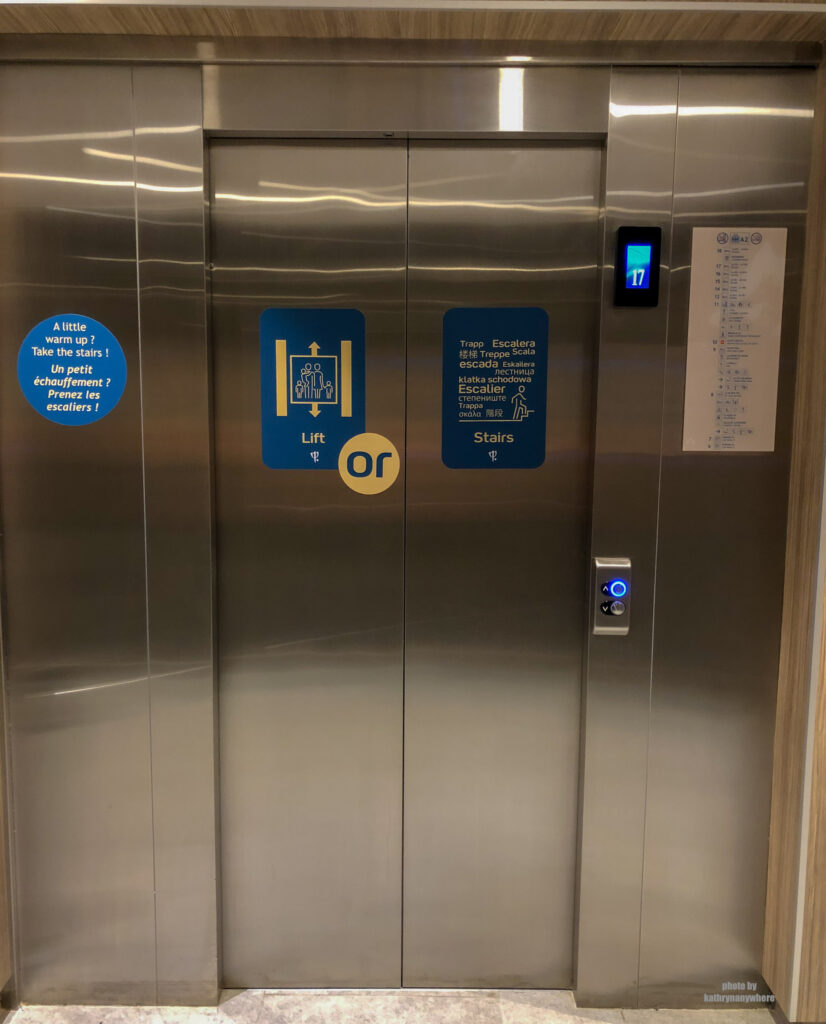 There are over 400 rooms in over 18 floors and can accommodate more than 900 guests. This luxury resort was build to accommodate visitors from near and far. There is a parking garage available for those who drive in for their stay and shuttles from the airport can be added on your package.
Check in is available after 3:00pm. Check out is by 10:00am.
There is indeed an exclusive space space for more upscale clientele. Le Belvedère is the 5Ψ Luxury Space with 24 rooms. The 5Ψ Luxury Space is the perfect option for those in search of privacy as there are private lounges, concierge services and larges, spacious suites for the family.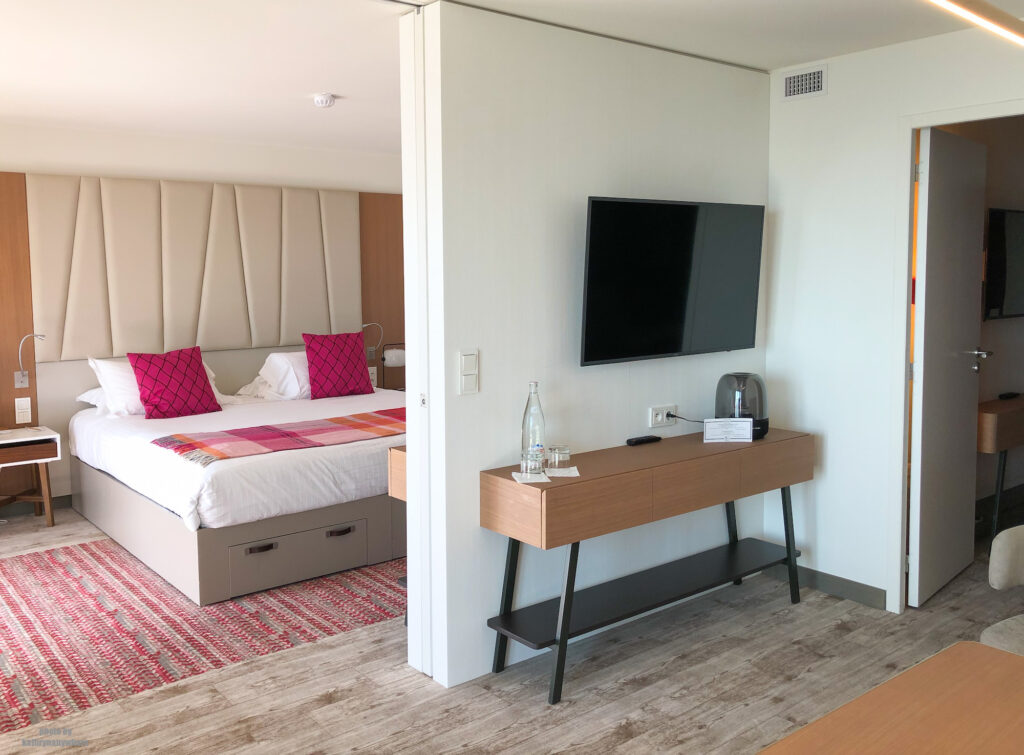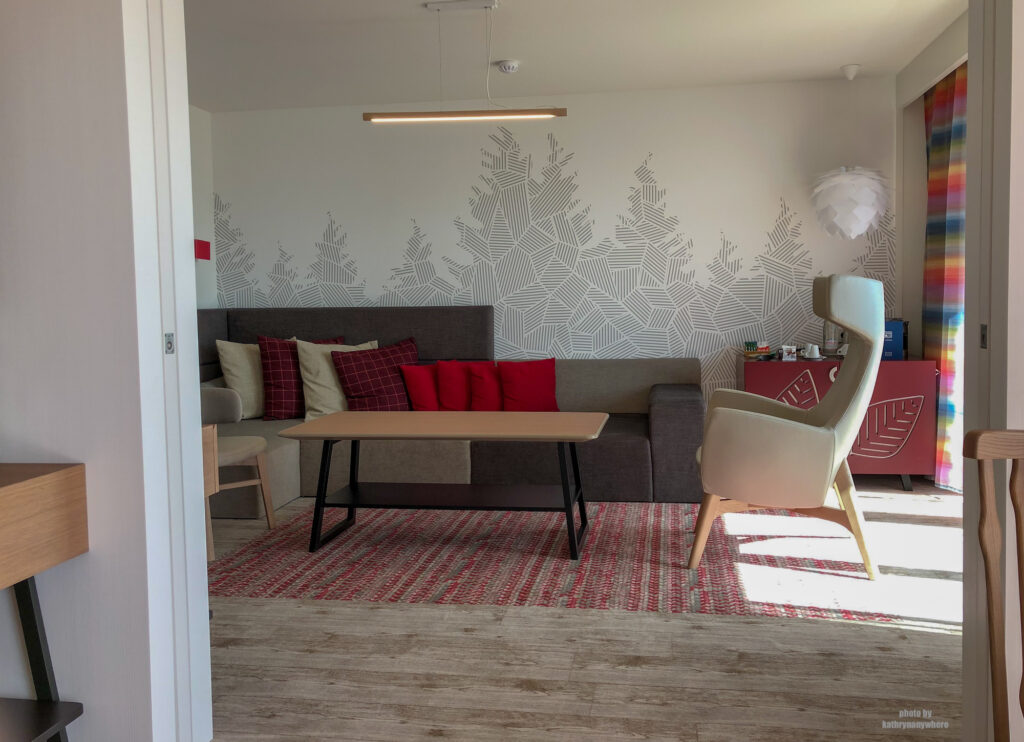 My Club Med Resort Room
The room I stayed in was a balcony superior room. For me, it was absolutely perfect. It would definitely work for a couple. The decor was gorgeous, perfect. It gave me a happy feeling being in there. 
I would not want to share the room category with my kids. Let's face it, I really relish these kid free, self-care trips. If you wanted to book this room and you were traveling with more than 2 people, you would need to get two connecting rooms or move up to the junior family superior room.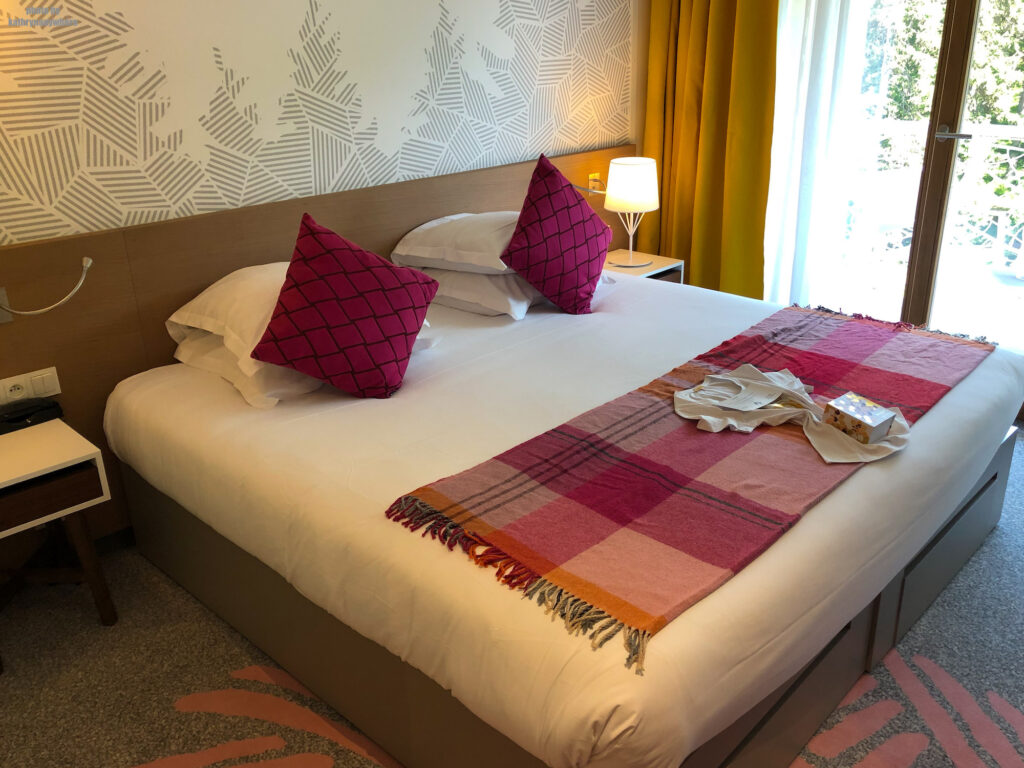 Here's what the room comes with:
Balcony

Television

Wifi (not the best but works for emails and texting)

2 USB ports to keep the iPhone and GoPro charging

Iron and ironing board

Safe

Tea kettle

Coffee maker

Separate toilet (water closet)

Twin vanity sinks

Hair dryer

Heated towel rail – for North Americas, this would be a real treat in the winter.
Here is what the room did not come with that I feel is standard in many North American hotel rooms of the 4 star level:
No mini/bar fridge

No alarm clock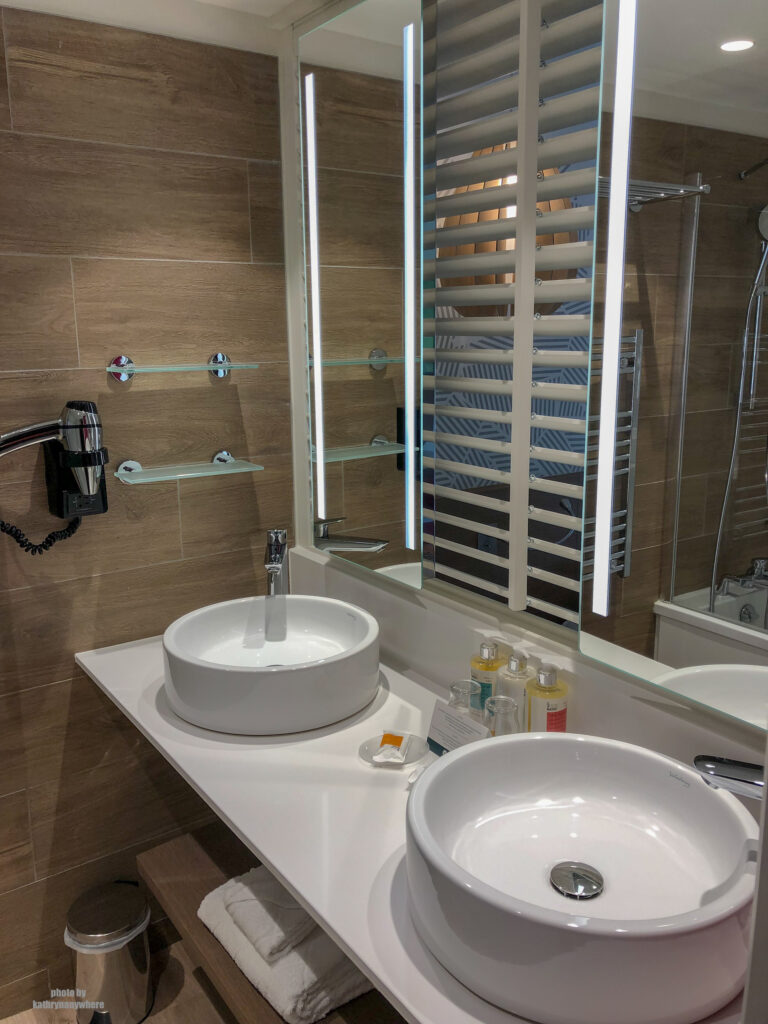 My room was located on the 17th floor. There were certain things about French accommodations and homes that North Americans need to understand. The biggest shock is there is likely not going to be air conditioning. During the heatwave, the only option for cool air was to sleep with the patio door open. Many North Americans would automatically see that as a safety hazard. We have all heard a horror story about someone being robbed by leaving a patio door open. Even I, on the 17th floor, had the thought that someone might come in during the night. The good news is, it didn't happen. The better news is that is extremely unlikely to happen. The only visitor was a ladybug, hardly a danger.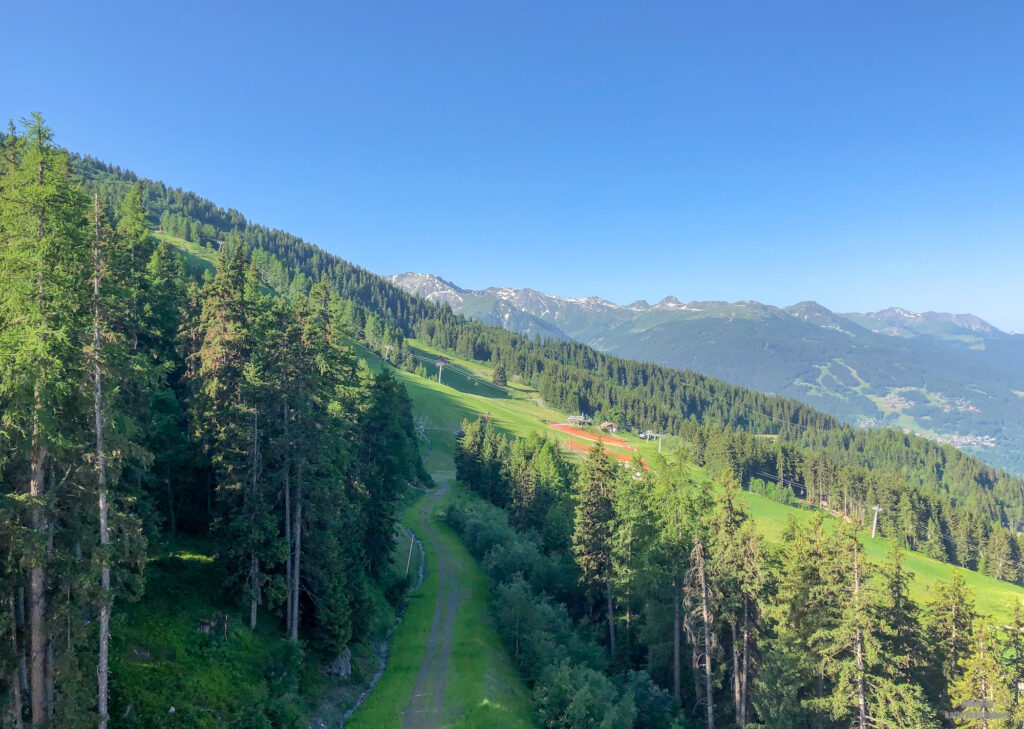 Club Med Les Arcs Panorama Restaurants – Buffet
Now, I don't claim to be a foodie or wine maven at all, but I know good food and wine. I know bad food and wine. I also have tasted some mediocre food in my travels. I've drank wine that's kept me up with heartburn. Luckily, there was no heartburn here and the food at Les Arcs Panorama is good!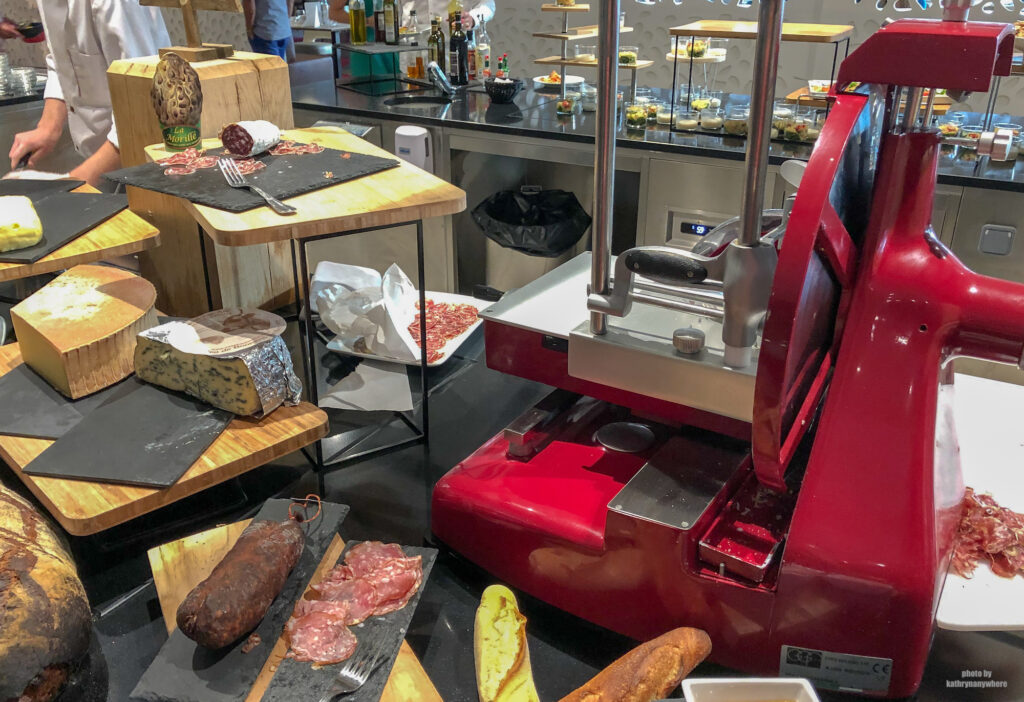 The restaurant that I spent the majority of my meals at is called The White Stone, it's on the 9th floor, the same level as the lobby, sundry shop and lounge. It's the main restaurant where you will find your buffet breakfast, lunch and dinner. Breakfasts always had the European staples of sliced local meats, local cheeses, fruits, breads, yogurts and oatmeals. There were rotating mains such as scrambled eggs, bacon, potatoes and an omelette station.
Lunch and dinner changed daily with a mix of world flavours curated by the chefs and local specialties. Not pictured – there was pizza too.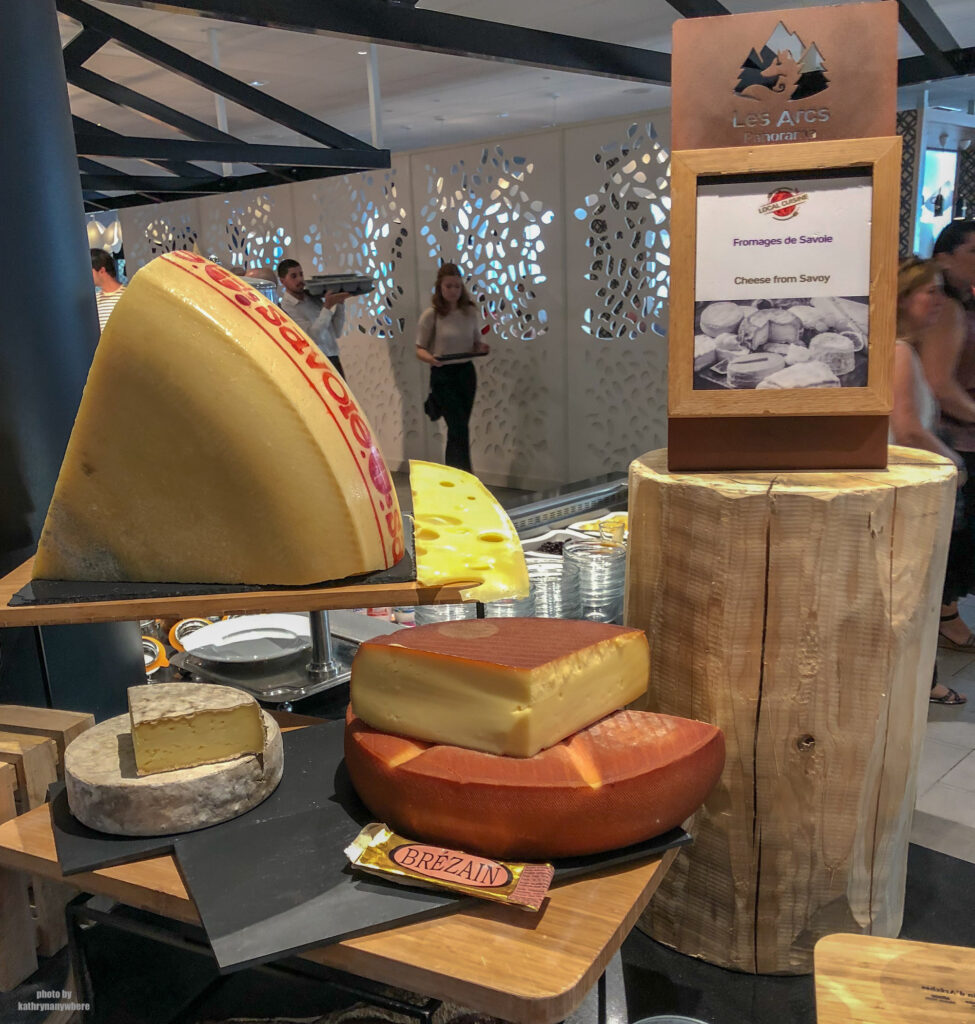 Worth noting, if you want a bottle of wine with dinner here, it's an extra charge. However, the servers will bring you glasses of house wine at no charge. The restaurant does not have a bar in it, but the lounge by the lobby serves up wicked cocktails and draft beer that you can bring into the restaurant with you.
One of the best features of this restaurant is the terrace. I ate all but one of my meals there on the terrace overlooking the Tarentaise valley and admiring the mountains. Sunset dining is an experience to have.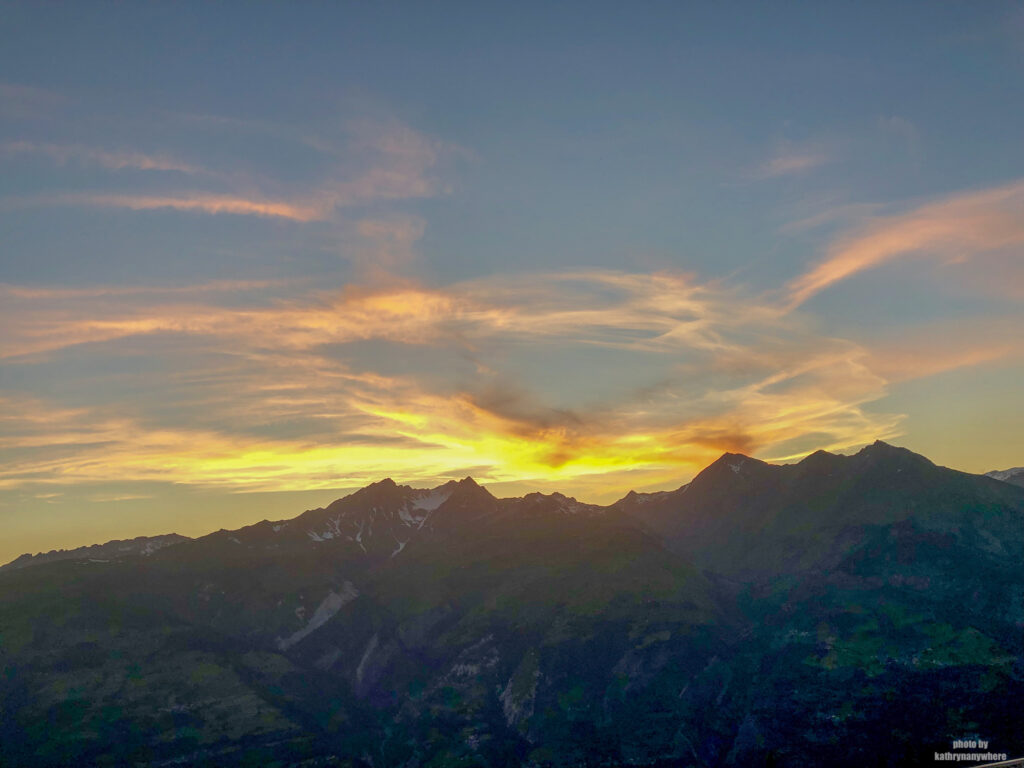 There are set serving times for each meal at the buffet. For those who like to sleep in on vacation, wake up around 9:30am and wander to breakfast, bad news – you're too late, it's closed. I walked in at 9:20am one morning and they were putting things away.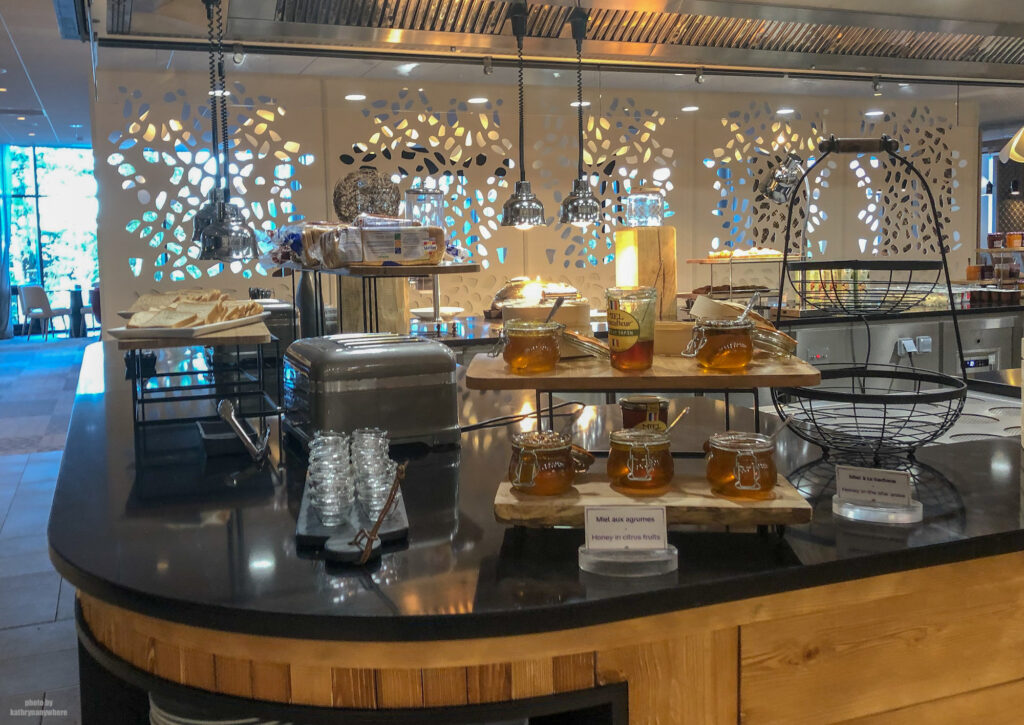 For North American families that like to dine earlier and get the kids to bed early, you'll have to shift the bath time and sleeping schedule a bit during this trip. I have yet to find anywhere in France where I can dine for dinner before 19:00.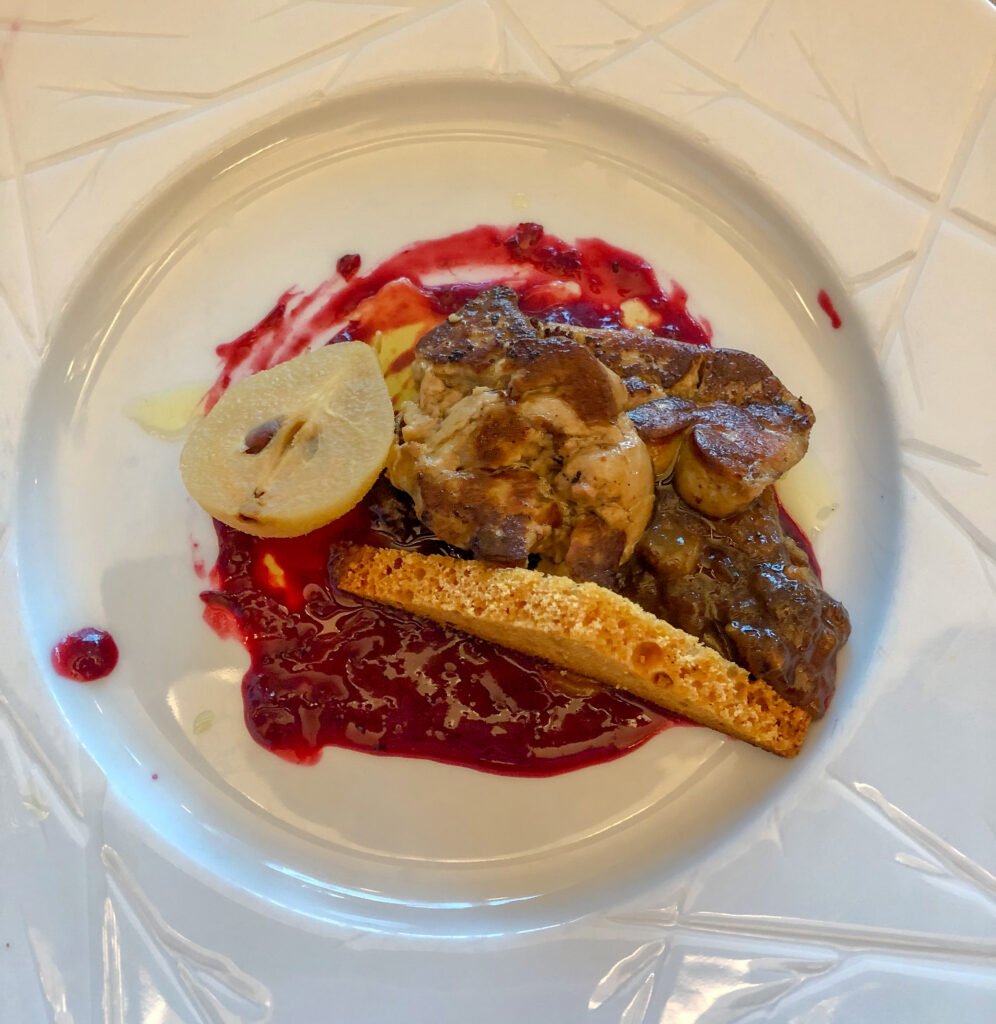 1790 Gourmet Lounge
The gourmet or fine dining restaurant is called 1790 Gourmet Lounge at Club Med Les Arcs Panorama. This is the a la carte and fixed menu service restaurant on the 11th floor.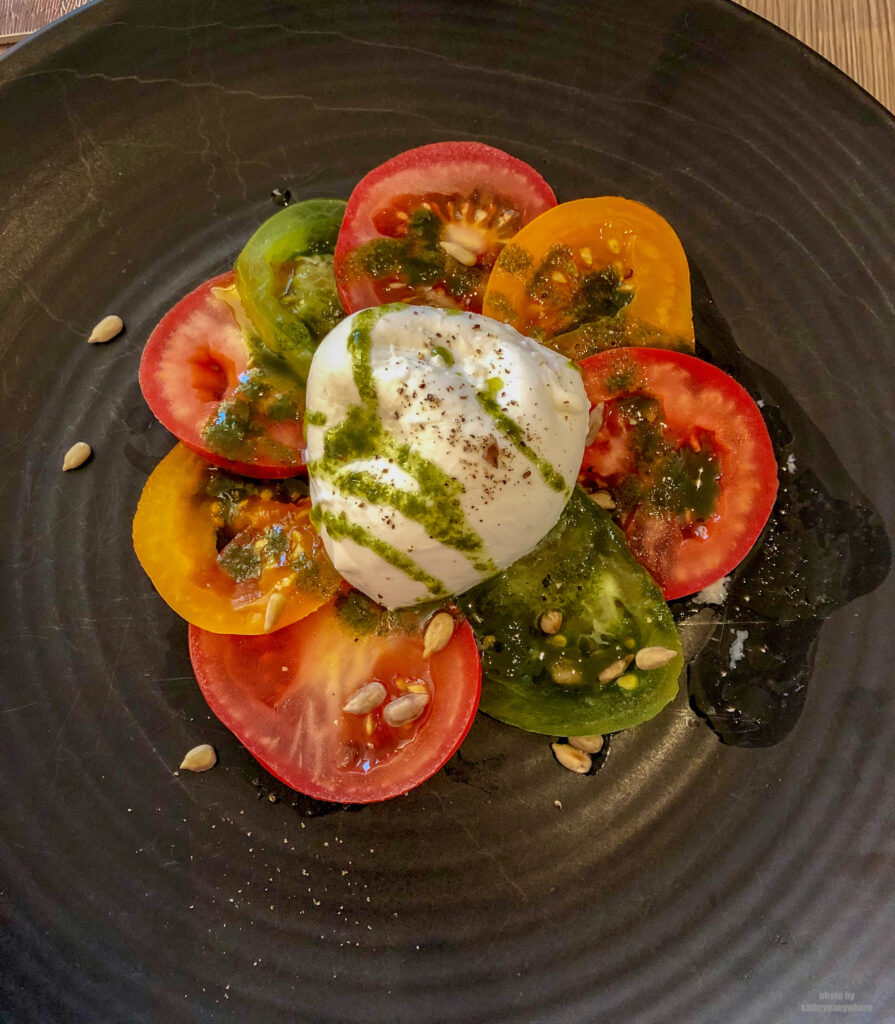 The wine bottle situation here is the same as at the buffet. This restaurant does have a bar in it so you can get beer and cocktails there. We had dinner here twice and it was really good. Smaller portions than what I am accustomed too, but satisfying.
The lounge area on the 9th floor, which also doubles as the dance hall and theatre also serves up an afternoon tea with snacks if you are peckish.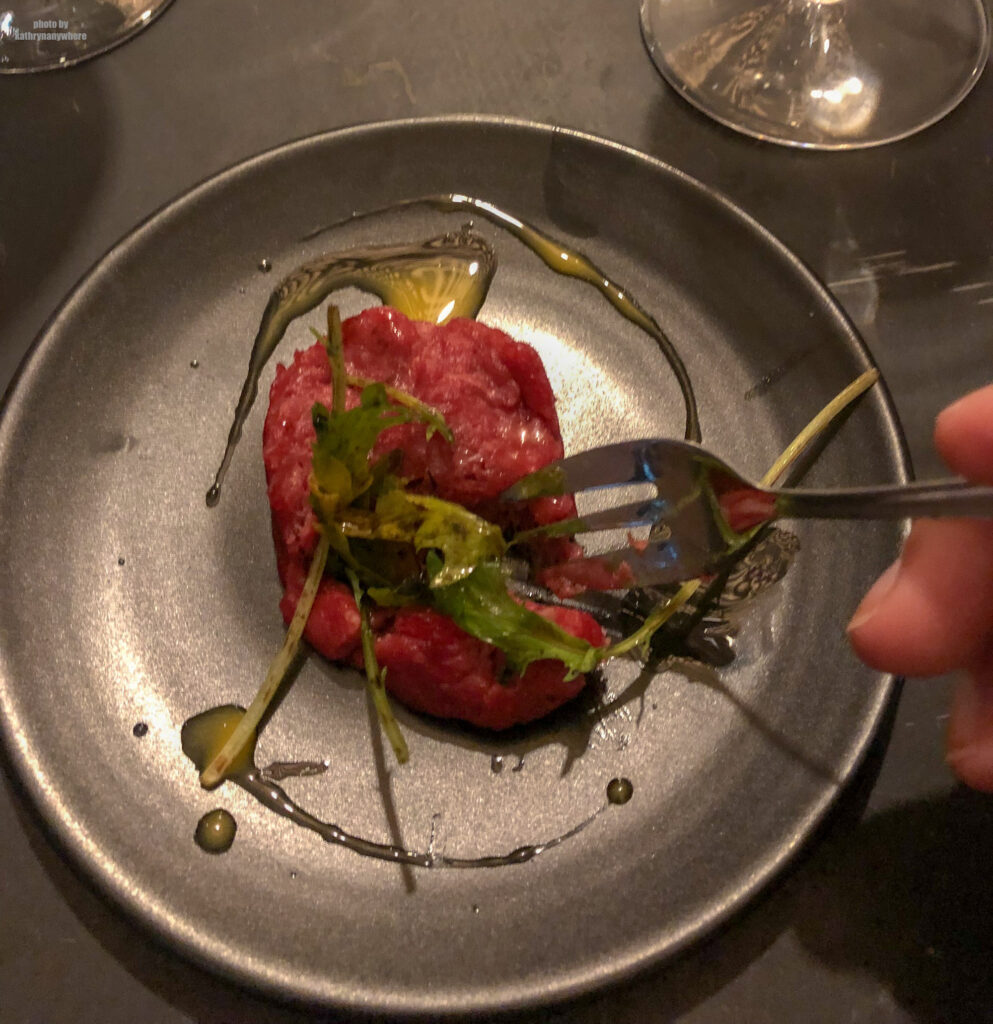 Recreation Options at Les Arcs Panorama
As I have only visited this resort in the summer season, I'm only going to write about the summer season recreation options. I'm not a ski or snowboard expert and I would make a fool out of myself trying to talk about the runs, lifts, and all that. So I'm going to leave that to the experts.
There are amenities at the resort such as a gym, TRX studio, yoga and other fitness classes, an indoor and outdoor pool and an infant wading area.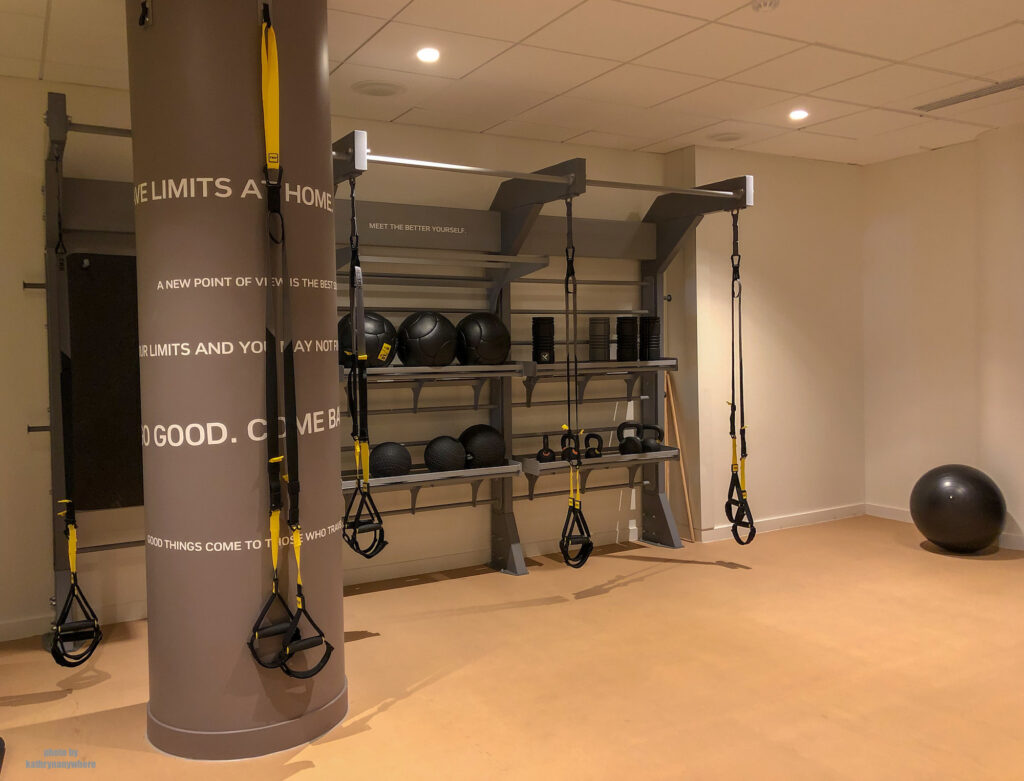 From my personal perspective, for the amount of people they are hoping to attract to the region for the summer season, I found the outside pool small. Once a couple families jumped in, it felt full. The pool deck is made of a material that heats up in the sun and burns the bottom of your feet. I advise families to invest in water shoes and watch out for your kid's feet.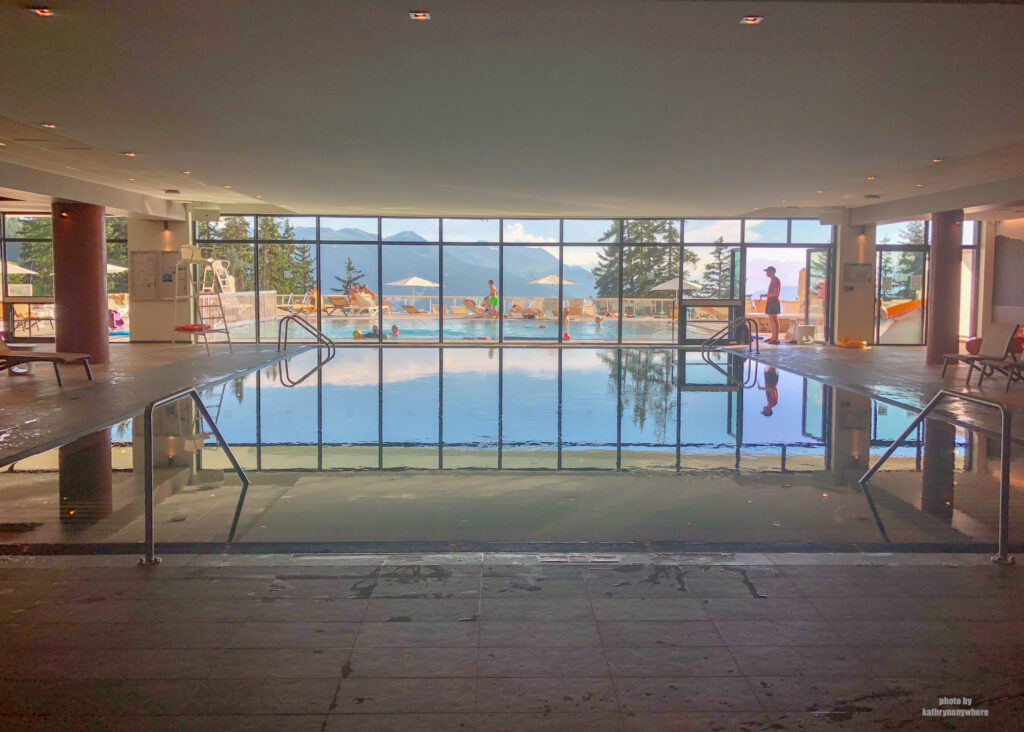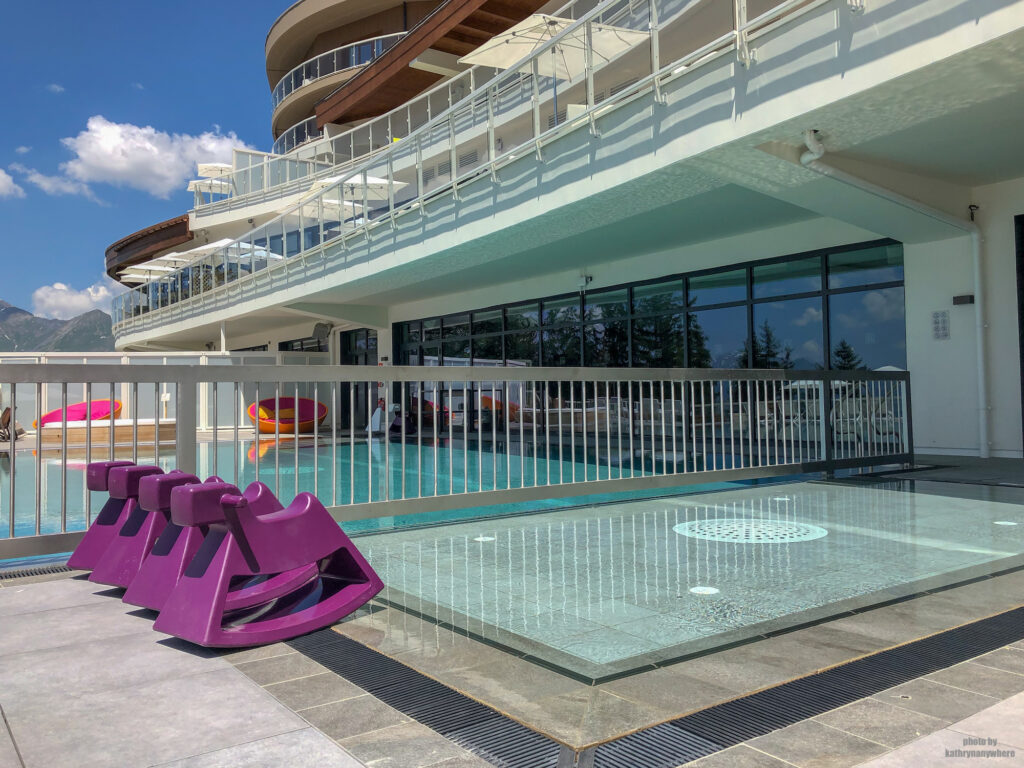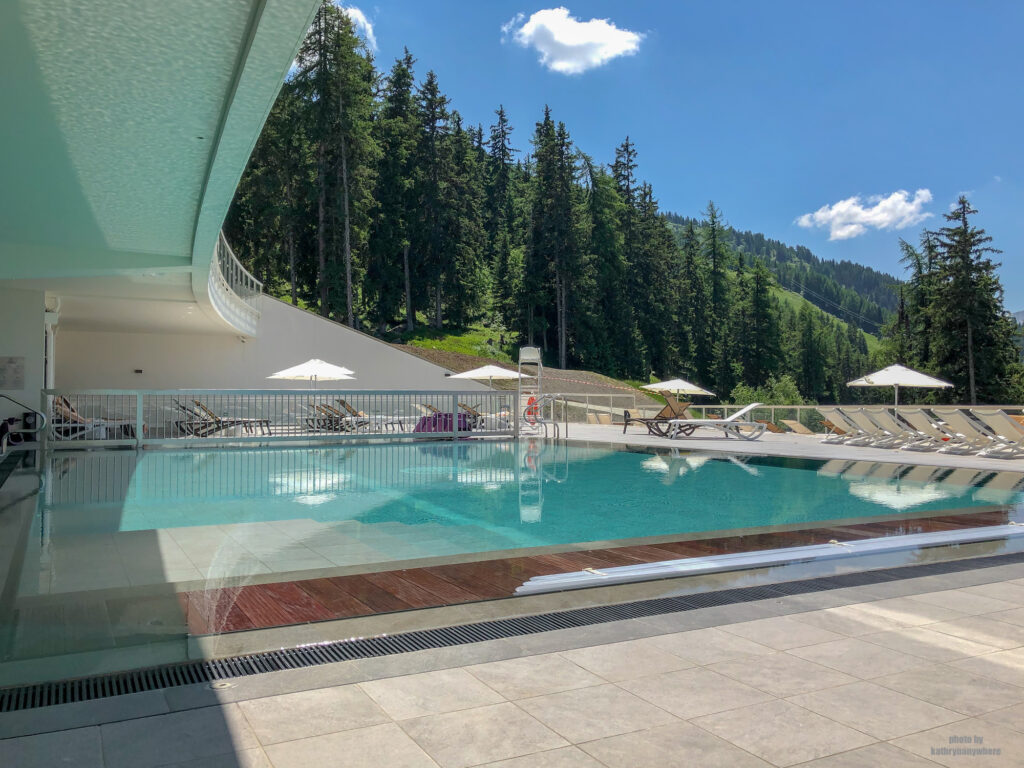 There is a recreation desk on the 11th floor that is open between 5:30pm-7:30pm daily except Friday. There you will have to sign up for the next day's activities. And only the activities for the next day. You cannot sign up for your activities for the entire week, which is typically how I like to do things, but you adjust to where you are.. Included in your stay are mountain biking (muscular and electric), plus the equipment rentals and bucket list worthy guided hiking excursions.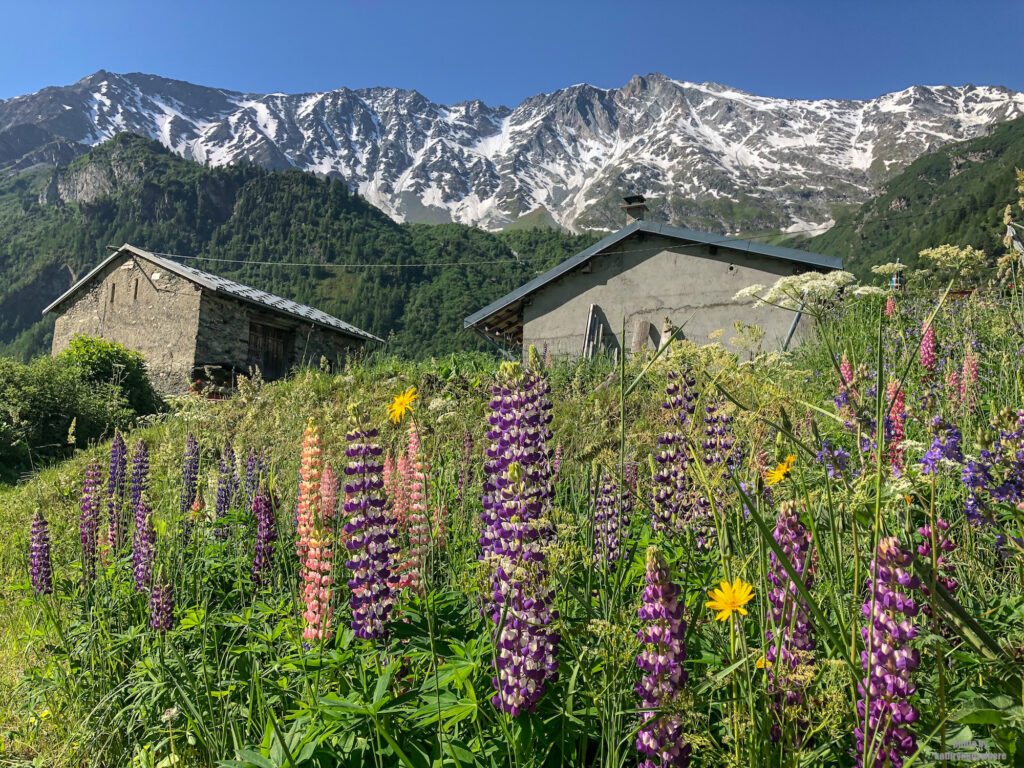 Activities not included and are an extra charge are rafting, paragliding, treetop trekking, quad biking, horse back riding, canyoning and golf.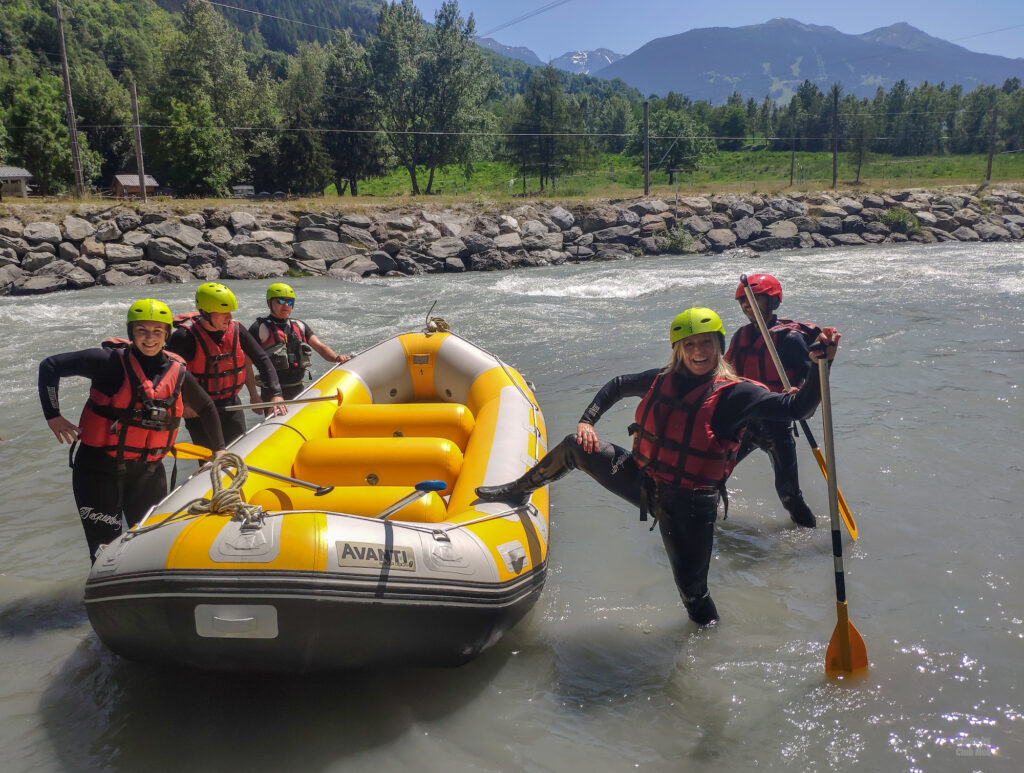 Designed With Families In Mind
I love traveling with my kids, but I also love my downtime and kid free moments. I saw Baby, Petit and Mini Club Med and knew this was the perfect place for families who like to spend time together and also for when Mom (and Dad or auntie, etc) want some adult adventures. It's really important for an occasional kid free dinner to be a part of a vacation and I don't say this in a callous, "I'm a bad Mom" way. I say this is a reconnect with yourself/partner/spouse/friends way.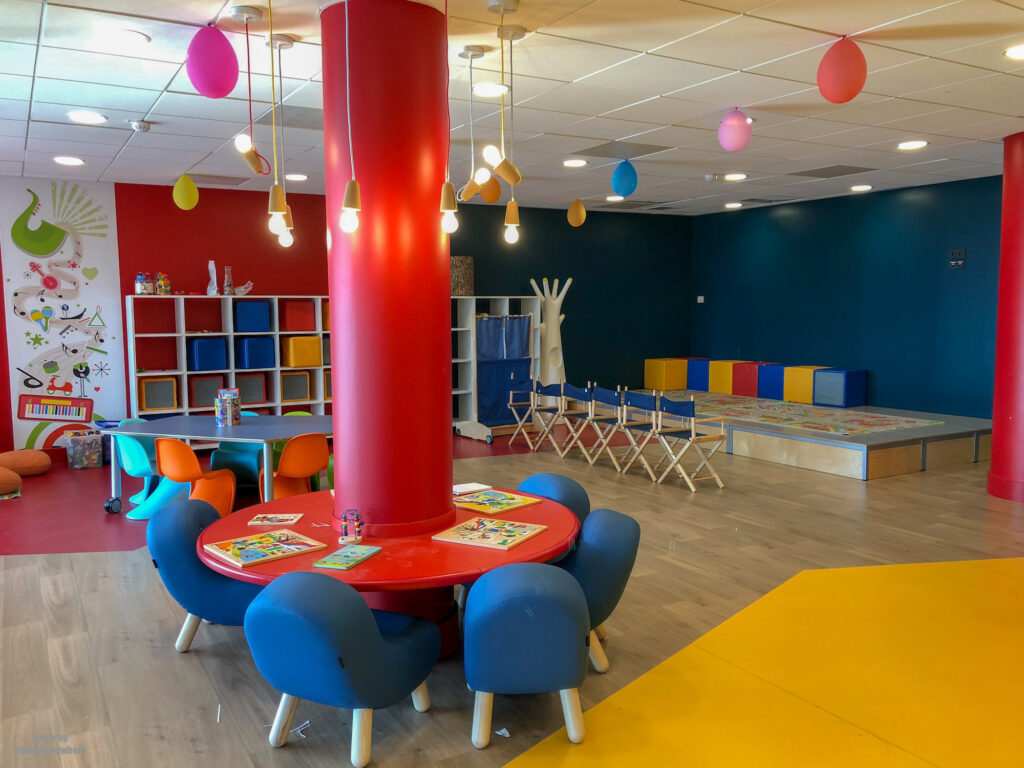 This would be the daycare or primary school of my dreams – taking the kids on walks in nature, mountain biking, playing on their terrace, arts and crafts, music, games. Everything with an alpine feel.
And for the teens? Club Med Passworld. They can pretty much take part in whatever activity at the resort they want (within availability and reason of course).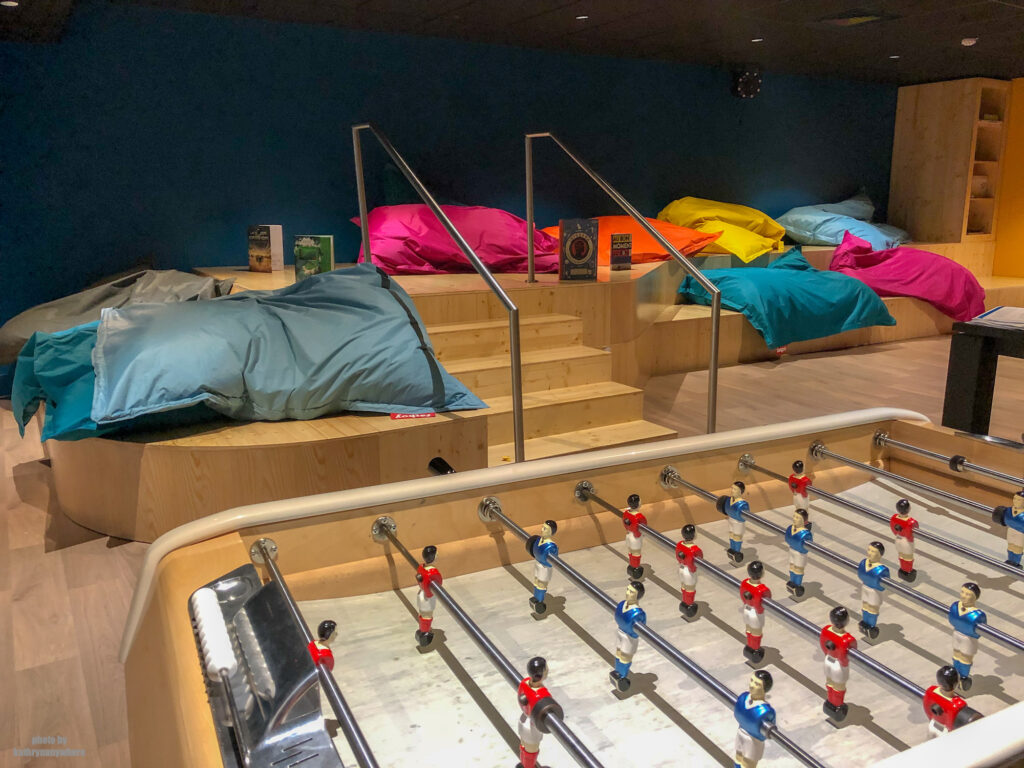 You Can Just Leave Me at Cinq Mondes Spa
If you know me, you know I'm not big on spas. I have nothing against them, the problem is me. I don't quite know how to empty my mind and relax as I feel like I should be doing something else rather than unwinding. My "to-do" list never ends.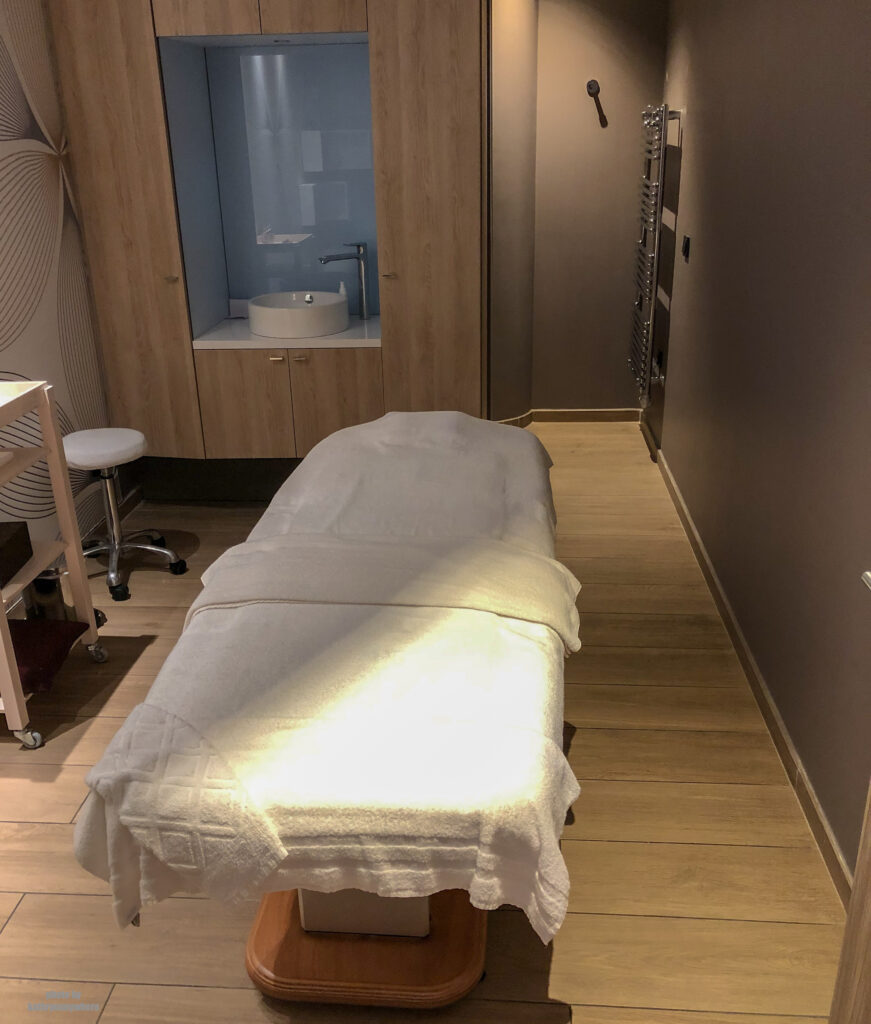 I had a lovely massage that worked out a horrific knot I had that was affecting my left hip and ability to sit properly. Then I hung out starring off into the mountains. Normally, starring off into the mountains with no purpose would cause me some anxiety. The purpose after my massage was to simply enjoy the mountain view. Period. I had nowhere else to be and mobile phone use is certainly not encouraged there. Imagine that.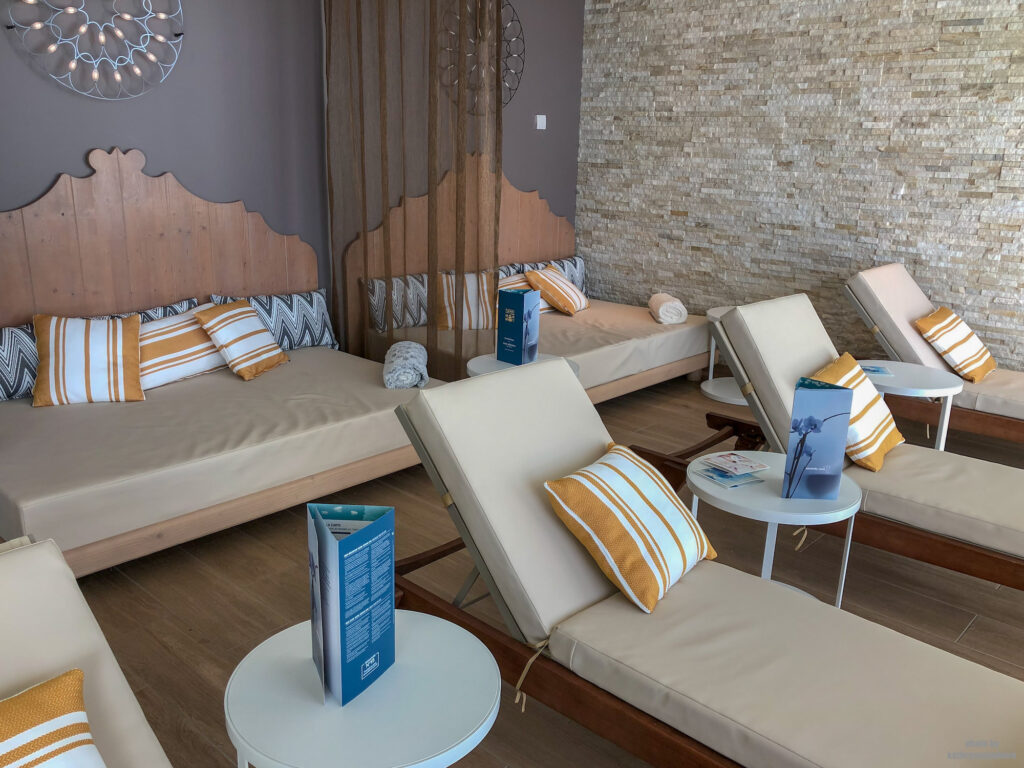 Or The Zen Lounge
A quiet escape in the middle of the resort where I can have a tea and check my email in peace and quiet? Maybe do some writing? Have an adult conversation without a kid butting in? I could be alright here too. Just a heads up – they were showing the woman's FIFA world cup soccer in the evenings here, so it's not quiet all day and night.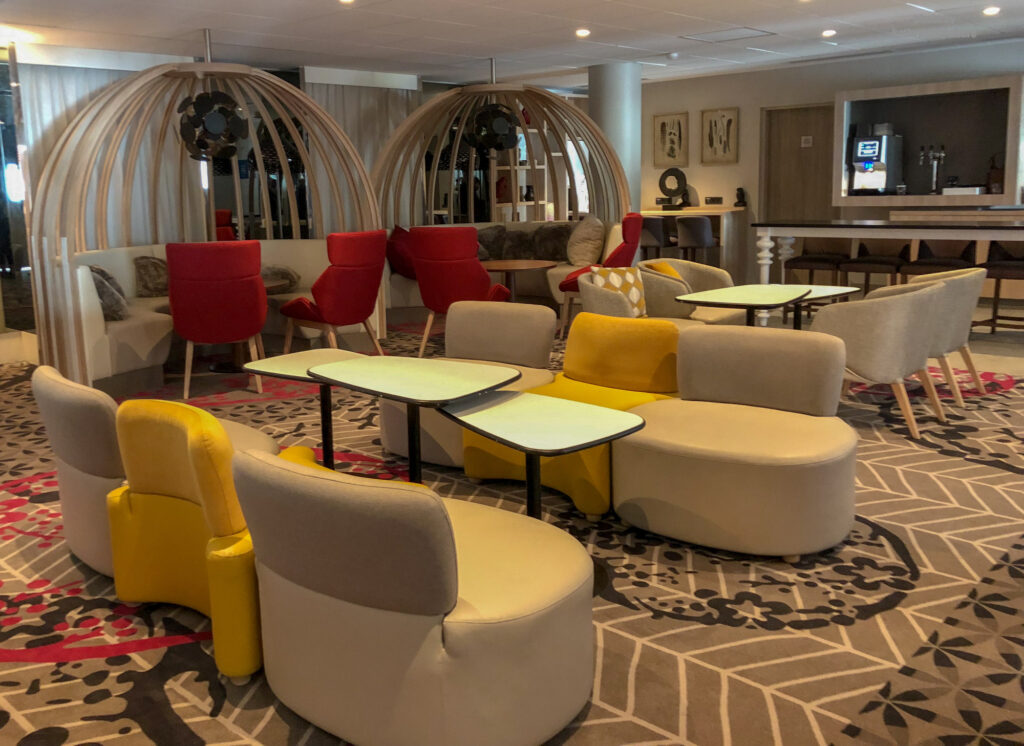 Why Should A Canadian Family Travel All The Way to France
for a stay at Club Med Les Arcs Panorama
Travel is the best education for children
In no elementary school classroom can a child be exposed to so much language, culture, cuisine and art than on a vacation or foreign immersion. While this does sound like a super extravagant education and an illusion would dictate that this is only a vacation for the rich, travel teaches children so many valuable lessons in life. A foreign journey teaches the value of currency conversion, keeping on time to make trains and flights, responsibilities for their own belongings and what time change and jet lag is.
An incredible mountain resort with panoramic views 
Club Med Les Arc Panorama is a must for any lover of luxury.  The property is set within a green and white topped mountains, splendid landscape, and you will want to make it your family favourite holiday destination
Experience slow travel
If you're staying at the resort in the Alps, chances are you are not moving anywhere fast in a hurry, so you'll travel slower and be more in the moment with where you are. 
The opportunity for some rest
Being in the resort setting where there are restaurants to feel you and room attendants to make your bed and Gracious Organizers to help take care of your resort experience, you're actually getting to enjoy your time with your kids instead of feeling like you're simply parenting somewhere else in the world. Some families like to rent a house and cook and clean for themselves. That's not how I prefer to vacation. I simply call that being "Mom On The Road" and I'm doing the same things as home that I want to get away from.
You Might Make New Friends
The international language of children is "play". Children do not need to communicate in the same language to kick a ball around together or colour together or share an experience. Making friends with someone who is "different", yet the same is a treasure.
Food and Drink From the Region of Savoie is Mouthwatering
I'm not the type to over indulge in the all you can eat or drink type lifestyle, but I couldn't get enough of the local meat and cheeses. And I found it hard to set some limits on myself with the wine because it was exquisite. You can't get it in Canada like how you can get it there.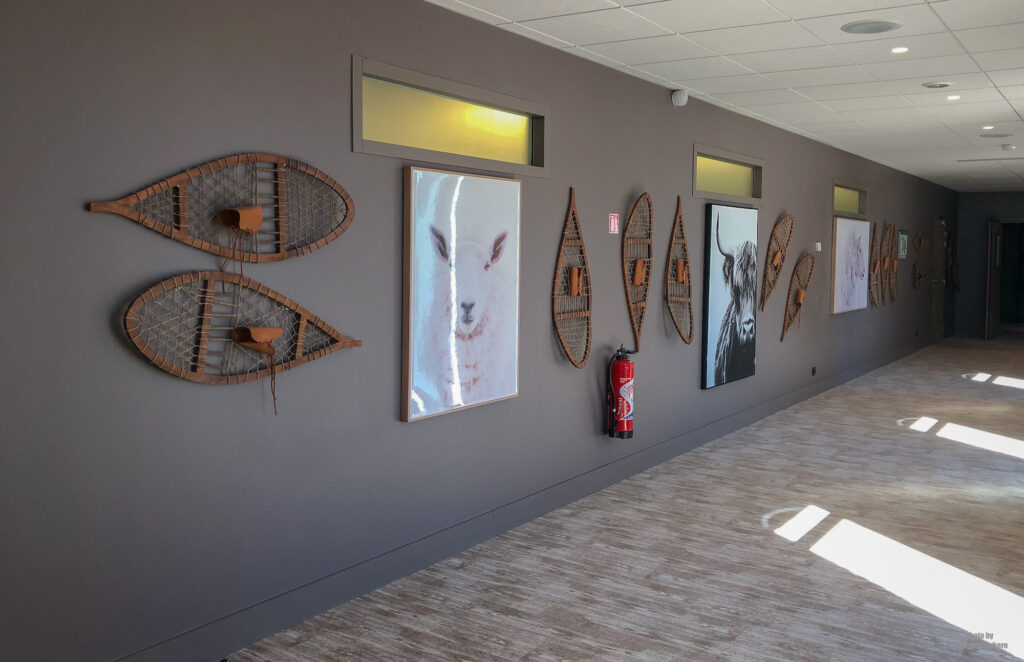 What Does It Cost A Family Of 4 To Vacation There?
And here's the million dollar question! I'm joking, it's not a million dollars. Not even close. The one factor I will not include in this equation is airfare, simply because I can't speak for every location and the cost of airfare fluctuates frequently.
For a family of 4 – that is 2 adults and 2 children ages 5 and 10 for six nights/ 7 days, in a superior family room in the month of July is typically € 3.603,00. Exchange rates fluctuate as well, but the exchange rate into Canadian dollars is approximately $5,300.  This equates to less than what you would pay at some 4  star resorts in the Caribbean.
Checkins are mainly reserved for Saturday and Sunday at Club Med Les Arcs Panorama. There is often an opportunity for last minute specials on the website when you book direct. Be sure to price out for yourself on the website before you book with a travel agent or through any other source.
The closest international airports are Geneva, Switzerland and Lyon, France.
Did I mention ever that basic wifi is included? It is. You can stay connected if you want. Or not.