Why I Do Adventure Self Care (Without My Kids)
My stay and experience was hosted by Club Med as part of a press trip.  All opinions are my own.
"I guess when you're busy trying to stay alive, you kind of forget about the other stuff" Jenny says. That is exactly it I say to Jenny. If I forget about mundane home activities and focus on a task at hand, my head clears and I can be satisfied with life again. Call this adventure self care.
I'm in the back seat of a van with Jenny Jones, an Olympic snowboarding bronze medalist and Mark, a fellow journalist from England. Occupying the seats in front of us are other members of the media and Club Med employees anticipating the adventure. We are on our way to white water raft on the Isère River in the French alps.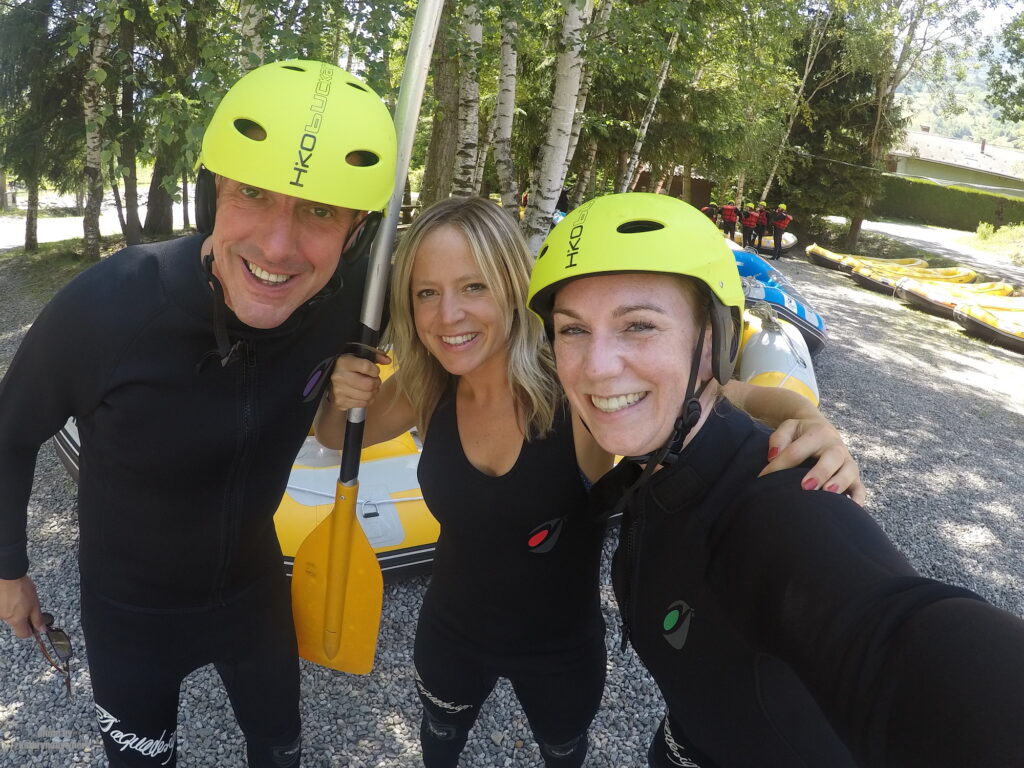 I'm not sure if "self care" is the buzz word du jour or it's always been there for women once they reach a certain age or position in life. Whatever the cause or source of seeing it is, it's something that's been in all my social feeds for awhile. Ads for spas with feet getting pedicures or cucumbers on eyes with a funny little smile on the recipient, champagne flutes clinking in front of a sunset (assuming it's not a sunrise), the colourful, wispy dress and long dark blonde hair blowing in the wind while a woman stares at a lake.
My personal favourite is always the bubble bath ad and you see toes popping up out of the bubbles. I can assure you that the reality of a relaxing bubble bath is a myth when you have children at home so you have to leave the house for that to happen. 
I can almost predict the text before I read it "Hey Mom, you deserve a break. Come to us and we will take care of you".
Adventure Self Care Is More My Speed
Some moms like to visit a day spa or have a girl's night at a hotel or stare at sunsets on a dock. I like to stare at sunsets too, those slow down and seize the moments in life are great. It is nice to have a break that stretches a couple hours away from home life, of wiping noses, of not preparing snacks every hour on the hour. Of not grocery shopping, managing the household, paying bills, going to work… But for me to really fill my cup and at least pretend that I am investing in the phenomenon of self care, I have to seek out an adventure that pushes me to my physical limits. Something that could potentially make me weak in the knees. 
Skydiving? Yep.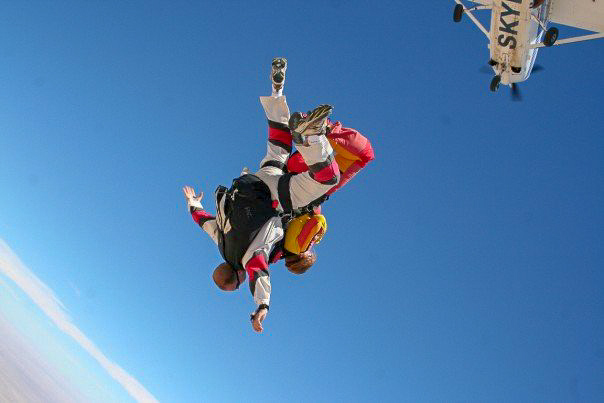 Before anyone wants to Mom shame me or send me a note about being careless in what I'm doing, to you I say: "My version of self care is not your version of self care and that's okay". Just because we choose to fill our buckets differently does not make what we each do any less fulfilling. If I wrote that I need a 24 hour sex session instead of a white water rafting trip (which would be nice too), would that be okay? I'm not a spa gal and it's okay if you are. I'm a make myself weak in the knees person and it's okay if you aren't.
Needless to say, I would not embark on any activity that I deemed unsafe. Although I have been known to have a bit of panic under the sea. Thankfully, I've survived every time.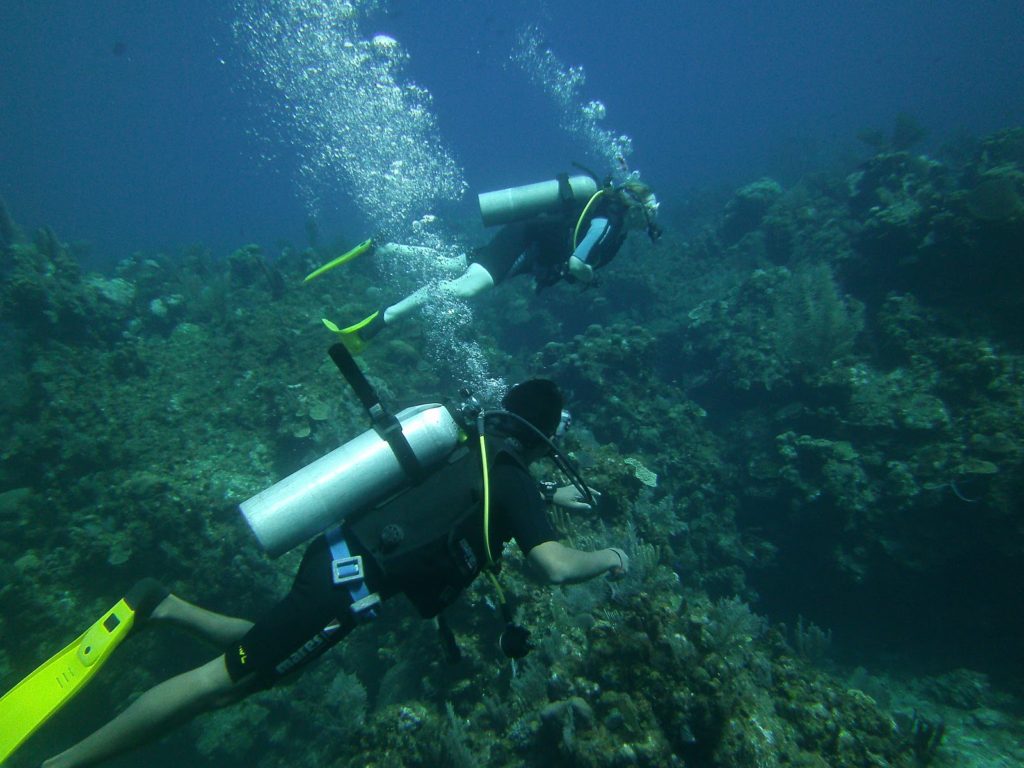 This Brings Us To The Van Ride
And this is how I find myself in the back of a van on route to the Isère River in Bourge St. Maurice, France. We are heading out with Arc Aventures  – an adventure experience company based out of Bourg Saint Maurice. This has been set up by the activities desk at our resort, Club Med Les Arcs Panorama. I'm here on a self care mission. Yes, solo all the way from Toronto, Ontario, Canada. An eight hour plane ride from Montreal to Lyon and a three hour drive from Lyon up to the resort. The children were left in the good care of their father, not to worry.
Relax, I've done this before.
I didn't fly all the way here just for the rafting though. I came for the French wine, the regional Savoie cheese, the sleeping alone (glorious to not get a sweaty 5 year old's foot in my face), the hiking and adventure. I've never rafted or hiked in the Alps and so begs the question, why not?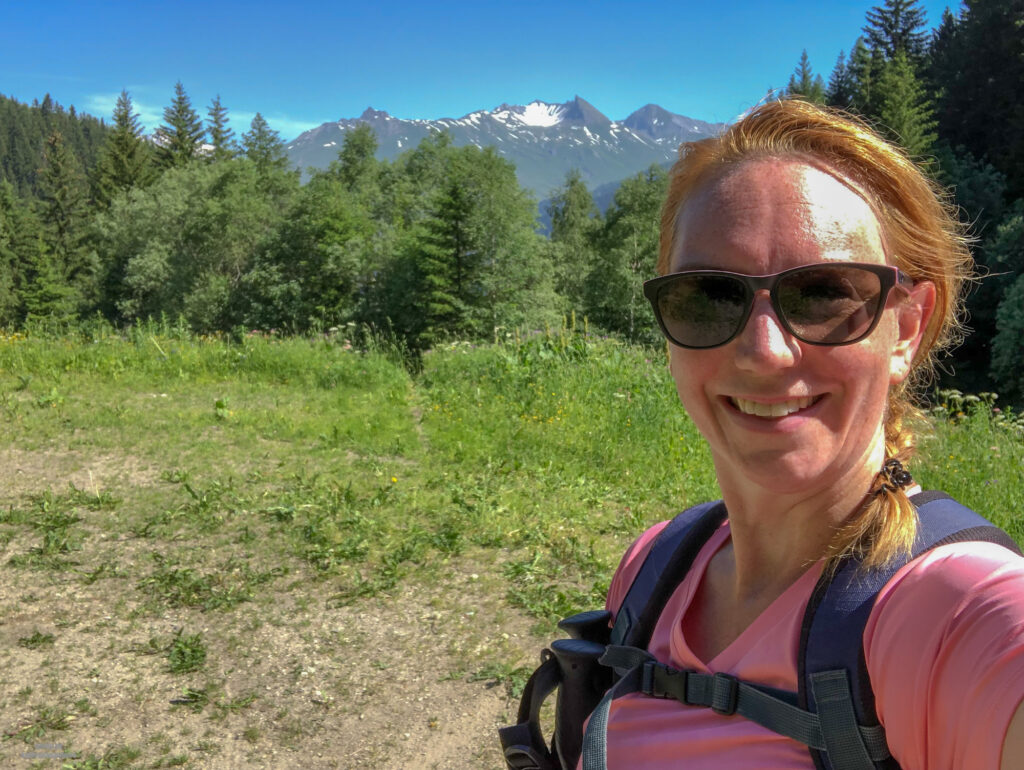 Now that my kids have moved out of the needy toddler years and I have personal freedom, I'm reclaiming a bit of who I was before my kids. Motherhood is an amazing gift, and I adore being a Mom to Little Man and Miss M. However, I cannot function as a good mother and be present for them in life if I am not taking care of myself. That's a lesson I learned from experience.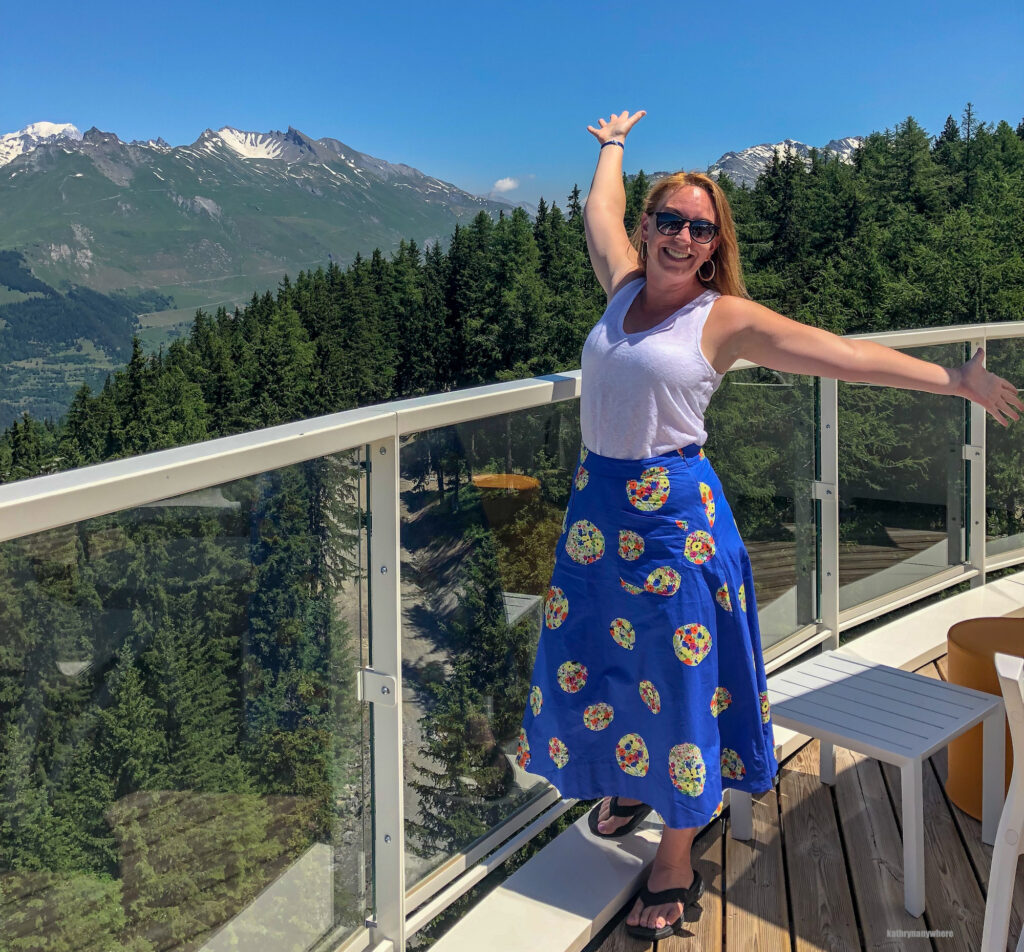 The Isère River
Cue this trip. Welcome to the Alps in the summer season and big ups to Club Med Les Arcs Panorama in southeast France's Auvergne-Rhône-Alpes region. I can see Italy from the wraparound terraces. As a total disclaimer, this trip was part of a press trip and I'm not a crazy, affluent, white woman from Canada who can raft and hike the Alps on a whim. I work really hard for every cent I make. And wouldn't do something this extravagant all the time, although it's fun to dream.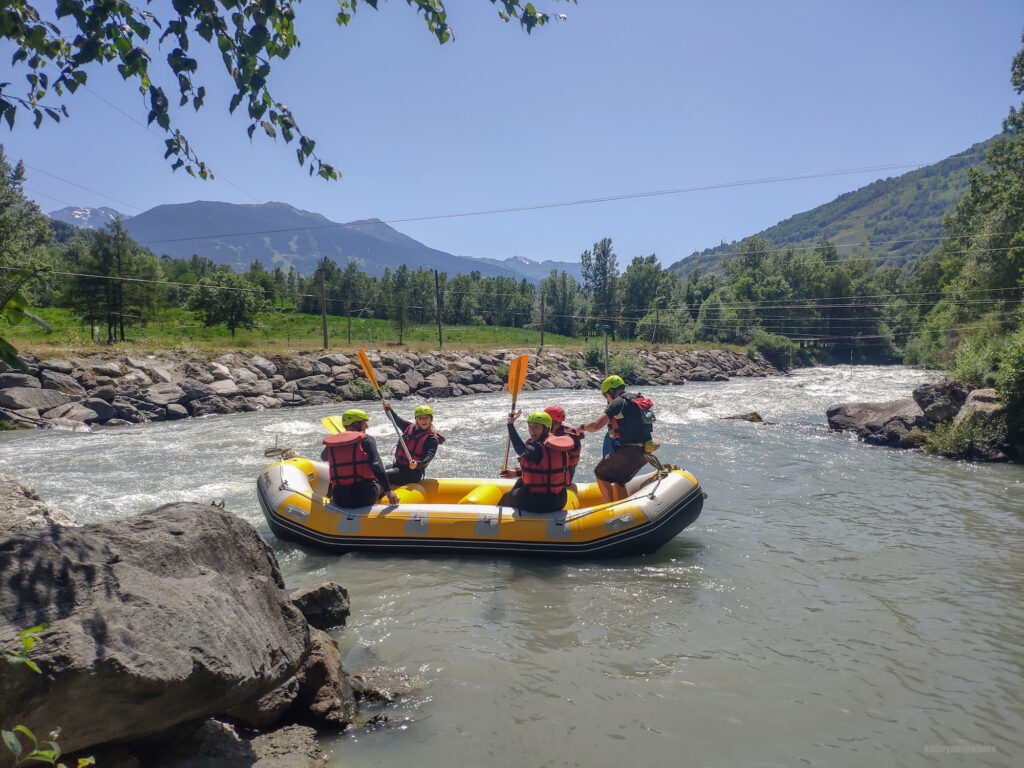 Jenny, Mark, a Club Med employee from Israel named Zev, our rafting Guide, Bruno and I make out way into the river. Both Jenny and I have done this before. Mark and Zev? Nope. It's not a problem says Bruno. We will be fine. 
After a quick orientation on to how to hold the paddles, how to fish each other out of the water when we fall in and most importantly, how to sit on the inflatable raft, we take off.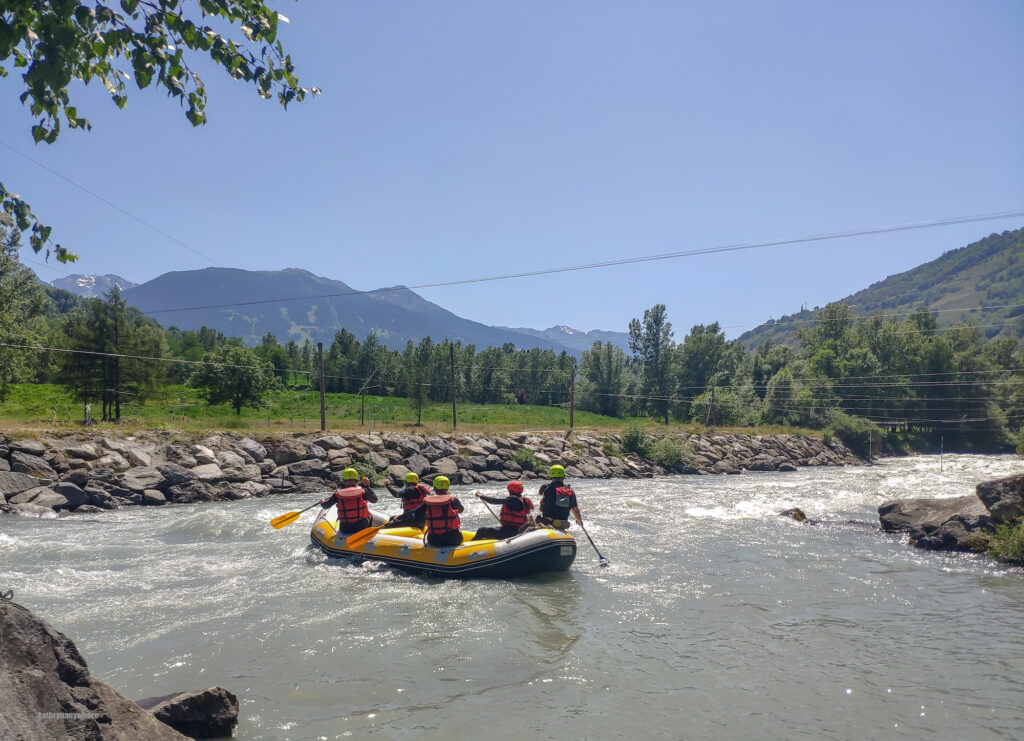 The name Isère is derived from Isara, rumoured to be Gaelic or Latin, which means "the impetuous one, the swift one." Yes, this river certainly moved quick. She was fast, but not furious. Never scaring us with danger, only pushing with enough force to bend the raft in half a few times.
A full two hours of forward paddling, pausing, backward paddling, pulling in swimmers, laughing, smiling and screaming in half terror, half delight. We passed farmers fields, campers, fishermen. One gentleman yelled that we were about to "go through hell" at us. Since I didn't understand his French, I waved and wished him a good day. Bruno told us after what he had said, as we were heading into the toughest section of the river.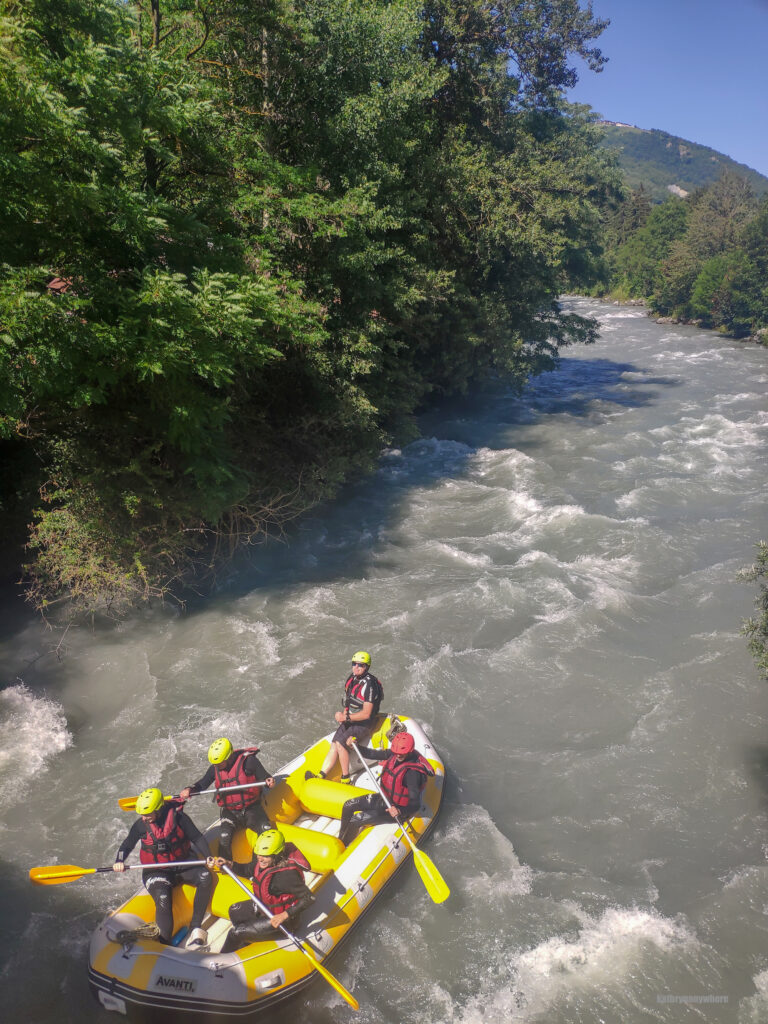 It may have been the roughest part of the river, but we came out relatively unscathed.
It was so hot on shore in our full neoprene wetsuit, neoprene boots, helmet, and life jacket. The water, running from the glaciers in Vanoise National Park, a cool 8 degrees celsius or so. I reached in a couple times and let my hand linger. I would have swam there for awhile if time had allowed.
While I started on the river in the back, throughout the time in the raft, we all changed our seating position. I got soaked, fingernails bent back, water in my eyes. It was exhilarating. I loved every minute of it.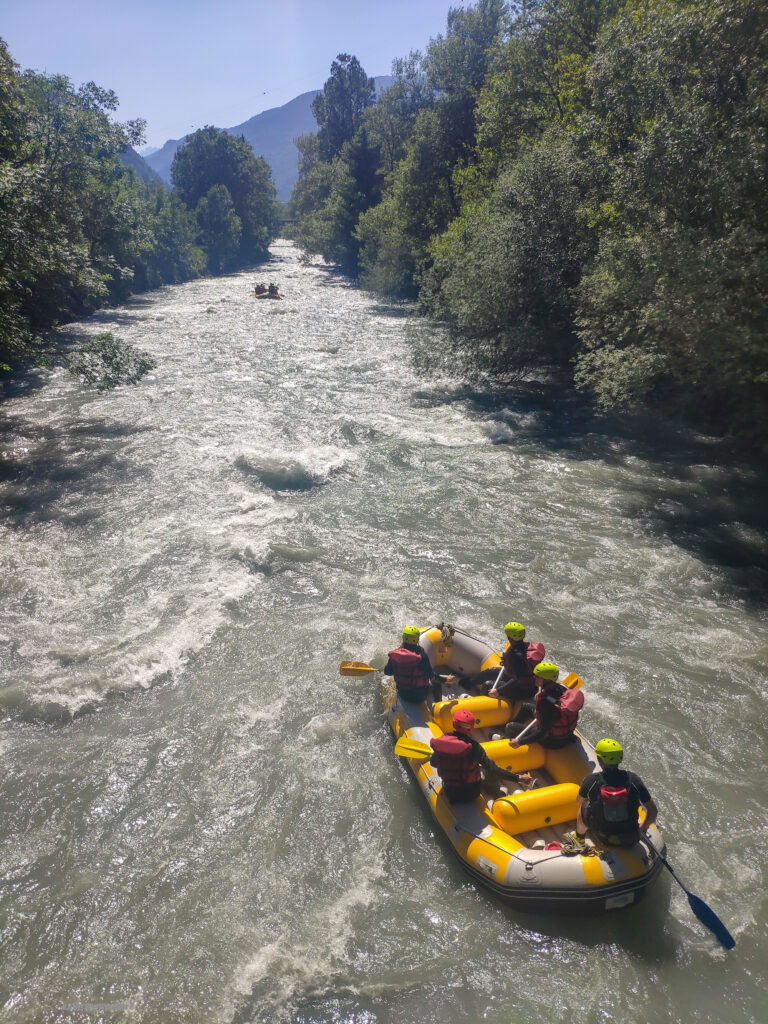 A Much Needed Jolt Of Adventure
The afternoon spent on the river was the jolt of adventure needed to put my head back on straight. The Isère River was never too rough or ever placed us into extreme danger that we knew of. When our time was up, I felt like I could have continued on that river and followed it to Grenoble.
There were more adventures in store. The next day would be the hike that would almost kill me. And that's a story for another day.