On the drive from the airport to Cais de Sodre, you could see it – Castelo Sao Jorge, the castle that overlooks Lisbon. First evidence of fortifications of this castle on the hill date back to the first century BC – yes, before Christ! Over 2,000 year of recorded history on that hill. Remains of proof of human life there have been found dating back to the 8th century. That's definitely what we can call "old world".
The Lisbon Castle, Castelo Sao Jorge (or Castelo de Sao Jorge) was one of the original attractions Miss M and Little Man put on our wish list of things to see and do in Lisbon. Here's the thing, I can't go to Europe and skip out on seeing castles – EVER. I take whatever chance I get to walk amongst the remains of royalty. I'm not sure where the obsession came from. I am certainly not a Royal Watcher nor do I care much about England's royal family. I still do not understand why the Queen of England has anything to do with Canada in 2019. But I have always wanted to explore old castles. That means Castelo Sao Jorge in Lisboa was a top priority for me. I was excited to show it to the children – their first European castle.
The morning the kids and I were going to explore Castelo Sao Jorge, it was pouring rain. We ended up switching gears and going to the Museu du Marionette first. It was it was right around the corner from our guesthouse and an easy sprint in the rain. We did not pack our rain jackets on this trip, whoops! When we came out an hour later, the rain had stopped and the sky was clearing. We decided to make our way up there!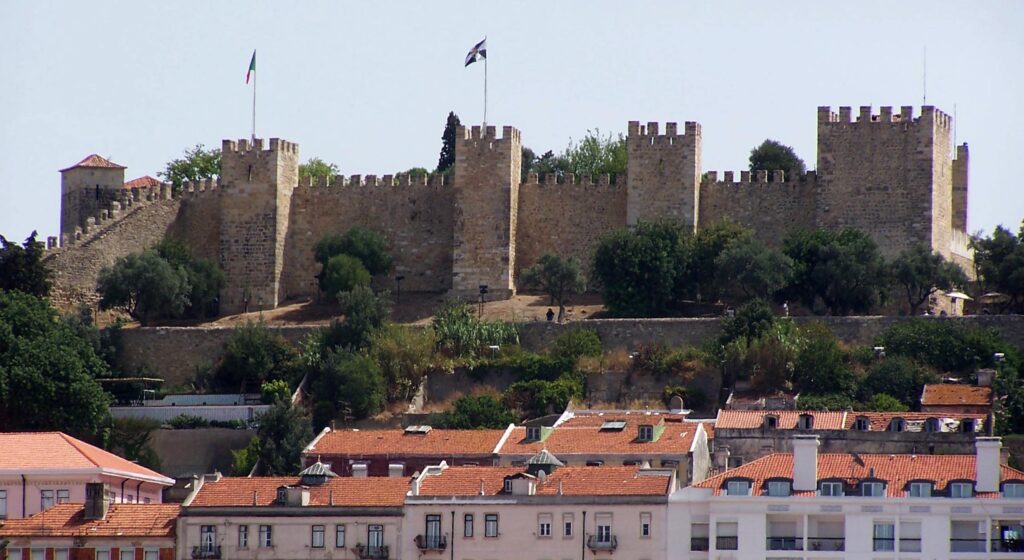 History of the Lisbon Castle, Castelo Sao Jorge
The hill in Lisbon that Sao Jorge Castle is on has played a very important role throughout the history of the city. Over the past thousand years alone, it has been occupied by Moors, Romans, Carthaginians, Phoenicians before it was taken by the Portuguese in 1147 in the Siege of Lisbon. Since the siege, it has been a royal palace and was used as military barracks. Now it is a national archive, monument and museum for all to see and explore. A very detailed history is described on location at the castle and if you have kids who are history buffs or have an interest, this is worth them exploring. It can also be read about online in advance through the castle's website.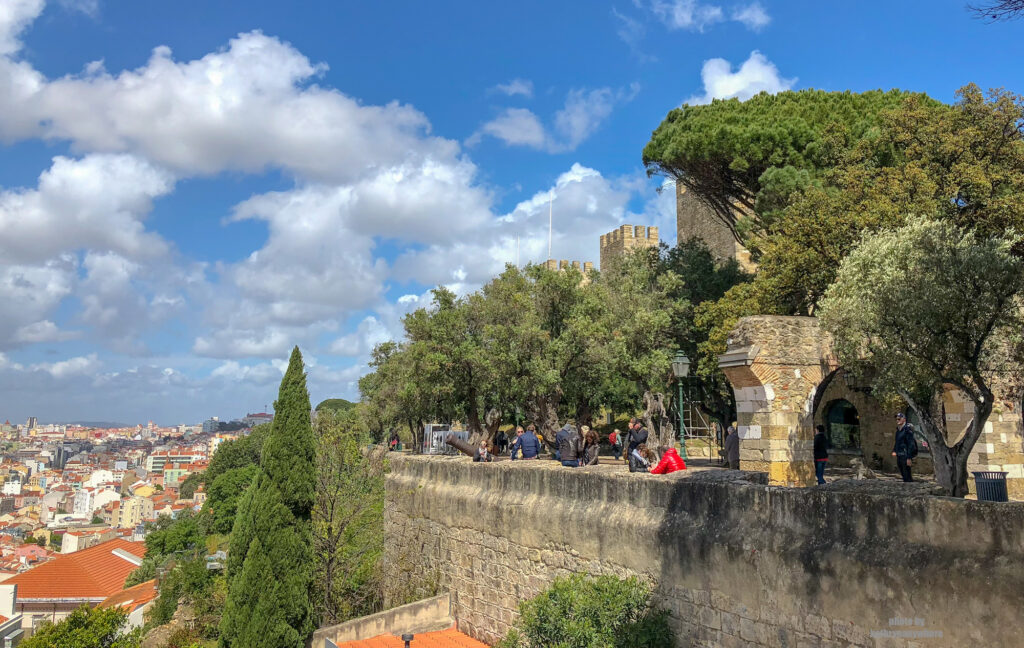 How To Get To The Castle
We skipped the tram ride up to that castle. I was willing to take it, but Miss M and Little Man were not keen. We have streetcars at home in Toronto and while they are definitely a different mode of transportation, the trams held no allure to the children. Miss M and Little Man the way they do to many other tourists because we have streetcars in Toronto. Now, I did try to figure out the public transit system to go there, but I'm not too savvy with buses. Uber was an option, but I didn't want to spend that much money. So, we walked through the streets of Alfama, up the hill.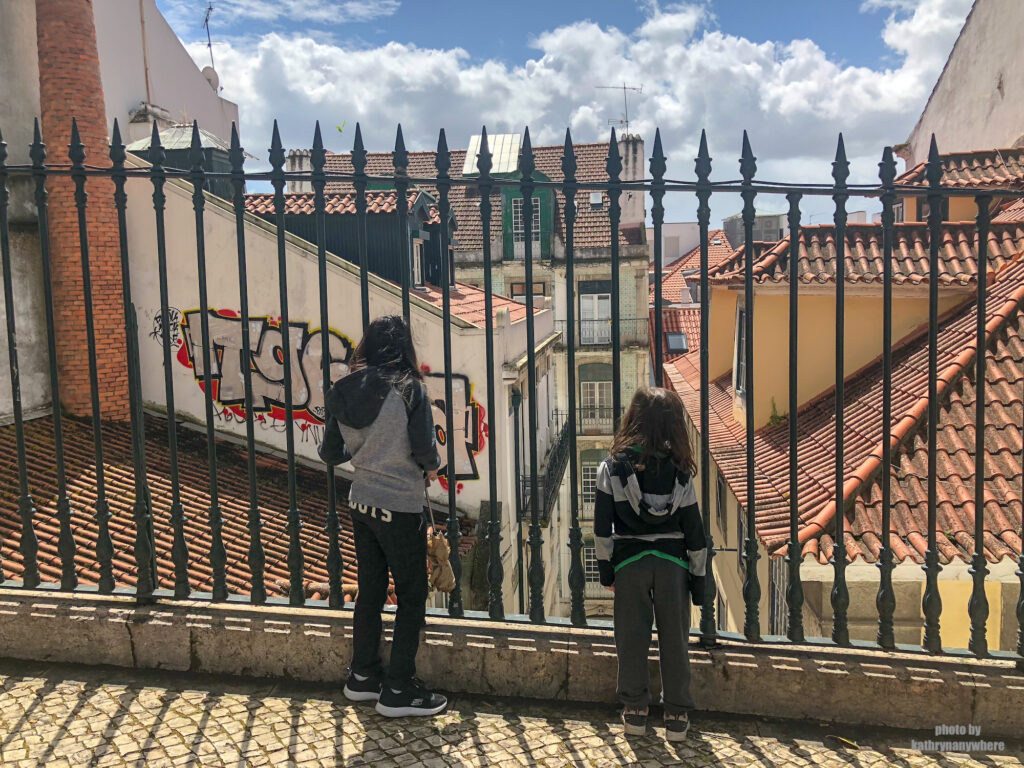 If you are keen to try the public transportation, the tram you need to take is Miradouro Santa Luzia, line 28. If you take a bus, it's Castelo, line 737. They do not go directly to the castle gates, there is a couple blocks of walking involved. Because of the walking, hills and cobblestone streets, I'm really glad I am long past the stroller stage.
Walking all the way from Cais de Sodre was no easy feat with Little Man on my back half the time. He is only 5 years old, so I can't fault him too much for getting tired or finding the hike up difficult. It was easier for me to pick him up and carry him than to hear him complain. Miss M handled it like a champ.
Admission costs to get into the castle grounds are free for kids ages 10 and under. The cost for me as an adult was 8.50 Euros. The opening hours are 9:00- 21:00 (Mar-Oct) and 9:00-18:00 (Nov-Feb).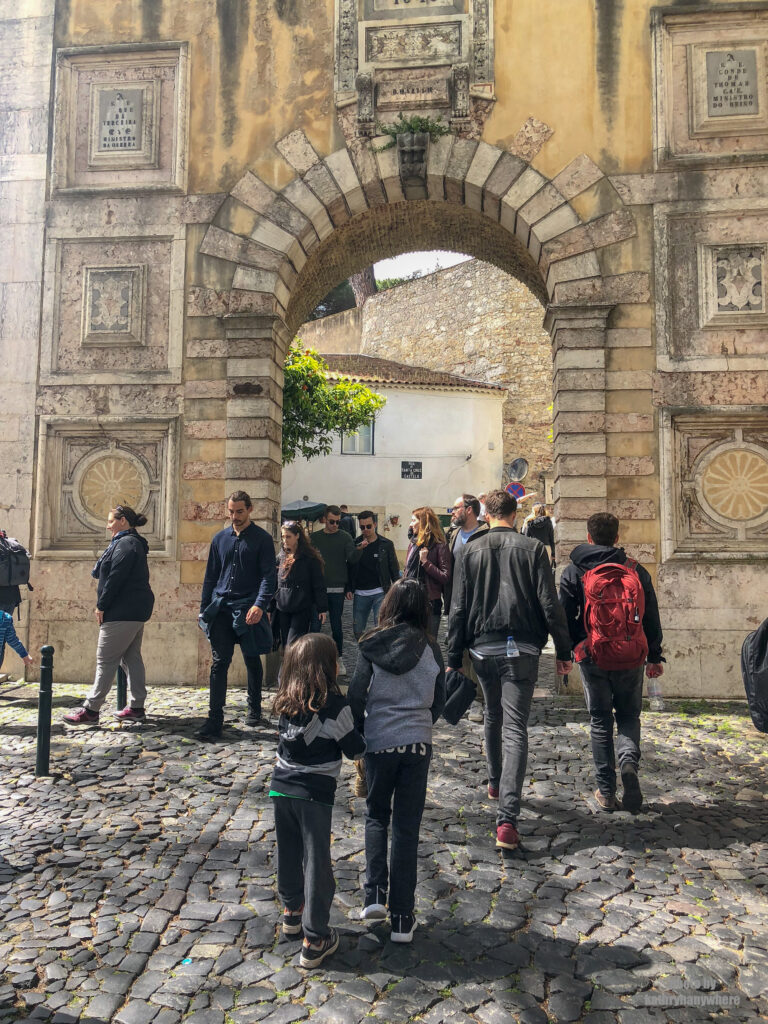 What's At The Castle?
You will find that there are two different parts to what you can see at Castelo Sao Jorge. The Moorish Castle (older section from before the 12th century) and the Royal Palace. Now bear in mind that in 1755, there was a massive earthquake, it was a severe disaster in Lisbon and much of the city was completely ruined. It wasn't until the 1920s that the government began restoration to what you can see and explore now.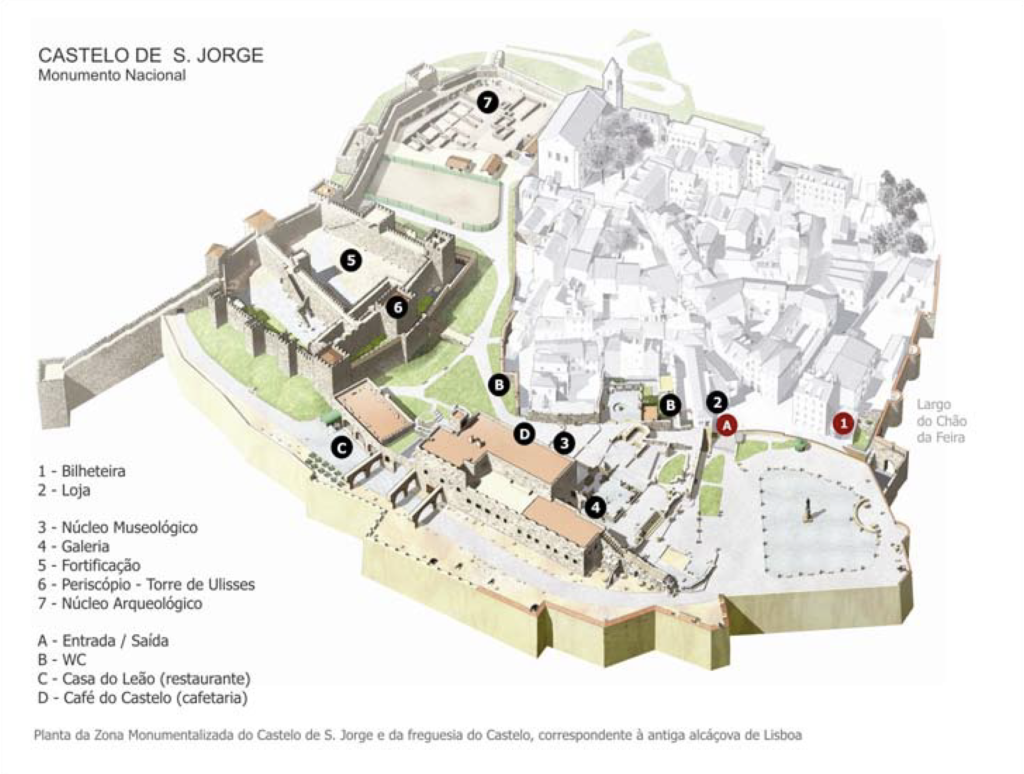 Over in the Nucleo Museologico area of the old palace buildings, you can find a faintly drawn picture of how Lisbon appeared before the 1755 earthquake. The drawing has the Se Cathedral with a tower, the old Igreja Antonio church, old Moorish city walls and it shows that the castle was the only structure up on the hill.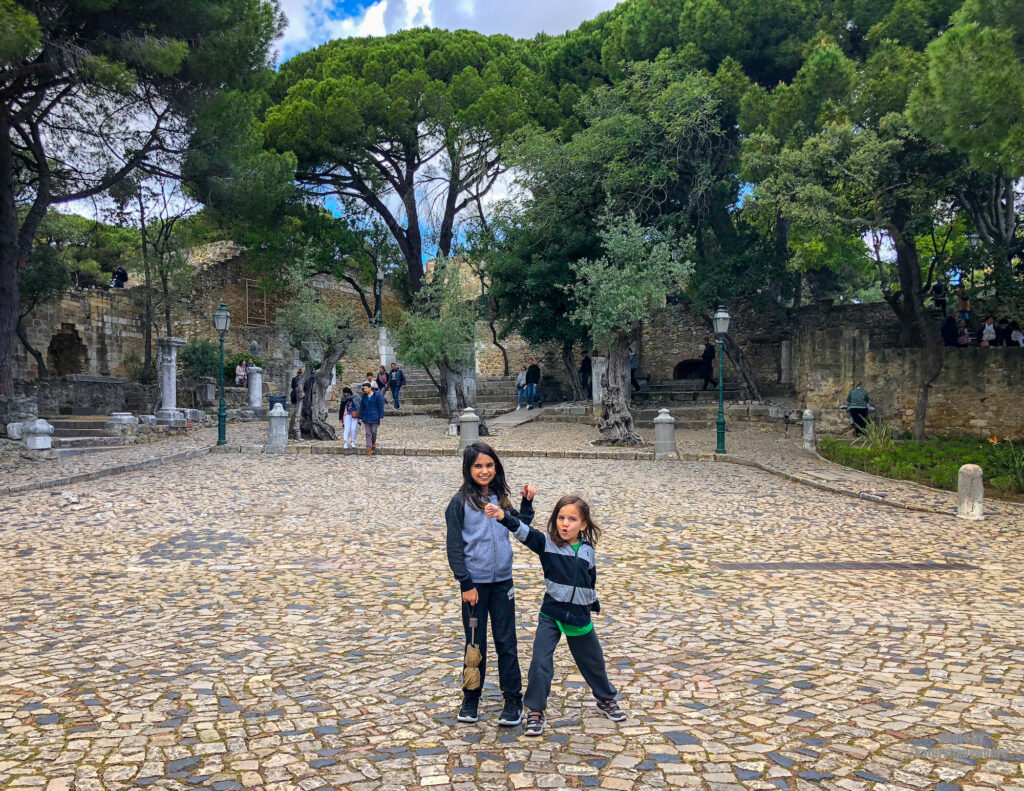 The castle grounds are home to a lot of peacocks who are used to putting on a show for all the patrons that come to admire them. Please be responsible and keep your distance from them.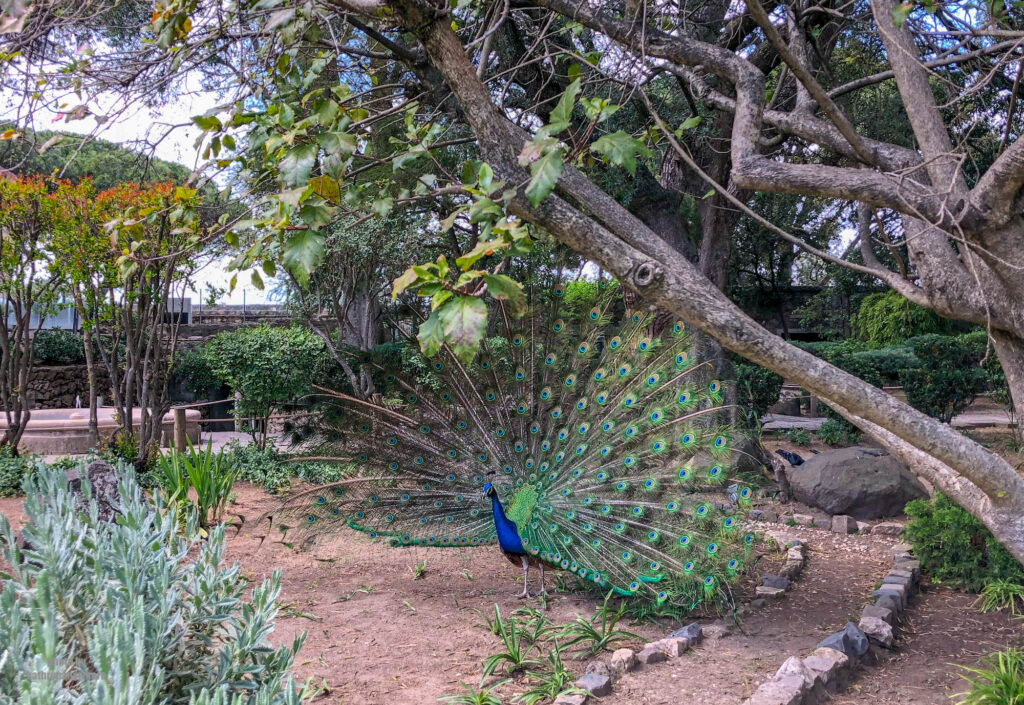 What you can do here – you can walk the outer grounds and inside the main walls. You can walk on most of the walls, some steps are steeper and more narrow.
What you will not see here – interior castle grandeur. You will not be touring through rooms and seeing royal decor.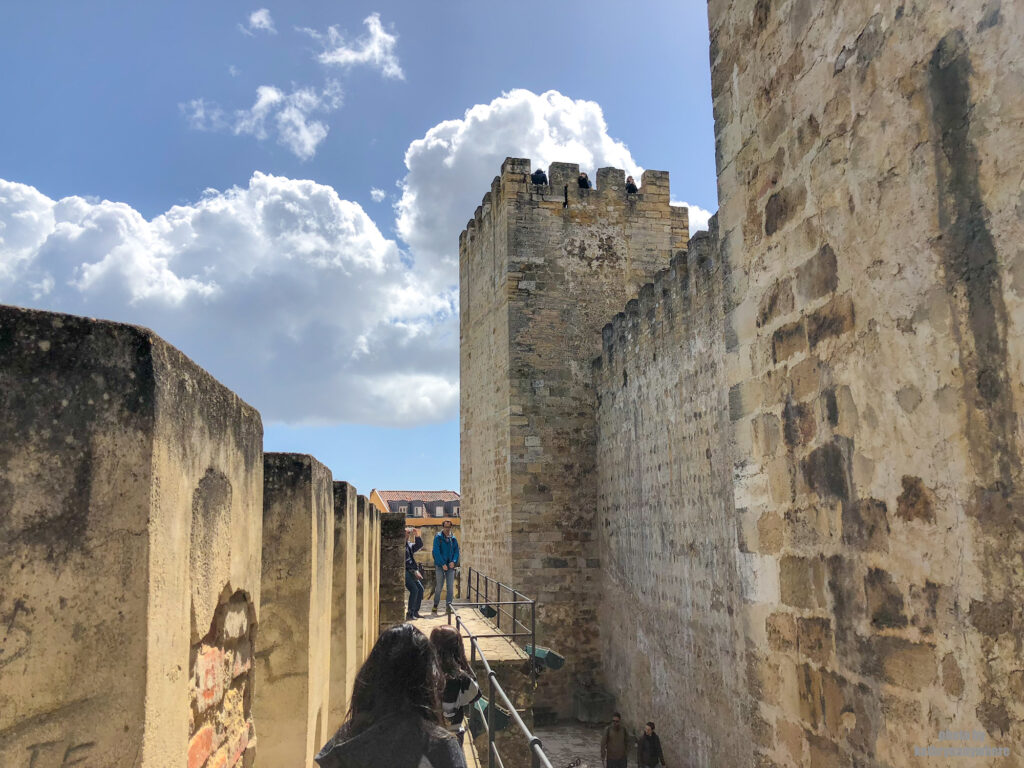 We enjoyed the layers of walls providing additional protection inside the castle.
I will go ahead as a seasoned parent traveller – this is not a stroller friendly place. If I was to bring toddlers or infants here, I would recommend that they come in a carrier or backpack piggy back rider. And as a it's not a stroller friendly place, it's not a very accessible place for people with mobility ailments.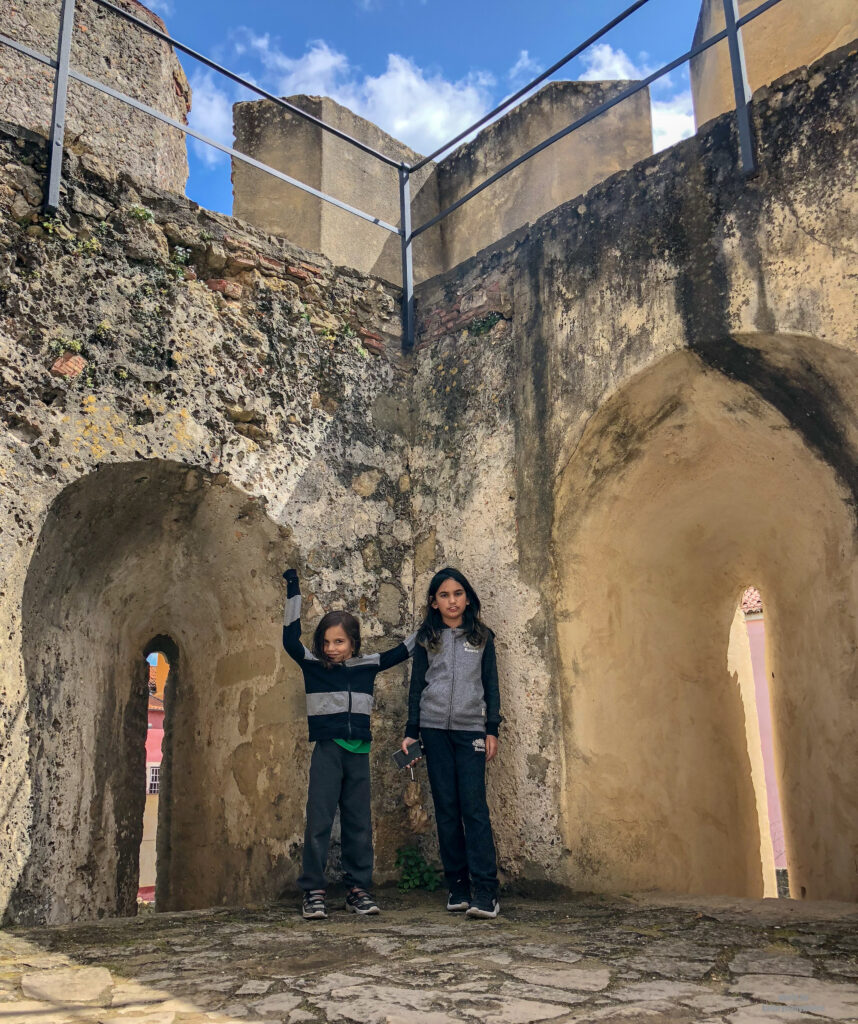 There is an interesting museum competent to the interior of the castle that houses relics and ruins discovered in the area over the past hundreds of years. There are bits and pieces of what has been found, some not complete and a lot of guesses of the layout.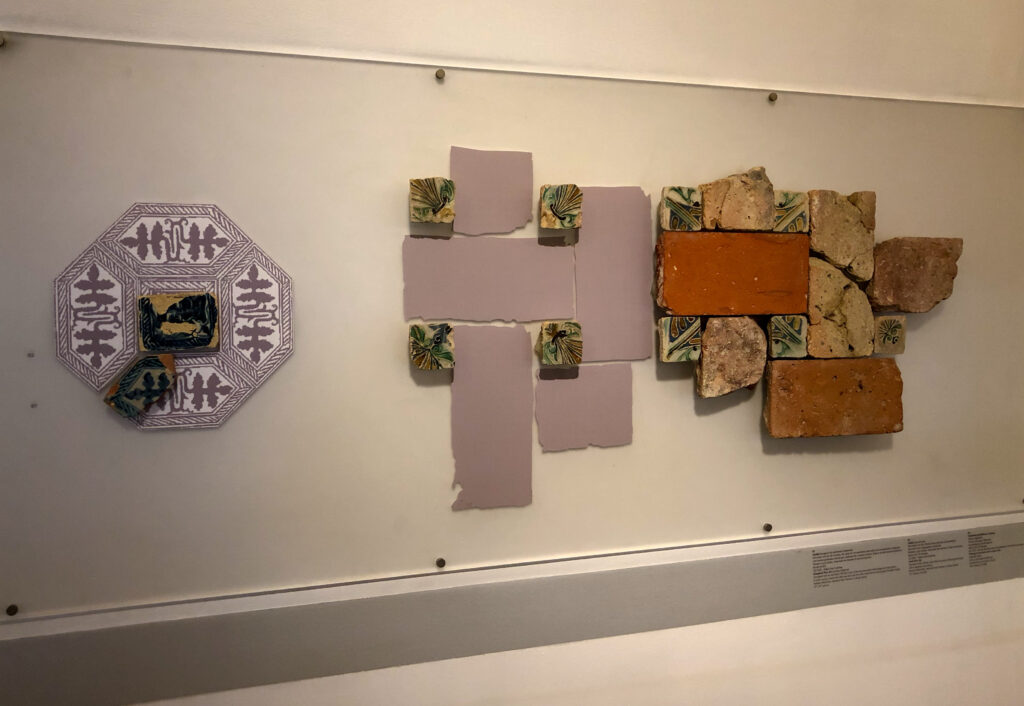 While this was one of the most interesting parts to see to me – my children were very unenthused by this part and wanted to go back out and see the peacocks. Seriously.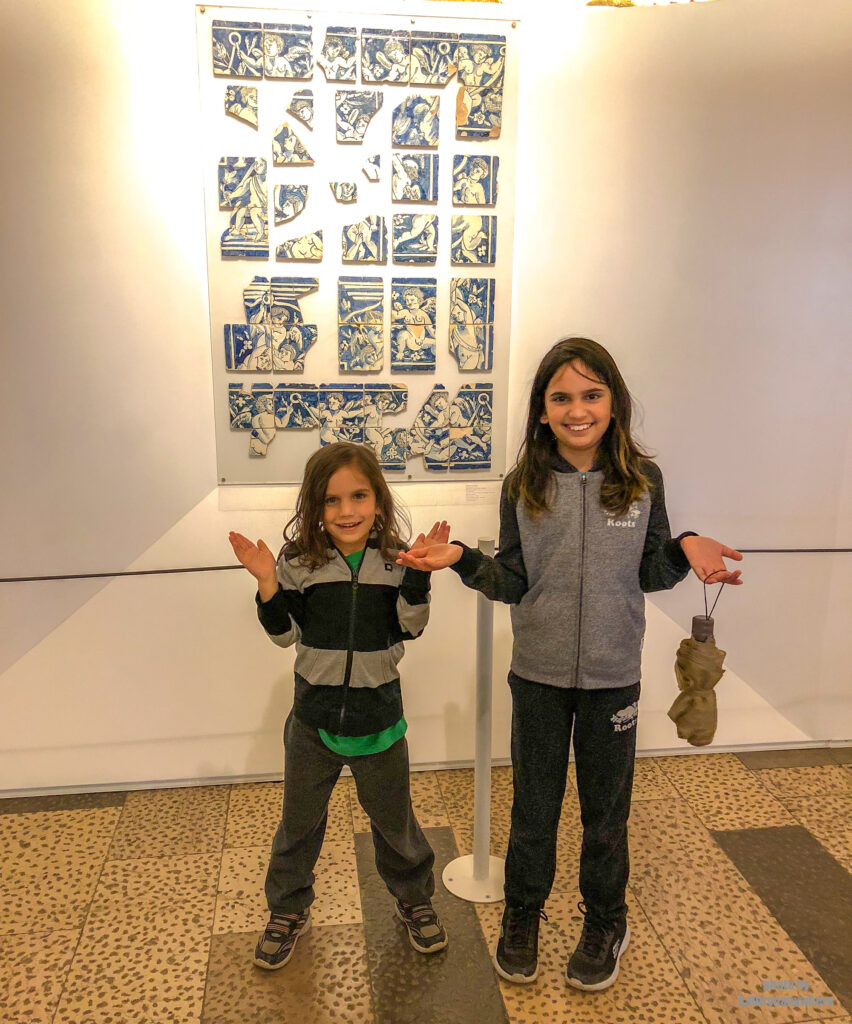 The Views of Lisbon
Once we got into the grounds, we were treated to amazing 360 degree views of Lisbon. Throughout history, fortresses and castles were almost always built on higher ground so that they had a vantage point to defend and protect the land. Here, the Lisbon castle had the Targis River to one side and could see over the land everywhere else.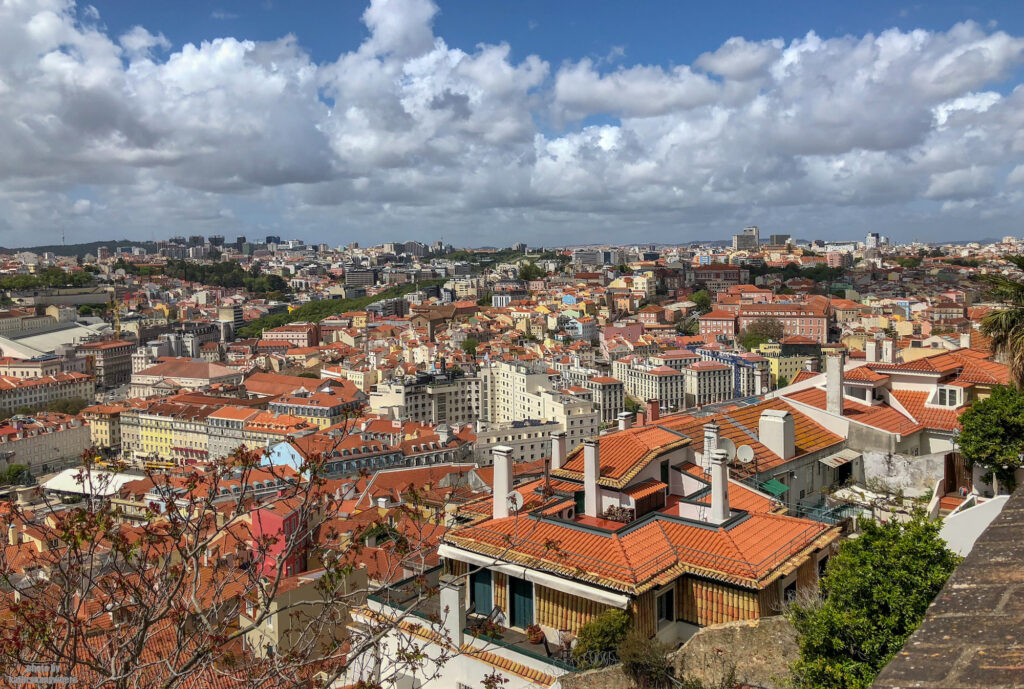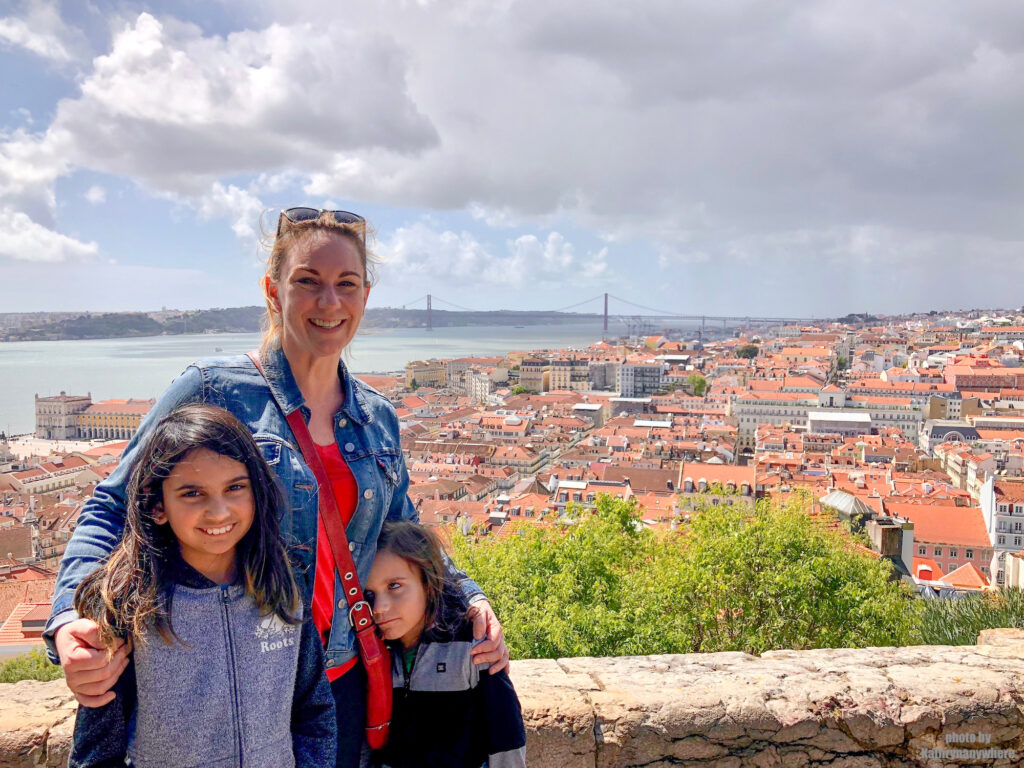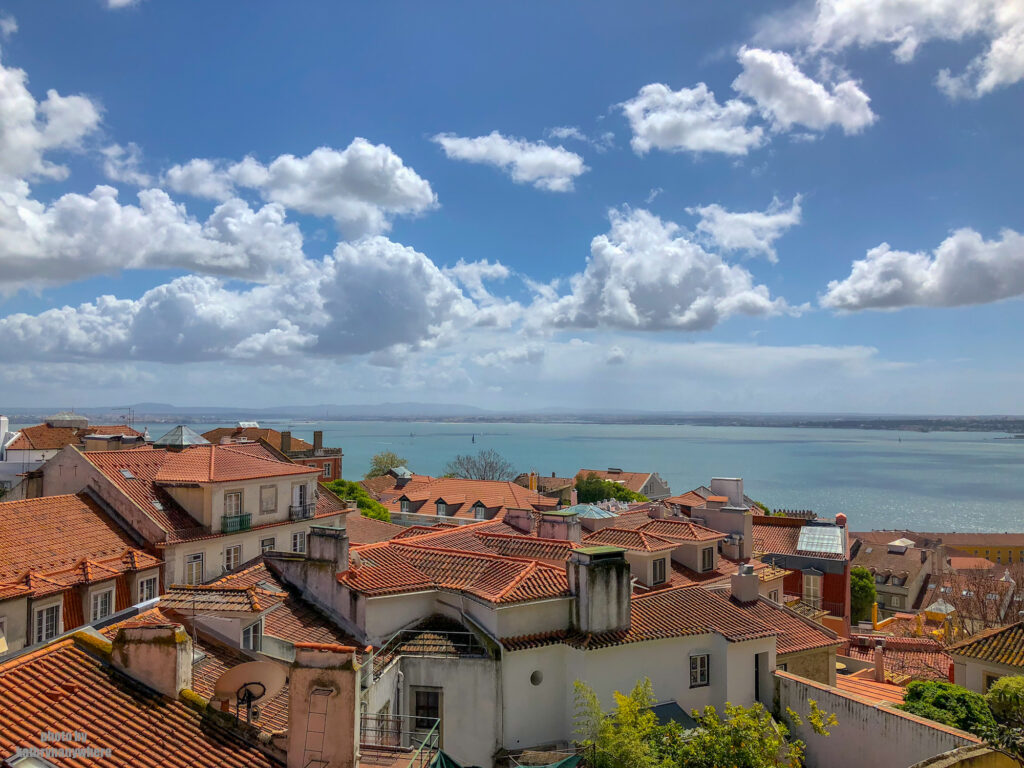 Wear good walking shoes here and bring your own water bottle. Expect to spend around 90 minutes here, it's not a full day trip. Oh, and don't forget to buy your glass of wine while you enjoy the view.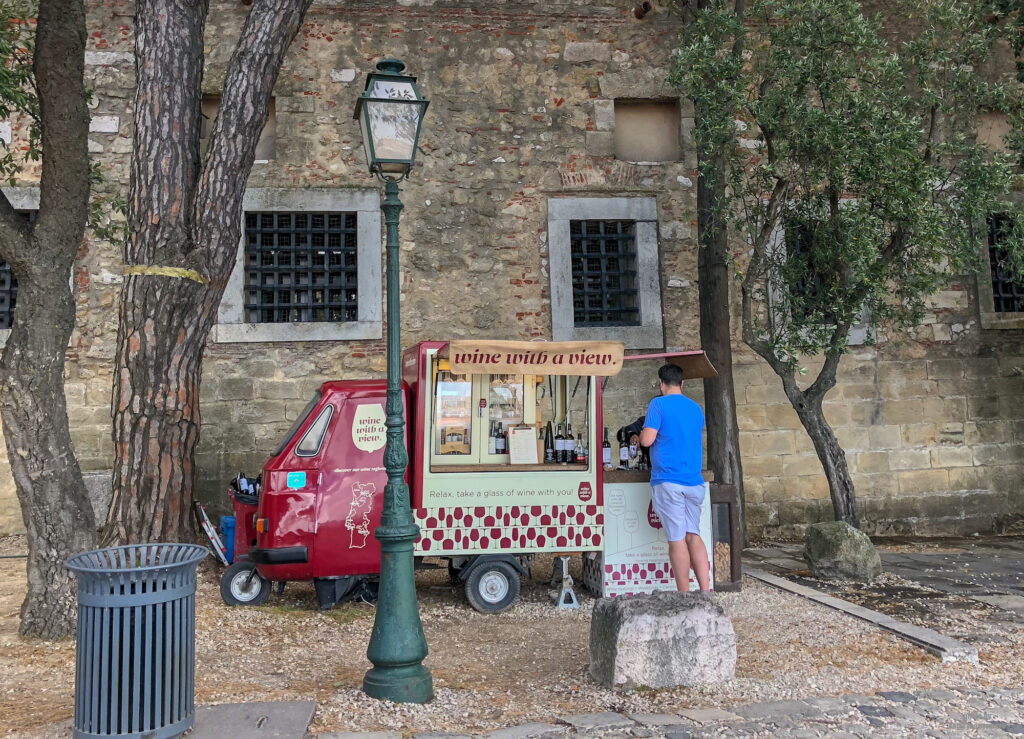 I didn't get to indulge with a glass of wine so as I was with my children. So please, if you go, hoist a glass and think of me.