Little Man, Miss M and I recently returned from the trip of their lifetime. I say "their" lifetime because my trip of a lifetime happened over a decade ago and was to South Africa, Namibia, Botswana and Zimbabwe. Theirs? We went after the best of Western Europe. Lisbon. Barcelona. Marseille. Cannes. Milan. Paris. Planes, trains and buses all over that part of Europe. The kids are still young, so I know that their travels aren't over yet, but I'd have to say that this trip was so far one of their most impactful.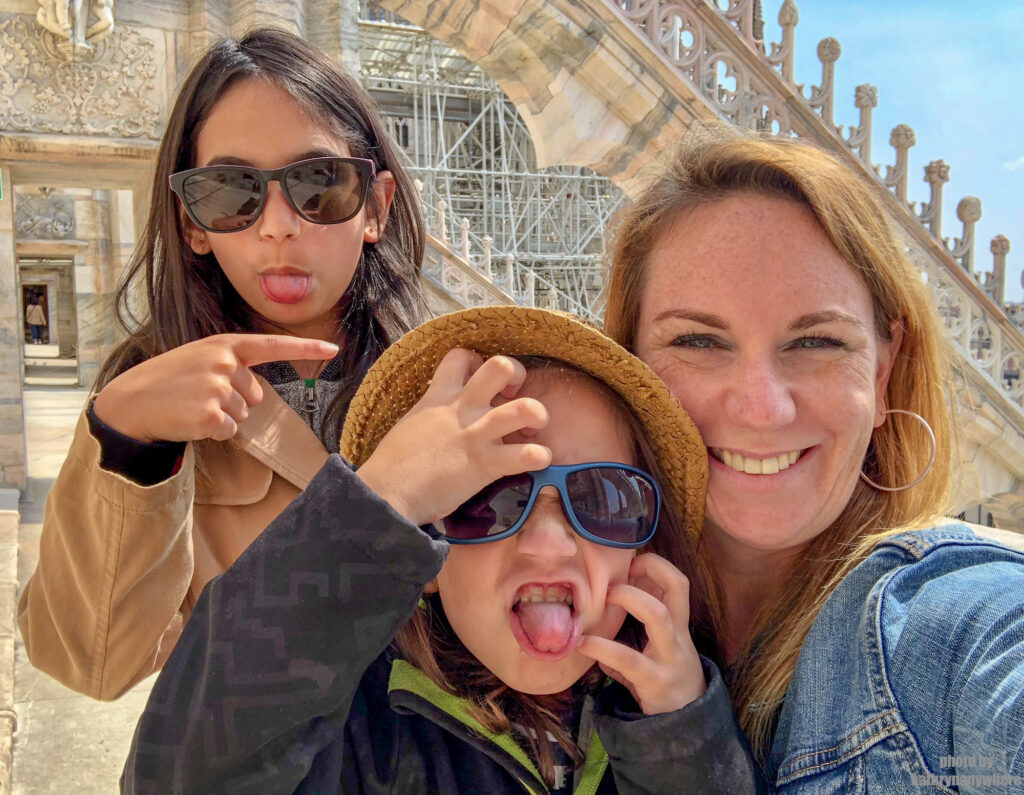 This post contains affiliate links for Booking.com and Amazon that provide me with a tiny commission if you choose to make any bookings or purchases.
For more information, please see my privacy policy here.
I had made the parenting error of telling my daughter that for her tenth birthday, I would take her anywhere she wanted to go. Expecting the answer of Harry Potter World in Universal Studios or Newfoundland to visit family, I was confident in my words and let her think about a response.
It was to just be a mother/daughter trip to mark Miss M's celebratory 10th birthday. Ten years that amazing little human has circled around the sun. Ten years since my life changed forever and for the better. As we got closer to the trip date, I realized I couldn't leave Little Man behind for almost three weeks with his Dad. Not that his dad wouldn't love him and keep him fed and alive! The bond between brother and sister is strong and neither of them could have survived that long without the other. So I changed all our plans and reservations to bring him along. Brave Mom?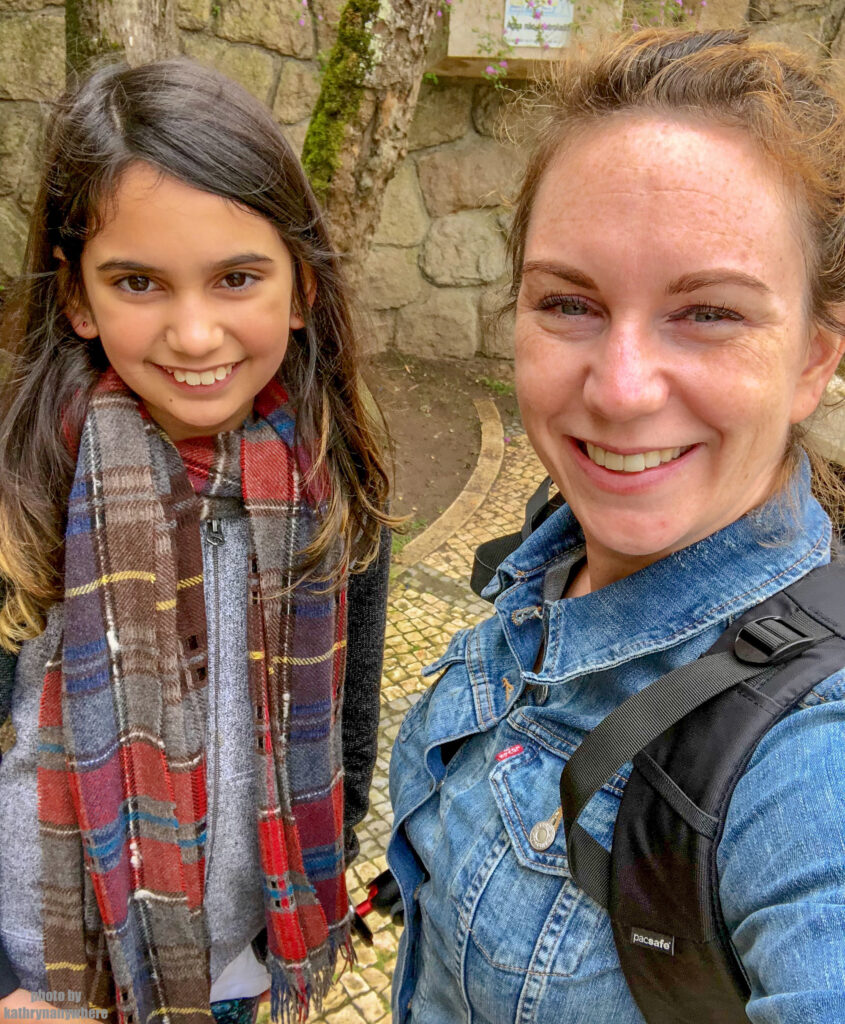 THE POSTCARD THAT INSPIRED OUR
BEST OF WESTERN EUROPE VACATION
It all started with this postcard of Cannes in the French Riviera. One day it came home with my son from his Montessori daycare when he was maybe just 3 years old. It got forgotten in the backseat of the car. From there, it fell under the passenger seat, it got shoved into storage compartments, but continually kept resurfacing in my daughter's hands. Cannes.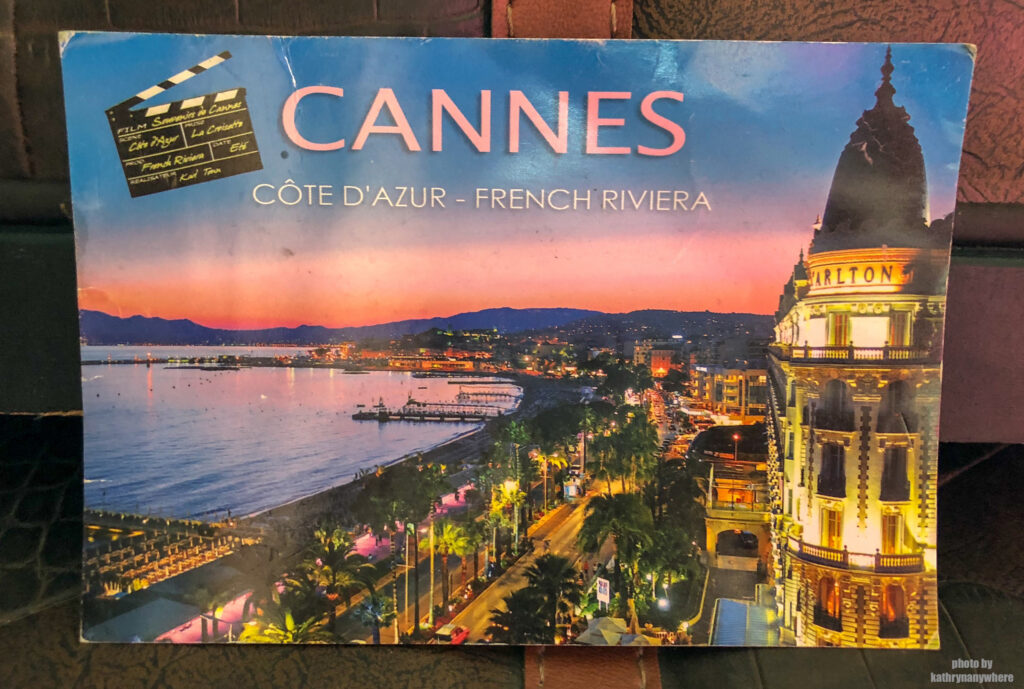 When Miss M announced that Cannes was to be her desired destination for her tenth birthday, I laughed and asked if she was serious. Yes, she most certainly was. I asked if she knew where France was and if she realized that this wasn't just a weekend road trip. She did. It proved above all that she was definitely my daughter, that was a move I would have made with my parents.
My parents never would have obliged me though. Not because they didn't want too, I can promise you that my Mom definitely would have if she could have. It wasn't in their capabilities back then between their work and financial commitments. Me? Well, I thrive in the gig economy and have the ability to take 3 weeks off here and there. In fact, I can take a laptop and work anywhere I want. What a difference 30 years in the world of technology makes!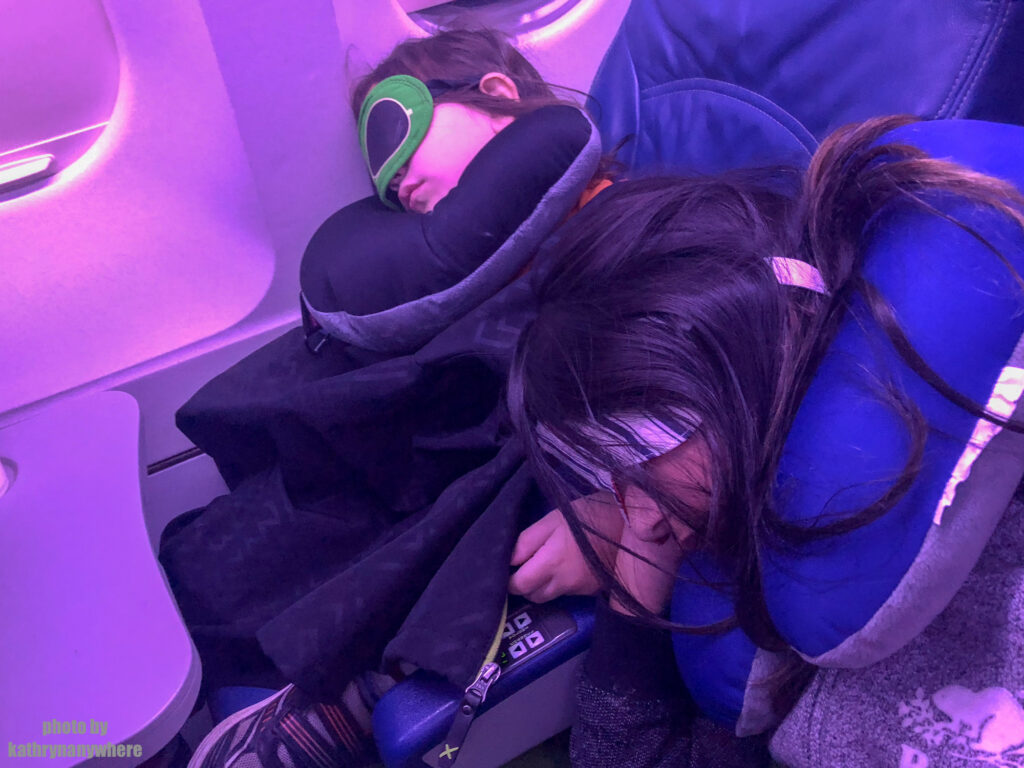 I COULD NOT GO BACK ON MY WORD
I made the decision that I would take my daughter to Cannes to appease her. What kind of a parent would I be if I went back on my words? She caught me in my literally phrase – "anywhere she wanted to go".  For the record, I did offer up less extravagant and more local options, but she wasn't having any of it. It took nine months of saving the money and planning the trip. I changed dates numerous times based on work planning and projections, then settled on April. April is traditionally a lull in my work schedule and as it turned out, a much more economical time to go over the summer when Miss M's actual birthday is.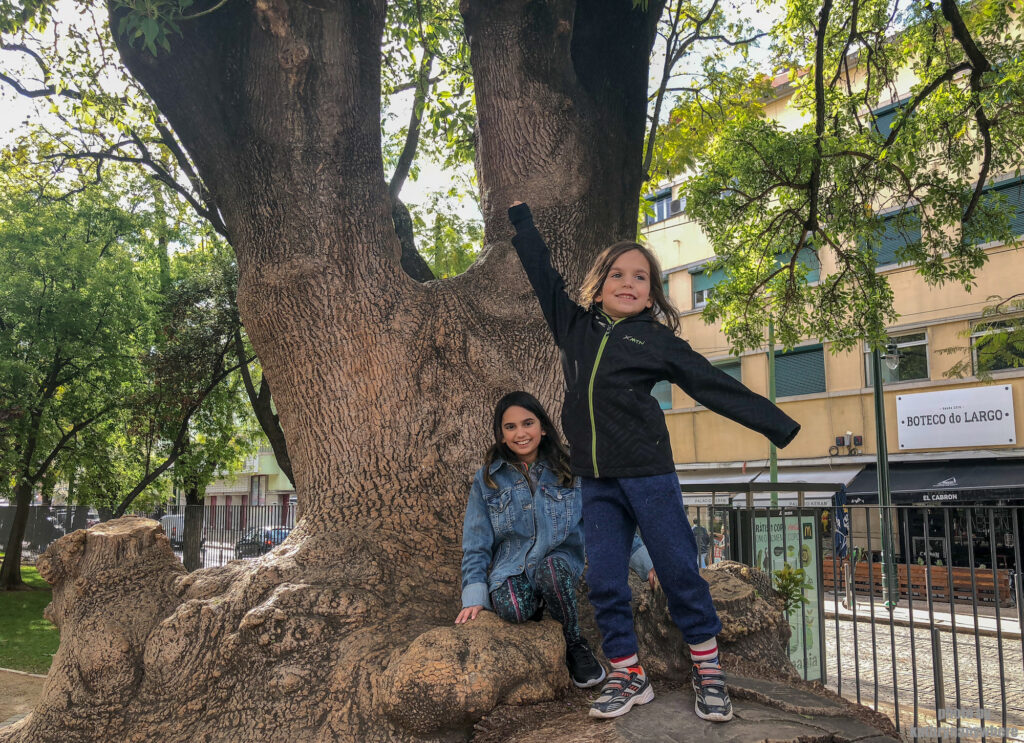 BUILDING OUT OUR WESTERN EUROPE ITINERARY
Cannes was the ultimate destination of course, but I couldn't just travel to France and only see Cannes. Not to be selfish or anything, but if I'm traveling over to France, I'm going to see and experience a few things along the way, not just visit one town for a couple days. My daughter and I sat down and decided we would start in the western part of Europe and work our way there. We put together an itinerary that saw us flying to Lisbon in Portugal, getting used to the time change there and acclimatizing to Western Europe before moving on. Little did I realize at that planning stage what an incredible family friendly destination Lisbon is and how much my kids would love the food and roaming the streets with no agenda in mind. And I fell head over heels in love with European architecture, especially doors.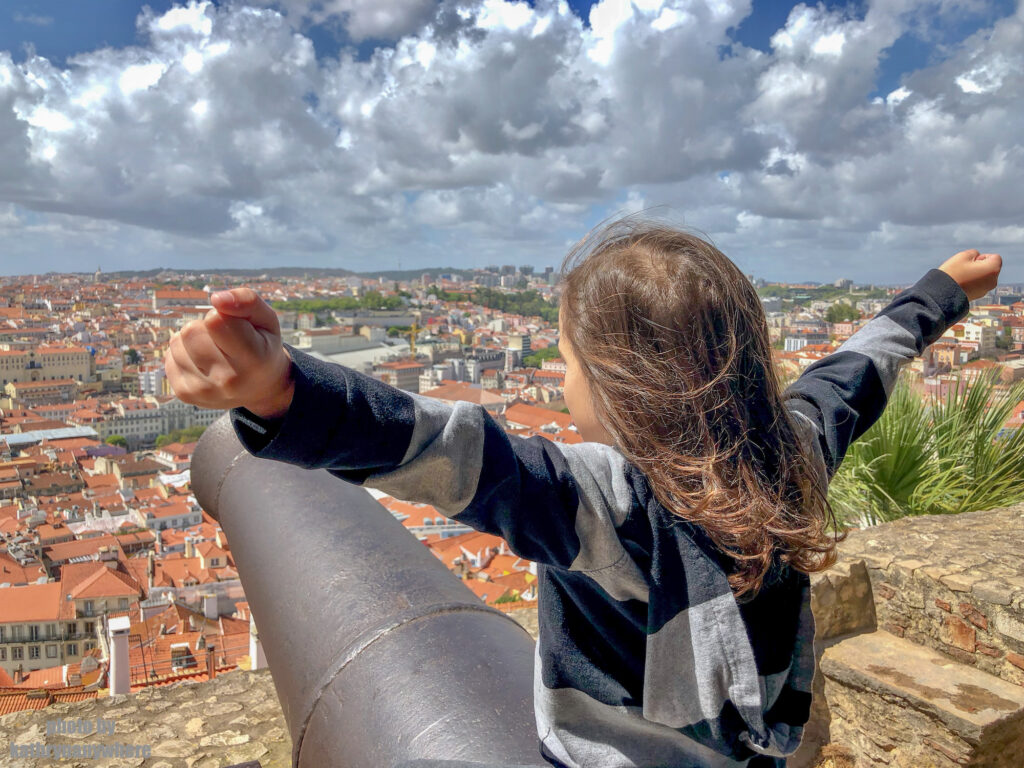 We took three full days to create our own itinerary of what we felt like doing. We arrived on Thursday, jet-lagged from our red eye flight across the ocean and bone tired. I almost caved and let the kids eat McDonalds. Almost.
On Friday, we walked from our guesthouse to the marionette museum and then to Sao Jorge Castle and took in the surrounding area. Saturday, we toured the Belem District and ate the pastel de nata. We had to see what the hype was all about!
Sunday, we traveled to Sintra, Pena Palace, Cabo da Roca (the most western tip on continental Europe) and Cascais. On Monday before our flight to Barcelona, we walked the local neighbourhood and looked for interested things we had missed before. We purposely ate at any restaurant that did not have English words or phrases in the window. Because of that, we had the best meals and it's Little Man's favourite place that he still talks about.
Where to stay in Lisbon with kids?
We stayed at City Lofts Lisbon Guesthouse. It's located in the Barrio Alto neighbourhood and walkable to pretty much everything except the Belem District. We took the Aerobus from the airport when we arrived in Lisbon down to the Metro Cais do Sodre. Then the kids and I walked to our accommodations from there and then back when it was time to leave. We arrived about noon, which is before check in. The amazing staff held our bags for us and sent us to the best restaurant that the kids demanded we revisit and order the same thing.
We had a triple room at City Lofts Lisbon Guesthouse with what I believe to be the only private bathroom in the premises. The kids and I really enjoyed the spacious room. It was perfect for us, as there was a doorway separating the bedrooms (one had two single beds, one had just one single bed), I was able to have some free time when they went to sleep at night. Continental breakfast was served in a central area and was pretty basic but served our needs quite well. I had my morning coffee so I was happy.
My discovery during the course of our trip? Lisbon was by far the best value for our dollar. I'm afraid if the businesses in Portugal find out, it won't be a secret anymore.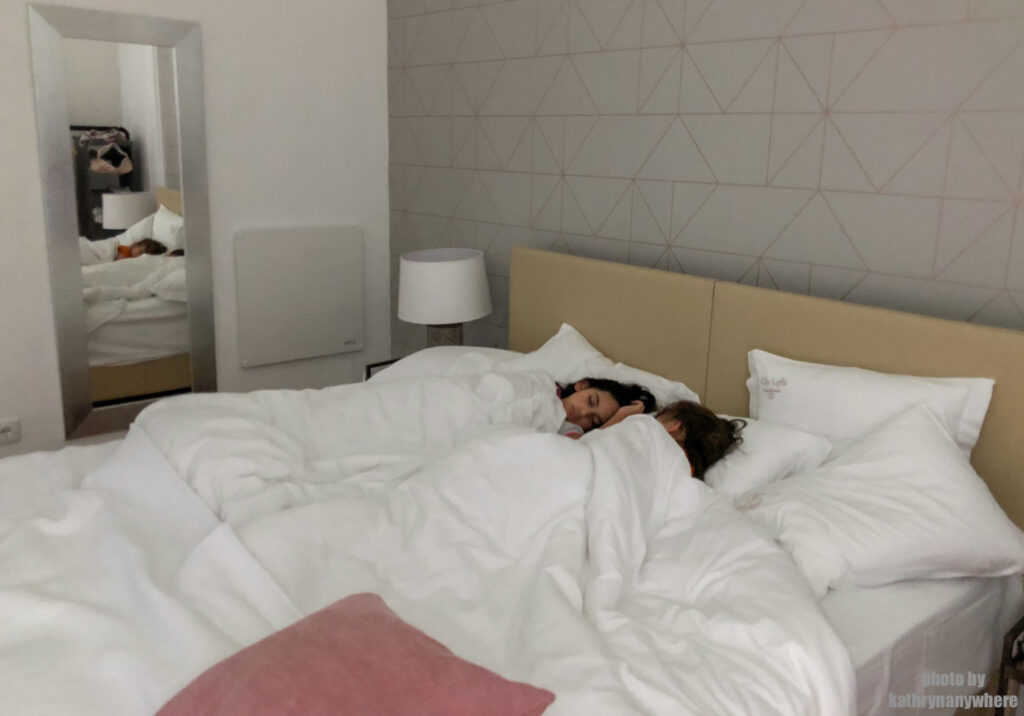 FROM PORTUGAL TO SPAIN
We choose Barcelona as our second destination. We realized how easy it would be to travel there by air from Lisbon and then how easily we could take the train from there into France. My rationale for choosing Barcelona was also because of the food and architecture scene that I had read so much about. I was not going to be disappointed. The food – divine! The gothic quarter? Wow!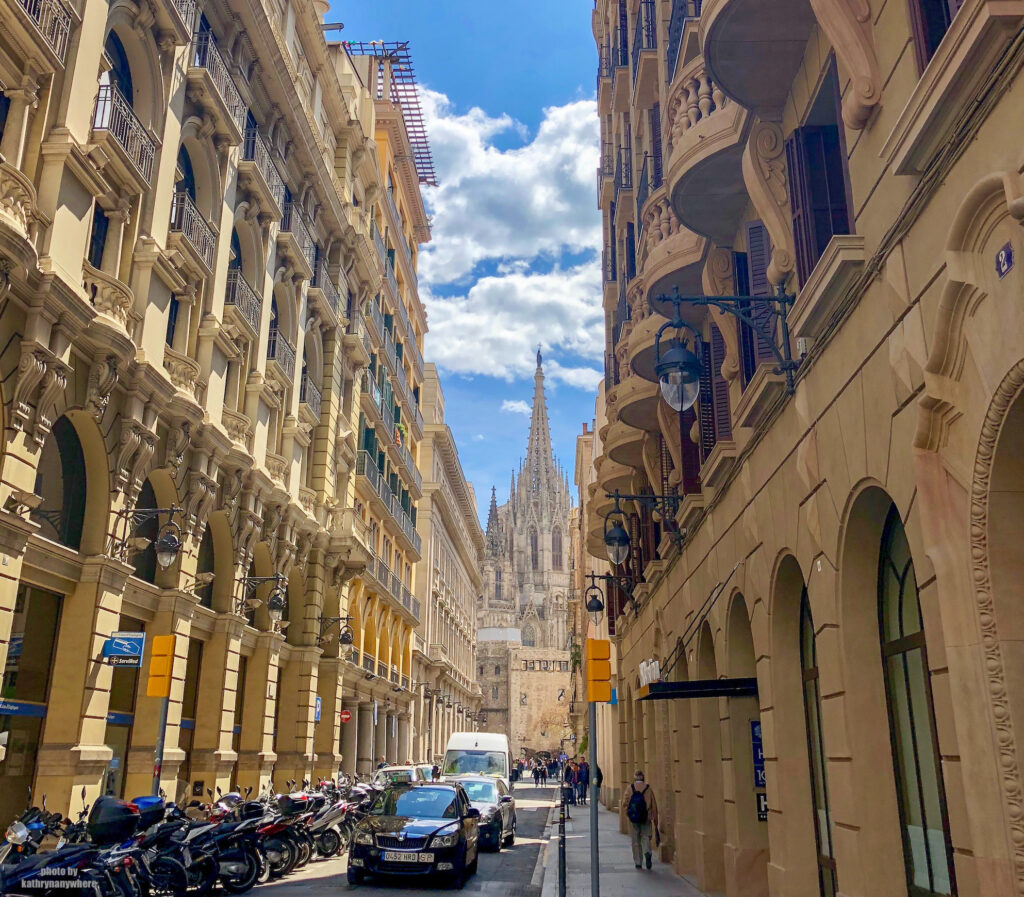 When we arrived in Barcelona, it was already evening. We located the Aerobus, took it to Plaça de Catalunya – which is the central area where all buses stop in Barcelona. Our hotel was a whole kilometre south on La Rambla so we walked straight there. It was dark outside, and we wanted dinner. We checked in, dropped our bags and then went on the hunt for food. I choose a restaurant just down the street from out hotel that was famous for it's tapas. I enjoyed the meal immensely. The kids? Not so much. I had to switch gears for the next few meals.
We had read in advance of this trip that La Rambla was pick pocket central and to guard ourselves accordingly. I developed many tips and tricks with the kids to safe guard our cash and documents while traveling. I consider ourselves very lucky that we made it through the whole trip without losing anything.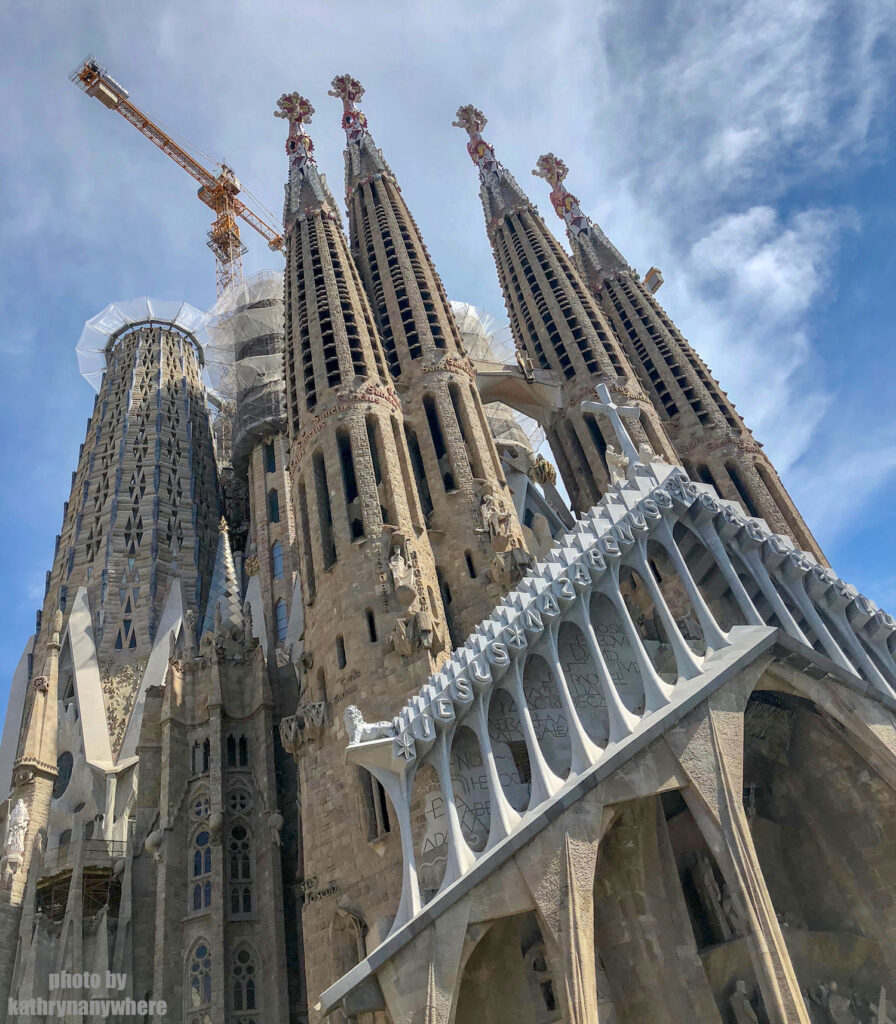 Here, the kids and I decided to purchase a two day open bus tour so we could hop on and off wherever we wanted. Barcelona seemed really big to us compared to Lisbon and we weren't sure we could walk it and explore as much on foot. Sadly we got derailed by rain everyday except our last day when we were departing for France, but we still tried to make the best of it! During the rain we did not hop off the bus much so our destinations ended up being a couple places near to the bus stops.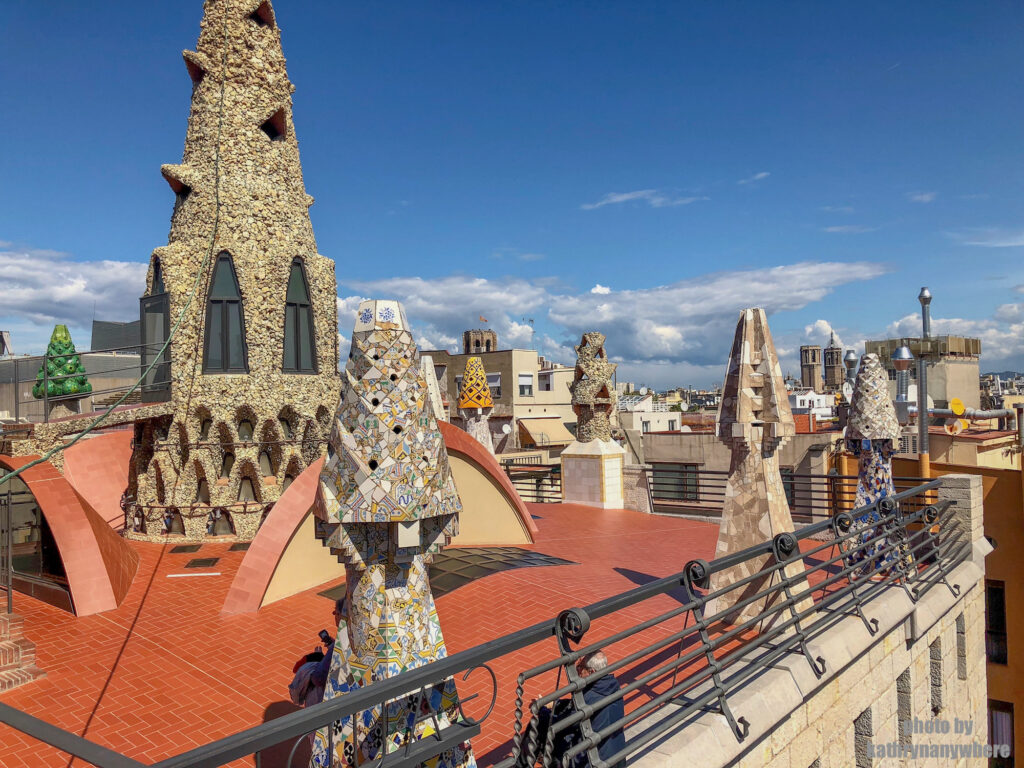 We did devote a whole afternoon to the Barcelona zoo (my kid's pick, definitely not mine). I got a whole morning at Palau Güell, which was a 5 minute walk from our hotel and we spent more time and money than I care to mention in the Lindt Chocolate store. Aside from that, we only saw the outside of Sagrada Família, Camp Nou (the home stadium of FC Barcelona) and Casa Mila.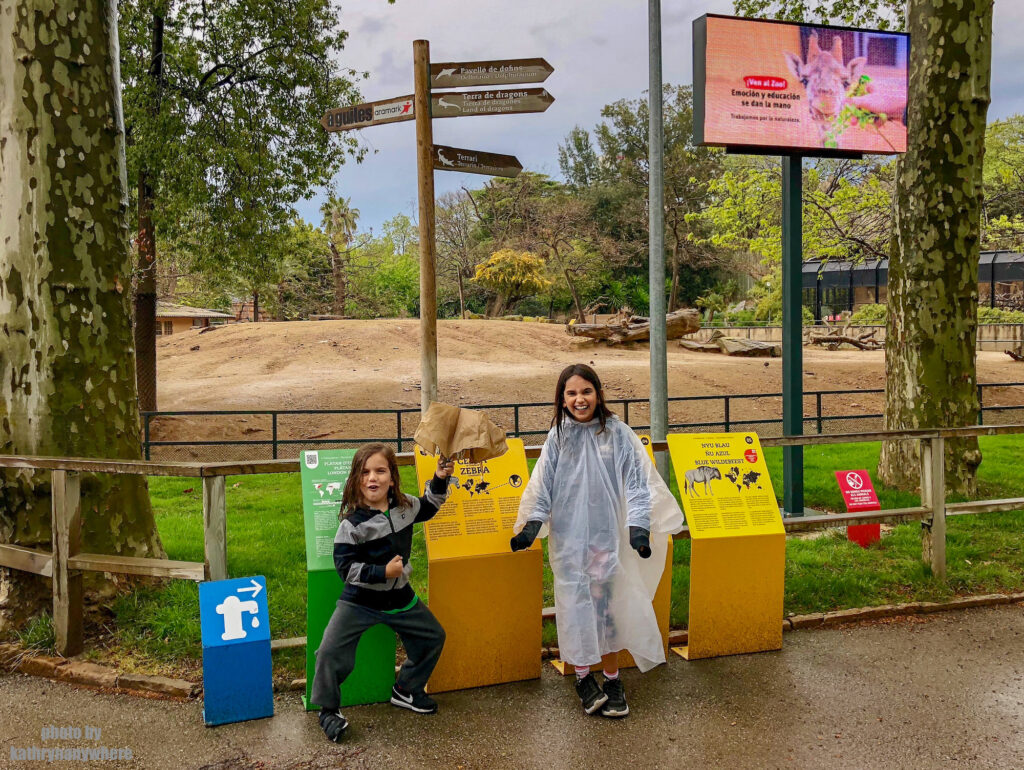 Where to stay in Barcelona with kids?
We stayed at Cuatro Naciones. Once upon a time, it was clearly a very luxurious, turn of the century hotel. Miss M and Little Man loved racing each other up the stairs I don't want to say anything bad about it, because for the price point, it's a good value. And I have always firmly believed that you get what you pay for.

As I mentioned before, it was right on La Rambla, which is the main street for restaurants, shopping and the gateway to all things touristy in Barcelona. The location can not be beat and the staff are very friendly, helpful and accommodating.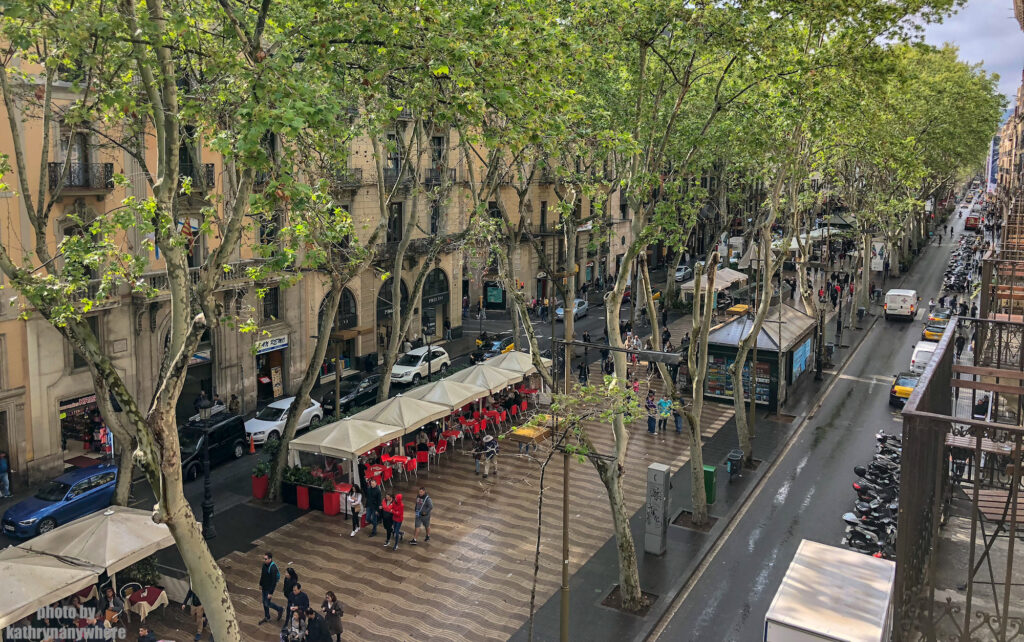 We had a triple room at Cuatro Naciones with a private bathroom. The room was spacious, but dated. Our balcony overlooked La Rambla and it wasn't noisy at all. Continental breakfast was served in a central area and was again, fairly basic, but it was all we needed. There was a lounge area in the hotel that had a computer with a printer for guest use, which is great for printing out homework that got sent over from one of the kid's teachers and train tickets.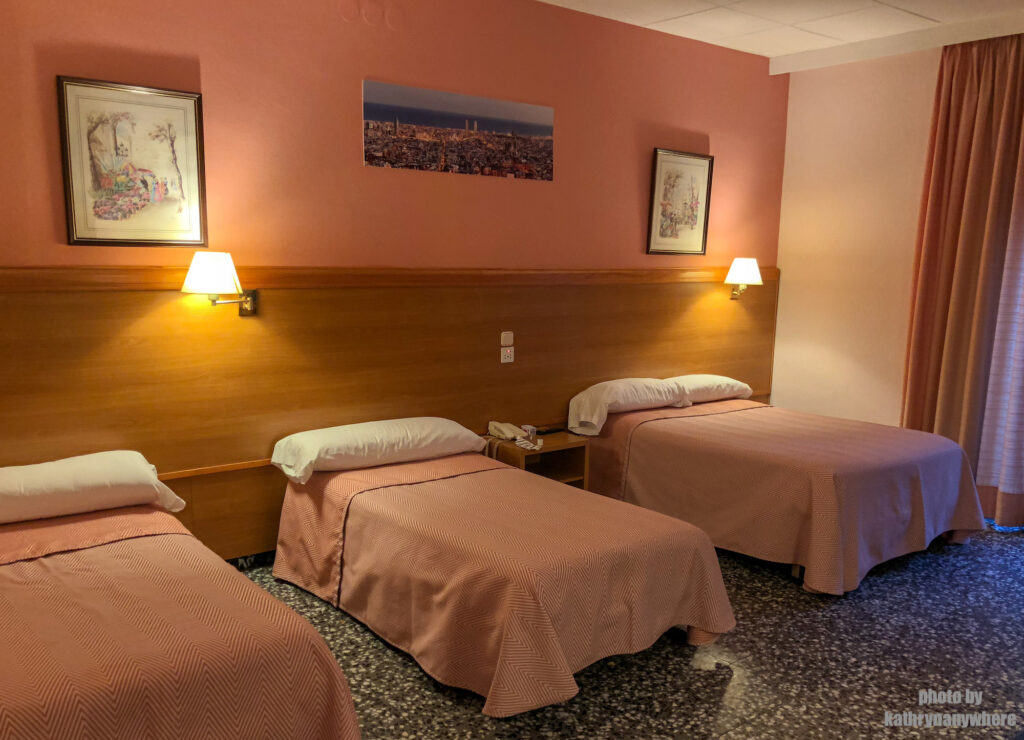 OUR BEST OF WESTERN EUROPE TOUR
CONTINUES INTO FRANCE
We left Barcelona on the train after three nights and headed into France. Clearly not enough time to stay in Spain, we barely got a taste, but we Cannes was calling. Our next stop was Marseille. I had chosen Marseille almost solely on the reason of where it was located. South of France. That and a train stop. I figured the kids would be tired after a week of traveling and would be looking for a place to relax for a couple days before we picked up the pace again in Cannes. Initial internet searches were not bringing up a whole lot of things to do there with kids, so I thought it would be a quiet, scenic place in the south of France to recharge after running through the action packed areas of Lisbon and Barcelona. We would watch some boats go by.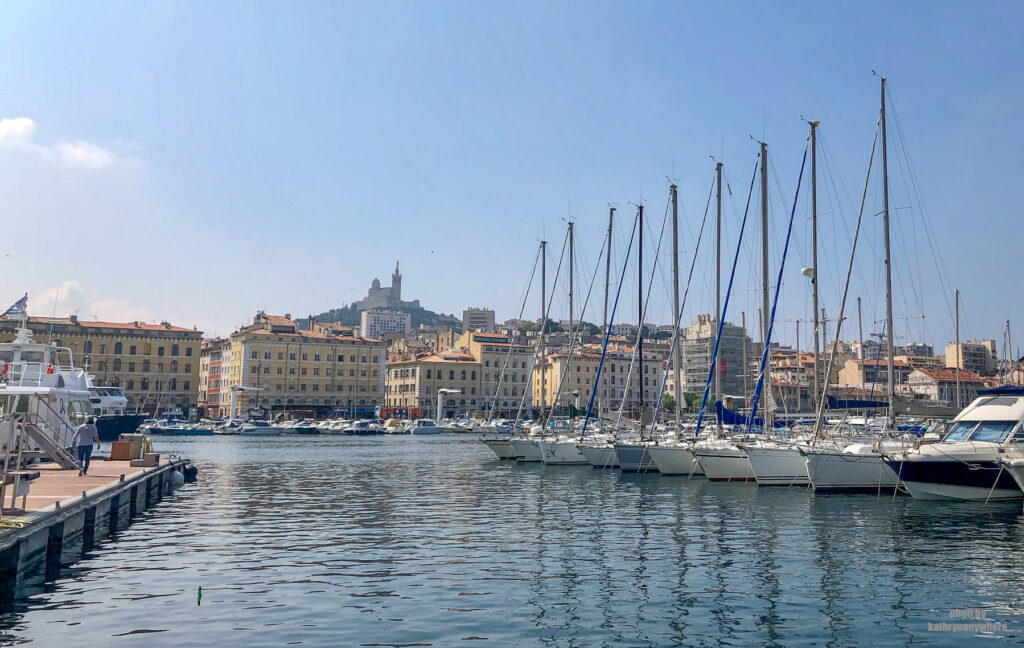 I made no plans for these couple days. I was wrong! What I found instead was an incredibly family friendly destination with more for kids to do and explore than I had allowed time for.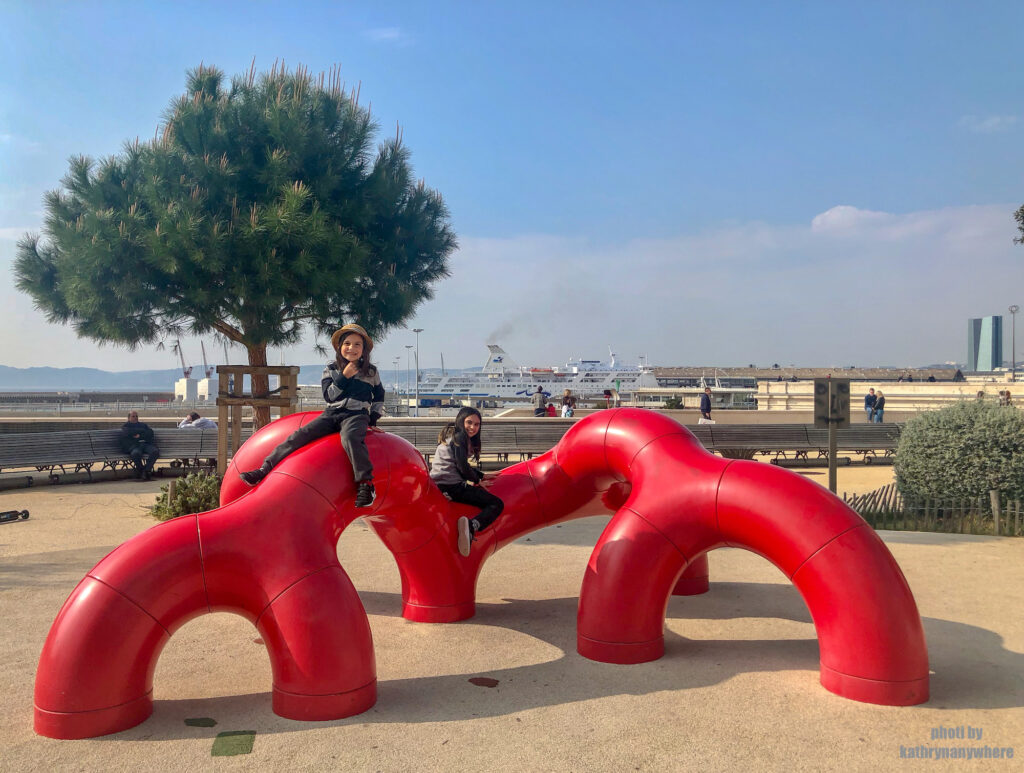 Where is there to see and do in Marseille?
Since we only had a day and a half in Marseille, for our full day, our first stop was a toy store where I somehow got sucked into buying by son a two-headed dragon and my daughter wanted Pokemon cards. Once they we appeased with their material goods and my wallet relieved of money I could have spent elsewhere, we travelled to Notre Dame de la Gard. it's the most visited site in Marseille and I can definitely see why. The exterior of the church is an architectural marvel. While we did not enter inside, the basilica is said to be stunning.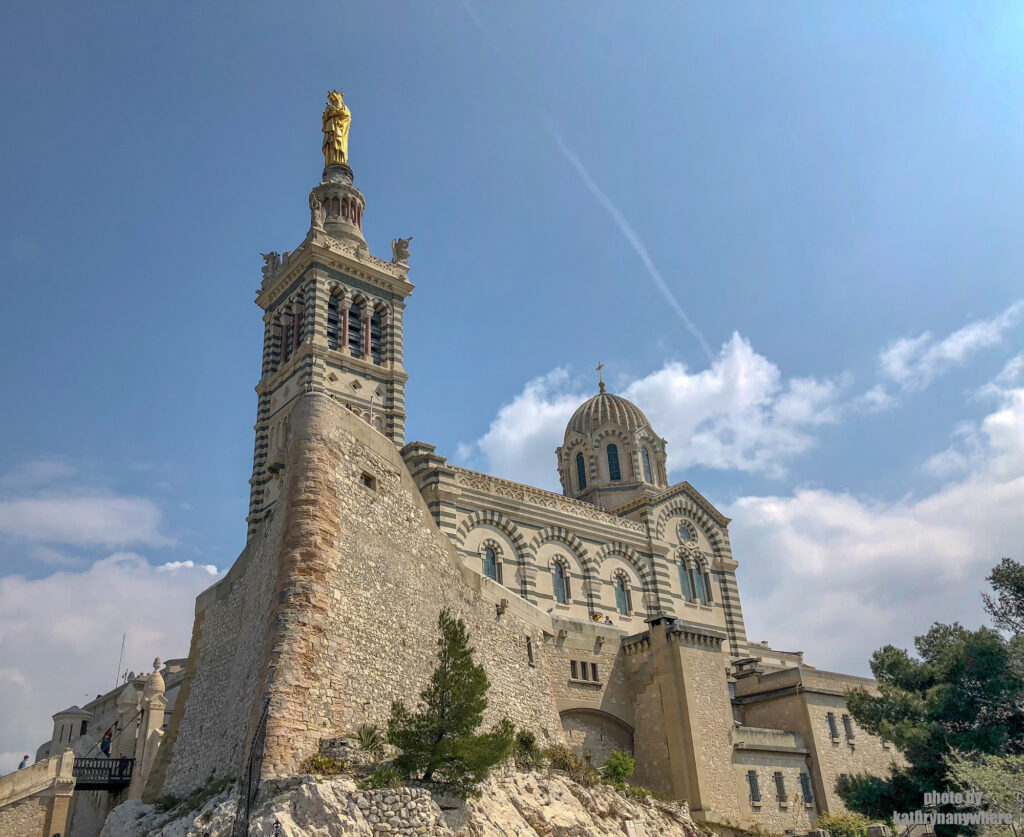 From Notre Dame de la Gard, the amazing city views from the top are unlike anything you'll find in southern France.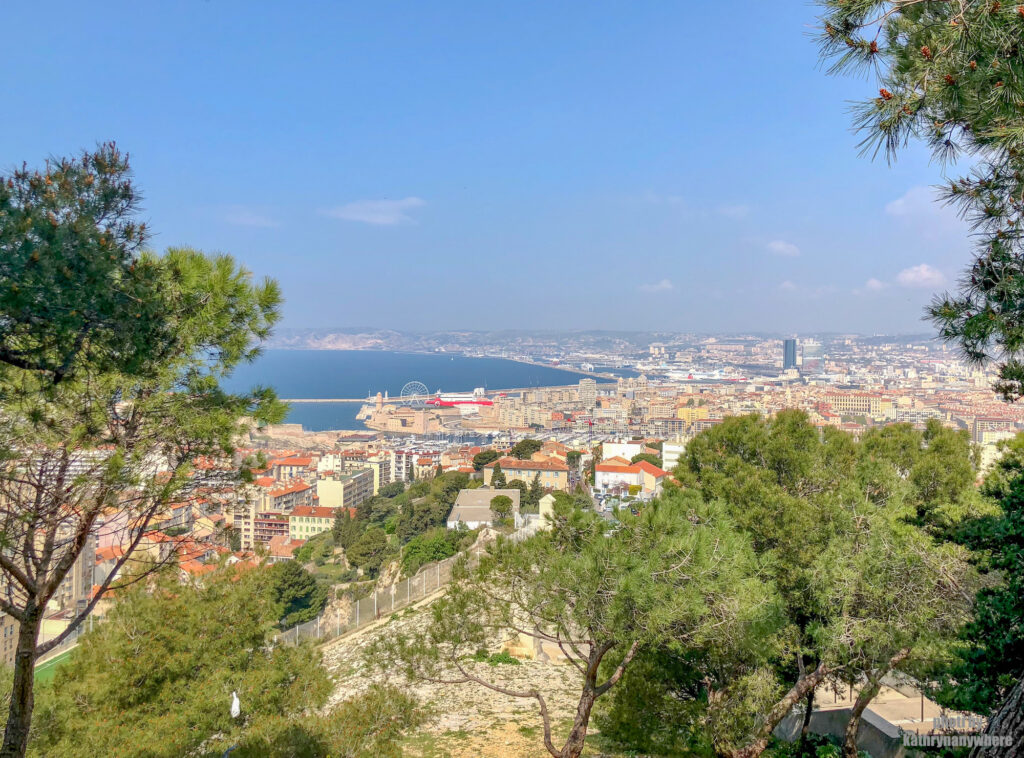 See that ferris wheel? After wandering into a local soap shop (Marseille is famous for it's soap) and having the best pizza we could ever ask for at a restaurant in the Vieux Port area, the ferris wheel was our next stop. From the top, we had views of the city from another angle.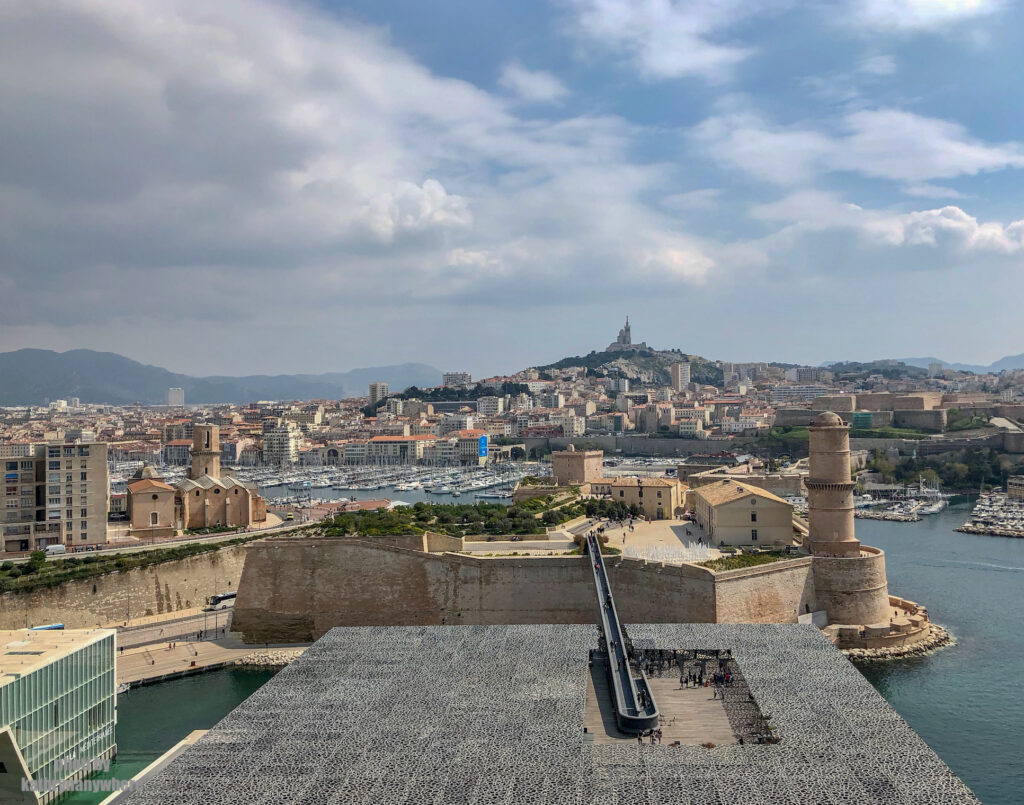 And then we managed to fit in a visit to The Museum of European and Mediterranean Civilisations. One of the best perks for kids here? In the gift shop on the main floor is a library like set up where the kids have an opportunity to sit and read. There were a few books in English for them, but they enjoyed looking at the French books too.
And in the Vieux Port area? There are always street performers and we found a ton of entertainment.
Where to stay in Marseille with kids?
We stayed at Aparthotel Adagio Marseille Vieux Port, Marseille. It's a bit of a longer walk than I anticipated from the train station. I could have sworn it said one kilometre, but with the kids and it being late evening, it just felt like forever to get there. It also didn't help that we stepped off the train in Ain en Provence, then had to run back on because I neglected to open the Maps app on my iPhone to see where we actually were.
Then, once we arrived, the staff gave us wrong room at check in. It was rectified, and I believe that is due to a language barrier. My French is awful so could not really be their fault.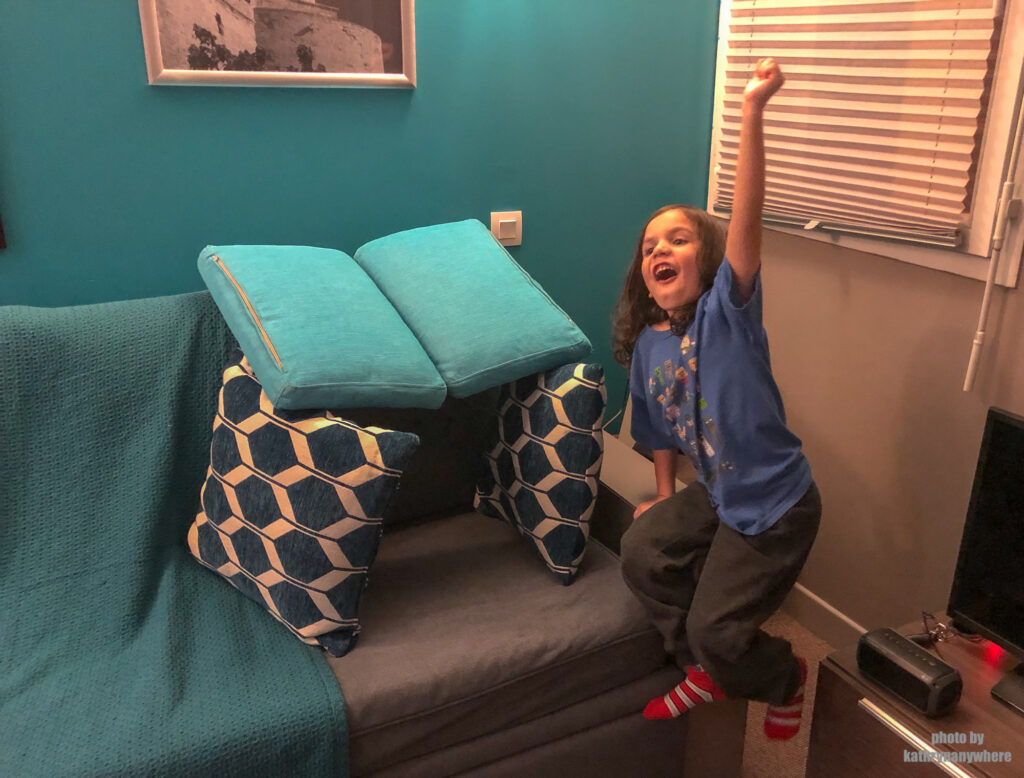 We had a 1 bedroom apartment with a King size bed in the bedroom that was really comfortable and a sofa bed in the living room. The accommodations were exactly what we needed. It was a break from the past week of hotel type stays and I was able to wash our clothing as we were traveling carry on only. It was a space where my son could make a fort and that made him happy.
The location of Aparthotel Adagio Marseille Vieux Port was an easy walk to the old port and there were so many great restaurants in the area to choose from. One night we ventured downtown on a recommendation for a steak dinner and took an Uber back. Marseille felt really safe and I hope to return one day.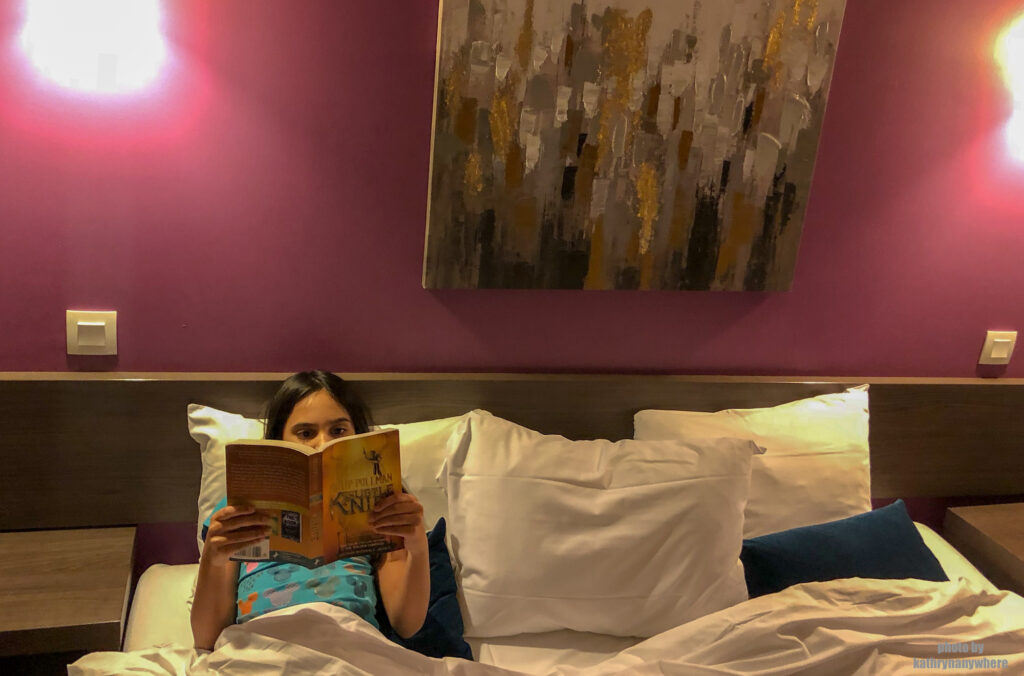 THE ULTIMATE DESTINATION OF CANNES
From our couple "relaxing" days in Marseille, we took the train to Cannes. We were finally arriving at the ultimate destination in our best of Western Europe vacation! Cannes is nothing short of absolutely stunning and chock-full of historic places. Put aside the visions of the international film festival that happens there every year because there is more to the town than that. It's Boulevard de la Croisette, curves along the coast, and is lined with sandy beaches, really upscale clothing boutiques and fancy hotels. If I had a million dollars in cash on hand, this is where I could buy a completely new wardrobe. Window shopping killed my soul because I wanted it all.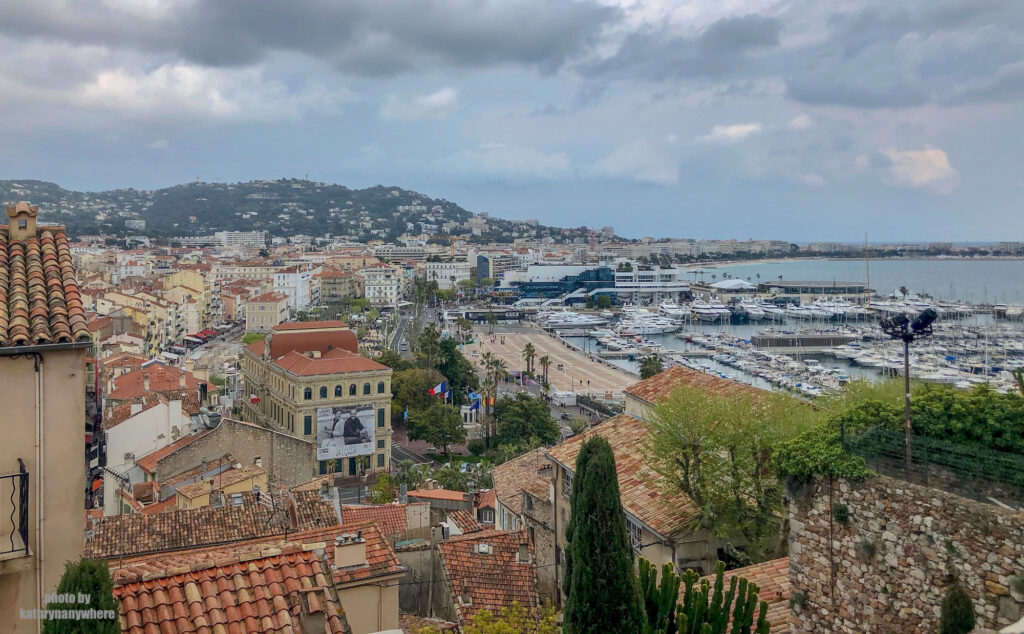 We had visions of frolicking in the Bay of Cannes, we were in the south of France! It's April and warm here, right? The beach did have a lot of people there, but guess what? The water was cold. Seriously cold. It didn't stop my son and I from taking off our shoes and wading out there though. We were here to have the experience and we're Canadian, which automatically gives us superpowers to withstand the cold water.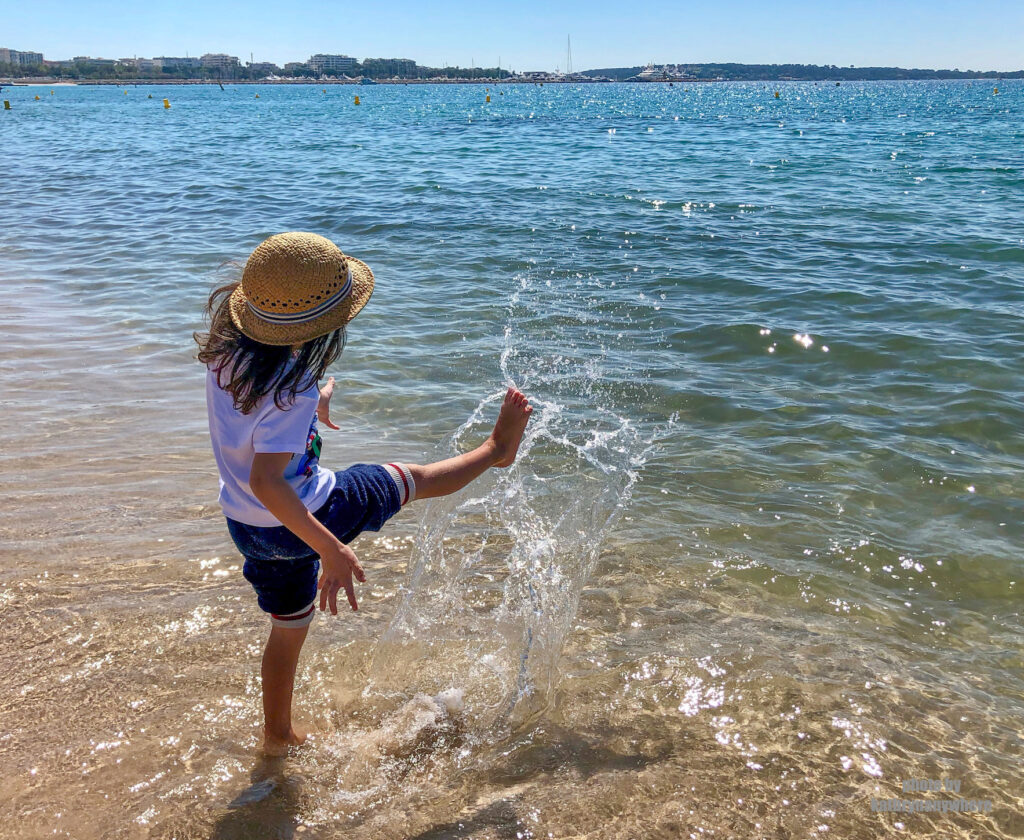 We explored Le Suquet, which is one of the oldest neighbourhoods in Cannes and dates back to Roman times. Coming from Toronto where our oldest landmarks are maybe 150 years old, it's just incredible to imagine what took place where you were standing 500 years ago. Who passed through what door? Who walked up this street? What battles were won and lost? What was life like? Who lived in that stone house?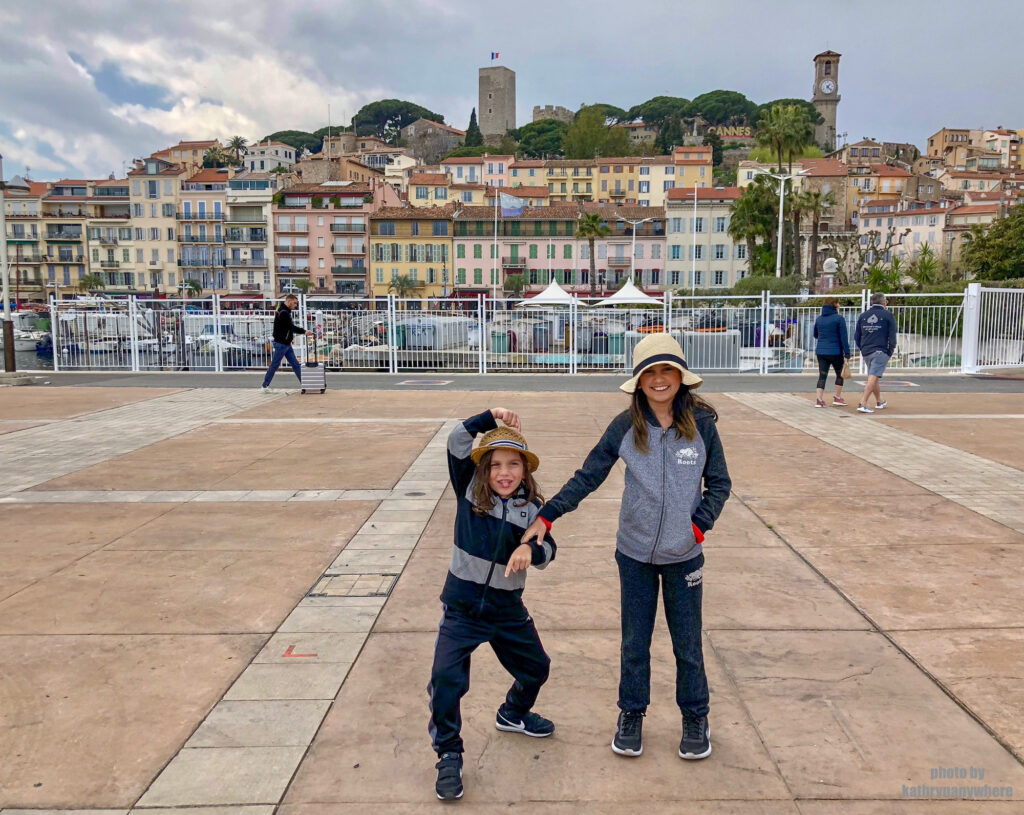 I think it was everything my daughter was hoping for. I'm not quite sure what she expected, but it was certainly glamorous. I wouldn't say that it was full of things for kids to do that we saw, but if I was to go back to the initial planning process of the trip, I would have planned for this town to be our "rest stop" instead of Marseille.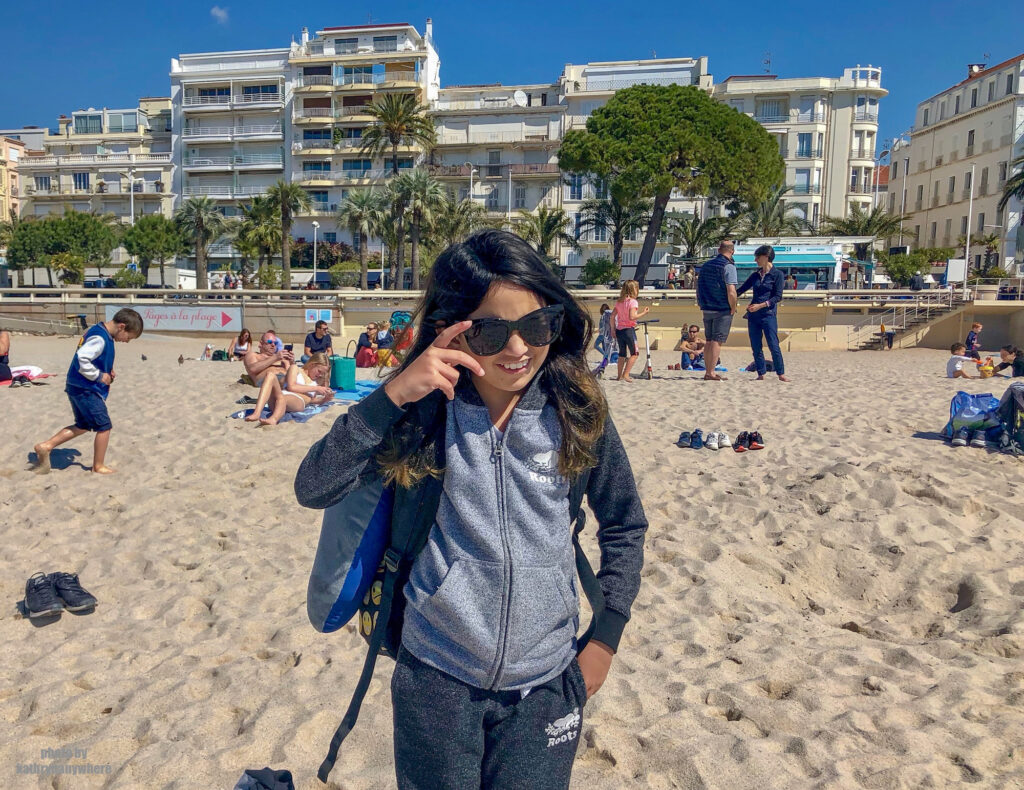 Where to stay in Cannes with kids?
We stayed at the Best Western Premier Mondial. It was a bit of a splurge! The location is right up the street from the water and in the middle of all the restaurants and shopping.
We opted for a Deluxe room because it has a separate lounge area. Also the washroom had a giant soaker jacuzzi tub that we all loved to take advantage of. I'm going to admit that we also splurged on room service and breakfast in bed, because well… Cannes. And I jokingly sang Happy Birthday to my daughter, but she thought I was nuts and made me stop.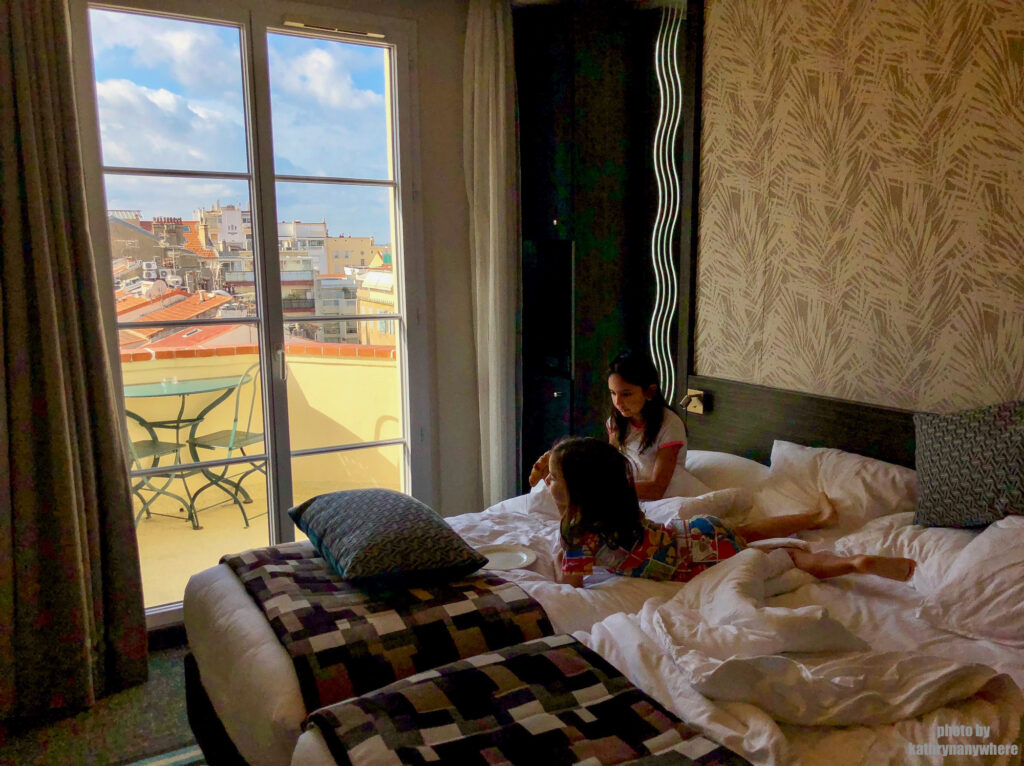 Considering the south of France with your kids? Provence With Kids has a lot of great tips and ideas.
A SMOKEY SMELL OF ITALY IN MILAN
Of all the destinations we visited, there always has to be a sacrificial lamb in terms of the downer. Sadly, I'm awarding this badge to Milan of which I had great hopes for. I had visited Milan on my first trip to Europe when I was 19 and I remember being completely fascinated and in love with Milan. For Little Man and Miss M, as soon as stepped off the train, people were lighting cigarettes and walking through the train station smoking. To us, it was an assault on our noses and the kids were not happy about it.
The night we arrived in Milan, the news broke that Notre Dame de Paris was burning. I was heartbroken. Since the kids and I had pretty much skipped past exploring every religious monument we had seen so far, I took this opportunity to allot time to see the Duomo di Milano.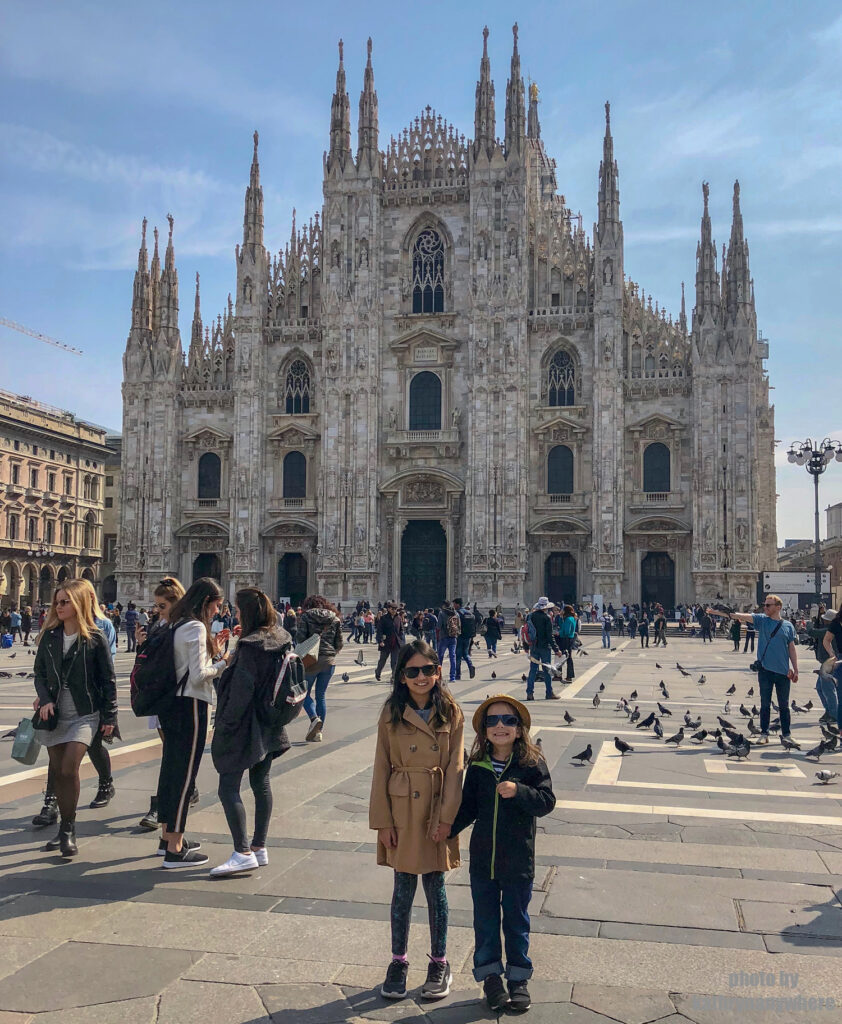 This cathedral turned out to be the highlight of the Milan leg of our trip. While this cathedral was technically completed in 1965, the history of that site dates all the way back to 335! Underneath the cathedral, the ruins of the old octagonal baptistery still exist and you can visit it. Little Man and Miss M attend a Catholic school here in Toronto despite our lack of practice, so they do know a bit about Christianity. I was able to set aside my Catholicism roots and have a good history lesson and discussion with them down there and their interest in archeology was definitely piqued.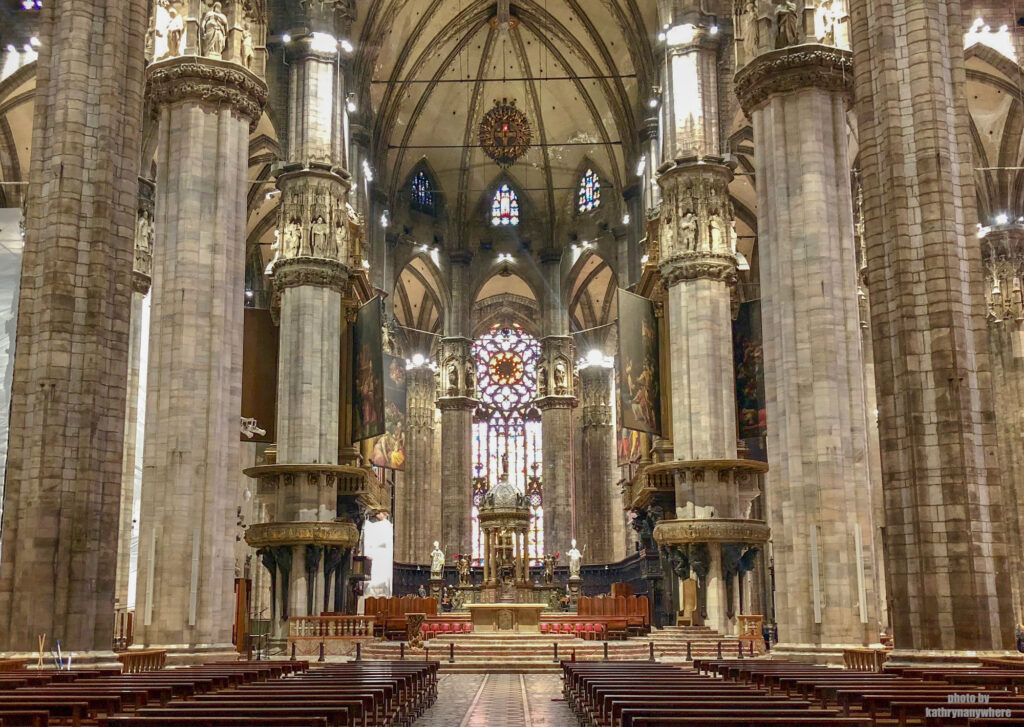 And the view from the roof of the Duomo? Awesome.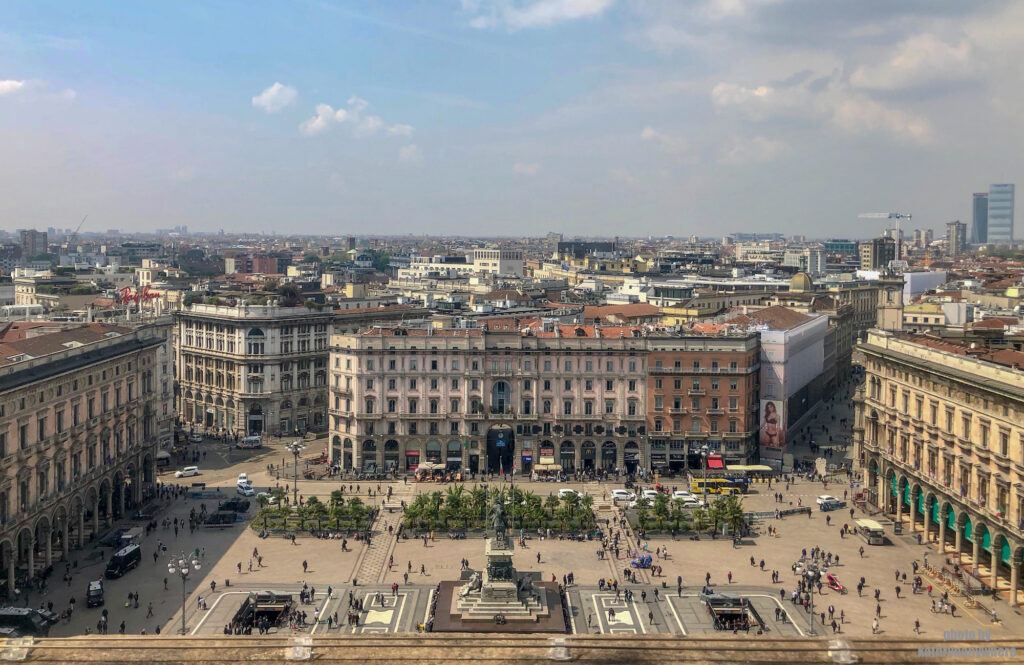 From there we visited the really mesmerizing Leonardo3 – The World of Leonardo Exhibition a couple blocks away and then we landed ourselves right in front of La Scala – an opera house that the kids had read about in the book series of Thea Stilton. It was a cool moment for them!
Unfortunately, you couldn't take a step outside in Milan without walking into a cloud of someone's smoke, so the kids were not enjoying their outside time very much. One positive I will give to Milan? I normally dislike public transit in any city but found their subway system was easy to navigate.
If I could have stayed one more night in Milan to have a full day there, I definitely would have taken a day trip to Lake Como. Lake Como was also one of our stops there when I was 19. At that time, I believe George Clooney had just moved there, so the town was abuzz!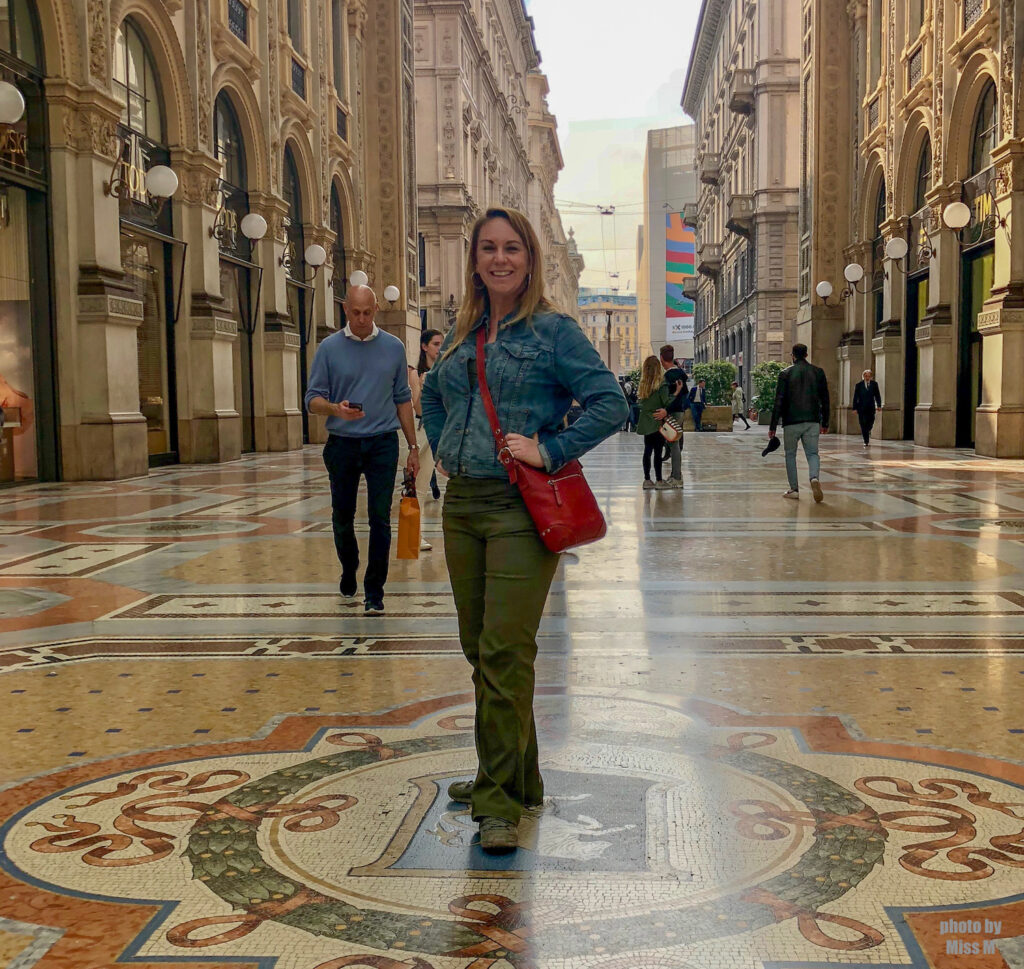 Where did we stay in Milan?
Our hotel in Milan is going to remain unnamed. It was the least desirable of all the places we stayed in. It was a triple room with a private bathroom. The staff were so nice and accommodating and the hotel is very close to the central train and subway station. We were off the subway and into our room in less than 10 minutes! However, there was mould in the air conditioner in the room and in the shower. The entire place smelled like smoke. The hairdryer smelled like stale cigarettes and blew that smell out into my hair when drying it. The beds were not the most comfortable and because of the smoke smell, we had the windows open. Remember the subway proximity? The street noise is loud.
Where do I wish I had stayed in the same neighbourhood? Hotel Berna.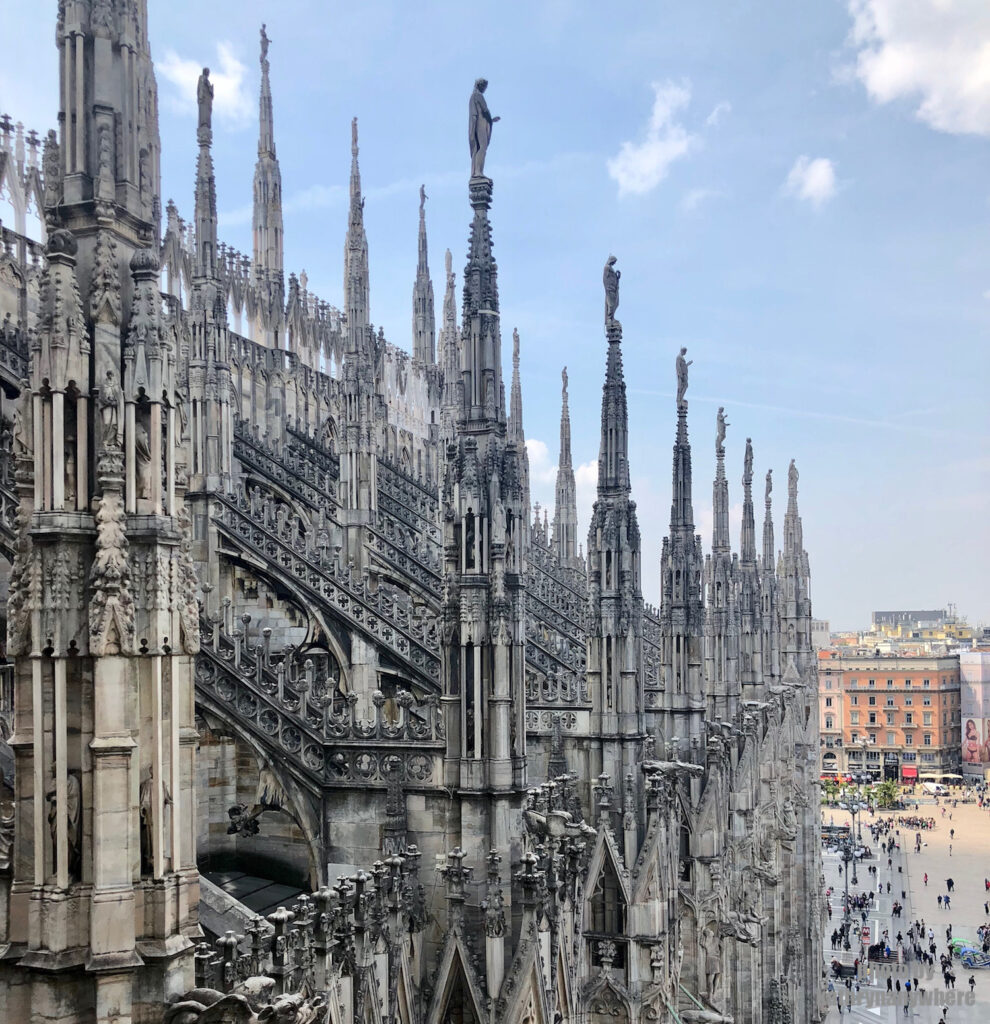 FINAL STOP – PARIS
We flew to Paris from Milan on Easyjet and I'm pleased to report we didn't have any problems. Easyjet has a bad reputation and I chose the flight because of the good price with fingers crossed.
The first comment I am going to make about Paris is that "Instagram models" have taken the city over. They are staging their photoshoots everywhere. From fake picnics at the base of the Eiffel Tower to swirling in their dresses and straw hats in front of the Lourve, they're hard to avoid. It's kind of a comical situation when you're trying to get cute pictures of your kids in front of certain places and the "Instagram model" keeps trying to push you all out of their frame…  That said, Paris turned out to be Miss M's favourite place on the trip.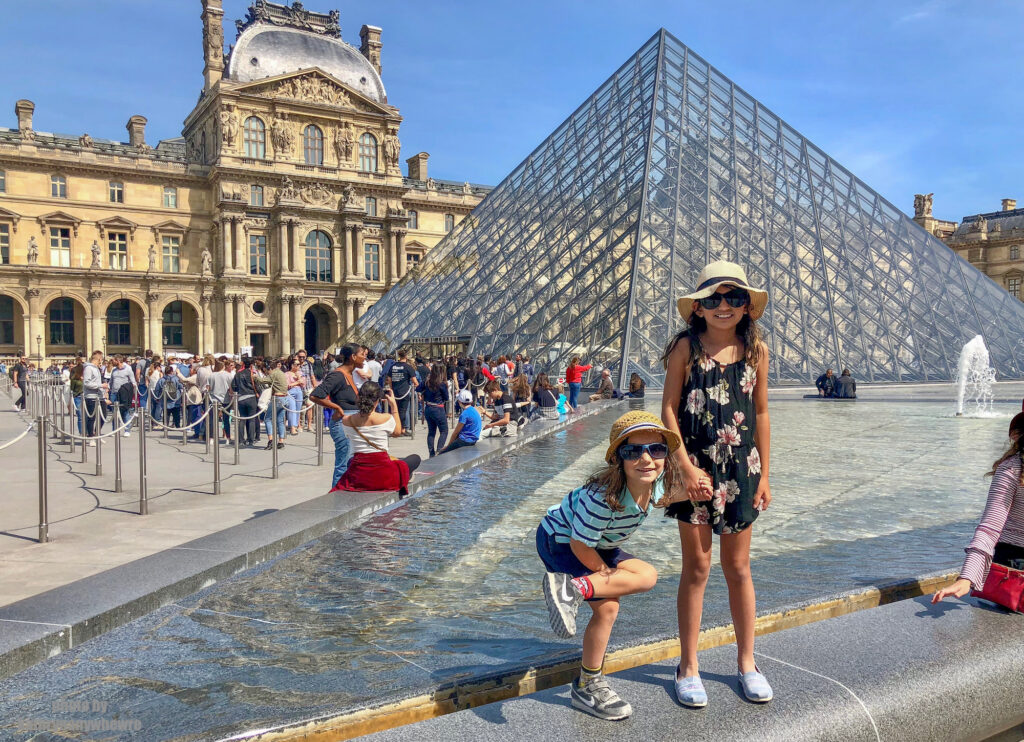 We wished we had a week or more in Paris, despite its lack of affordability. No joke, it's not a cheap place from meals to attraction tickets or accommodations, but there is something in the air there that brings magic to your soul. It's in the gardens, in the architecture, in the rooftops. It's a place that screams "take me in and love me"!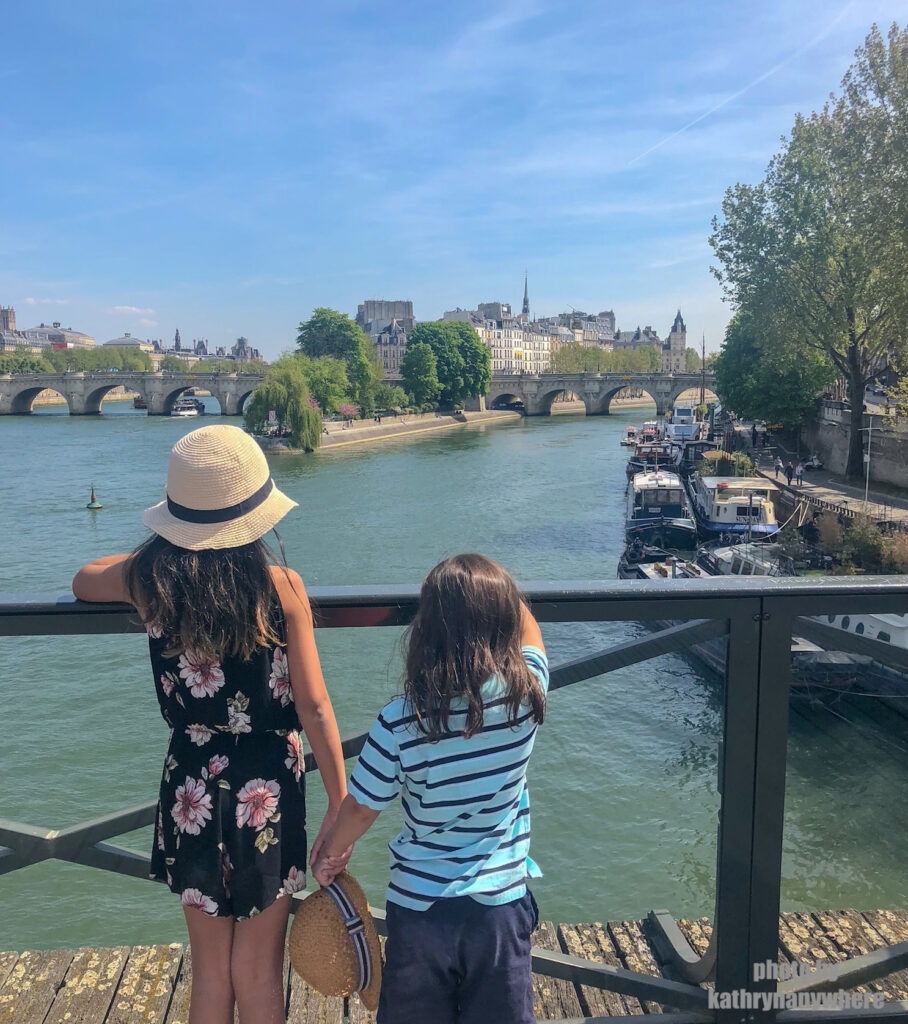 We did. We love Paris.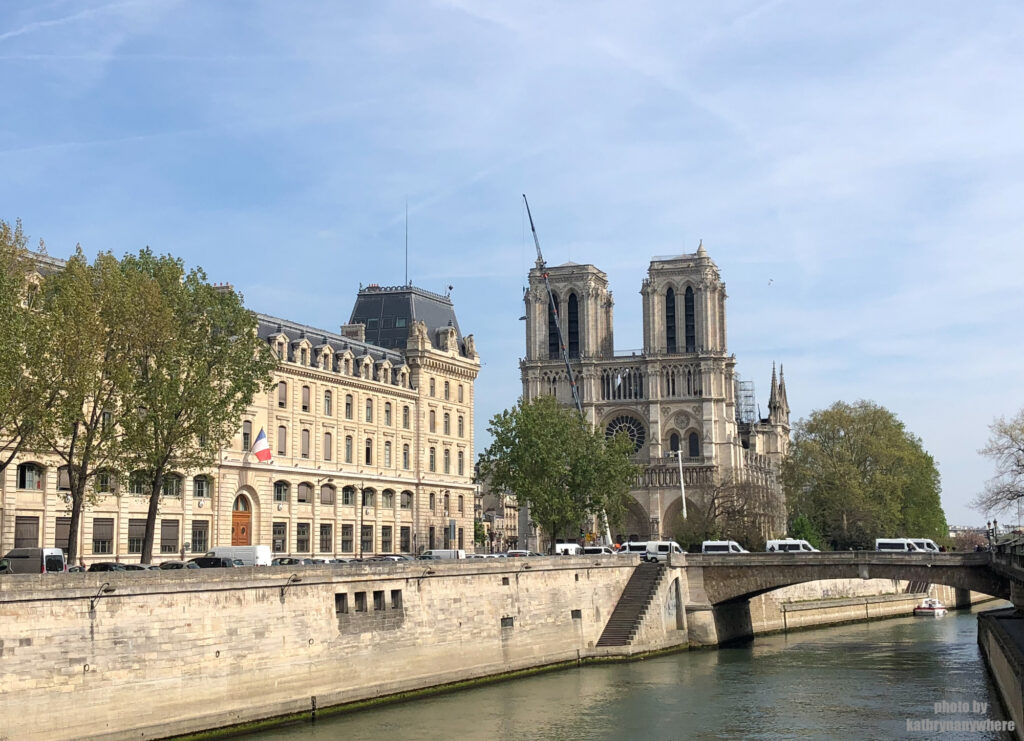 As I mentioned, when we landed in Milan, the fire of Notre Dame was all over the news. Despite the burn, we were still able to walk within a certain proximity to see it. From our hotel, we did not smell the remains, but as we walked and got within a kilometre of the cathedral, you could smell it. Despite the tragic fire, the outside, to me still looked like the grand lady she was. She's still there and she will be returned in time to her grandeur.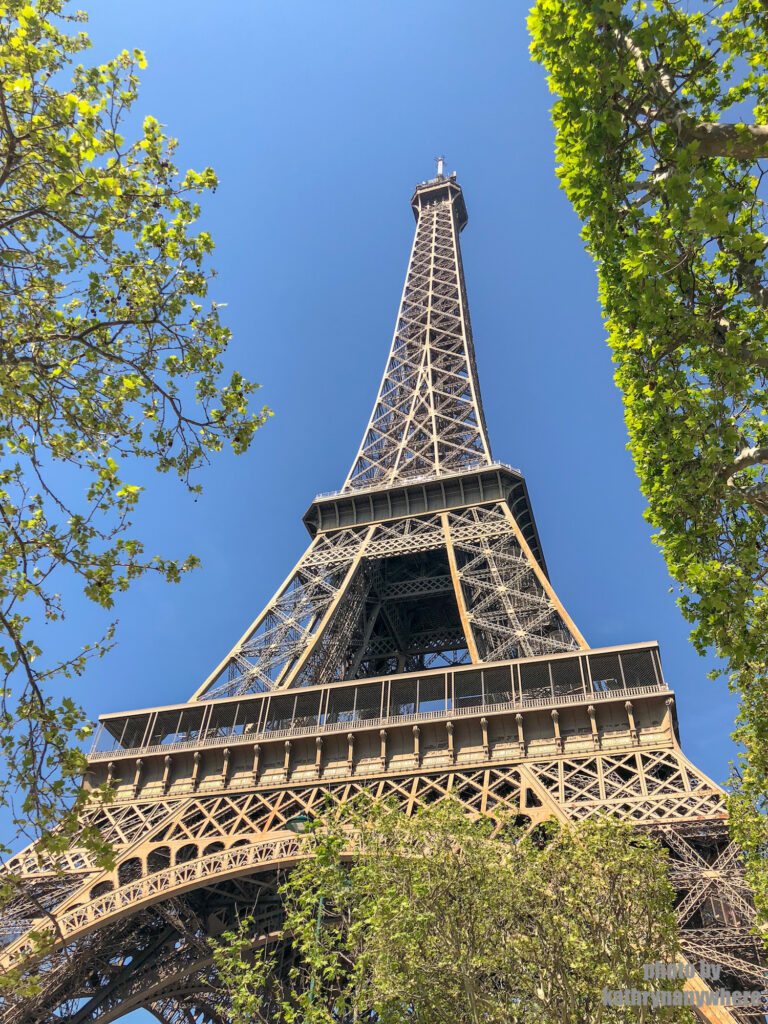 One thing we were not prepared for in Paris was the line ups for attractions, specifically the Catacombs of Paris and the Eiffel Tower. At the Eiffel Tower, we waited an hour in line to get through security, an hour in line to get food, another hour in line to get tickets to walk up the stairs.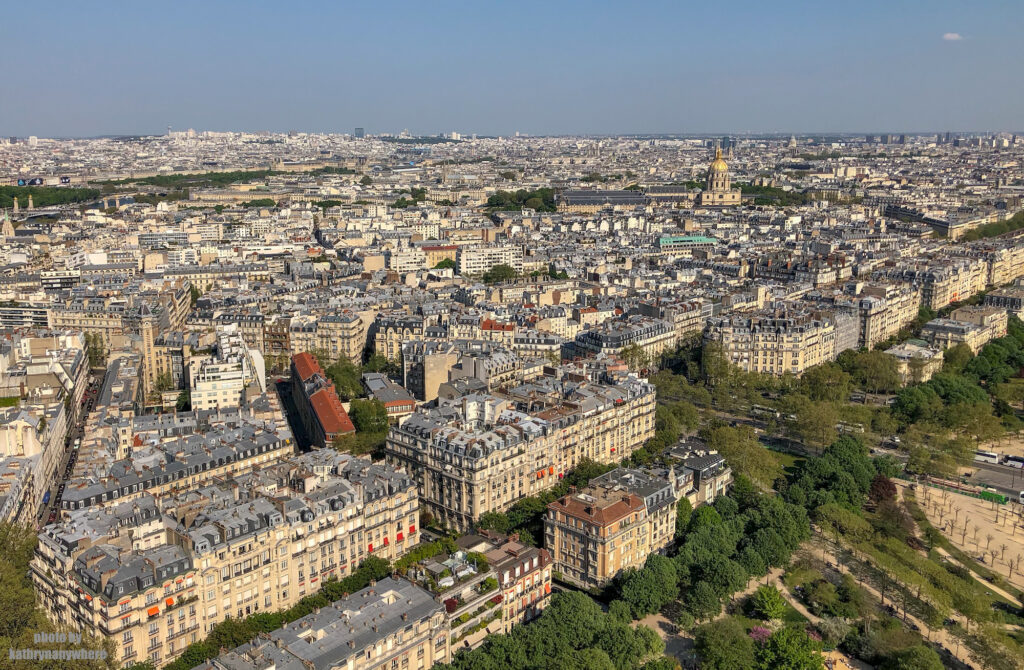 Miss M and Little Man slept in a bit that day and so we didn't make it there until almost noon. It took a full afternoon to experience it. But worth it. Should we have gone earlier? Yes. Could we have bought our way to the front of the line? You bet, but I didn't. We bought candy instead.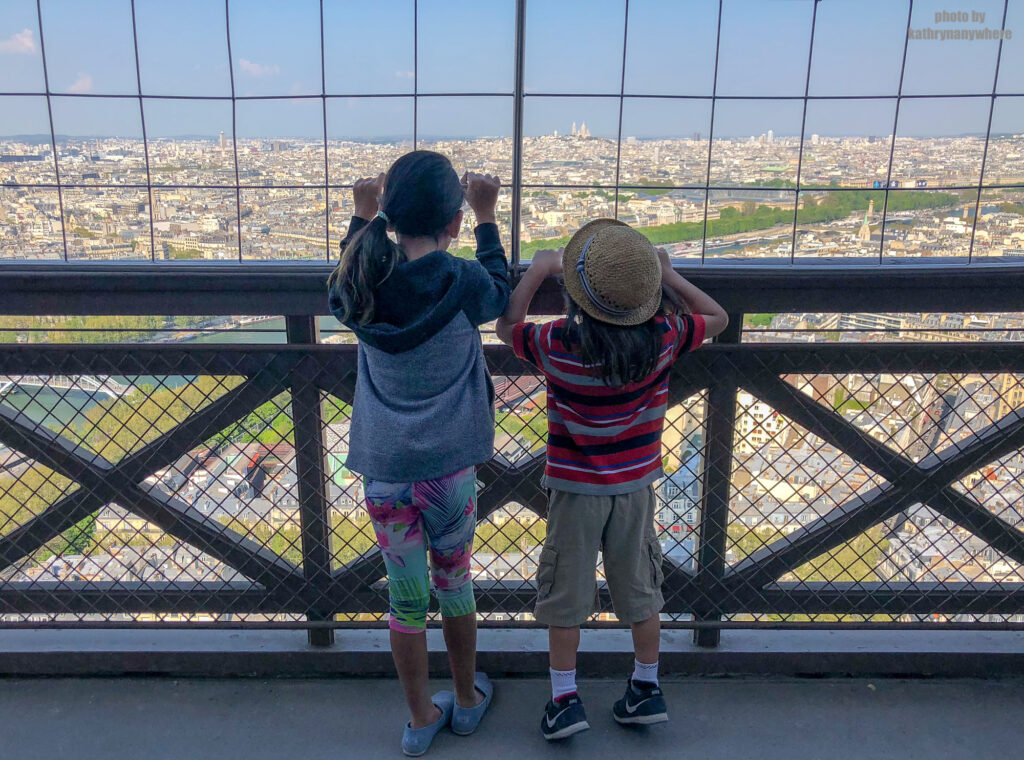 During this trip, I got to know the kids even better than I thought. Miss M's teacher had once mentioned in conversation to me that she had a "dark side". Sure she reads quite advanced books and has some morbid fascinations that I blame her Dad for, like his musical influence of Slipknot, but she really enjoyed the Catacombs of Paris. In fact, it was her destination pick!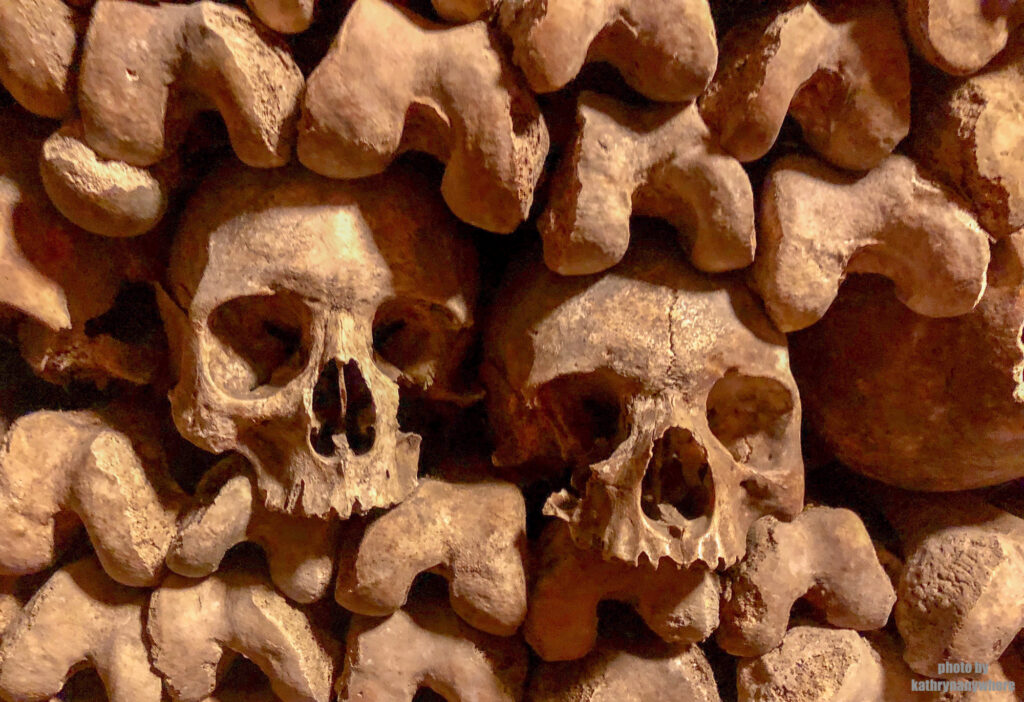 The Catacombs of Paris are underground ossuaries in Paris, France, which hold the remains of more than six million people in a small part of a tunnel network built to consolidate Paris' ancient stone mines. These bones are mainly from the 1700s. Like actual skulls and femurs. they're stacked very neatly I have to say. I was impressed by the organization, but by the end of the tunnels, I was ready to get out.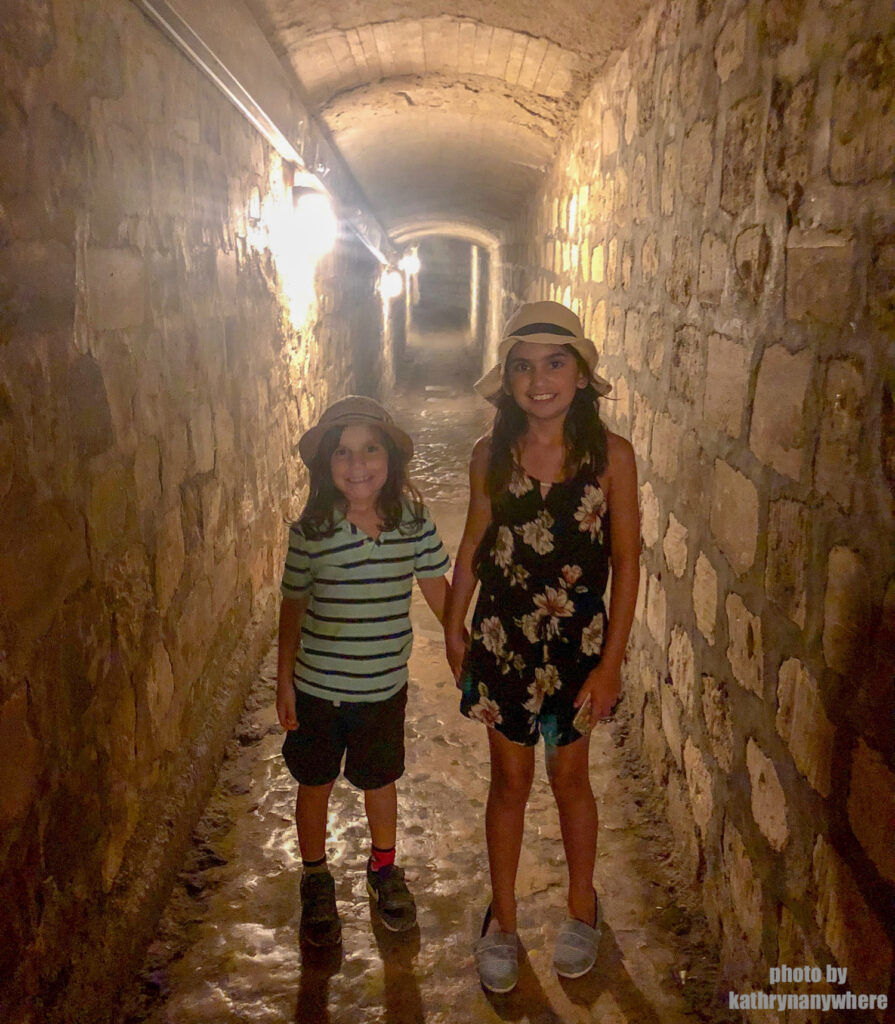 Where to stay in Paris with kids?
On a recommendation from my friend Eric at Travel Babbo, we stayed at Cler Hotel. I have decided that any time I visit Paris in the future, this is where I will stay. Breakfast every morning was amazing. The hotel location cannot be beaten – in the 7th arrondissement, walking distance to Eiffel Tower, the River Seine and all the way to Notre Dame cathedral. There is even a fresh fruit market at the front door of the hotel! My kids were spoiled by the staff at the front desk who always had candy on hand for them and the kids were mesmerized by the elevator that we would race up and down the stairs.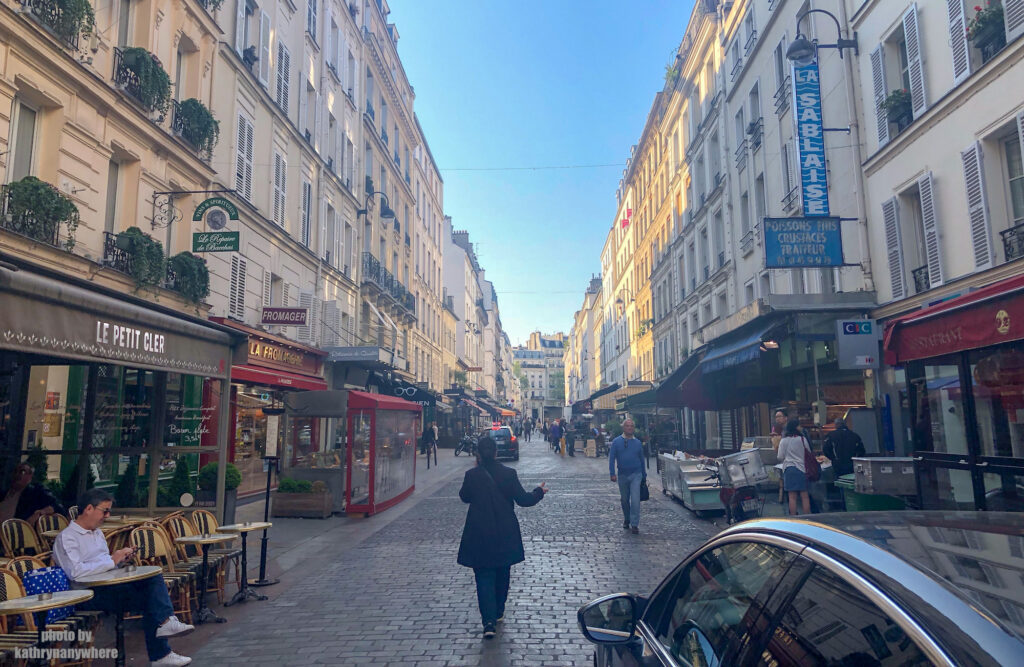 However, since this is Paris, everything is small. When the kids fell asleep at night, I had to hide in the washroom to read as there wasn't space in the corner where I could sit.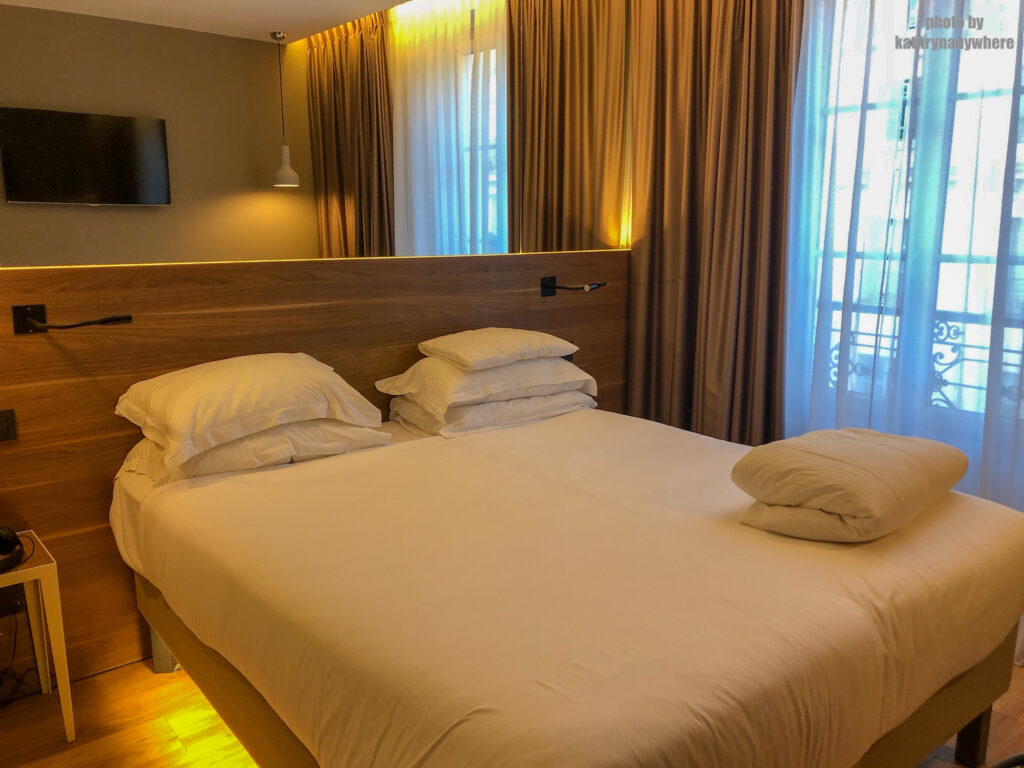 As a final thought to the trip, I never once felt unsafe travelling solo with my children anywhere. We did not face harassment. While I did face many questions and comments about being solo from men, it was never menacing. More like a curiosity. I was able to take most of those moments and turn it into a lesson for my children on "courtesy", which is something that lacks in much (not all, calm down Susan) of North American culture. While I do appreciate all the doors being held open and seats given to us on transportation, many dinner and drink invitations were extended to us (me), all of which I declined.
The kids and I really got to see the best of Western Europe on this whirlwind trip. Yes, I realize I didn't take them to other amazing countries like Belgium or the Netherlands. I'm saving those destinations for more family trips in the future. I hope this gave my children a touch of the wanderlust that I experience daily and fuels their curiosity about the world.