Doors of Lisbon, Barcelona and Paris
Full balls out confession: I am obsessed with Western European architecture. Doors, ornate decor, tiles, gargoyles, columns, all of it. No joke, I like old buildings, they're a novelty to me as Toronto is full of new building construction. I like to marvel at the compositions. I love to picture who graced those doorsteps over the past couple hundred years. What stories can that door tell? Were there good byes? Warm embraces? Happy reunions? Wedding proposals? First childhood steps? The doors of Lisbon, Barcelona and Paris have so many stories to tell.
I also think I am meant to live in Europe and tell those stories, but I digress…
From our first day in Portugal, much to the chagrin of my children who were eager to run in the playground down the street from our guesthouse, I was admiring the doors of Lisbon. Luckily for me, they're everywhere and you don't need to go out of your way to find interesting ones. And even better news, I had almost three weeks ahead of me on our trip to find as many amazing doors as I could.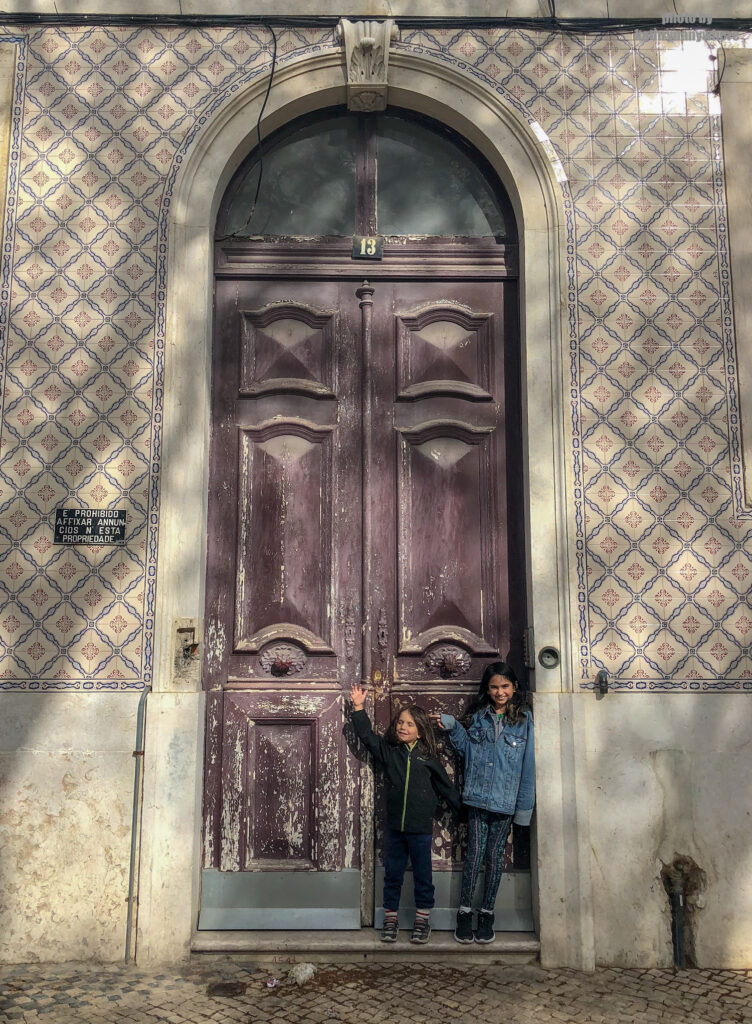 Here are some of my favourite doors in Lisbon, Barcelona and Paris that I made the kids pose in front of. Oh and a warning – my children are in every picture. There is no picture of a door without my kids in it. Please do not email me and ask me for that picture of the door without my kids in the shot.

DOORS OF LISBON
If you take a trip to Lisbon, I can guarantee that you will end up with a ton of pictures of doors on your phone. Why? Lisbon exudes colour, in every weather condition and I have the proof. Portuguese doors come in all colours and sizes. The doors are big or little. They're purple, brown, green, red or blue. Some are made of wood and some are made of intricate iron work. I don't think I ever saw the same doorknob twice.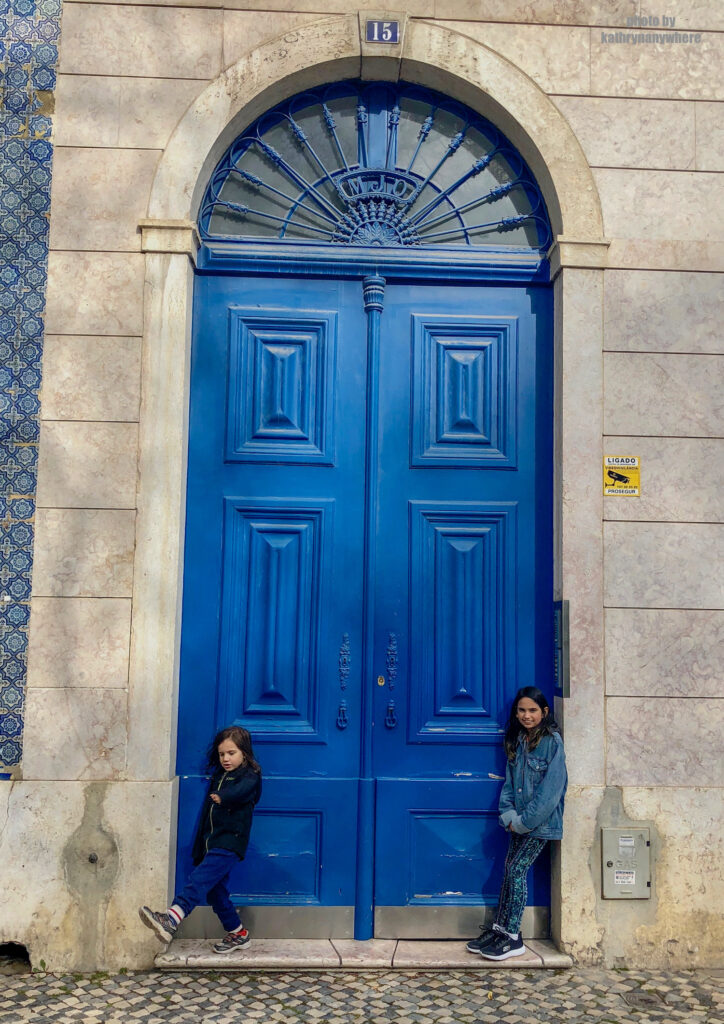 Lisbon is a city on the sea and and is loaded with history. The city of Lisbon lies in the western Iberian Peninsula on the Atlantic Ocean and the River Tagus and was once seen as a gateway to the "western world". These doors are invitations into the lives of the people of Lisbon throughout the years.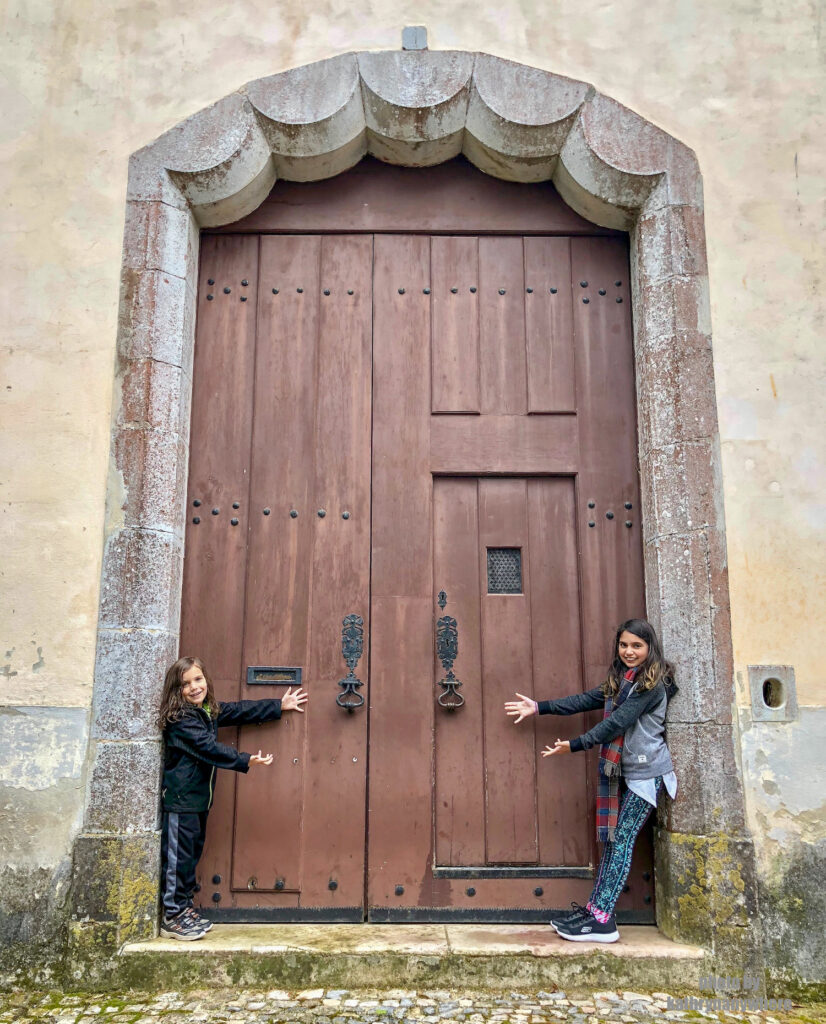 I also get a kick out of they're never quite flush the way we do them in North America, these ones always have a slight angle to compensate for the slope of the road. As romanticized of a notion that I have of Lisbon, it's likely a fact that the majority of the doors in the city centre I saw have been in place only after 1755. In 1755, there was a tsunami, earthquake and fire that ravaged the city, over 75,000 people died and some ruins still exist today.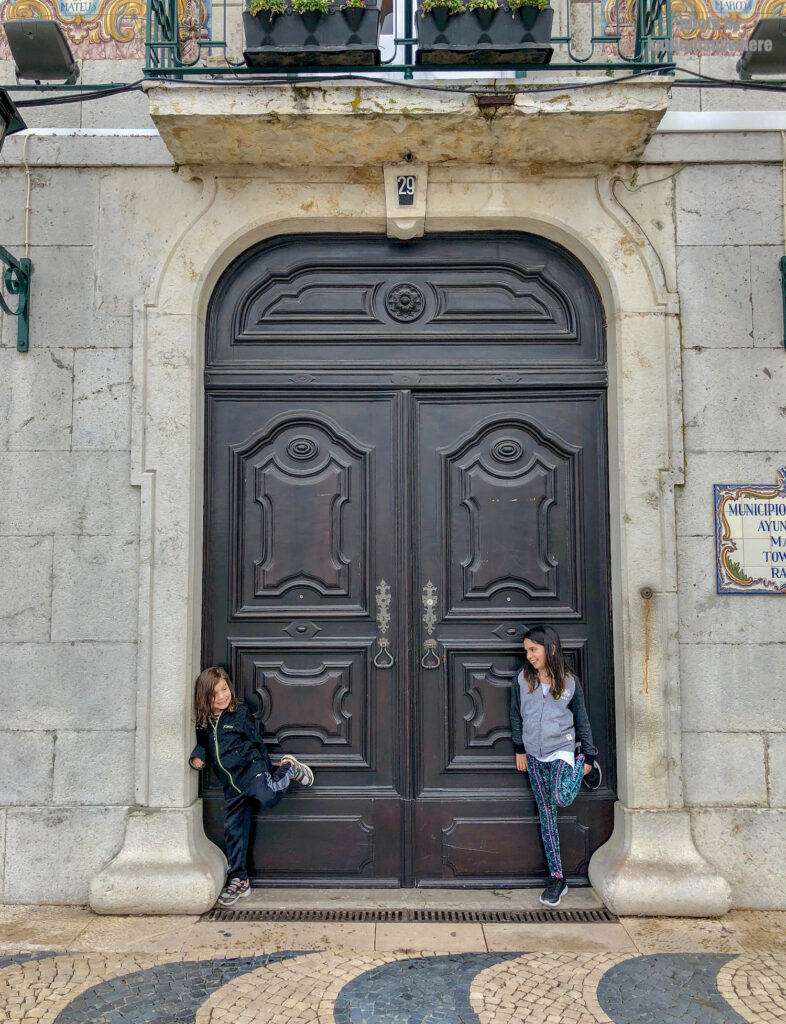 DOORS OF BARCELONA
During the majority of our three days in Barcelona, rain poured from the sky. It was the wettest couple days of the entire trip. Because of that, we didn't get out and do as much exploring on foot in the city as I would have liked. Kid you not, my children and I ate dinner at restaurants within 300 feet of our hotel on La Rambla. All three nights. That's how rainy it was. Except our last day, of course.
Our foot traffic was mainly contained in the charming Gothic Quarter, or Barri Gòtic. And the door pictures here are confined to this area. This is the centre of the old city of Barcelona. It is said that the remains of the city's Roman wall and several medieval landmarks are here.  It is bordered from La Rambla to Via Laietana (east to west), and from the Mediterranean seafront/port area in the south to the Ronda de Sant Pere, north.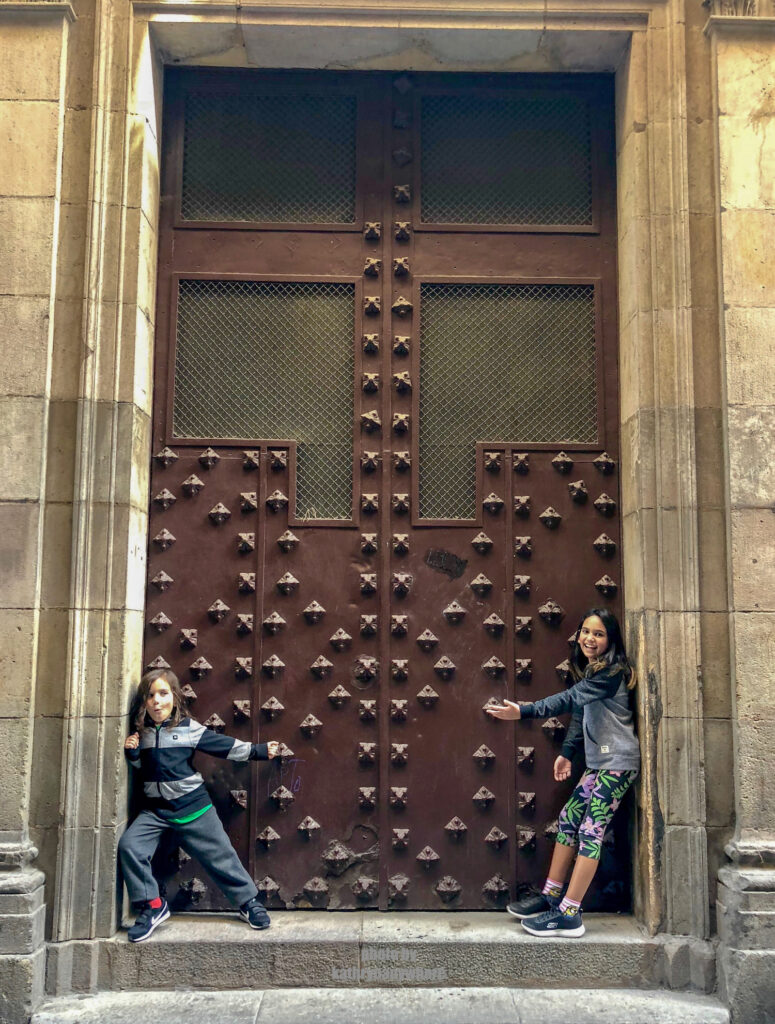 Most of the quarter is closed to regular vehicle traffic although open to service vehicles and taxis. Many scooters were in the alleys, making our trek almost like a game of Frogger if you are not paying attention. The narrow streets are filled with trendy bars that open after dark and enough food vendors to keep you well fed. You will also find street musicians, kitchy shops and doors to apartment complexes.
This is a city I want to return too without my children. Don't get me wrong, I love them to pieces, but there is a vibe to Barcelona that screams for me to have some adult fun and passion there. You know what I mean?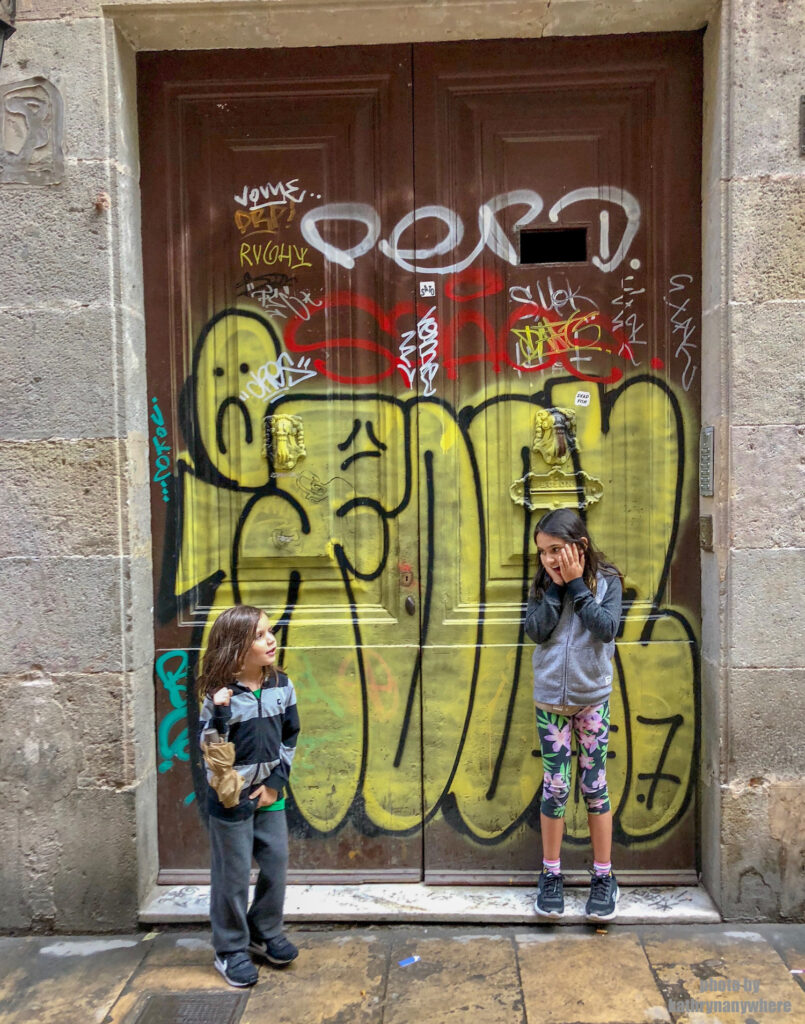 THE ONE DOOR IN MARSEILLE
Even though our trip extended through Marseille, Cannes and Milan, the kids were in a revolt mode against posing in doors. I had subjected them to too much already at this point. Travel with kids is fun, right? It's the best education for them, right?
This one, lonely door in this feed in Marseille is on Rue Vacon in the Vieux Port area. This isn't the door that I like the most and this may not be the door that can tell the best stories. This was the door my kids agreed to pose in front of. Only because they had just finished chocolate chip muffins at Emilie And The Cool Kids across the way. Cheeky children.
I honestly did not take any pictures of doors without my kids in the frame.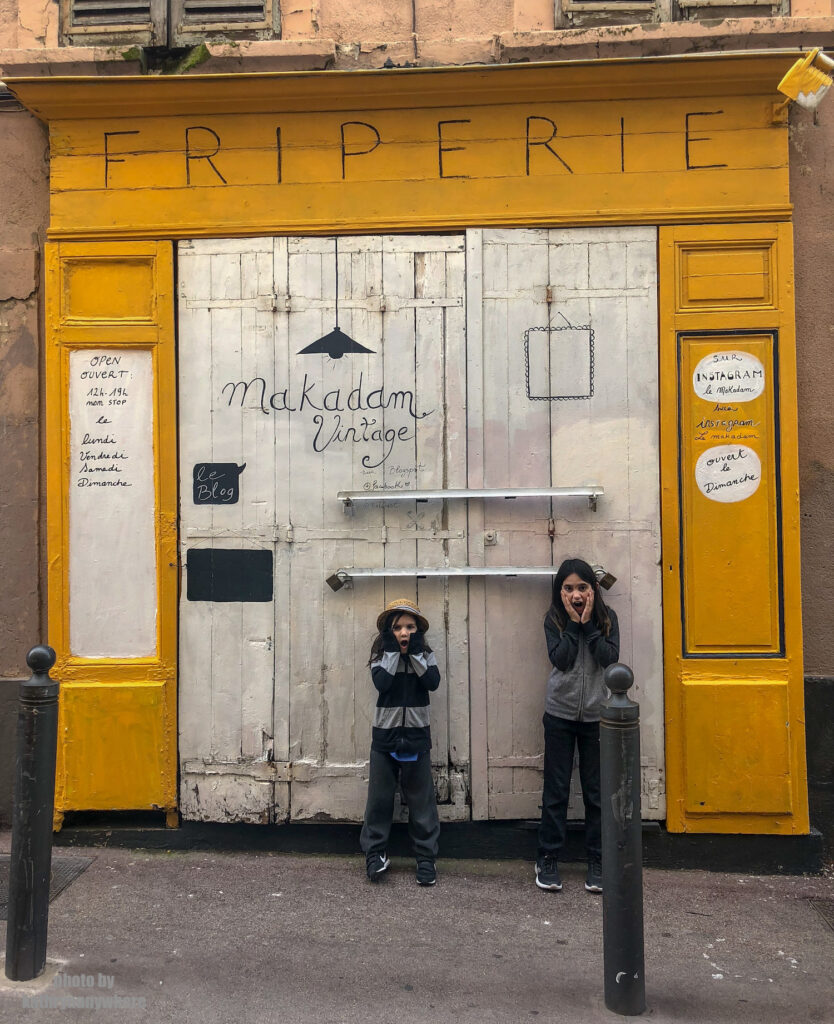 DOORS OF PARIS
By the time we arrived in Paris, the kids were good sports again and posed in a million and one different doorways for me. That's an exaggeration. I didn't get that many doors, but I got a few here.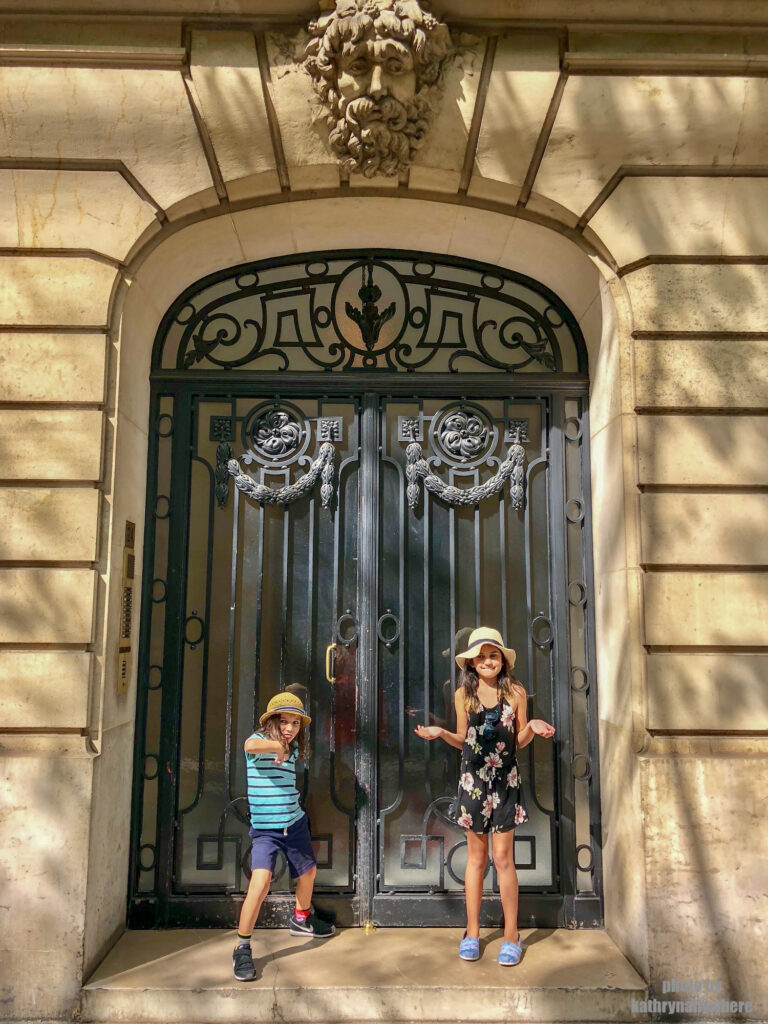 Paris is magic. There is something in the air that moves you emotionally to love it. It's like they're spraying magic love potion everywhere. The tiny streets are brimming with stalls selling fruits and vegetables, cured and cooked meats, cheeses, bread, chocolates and pastries. Case in point, our hotel, Cler Hotel had a fruit market immediately to the left of the door. It was such a highlight for us!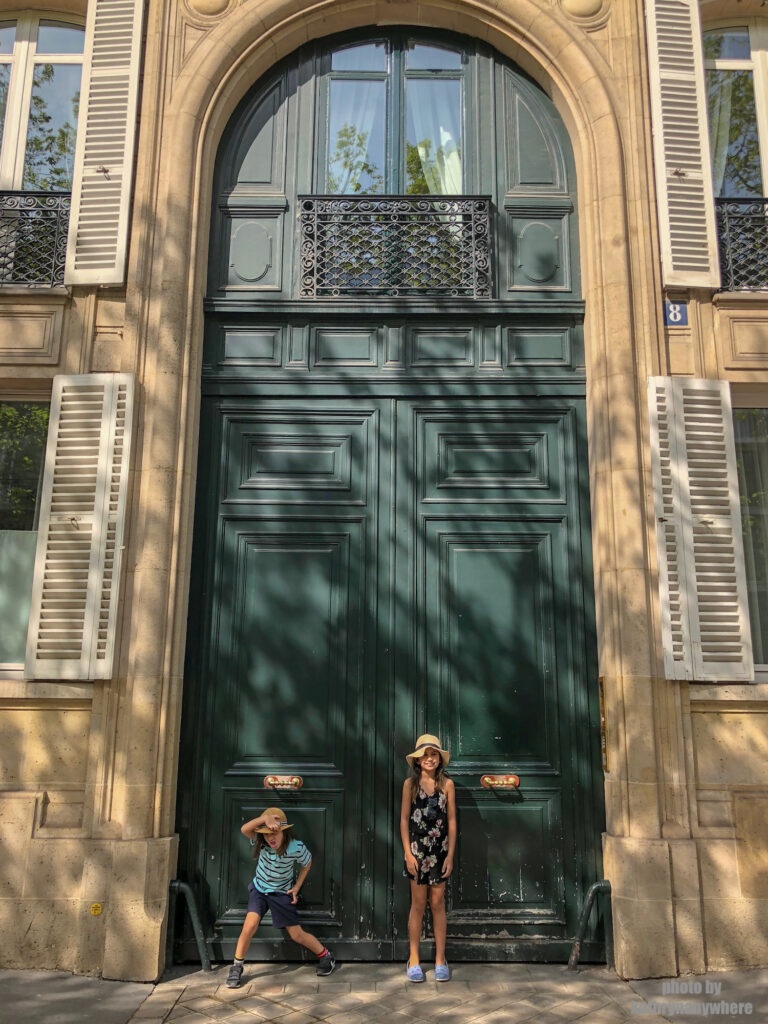 My curiosity about social factors started to come into play here. Why were some doors really high in height? One answer I received was some of the door ways had to be high enough for a horse and rider to come through. It was explained to me that sometimes you are not entering directly into a home, but into receiving area like a courtyard and the rider could safely store the horse there opposed to the street.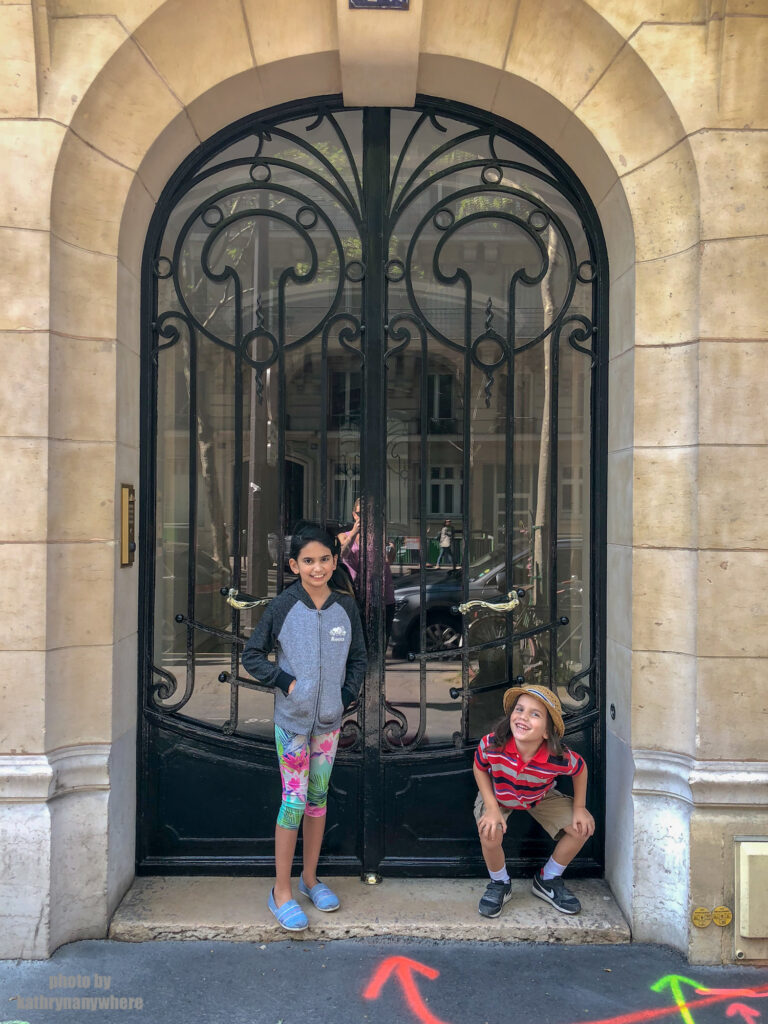 Another answer I received about the height of the doors is that the higher your door, the wealthier you were. It was a show of affluence.
Long before door bells, many residences in Paris used large iron, bronze and brass door knockers. While I wasn't able to find many still in use, I saw plenty of buzzers for different apartments. It was a challenge to make sure my kids did not press them all.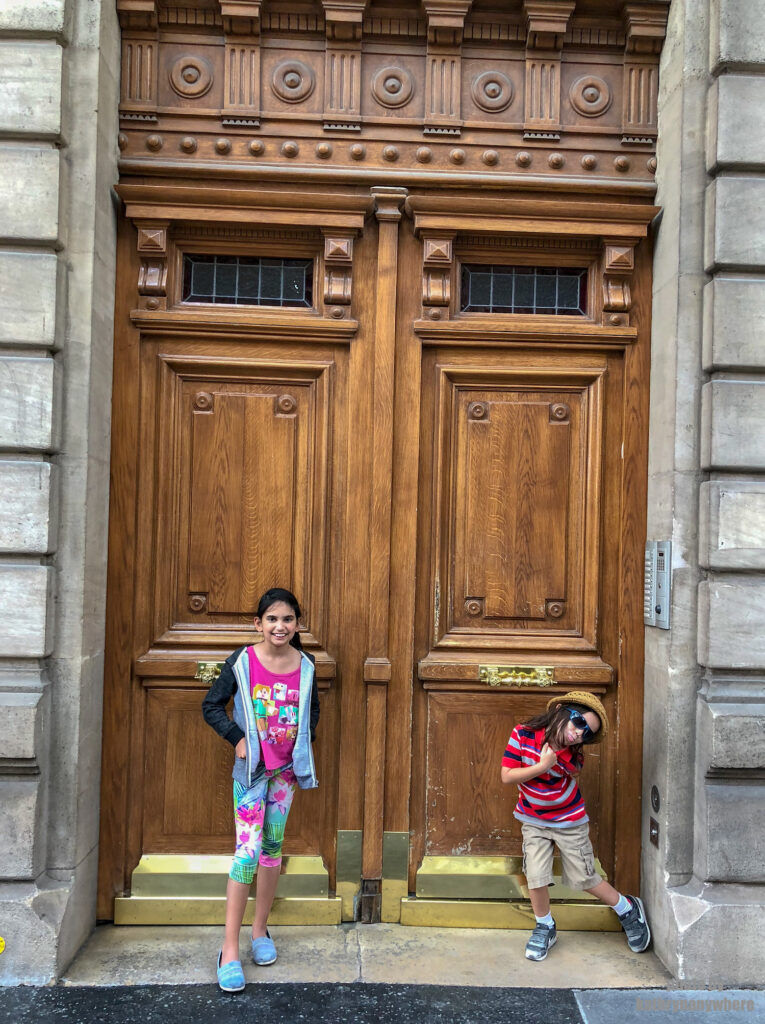 COULD I MAKE A TRIP OUT OF ONLY ADMIRING DOORS?
Yes, try me. I would continue my obsession with the cherubs and serpents that adorn some door knockers. I'm dying to know what some door frames have faces in the middle at the top.
I want to know why all the doors in Lisbon lack windows. Why are so many doors in Paris glass?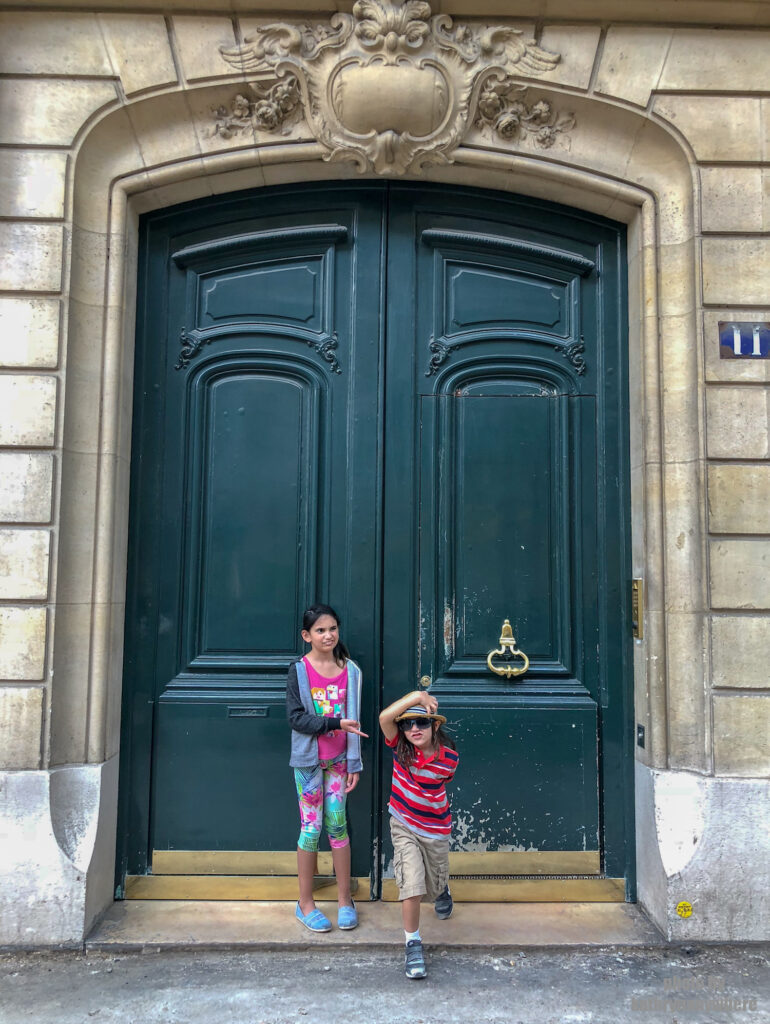 So yes, I can make a trip back just to satisfy some of these questions.