The first full day the kids and I were in Lisbon, Portugal we were saddened by the rain falling outside the window of our guest house when we woke up. I had planned these incredible daily itineraries and none of them had taken into account the possibility that our plans could get rained out. There went taking a walk up to the Castelo de Sao Jorge! A woman in the breakfast room suggested we walk less than two blocks to the Marionette Museum in Lisbon – Museu da Marioneta instead. It seemed like a great alternative.
What I didn't know at that moment is that the rain would clear up in an hour. By the time we arrived there, it was sunny. That didn't bother us, we were on adventure! Since we had never been there or on that street before in our lives, we ventured up the stairs of the Marionette Museum. We had nothing to lose by checking it out.
Lisbon is incredibly family friendly. You find in a lot of places that children under the ages of 12 do not have to pay admission at many museums and galleries. We were on a budget for this trip, but I had no problem paying 5 Euro admission for myself as an adult.
Admission is free at the Marionette Museum in Lisbon on public holidays and Sundays between 10:00 am – 2:00 pm.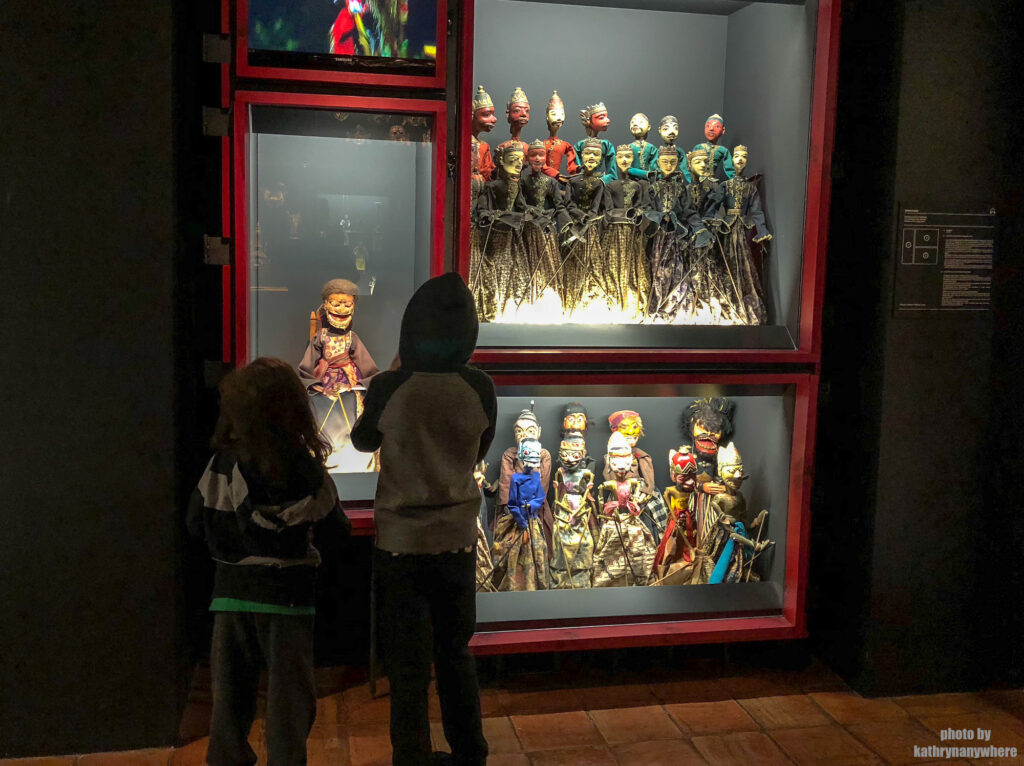 Where Is The Marionette Museum In Lisbon?
You will find Museu da Marioneta in the Madragoa neighbourhood on Rue de Esperanca. Visiting there finds yourself in the old Convento das Bernardas, which was founded in 1653.
It is approximately a 15 minute walk north and west from Cais do Sodre. As much of Lisbon is very walkable, you will find yourself not far away from much.
Tip for families with kids – The Jardim Nuno Alvares is directly south. It's a great place for children to run around and blow off steam. Beware – there is a McDonald's restaurant in the area. I did not permit my children to eat there on this leg of the trip, but there is a great gelato place next door to it.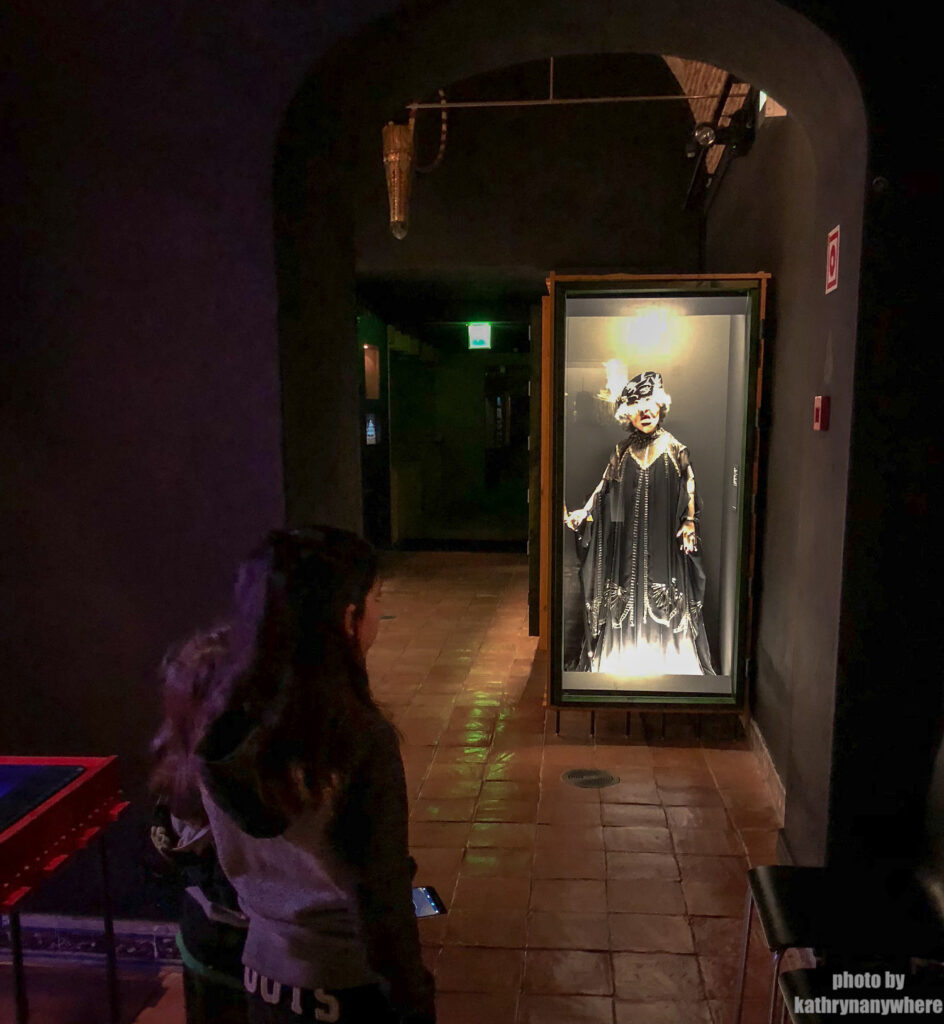 What is The Marionette Museum?
The Marionette Museum is the first museum in Portugal dedicated to the world of  puppetry. I'm a storyteller by trade and my daughter has an artistic flair, so this is the kind of place that appeals to us.
What you will see here is not exclusive to the history of Portuguese theatre. There were stage, mask and puppets collections from all over the Europe, Asia, Brazil and Africa from various time periods. Most of what we saw in the museum dated back 50-60 years to as far as 150 years! Needless to say, touching the displays is not permitted.
The museum itself is not large in size and it took us approximately an hour to go through.
A completely honest assessment from my Canadian children – they found some of the marionettes slightly terrifying. It was the faces of the puppets that scared them as they were not used to seeing the artistry in this style. My kids are fairly easy going, so they did not panic. In some of the darker areas, they were uncomfortable.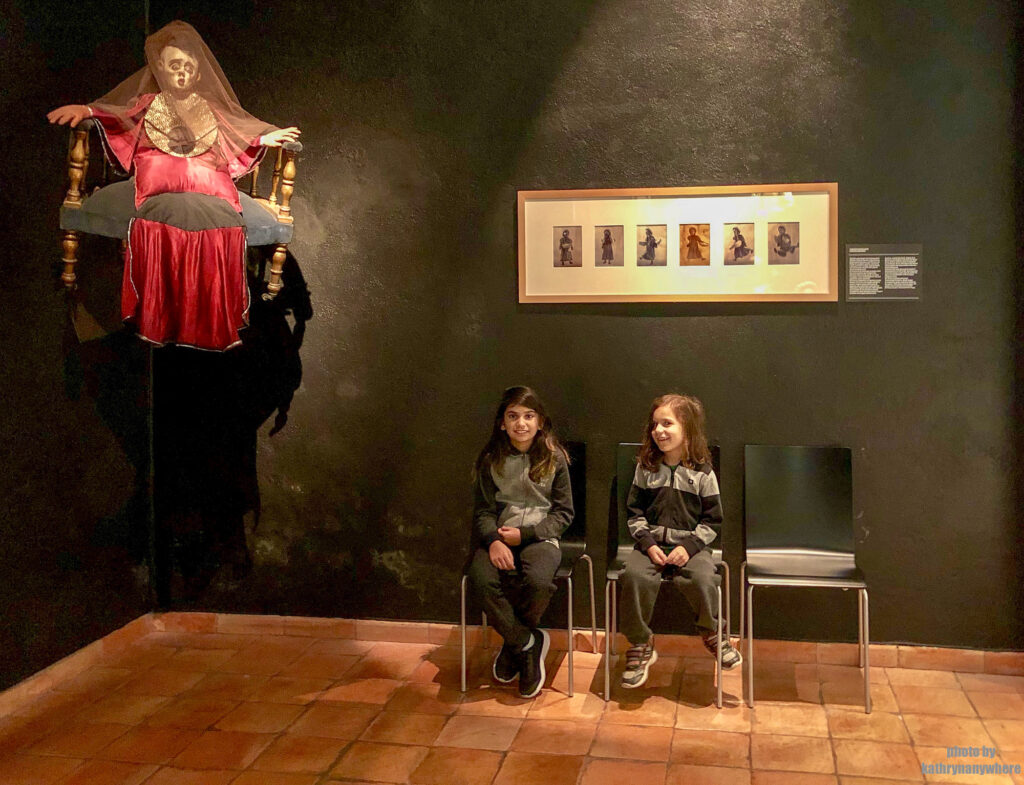 I can see how other children might be scared, so be aware and hold their hands or at least be walking next to them. The hallways are very dark and only the displays are lit.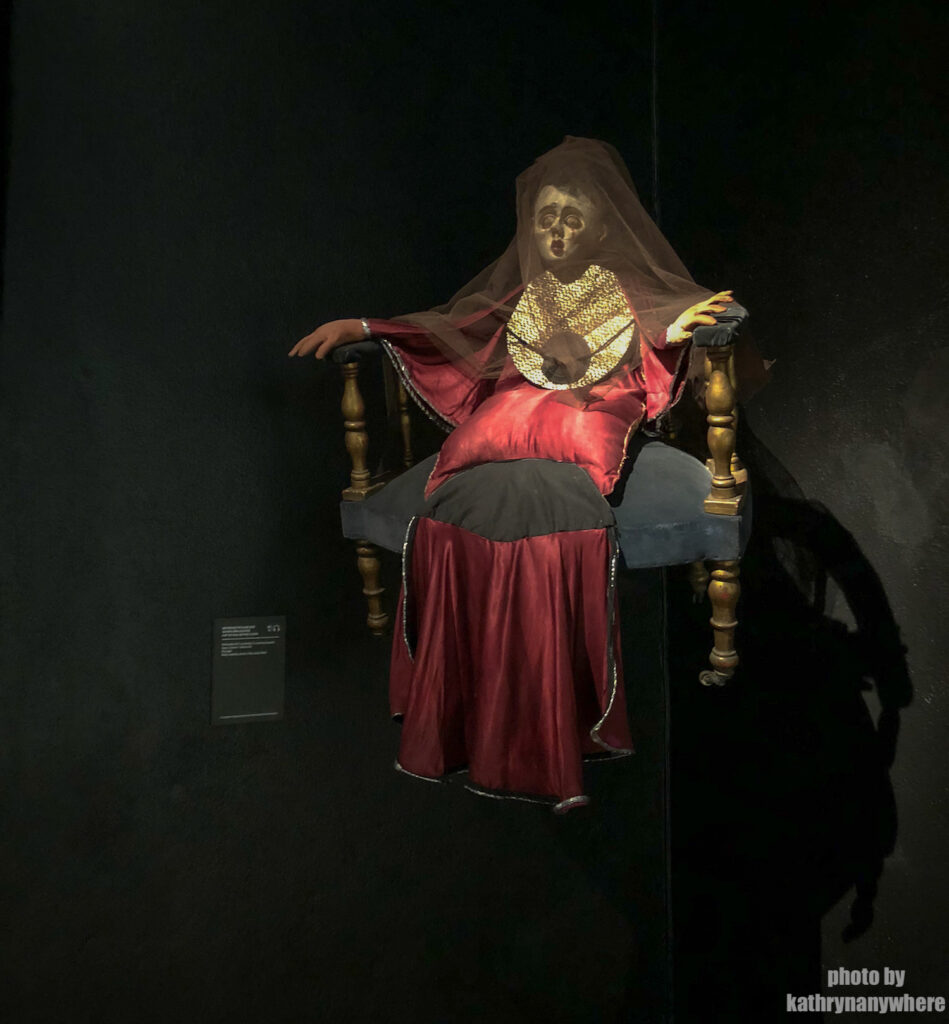 You are able to look online and assess some of the puppets, props and masks ahead of time. If you are thinking of taking your children, take a look. I do understand it's one thing to see the image online and another thing completely to be standing in front of a mask on the wall.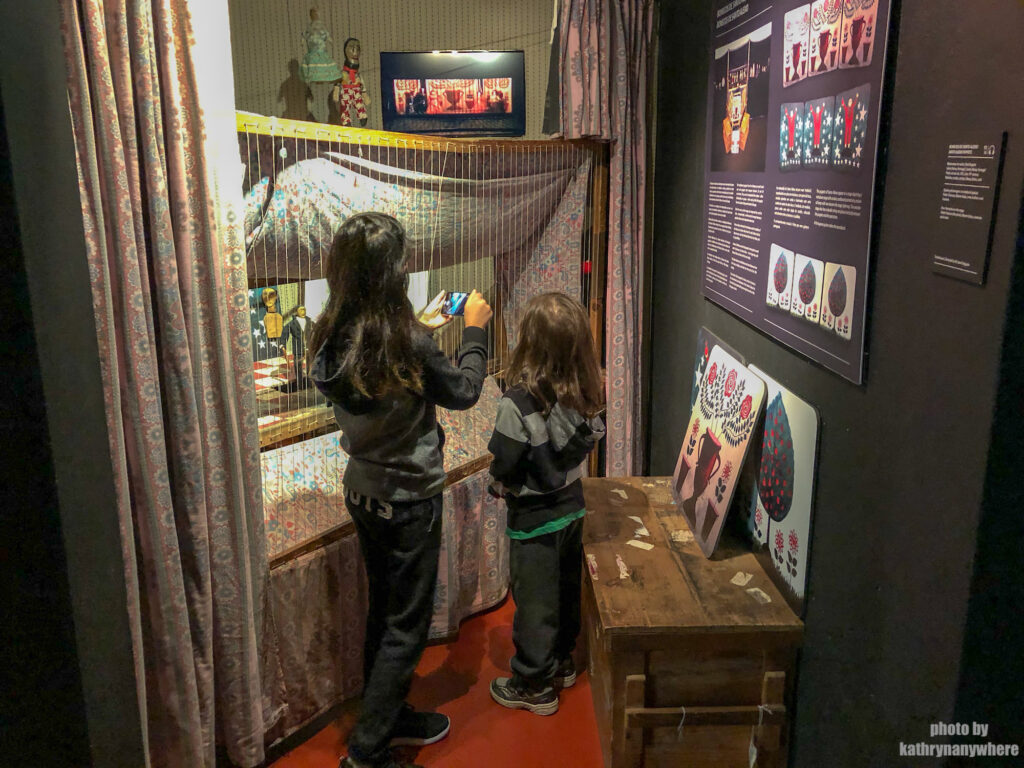 The Magic Of Aardman Studios
A bit of luck we had – we were able to see the limited run of The Magic of Aardman Studios. The display was at the museum for a couple months, so we were fortunate to see it.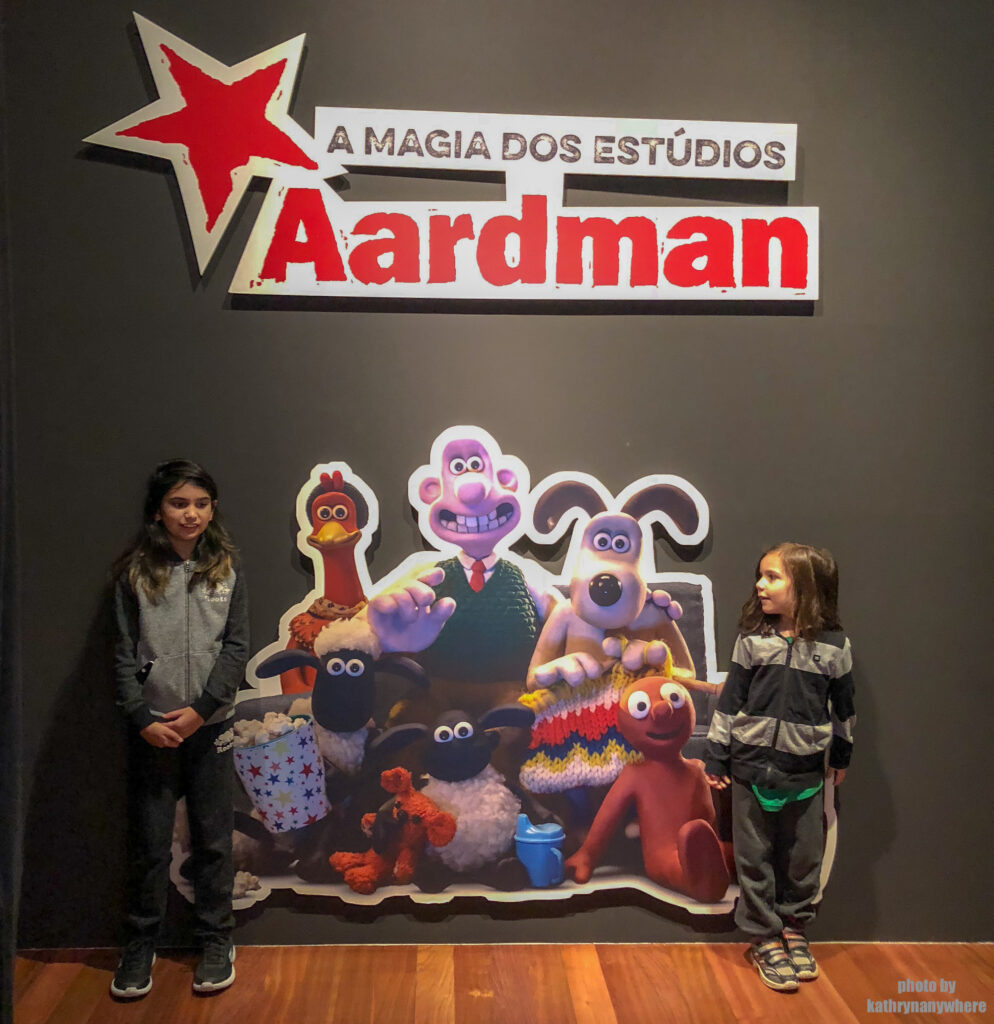 If you are not familiar with Aardman Studios, they are the animation studios behind Wallace and Gromit. Their other well known work is Creature Comforts, Timmy Time, Shaun the Sheep, Chicken Run, Morph and Early Man.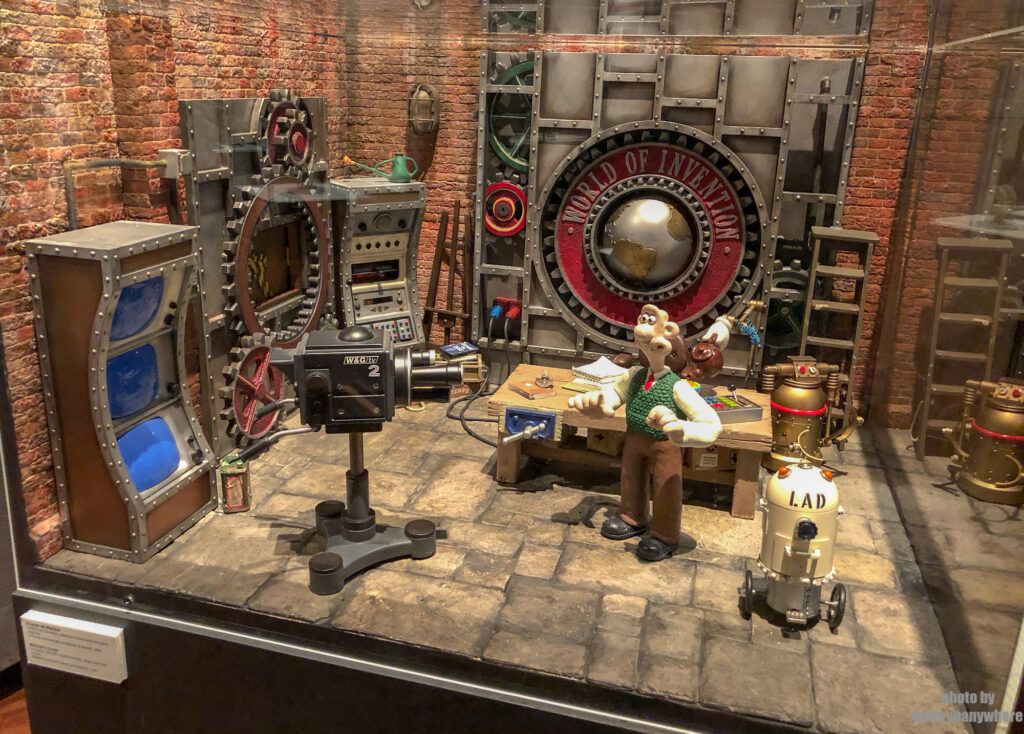 There were 47 puppets, 8 sets, many storyboards and different sketches to see. The display was there until April 21, 2019 and I'm glad we caught it! Chicken Run used to be on constant rotation in my house. Now they're watching Wallace and Gromit all because of this memory.
The Marionette Museum in Lisbon is a good stop if you have time in Lisbon. I wouldn't recommend that you go out of your way, but if you are in the neighbourhood, it's worth checking out.