When traveling with kids, there are a couple ways to organize yourself. Either plan every movement down to fifteen minute blocks or go with the flow. It actually kind of scares some people when I say that I like to be open or fluid to plans changing at all times. If there is one thing I have learned in my almost ten years of traveling the world with my children, it is to be flexible. So, it's no surprise that my Lisbon itinerary isn't much of an itinerary at all. I booked just one organized day tour in advance of our departure.
That's right, we were flying to Lisbon, Portugal, staying for four days before heading to Barcelona and I only had one day of solid plans. I had a lot of ideas of what I wanted to see after reading many blog posts on 2 and 3 day itineraries in Lisbon. But, I set nothing in stone. Fly by the seat of my pants much?
Some might argue that I don't give my kids enough structure and that I should be taking them places that would benefit them. I am a big believer in child led learning and activities, especially on the road. While I did have to acquiesce to activities that I was not necessarily thrilled about, there were many things that I led the kids too that they enjoyed.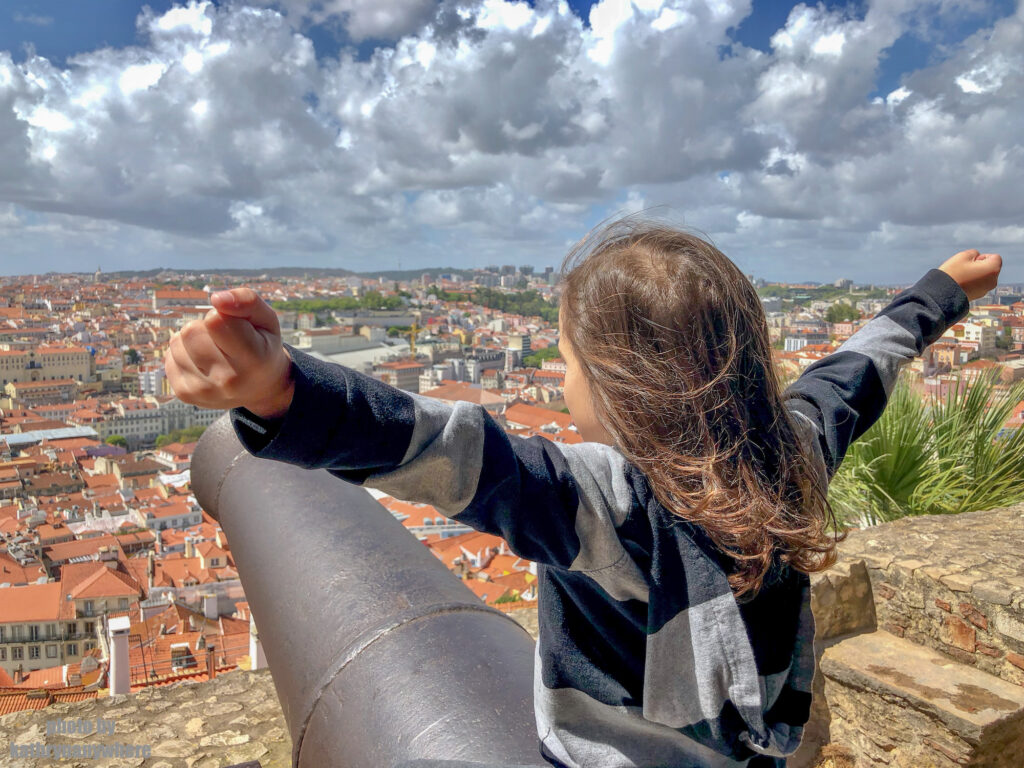 WHERE DID WE STAY IN LISBON?
We stayed at City Lofts Lisbon Guesthouse. It's located in the Barrio Alto neighbourhood and walkable to pretty much everything except the suburban Belem District. Yes, we did indeed walk back from Hard Rock Cafe and walked back from Castelo Sao Jorge – but with a stop for dinner both times along the way.  
It occupies a third and fourth floor of a building. The outside door is marked by an unmistakable sign that says "Cheese and Wine". It was perfect for me, the kids roared with laughter at the realization! We couldn't miss it.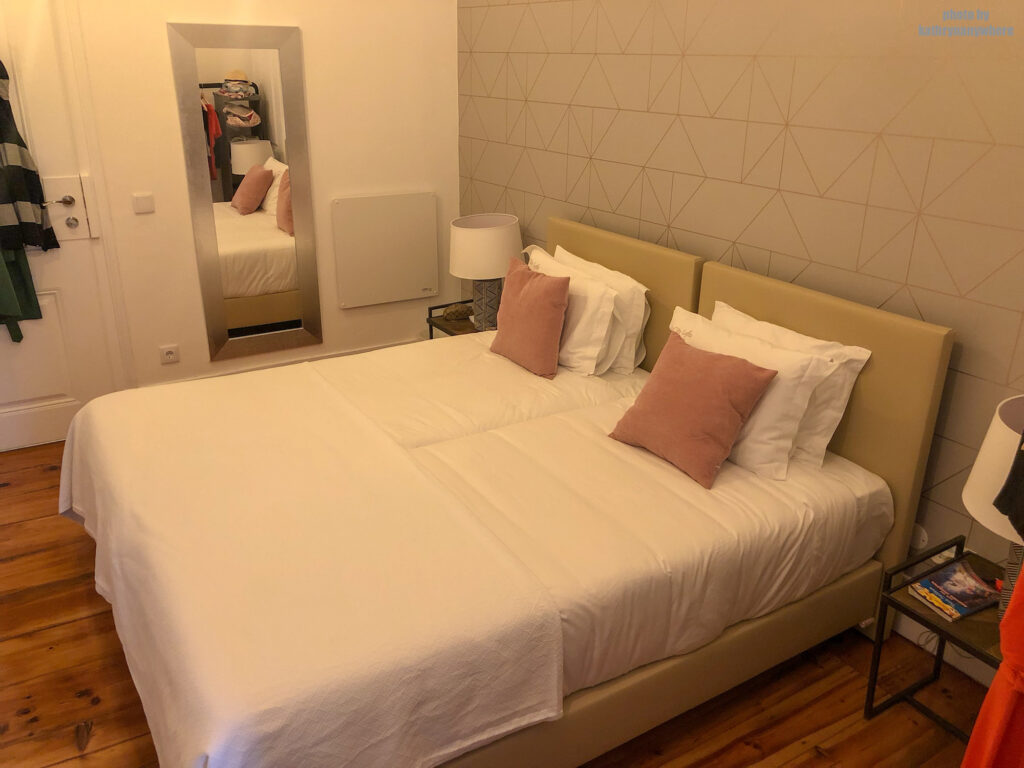 We had a really spacious triple room at City Lofts Lisbon Guesthouse, with what I believe to be the only private bathroom in the premises. I don't like sharing bathrooms and I doubt the kids would have either. It was perfect for us, as there was a doorway separating the bedrooms. One room had two single beds and a wardrobe to hang clothing. One room had a single bed, access to the washroom, a mini fridge and a sitting area. In theory, this meant that I was able to have some free time when the kids went to sleep at night. In reality, the kids stayed up late and wore me out.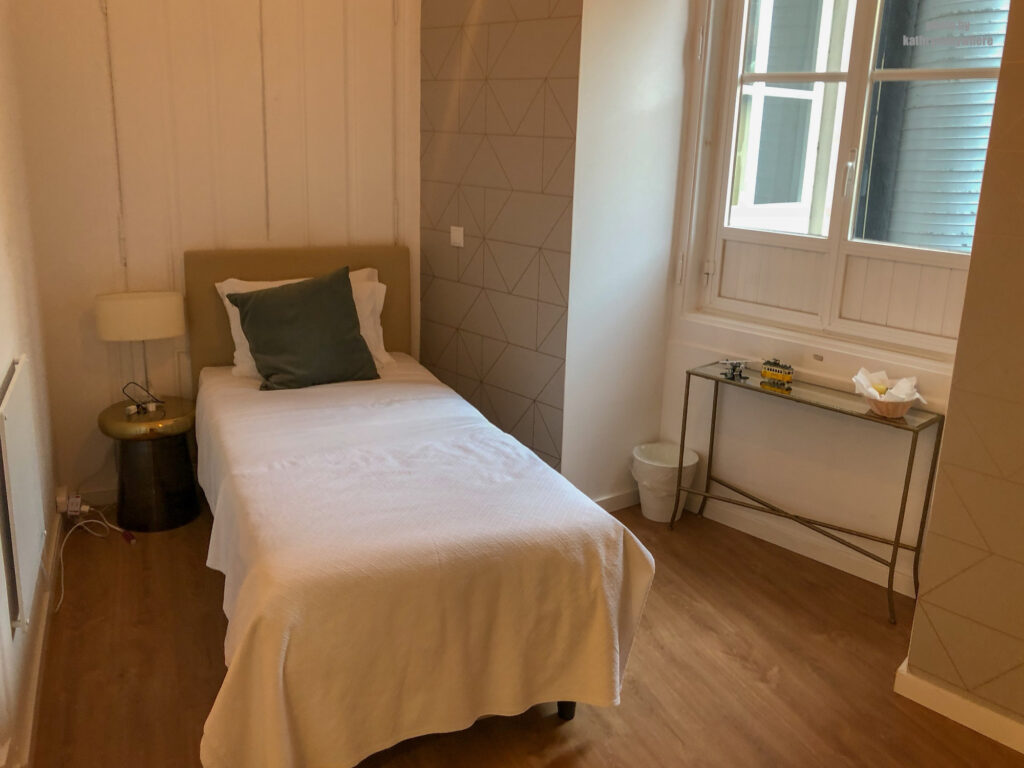 Continental breakfast was served in a central area and was basic but served our needs quite well. Somehow the kids got to eat cake for breakfast and I had my morning coffee. I would recommend these accommodations and I would stay there again.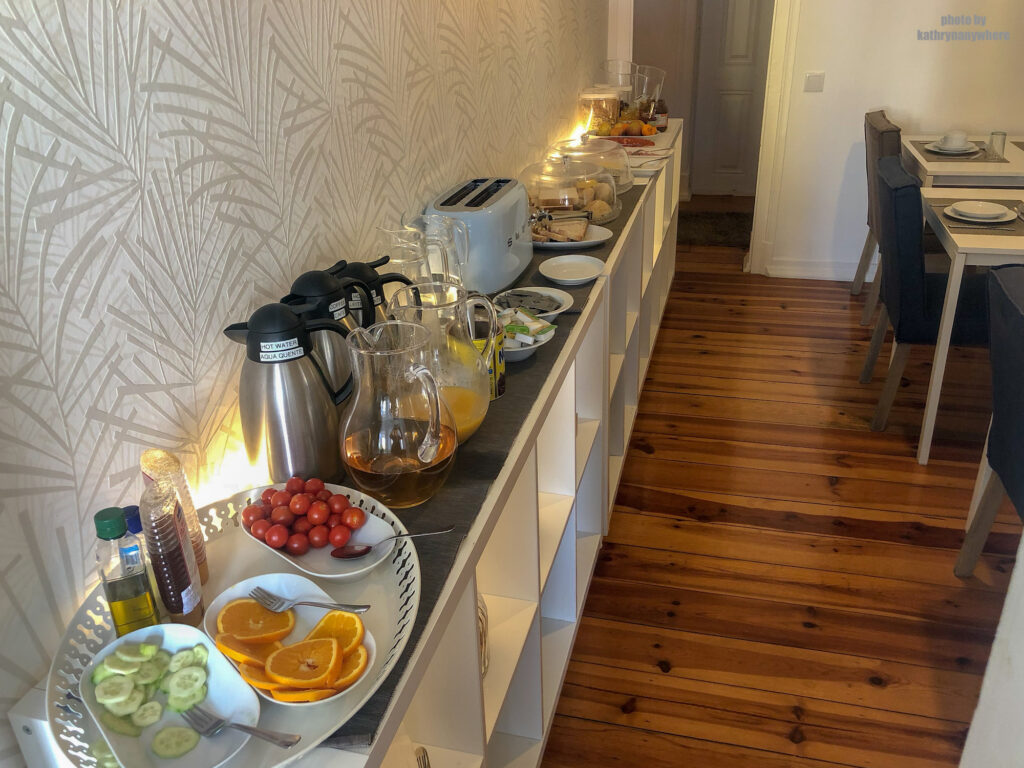 OUR FAVOURITE RESTAURANT IN LISBON?
One of the aspects of taking my kids to new places that is most exciting is trying restaurants that serve different food. We walked into this restaurant on a recommendation from our hostess at City Lofts Guesthouse because I wanted to eat somewhere full of locals, not tourists.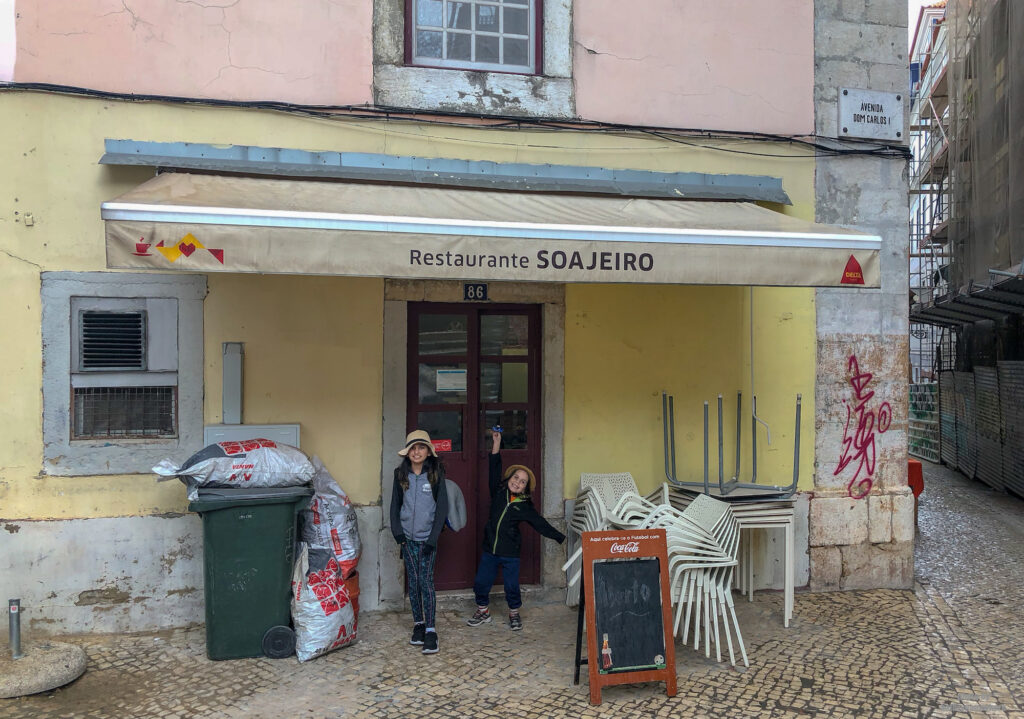 Restaurante SoaJeiro is where we went, literally across the street and around the corner from where we were staying. It's so authentic, you can smell the fish from outside. Even though the fish of the day is displayed in the window, the kids opted for beef. And this place was so good, we went back a second time, it was our last meal before we left for Barcelona! This was the hands down favourite of the kids and still talk about the "beef tower" to this day.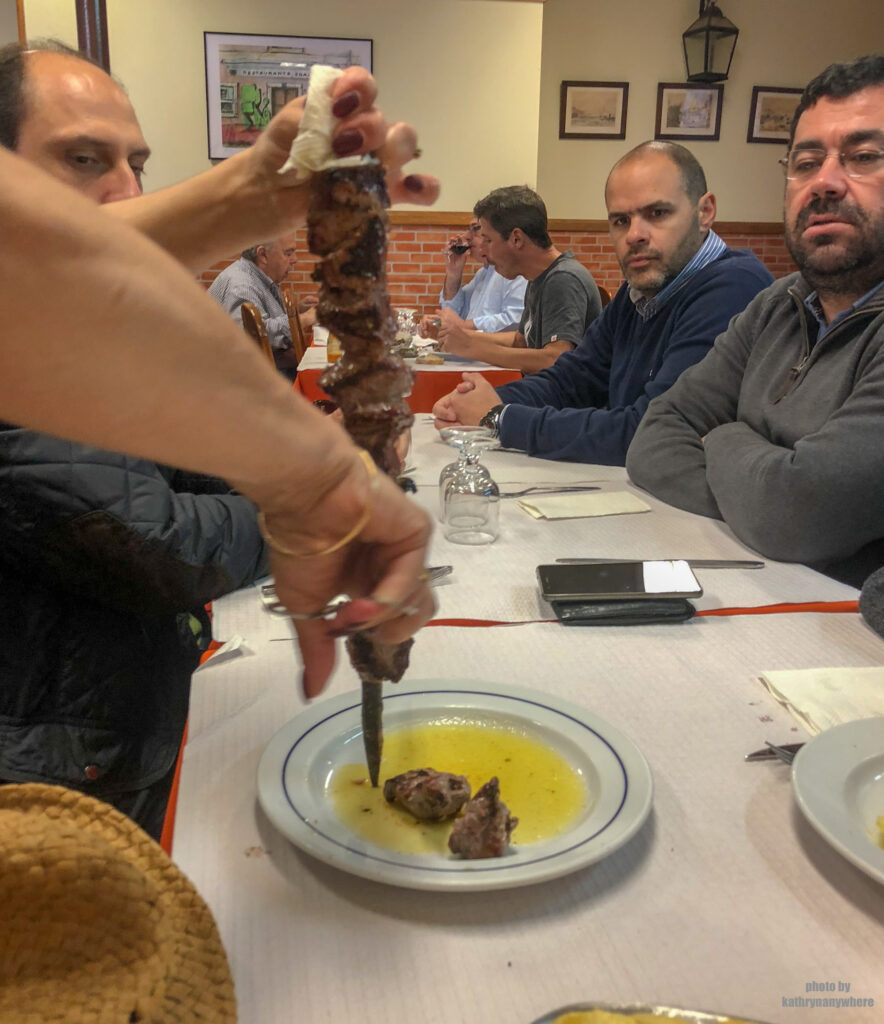 DAY 1 OF OUR LISBON ITINERARY
We arrived on an overnight red eye flight direct to Lisbon from Toronto. The Miss M and Little Man actually did well on this. They were way more alert and excited than I was when we got off the plane and stood in the customs line up. I'm not really a morning person to begin with, but not having any sleep on the plane made me sluggish. I just couldn't fall asleep with my children beside me and I needed to protect them. That and the woman seated in front of us had two little purse puppies who wanted to bark.
A lot.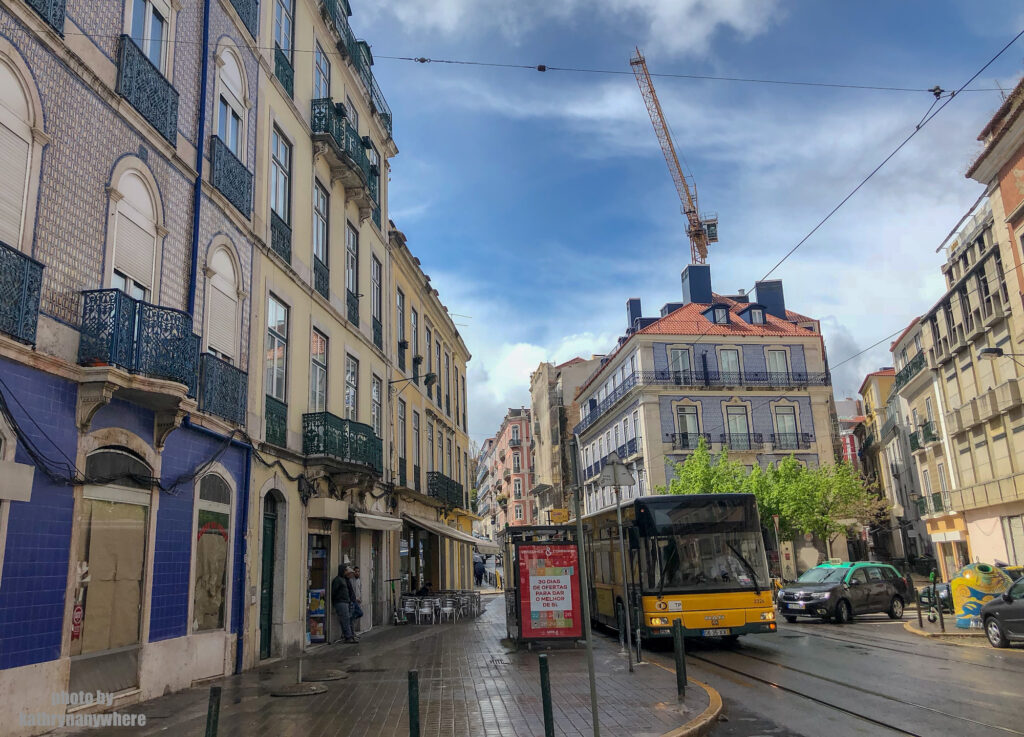 By the time we got out of the airport, got ourselves sorted onto the Aerobus and dropped off at Cais do Sodre, figured out our way to City Lofts Lisbon Guesthouses, it was just after noon. I was so tired, no joke. I desperately wanted a nap, but our room wasn't ready so we had to go for lunch.
And then we had to wander the surrounding area.
And wander we did. Up stairs, down narrow, cobblestone roads, past colourful doors and shingles. We ended up at the Jardim Nuno Alvares, directly south of City Lofts Guesthouse. It's a great place for children to run around and blow off steam. We would end up there again before our departure.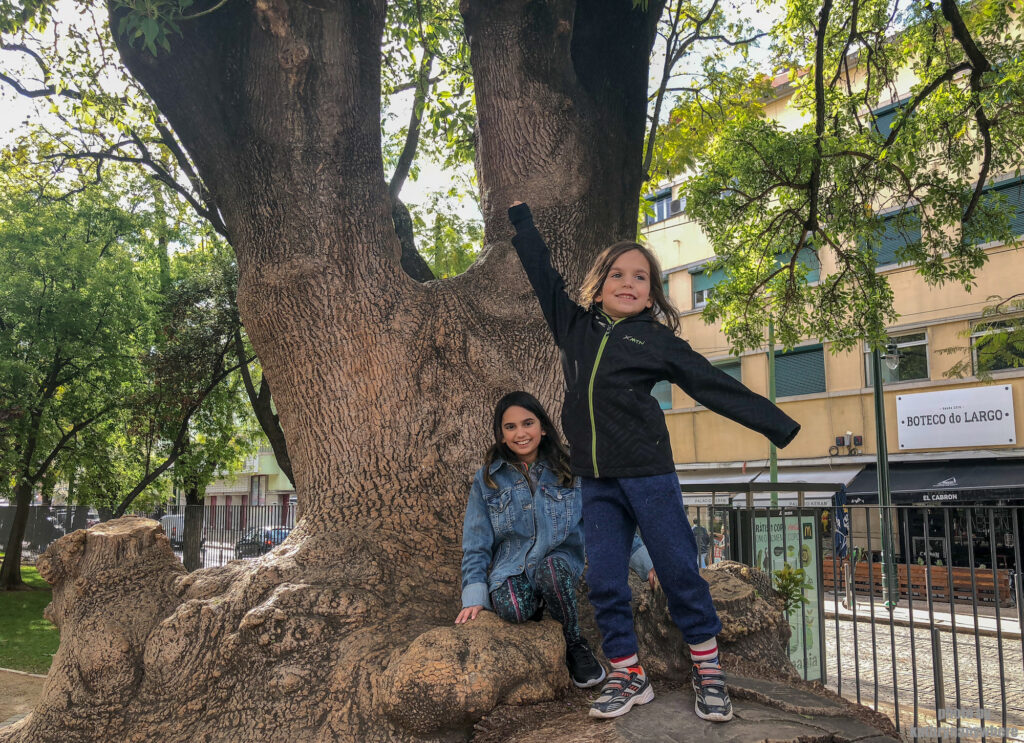 And found the trash raccoon, Raposa de Bordalo II street art. I didn't know this was a thing until we found it. It's a rather impressive use of garbage.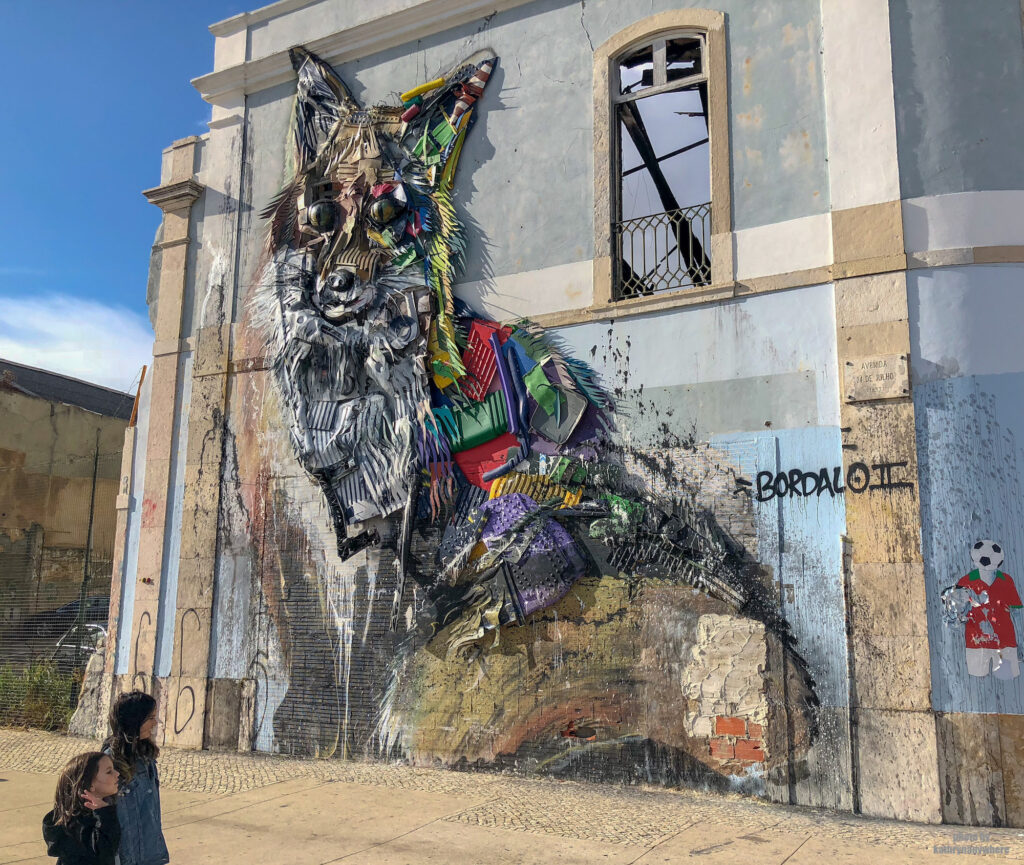 Until 3:00pm, then we were back at the door of the Guesthouse so I could nap. Miss M and Little Man watched TV.
We had dinner at OTTO – Pizza Al Mercato and called it early. Damn I hate the European time change.
DAY 2 OF LISBON ITINERARY – NON STOP WALKING
If you have ever wondered if kids can withstand a full day of sightseeing and walking and still be obnoxious and not want to sleep at night, I have your answer.
I packed so much into one day. I feel like this one day itinerary of Lisbon could be a two day Lisbon itinerary for other families. At the end of the evening, I was exhausted and ready for bed. Little Man and Miss M decided that they wanted to stay up late and no amount of telling them to go to sleep was actually going to make them go to sleep.
LA MUSEU DA MARIONETA
The first thing we did in the morning after breakfast was go to the Marionette Museum. La Museu da Marioneta, which was less than two blocks from our guesthouse. I wrote about our experience here and won't recap again and bore you. Bonus for families – you find quite a few museums and galleries that children under the ages of 12 do not have to pay admission at in Lisbon and many parts of Europe.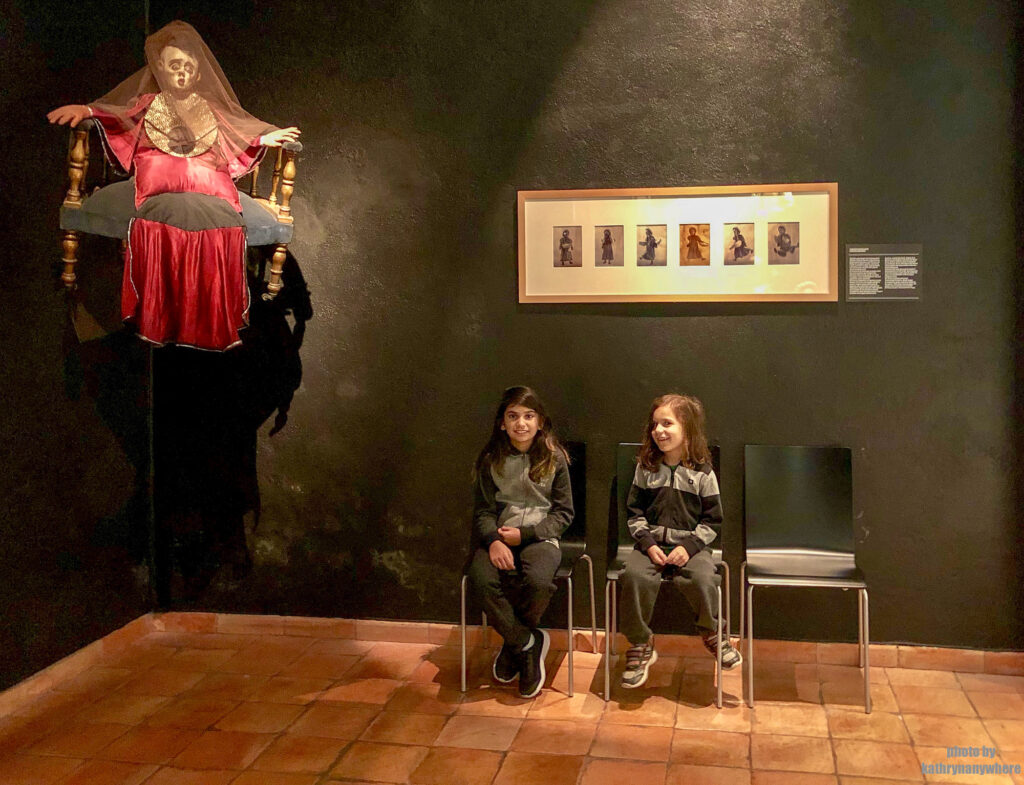 From here, I tried to figure out how to get to the Castelo Sao Jorge. We made our way down to Cais do Sodre and for the life of me, I could not figure out the public transit. The buses were a mystery! I downloaded an app and it told me to take X bus and Y bus and walk these blocks… But when X bus pulled up and I asked the driver to confirm that was where they were going, they said no. This happened more than once! Me and public transit are not friends.
CASTELO SAO JORGE
I asked the kids if they wanted to take one of the historic streetcar trams and they said no. The trams just didn't have the appeal to Miss M and Little Man the way they do to many other tourists because we have streetcars in Toronto. We did go to Castelo Sao Jorge. How did we get there? We walked through the streets of Alfama up the hill. It was no easy feat! Especially with Little Man on my back half the time. He is only 5 years old, so I can't fault him too much for getting tired. It was easier for me to pick him up and carry him than to hear him complain.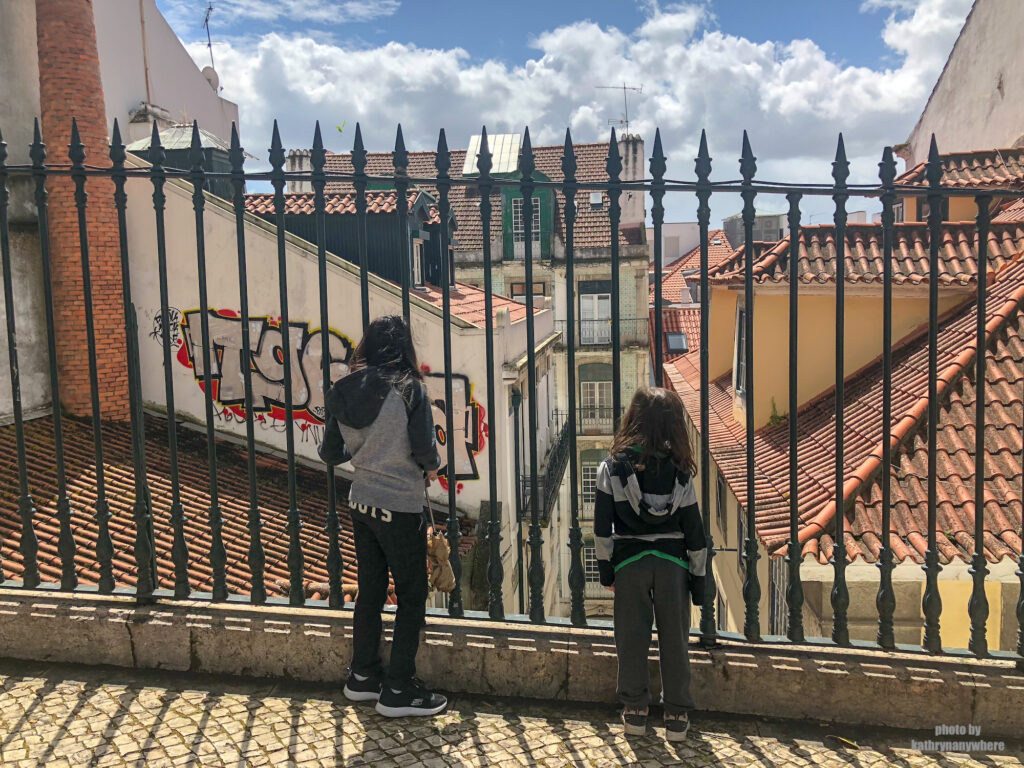 Admission costs to get into the castle grounds are free for kids ages 10 and under. The cost for me as an adult was 8.50 Euros. Once we got into the grounds, we got amazing 360 degree views of Lisbon. All the orange rooftops, were gorgeous! The colourful homes, the bridge, the Targis River, what a sight!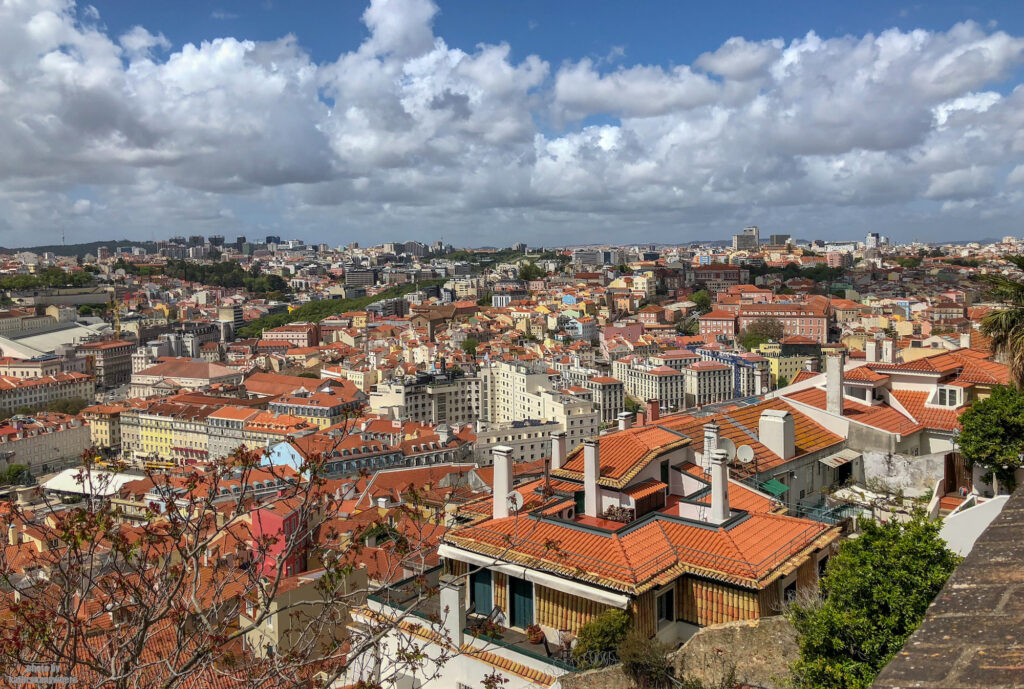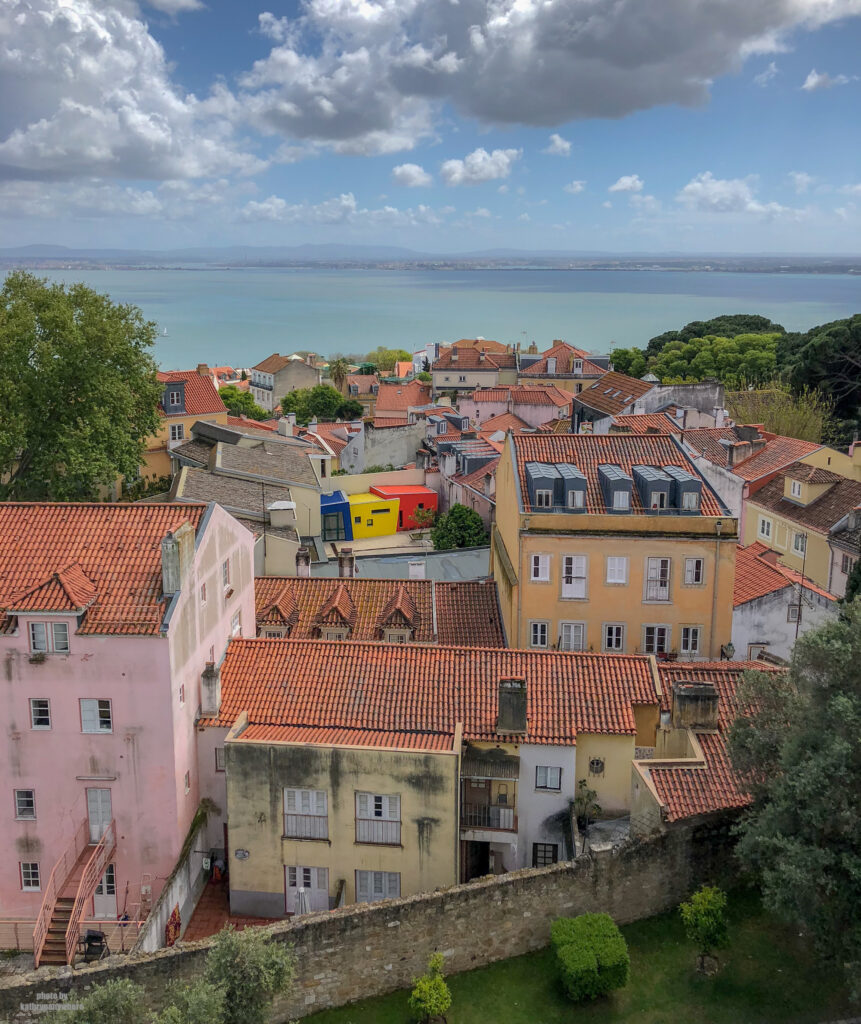 Oh and you could get a glass of wine to admire the view with as well! What a great idea!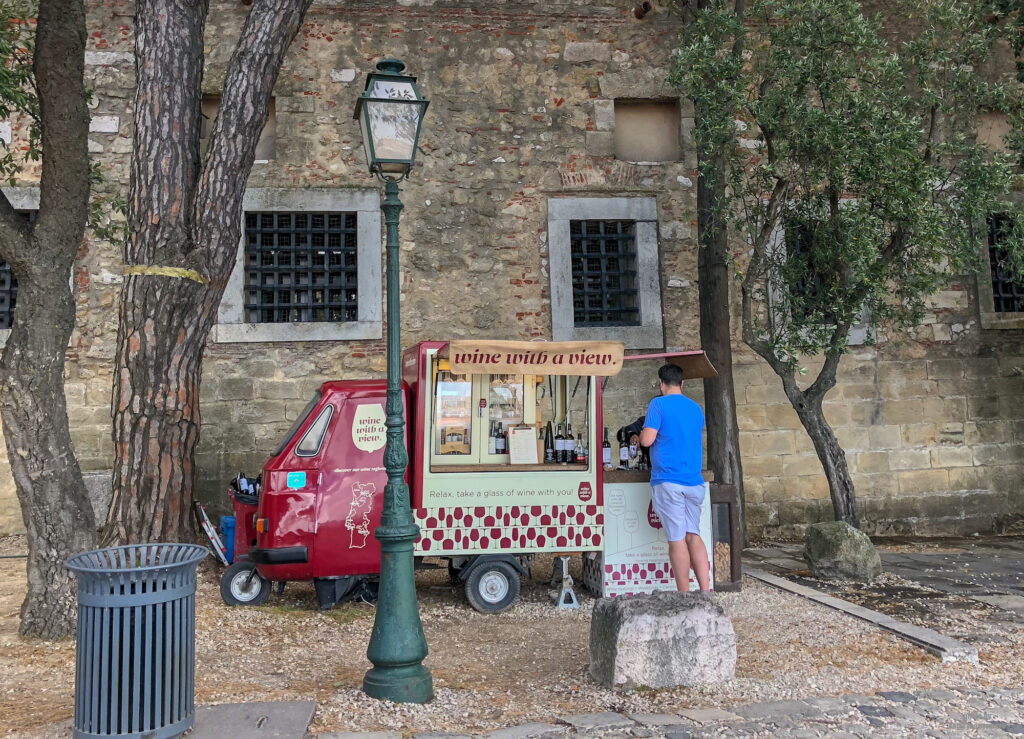 We spent a couple hours up on the grounds of the castle. We went inside the cafe for lunch, spent a lot of time watching the peacocks, went inside the museum, which had relics dating back through history that were found to be 1000 years old! The museum here is really comprehensive and tells the story of the crusades and the moors and explains a lot of the architecture influences. The kids didn't want to linger through this section like I did. I likely could have spent another half hour exploring in this area if I was permitted.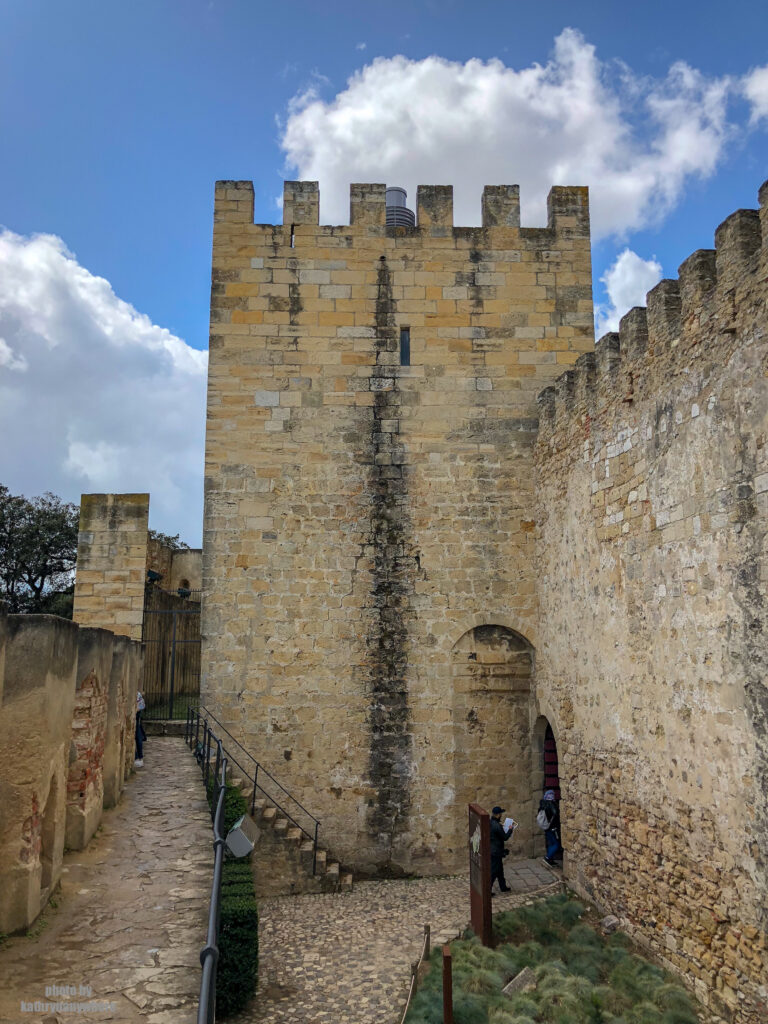 When we left the Castelo Sao Jorge, we walked down. Yes, I walked them up and then I walked them down. Here's what I figured out in our walks – not all souvenir shops have the same prices. My son really wanted to get one of the decorative small tram figurines. We eventually bought it for 12 Euro in one shop closer to Praça do Comércio. I saw the same figurine in a shop closer to the castle for 15 Euros. A 3 Euro price difference isn't a bit deal, but when you find yourself making daily souvenir purchases for the kids, all those little Euro differences add up.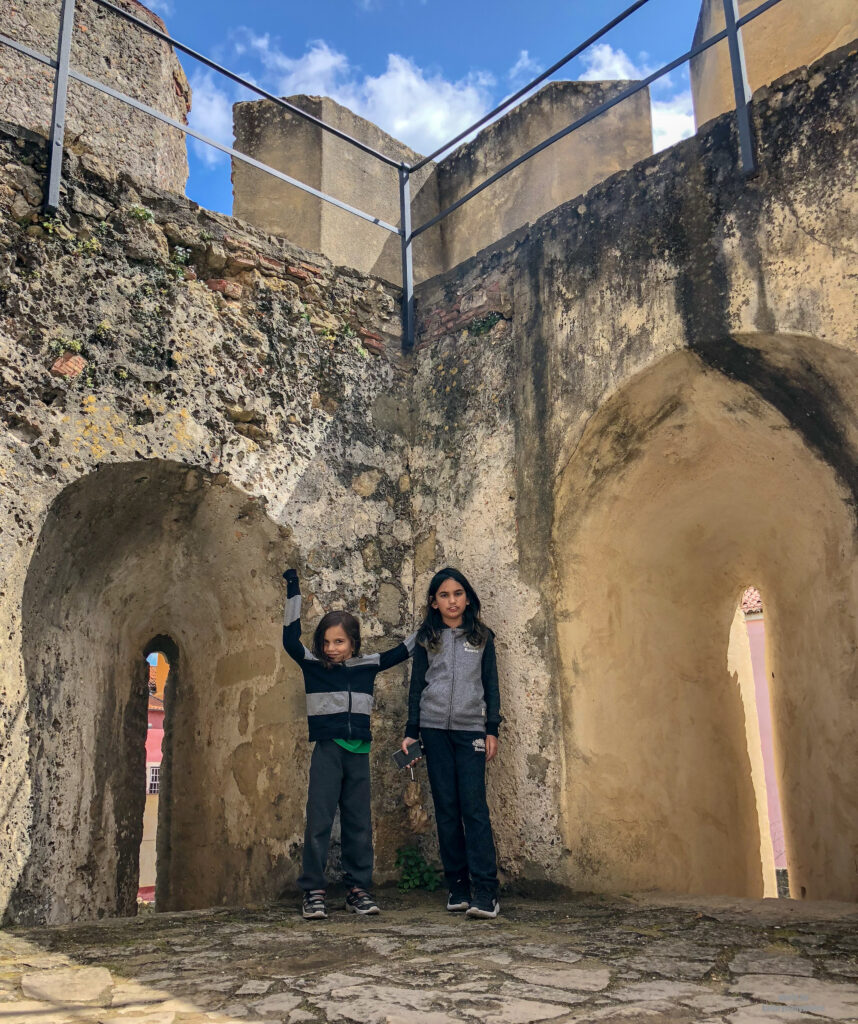 THE DISTRICT OF BELEM
I was debating having an early dinner at this point as it was 4:00pm and we found ourselves down at Praça do Comércio. Word to the wise here, all the restaurants around the square are really expensive, like gauge the tourist expensive. Thankfully menus with the prices were prominently displayed before you went in. Instead of sitting to eat, I ended up having a conversation with a tuk tuk driver (I was asking for restaurant recommendations) and was offered an end of day discount to take us on a tour to the Belem district. We decided to take him up on the offer as my experience with public transit in Lisbon was already tainted.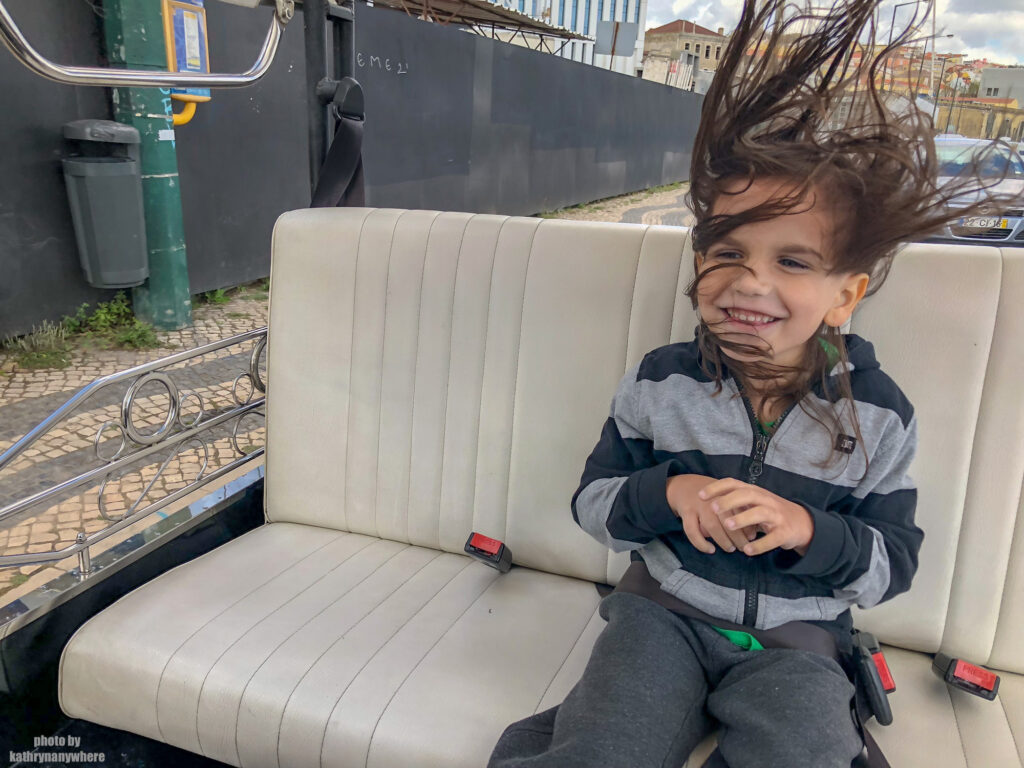 First stop he took up to – Pastéis de Belém. And here is what we learned – you don't have to wait in the crazy line up around to the corner to get one of these world famous pastries. Our tuk tuk driver took us in a side door and to a back "to-go" order counter where we were served a dozen Pastéis.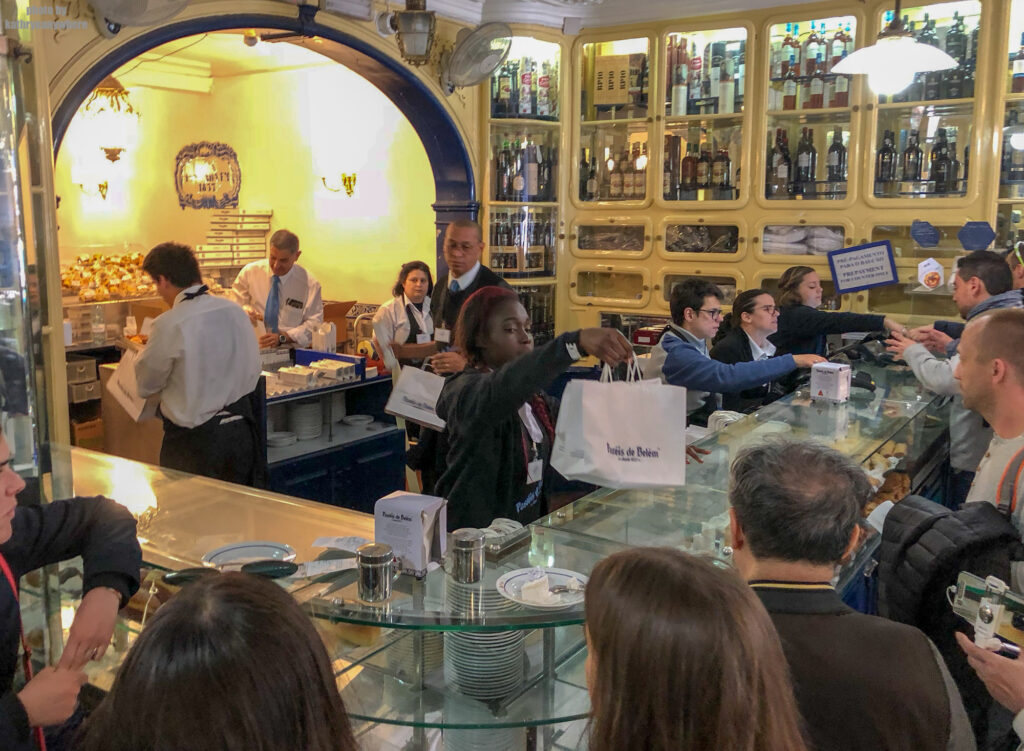 I saved them for later and spoiler; Miss M and Little Man did not like them! I liked them, they were okay. It's not a decadent chocolate cake or anything like that, but okay for a pastry. I got straddled with having to eat all of them. I ended up taking them to Barcelona because I could not finish them all in our time in Lisbon.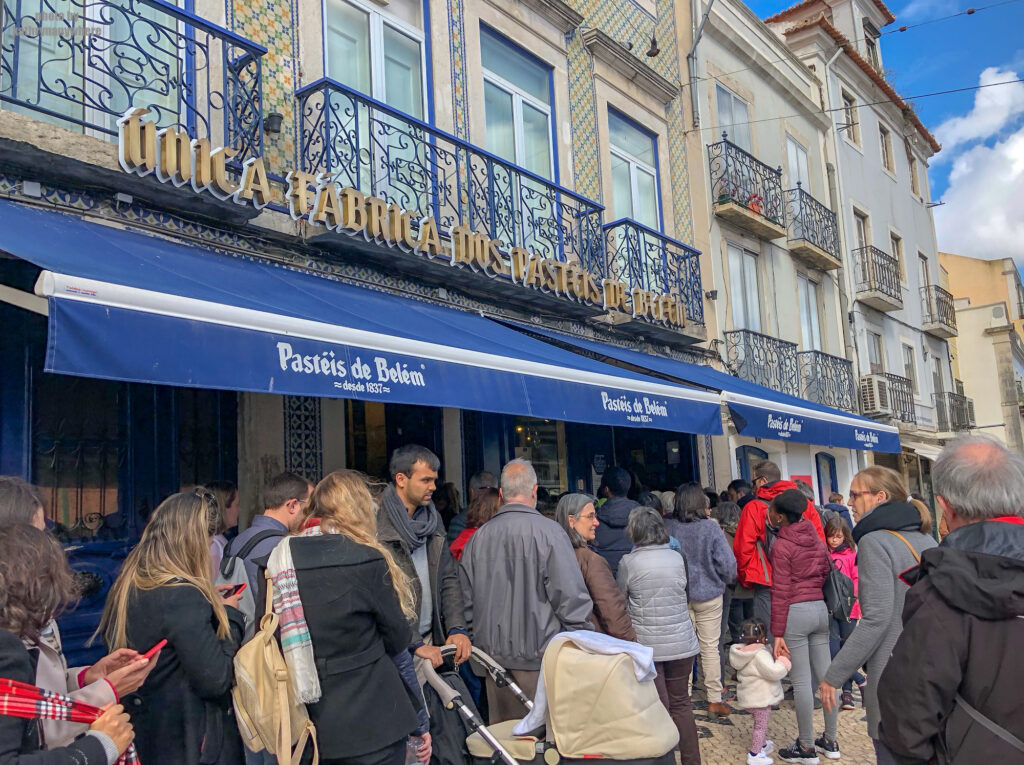 Next, we had a bit of time to wander the Cloisters of Jeronimos Monastery. We opted to not linger here too long. I'm not one to fawn over religious symbols or buildings and the kids certainly do not.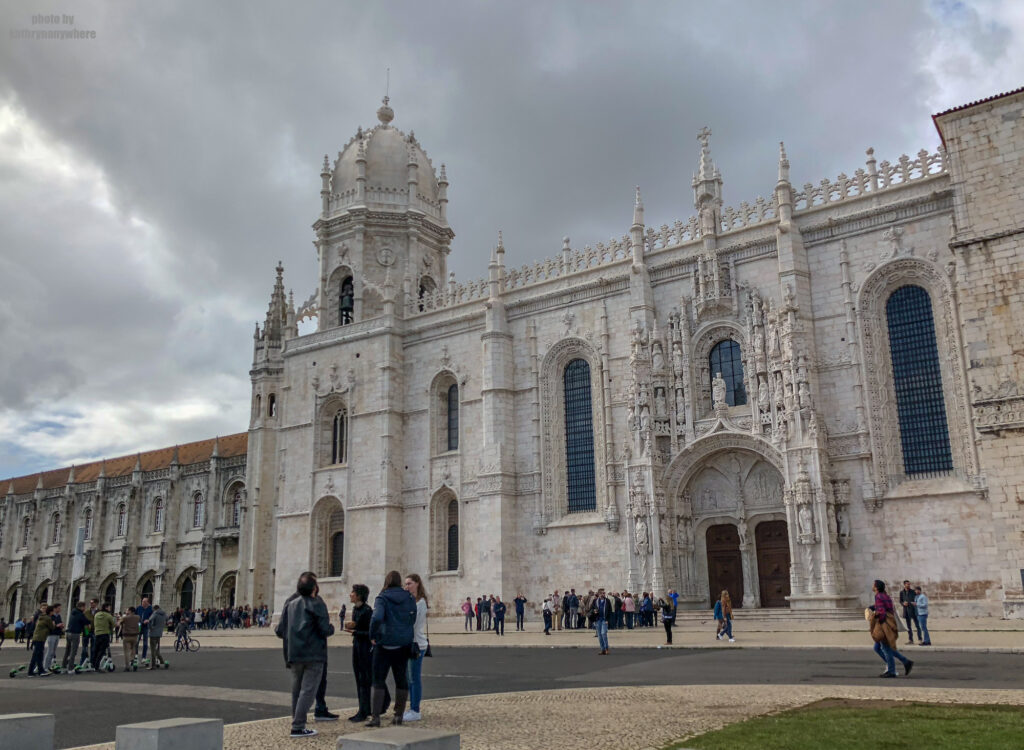 I do try to use these monuments as an opportunity to have a history lesson about how the citizens of hundreds of years ago utilized building techniques. Sometimes the kids are intrigued. Sometimes not. The Jeronimos Monastery fell into the "not" category and we went back to the tuk tuk after what felt like an obligatory look.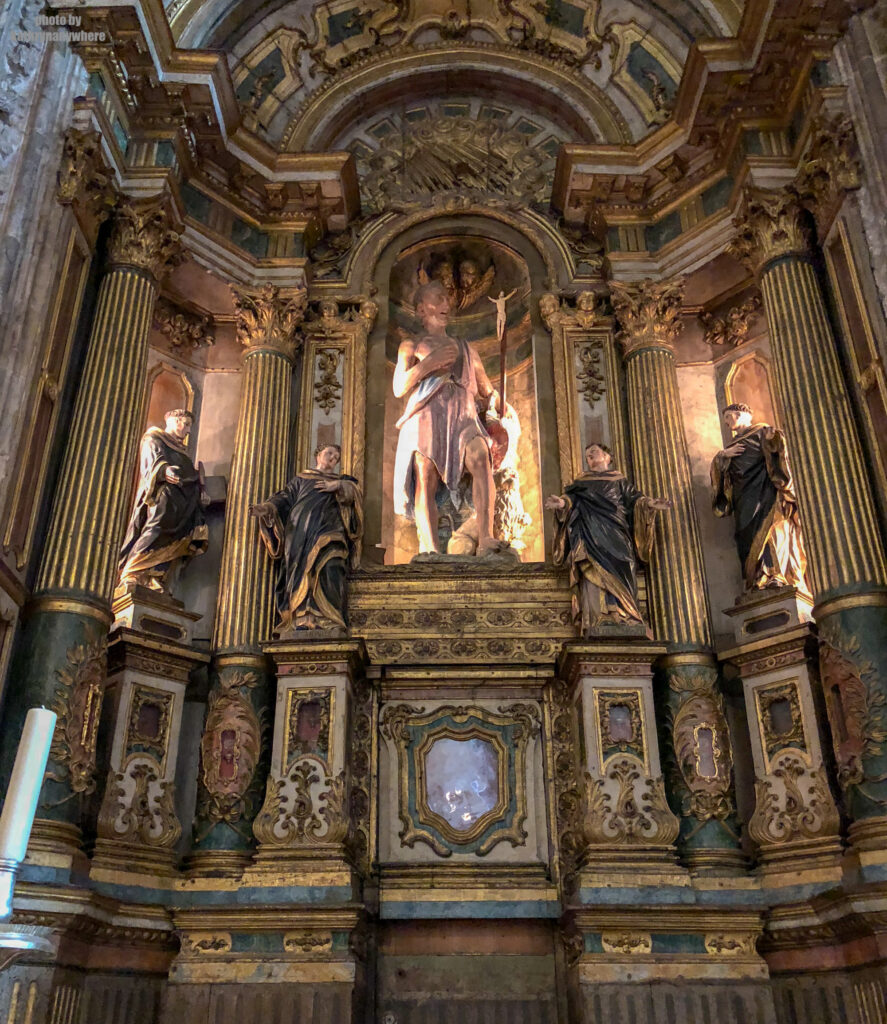 Next stop – the Tower of Belém! I did not realize that this is firstly, the most famous landmark in Lisbon and that secondly, the Belém Tower is a UNESCO World Heritage Site. It played a key role in Europe's Age of Discoveries, as since it served both as a fortress and as a port from where the Portuguese explorers departed in the sea to establish what would be the first European trade in history with China and India.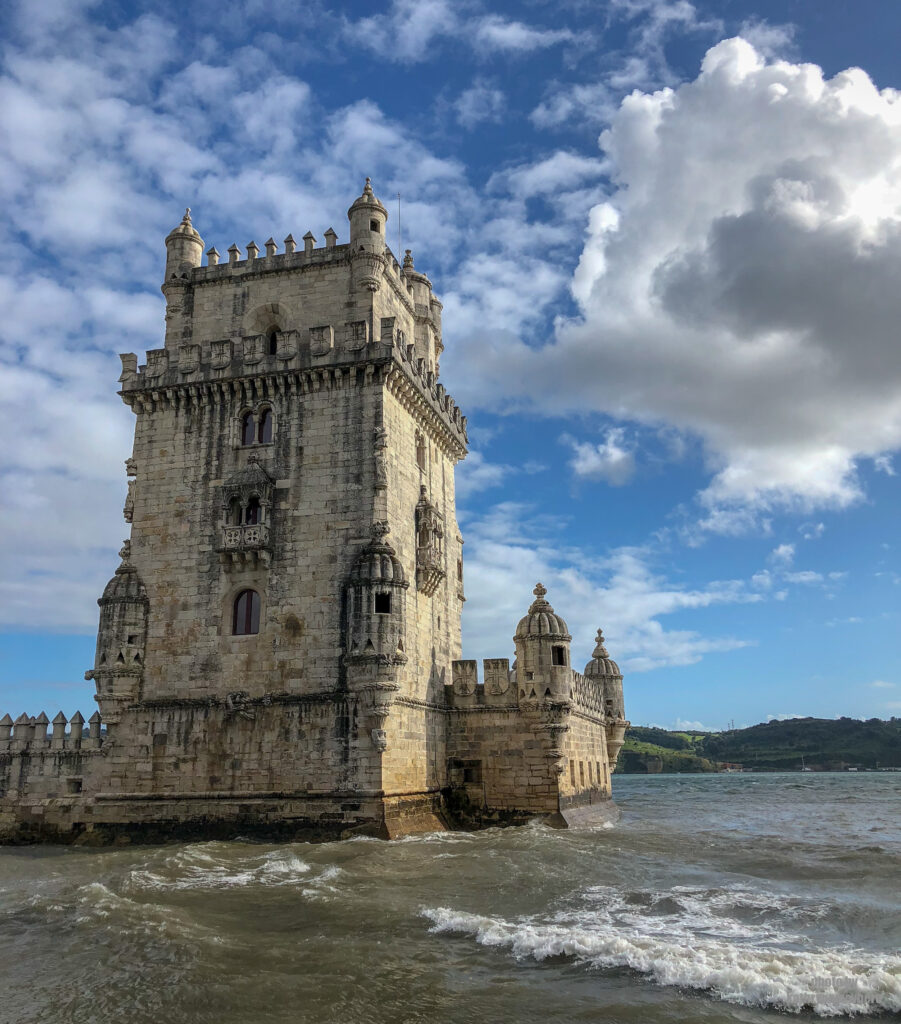 We opted to not go inside, but admired it from the outside as it would have cost me 6 Euros to enter. Also, it was getting really late in the day.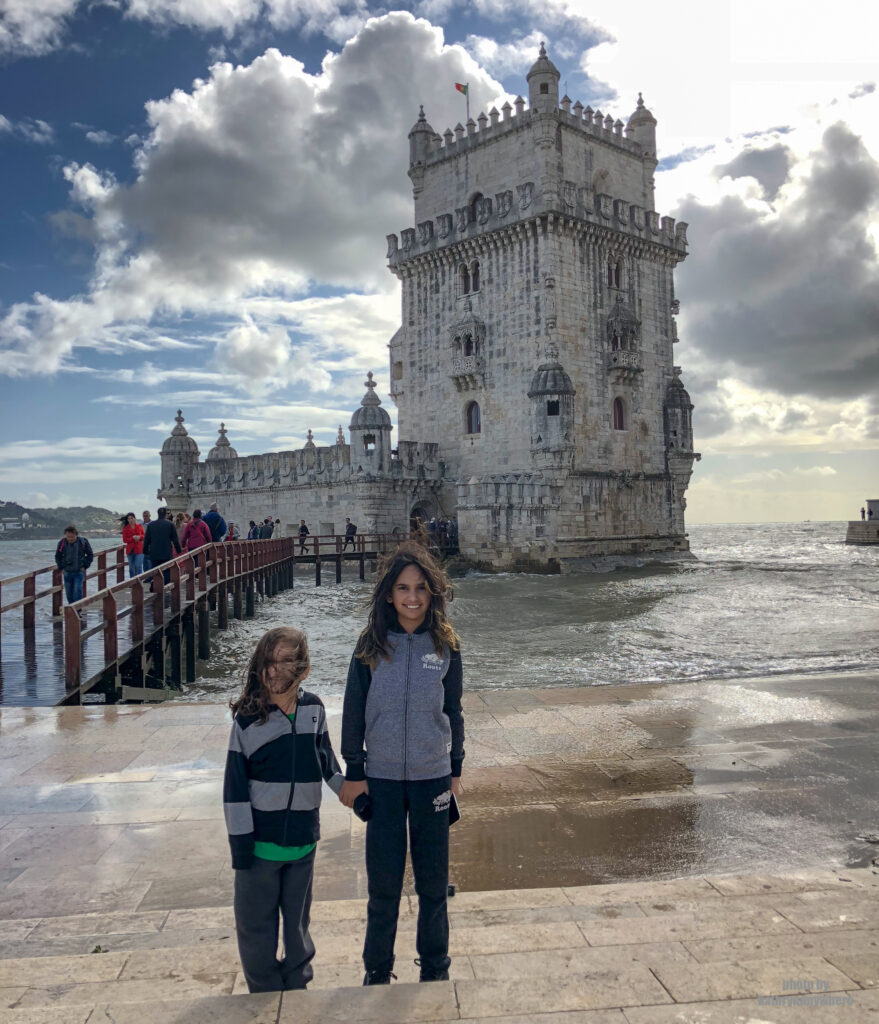 Last stop on this tour before we headed back to the guesthouse was the Monument to the Discoveries in Lisbon. In all the history I learned in school, we primarily learned about the English, the French and the Dutch being explorers who founded the new, Western world. While this is primarily true, the Portuguese founded much of the West Indies, and of the west cost of Africa.
The Monument to the Discoveries is made up of a group of sculptures that have been made to look like the prow of a small sailing ship made by the Portuguese specifically to weather the Atlantic Ocean. The explorer at the head is Prince Henry the Navigator and behind him are many other Portuguese discoverers.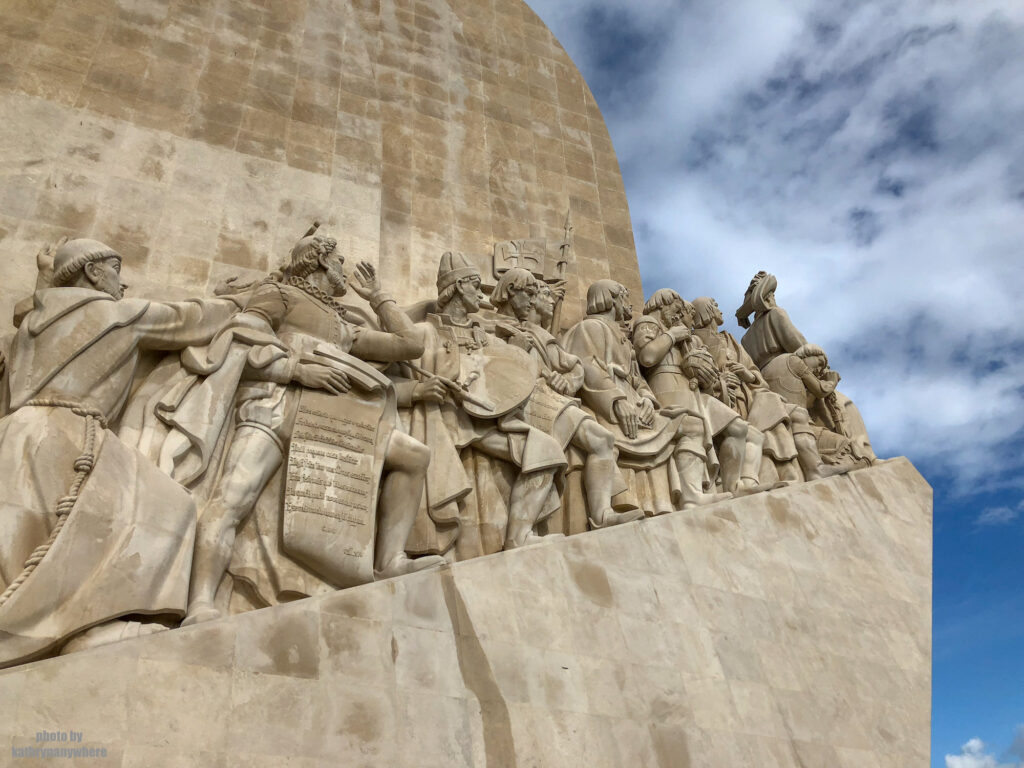 We have dinner close to our guest house at Hamburgueria Portuguesa by farnel, then went for dessert at Gelato Davvero. Incidentally, the gelato place was right next door to McDonalds and I managed to not walk into McD's for another day. Something about kids and that place is like a moth to the flame.
DAY 3 OF LISBON ITINERARY – OUTSIDE THE CITY
This was the day where we actually had an organized tour booked. I paid just over $300 Canadian dollars with Inside Lisbon tours. We traveled to Pena Palace, the town of Sintra, Cabo da Roca and Cascais.
When I woke up that morning, again my heart sank. Rain. F$cking rain again. I saw the moisture and clouds and realized the rain wasn't going anywhere We met our guide, Nuno and the rest of the group at Hard Rock Cafe in central Lisbon at 9:00am. No walking this morning, we took an Uber. My kids and I were the young ones on the tour, we accompanied three older couples – one couple from the USA who were sweet, but might have been republicans, one couple from Norway and a couple from Britain.
Nuno was determined made sure to show us a good time despite the weather. He was probably about my age and a bit shorter than me. I might be traveling with my kids, but I'm not dead inside. He was cute, but he reminded me of a younger version of all the Portuguese men that hang out in the food court of the Dufferin Mall here in Toronto playing cards. Right from the start, he was quick and efficient with putting booster seats into the minivan for my kids. Since it was raining and raining hard, he prioritized getting us into Pena National Palace opposed to spending more time outside in the rain wandering the Pena Park gardens. Don't get me wrong, I like a good garden, especially ones that are as beautiful as that, but not in the pouring rain.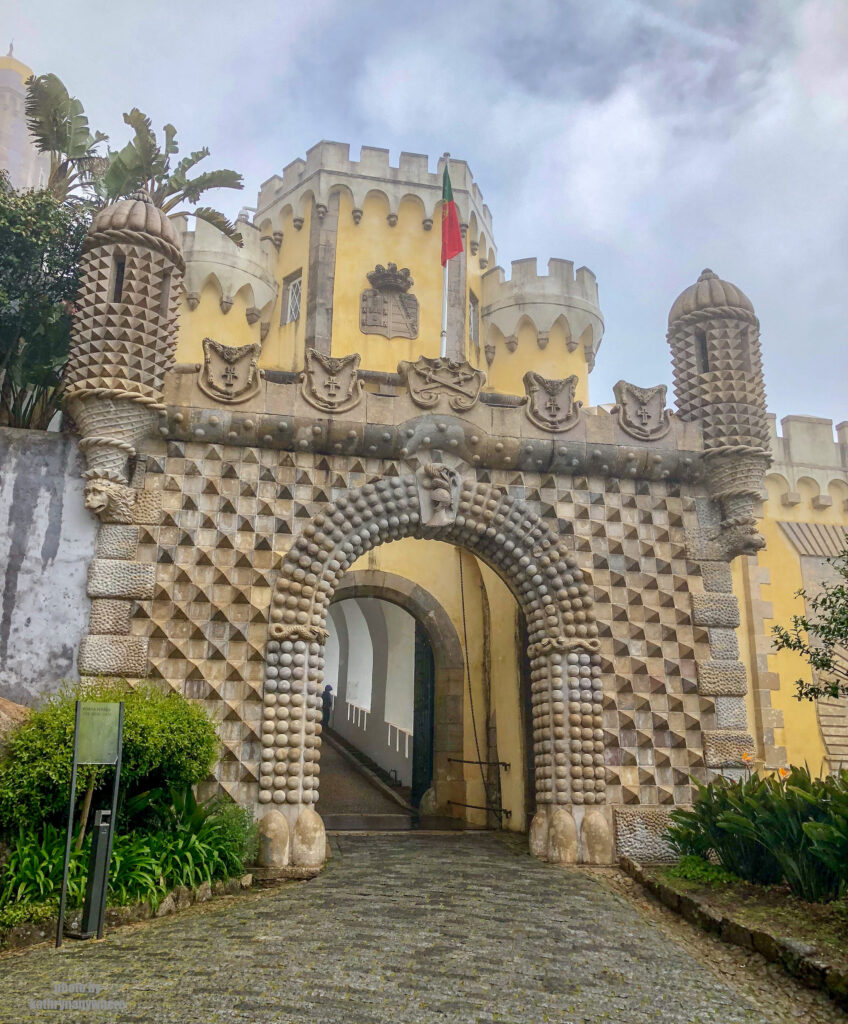 PENA NATIONAL PALACE
I tried desperately to look for a cloud opening to get a good picture of the Palace, but no. I wasn't going to get any of those stunning Pena Palace Instagram pictures that everyone else gets!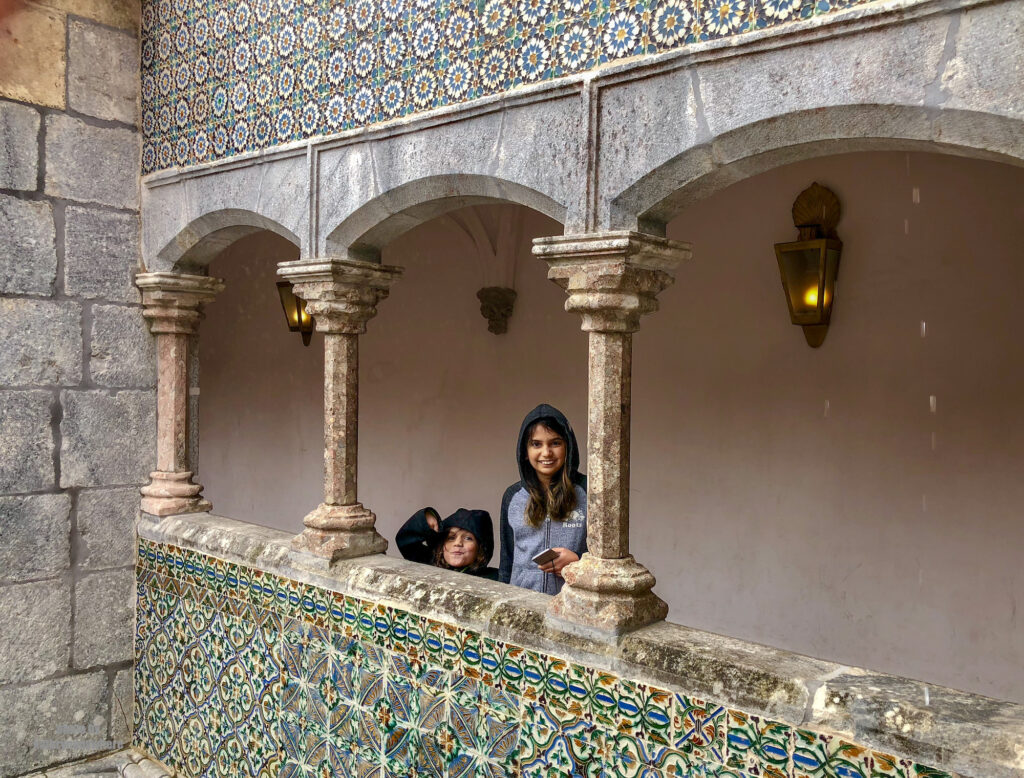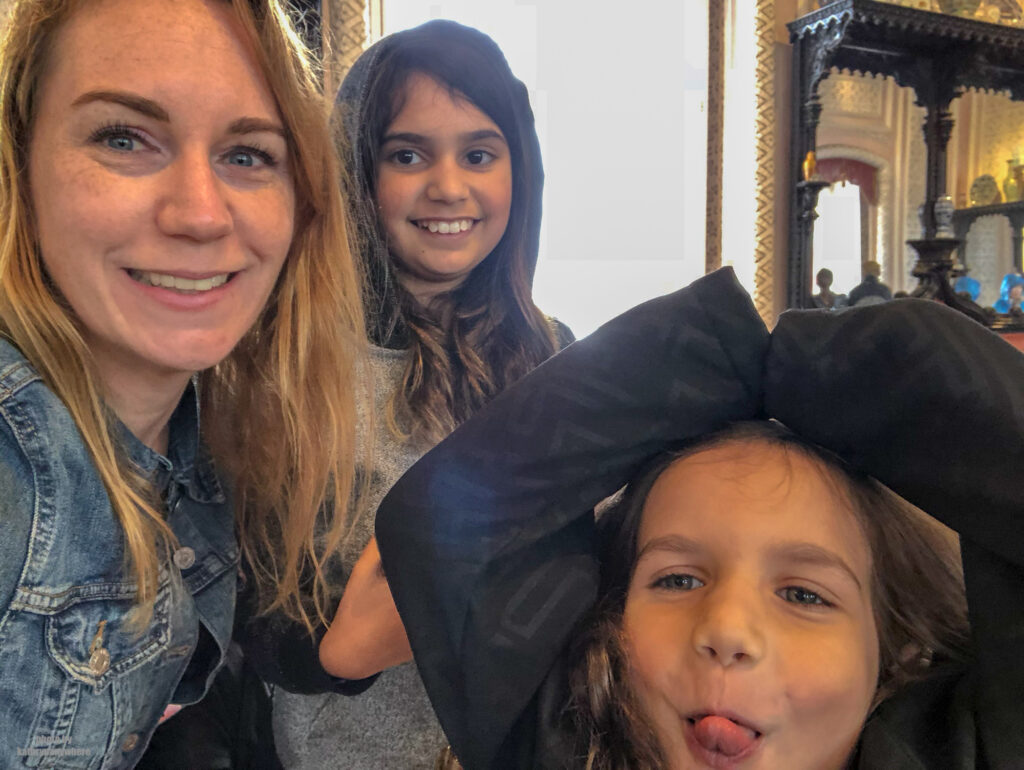 We wandered inside the palace and admired the furniture and decor from the royal family that lived there. Under little overhangs were we could keep dry, Nuno told us about the architecture and design and where the inspiration was drawn from which was kind of cool. As I write this over a month later, I wish I had actually made note of the details closer to the time frame so that I could relay them now. There's something about serpents…
Once we left the Palace and headed into the town of Sintra, the rain broke. For real, it stopped raining for the rest of the day. Nuno was sure to give us enough leisure time to wander the historic center of Sintra on our own and purchase lunch. Lunch was not included in the tour.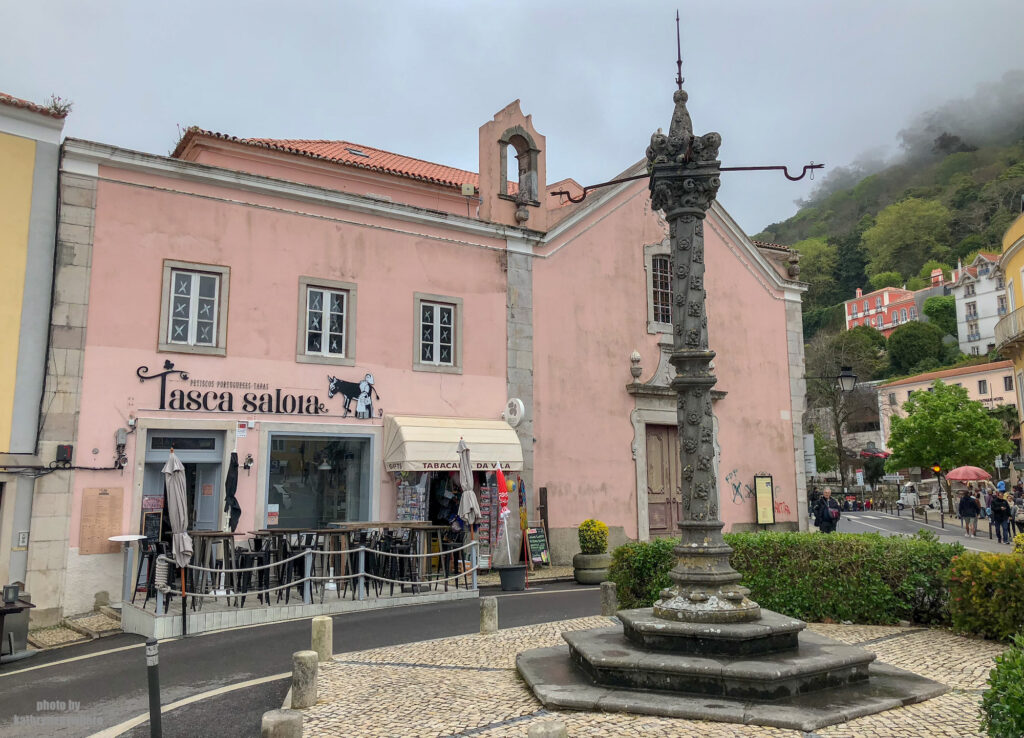 Here, the kids and I ate at Tasca Solaia.
This was a higher end restaurant and was the most expensive meal we had in all of Portugal. The food was super tasty, but it's a lesson in not stopping at the first restaurant you see.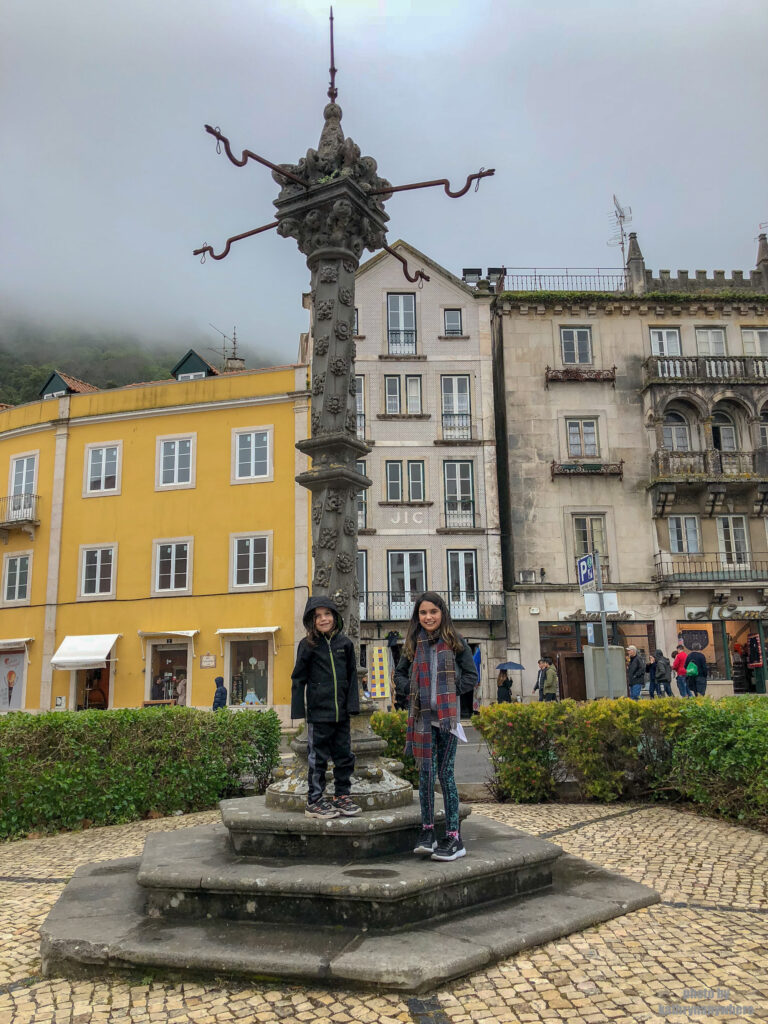 In hindsight, I wish I had taken the kids to the journalism museum in Sintra during our time there. More for my interest over theirs (shocker). Instead, we wandered the residential streets. I did however, get one of my favourite door photos of the kids here.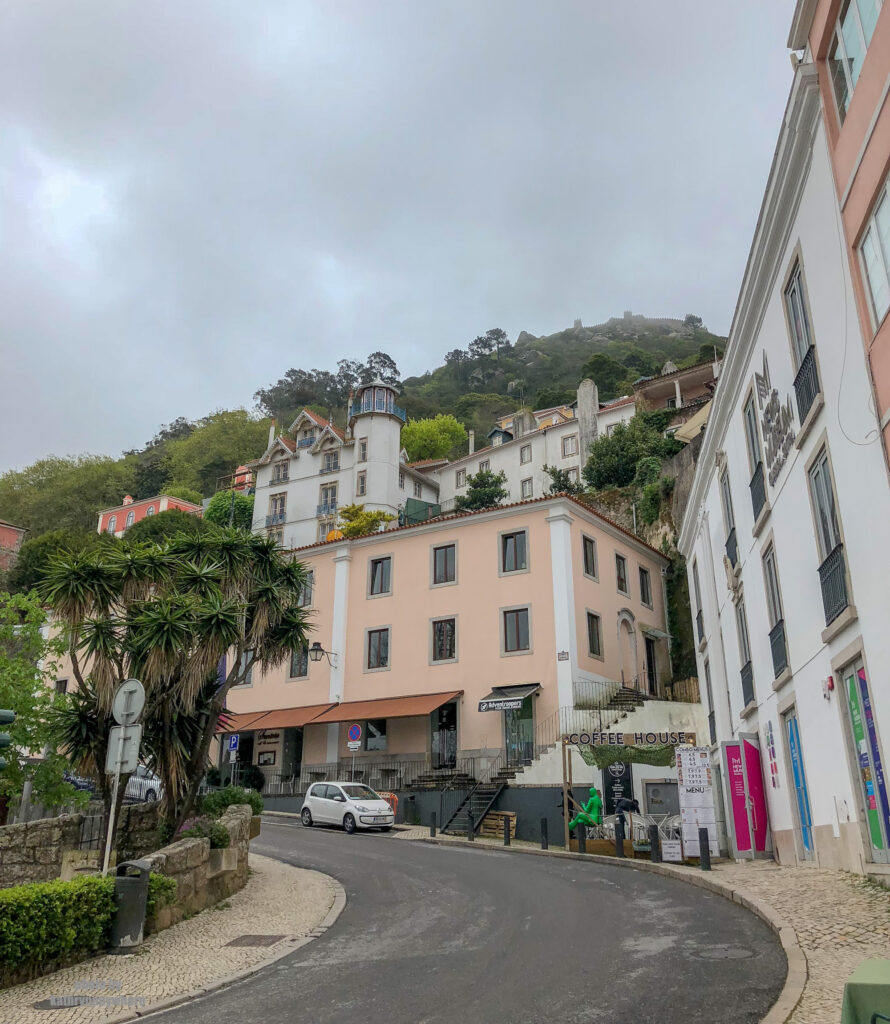 CABO DA ROCA
AND
CASCAIS
Once we reconvened with Nuno and the group, we got back into the minivan and drove past Quinta da Regaleira and the Palace of Monserrate. It's only an 8 hour tour, so no stopping there!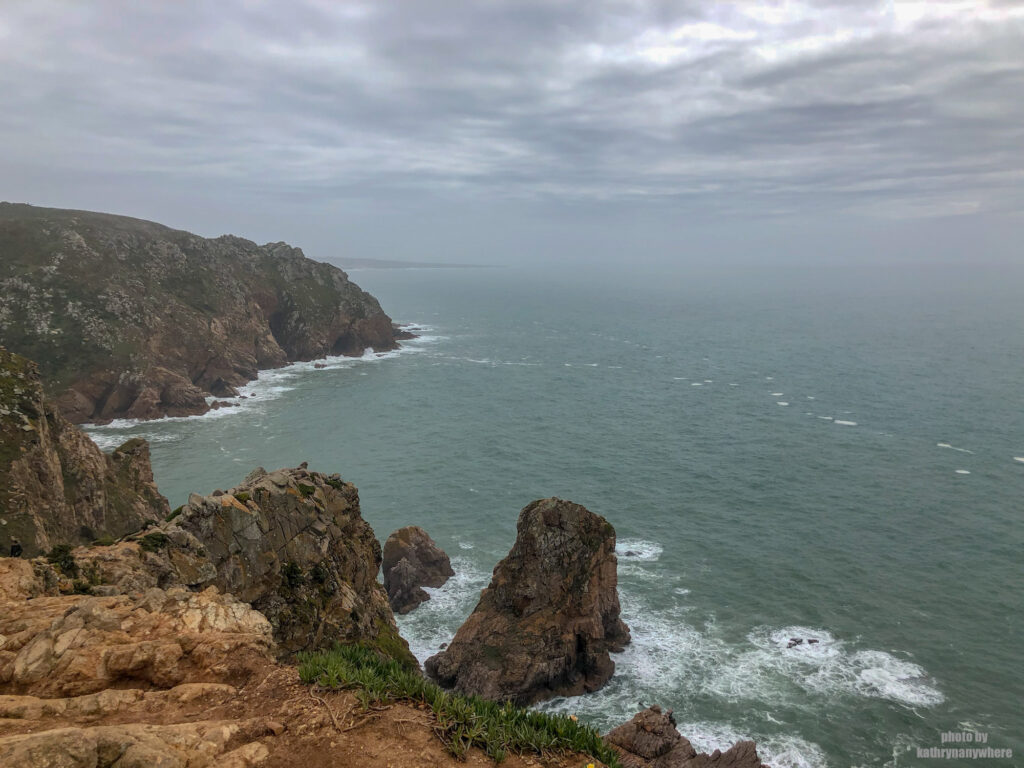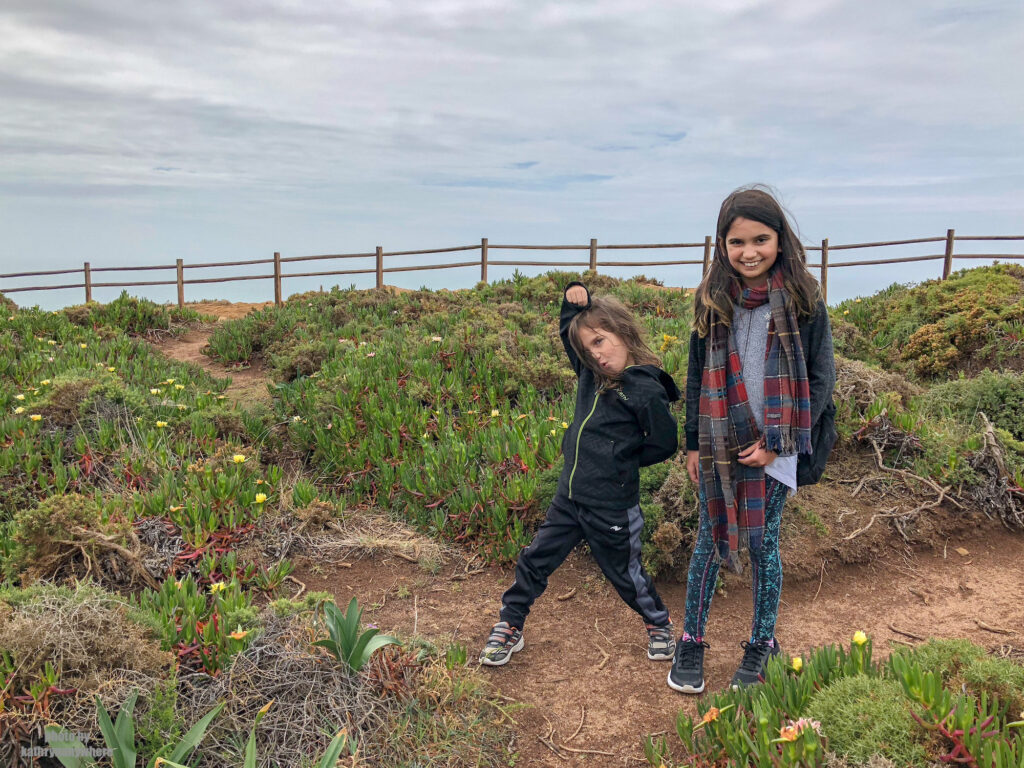 But when we stopped at the cliffside lookout point of Cabo da Roca, continental Europe's westernmost point, we had ample time to photograph it. Nuno tried to tell me the terrain looked like Ireland, having been there, I disagreed, but it's his tour, not mine.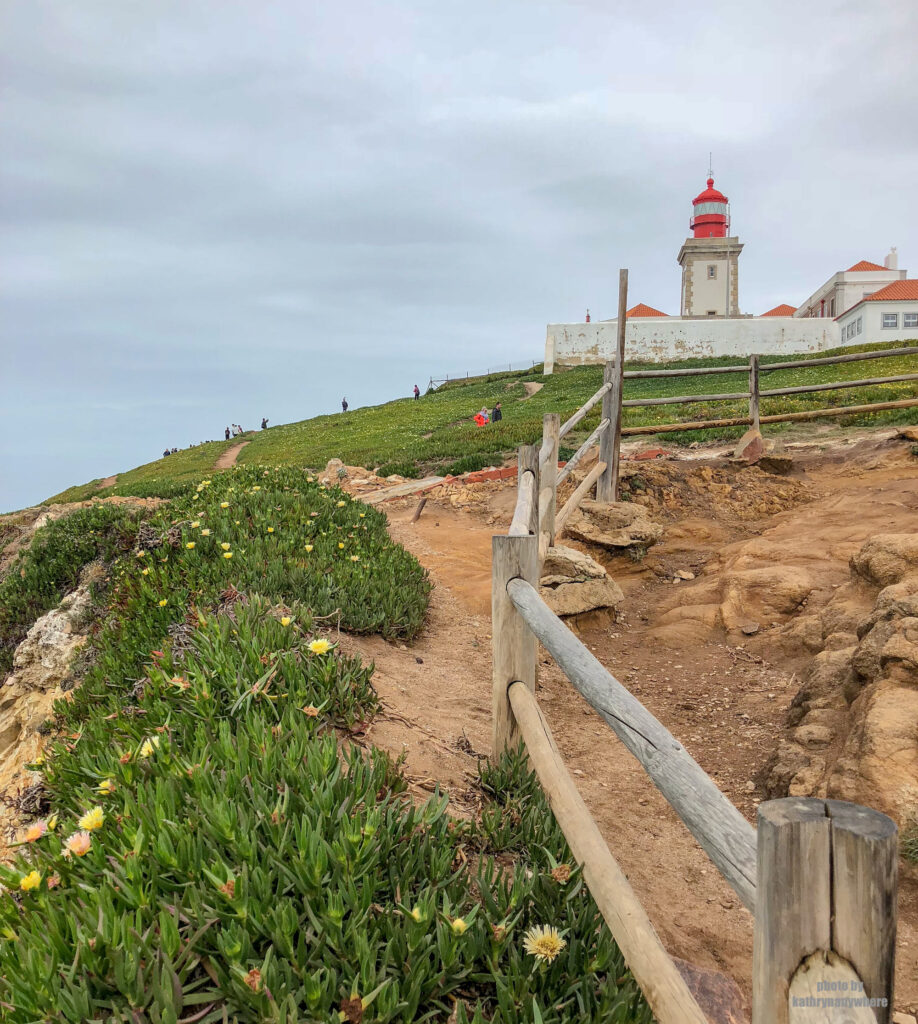 From there, we continued on the highway and then paid a brief visit at the shore of the Atlantic Ocean for pictures.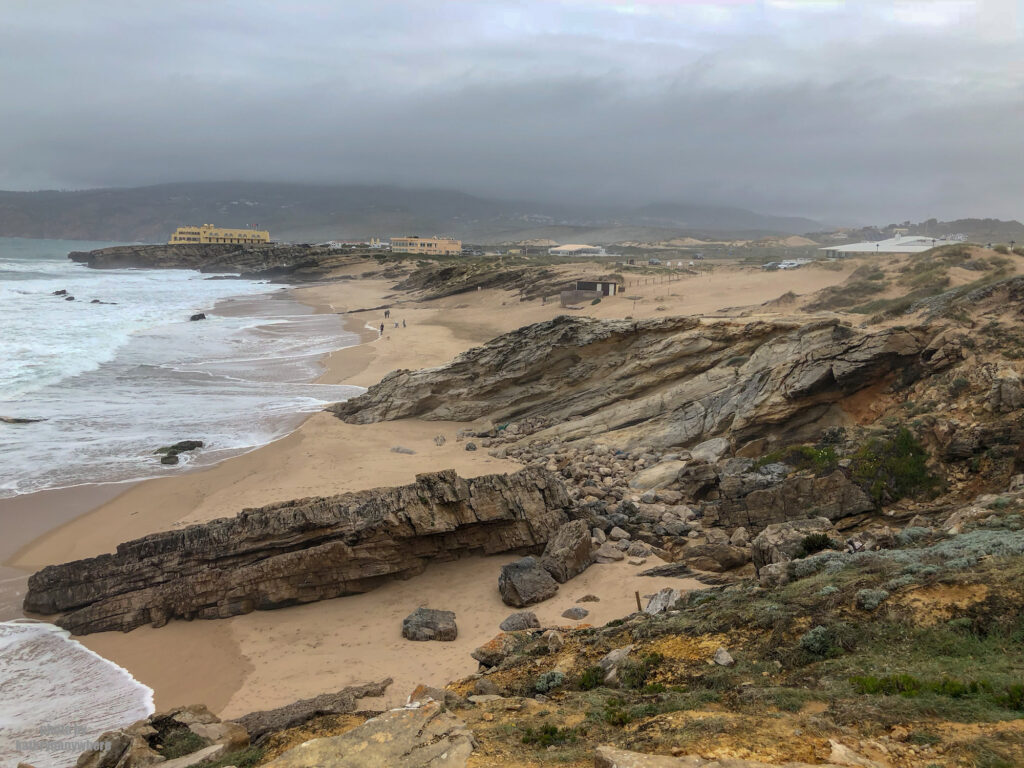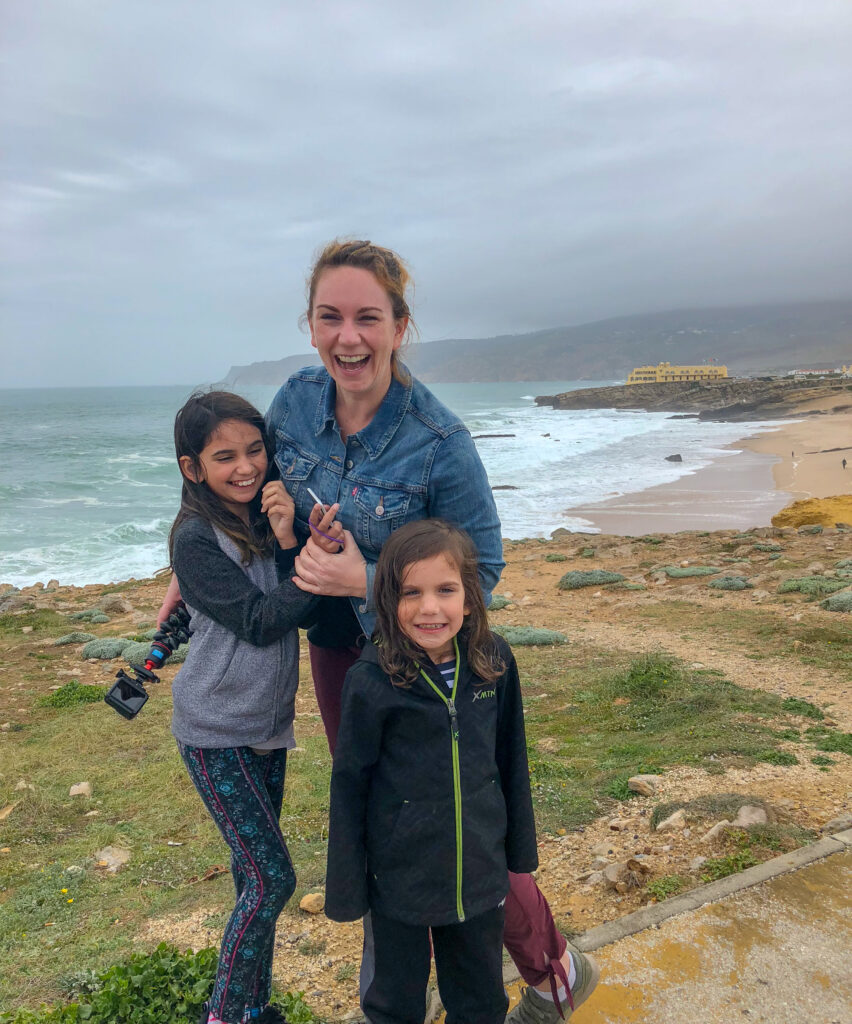 Then onto Cascais, a high class seaside resort town. Here you can enjoy some time to stroll along the beach or eat gelato and be like my kids and pose for silly photos.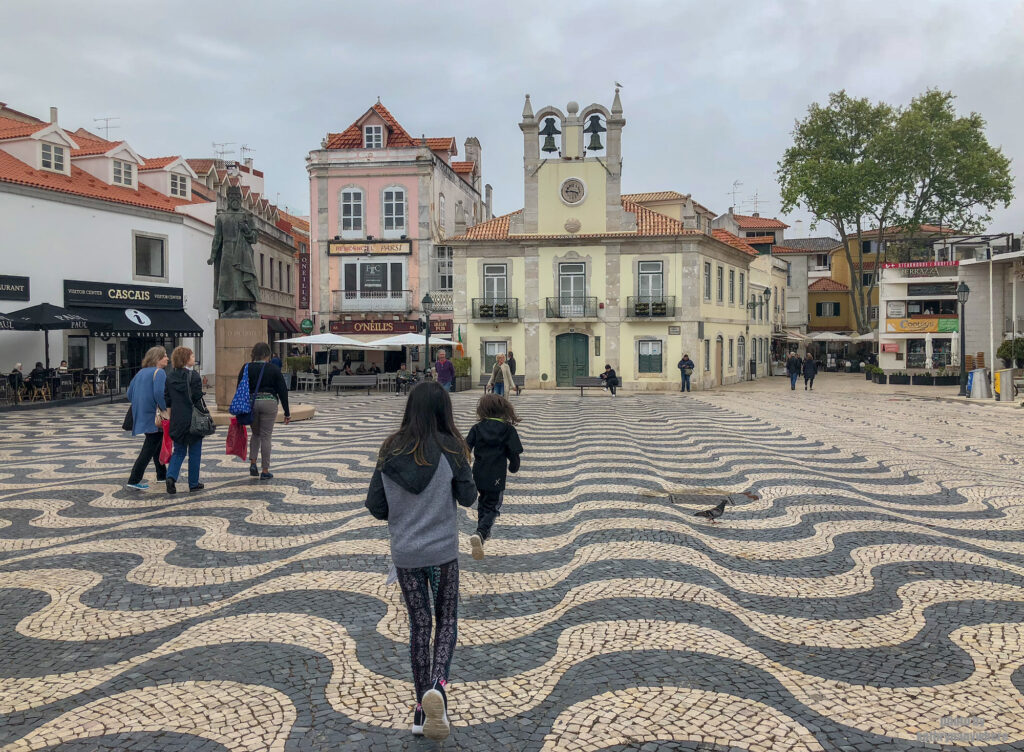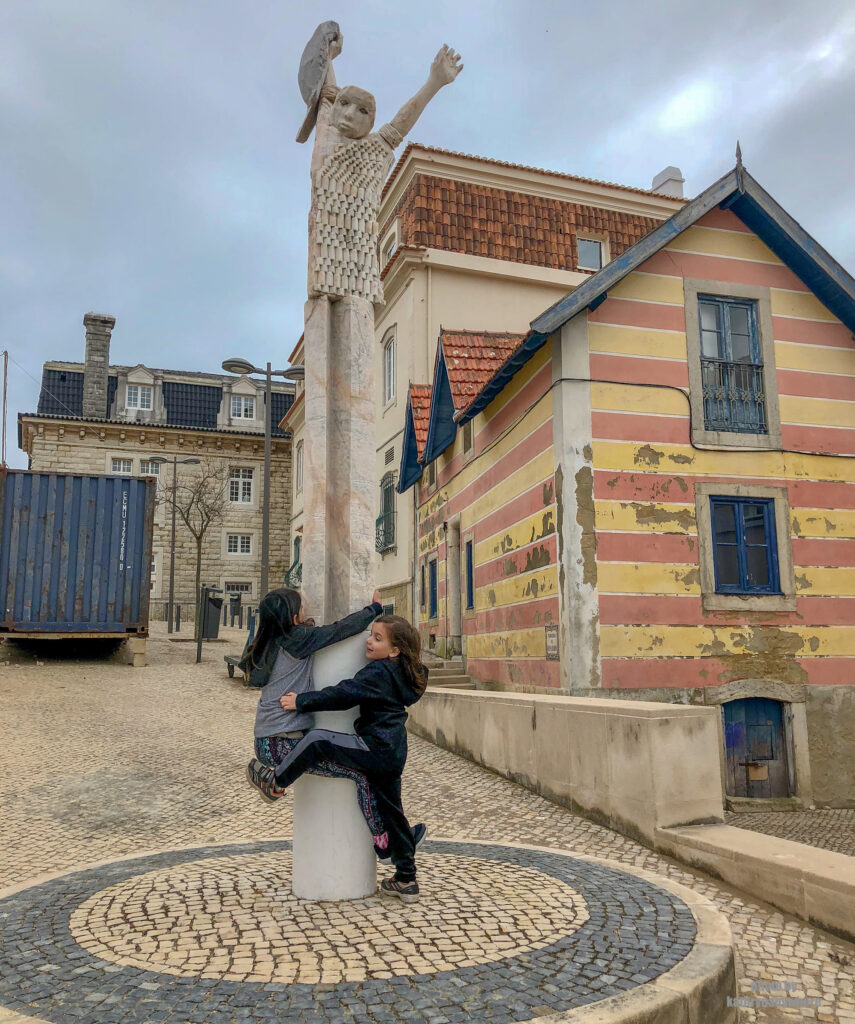 We arrived back at Hard Rock Cafe in central Lisbon closer to 6:00pm.
On Monday before our flight to Barcelona, we walked the local neighbourhood and looked for interesting things we had missed before.
---
Now that you know what we did fit into our Lisbon Itinerary, here is what we did not do.
It was either recommended by locals that we skip it or I did not feel it was suitable:
– Eat at Time Out Market. We were told it was over priced and we would be better off eating in random local restaurants.
– Elevador de Santa Justa.  After seeing the views from the Castelo Sao Jorge, we just didn't feel the need to pay to do this.
– Take in Traditional Portuguese Fado. My kids were ages 5 and 9 at the time of travel. I really could not see them sitting still for this. It is on my list of something to experience if I ever find myself back in Lisbon without my kids.


If we had one more day in Lisbon, I would have fit this into our vacation:
– A trip to the Oldest Bookshop in the World, Livraria Bertrand
– Sail the River Tagus at Sunset. It's no secret that I'm a sucker for sailing and for sunsets.
My biggest discovery during the course of this leg of the trip? Lisbon was by far the best value for our Western dollar. We paid less for the accommodations, food and admission in Euros than what we paid Barcelona, Marseille, Cannes, Milan or Paris. I hope that Portugal doesn't figure that out because I'd love to go back and spend more time there now that I know what I should budget. Of course we also travelled in April, which is a bit off season, a little less crowded and very rainy.