Ever since I visited Barcelona with my children, back in April 2019, I have been obsessed with the idea of returning. Travelling with my kids is fun, but in doing so, I didn't really get to experience all of the food and drink options I would have done without them. I got to taste some beer and wine and it was at a small restaurant off La Ramblas that I first tasted Estrella Damm. This was not a beer I had tasted in Toronto!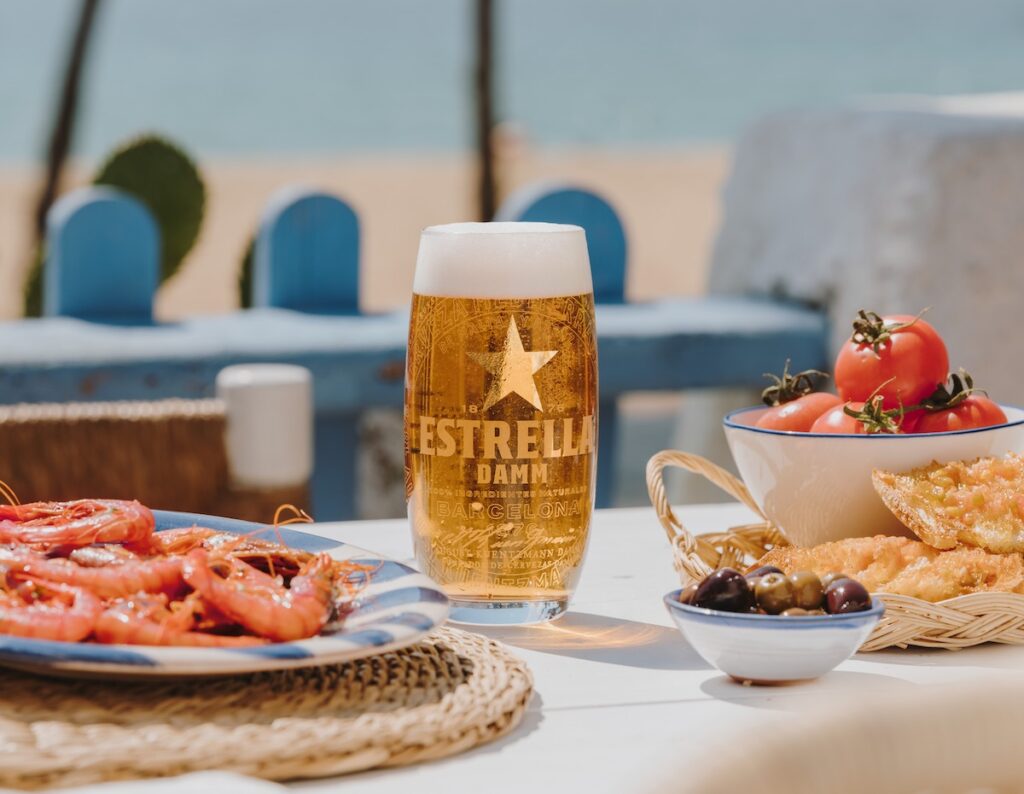 Estrella Damm is widely known as the number one beer in Barcelona. Commonly referred to as the "Mediterranean Lager" in Europe, Estrella Damm has not deviated from the formula created in 1876 that uses only barley, malt, rice and hops. It was the dream of August Kuentzmann Damm and his wife, Melanie to brew beer when they fled the Franco-Prussian War to the Mediterranean coast to brew beer. For over 140 years, the fields of hops and barley have been prepared for spring. Then harvested for the malt boxes, fermentation and lagering.
The beer, Estrella Damm lager is a golden colour with tones of amber and slight shades of green. A lager beer is one that is brewed and conditioned at a low temperature. Estrella Damm is bright with small bubbles and smells of fresh spices. I must mention here that the beer itself is brewed with 100% natural ingredients. Very European (like their bread, bread in Europe is way better). Being a lager loving girl, it's definitely one I'm happy to drink and enjoy.
Estrella Damm in Toronto
For the month of May, Harriet's and a few other restaurants in Toronto will be partnering with Estrella Damm. The Estrella Damm Culinary Journey will showcase a signature food pairing that is complemented by a cold Estrella Damm beer. To start the Estrella Damm culinary journey off right and get into a Spanish mood, be sure to take set yourself up with a Spanish-style snack. Andalusian olives and Mediterranean herb flavoured potato chips along with an Estella Damm will work very well!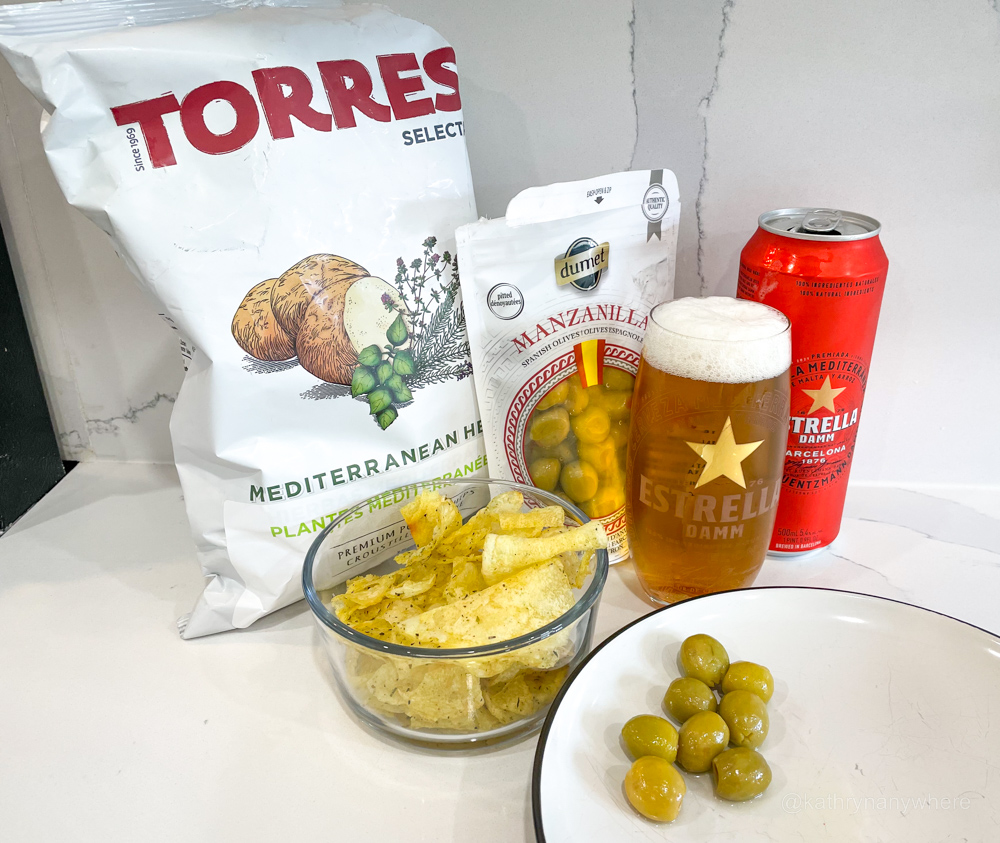 I decided to check it out myself at the rooftop patio of Harriet's with my good friend, Chris from Rudderless Travel and Roadtrip Ontario. This is a restaurant I have been dying to try since it opened at 1Hotel Toronto. Luckily for me, it's a hop, skip and a jump away from where I live so I didn't have to walk very far. If I was going much further, I definitely would have taken an Uber.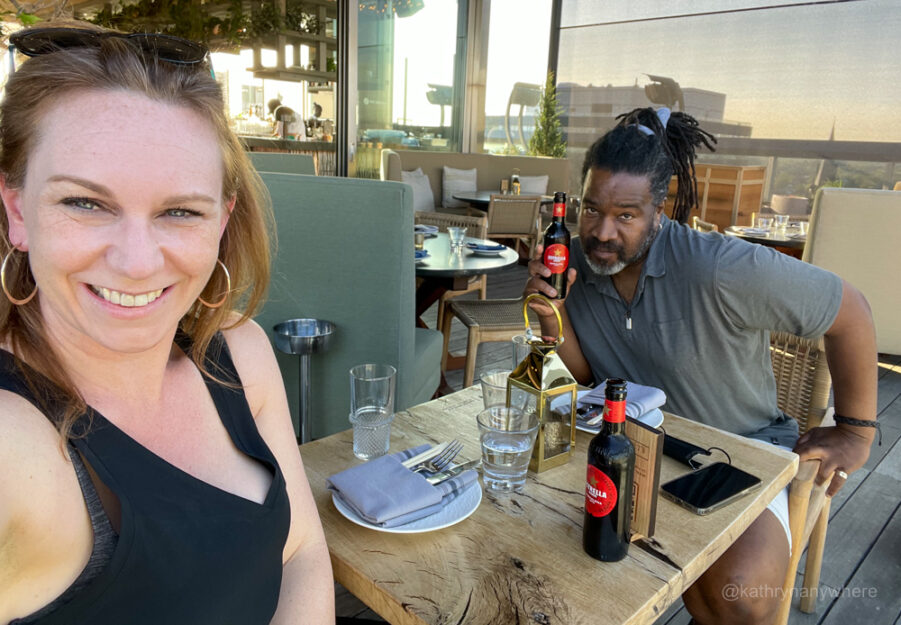 The night was a perfect temperature and I was able to wear a sleeveless romper. I had bought this romper many months ago and was dying to wear it out. Chris and I each ordered a couple of Estrella Damm beers. We also dined on two of the suggested food pairings. The first on the list is Beef Tsukane. That is bacon-wrapped beef balls with Gochujang BBQ sauce.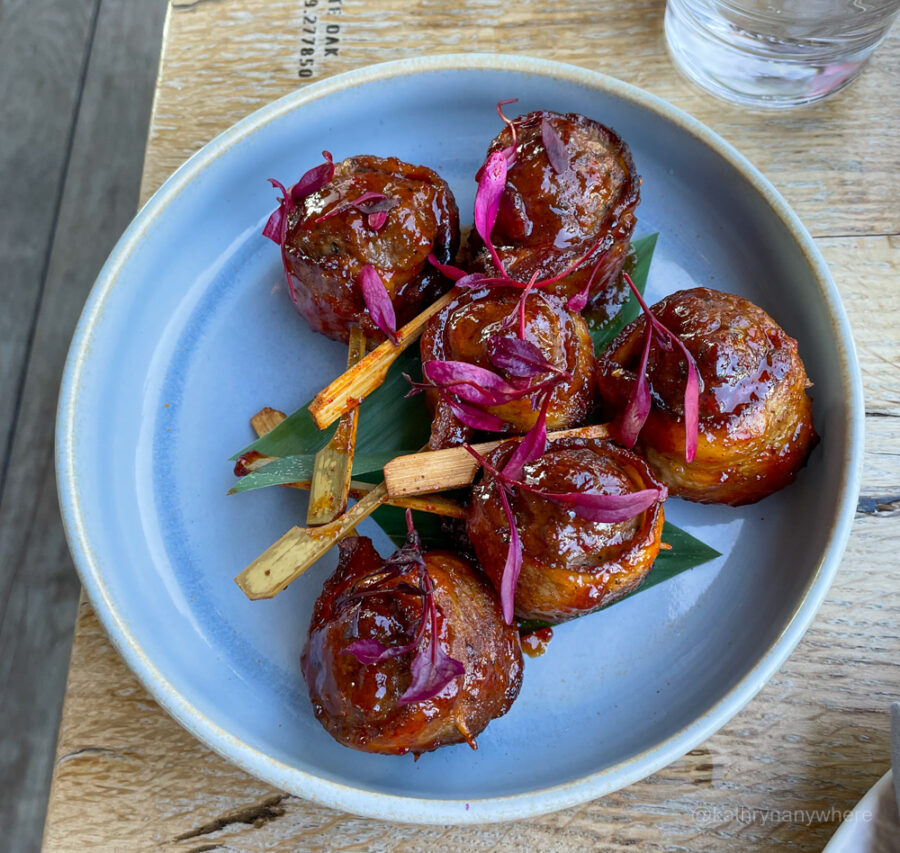 The second food item we had paired was Chicken Katsu Sando. That is Buttermilk Fried Chicken, Coleslaw, Gochujang BBQ Sauce.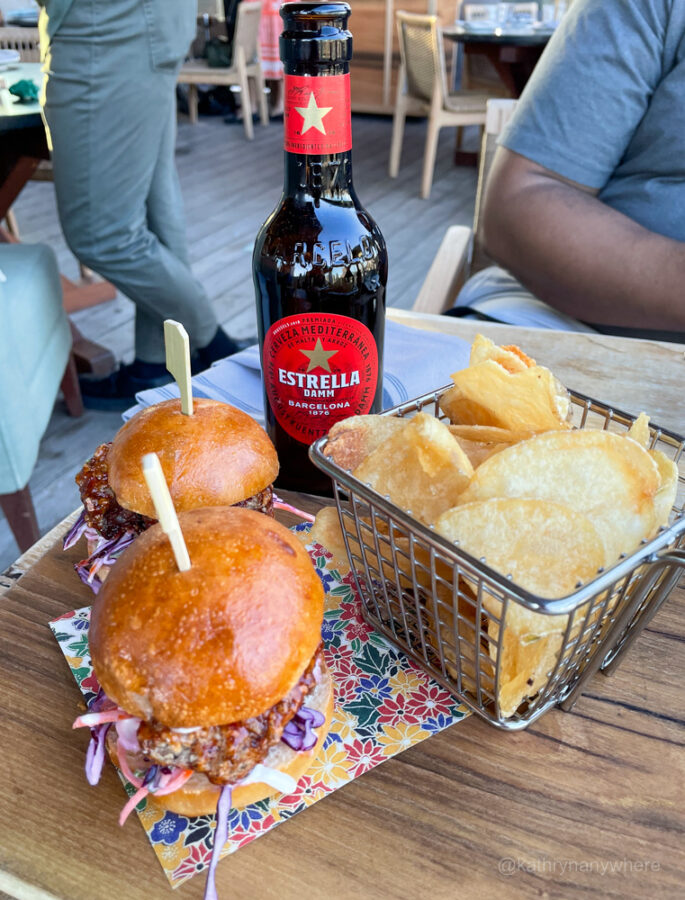 Being a red meat girl, I can definitely attest to being in love with the beef dish.
The view from our table of the city was really cool. For anyone coming to the city of Toronto and looking for a real urban dining experience, this is it. Being up here there is definitely a great way to feel part of the hustle without walking in the middle of the hustle.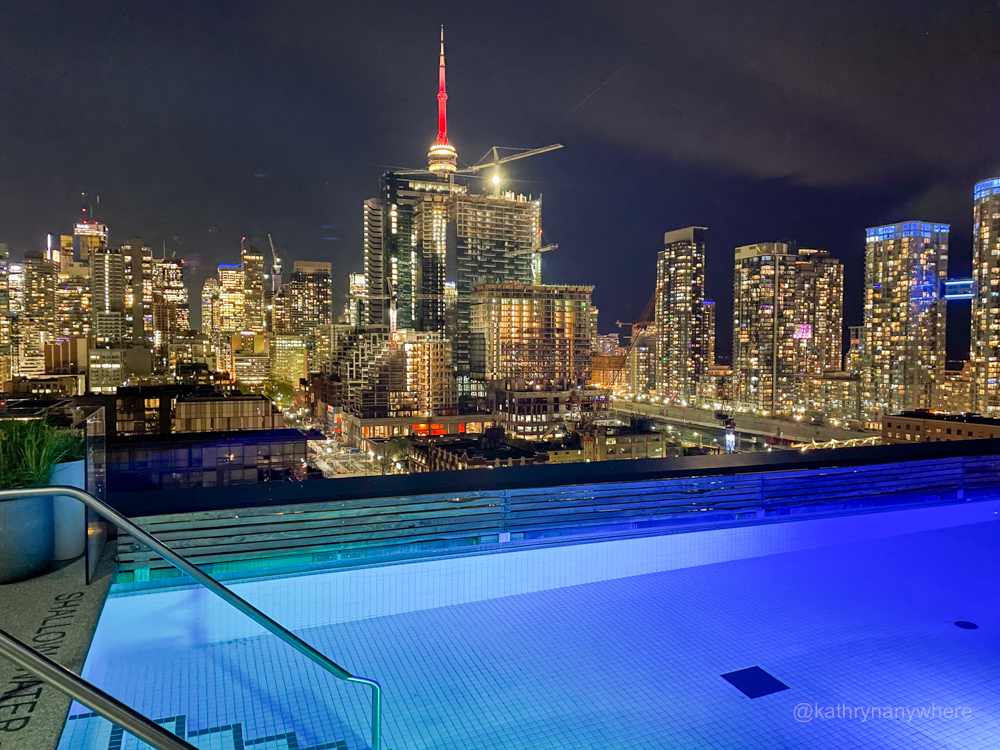 Where to savour Estrella Damm in Toronto
Throughout the city of Toronto, there are other restaurants participating in this culinary journey of Estrella Damm as well! You can partake in the pairing and enjoyment at Goodson Queen, Goodson DM, Mrs Robinson, Mira, Atai Bistro, Atai 36 @ Knots, Trattoria Mercatto, Madrina, Café Dip, Shook, Patria, Parcheggio, Beaumont Kitchen, Tapagria, Ricardas, Mexitaco By the Bluffs, Mexitaco on Victoria Park, Mexitaco Cantina, Barrio, Chica, Campo, Prohibition, Babel, Tapas at Embrujo, iSLAS, Bar Isabel , Leña, Middle8, DaiLo, and Mercado Negro.
Many of these restaurants are bookable on the app Open Table. They are conveniently located in the downtown area. Most locations are close to Toronto transit or be sure to take an UBER so you don't drink and drive.
Hope you get a chance to get out and enjoy Estrella Damm in Toronto!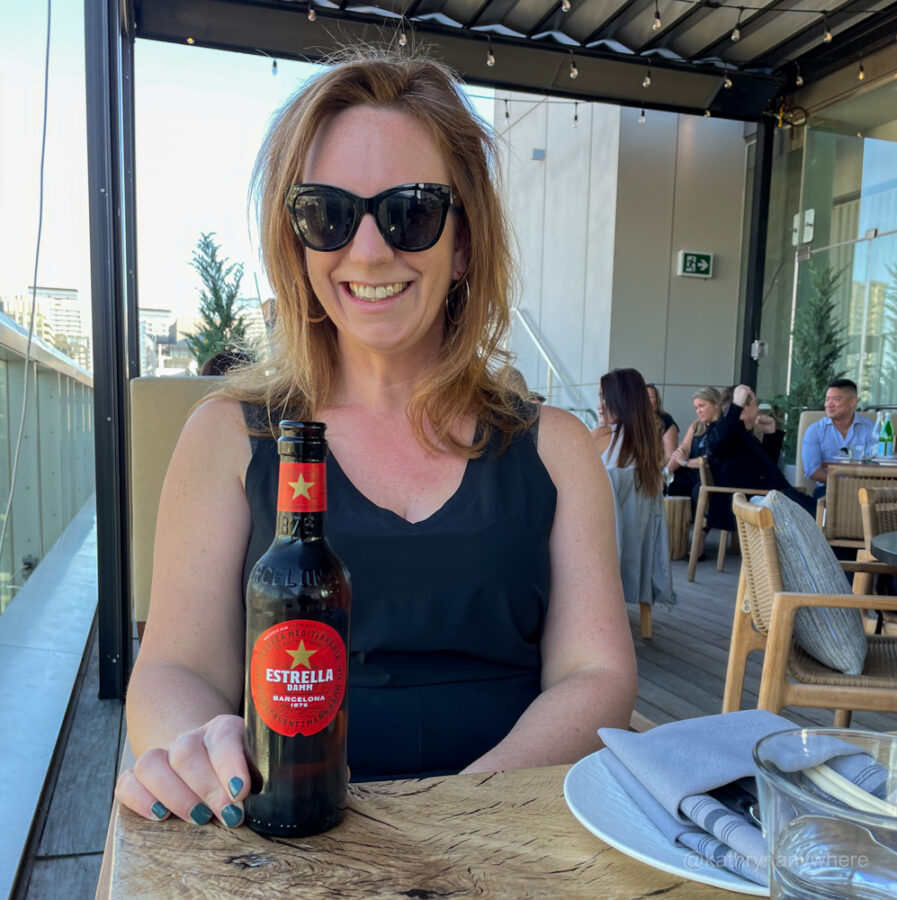 I was gifted this dinner experience to cover the Estrella Damm culinary journey in Toronto.
I don't enjoy every beer I taste, but I certainly enjoy Estrella Damm.