Pheromones and Fly Fishing in Spruce Creek Pennsylvania
In the world of fly fishing in Spruce Creek, Pennsylvania, I'd be a catch, right?
I find myself standing in the middle of Spruce Creek in a pair of grey waders, black rubber books and a mint green coloured adidas sports bra and black top. A mesh baseball cap adorns my head. There may or may not be a pair of my fancy black leggings on underneath. Only I know because… waders. My outfit is a look that clearly reeks "come hither" (insert giggle here). I'm holding a fly fishing rod and I have no idea how to use it properly.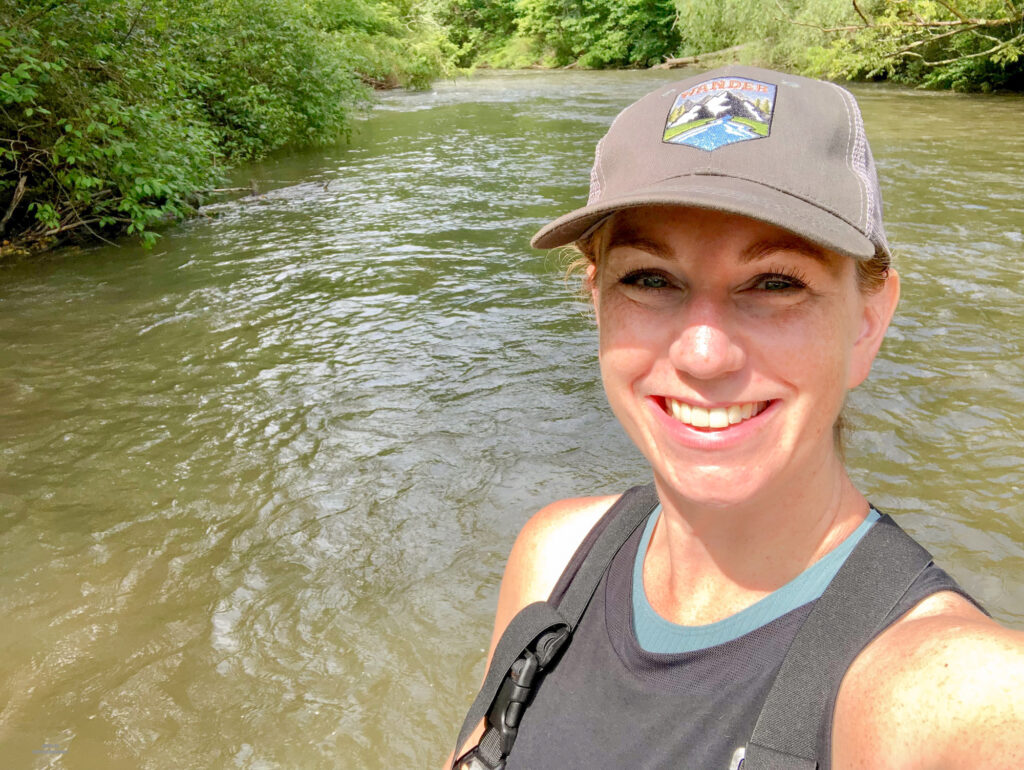 There's a slight fog in the air as it's still early in the morning. I'm not really a morning person, but when it comes to one of a kind life experiences, I'll get up. The kids have gone to Lincoln Caverns for the morning for a summer camp, leaving me free to stand in the current of the creek and learn the art of fly fishing in Spruce Creek, Pennsylvania. It's actually my chosen activity for the morning.
I fished with my Dad as a child, but this technique is brand new to me.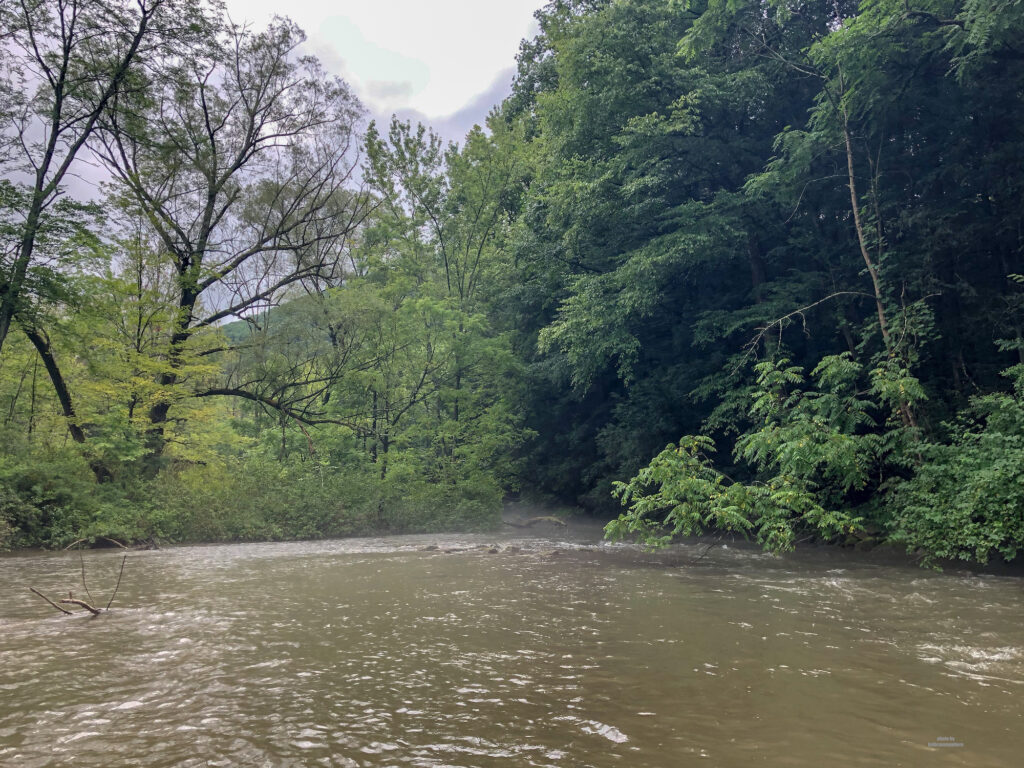 Fly Fishing in Spruce Creek,
the sport and place of Presidents
My fly fishing guide for this excursion is Andy, set up by Homewaters, a private fly fishing club and my host for the previous night. Andy leads me around Spruce Creek with a humble confidence that comes from his deep experience. There is a rumour that Andy has taken former US Presidents out fly fishing in this area. I figure I'm in good hands, he knows this creek and her currents like an old friend.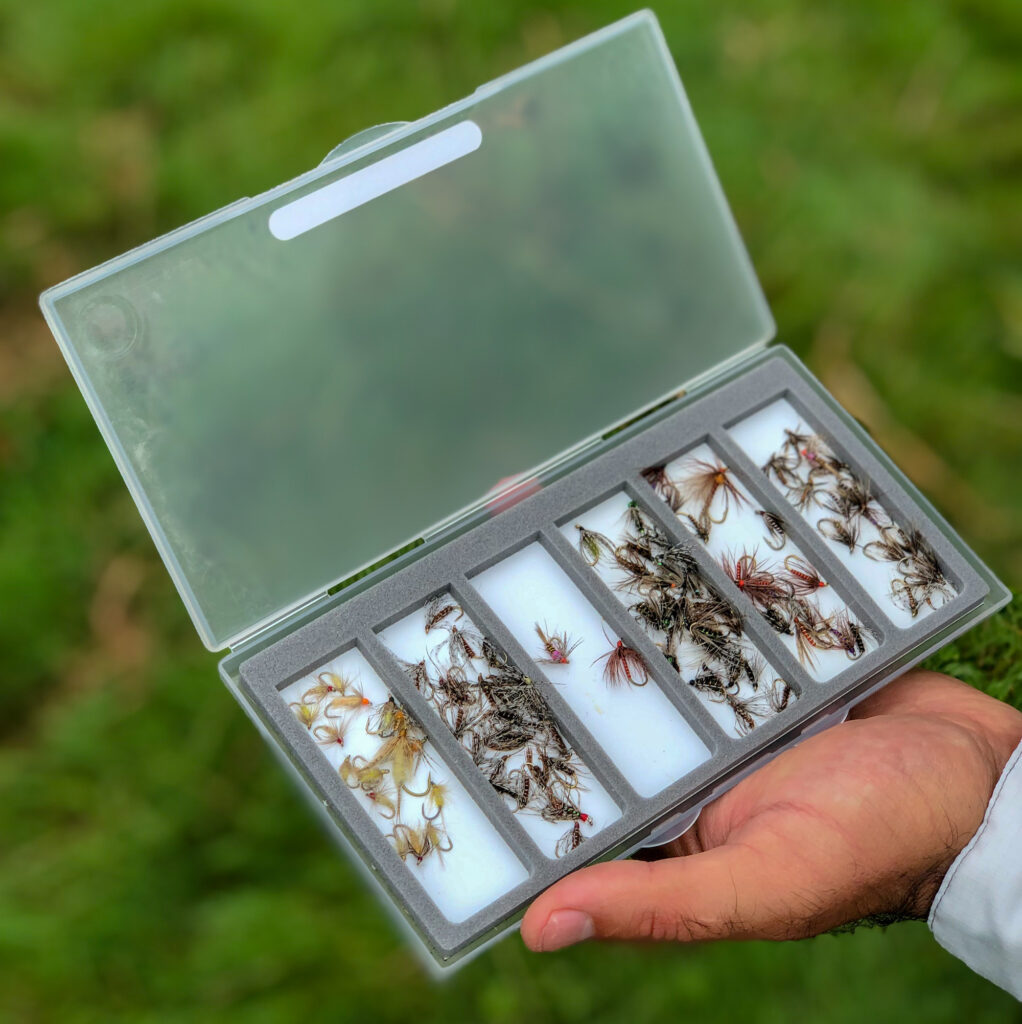 I get a crash course in what these fly fishing lures are – an imitation of a food source. So lesson number one is trouts eat flies. Or whatever looks like flies as they dart across the water. I'm not fluent in the terminology of fly fishing, but being in the presence of a rugged, outdoorsman made me pay some attention. I'm almost finding these lures interesting! What's that? A dropper? That's the coolest thing you've told me in the past five minutes.
Not that I am opposed to the act, but I didn't once touch his lures to put them on my line. I would have if I was confident with them or had some practise. Or if the offer was there.  Alas, no offer to handle the lures. They're his and I have to reiterate – this is all brand new to me. And yeah, I totally got one stuck into my thumb at one point too.
The dexterous hands of a man skilled in threading lines and attaching lures has me watching closely.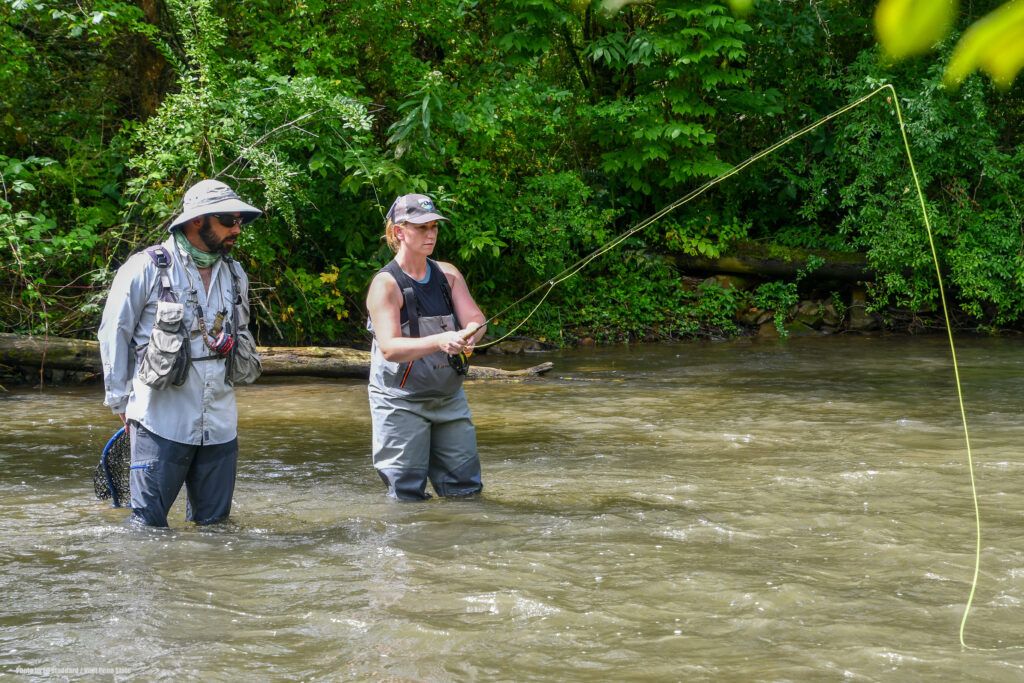 Lure On The Line
Andy had everything you could need in his pockets for a fishing excursion – knives, string, line, bug repellent. A whole variety of lures and flies to taunt our desired with. Likely a sandwich too. Good thing, a girl could get ravished hanging out in these waders, fighting the current.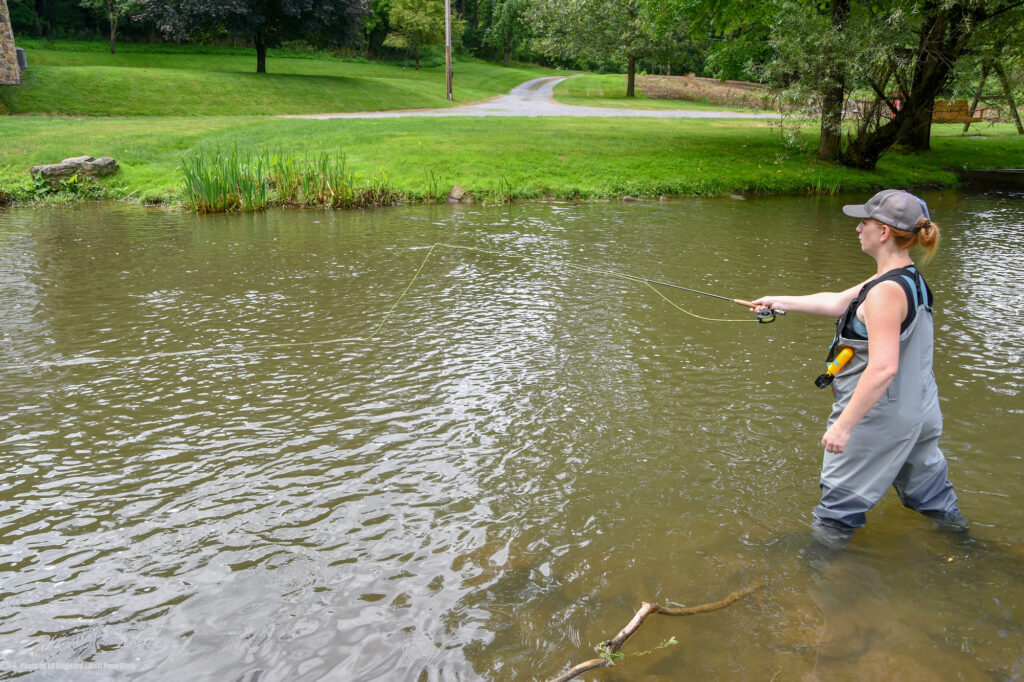 Lesson two was getting the line in the water. I learned how to cast overhead and then across my body. Different flicks of the wrist, how high to hold the rod. How to track the speed of the water. When to tilt up and down. When to pull back and recast. All under the direction of Andy. Yes, I let a man tell me what to do and how to do it – just this once.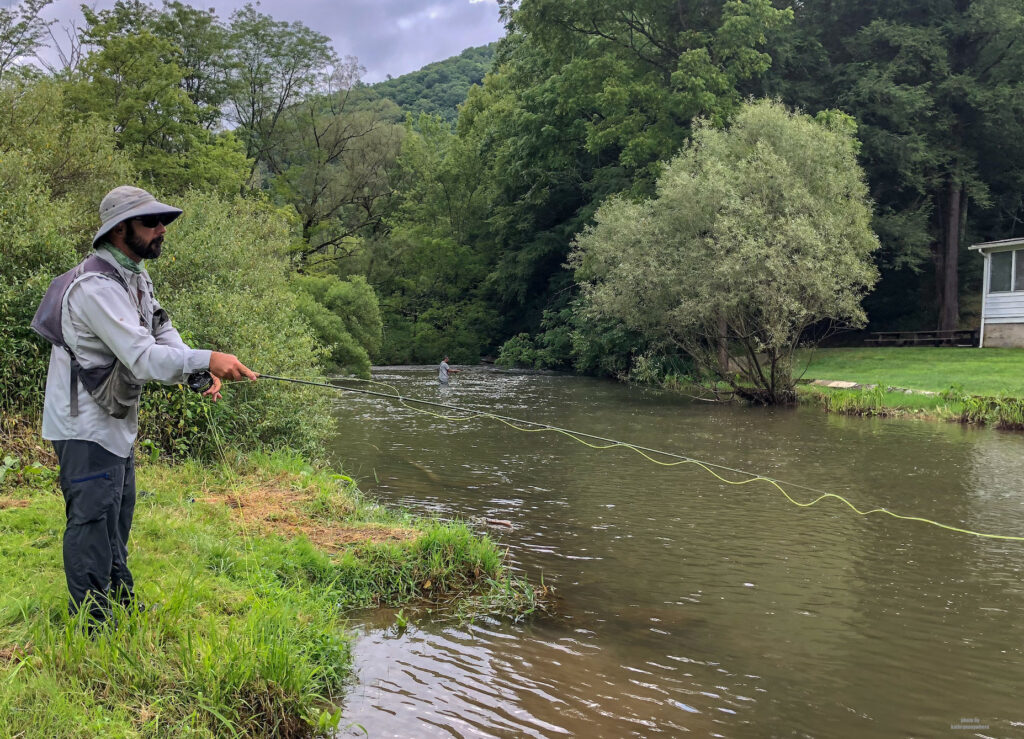 To watch Andy's technique was nothing short of beautiful. His movements were fluid, nary a moment of frustration. Nothing phased him or stressed him out. This was his place and he knew it. Andy was super patient, no matter how many times I was catching Pennsylvania ground or the trees behind me, he was there to get my line loose. Sure this was his job, but to witness the quiet confidence he possessed made me realize that there was life in that river.
And that life was in the shadows. By the tree line, just past that second row of bubbles.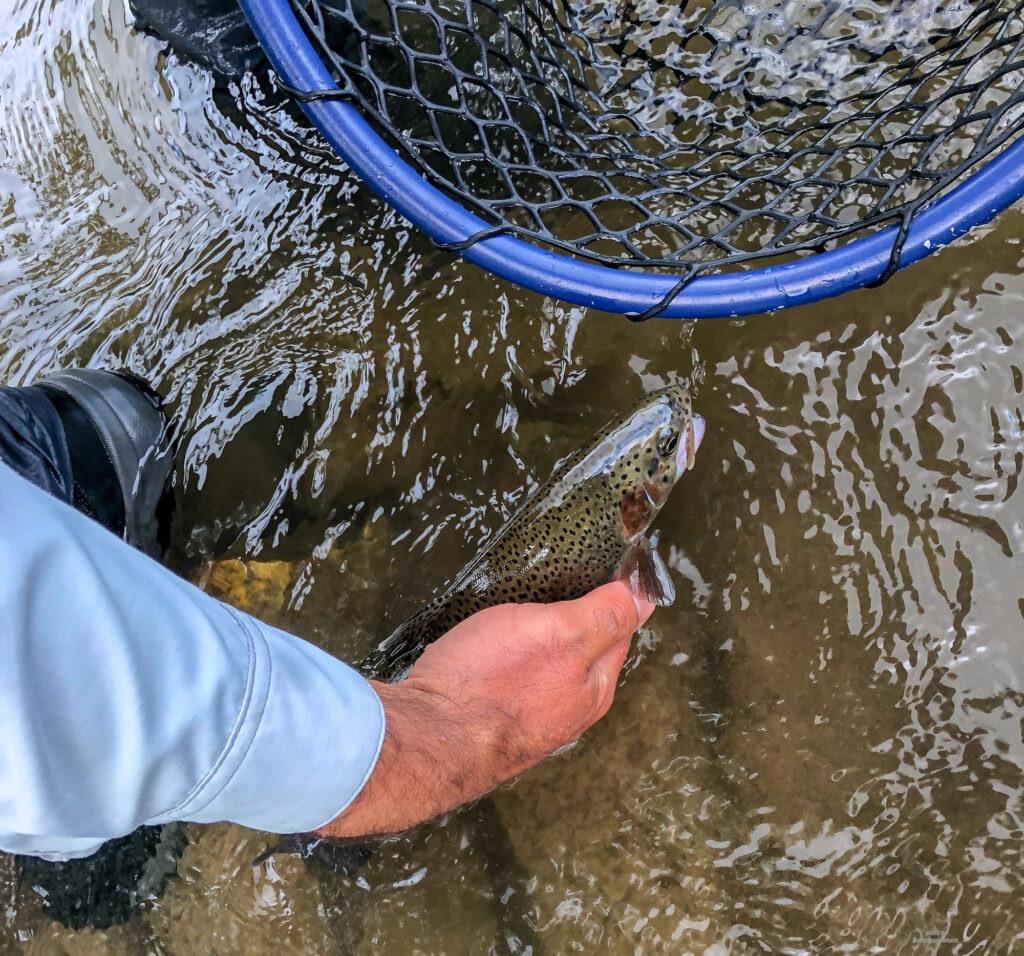 The Catch(es)
While I casted and casted and tried and wiggled the line, it took hours before I saw a bite. A fish finally took the bait! And when I did… here they came one after the other. Some smaller than others, but then, the big one. Lesson number three was reeling it in.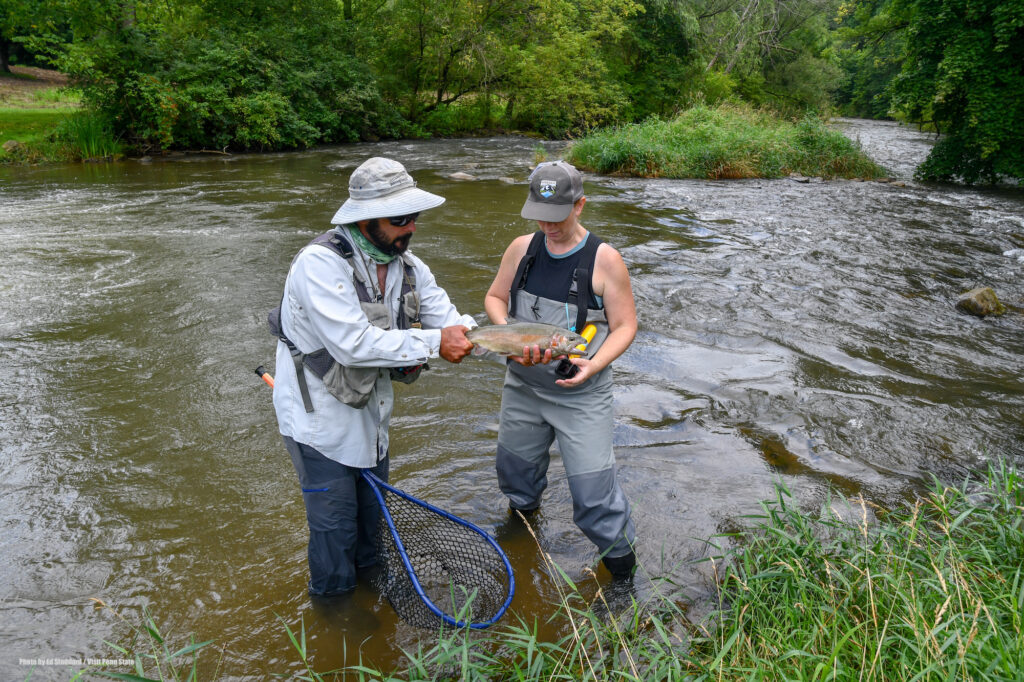 Hell yes, Andy had to coach me in reeling them in, he came and put them in the net for me and released the hooks from their mouths. I even screamed and giggled as he helped me hold a wiggling fish in my hands. Feeling the strength as it writhed for freedom. Those fish were strong! Nothing made me feel more like a valley girl than screaming "Oh my god, it's huge!"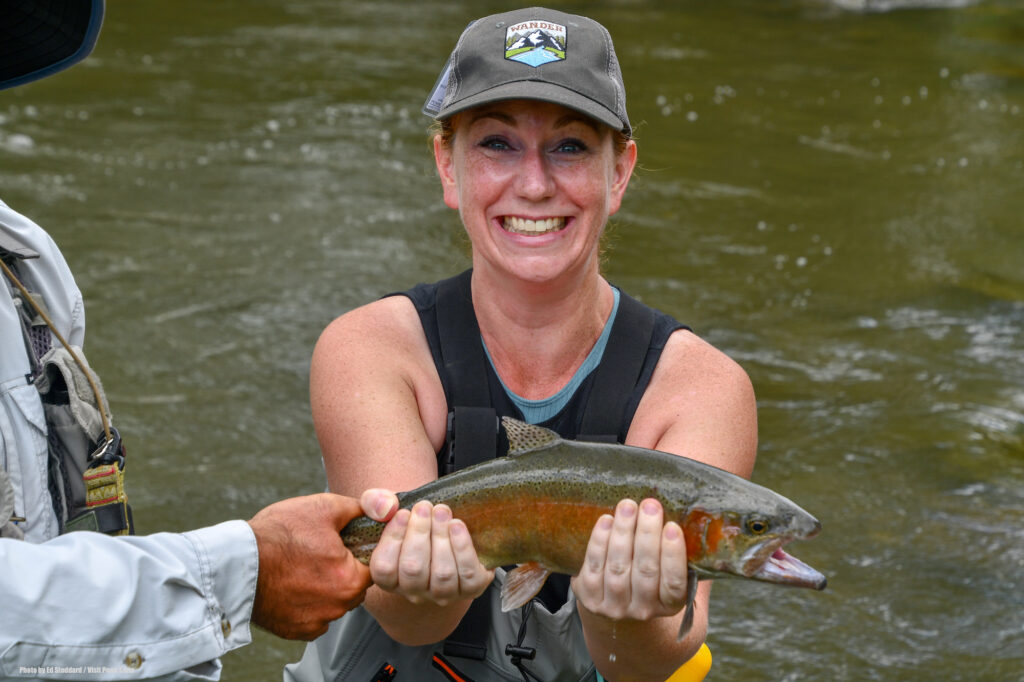 Could this be something I'd master myself? I don't need a man to hunt/fish for me! I'm the hunter here, even if I need the assistance of a strong man in holding the fish, this time.
No, wait… I got this.
Make no mistake that smile is part excitement and part terror that this rainbow trout is going to jump out of my hands.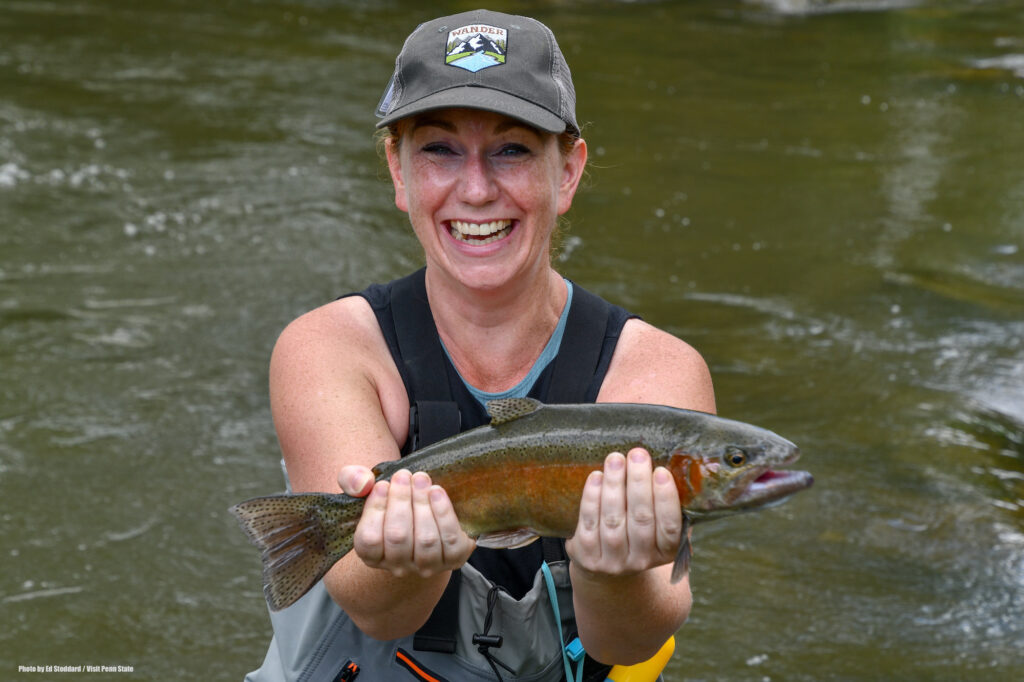 Right after this picture was taken, that rainbow trout jumped and I couldn't control it. For the activists out there, it was catch and release. All of the fish caught were put back into the wild current of Spruce Creek.
I can see why this has become a past time for so many. Nothing but you and the river. Some time to kill. Simplistic thoughts. And a rugged sportsman on the scene doesn't hurt either. Look, but don't touch though, that catch isn't for you. Ladies, this might be the one of the best ways to spend a day, fly fishing in Spruce Creek, PA.
This experience hosted by Visit Penn State in Pennsylvania, USA. Thank you to Ed Stoddard, the Communications Director at Central PA Convention & Visitors Bureau for contributing photos from our time in State College (read more about it here). Even though this was a hosted experience, all opinions and are mine. 
Thank you to Andy for the great morning in Spruce Creek.