West and Southern Pennsylvania Road Trip – Where to Go With The Family
This trip was hosted by the Butler County Tourism Board, Visit Penn State and The Huntingdon County Visitors Bureau in Pennsylvania, USA.
All opinions and experiences are that of mine and my family and I am always brutally honest.
Road trip? I love a good road trip. Taking a Pennsylvania road trip with my family had been on my radar for quite some time. Back in the day, when the Canadian dollar was over-par and I had disposable income (so way back in my pre-kids days), I frequented the Grove City Outlet mall for deals. Since it was only an easy 4 hour from from Toronto, I repeatedly stocked up my wardrobe there. However, that was all of Pennsylvania that I knew. When the opportunity came up to embark on a road trip to visit parts of Pennsylvania I have never seen or even heard of, I did what I normally do, pack the family and jump at the chance. Off we went on a six day, West and Southern Pennsylvania Road Trip. We went through Butler County, over to State College and then to Huntingdon County.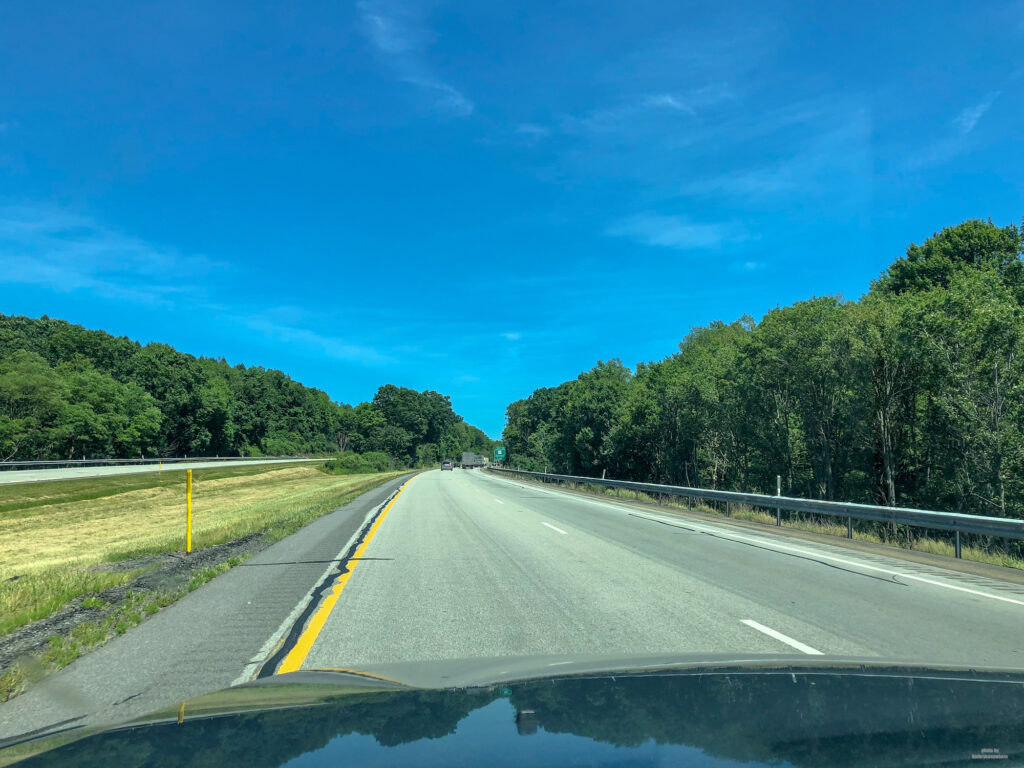 So, where is Pennsylvania anyway? It's a US state directly south of Ontario. To drive there from Toronto, you have to pass through the Niagara Falls / Fort Erie border area. Then, head south through New York.
Here, I will give an overview of each stop and where were went. I am going to do subsequent posts on each location with much more detail, including where we ate and what we ate, as well as an extended description of the experiences that my family had.
As always, I have a lot to say, but no one wants to read 5,000 words in one stop. So here is the first of four posts, consider this to be your highlight reel:
Pennsylvania Road Trip First Stop
BUTLER COUNTY 
We left home on Sunday morning at 6:00am, which meant that traffic was light compared to the normal gridlock of the Greater Toronto Area. Between going through the border to the USA, a gas stop and an additional pee break (blame the kids), and a stop to buy running shoes, it took us 5.5 hours to arrive at the Log Cabin Inn in Harmony, Pennsylvania where we met with Tiffany from Butler County Tourism & Convention Bureau for some classic American fare.
Tiffany would be our fearless leader for the next 24 hours! While I realize it is the job or these lovely people to host us and show us around, I always warn folks that my kids are well… kids. They can be unpredictable and say the weirdest things.
Butler county is just north of Pittsburgh, home to the Pittsburgh Penguins hockey team, Steelers football and Pirates baseball. Unfortunately, this trip did not allow as much time there as I would have liked to take in and see the ice where the Penguins practise, but it's on my list for a return trip for sure.
WestPark Alpacas
Once we left the Log Cabin Inn, we headed for WestPark Alpacas, just outside of Slippery Rock, Pennsylvania.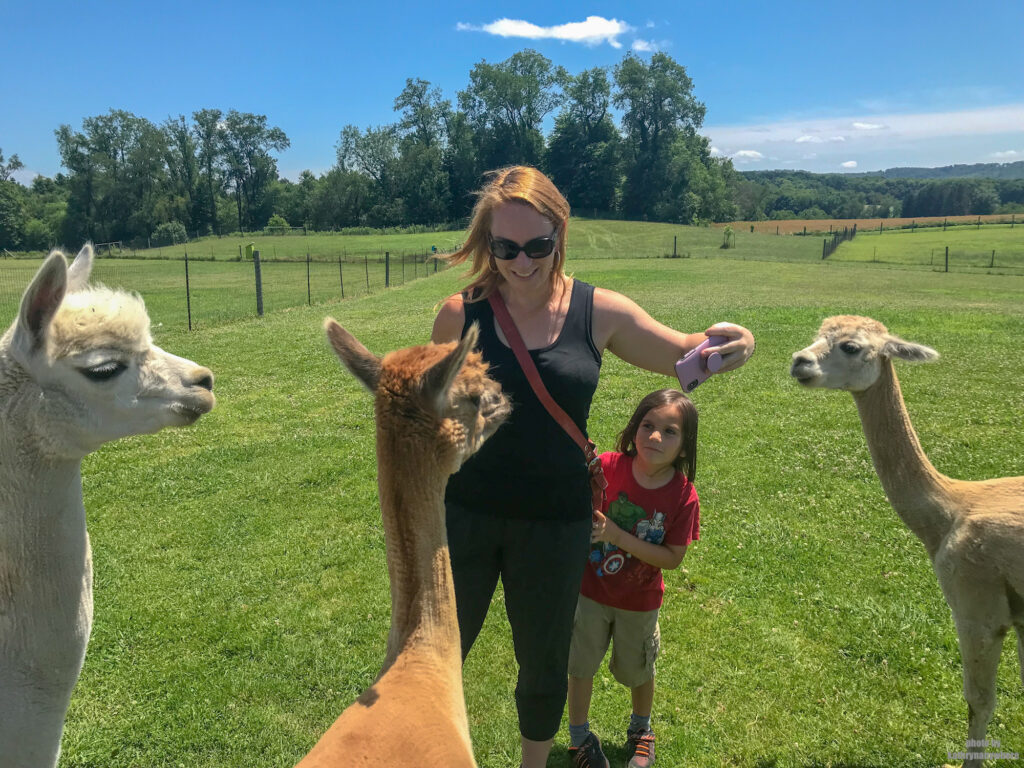 We spent some time at WestPark Alpacas where we got to walk among and actually meet the alpacas up close and hands-on. Everyday is Alpaca petting day there! I never knew that alpacas were:
A.) so cute and friendly
B.) so photogenic
C.) would provide so much entertainment for Little Man
D.) would terrify Miss M for some strange reason
 Christine, who runs the farm there was such an amazing hostess and so patient with the kids. Especially when my daughter walked in and freaked out. It might have been the dogs that threw he off first, but whatever it was, she was happy to stay back and out. I'll have to try her again there another time.
My son however, could not get enough of them and we spent so much time in the barn and in the field with them. Their faces are so expressive!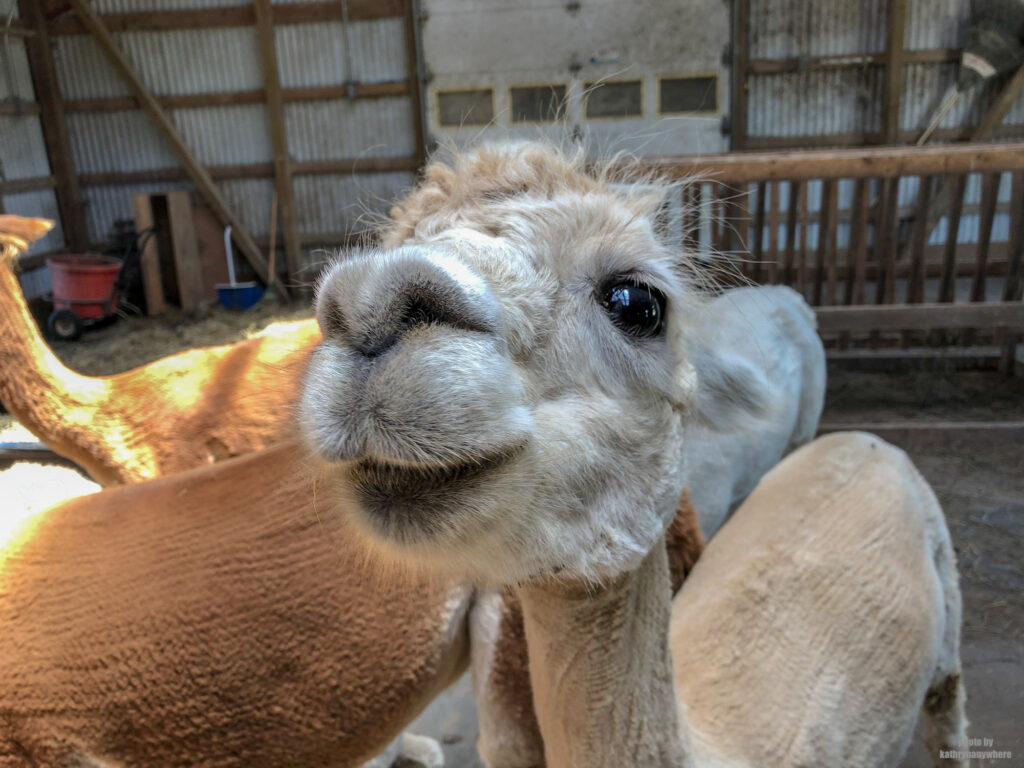 Nautical Nature at Moraine State Park
Best way to see Lake Arthur at Moraine State Park? Take the Nautical Nature pontoon boat cruise. Sit back, relax and see this man made lake from a different angle.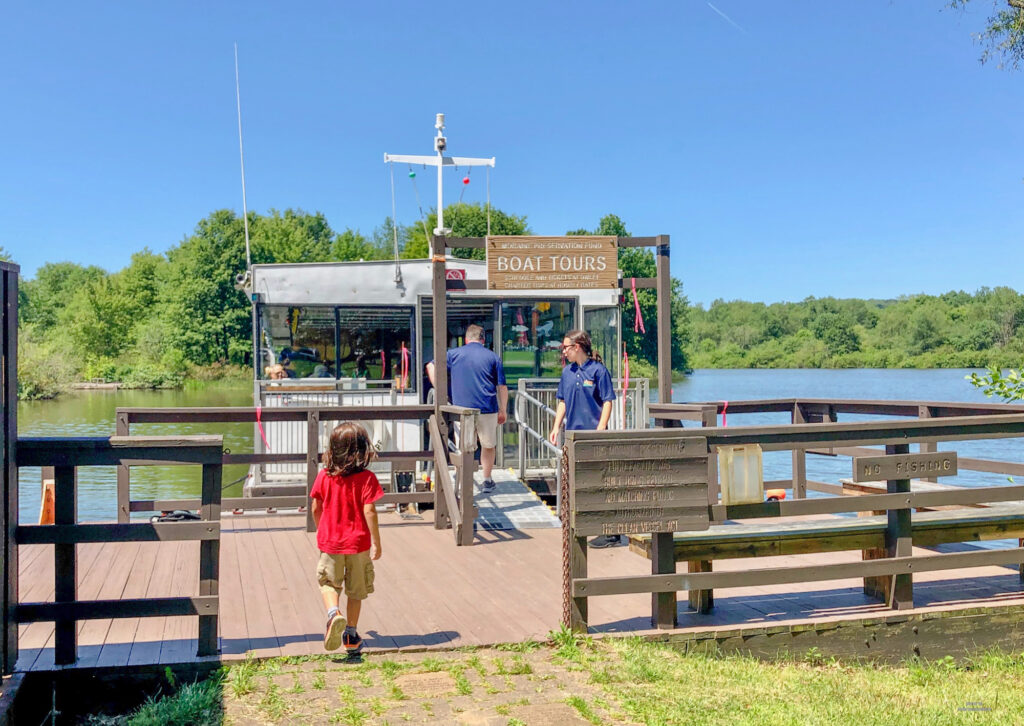 What I found slightly curious about a couple lakes we saw in Pennsylvania is that they are man made in the 1970's. And not for the reason of vanity of simply having a body of water to frolic in. Initially, there was a glacial lake. From the early 1900's, the surrounding land had been severely abused through industry. A geologist and naturalist saw potential for the area and studied a way to heal the lands and that resulted in damning a nearby creek, thus flooding the now Lake Arthur. Controversial, yes. A whole town of people had to be moved for this to happen.
Regardless, this is now a nature conservancy and beautiful osprey birds can be seen along the shore lines.
If you are looking for other ways to see the lake from the water? You can rent or bring your own kayak, sail boats, stand up paddle board, canoes, or swim at one of the beaches.
Entrance to all State Parks in Pennsylvania is free. Yes, you read that right, explore every single state park in Pennsylvania without having to pay for admittance. That is incredible.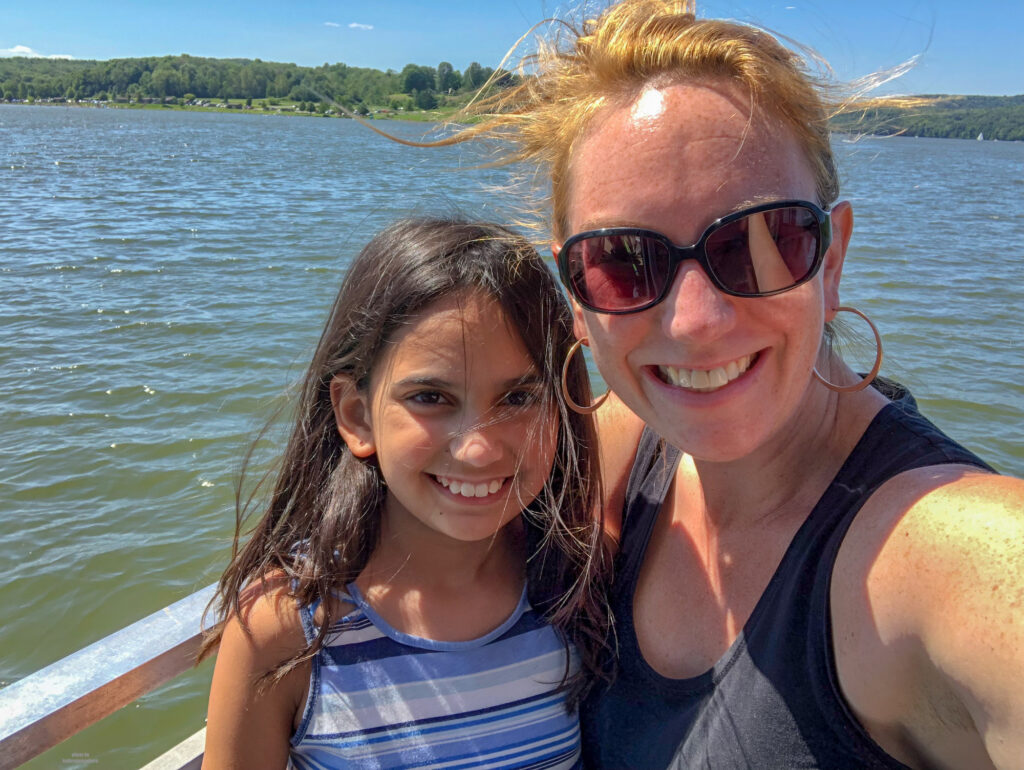 Butler County's first brew pub – North Country Brewing Company
Can I go anywhere without trying local craft brew? The answer is NO! So why not head to the first brew pub in the county to have dinner for my local hops introduction?
The brewery itself is in a building with an interesting history. Right in the heart of Slippery Rock, the building had been made for a furniture making business, a place for coffins to be manufactured and naturally, a mortuary. So yes, dead bodies have been housed there at some point in history.
I tried a flight here with brews from fruity flavoured to lager to an ale, to IPA and a reds. Sorry, no stouts this time, it's summer and I just can't do it in warm temperatures. Surprisingly, I loved all of them.
Obviously, there will always be those I prefer in my palette over others and they are typically the lighter beers in colour, but not taste! I definitely recommend having a meal here and checking out some of the brews on tap.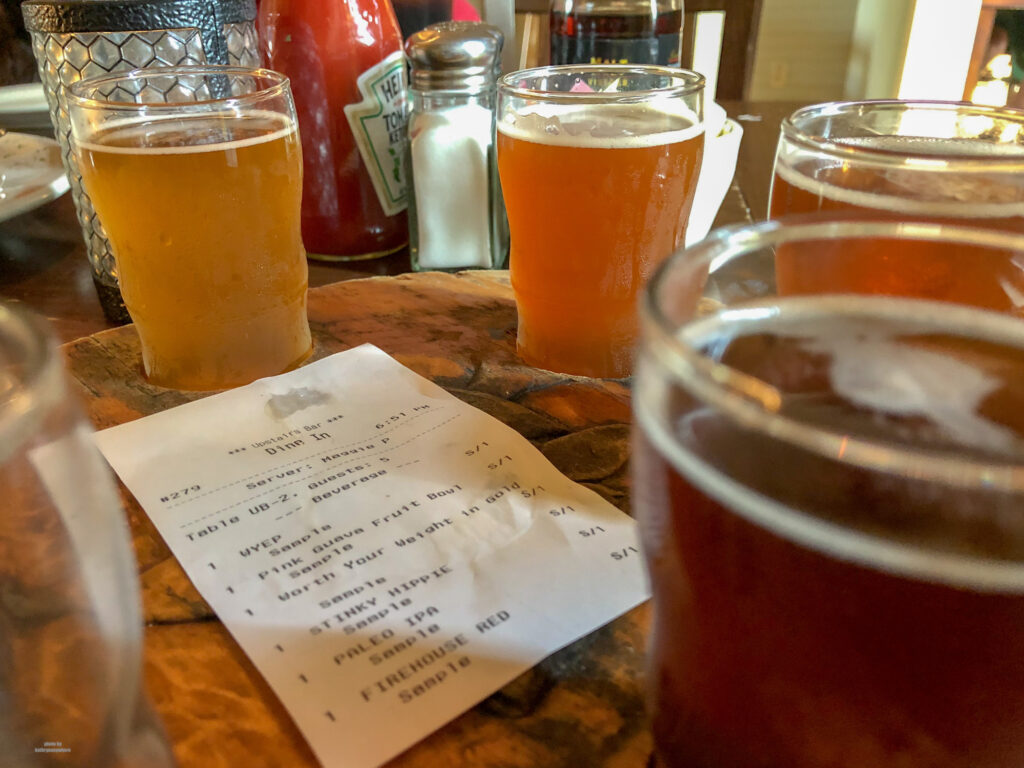 Hike at Jennings Environmental Education Center
Jennings Environmental Education Center is one of several state parks in Pennsylvania specifically dedicated to providing environmental education and interpretation to the community. There is an amazing visitor's centre that I think my kid's thought was all we were there to see initially and they would have been content there.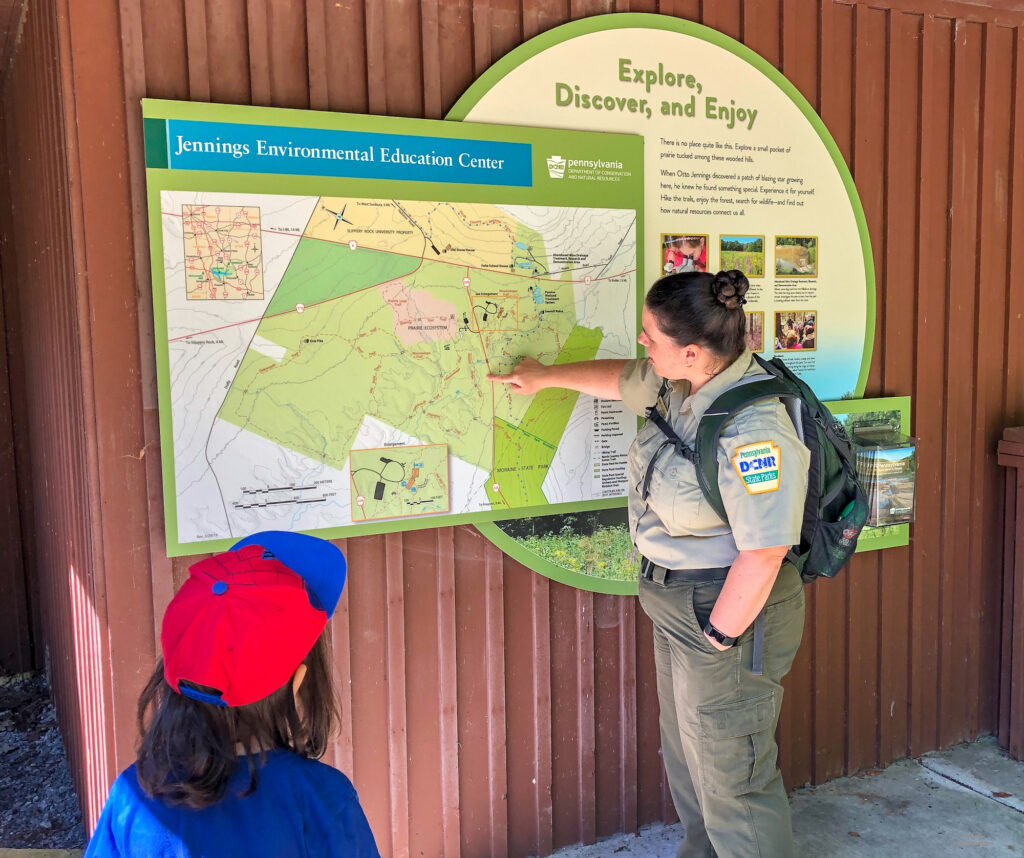 One of the park's main features, the 20-acre prairie ecosystem, is home to distinctive prairie plants and the endangered massasauga rattlesnake, which we went hunting for with our hiking guide, Brandi. The hikes there are quite easy and the area is really well maintained, so much so that most parts are completely accessible by families with strollers or seniors with aids for walking.
We did find a snake, but it was just a water snake we found… not the rattlesnake. Next time!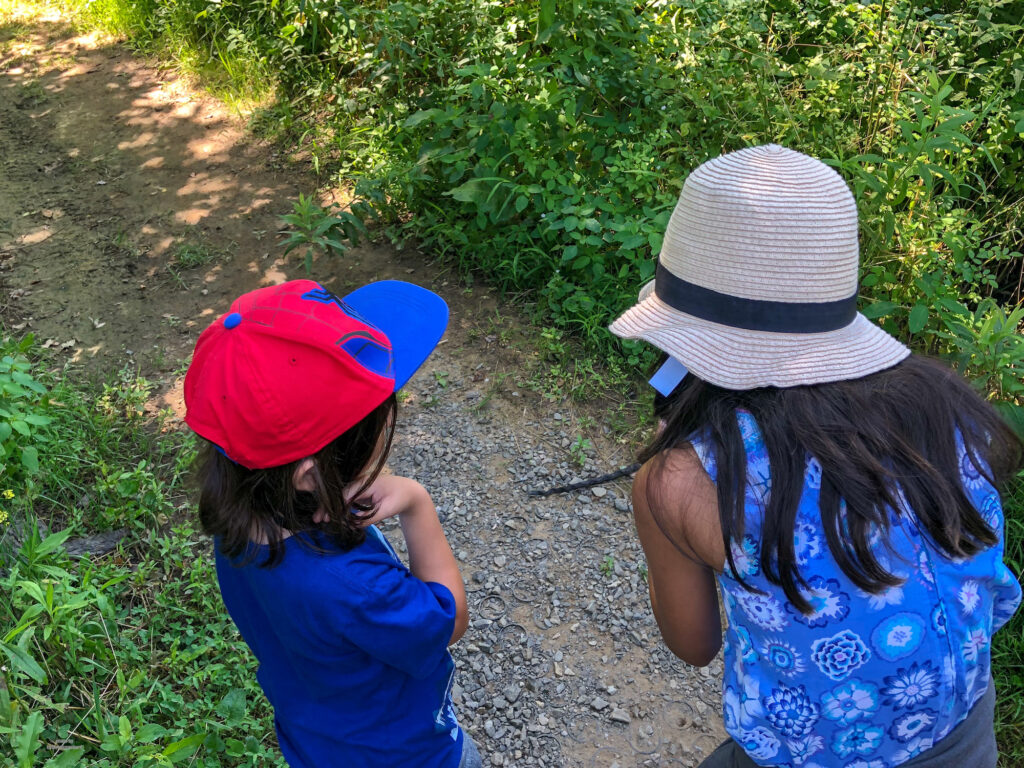 Behold the Yeti at The Snowman in Portersville
After having lunch at Brown's Country Kitchen, for a true country meal, go for a shaved ice dessert at The Snowman, which is a very popular roadside attraction. Guys, I don't know who came with the idea of shaved ice (snow cone) and ice cream, but it's kind of genius. And a novelty!
Behold the Yeti. Flavoured shaved ice, ice cream and whipped topping. Perfect tasty treat for a hot day.
One of the awesome places to take your kids in Butler County if they behave for you on the road trip!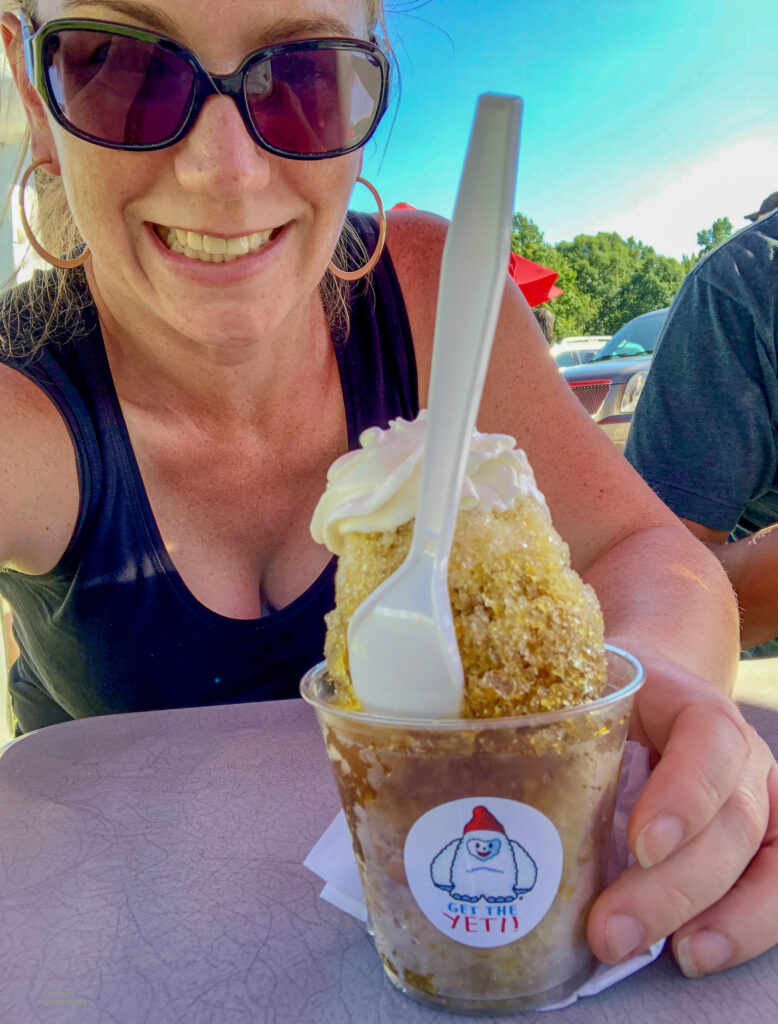 You can read way more about our Butler County trip by clicking here!
Pennsylvania Road Trip Second Stop:
STATE COLLEGE
From Butler County we drove just over 2.5 hours to the town of State College for the second stop of our Pennsylvania road trip. Don't let the name fool you like it did me. I initially thought that State College was literally the state college. Turns out there is much more to the area than a bustling and highly accomplished university.
The Arboretum at Penn State
Road trips with the kids is fun, but when they get out of the car, they want to run! My friends at Visit Penn State, Ed and Andy, had the perfect idea of where to take the kids after driving into State College, Pennsylvania – The Arboretum at Penn State University.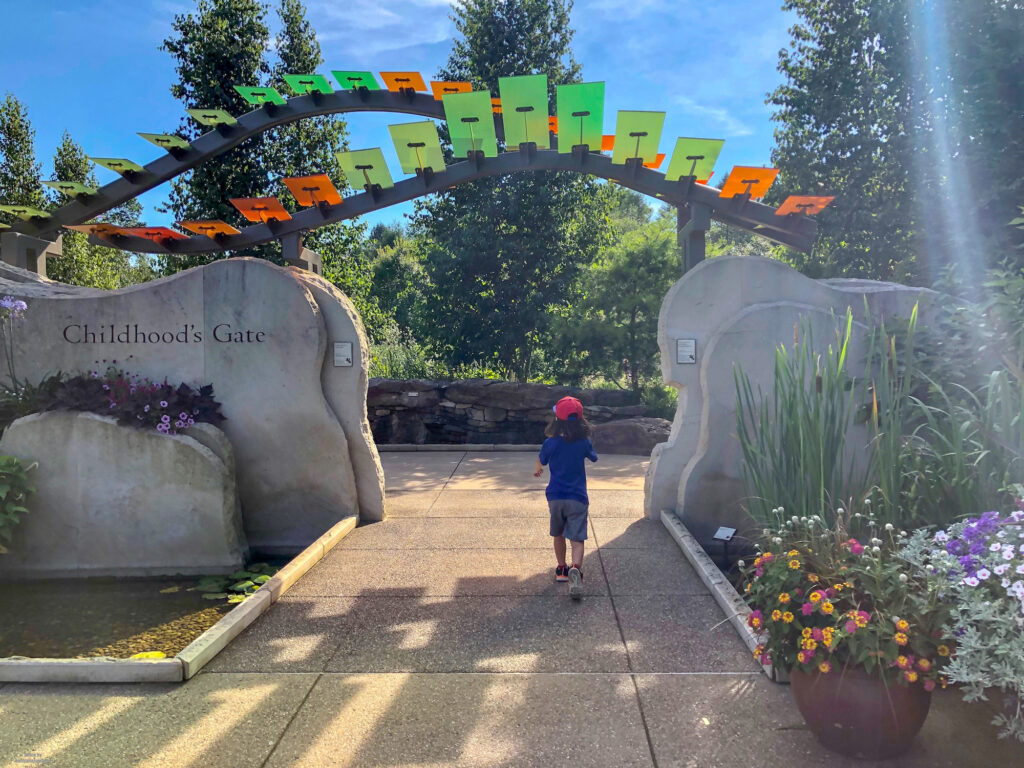 By the way – I get it, it looks like Little Man is running away from me in ALL of the pictures. Truth is, he's excited and having a great time.
First of all, admission to all arboretum grounds is free. This is kind of a recurring theme I am finding with outdoor activities in Pennsylvania. Free.
Secondly, the kids had so much fun in the Childhood's Gate Children's Garden. From kaleidoscopes to little book libraries, musical discoveries, herb gardens and lots of places to explore. 
And of course the rest of the arboretum is amazing as well. Worth bringing a book and hiding or packing a basket and having a picnic.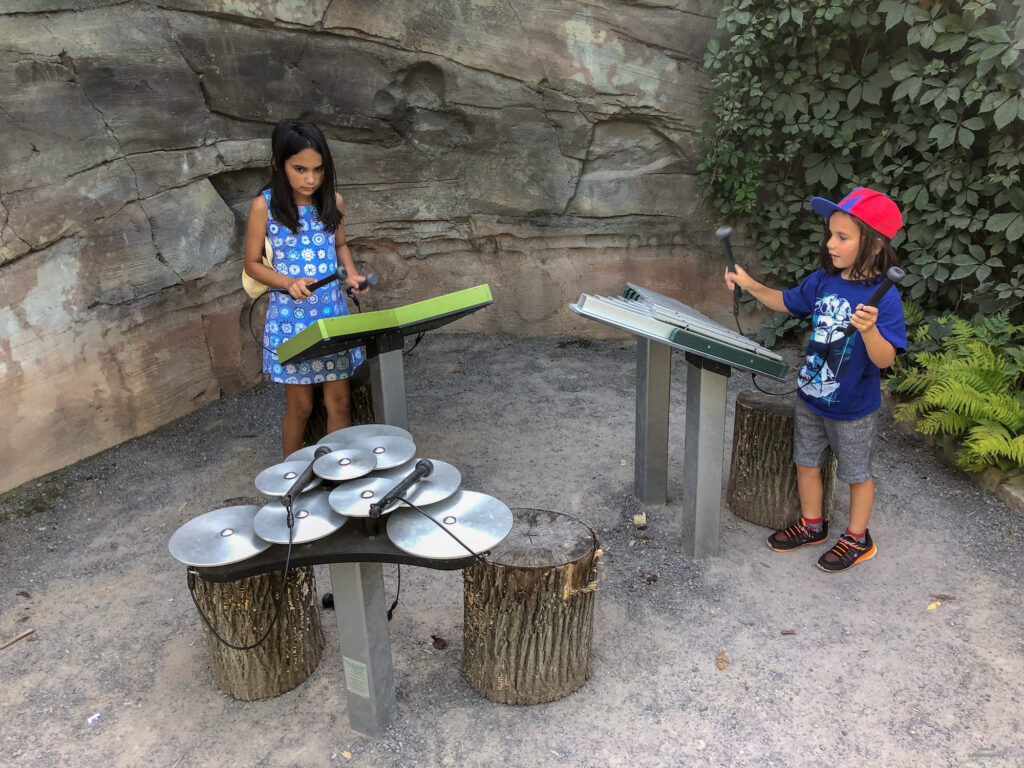 The Sky's the Limit Balloon
I've been skydiving, paragliding, scuba diving, but never hot air ballooning.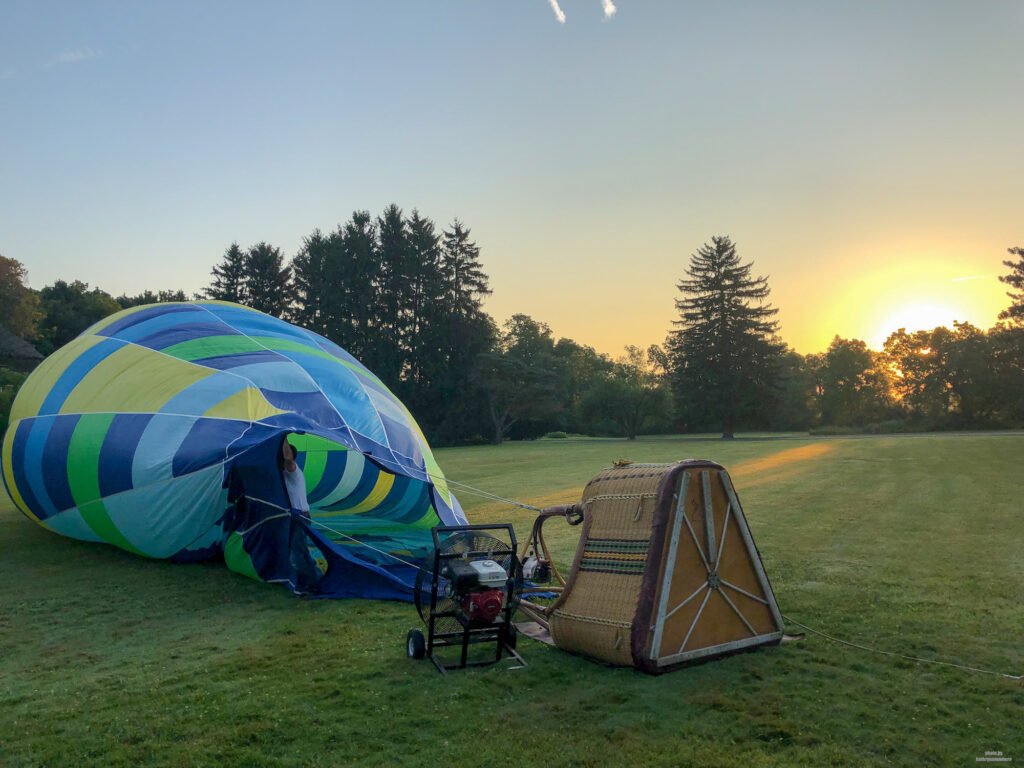 When Visit Penn State offered up the chance to go with The Sky's the Limit Ballooning during my visit, I jumped at it and so glad I did. The family got to enjoy a sunrise hot air balloon ride, experience of a lifetime! Despite the early morning wake up, and it takes a lot to get Miss M out of bed in the morning, it was something she won't ever forget.
If you ever have the opportunity to experience sailing over State College, Pennsylvania, go! You won't regret it!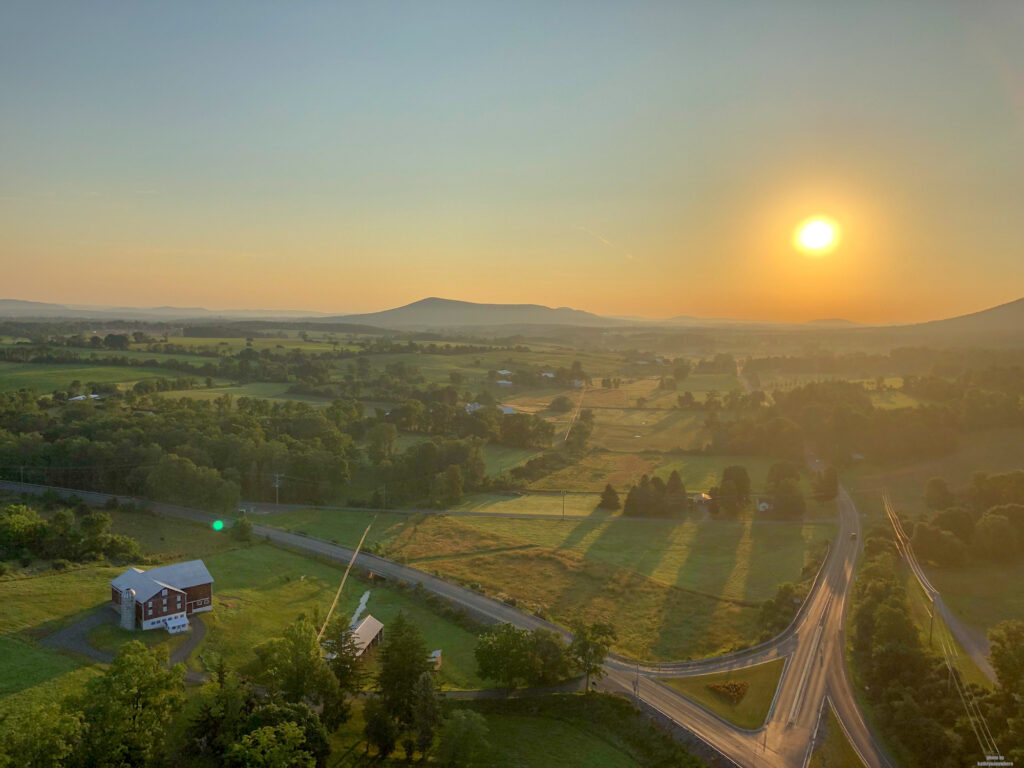 Penn's Cave & Wildlife Park
There are a few smaller caves in Ontario, like Bonnechere and Tyendinaga, but they do not compare to what we have seen in Pennsylvania! The first cave experience we had was in Penn's Cave & Wildlife Park. These caves were discovered by Native Americans hundreds of years ago. There is an amazing and morbid legend which I will get into in the post dedicated to all State College area that I found so interesting. See now you're intrigued too!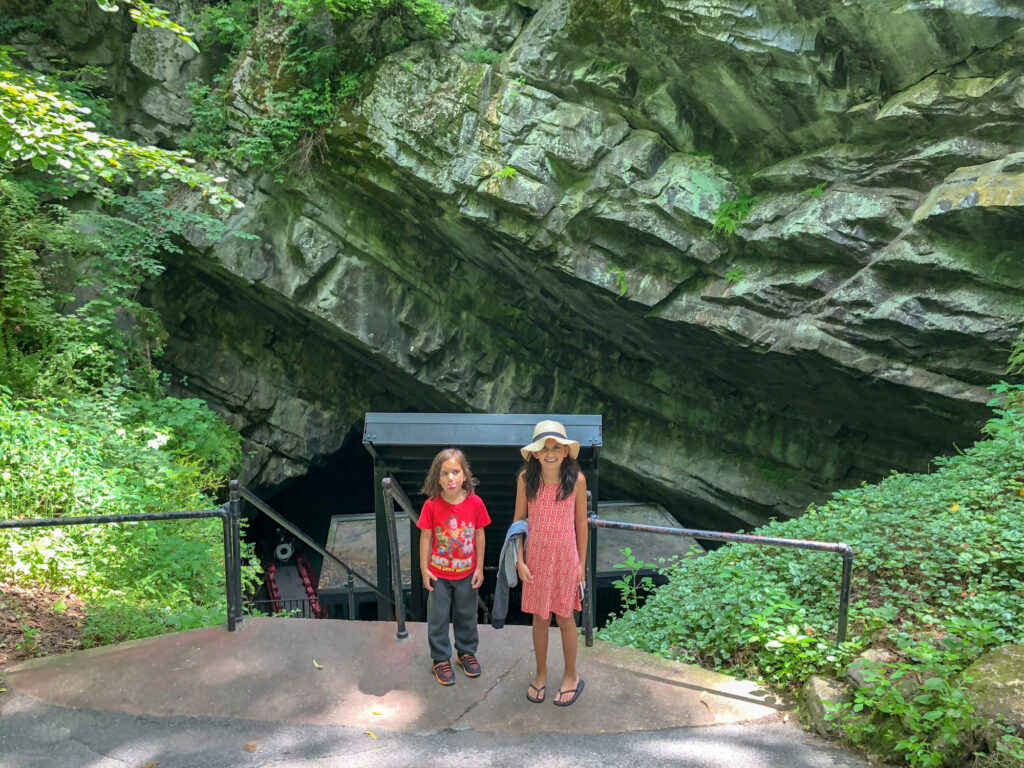 Caves are so interesting – they've been formed by tectonic movement, compression, erosion and flooding. Have you been to a cave like this one where you have to take a boat through it?
In 1885, Penn's Cave opened as a commercial show cavern, and the Penn's Cave Hotel was built (now an admin building). 
The other part of the park is the Wildlife Park. It was pouring rain sadly by the time we got to it. We peered out the windows of a bus we were in at the foxes who were hiding and the bear who was not interested in being wet at that moment. I can't say I blame them as the rain come on hard and heavy.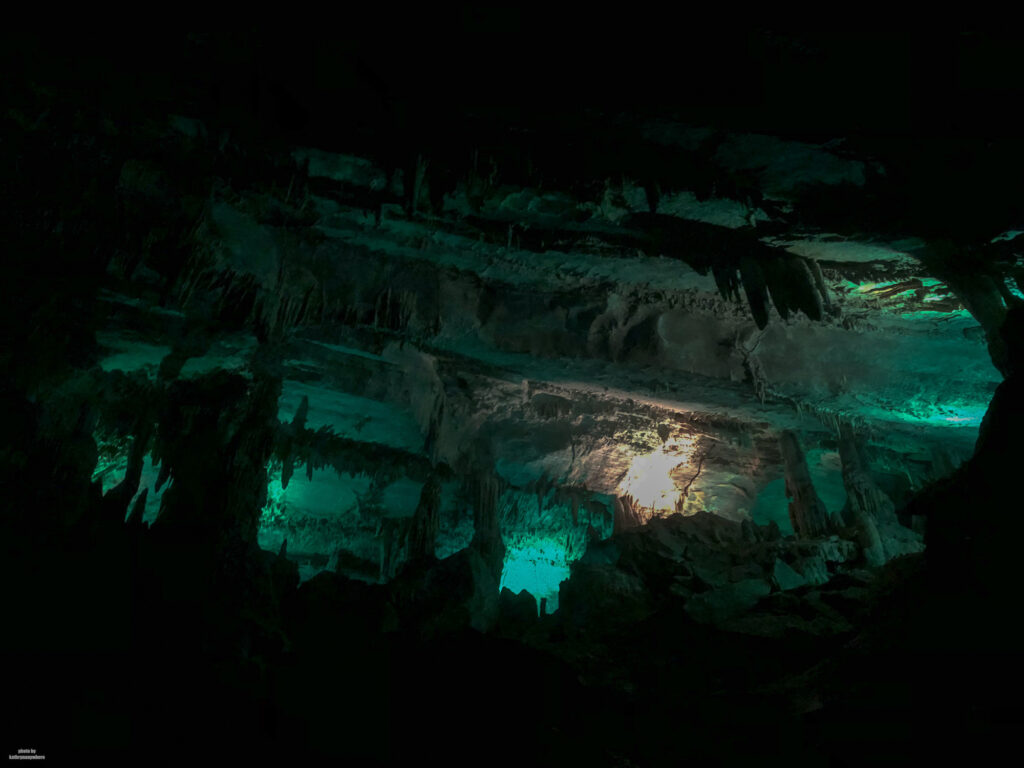 Discovery Space of Central Pennsylvania
We happen to be fans of physics and mechanics in our house, so a trip to Discovery Space of Central Pennsylvania was a must do for the kids during our time in State College!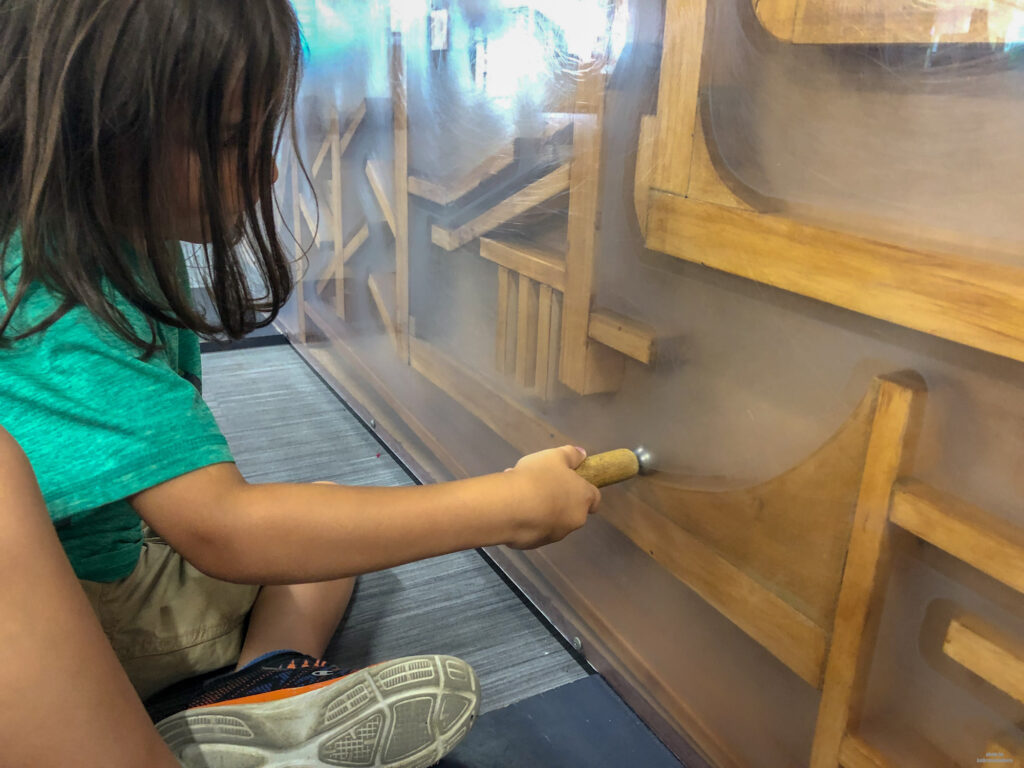 Every one of the 45+ exhibits is "hands-on" for the kids to encourage play, exploration, and most importantly, experimentation. This is the place to take your kid about the same age as Little Man for maximum time out of the house. Once they get to Miss M's age (10), they can get bored in this kind of environment in an hour or so. But the younger ones, I think Little Man could have stayed all day here. Sometimes we seem to forget that at that age, it's all experimentation and new experiences. This is the kid of place that caters to their imaginations.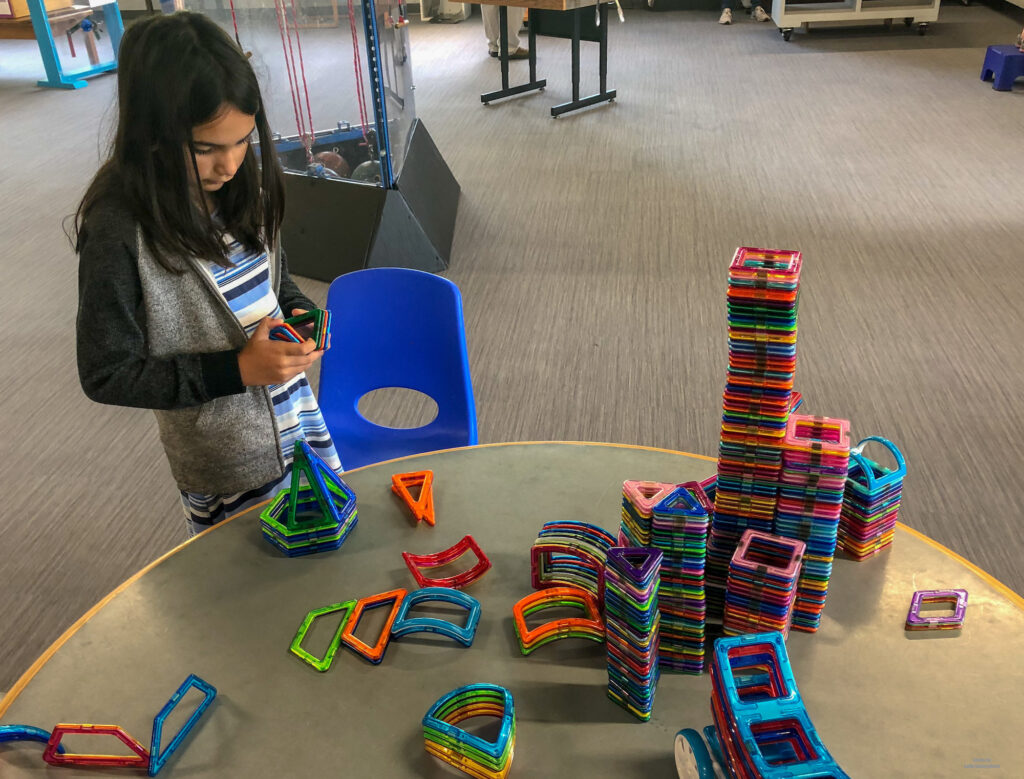 Nittany Lion Shrine
If you didn't pose with the Nittany Lion Shrine, were you even at Penn State? As the second most photographed spot in Pennsylvania (behind the Liberty Bell), the shrine has become part of the Penn State tradition. Have you ever heard of a Nittany Lion? I had not, here's what it is – it is essentially an ordinary mountain lion, like a cougar that roamed central Pennsylvania until the 1880s in the mountain range surrounding State College. There have been unconfirmed sightings since then. 
Now, the Nittany Lion is the mascot of Pennsylvania State University athletic teams.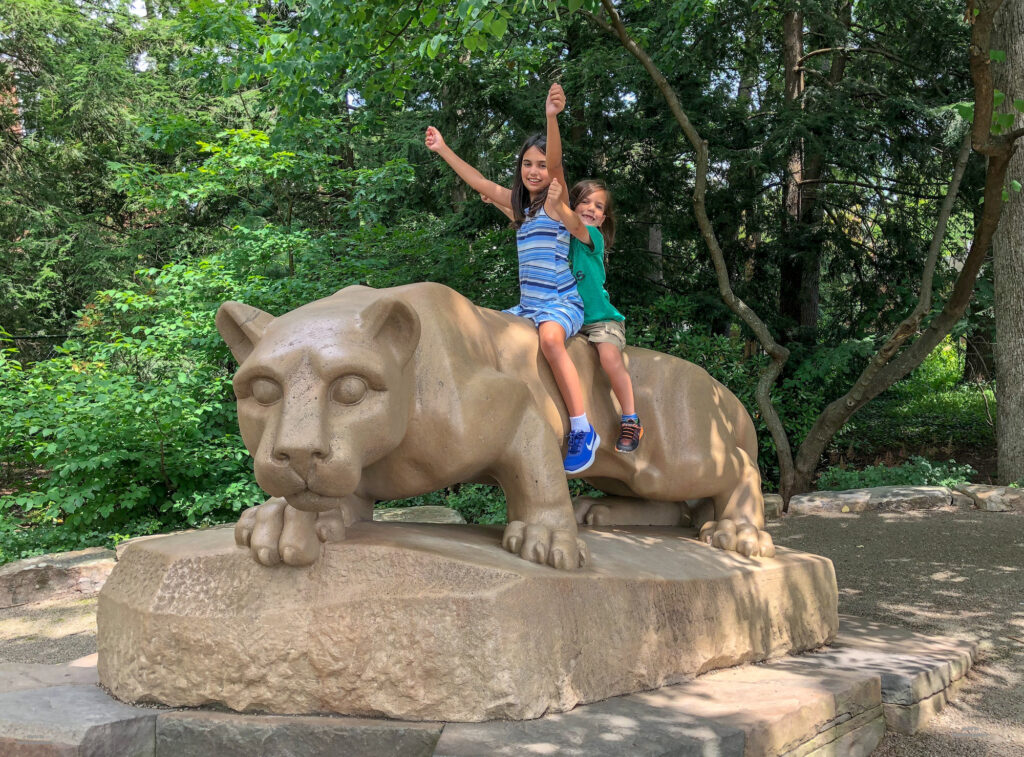 Homewaters and Fly Fishing
If somebody had ever told me in the past, that a fishing lodge would be the perfect destination for me, I would not have laughed too hard. It's not too far off from reality. So, I'm pleased to saw that I found my destiny. Never before have I felt so at home while on the road. From the moment we arrived, greeted with huge smiles and warm laughter.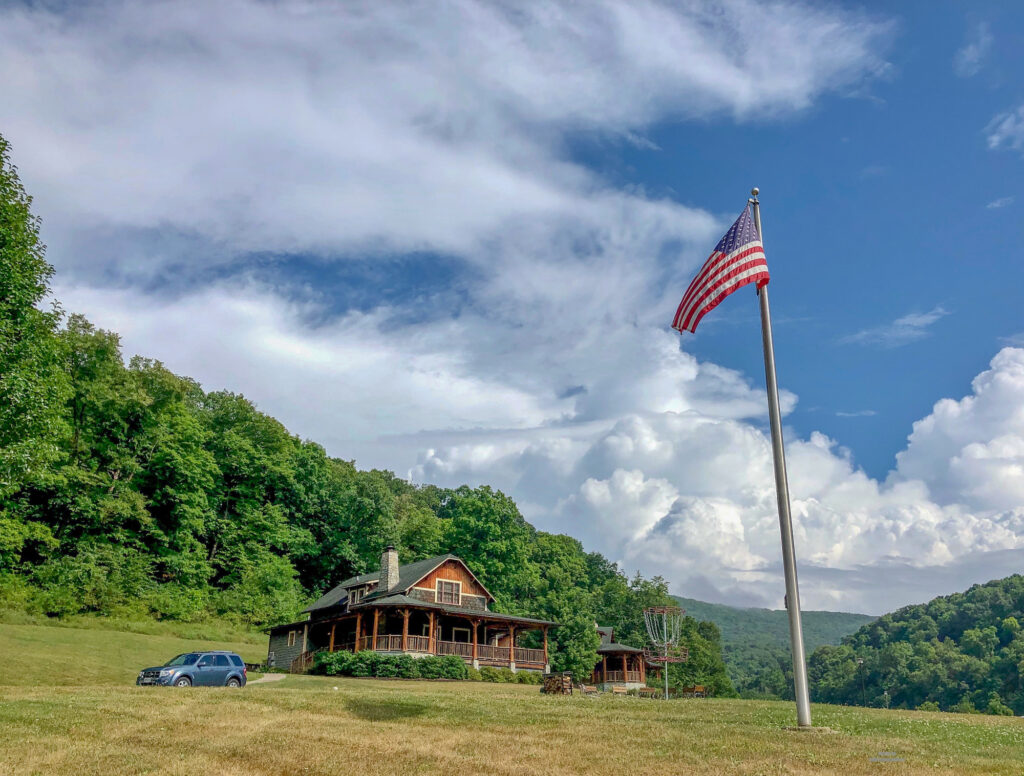 Our accommodations we had there for one night was the house of my dreams, the kids were so excited running around there! I think they want a house just like it in the future.
Yes friends, this is an upscale, membership based fishing lodge in Spruce Creek, Pennsylvania. It was amazing.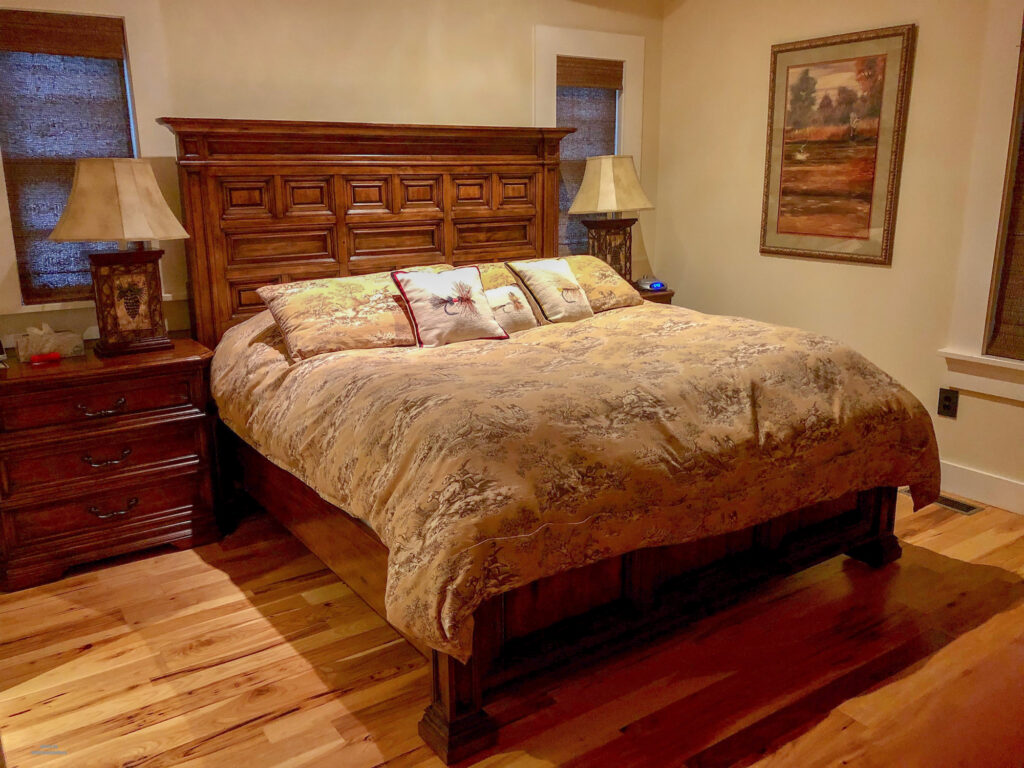 As it is the sport of presidents, I thought I could be worthy to try out fly fishing.  I won't claim to be an expert (I'm not) or even really feel comfortable speaking with all the terminology (nope), but I had a good time and I'll totally do it again.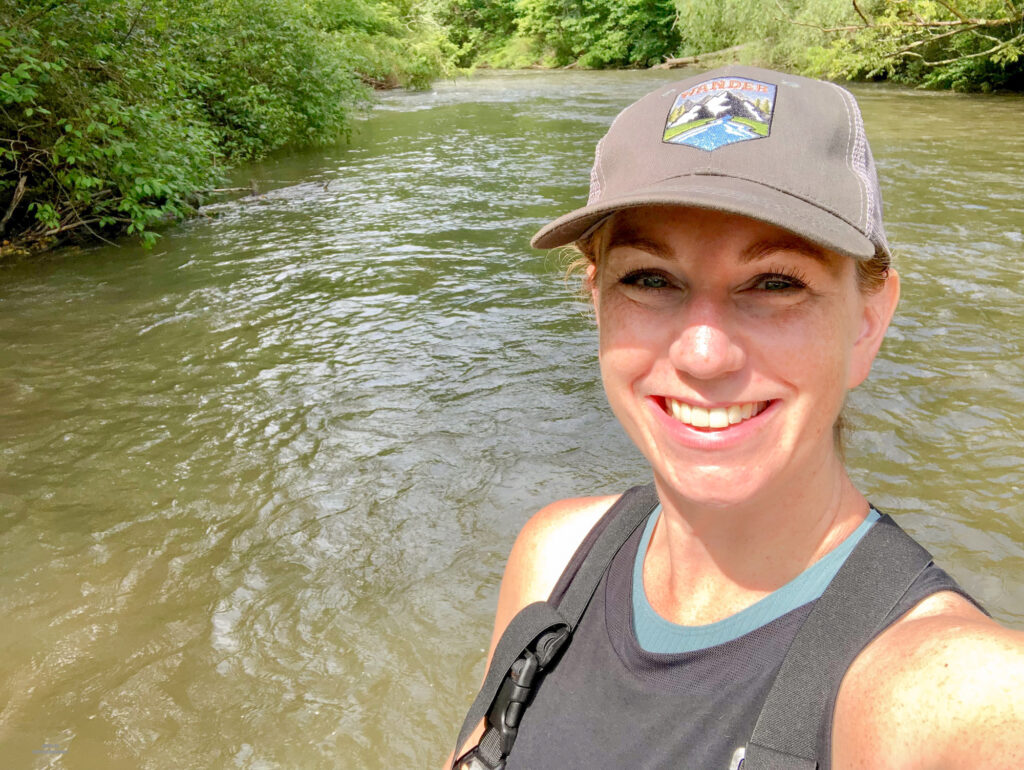 The fly fishing guide, Andy was super patient, humble, friendly and helpful in all the times I caught "Pennsylvania Ground". He didn't make me put the lure on the line, hahahahaha.
There were a couple fish caught! Don't worry, it was catch and release.
You can read all of my thoughts on this fly fishing experience here: Pheromones and Fly Fishing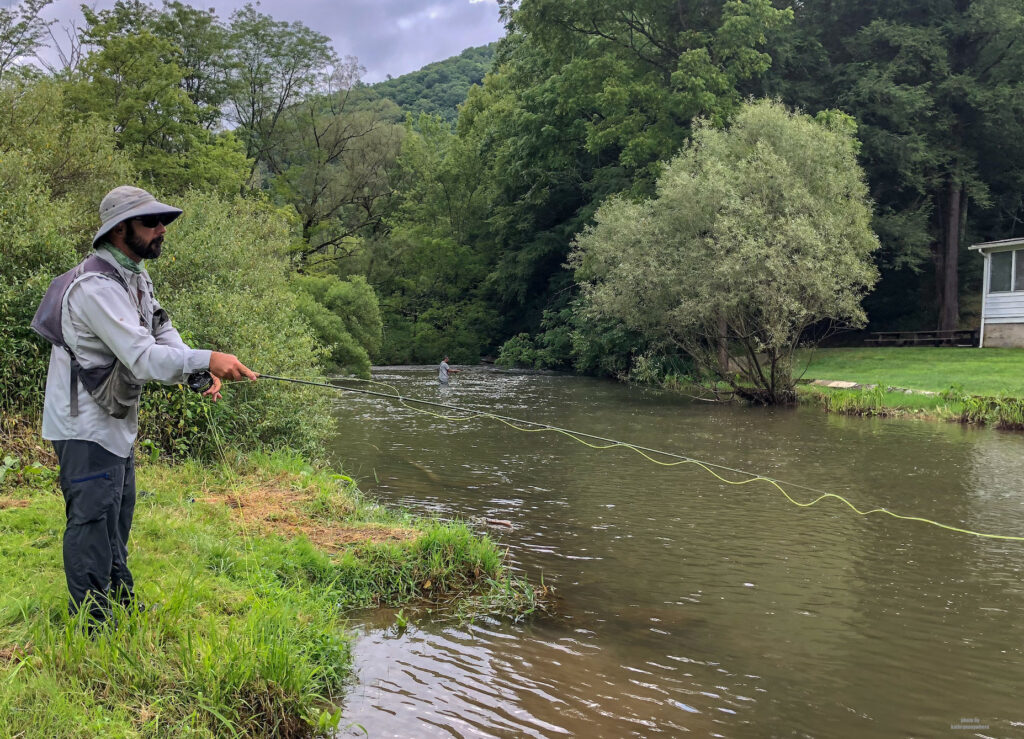 Lincoln Caverns and Whisper Rocks
Because one exceptional show cave system in the Central Pennsylvania area isn't enough, there are two. This one was mind blowing in a different way.
We were fortunate enough to have a private, guided tour here and it's like getting two cave tours for the price of one. If you're intro science and adventure and your kids can handle being underground, do it! These caves were discovered in 1930 and opened as show caves in 1931. It's not confining, the ceilings are really high. This was described to me as moderate sized caves. So to rank now, ones in Ontario I've seen are small if these are medium.
And a special shout out to the staff here who took my kids for the morning that we were fly fishing for a special summer camp day.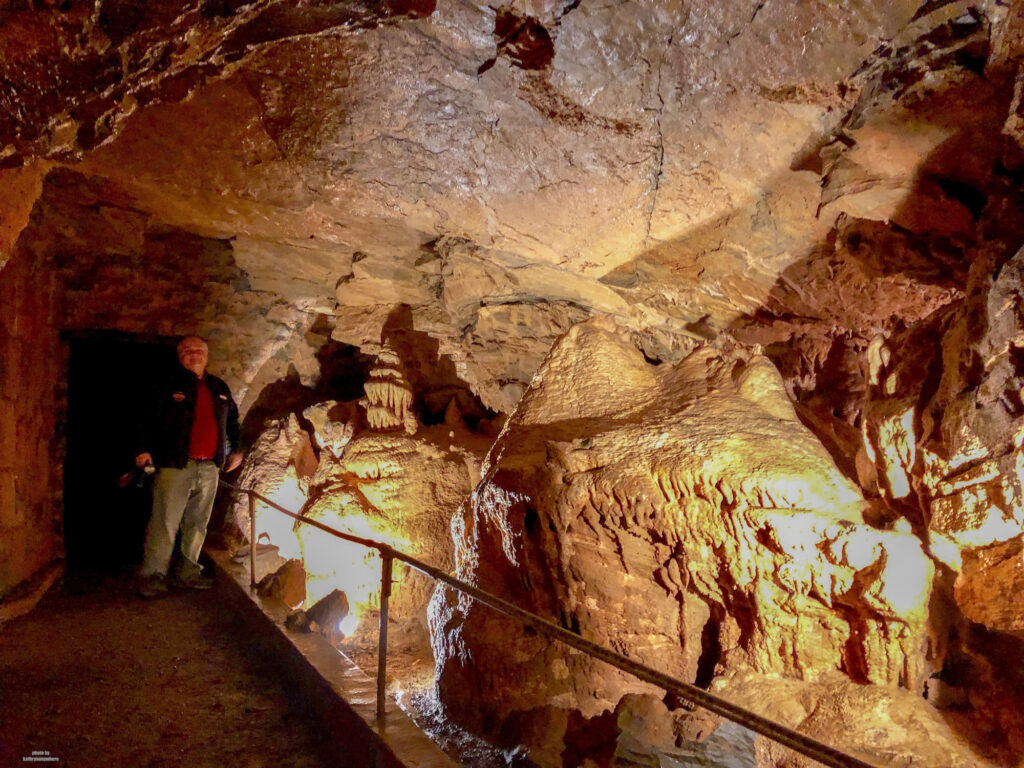 Pennsylvania Road Trip Third Stop:
HUNTINGDON COUNTY 
Not too far south of State College is the Raystown Lake Region in Huntingdon County. This was the third and last stop on this Pennsylvania road trip for us.
Stay and Play at Lake Raystown Resort
We stayed in an awesome 2 bedroom cottage in Lake Raystown Resort. It's the kind of place I could have stayed longer and played for days.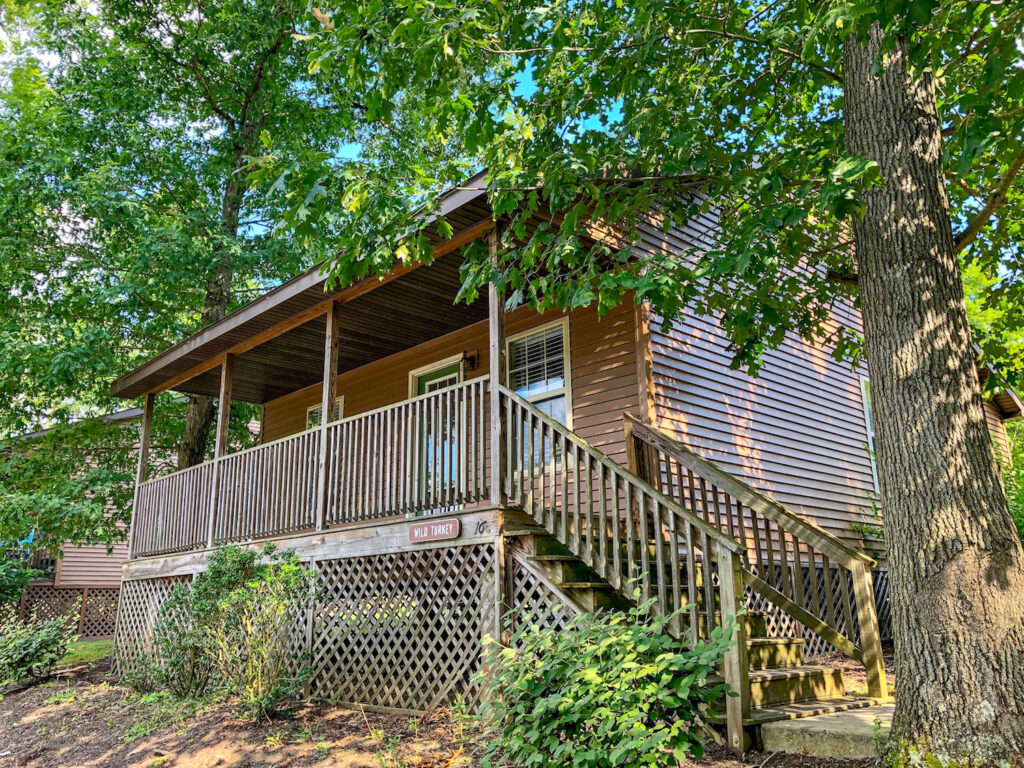 The first piece of information I am going to relay about here is something that I did not readily find. I still have yet to find it on the internet, although I was verbally told on location twice (I did not believe the first person). While the practise of prohibition has lost it's grip in most of the United States, the actual township that Lake Raystown Resort lies, falls into it. You cannot buy  alcohol here. This is information not available on the website for the resort at all.
For a beer and wine aficionado like me, it was a bit of a shock to not have the ability to order a beer or glass of wine with dinner. This should not dissuade you from going there at all. In reality, it simply makes more financial sense to buy what you need in advance and bring it with you. Now you know.
Here, you take the Proud Mary Showboat on a seafood dinner cruise all around the lake and take the kids to feed ducks and carp off the dock. Feed for the ducks and carp is available for purchase at the marina shop, please don't drop bread in the water for them! This is essentially a giant campground for recreational vehicles, tents, trailers, yurts and cabins. There's a marina and restaurants and shops.
There is also a waterpark attached to this resort. Although it is small, it's great for a half day with the family. The slides are entirely appropriate for children my kid's age.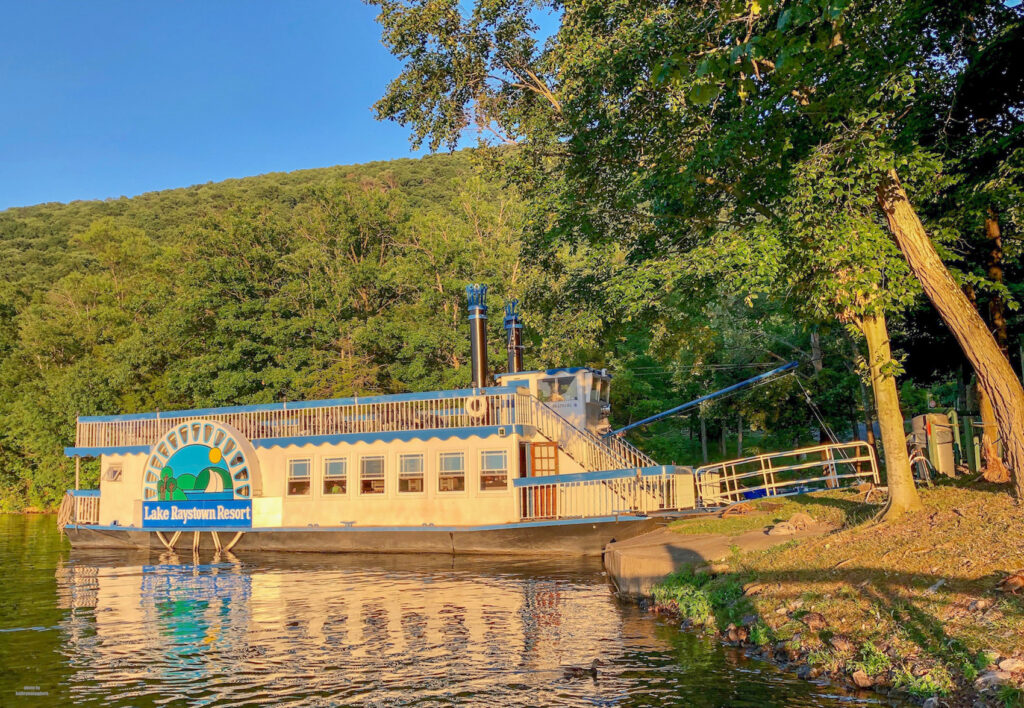 Hike at Trough Creek State Park
The last stop on our Pennsylvania road trip was Trough Creek state Park. Did I mention I can't get over how all the State Parks in Pennsylvania are free to enter and enjoy? I can honestly say I would hike day in and day out if I lived in Pennsylvania just because I could. And I also learned that the state parks are plentiful and so close to all towns and cities, that no citizen of the state should have to drive more than 35 minutes to get to one.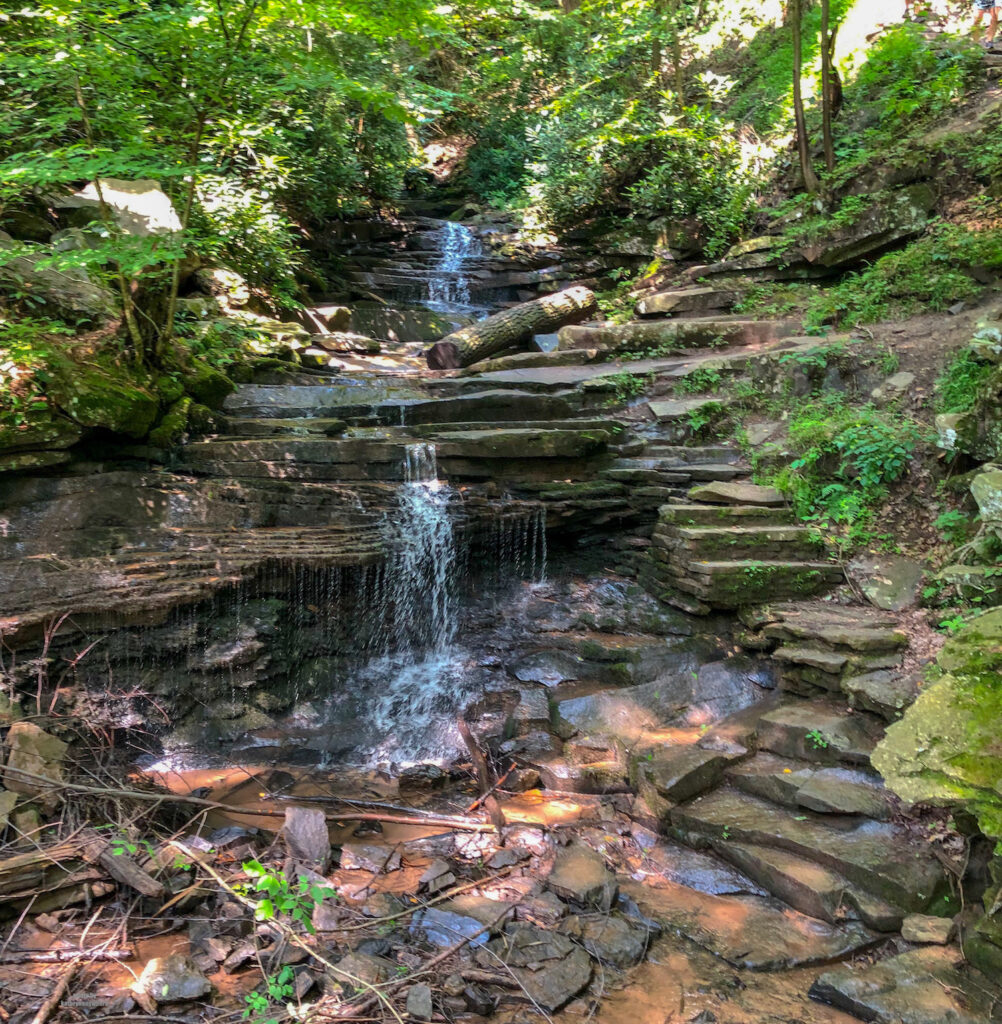 Something you have to do at Trough Creek state Park? Try to knock off the balanced rock. This state park is home to an adorable waterfall and a look out point on a cliff that took my breath away.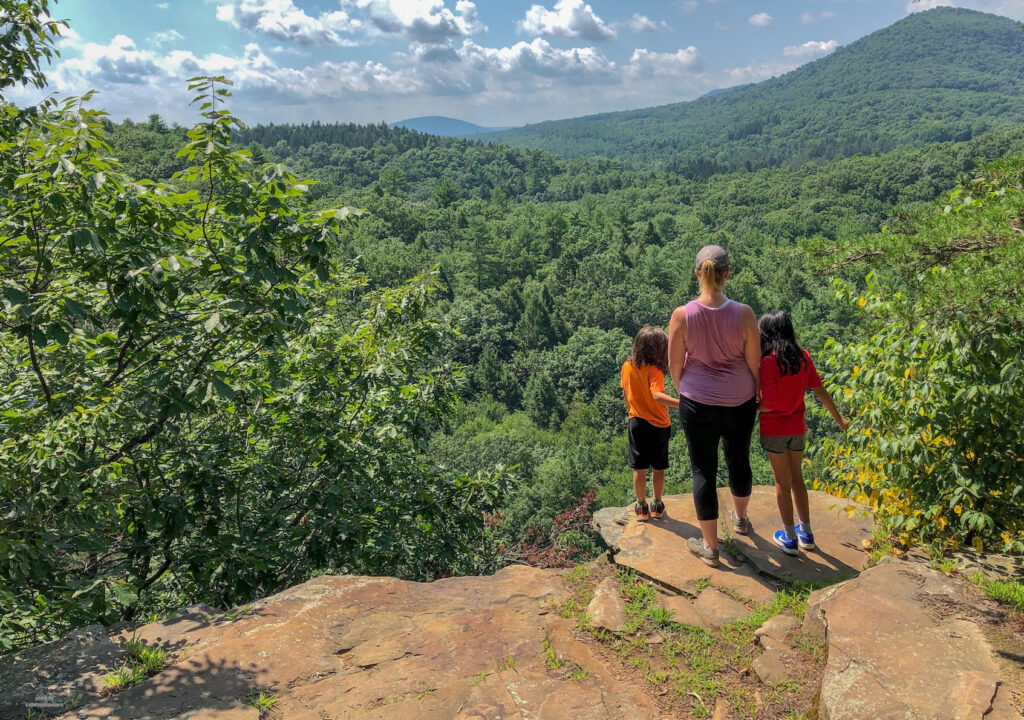 This was a great introduction to the state. It was incredible for Miss M and Little Man to see how similar Americans really are to Canadians. And, how similar our geography and terrain is. The United States is not really a foreign country! You know, it's shameful to me that they haven't seen as much of Ontario and Canada as I would like. It's also unfortunate that we do not know our neighbours very well. After that lovely reception we had and amazing time, I feel like we should spend some more time across the border as well!