Our three-night stay and all experiences for our Family Vacation in State College, PA were hosted by Central PA Convention & Visitors Bureau.
All opinions and experiences are that of mine and my family and we are always honest. 
When I hear the name "State College", I don't immediately think of an amazing town for the ultimate family vacation. In fact, I didn't even know it was an actual city in Pennsylvania until this year. I thought it was exactly what it said – a state college. Silly me. What I learned this summer is that one of the nicest places to head to in the summer for a family vacation is State College, the home of Penn State University in the heart of Pennsylvania.
You find State College in Centre County, Pennsylvania. And guess what? It's right in the centre of Pennsylvania.
The best family vacation in State College, Pennsylvania
From Butler County, we drove just over 2.5 hours to the town of State College for the second stop of our Pennsylvania road trip. The ultimate family vacation in State College, Pennsylvania includes Soaring, Caving, Fly Fishing, and Exploring! We spent three nights and four days seeing and doing as much as we could.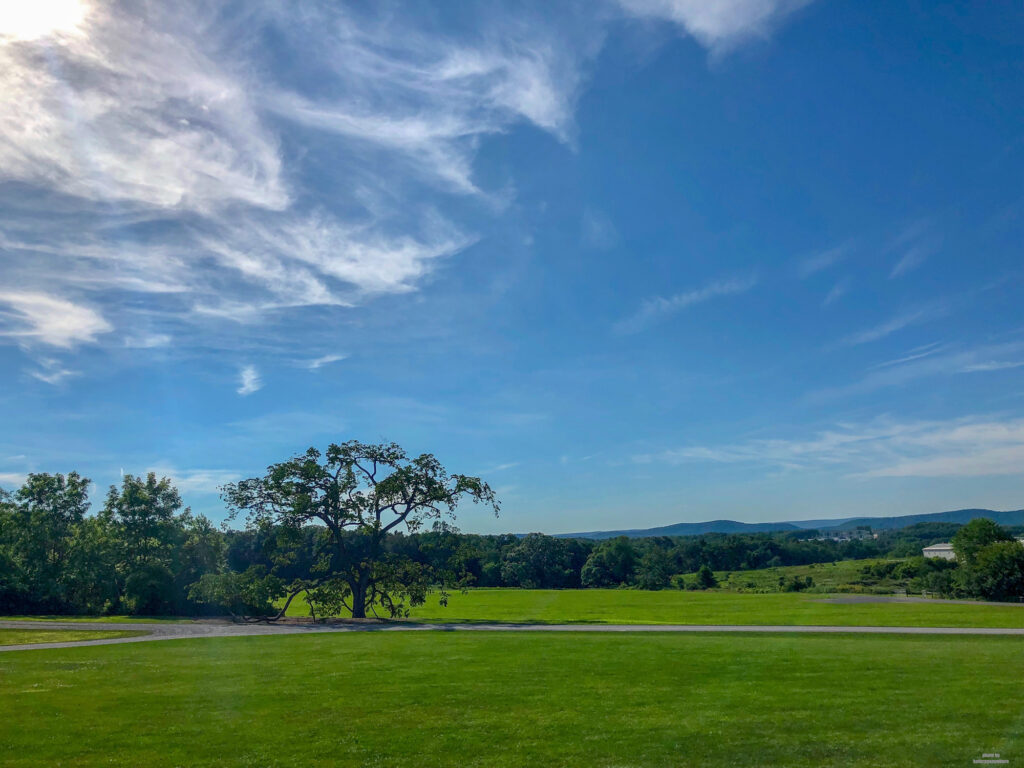 The Arboretum at Penn State
I love road trips. The kids get restless in the back seat (no surprise there). As soon as they get out of the car, they want to run and explore! My friends at Visit Penn State, Ed, and Andy, had the perfect idea of where to take the kids after driving into State College, Pennsylvania – The Arboretum at Penn State University.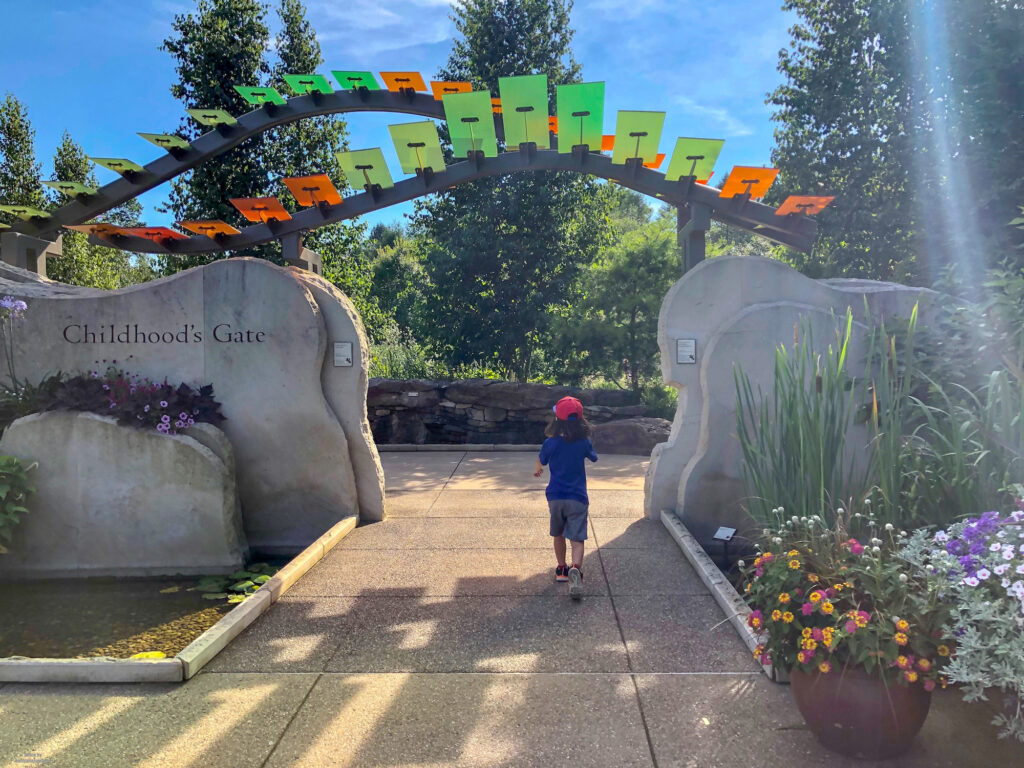 Here's what is cool about the Arboretum at Penn State: admission to all arboretum grounds is free. This is a recurring theme I am finding with outdoor activities in Pennsylvania, they're free. For budget-conscious families who want to make their vacation dollars stretch, this is a great place to spend part of the day and plan a take a picnic in.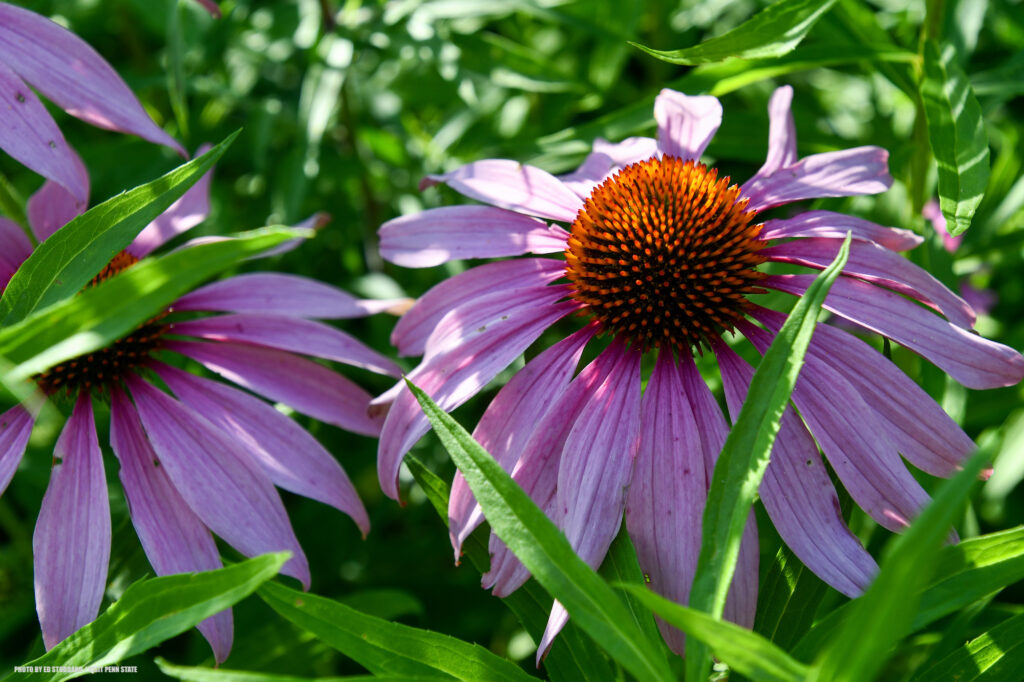 Secondly, the kids had so much fun in the Childhood's Gate Children's Garden. From kaleidoscopes to little book libraries, musical discoveries, herb gardens and lots of places to explore and discover.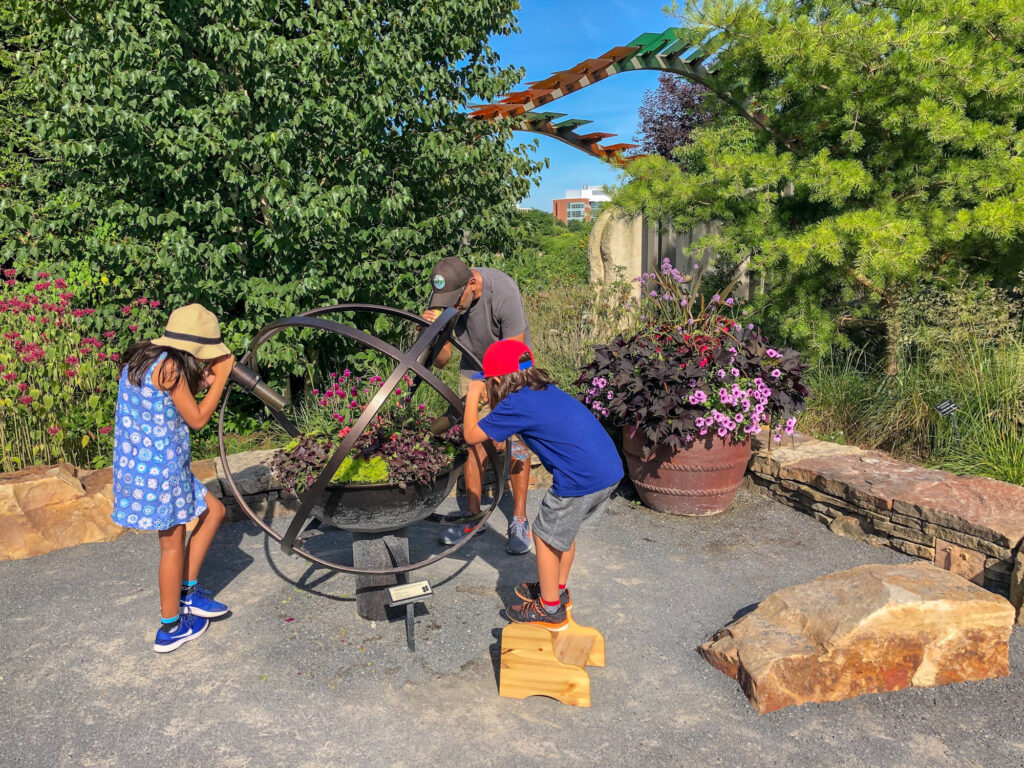 And of course, the rest of the arboretum is amazing as well. I have to tell you, these grounds are stunning. Spacious, bright, well organized and laid out.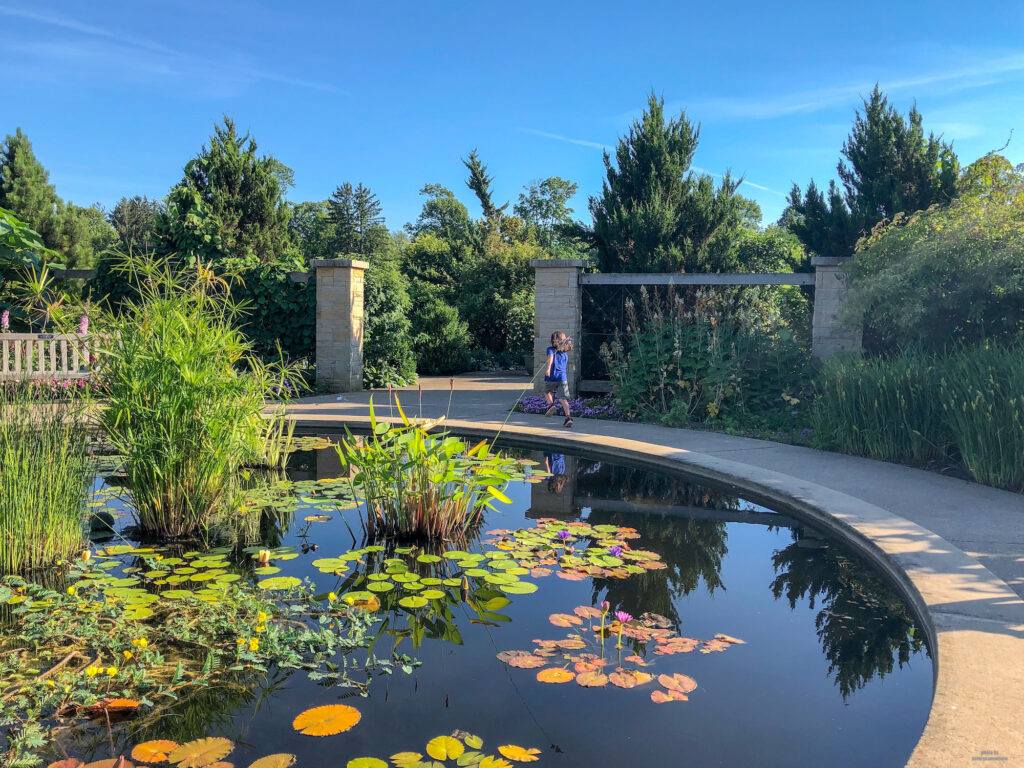 The Sky's the Limit Hot Air Balloon
I've been skydiving, paragliding, scuba diving, but never hot air ballooning. When Visit Penn State offered up the chance to go with The Sky's the Limit Ballooning during my visit, I jumped at it and so glad I did.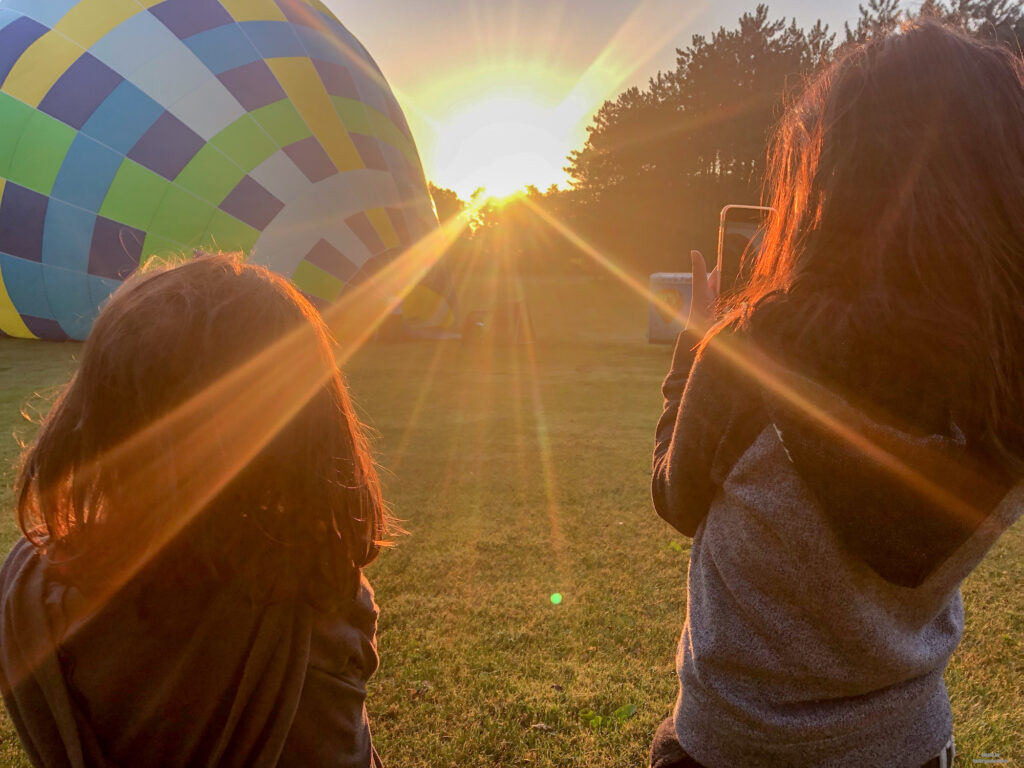 The family got to enjoy a sunrise hot air balloon ride, experience of a lifetime! Despite the early morning wake up, and it takes a lot to get Miss M out of bed in the morning, it was something she won't ever forget. The family got to enjoy a sunrise hot air balloon ride, it's an experience of a lifetime!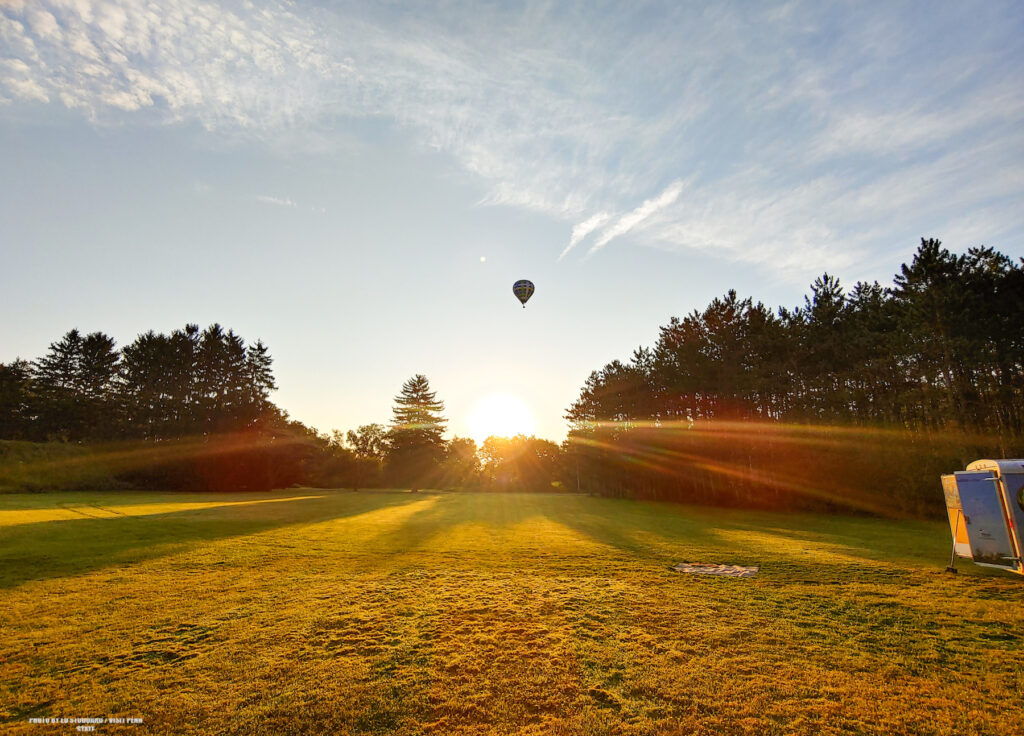 First, we got to see it get set up and then we got to slowly take off. It was incredibly gentle and we easily soared well over 1000 feet in the air! If you ever have the opportunity to experience sailing over State College, Pennsylvania, go!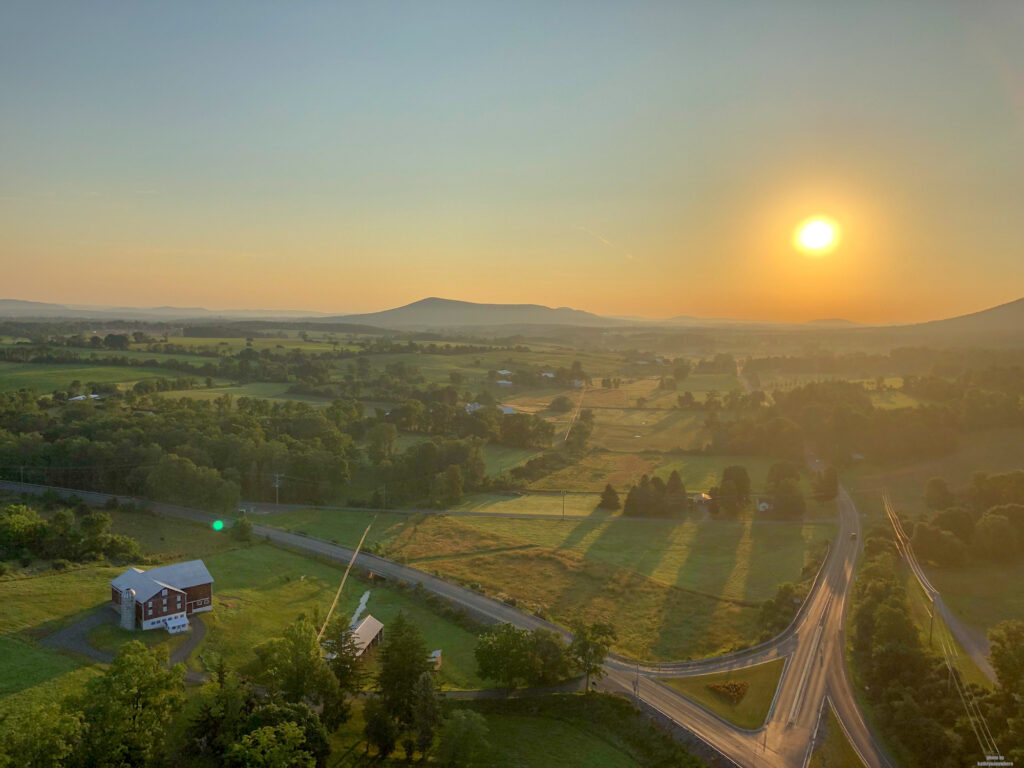 You get an amazing view of Mount Nittany and the surrounding area. You won't regret doing this! Safe to say that my kids will remember this summer's family vacation in State College as pretty epic.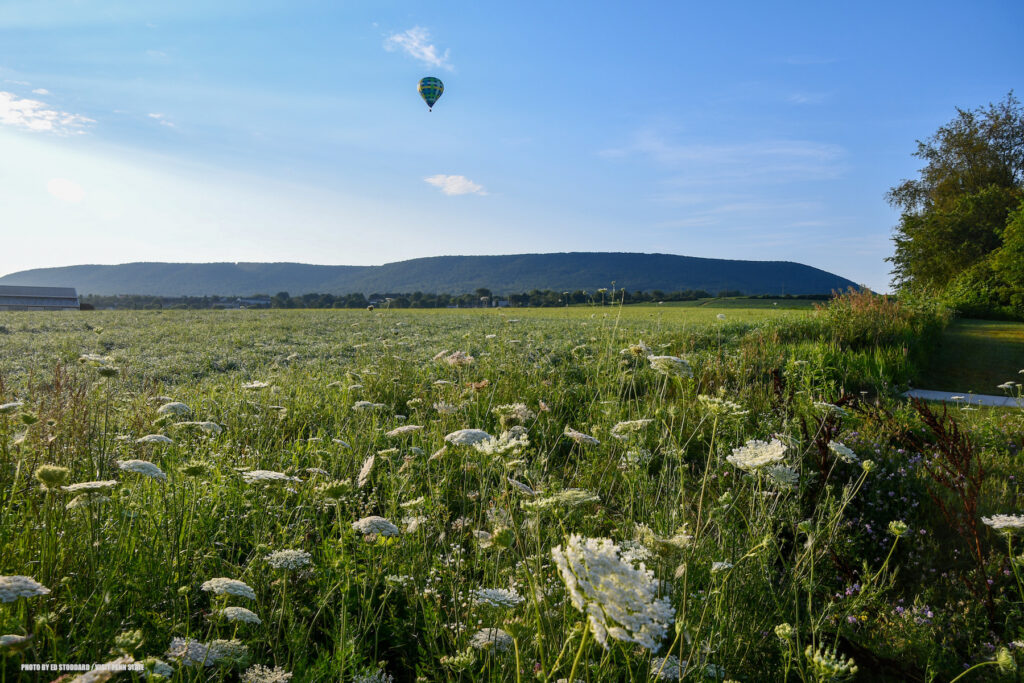 And they even put my Little Man to work at the end pulling the balloon down. He was pretty proud of himself.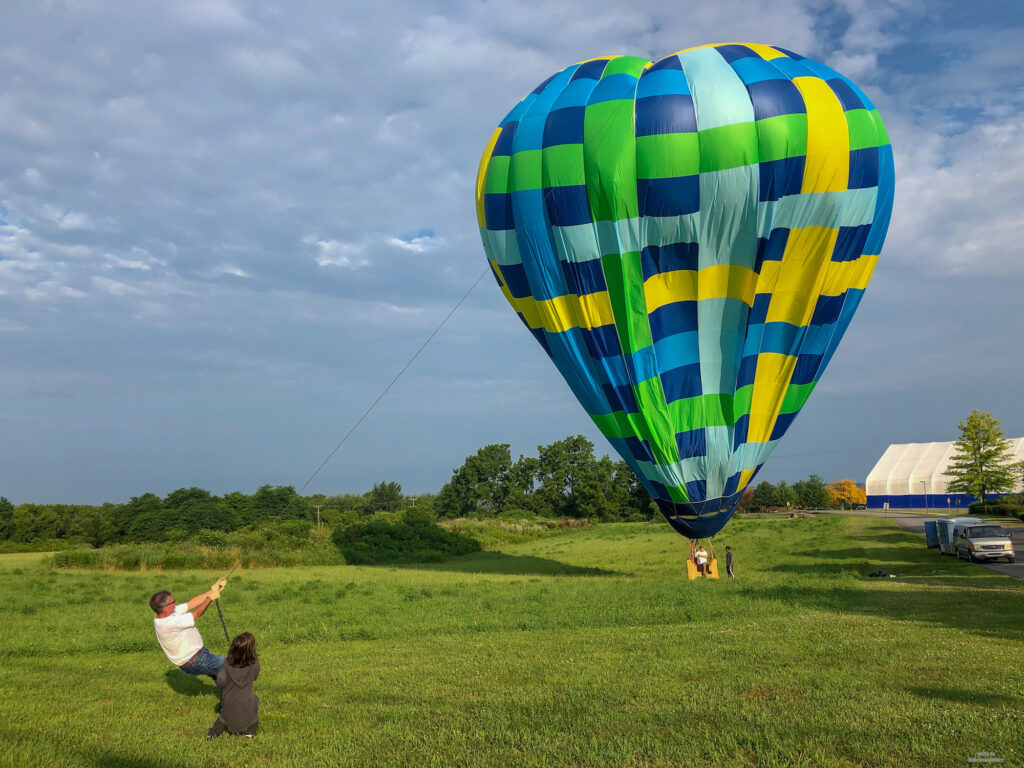 Penn's Cave & Wildlife Park
The first cave experience in Pennsylvania we had was in Penn's Cave & Wildlife Park. These caves were discovered by Native Americans hundreds of years ago. There is an amazing and morbid love story legend that I found so interesting and the sign is erected on the pathway down to the cave entrance.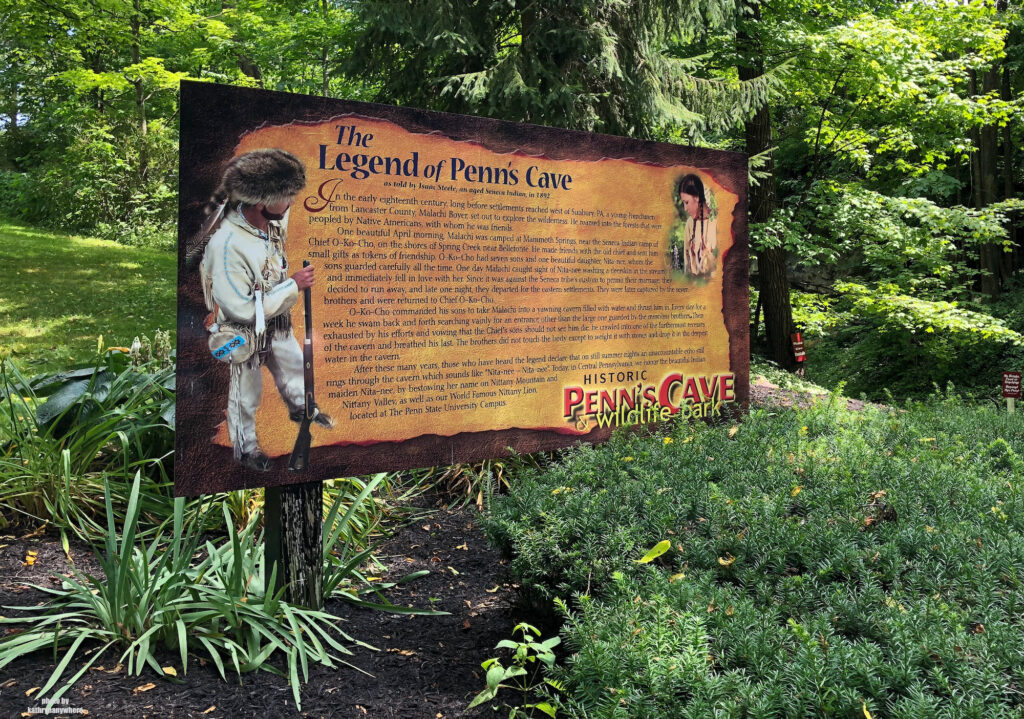 See, now you're intrigued too! Essentially a white guy fell in love with a stunning native woman (named Nittany) with a lot of brothers who didn't want her to be with him. So they banished him to the cave and wouldn't let him out. Eventually, he died and his soul is said to haunt the area if you believe in that kind of thing. Don't let this story keep you away though!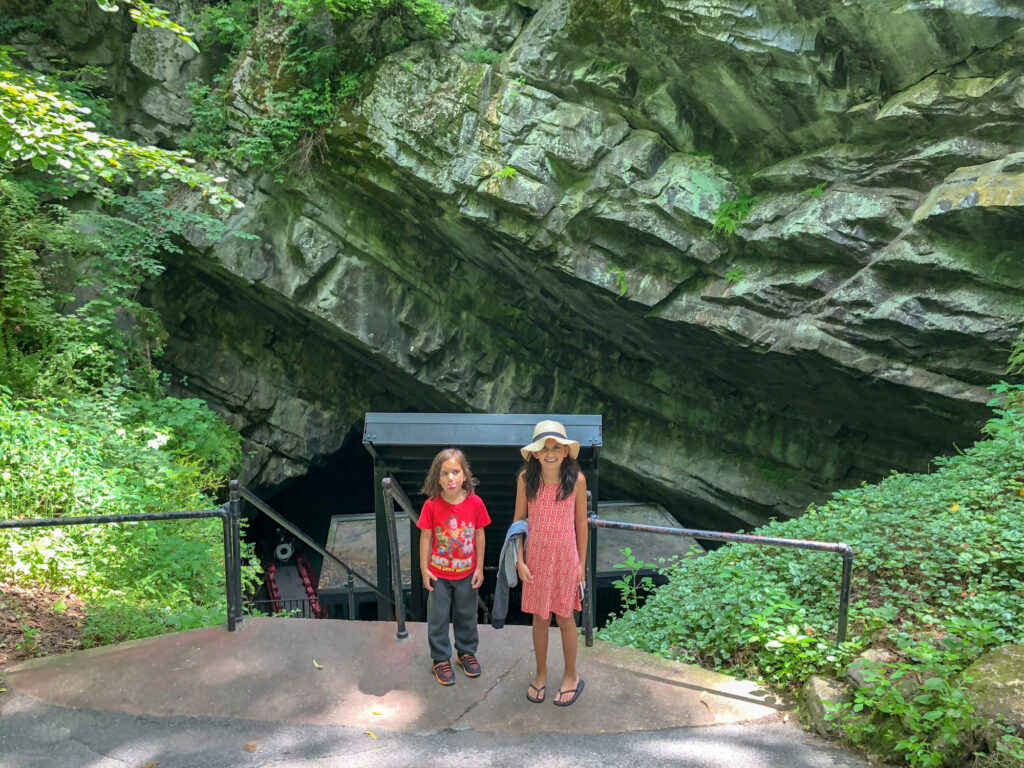 Caves are so interesting – they've been formed by tectonic movement, compression, erosion and flooding. Have you been to a cave like this one where you have to take a boat through it? So in one day, we soared over 1000 feet in the air and close to one hundred feet down.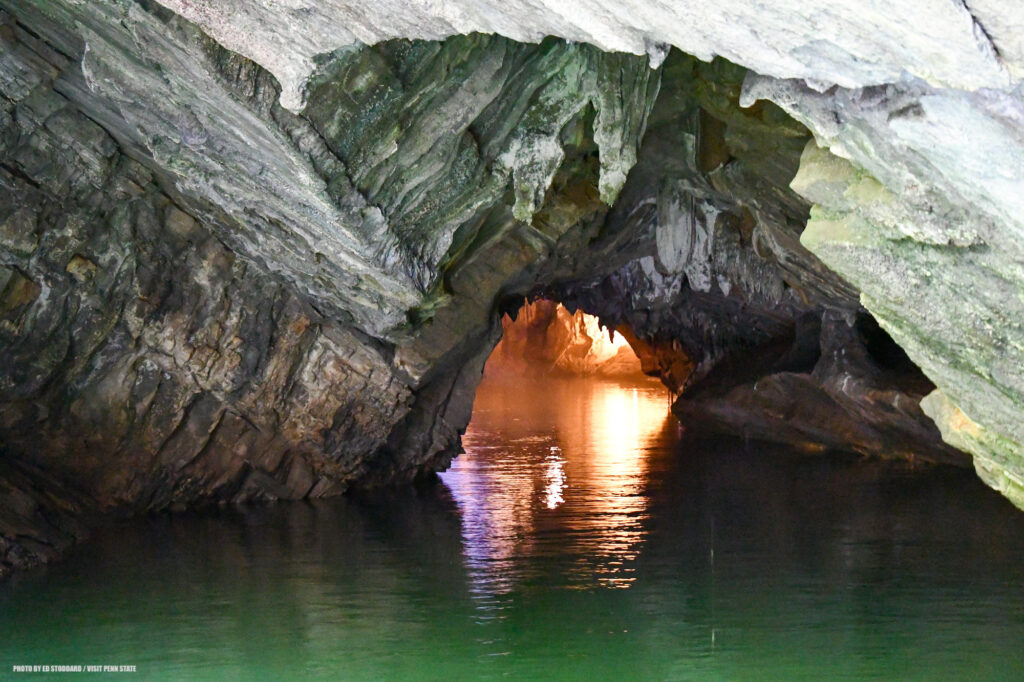 In 1885, Penn's Cave opened as a commercial show cavern, and the Penn's Cave Hotel was built (now an admin building). It's a pretty cool looking building! My vote is they reopen it as an Airbnb!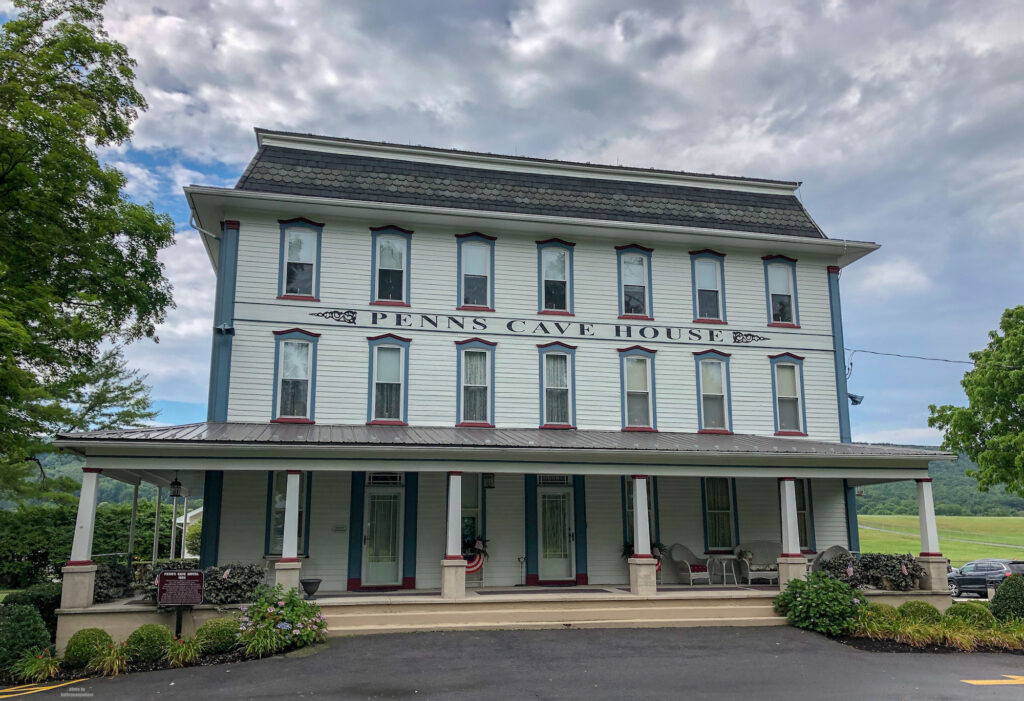 The other part of the park is the Wildlife Park. I often have problems with the captivity of animals that are meant to be in the wild. From my understanding, the bear pictured here below had just had dental surgery. In all likelihood, that means he wasn't captured heinously and is being mistreated. Same with the lynx sitting pretty below. He looks content.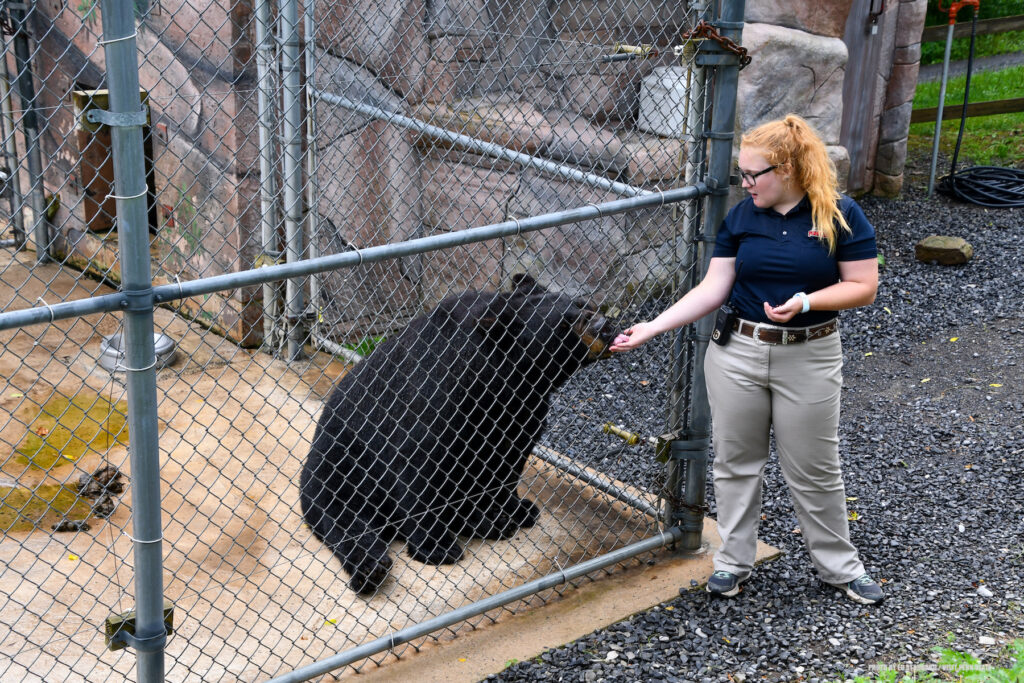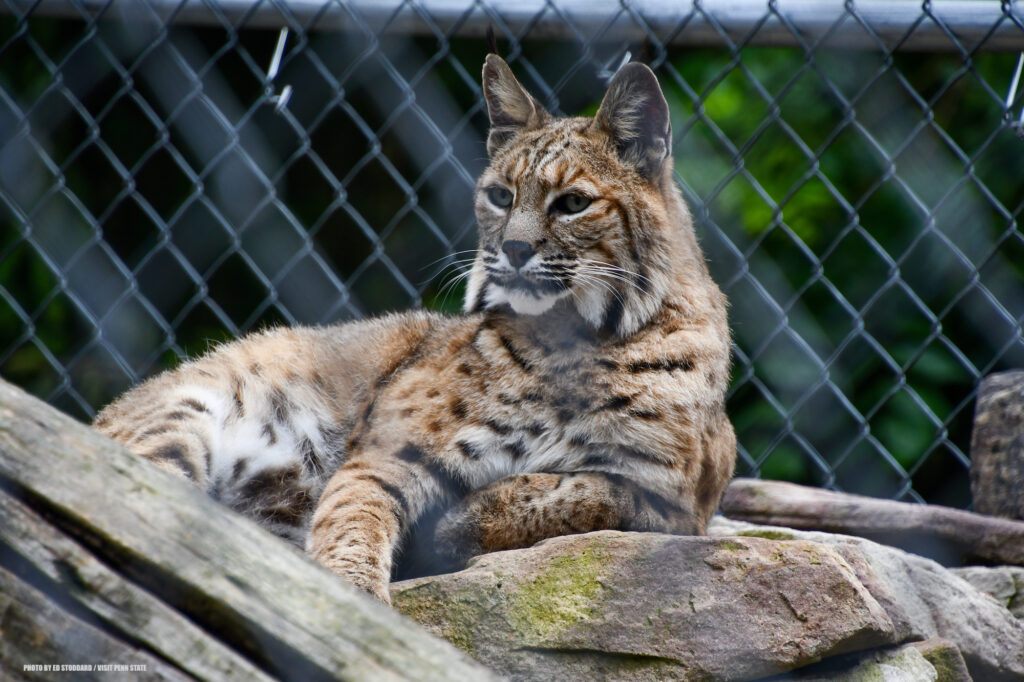 Discovery Space of Central Pennsylvania
Physics and mechanics are really important STEM activities in our house. A trip to Discovery Space of Central Pennsylvania was a must-do for the kids during our time in State College!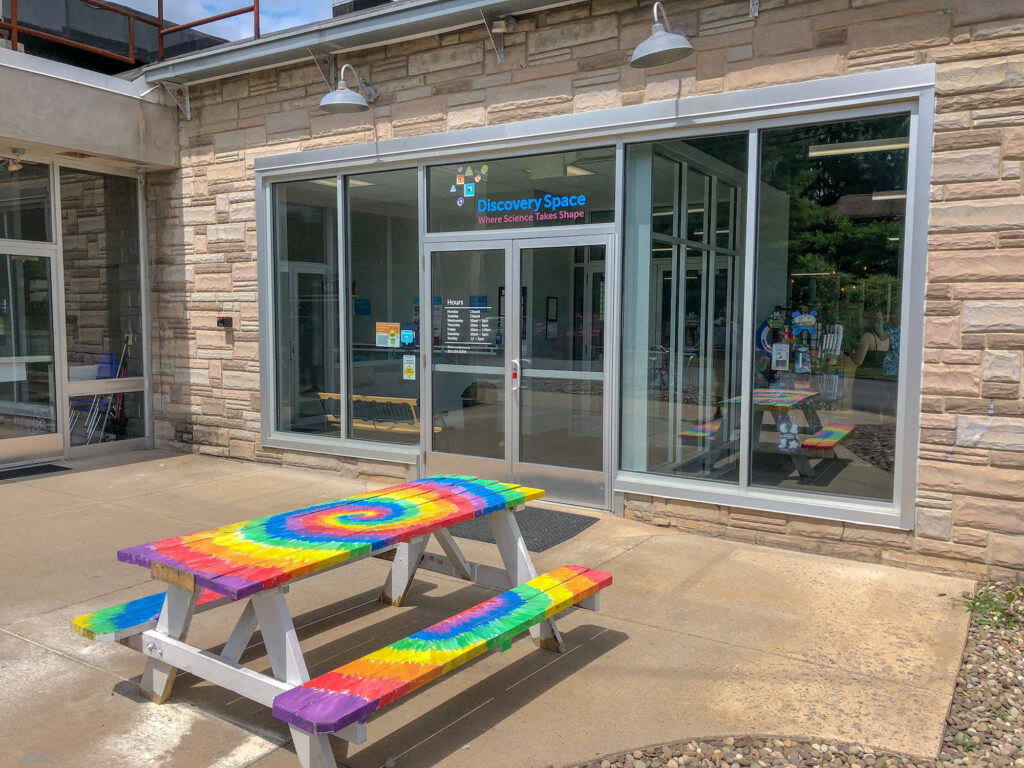 Every one of the 45+ exhibits is "hands-on" for the kids to encourage play, exploration, and most importantly, experimentation. Many of these exhibits and activities have been created in collaboration with students from Penn State.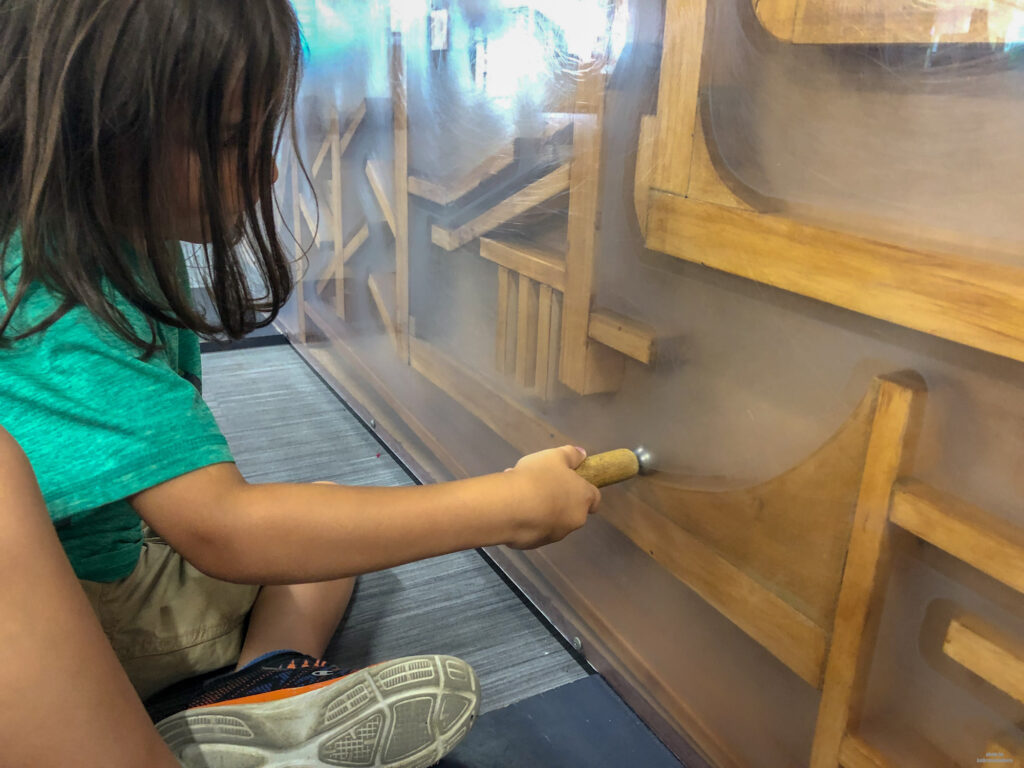 This is the place to take your kid about the same age as Little Man for maximum time out of the house. Once they get to Miss M's age (10), they can get bored in this kind of environment in an hour or so. But the younger ones, I think Little Man could have stayed all day here. Sometimes we seem to forget that at that age, it's all experimentation and new experiences. This is the kind of place that caters to their imaginations.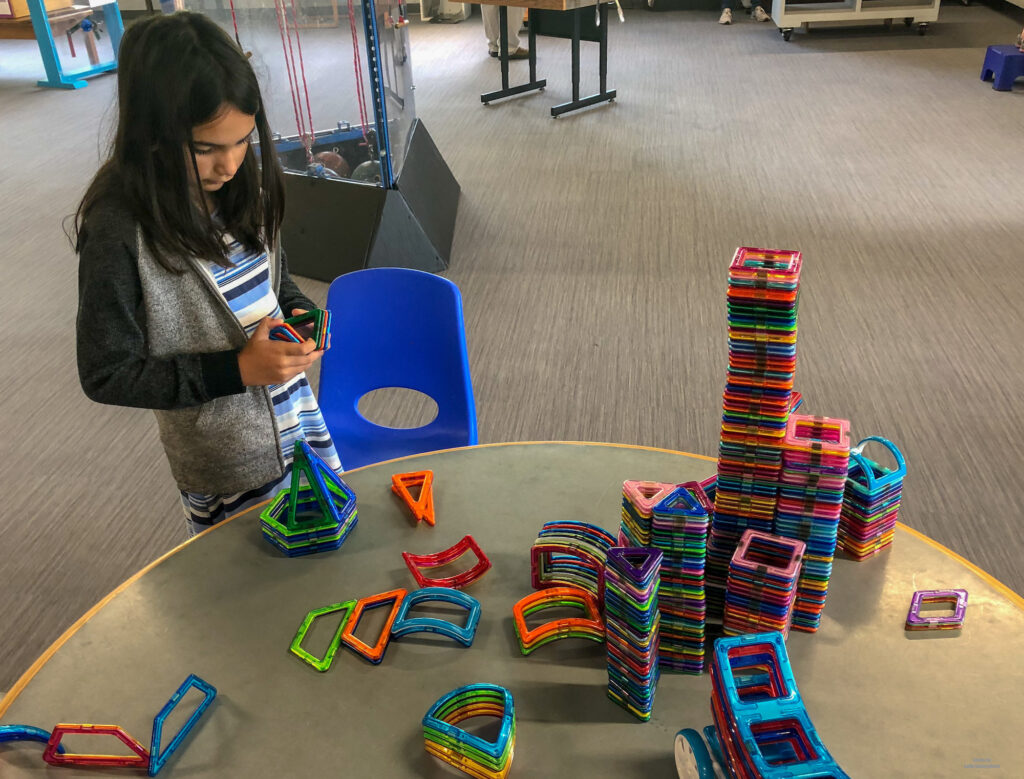 Nittany Lion Shrine
Have you ever heard of a Nittany Lion? I had not, here's what it is – it is an ordinary mountain lion, like a cougar that roamed central Pennsylvania until the 1880s in the mountain range surrounding State College. They no longer exist, but there have been unconfirmed sightings since then.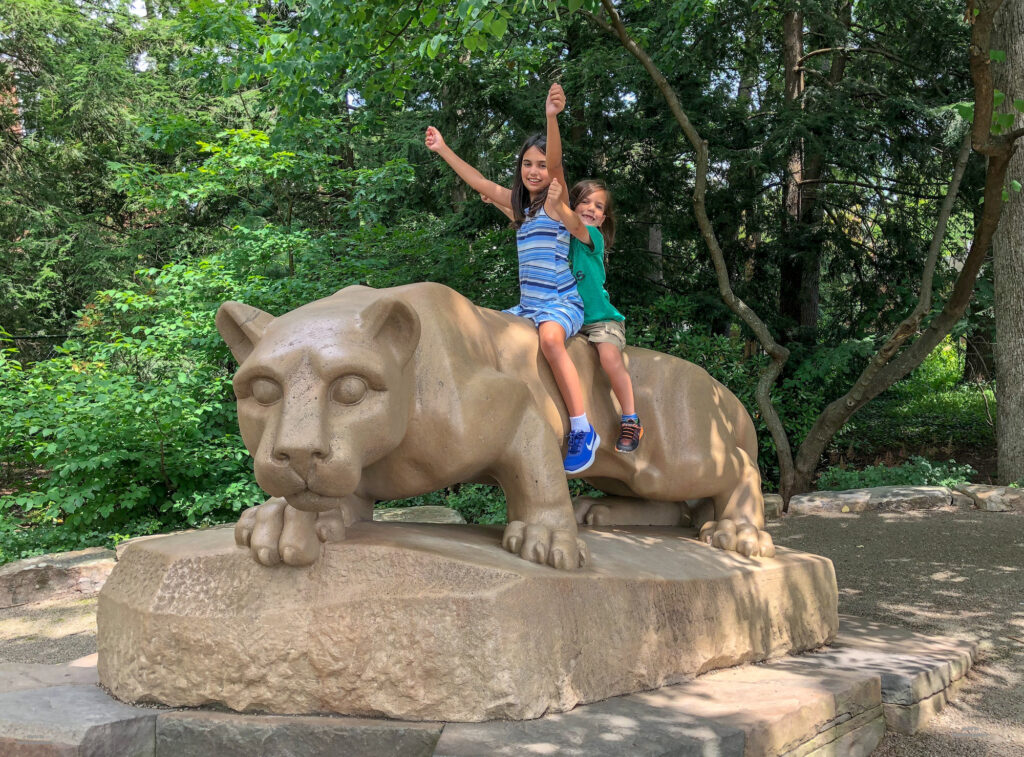 Now, the Nittany Lion has been the mascot of Pennsylvania State University athletic teams since the 1920's. If you didn't pose with the Nittany Lion Shrine when in State College, were you even at Penn State? As the second most photographed spot in Pennsylvania (behind the Liberty Bell), the shrine has become part of the Penn State tradition.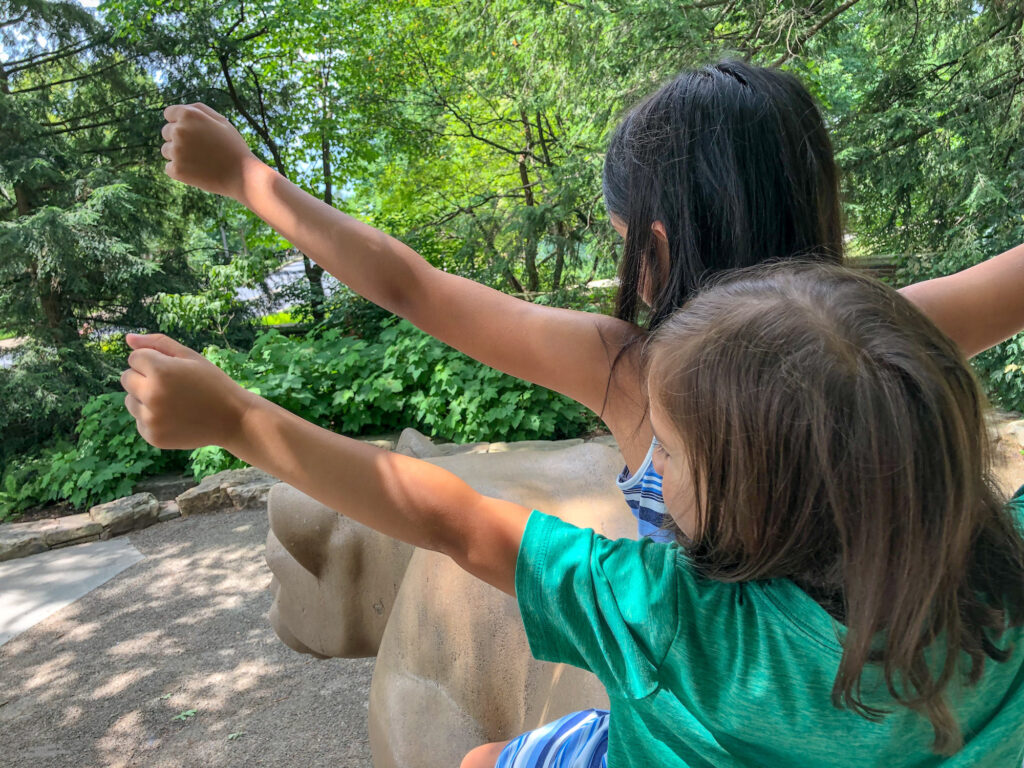 Homewaters and Fly Fishing
Homewaters doesn't know it yet, but I'm about to be their next resident. I'm pleased to say that I found my destiny in life, to live in the most beautiful cabin I've ever seen in the middle of rural Pennsylvania, on a river.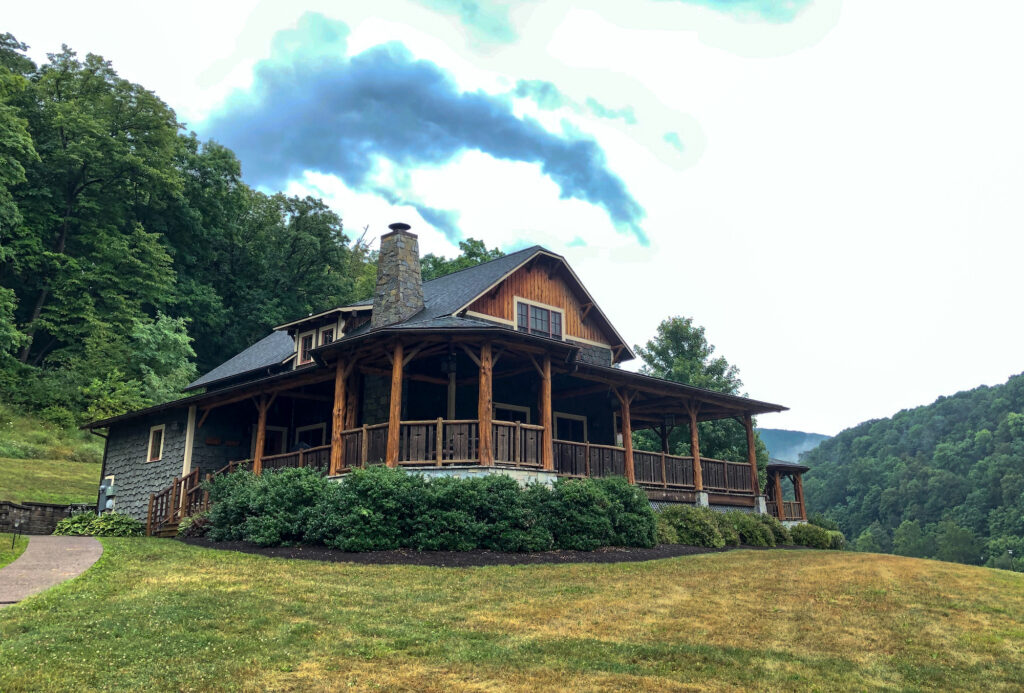 This is the kind of area where if you stop your vehicle on the side of the road to take a picture, the next car rolls up to check on you to make sure you aren't in need of assistance. These are the kind of people who reside in this area and frankly, it is refreshing to see kindness and consideration again.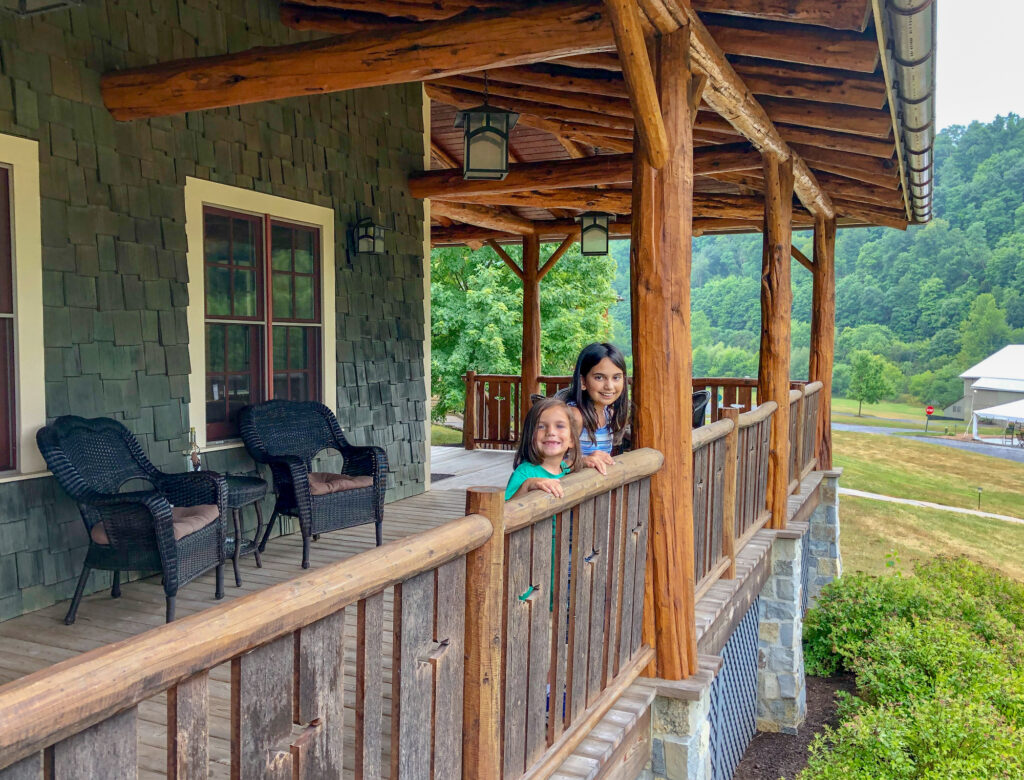 Never before have I felt so at home while on the road. From the moment we arrived at Homewaters, we greeted with huge smiles and warm laughter. There was a slip and slide set up for the kids to play with and we all had so much fun there! Homewaters is an upscale, membership-based fishing lodge in Spruce Creek, Pennsylvania. It was amazing.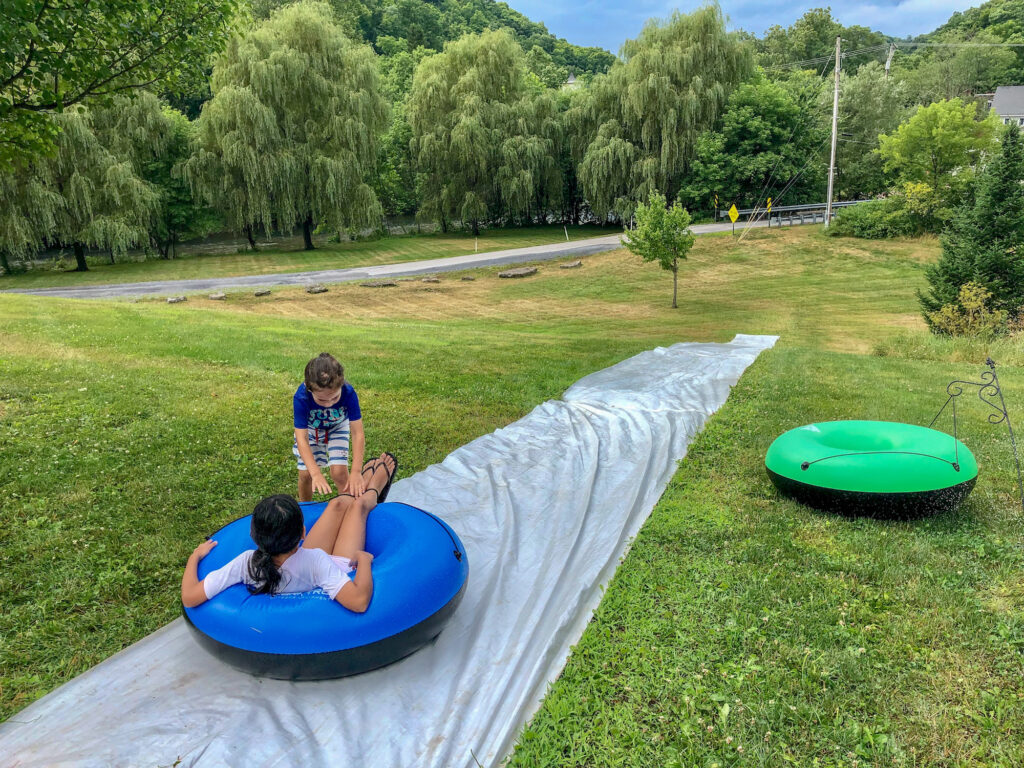 The accommodations we had there for one night was the house of my dreams, the kids were so excited running around there! I don't think they had ever been in anything so amazing before while traveling. We were at Homewaters for me to try out fly fishing.  I won't claim to be an expert (I'm not) or even really feel comfortable speaking with all the terminology (nope), but I had a good time and I'll totally do it again. Especially with testosterone in the vicinity.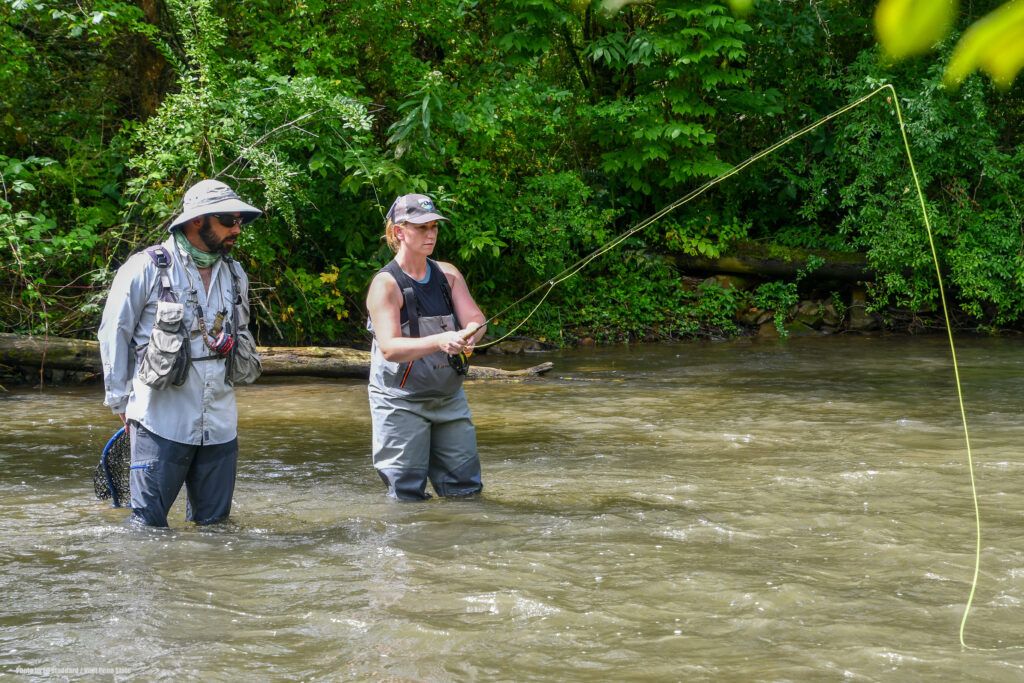 My fly fishing guide, Andy was beyond exceptional and patient. No matter how many times I caught "Pennsylvania Ground", he was there to fix it.
While I did catch a couple of rainbow trout out there, don't worry, it was catch and release. You can read all about the full experience here: Pheromones and Fly Fishing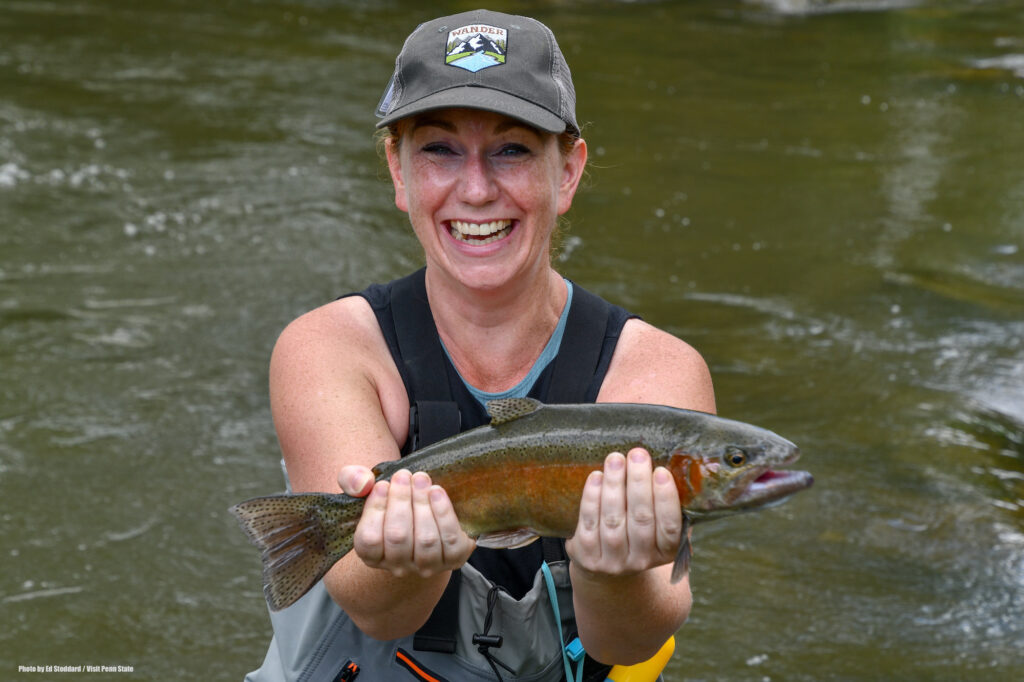 Lincoln Caverns and Whisper Rocks
One exceptional show cave system in the Central Pennsylvania area isn't enough (Penn's Caves), so there are two. And in the state of Pennsylvania, there are more, which means a return visit for more exploration. Lincoln's Caverns is entirely different from Penn's Caves.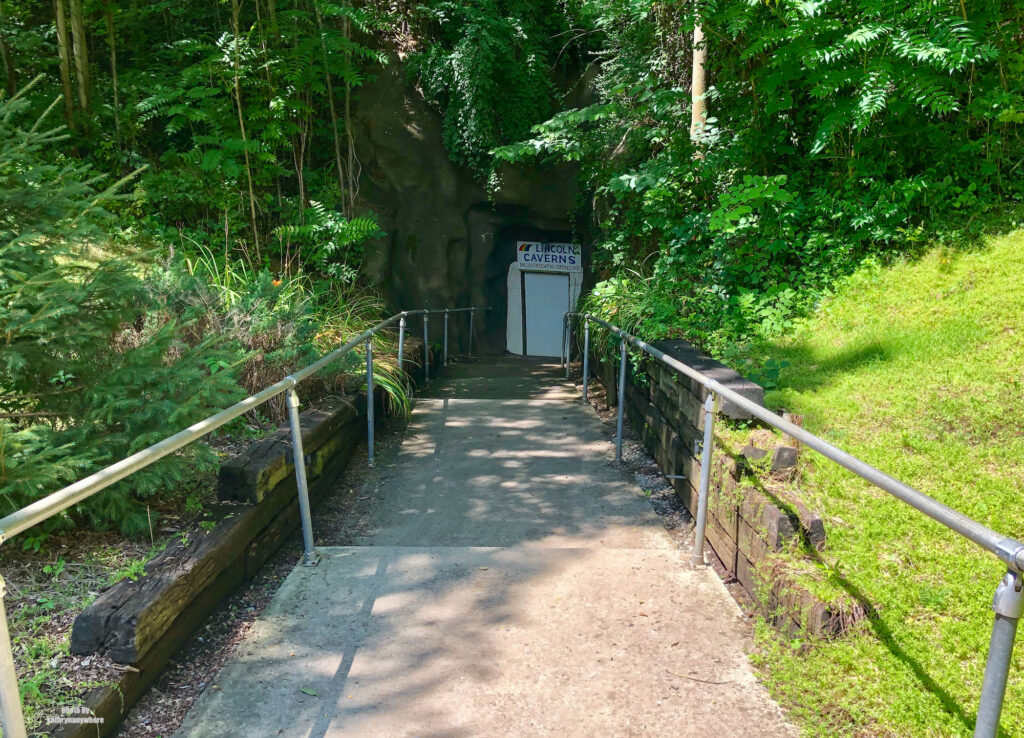 These caverns were discovered in 1930 when the highway was being built and opened as show caves in 1931. We were fortunate enough to have a private, guided tour by Mike, who is an incredible character. We got to hear all of the stalactite and stalagmite jokes you could handle. I'll save them so you can hear them in real life!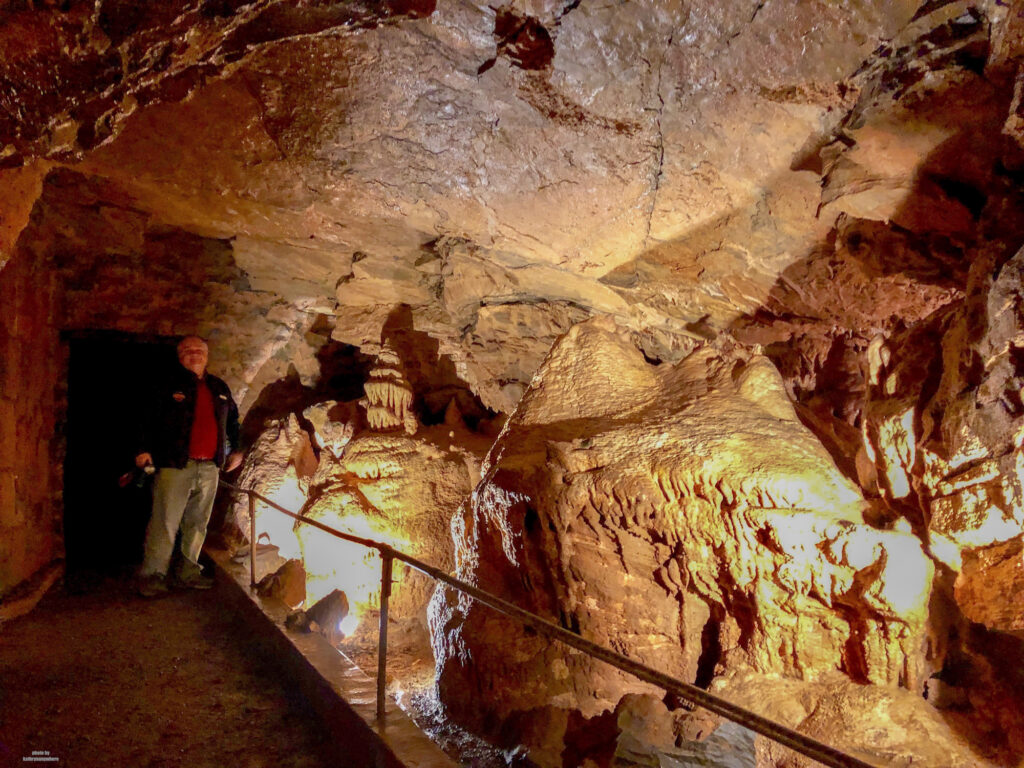 Here, it's like getting two cave tours for the price of one as there isn't an underground path or tunnel between the Lincoln Cavern and the Whisper Rocks.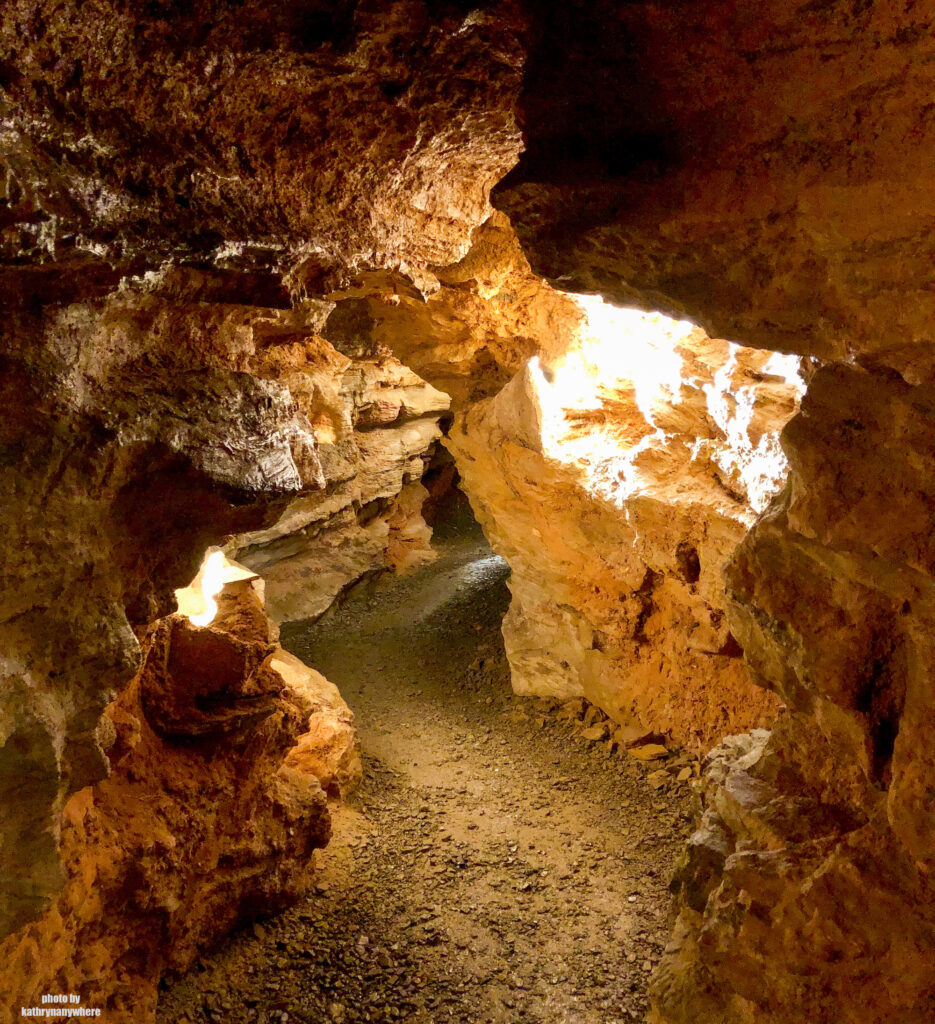 This is the kind of experience for kids that are into science and adventure. I'd like to think that all kids should come in and see them and your kids can handle being underground, do it!  It's not confining, the ceilings are really high. These were described to me as moderate-sized caves, they've much larger than ones I've seen in Ontario.
This is also where my kids came for a special morning summer camp program while I fly fishing.
Where To Stay in State College, PA
Our third night was spent at Homewaters. Our first two nights, we stayed at Hilton Garden Inn, in State College (click here to make your own reservation). We managed to obtain two adjoining rooms here, so that was a relief – a room for me to work and find reprieve in. As this is part of the same road trip from Butler County, I mentioned the sudden appearance of the father of my children. Yes, he's on this trip. No, we aren't together. It was a nice family road trip vacation for the kids.
The beds were far more comfortable than the beds we had at home. It was a glorious sleep! I kid you not, sometimes I drop dead asleep into hotel beds and this was one of them.
In each spacious room, we had two queen size beds and complimentary wifi. The hotel has an onsite restaurant – Harrison's Wine Grill, an indoor pool and fitness centre. It sits right next to an empty lot and while some would see that as an eyesore, the kids made it into their playground with their dad – kicking a ball around and playing tag there.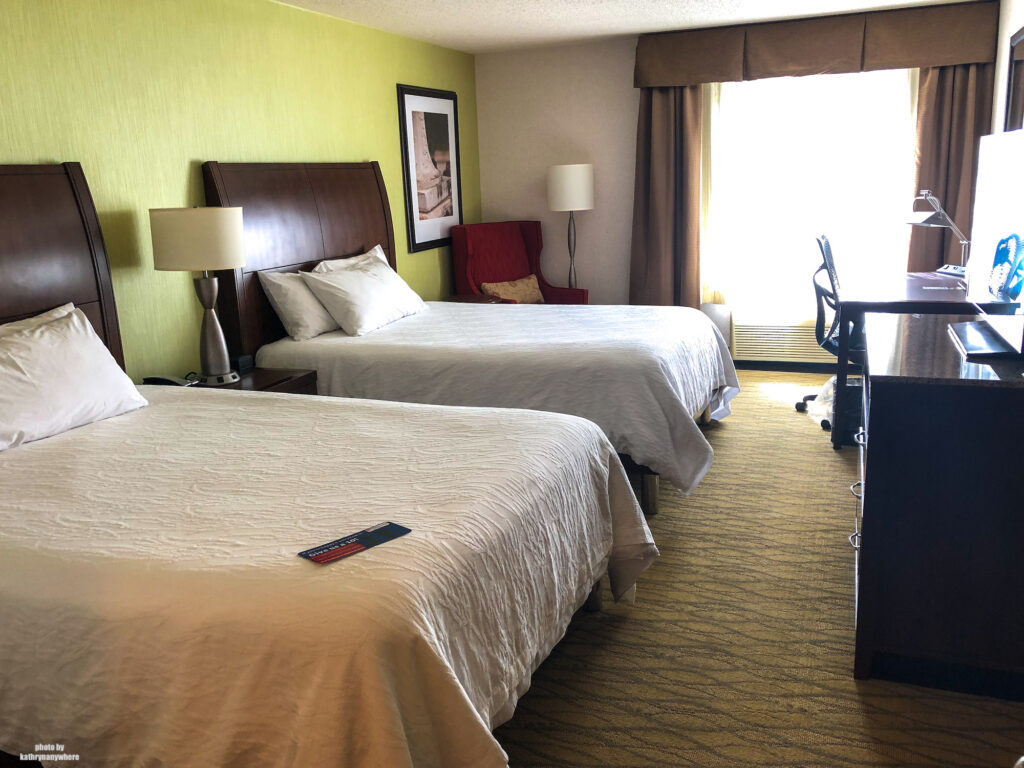 Where To Eat and Drink In State College, PA
Penn State Berkey Creamery – Did someone say ice cream for breakfast? Yes, yes I did. Oh god and so did my kids. It was all the fault of Ed Stoddard, the Communications Director at Central PA Convention & Visitors Bureau. The kids and their dad went so far on the indulgence train, I was afraid I'd never get them back. 
The creamery is exactly that – a place to come in and buy all your favourite dairy items. And also a place to get your morning coffee and a couple scoops of tasty ice cream.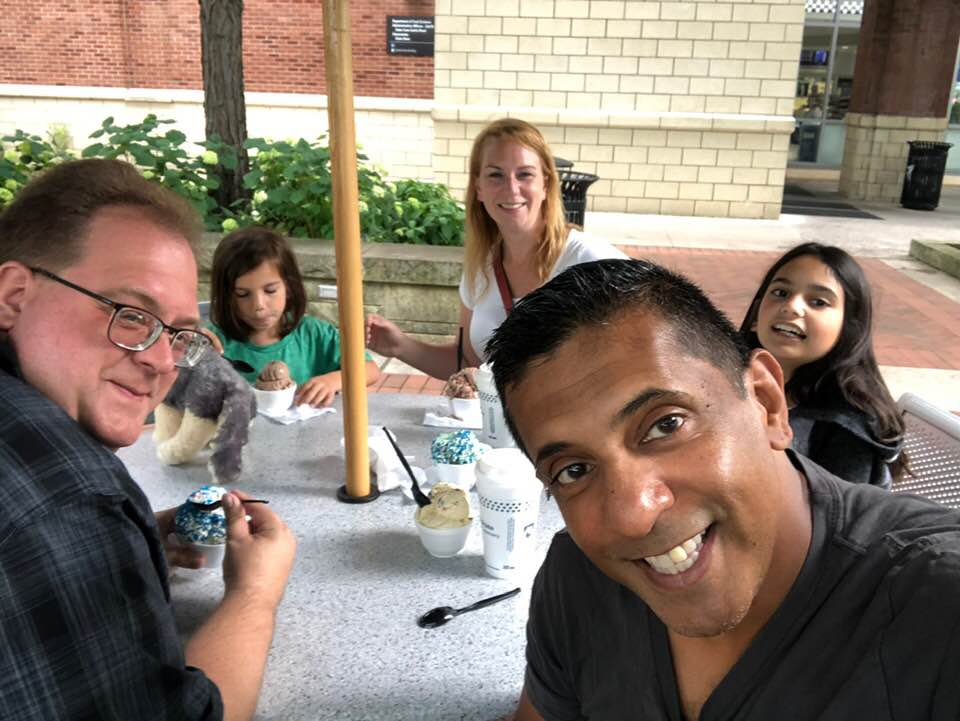 I would normally NEVER allow this, but this is a true State College experience. When on a family vacation in State College, get yourselves onto the campus of Penn State and hunt for the Berkey Creamery in the Food Science Building. I'll bet a ton of students on a hot day do this too! This is ice cream made by the masters in training. Rumour has it, the masterminds behind some of the biggest ice cream manufacturers have been schooled here.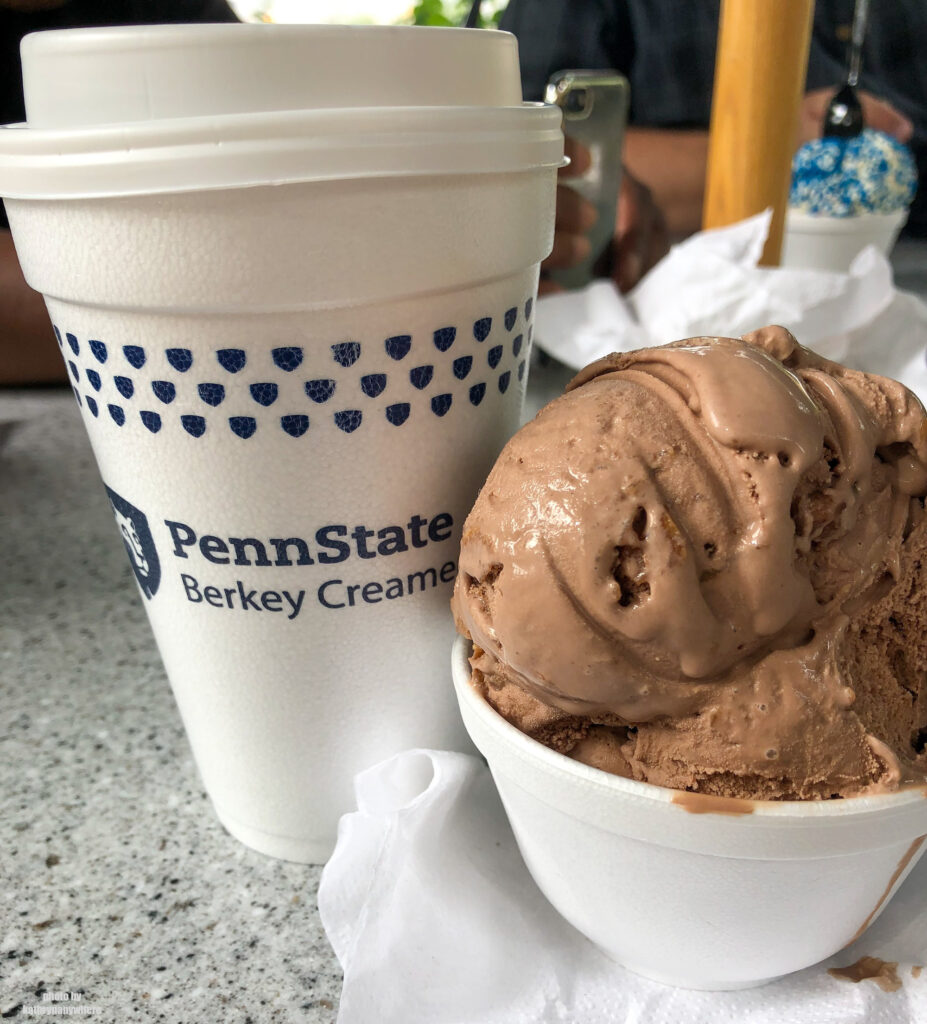 Harrison's Wine Grill & Catering – attached to the Hilton Garden Inn is one of the best fine dining restaurant options in State College! Harrison's Wine Grill boasts freshly prepared dishes with locally sourced ingredients.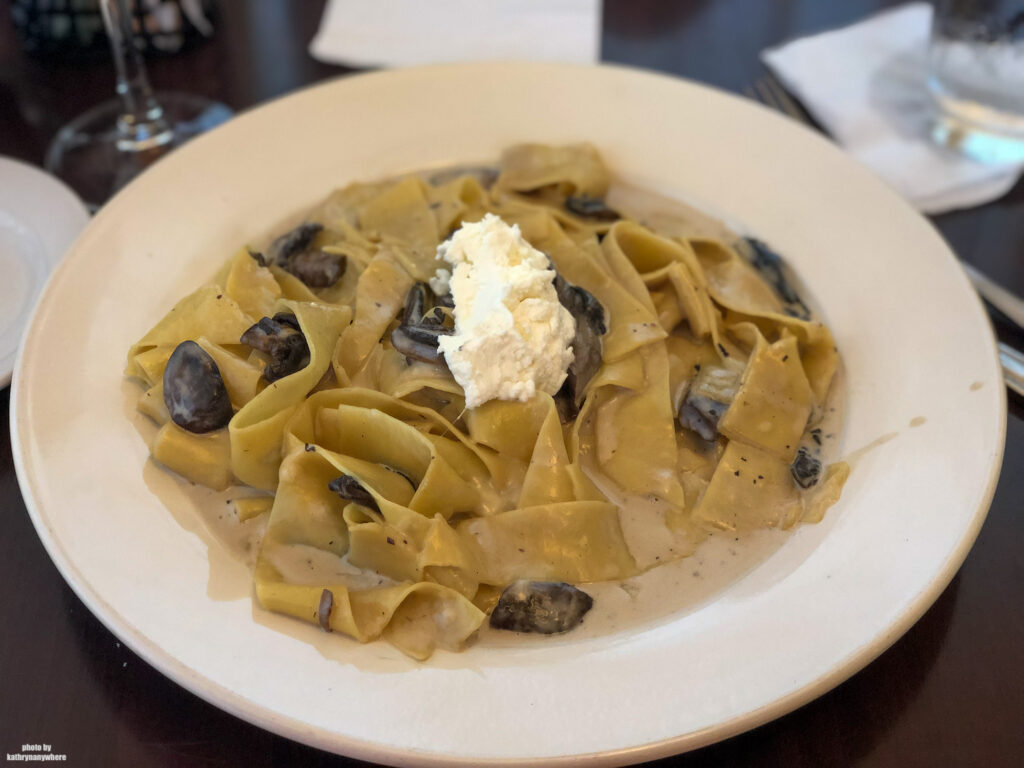 Baby's Burgers & Shakes Diner – this is a diner that just screams "American experience" to me. All 50's theme inside and not. The prices do not reflect the 1950's, but the vibe of the place does. We found the food to be a step up from a "fast food" joint, but there is a reason that this place has survived the test of time. Quality. Those burgers were damn good! We went back here for a second meal because the kids liked it so much.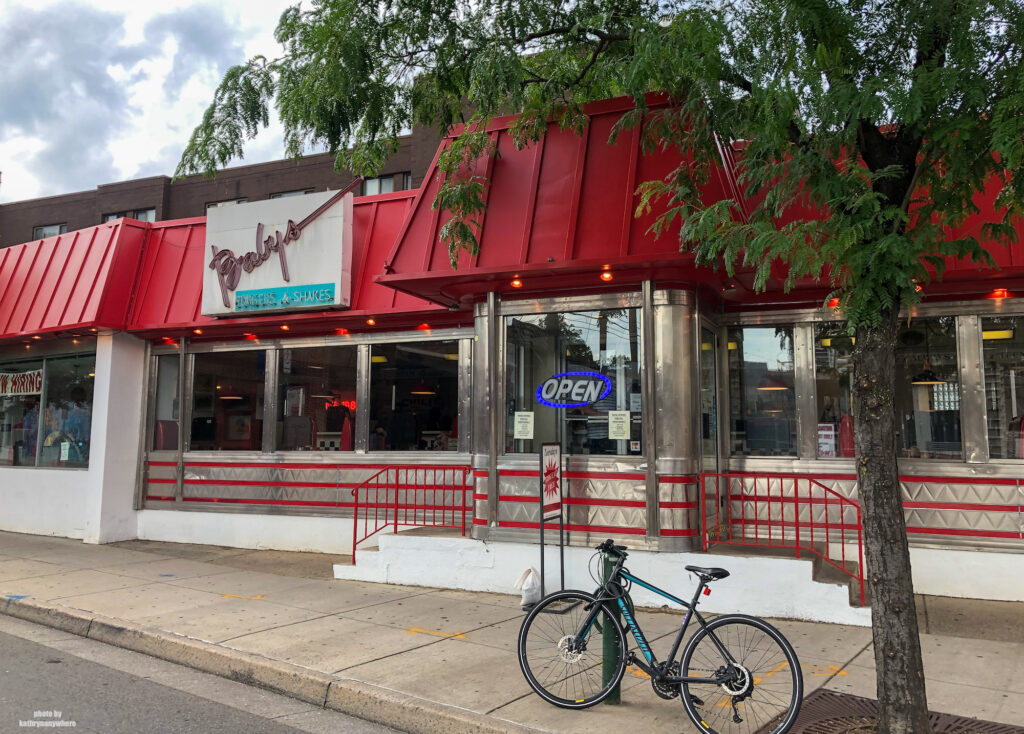 The Corner Room – We also found this gem of a spot. Open for breakfast, lunch, and dinner, The Corner Room is a tradition for students and staff of Penn State as well as being popular with the residents. Described as the "American experience", it's literally stood in this location since Penn State was a high school in 1855. It was a "roadhouse" originally and became The Corner Room in 1926.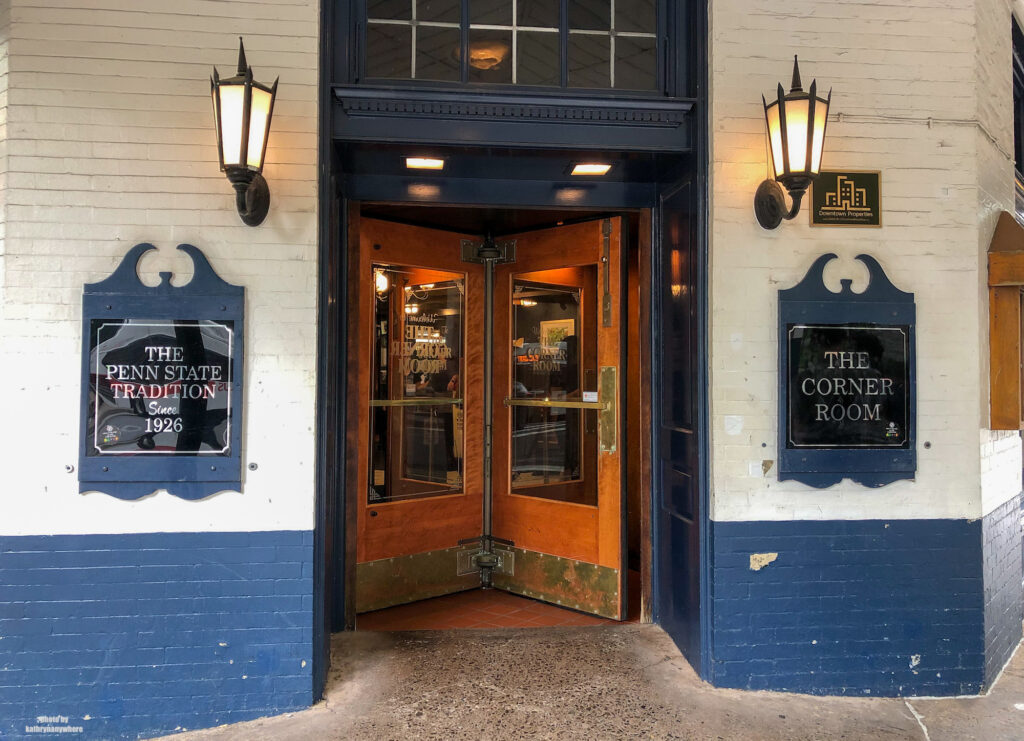 What's super exceptional about The Corner Room and Baby's Burgers and Shakes is that they aren't fancy. The food is good. The price is right. And in a town where there is constant turn-over in terms of the residents, these restaurants have become traditions that have stood the test of time.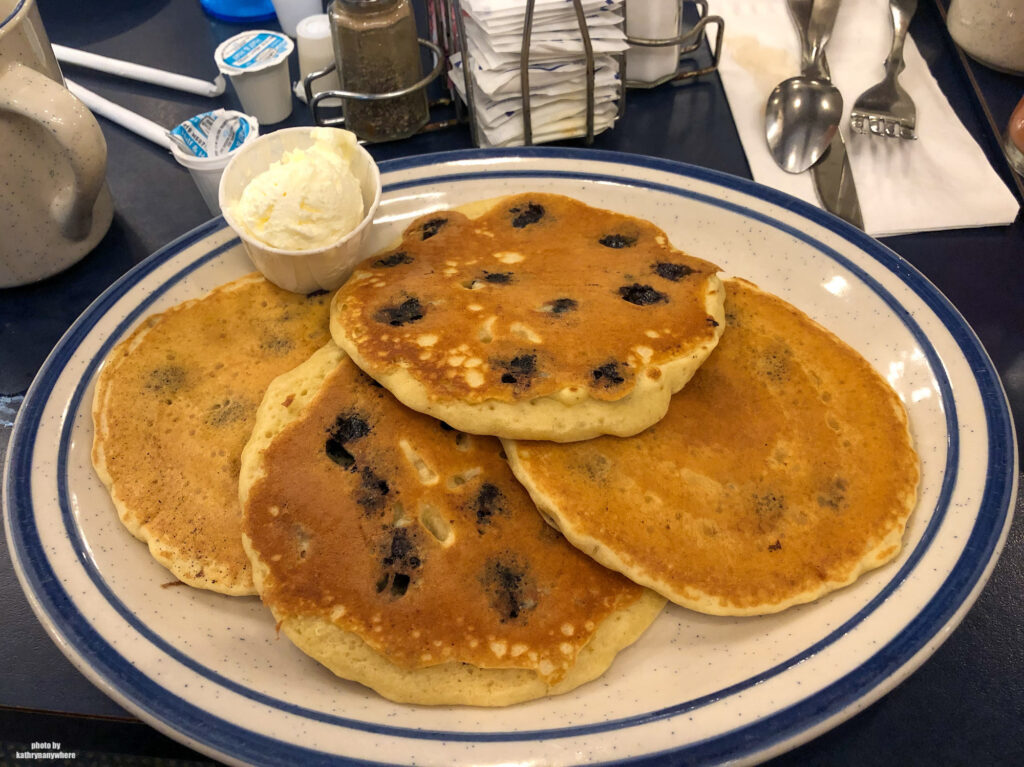 Happy Valley Brewing Company – this brewery is located right up the street from the Hilton Garden Inn and let me tell you, I was pleasantly surprised by what I was able to try. I didn't have time for a flight or beer tour here, but I went into their bar and was able to try before I buy a tin to go.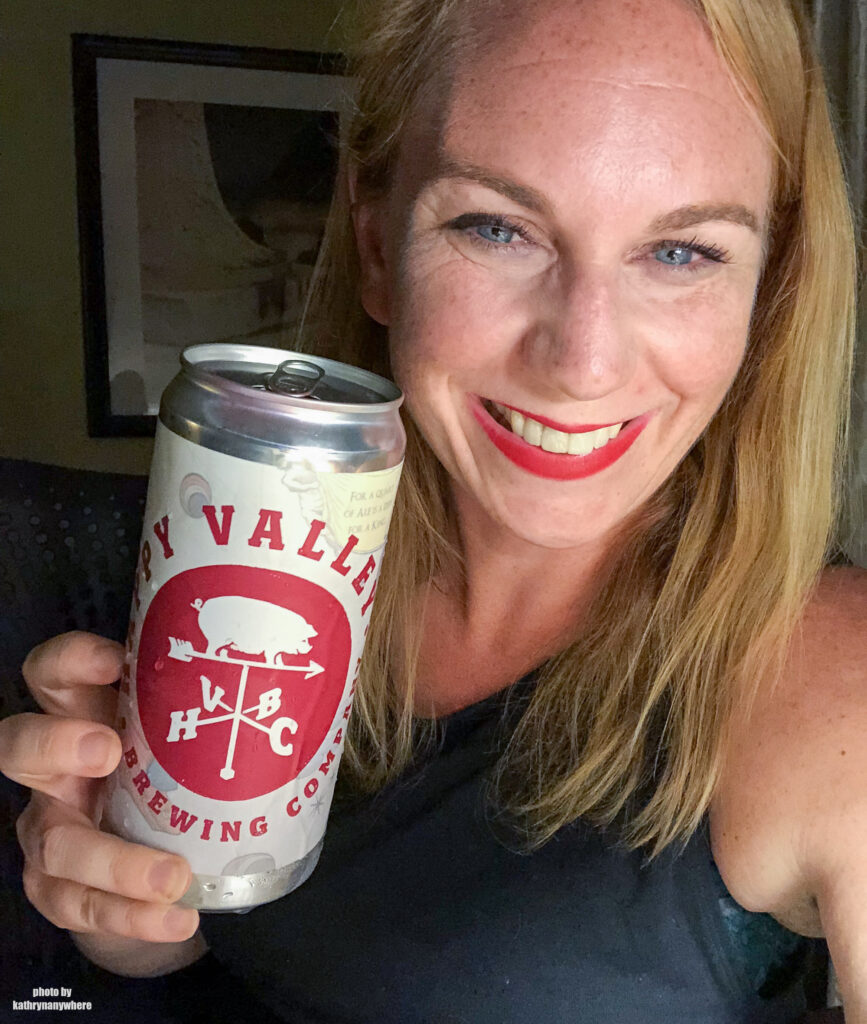 What Did I Miss in State College, PA?
As always, I can never fit EVERYTHING I want to do into my stay or itinerary. This was a pretty amazing, action-packed three nights and four days though. Of note, I feel like I really missed out on hiking Mount Nittany and getting to the lookout point. From there, you can see all of State College. It's not a hike my kids were necessarily interested in doing after all the non-stop action we had seen over the past couple of days.
Would I come back here? Yes, I would! I think Pennsylvania has a bad rap by association of being in the USA. It's a shame. The kids got to speak to people and realize that Americans are not all that we see on some far-right-wing media outlets. American is actually as cool as we are (Canadians). And the landscape looks so similar. It's like we're in Canada but with different currency and a slight accent – us and them.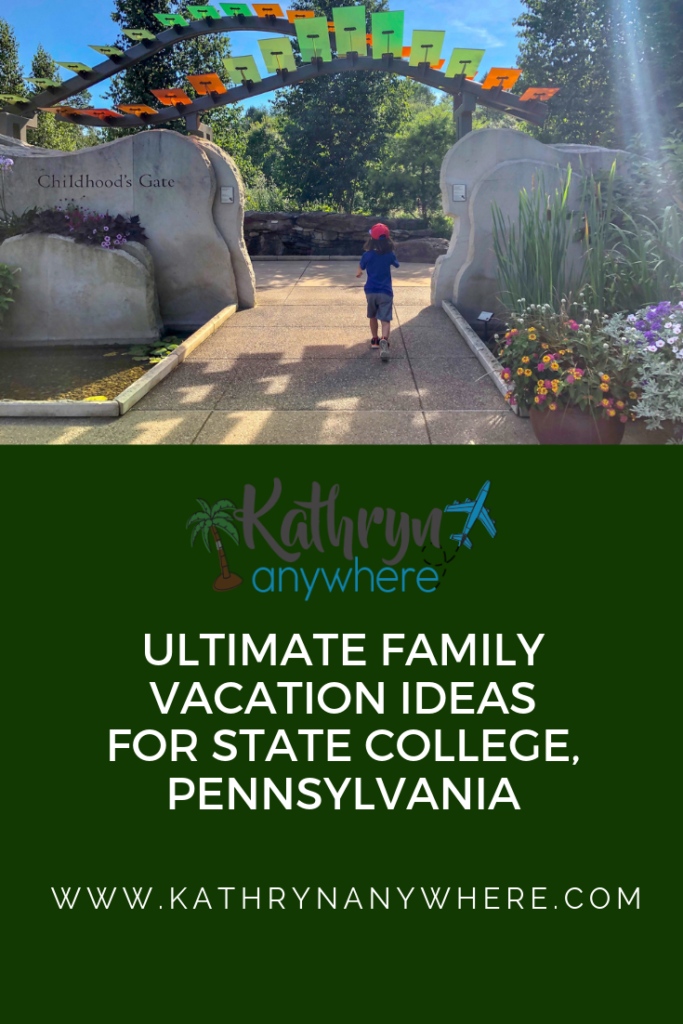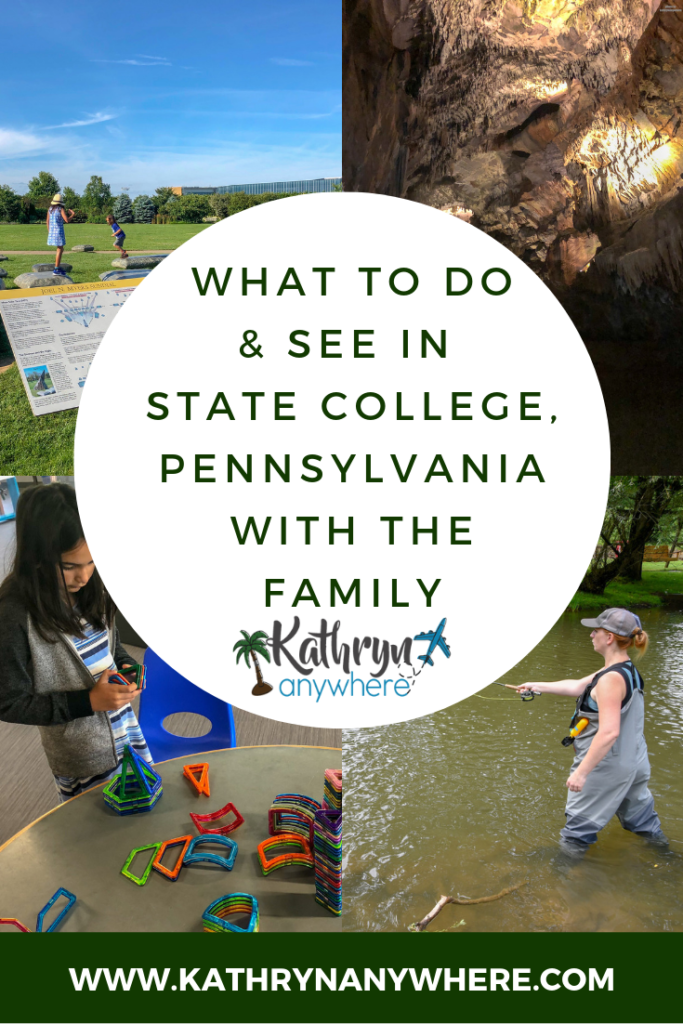 There is an affiliate link in here for booking.com that I will make a small commission from if you book your accommodations through it. See my privacy policy for more information if you so choose.