Never in a million years, did I ever envision myself enjoying a value level resort at Walt Disney World for accommodations. It came as a shock that I loved Disney's All Star Movies Resort!
This post was originally written for an old blog on March 4, 2011. It has been updated to reflect new costs and information on March 4, 2019.
Let me start off by saying I am a Disney Deluxe Resort snob, I admit it and make no apologies for it. My favourite resort is Disney's Yacht Club Resort. My last few stays have included Disney's Beach Club Resort, the Dolphin Resort and Club level at Both Disney's Animal Kingdom Lodge and Disney's Polynesian Resort.
How Did This Happen?
When my other half forced me to downgrade our already "economy" trip from Disney's Caribbean Beach Resort to Disney's All Star Movies Resort – a Value Level Resort for our family (I haven't set foot on one since before the kidlet), I was completely horrified. I wasn't going to be able to wheel a stroller onto the monorail from our resort or swim in Stormalong Bay or at least have a table service restaurant we could dine at either? Say WHAT?!?!?!?!?
Well, I got to say, I recently had the pleasure of staying at Disney's All Star Movies Resort for 5 nights. We were in a Preferred Room location, which you pay a little extra for and I thought worth every bit of the extra $15/night. Our room location was Building 1, 101 Dalmatians, on the third floor. We faced Cinema Hall, but was separated by some nice greenery. We were right beside Cinema Hall where check in, gift shop and World Premiere Food Court are, not too mention, we were handy to the Fantasia AND Might Ducks Pools.
Our rental car from Budget was parked just a hop, skip and a jump away (yes, I rented a car instead of relying on Disney buses – due to stroller – my personal preference).
I'm not going to lie and say everything was perfect – the room was a little worn on the inside (comforter was a bit ragged, old stains on carpets) and the phone didn't work well (lots of static on the line). The bathroom fluorescent lights were a bit dated (flicker, flicker!), I could hear the park buses pulling up and leaving early in the morning (yes, 8 a.m. is still early to me and kidlet is trained to sleep until then) and the same old menu in the food court got a little old to me. I will say though, in terms of paying for what you get, we had it real good. There was value there and I liked it.
Kidlet loved it! She loved the "doggies" theme of our building, the big, bold colours and the open space of the grounds. She loved the star lights in the resort room and the 101 Dalmatian wallpaper banner.
What Is Check In Like?
Backing up, we checked in at 10:30 p.m. on a Friday night. Lineups were long and I had a race to run in just 9 hours as we were there for Princess Marathon Weekend! We were swiftly checked in and in our room. The front desk staff was top notch and displayed the Disney magic and courtesy I have come to expect no matter where I stay.
Our room was clean when we arrived and the beds were so comfortable after travelling all day. I didn't care that it was just a double bed, unlike the queen size beds in the deluxe level resorts and kidlet wanted to crawl in with Mom and Dad. It was heaven! I thought I was going to find the decor cheesy or corny, but on the contrary, I didn't. Just seeing the wonderment in kidlet's face when she realized where she was, was enough.
We made the right choice with our vacation dollars this time. Every turn of a corner was something exciting for her to look at, to touch, to talk too (yes, she talked to all the doggies and star lights) and then point out to us.
I have been broken. I will stay again at Disney's All Star Movies Resort if given the chance. Heck, I'll go wherever makes the family happy, but it wasn't anywhere near what I thought it was going to be. Not by a mile.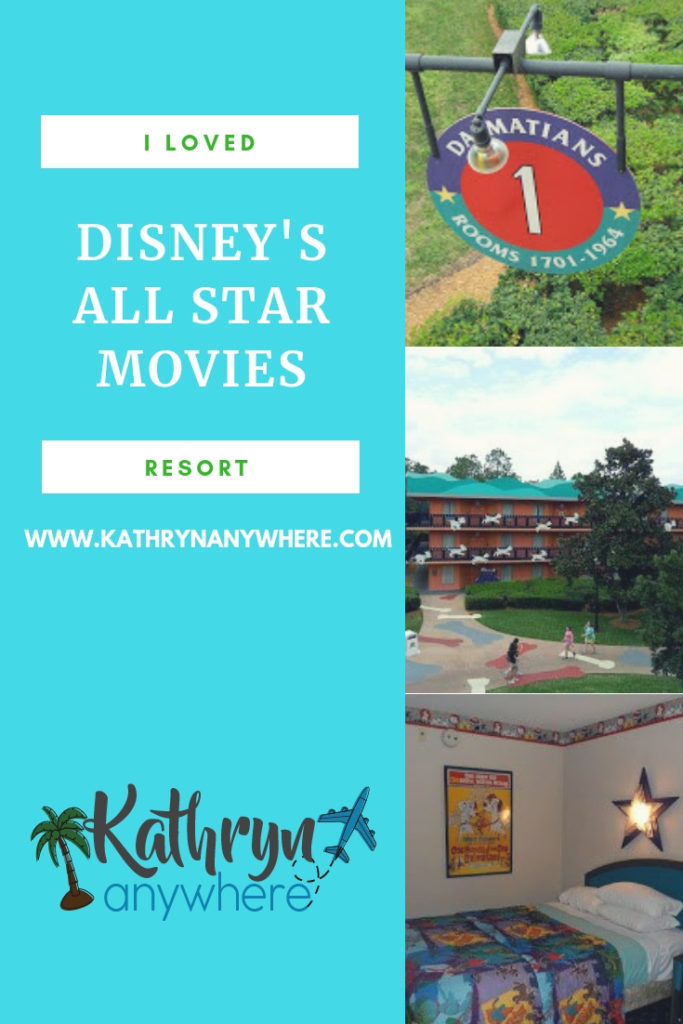 KathrynAnywhere is a participant in the Amazon Services LLC Associates Program, an affiliate advertising program designed to provide a means for sites to earn advertising fees by advertising and linking to amazon.com, amazon.co.uk, amazon.ca. Amazon and the Amazon logo are trademarks of Amazon.com, Inc. or its affiliates.
*** DISCLAIMER – I booked my Walt Disney World Resort Vacation through Fairytale Dreams and Destinations. This post is not sponsored by them or by Disney. I received no compensation for my expressed opinions***