For those of you who have been reading my blog for a while, you will know that I made it my mission to explore and take in as much of my home province of Ontario as I could. And take my kids along of course! I was born and raised here and I had come to the realization that as of a couple of years ago, I had explored less than 10% of it. Most of my travel had been confined to the 401 corridors.
Granted, landmass wise, Ontario is huge! Bigger than almost all European countries! Parts of Ontario are even uninhabited, so it's not likely we will be hanging at a winery in Polar Bear Provincial Park anytime soon! One because it doesn't exist and two because that provincial park is so far remote that the website warns you to pack an extra week's worth of provisions in case the plane can't come back and get you. However, there are a lot of towns with charm, beautiful trails, an abundant outdoor lifestyle and exciting places to explore in Ontario that are full of adventure and won't leave you stranded.
If someone was travelling to Ontario for the first time to explore and take in an unusual or unique (only to) Ontario experience, I have a list of places to send them that I have been to. I'd tell them to head up the Bruce Peninsula to Tobermory to stay for a couple of days and to hike the Grotto! Send them yurt camping at any time of the year at either Algonquin Provincial Park or MacGregor Point Provincial Park. If they were looking to go glamping right across the street from a winery, they'd be going direct to Long Point Eco-Adventures in Norfolk County. If they were looking for some epic scenery while hiking, the Barron Canyon Trail, Dundas Peak and Skinner's Bluff is where it's at.
My Personal Favourite Places To Explore In Ontario
One of my favourite places to see sunset? It would be the Scarborough Bluffs pictured above and right below. Especially in autumn.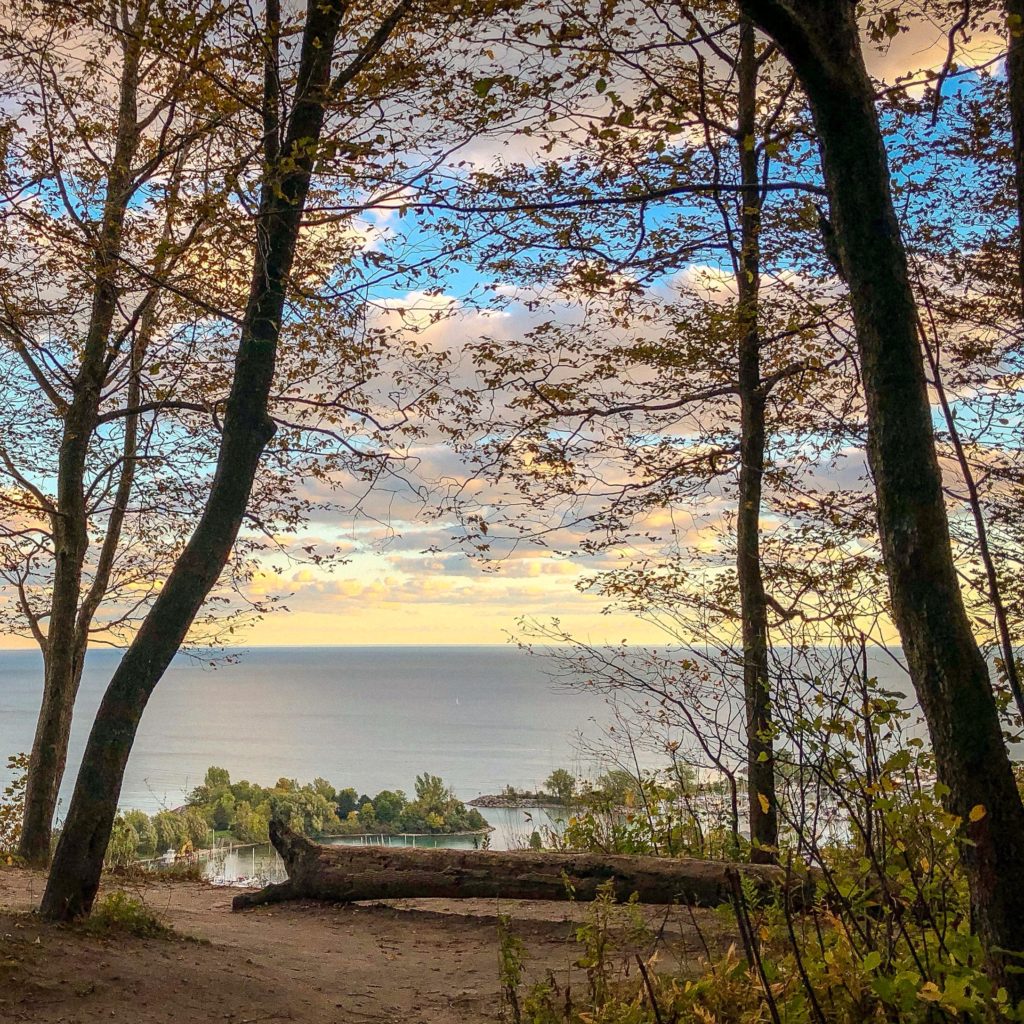 Some of my favourite hiking trails fall within the jurisdiction of Ontario Parks. Check out Mono Cliffs Provincial Park, Sleeping Giant Provincial Park and Lake Superior Provincial Park.
Favourite Beaches? Sandbanks in Prince Edward County is top of everyone's mind when you think of Ontario beaches, but consider Coburg Beach in Coburg or Pancake Bay Beach, just outside Batchawana Bay as well.
Beer and wine Tours? Forego the crowds in Niagara and Prince Edward County and head to Norfolk County instead.
I know for a fact that I am not the be-all and end of Ontario knowledge. And I'm on the hunt for new places to explore in Ontario for this year and next. I thought it would be smart to hit up some of my fellow Torontonians, travel bloggers for their favourite places in Ontario to explore and why.
Here are their secrets they have let me in on!
SAINTS AND SINNERS TRAIL
Just a few hours north of Toronto lies the province's biggest secret. Grey County is a foodie haven, with gorgeous views, reasonable prices and none of the traffic you'll see if you travel east or west of the city.
It's home to the Saints and Sinners Trail, which features local beer, wine and cider. This region is family-friendly so don't feel like you need to leave the kiddos at home. Accommodations range from traditional to quirky, you can stay in a treehouse or a yurt!
It's called this because of the region's fascinating history. Owen Sound was Canada's last dry city. Well technically, prohibition lasted here much longer than the rest of Canada and so there's a history of bootlegging and all the salacious stories that go along with it.
Today you can tour the Saints and Sinners Trail independently or take the Corkscrew Town tour, which partners with the Beer Bus. Local historian (and city council member) shows you the city's sights and shares hilarious local stories of bootlegging in the time of prohibition.
Contributed by Ayngelina Brogan – Bacon Is Magic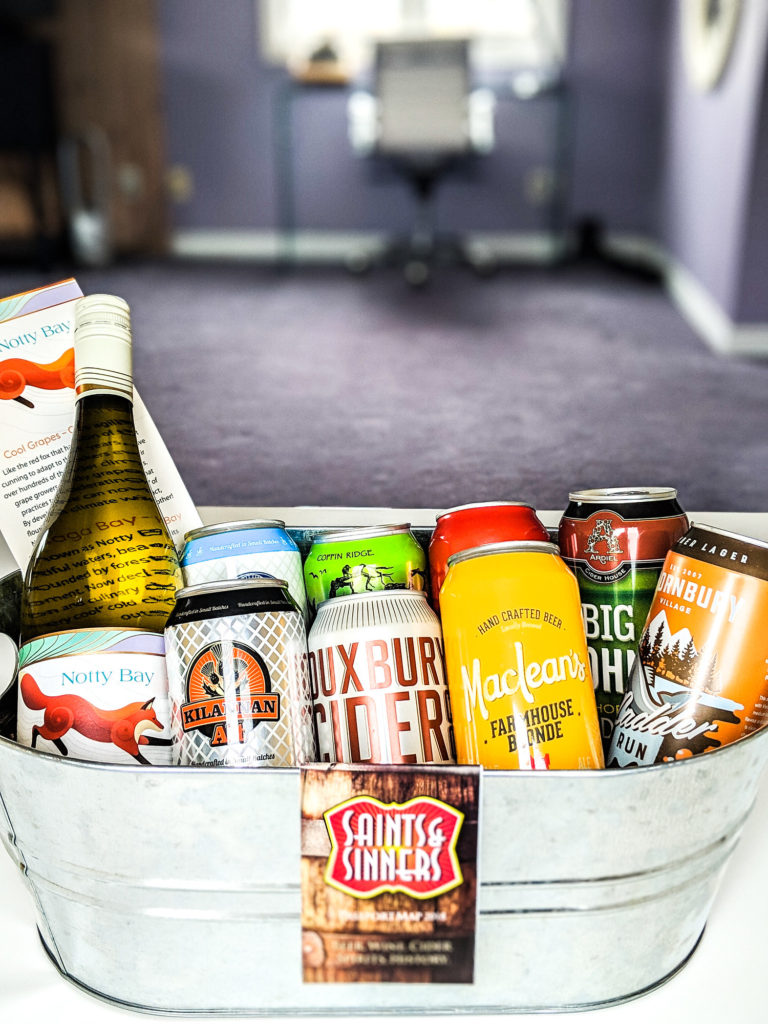 DEVIL'S PUNCHBOWL
The fact that Hamilton, a city more commonly known for steel and Tim Horton's, has also been dubbed "The Waterfall Capital Of The World", may come as a surprise to you. Of the more than 100 waterfalls located in the city's limits, the one with the most unusual story is found in the Devil's Punchbowl Conservation Area.
The Devil's Punchbowl is a huge, horseshoe- shaped gorge. There is a larger, upper falls and a smaller, lower falls in it. With numerous trails around the area, it's a perfect for hiking and scenic photo opportunities, especially if you are nimble enough to make it to the bottom near the waterfalls.
Beneath the beauty of the Punchbowl, though, lies a history shrouded in mystery. Where exactly did the name come from? Urban legends (unverified ghost and paranormal activity stories), and even tragedies (numerous deaths have happened there).  Adding to the unusual factor is the 10 metre high metal cross on the observational platform.  It was made to "bring light to the community", but the idea of a giant cross planted in an area named after the devil is bizarre, to say the least. However, the views from the platform are admittedly spectacular (dare I say, heavenly), as you can see the waterfalls, Stoney Creek, Hamilton, and on clear days, even Toronto.
The Devil's Punchbowl Conservation Area is definitely unique, but also a place that you won't soon forget!
Contributed by Mike Armstrong – Daddy Realness
PORT HOPE SALMON RUN
Watching the salmon run is often something associated with rural travel in remote destinations such as like Alaska. But Ontario actually has some pretty incredible salmon runs of its own. And surprisingly, one of the best places to see the Salmon run in Ontario is in the small town of Port Hope off the shores of Lake Ontario.
Port Hope, which is just an hour east of Toronto, is a quaint town with a vibrant history. But in the fall, it becomes home to one of the coolest wildlife spectacles in Central Ontario. Between late August and early October, thousands of Chinook salmon, some weighing up to 40 lbs make their way up the Ganaraska River.
The best place to view this spectacle is Corbett's Dam, otherwise known as the Port Hope Fish Ladder. Just head to Jocelyn St. Turn right and continue on till you meet the river. There is a rocky shore that is easy to walk up and down. Just don't step in the fish. Not all of them make it to the spawning grounds. The Port Hope Fish Ladder was put in place to help the struggling salmon make it up the river once the dam was put in place. Without it, these bright fish would have no way to continue up the "Ganny" to their spawning grounds.
Contributed by Kevin Wagar – Wandering Wagars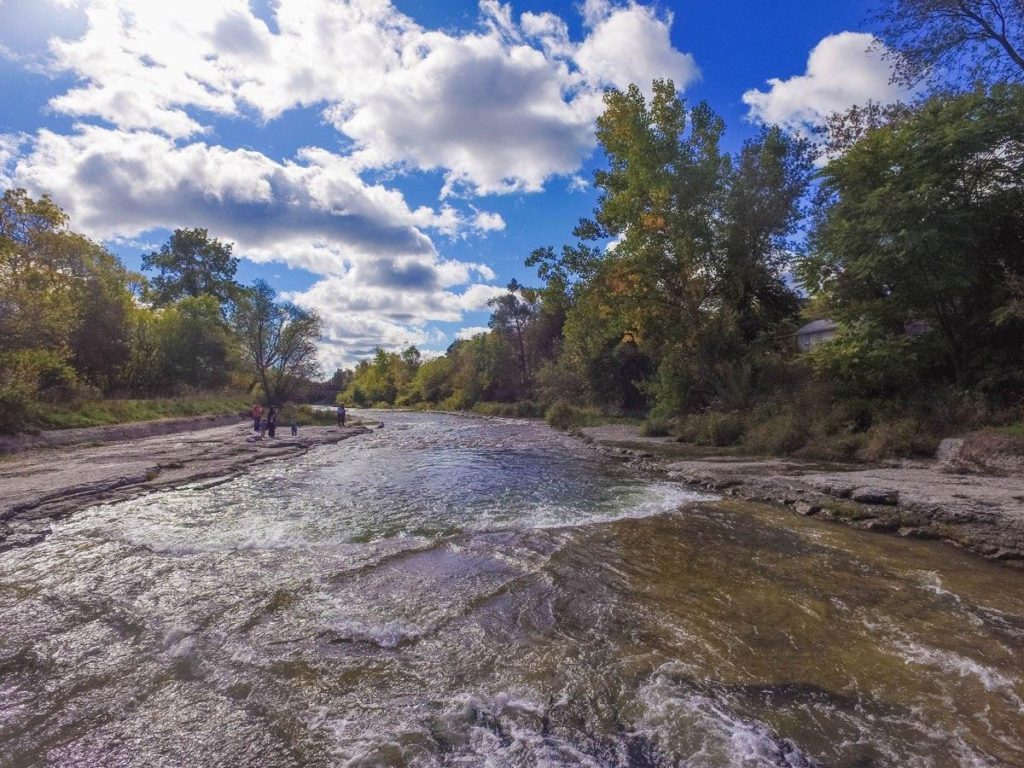 BATHTUB ISLAND
Located about 10 hours north of Toronto you can find Lake Superior Provincial Park. At over 1550 square kilometers it's one of the biggest provincial parks in Ontario. The park is known for very unique things like the pictographs at Agawa Rock, the Burnt Rock Pool, Old Woman Bay and of course the most unique of them all, Bathtub Island.
Bathtub Island is located about a 15 minute walk from Katherine Cove and just like the name suggests, it's a natural forming bathtub! The bathtub is refilled by the waves crashing over the rocks and because of the shallow rocks the water gets heated up really quickly so you can splash around and enjoy yourselves! It can be slightly challenging to get into the island because of the rocks and the water so do take care to walk carefully but as long as you're paying attention to the walk you'll be fine!
While there may be other natural bathtubs around, the one in Lake Superior Provincial Park is the only one I'm aware of in Ontario and it makes it such a unique place to explore! It doesn't hurt that it's located in such a stunning piece of nature. It's a great reason to head further north than most visitors to Ontario do and you get to enjoy something super cool that nature itself formed!
Contributed by Liliane Fawzy – My Toronto, My World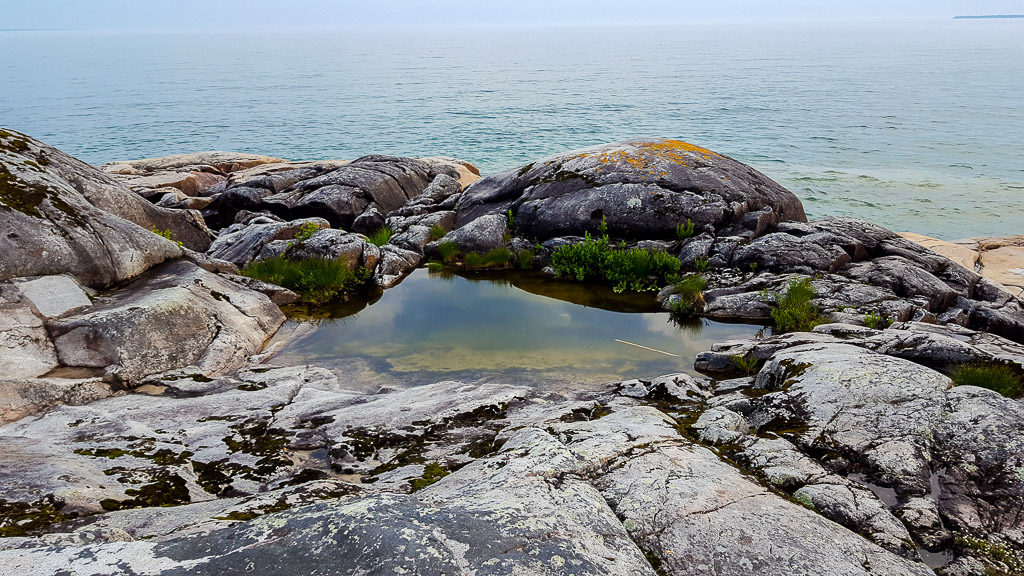 ENJOY MUSKOKA DURING THE WINTER SEASON
In just four years, the Ice Skating Trail at Arrowhead Provincial Park has become one of Muskoka Tourism 's most popular winter attractions, as thousands of winter-loving Ontarians flock north to glide along this breathtaking skate through the forest. Named one of 19 Stunning Natural Ice Skating Rinks Around the World by Travel + Leisure, the deep-woods ice path is nightly lit with torches as skaters slide through the dark winter woods to an icy, fiery glow. The Trail's season-opening is always subject to weather but typically the trail opens the beginning of January until roughly the second week in March. The best ice conditions tend to be during the week, so if you can arrive midweek, you will be rewarded with no crazy line-ups as you visit one of the province's most popular winter 'bucket list' items.
Bonus night activity? While in Muskoka, take the kids to look up at the night sky to experience the vastness of space, view the universe and marvel at the icy air viewing at the Torrance Barren's Dark-Sky Preserve.
Contributed by Gregory George – followsummer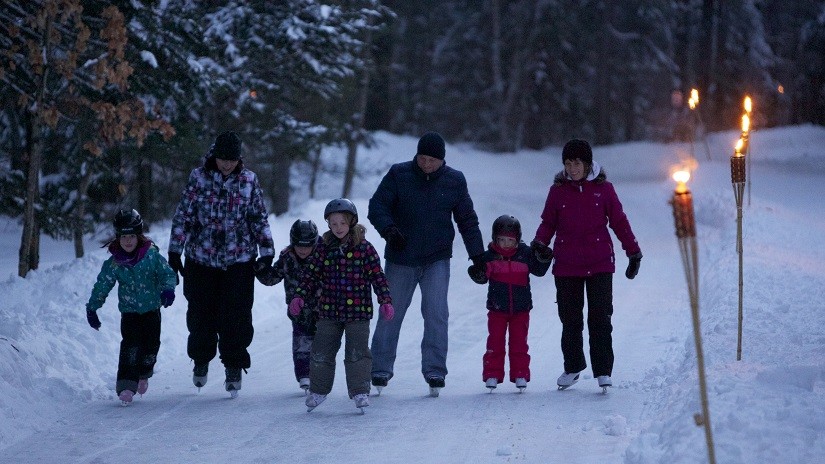 VOYAGEUR CANOE TO TORONTO ISLANDS
Have you ever seen Toronto from the water?  One of the most unique experiences that I've ever had in Toronto was to paddle across the harbour in a Voyageur Canoe to the Toronto Islands.  You can do this as a group or rent a kayak.  The view is spectacular and being on the other side of the islands take you from urban setting to natural oasis in the time it takes you to paddle across.  There is no shortage of interesting things to see from the flights taking off and landing from Billy Bishop Airport to the spectacular skyline.
Contributed by Margarita Ibbott – DownshiftingPRO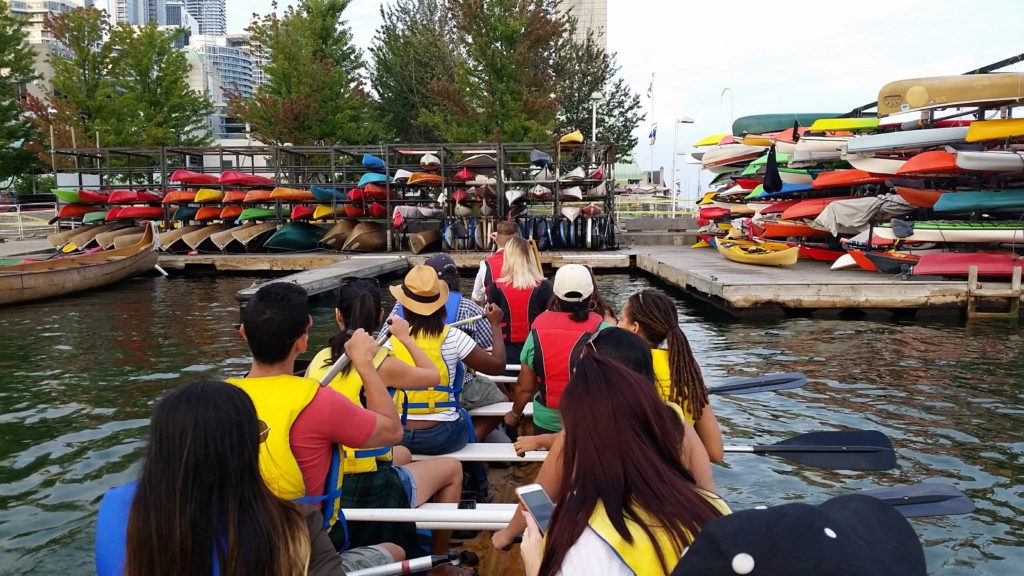 NIAGARA JET BOAT
In June 2017, Hubs and I splashed out for a Whirlpool Jet Tour from Niagara-on-the-Lake. The tour took us up the Niagara River to the Niagara Devil's Hole Rapids – which boasts up 4.5-6m waves and currents with speeds approaching 32 kph. Operating since 1992, the company's Niagara fleet has 8 custom-built vessels operating from three locations on both sides of the border – Niagara-on-the-Lake, Lewiston and Niagara Falls. There are two types of boats, an open boat, for fast and wet, and a closed boat, which will keep you (mostly) dry.
Our youngest was three (almost four) when we took our tour, but still a little under the height requirement for the uncovered boat (safety first!!) We rode one of the covered boats – which kept us dry, but was still quite thrilling. The windows on the boat open for the parts of the tour that aren't wet.
The expert navigation of our boat's team had us feeling very safe despite tackling Class 5 rapids which "approach the limits of navigability" and "should only be attempted by white-water experts."
The best part of the approximately one-hour trip – we learned about the history of the gorge, the falls, and various sites we passed along the way including historic Fort George, the hydro-electric plants on both sides of the border. The tour guides were very engaging, and more than willing to answer any questions we had.
As far as family fun goes, you can't miss the thrills, chills (and the education) of a Niagara Whirlpool Jet Tour. In fact, our youngest is big enough for the outside boat – and we have plans to make another trip this year!
Contributed by Amanda Knapper – SillyMummyFT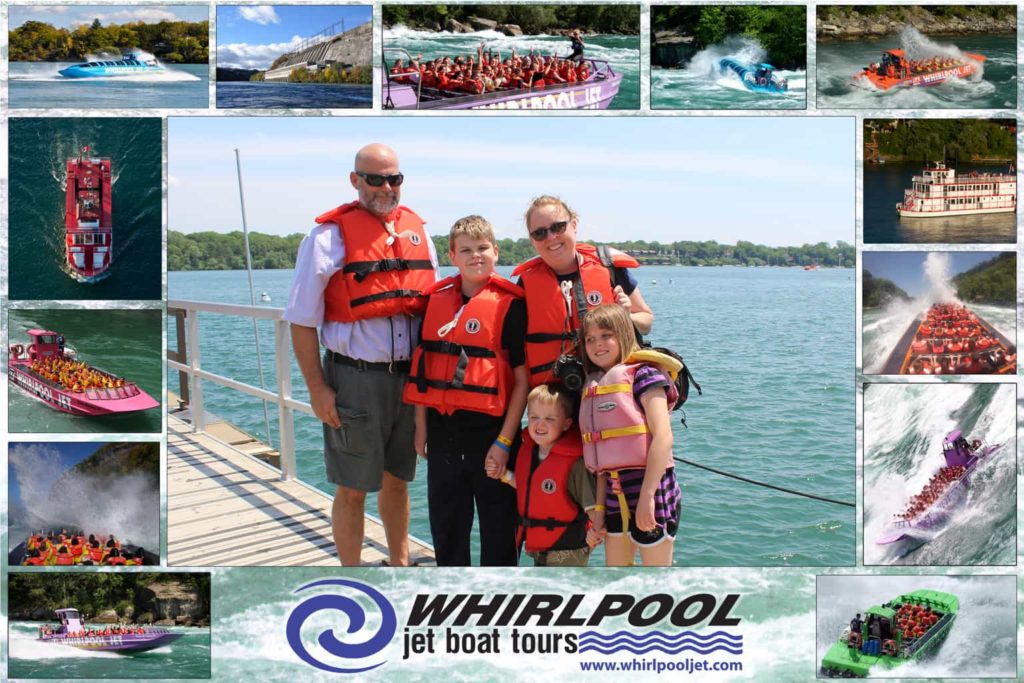 SOARING OVER NIAGARA FALLS IN A HELICOPTER
Visiting the majestic Niagara Falls is on everyone's bucket list but not many have thought about flying over the falls. If you're looking for unusual and breathtaking things to do in Ontario, soaring above Niagara Falls in a helicopter should be on your list!
This bird's eye view will bring on all of the feels and while the ride is only about 12 minutes long, you'll see it all. Our pilot did a great job of showing us the various angles of both, the American and Canadian Falls and we also saw the Niagara Parks Commission School of Horticulture, followed the Niagara River from the Whirlpool area and rounded up near the Rainbow Bridge. It was like getting the best and fastest tour of the area. We had our infant and toddler with us for this Niagara helicopter ride and the kids were mesmerized from the moment we took off. Kids were given noise cancelling headsets and the adults ones had the option to listen to an audio tour that informed us about the history of the area.
This splurge worthy Ontario attraction is definitely worth every dollar and should be on your list of things to do in Niagara Falls Canada with kids or without!
Contributed by Yashy Murphy – Baby And Life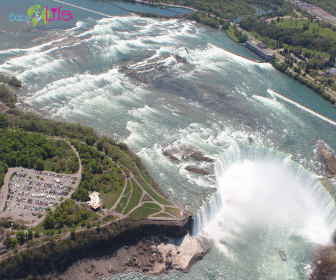 DINING IN THE DARK AT O NOIR
If you want a unique place to go to in Toronto that is indoors and involves food, you have come to the right spot to find out exactly where to go. The award for the coolest restaurant in downtown Toronto has to go to O Noir. You're not just paying for food, but an experience of a lifetime!
The concept of the very well known restaurant, O Noir, is for people to try and understand what life is like for the visually impaired for a short amount of time.
When you entire O Noir, you are presented with the menu before you go into the darkness. There is even a "surprise" option to make your time there more exciting! The waiters you will be interacting with are blind, just as you will be when you enter the dining area.  When it is your turn to go inside, you will be asked to make a train with several other guests and your party while someone will lead you to a seat (a seat that you cannot see AT ALL). There, they will explain where your fork, knife, and napkins are before returning shortly with your ordered food.
This is where things get really tricky; try coordinating with a table full of people who cannot see ANYTHING. Your other senses are heightened to the max as you try to communicate with your company, guess the food in front of you, or simply eat without making a mess! Your imagination runs wild as you try and figure out which part of the restaurant you are seated in, how big the place might be, where the waiters are coming in/ out from and predicting how much of your food is left!
This experience will give you a feel of what it is like for the blind to do simple tasks every day. It is amazing to see the discipline that the staff have, working quickly and efficiently to ensure great customer service, which can require a lot of patience when you are dealing with people who are experiencing something for the first time.
Lucky for everyone, the paying process happens outside of the darkness, or that would be a whole other level of challenging. This is something I believe everyone should try at least once in their lives! Imagine being able to say that you have had the experience to dine in the complete dark.
Contributed by Akanksha Pandya – Akanksha.ca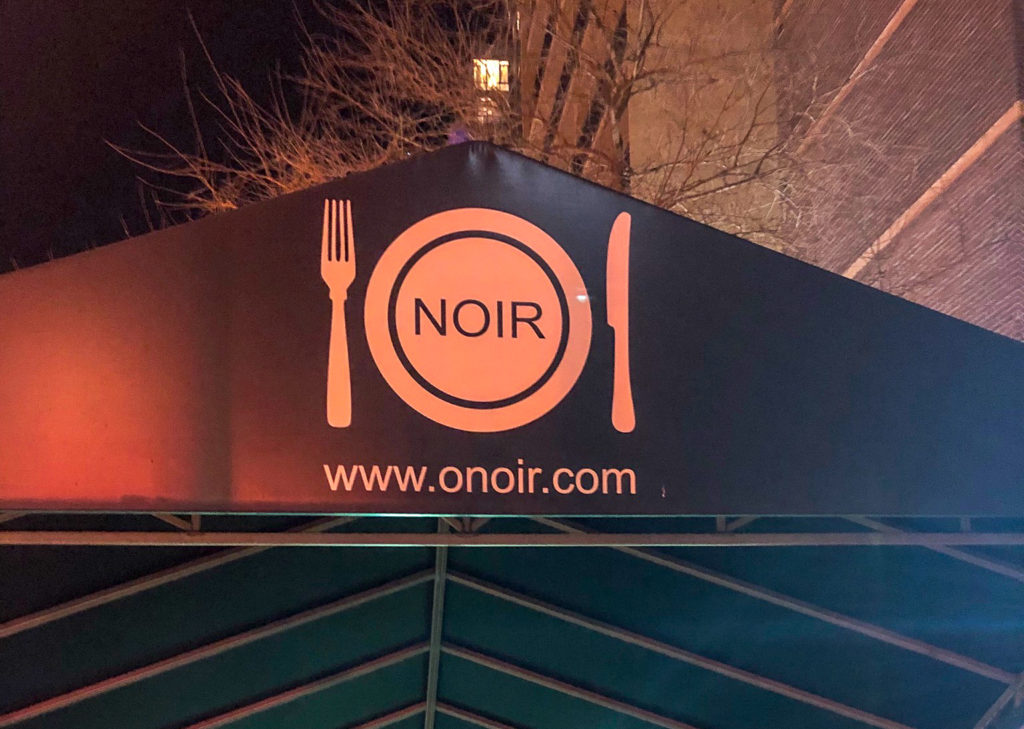 PORT DOVER, EVERY FRIDAY THE 13TH
In 1981, a strange tradition was born in the relatively sleepy Ontario town of Port Dover. It was decided that every Friday the 13th a motorcycle rally would happen, and that riders from all across North America should come. Seems reasonable enough, right?
What started as a pipe dream turned into a reality, and nowadays any Friday the 13th in Port Dover can fetch as many as 100,000 riders from around North America and the world. It is, however, somewhat weather dependent as when the Friday the 13th falls in the winter it, sadly, attracts many fewer riders. However, the opposite phenomena is also true, with some summer events reportedly attractions 150 to 200,000 riders.
When I spoke to townspeople there, I expected people to scold the behaviour of the different motorcycle groups, but the response was quite the opposite. Many said that groups like the Hell's Angels had even sold clothing and the like and donated some of the proceeds back to the community. Naturally, there was some mild trouble here and there but they said, for the most part, it was a really welcomed event in the community at large.
It doesn't get much more unusual than that, and tourists and Ontarians come from far and wide to take it all in. Take note of the next Friday the 13th, and head to Port Dover!
Contributed by Chris Mitchell – travelingmitch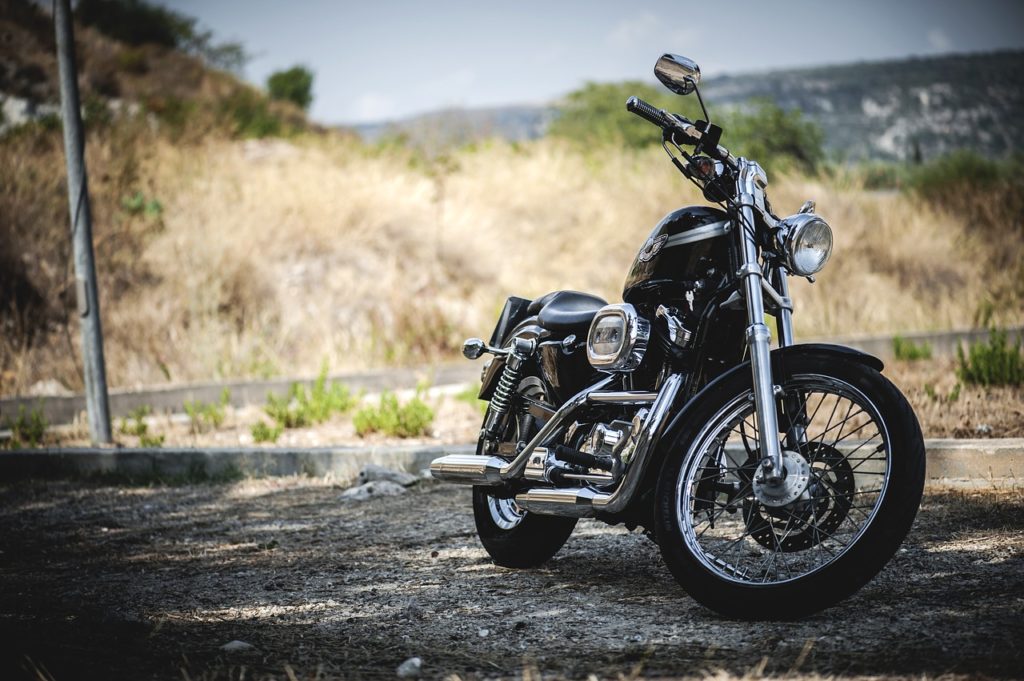 I hope this list from some of my favourite Toronto based travel bloggers has helped to inspire you on your next trip to Ontario! And if you already live or work in Ontario, hopefully you have some inspiration to go looking for exciting and unique places in Ontario to explore!