When it comes to Mother's Day hikes with kids, Mono Cliffs Provincial Park is top of my mind for a great spot close to Toronto. Located just outside of Orangeville, Ontario, it's part of the Ontario Parks system. Worth noting, Mono Cliffs is also part of the Bruce Trail Conservancy of which I have been picking off a few kilometres of every year (like Dundas Peak and Tew's Falls). I figure I might have it all complete by the time I turn 50. 
A valid park permit is required to visit Mono Cliffs Provincial Park. You can obtain one in the parking lot or get a Seasonal Day Use Vehicle Permit from Ontario Parks for the year and you won't ever have to worry about the parking fees there of 1 hour $3.00, 2 hours $5.00, full day $11.00. There is a large parking lot for vehicles, but it can fill up.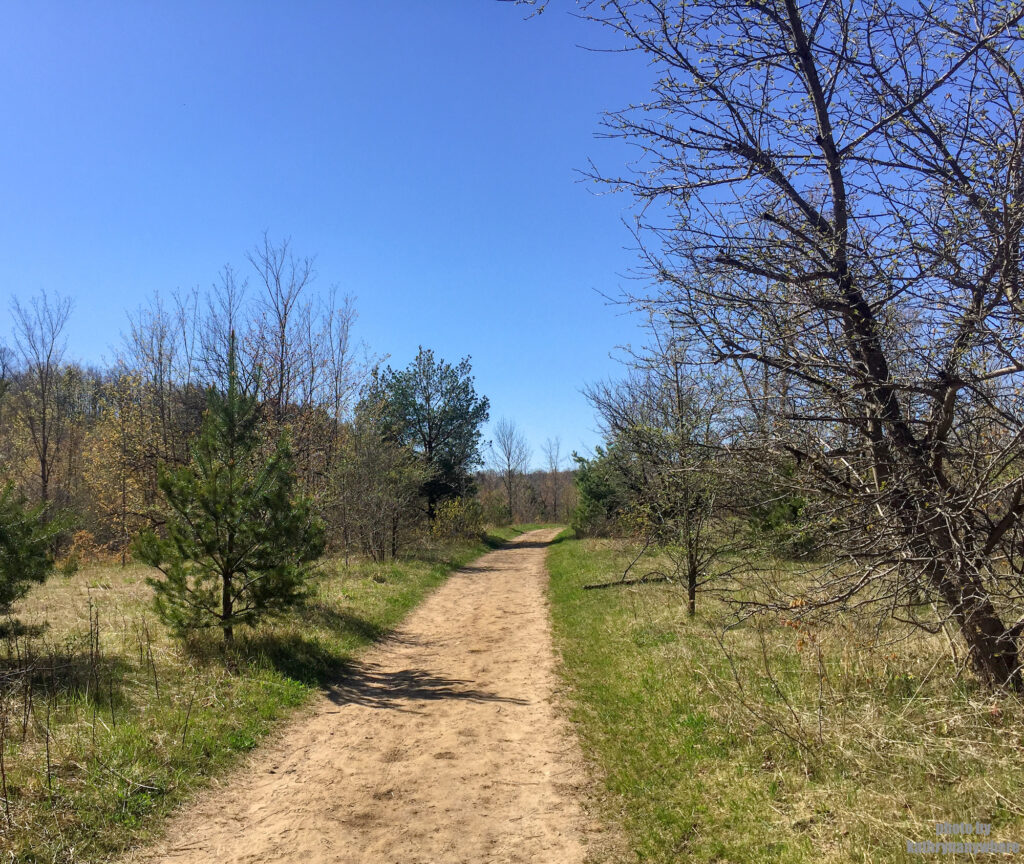 WHY CHOOSE MONO CLIFFS PROVINCIAL PARK FOR A MOTHER'S DAY HIKE?
There is one day of the year where my children are not allowed to complain about my choice of activities and it's Mother's Day. One of the biggest reasons I enjoy hiking at Mono Cliffs for Mother's Day is for the variance of trails, all easy enough for my kids to handle. Some trails in this park are classified as moderate hikes, but my children have been on terrain far more difficult or advanced like the Barron Canyon Trail.  This is a day where we can all head out together and no one is going to get upset because something is too hard or an area is too steep to hike on their own.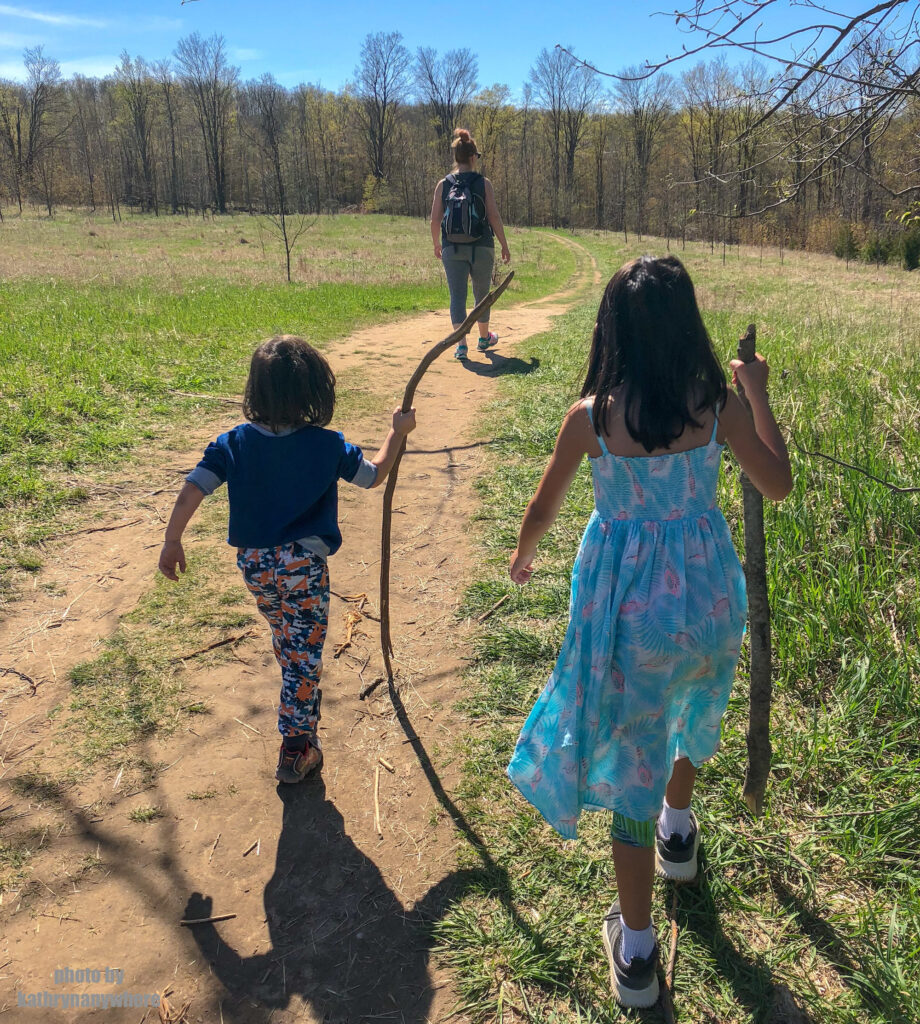 WHAT CAN I EXPECT WHEN HIKING HERE?
Terrains are quite mixed between the trails. Some trails are surrounded by forest while others are more of an open field like setting. They range from well worn, sandy paths to well worn, rocky trails, to wooden boardwalks. There are areas that are accessible for strollers, but I would not advise bringing them as you will encounter stairs and hills. Consult the park map of course and figure out where to find the lookout, cavern, ponds and more to explore.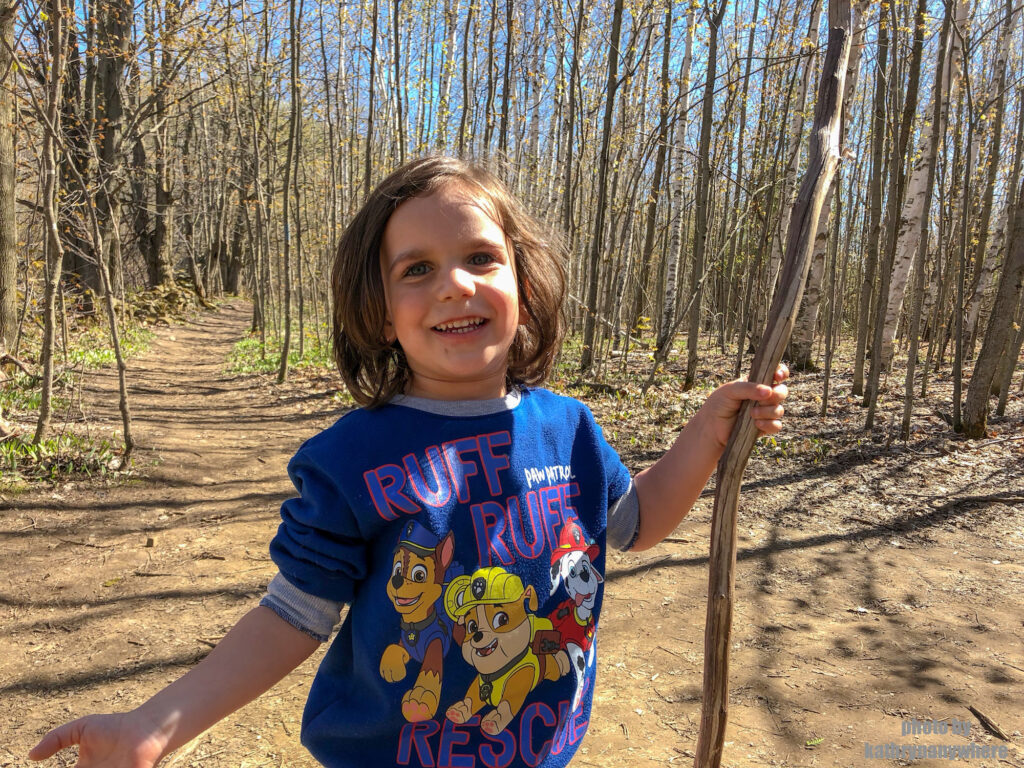 There are 8 hiking trails that intersect with each other at Mono Cliffs Provincial Park. They are:
Walter Tovell Trail – 4.8 km
McCarston's Trail – 3.6 km
Carriage Trail – 1.3 km
Spillway Trail – 1.3 km
Cliff-Top Side Trail – 2.8 km
South Outlier Trail – 3.5 km
Lookout Trail – 600 m
Link Trail – 600 m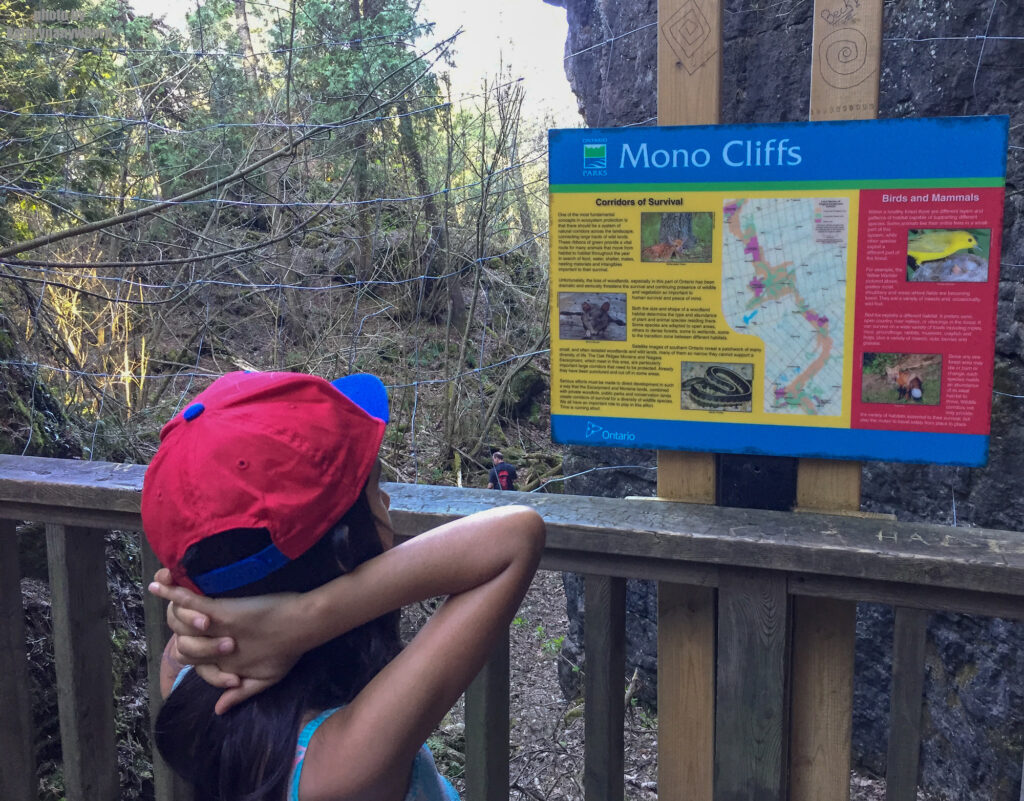 None of the trails are very long and it is possible to see three or four of them in one visit. From the parking lot, you will start on a Carriage Trail. Continue on until you meet up with the South Outlier Trail and take a left, or follow Carriage Trail to where it meets up with the Cliff-Top Side Trail.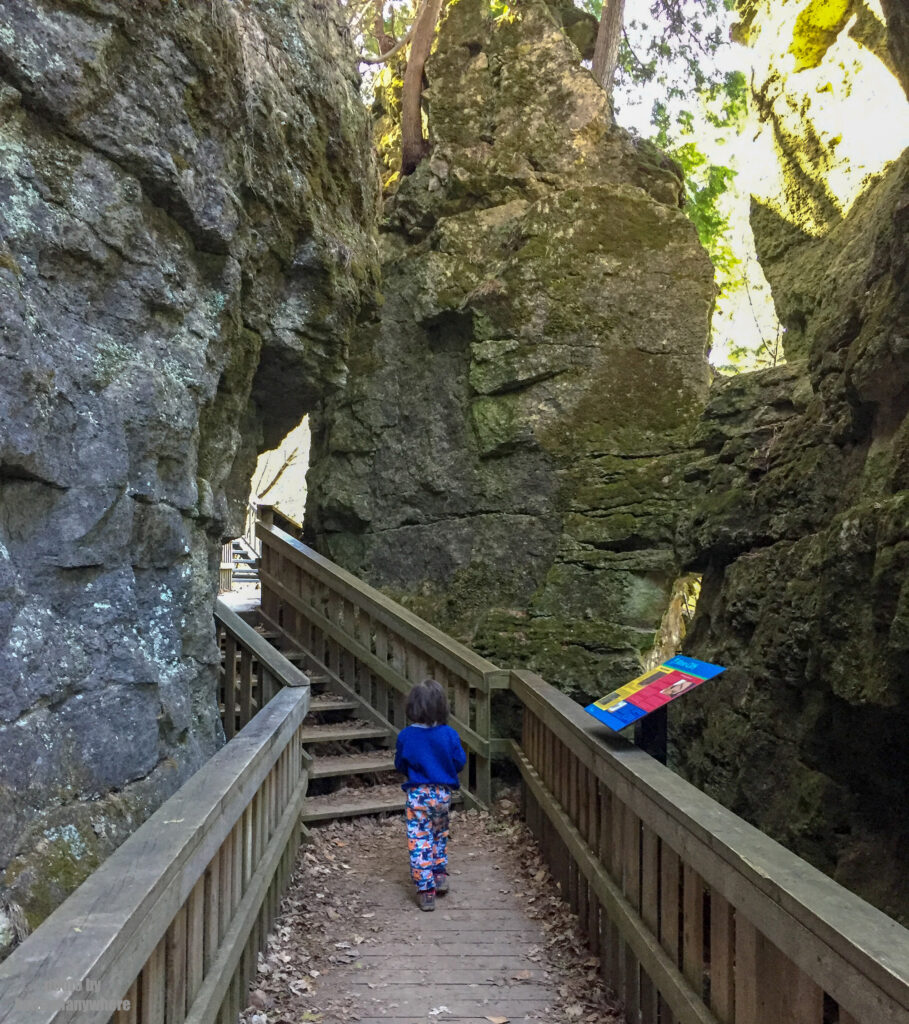 Did you know there is a cavern area there? Take the Walter Tovell Trail.
Wildlife that would pose a danger to visitors is not a concern. If you are looking for a safe place to take your family, this is it.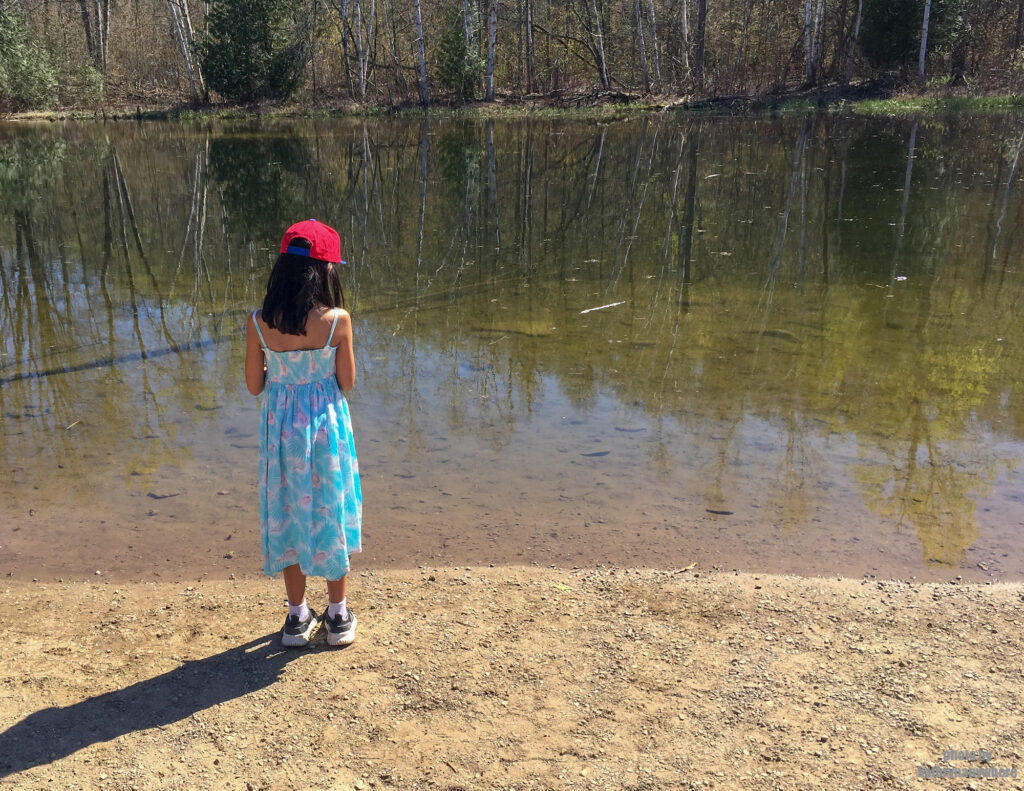 If you bring a blanket out on the trails with you, there are ponds with a sandy edge that is a nice area to sit and have lunch or regroup and have a snack. I do not think swimming is advisable in these ponds, but I did see dogs running in there and splashing around.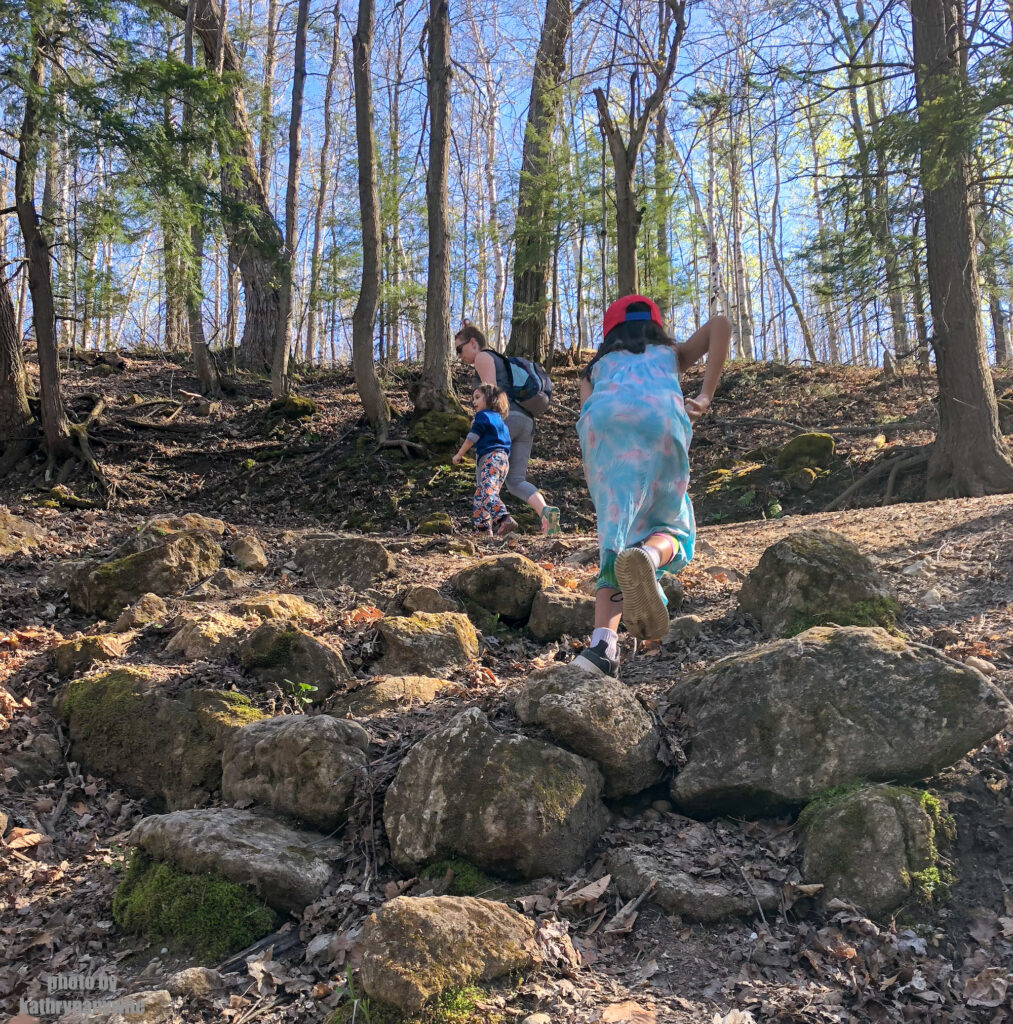 What's a hike without a look-out? This is where the Bruce Trail and the Cliff-Top Side trail meet and will give you a splendid view! Come and find yourself here taking in the fresh air and scenery!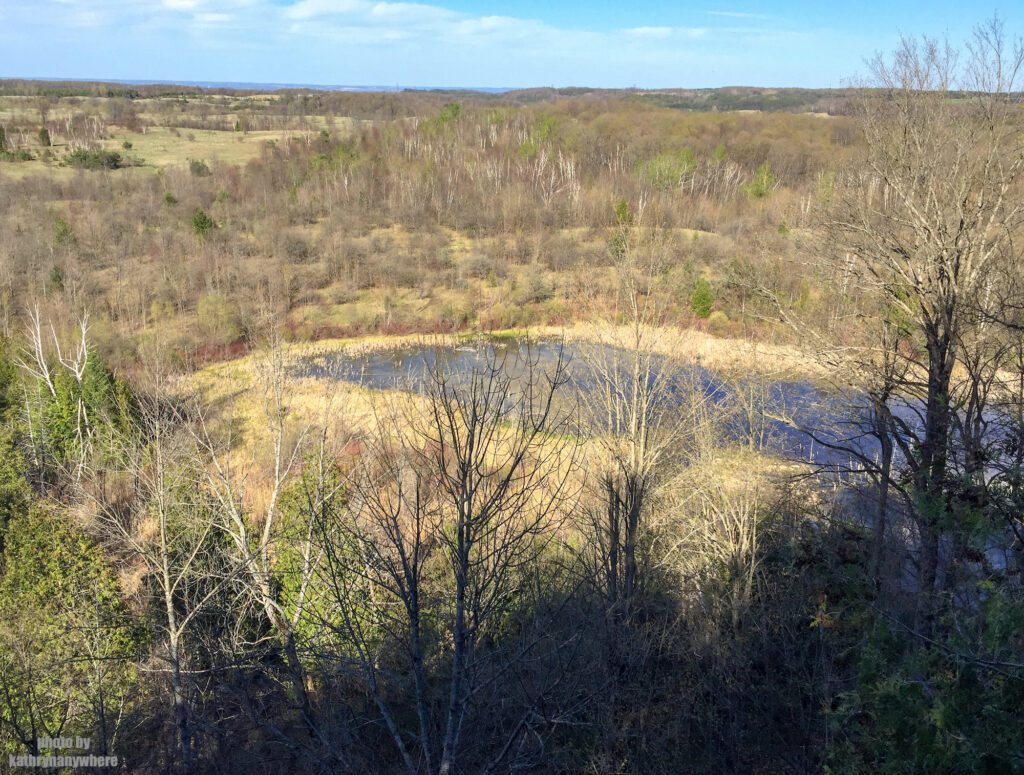 CAN I CAMP AT MONO CLIFFS PROVINCIAL PARK?
Mono Cliffs Provincial Park is a day use park, meaning there is no camping available here. The closest Ontario Parks campground is Earl Rowe. There are however, picnic tables next to the parking lot available for use during spring, summer and fall and this park is perfect for biking and hiking. The park is open year round, so during the winter, cross country skiing and snowshoeing is the thing to do.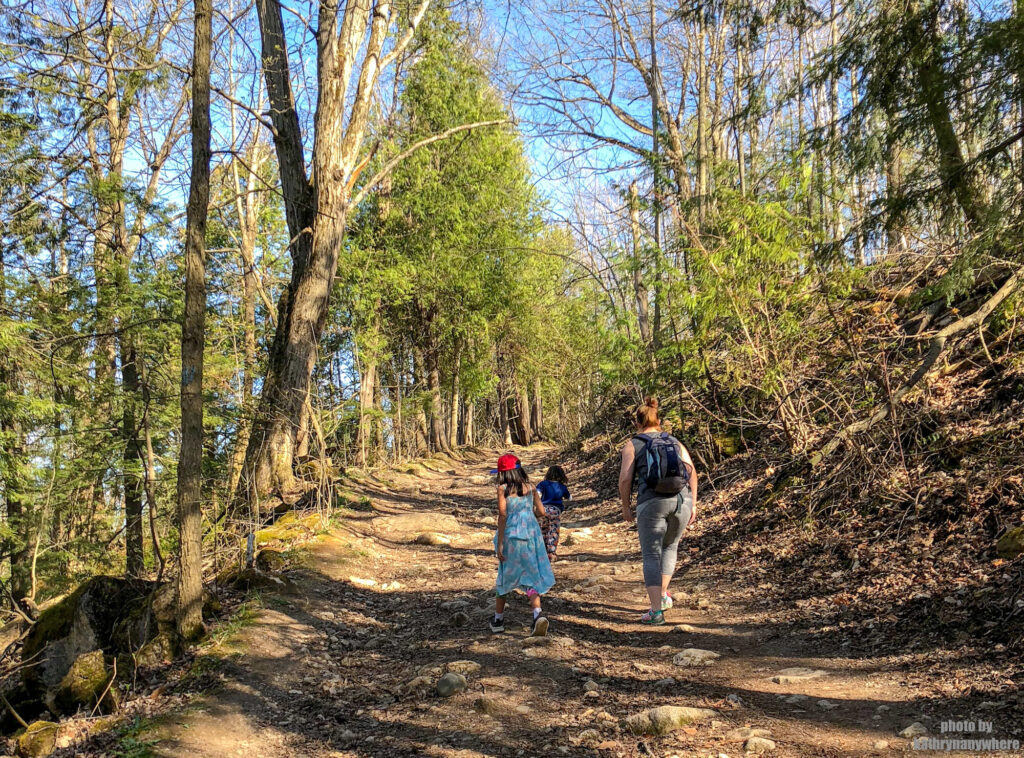 Looking for white trilliums, Ontario's provincial flower? You can find some here. While it is not illegal to pick a white trillium in Ontario, it is not advisable to do so, as it can seriously injure the plant and it can take years to recover from the damage. The trillium is slow growing flora that typically takes seven to 11 years to mature. They bloom for about three weeks and then turn pale pink as they begin to age. This picture was taken on Mother's Day in 2018.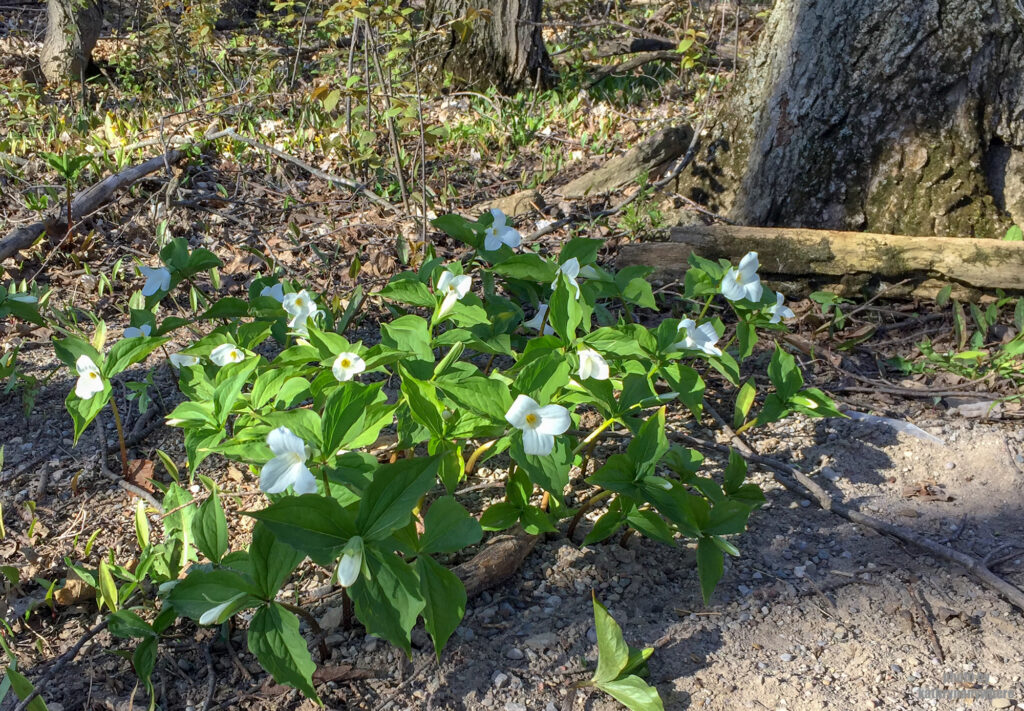 PLEASE PRACTISE SAFE HIKING
I always recommend that you carry a utility knife or multi-tool in your backpack because you never know what you could encounter. Utilize a bug spray and of course, sun screen during the spring, summer and autumn months. Have a first aid kit in your car.
Please wear closed toe shoes on the trails, we are still unsure of what the tick and Lyme disease situation is going to be like this year. There are been increases in cases year over year, so I implore you to keep your feet and ankles covered in bush, long grass and wooded areas. When you get back to your car, have a change of socks and shoes ready and please be sure to brush your clothing off before you get back in. Check your children behind their ears, in their hair and under their pant legs to make sure ticks are not clinging to them.
If you find a tick in your child's skin, remove it! First, clean the area with rubbing alcohol. Get your tweezers out and push down on the skin as close to the tick's head aa possible. Pull up slowly, yet firm with steady pressure. Try not to jerk or twist, doing so might cause the tick to be ripped in two. Once the tick is out, put it in a Ziplock bag and get it to your doctor as soon as possible for Lyme disease testing. Clean the affected area again with rubbing alcohol.
Worth noting – I do get decent 3G cell phone service here with my carrier (Telus). In some areas, it does slip back into LTE which is awesome. Always, always, always carry a mobile charger for your cell phone in case of emergencies.
Have fun on the trails! If you ever have any questions, do not ever hesitate to ask!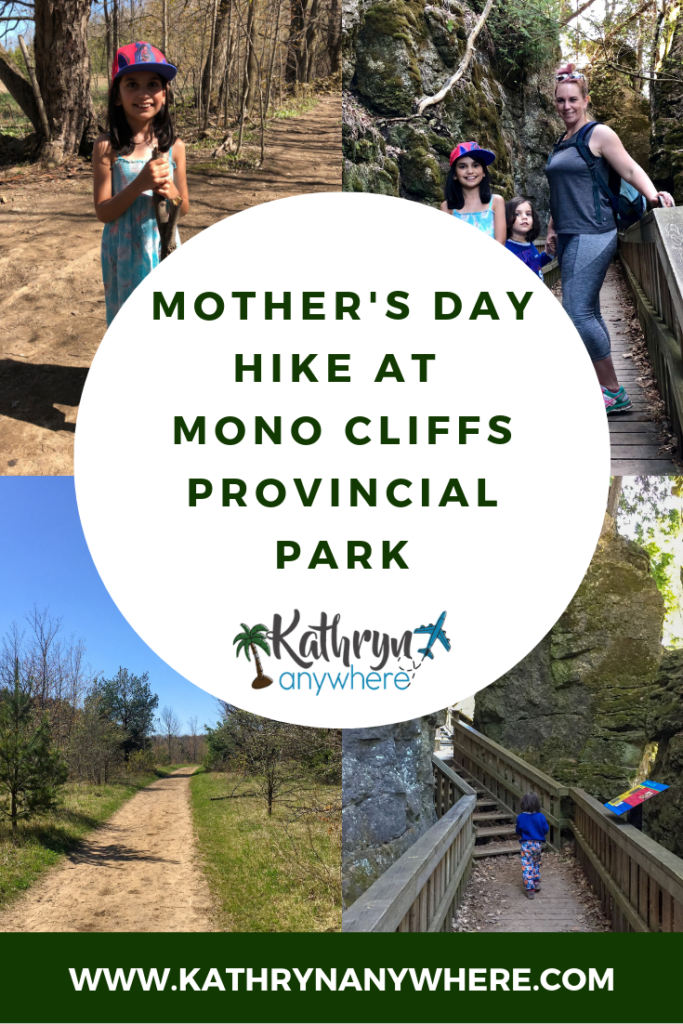 KathrynAnywhere is a participant in the Amazon Services LLC Associates Program, an affiliate advertising program designed to provide a means for sites to earn advertising fees by advertising and linking to amazon.com, amazon.co.uk, amazon.ca. Amazon and the Amazon logo are trademarks of Amazon.com, Inc. or its affiliates.