The Bruce Trail is a hiking trail in southern and central Ontario, stretching 890 kilometres. The Bruce extends from the Niagara River in the south, to the tip of Tobermory on the Bruce Peninsula in the north. As far as epic hikes with kids, the entire Bruce Trail is great. But, there are parts here and there that are so worth seeking out to show your kids. For information purposes and to highlight a really worthwhile area, especially to see the fall colours – I'm going to focus just on Dundas Peak Trail and Tews Falls in Dundas, Ontario.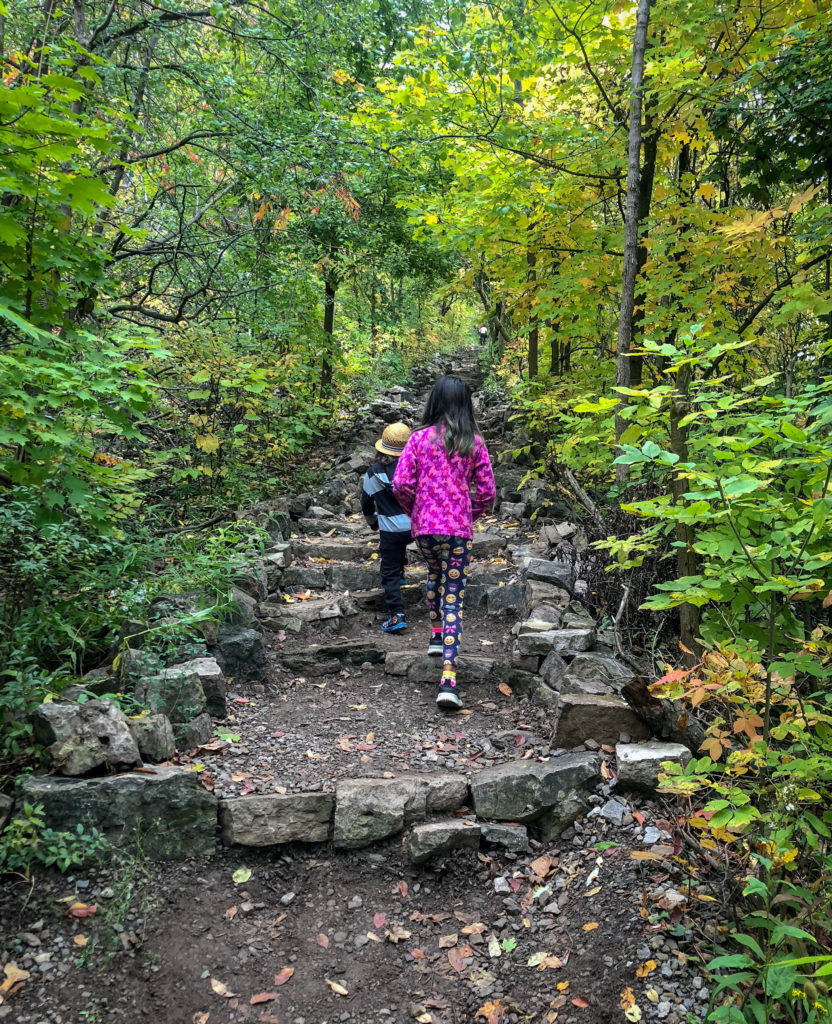 Dundas Peak and Tews Falls Trail
This has been the year of hiking for my children and much of it has taken place on the Bruce Trail. The Dundas Peak Trail and Tews Waterfalls is the third amazingly epic hike Miss M and Z Man had in 2018. To be fair, we've been on quite a few great hikes this year. The Cyprus Lake Trail to the Grotto, just outside Tobermory comes to mind, but it didn't reach "epic" status. The Grotto itself is magnificent and there is a separate post on that found here. To reach epic status for me, there has to be magnificent waterfalls and spectacular look outs with an element of danger and a life learning lesson.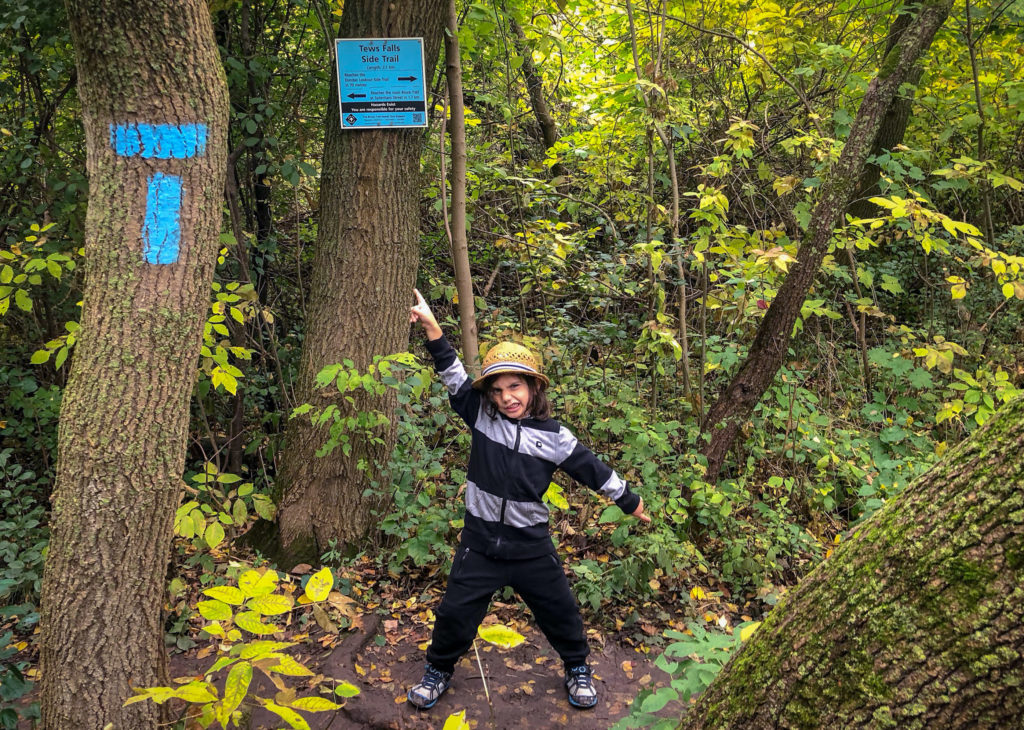 The day we visited the Dundas Peak Trail was a really busy and popular day. We attempted to do things by the book and park in the designated parking lot. If we had done that, we could enter through the proper entrance. However, the parking lot was full, cars were parking up and down the highway, people were making the pilgrimage on foot and there were line ups of people just to enter. Me being me, I always look for alternative locations or alternative ways to get to where we want to be. We drove all the way from downtown Toronto, so I wanted to see something! Since Webster's Falls parking lot and entrance was the exact same situation, we drove into the town of Dundas and parked in a residential neighbourhood. We entered the conservatory from a trail in the south end. Please note that increased parking in the residential neighbourhoods is dangerous and can impede emergency vehicles. This should not be your go-to parking destination.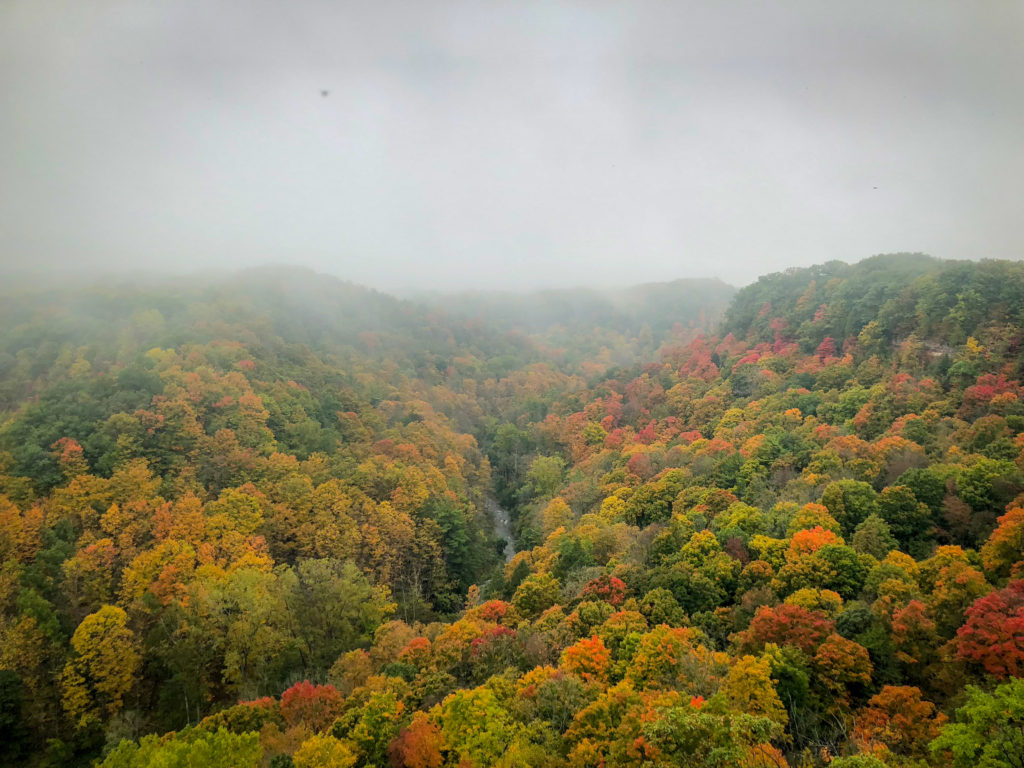 The draw for us and for everyone else coming was the changing of the leaves colour wise. We went on Thanksgiving Monday and the leaves were still quite green, but they were definitely on their way to being changed into a gorgeous autumn hues of red, orange and yellow.
The Dundas Peak and Tews Falls Trail is a 3.9 kilometre total hike
The milage is according to information I got from the All Trails app I use on my iPhone when hiking. Much of the route we did was uphill and the Miss M and Z Man handled it like champions. I like getting the hard part out of the way right off the bat. For an idea on the height, Dundas Peak is twice as high as the American side of Niagara Falls. Tews Falls are 41 metres high.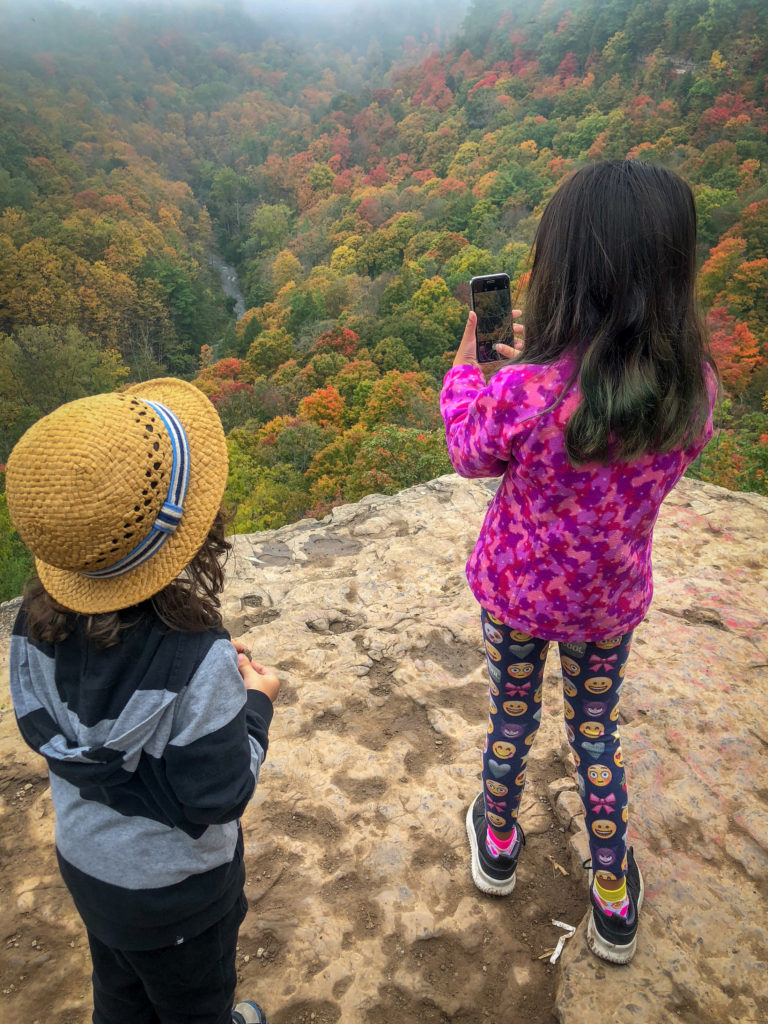 First, we headed towards the peak lookout, which has become one of the most popular and coveted – must have – Instagram photos of this year. I got the other insta-worthy destinations, Barron Canyon Trail and Skinner's Bluff earlier this year. Selfishly, I wanted one or two of those Instagram photos too. I wasn't alone in my desire that day and I guess at that time – it was early afternoon. There were more people there than I could have imagined, but I still got what I wanted.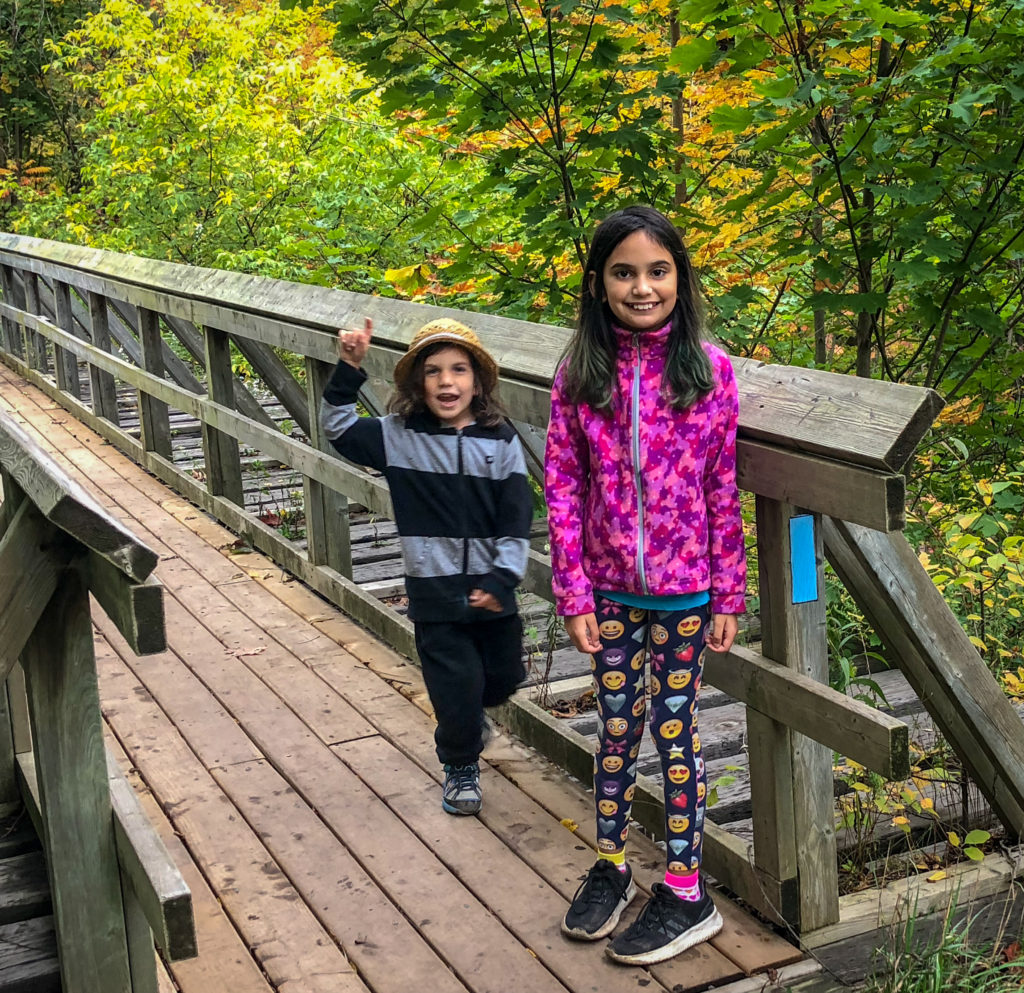 Total side note, yes I take my kids to cliffs and grottos and caves. If this is your first time checking out my stuff, please don't send me a note about my irresponsible parenting. I do not and will not put my kids in a bubble. They are learning about nature and boundaries and consequences, which in my eyes are great life lessons. 
This was not a strenuous hike for the kids, nor was there any point that they wanted to quit. As per usual, I carried Z Man on my back for the majority of the distance between Tews Falls and the look out point on Dundas Peak Trail.
There are some area where railings/barriers are in place so that visitors do not fall.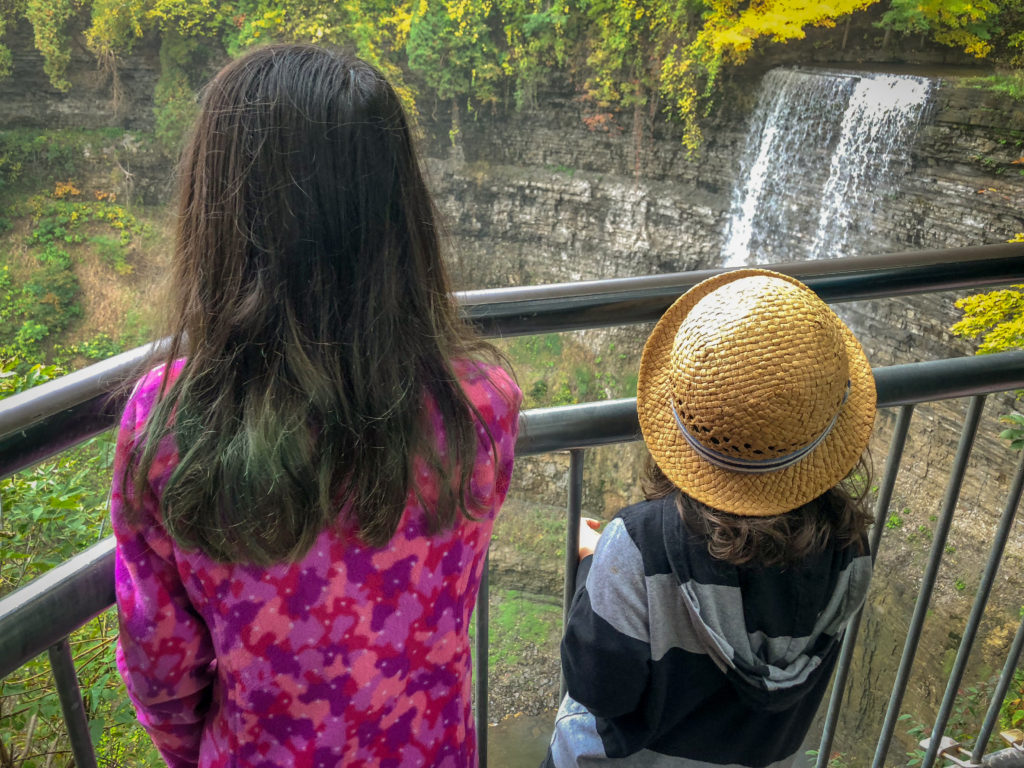 Due to the popularity of the location on the day we visited, instead of taking the main trail to Tews Falls from the look out, we took a side trail for 0.8km. Then, we joined up with the main trail for the remainder of the hike to Tews Falls.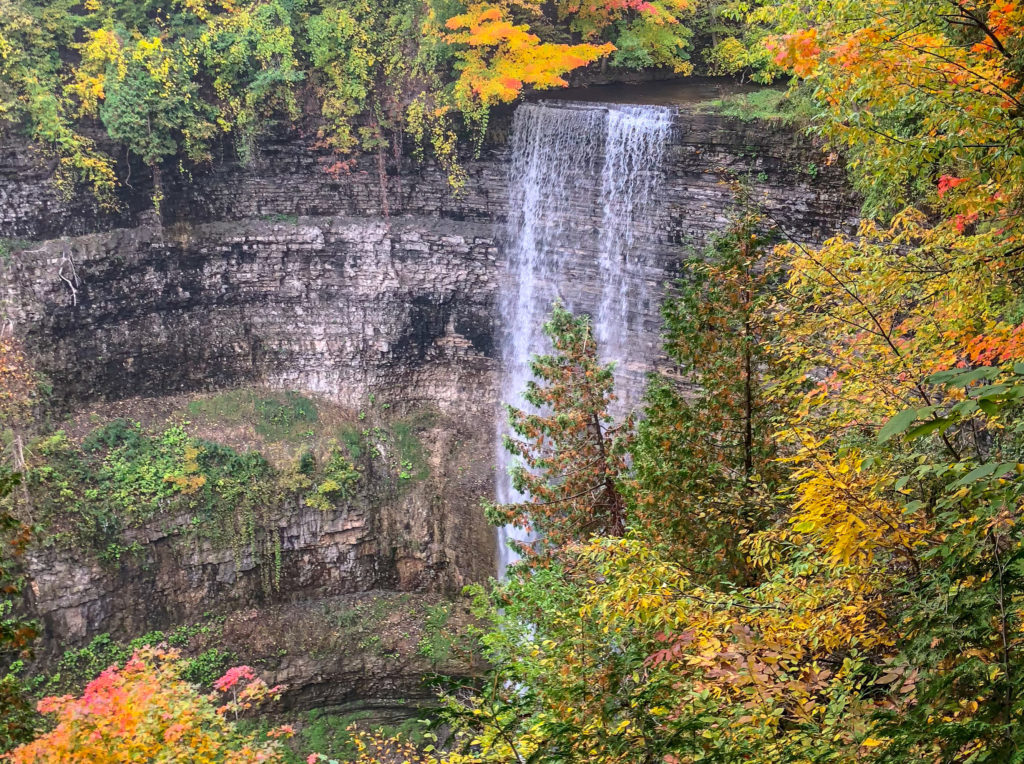 Tews Falls are stunning!
If I wasn't with my kids I would have traversed down into the crevice to get a ground or a POV shot. Safety first! It is advised that visitors stay on the marked trail at all times. The shots from the top of the falls level are still pretty good!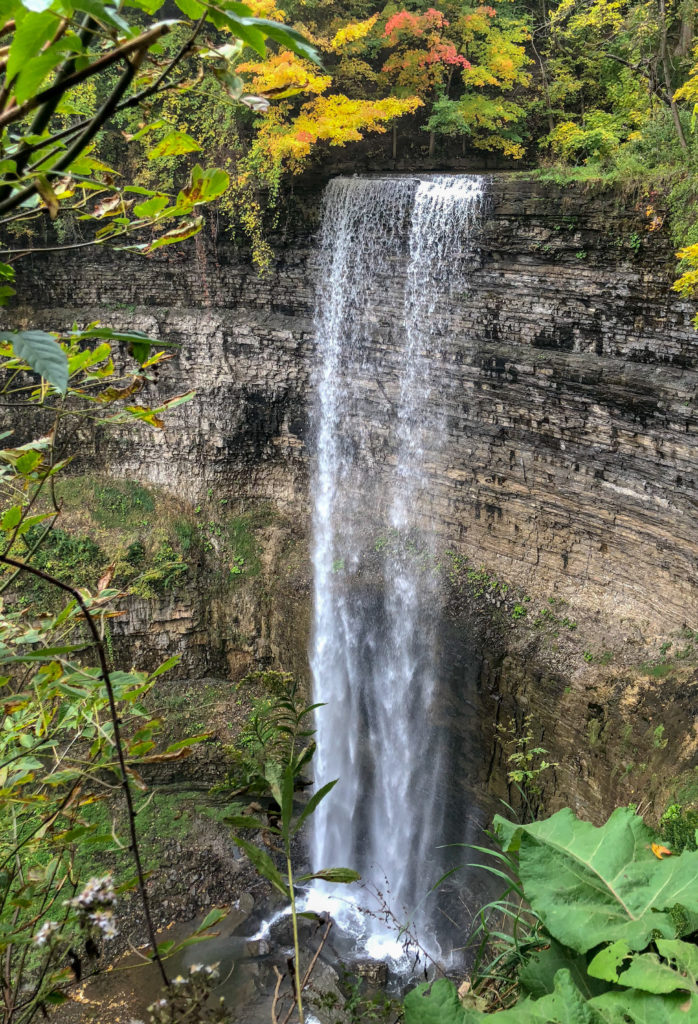 Worth noting, there are no washrooms or garbage receptacles along the trail. What you hike in with, you leave with. Please don't leave garbage behind, stuffed into a tree or discarded into the bushes, it's not nice to nature.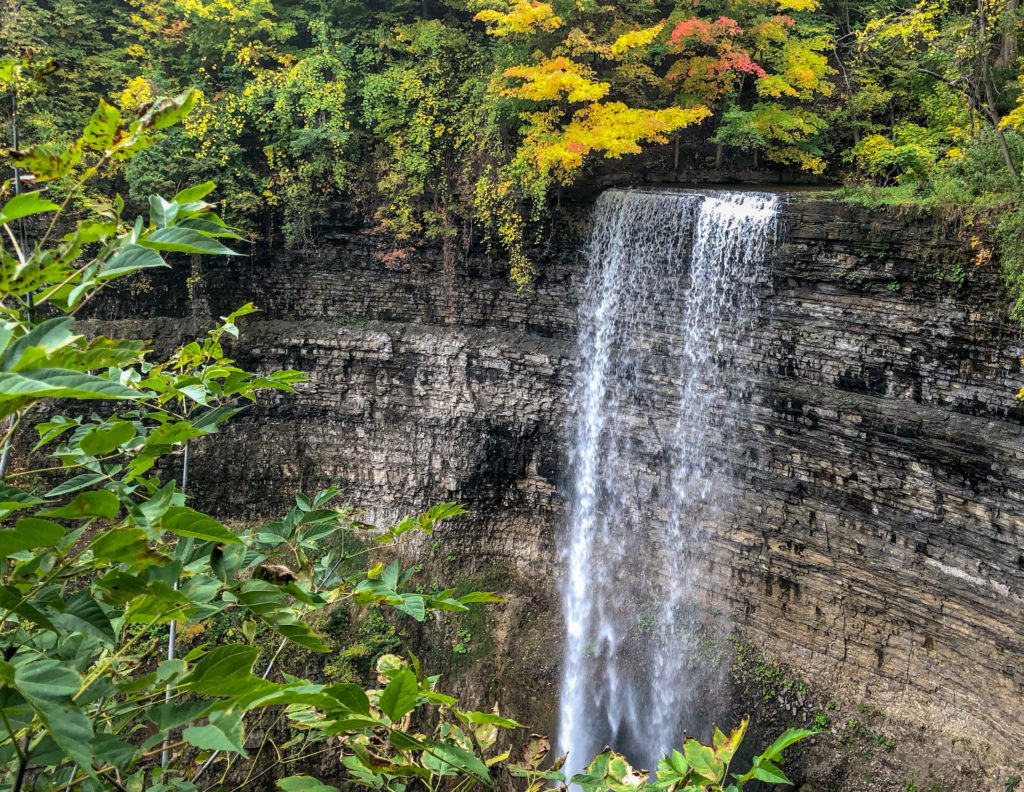 The parking lot for the Spencer Gorge Conservation Area is open from the end of May until the end of October. The parking fee for each vehicle is $10. There is also a per person admission fee of $5 for each visitor aged 5 and up.
If you are looking to get to Webster Falls, be aware that there is not a hiking trail between Tews Falls and Webster's Falls. Access from the parking lots and highway only.